This site is supported by our readers. We may earn a commission, at no cost to you, if you purchase through links.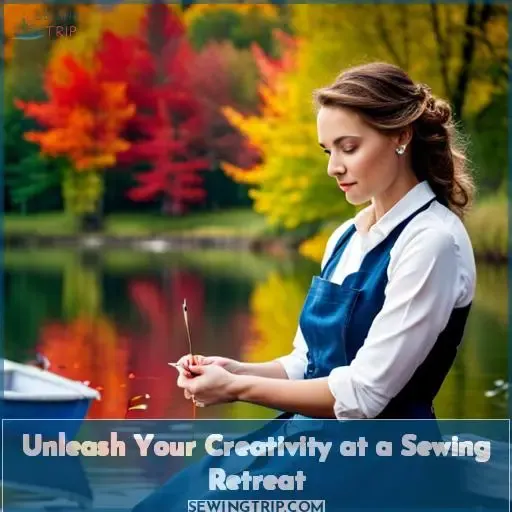 With over 50% of Americans owning a sewing machine, it's no surprise that more people are looking for ways to further their sewing knowledge and creativity.
At these retreats, attendees can escape from everyday life while honing their craft in an environment full of like-minded individuals.
This article will explore the benefits of Sewing Retreats and provide tips on how you can find the perfect one for yourself.
So get ready – let's uncover what makes these sewing events so special! By diving deeper into the world of sewing and connecting with others who share your passion, a retreat can take your skills to the next level.
Key Takeaways
Sewing retreats provide uninterrupted time for sewing and a supportive community.
Attending a sewing retreat offers opportunities for creative rejuvenation and learning.
Finding the right sewing retreat involves considering the location, amenities offered, and themes or focuses.
Sewing retreats allow for building relationships and connections as well as developing new skills.
What I've Learned About Quilt Retreats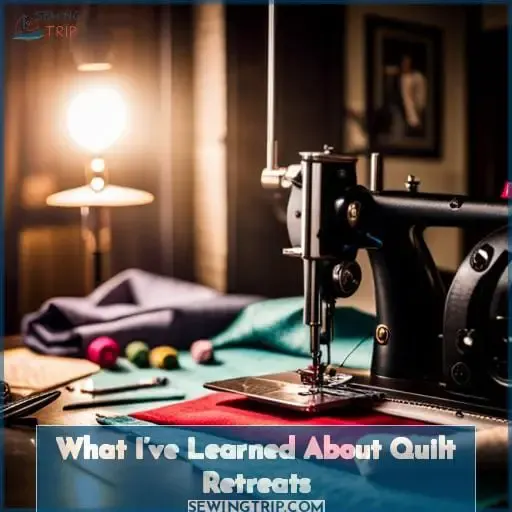 If you've ever needed some inspiration and motivation to complete a Sewing Project, a Quilt Retreat delivers an extraordinary experience. Choosing a Retreat with comfortable lodging allows your creativity to flow, knowing that a good night's sleep awaits in your private room.
Overview of Quilt Retreat Experience
You'll find that quilt retreats offer enriching experiences where you can indulge your passion for quilting in scenic locations and supportive communities.
Reconnect with your creative spirit in tranquil settings.
Gain inspiration from the joy of quilting with others.
Relax and recharge yourself through immersive sewing time.
The Importance of Lodging
The Right Lodging for a Perfect Quilting Retreat
Within the right lodging, you're set for an ideal quilting retreat getaway. When selecting your retreat accommodations, consider options that provide sewing-friendly amenities such as spacious work areas, excellent lighting, and cozy beds.
Look for retreat facilities designed for immersive sewing experiences, not just a place to sleep.
The Benefits of Attending a Sewing Retreat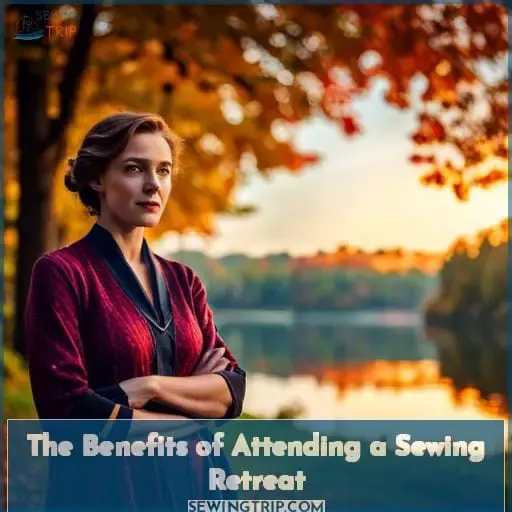 A sewing retreat offers the ultimate way to become re-energized in your craft. Escaping daily distractions for a dedicated sewing getaway provides uninterrupted sewing time and creative rejuvenation in a relaxing setting.
Attending a sewing retreat gives you the gift of focused hours for your passion without everyday disruptions. The retreat atmosphere fosters inspiration through classes with experienced teachers, chatting with fellow enthusiasts, and immersing yourself in fabric and fun.
Retreat amenities like meals, lodging, and a community of like-minded crafters take care of your needs so you can devote yourself fully to sewing. Returning home after an immersive retreat, you'll feel refreshed and motivated to tackle new projects with renewed purpose and creative zeal.
Uninterrupted Sewing Time
Attending a retreat allows your creative juices to flow without the usual distractions nipping at your heels.
Creative Recharge and Relaxation
Simply recharging your creativity and relaxing your mind are priceless benefits you'll gain. With sewing retreats offering immersive experiences in scenic locations, you can fully unplug from daily stresses.
Your creative soul will feel revived as you make new friends, learn skills, and find inspiration. Surrounded by fellow hobbyists in a judgement-free zone, you can re-energize your passion for sewing and quilting.
Priceless memories await at themed retreats, where relaxation and creative play can flourish.
Including a Dealer at the Sewing Retreat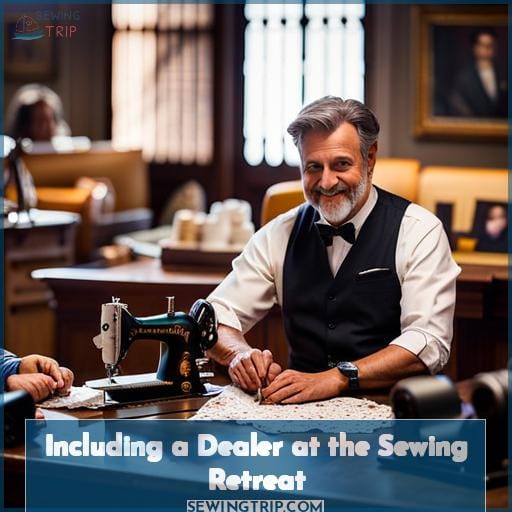 Consider inviting a sewing machine dealer to participate in your next sewing retreat. Their expertise and support can greatly enhance the attendees' experience. A knowledgeable dealer provides product demonstrations, troubleshooting skills, and sewing tips that retreat participants will appreciate.
The dealer's involvement also demonstrates that sponsors are invested in the event's success. Ultimately, including a dealer makes your retreat more memorable and rewarding for those attending.
The Role of a Dealer at the Retreat
Having a dealer at your retreat adds excitement with giveaways and new machines to try. Their support enhances the experience. They share knowledge, provide machine demos, and offer perks like goodie bags.
Attendees appreciate engaging with dealers. It creates memorable moments. Dealers make the retreat special through their involvement.
Contributions and Impact on Attendees
Seeing the sewing machine dealer at the retreat offers you invaluable inspiration and support. Their knowledge and enthusiasm energizes you. You gain sewing insights from interacting with the dealer and testing machines.
This exclusive access helps you make informed purchases or try new techniques. The dealer's passion is contagious, motivating you to start projects. Their guidance enables your creative expression and skill growth. Retreats with a dealer facilitate rewarding sewing experiences and community connections.
Sponsors and Swag Bags at Sewing Retreats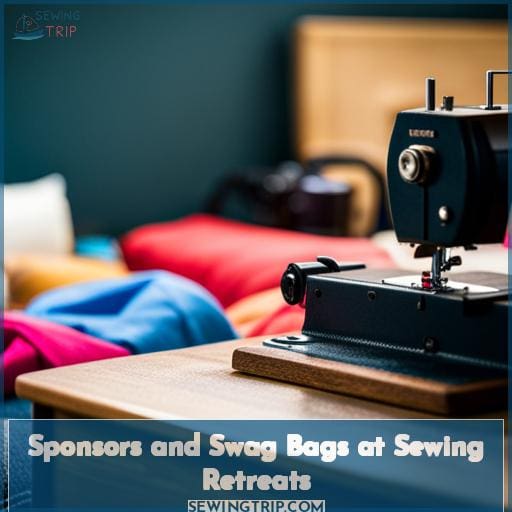 Equipment companies often support sewing retreats in amazing ways, such as providing desirable swag goody bags filled with embroidery thread, notions, and sewing inspirations.
Appreciating Retreat Sponsors
Thanks go out for swag bag items and overall support from the dedicated sponsors at your sewing retreat. Their contributions enhance the experience, providing attendees with quality tools and materials.
We appreciate the value these sponsors bring through their products, services, and prize donations.
Swag Bag Items and Support
Outside of all the goodies stored in your swag bag, knowing that sponsors care enough to support your retreat helps make the experience that much more meaningful.
Having sponsors provide swag bags and prizes contributes an extra layer of excitement and appreciation to the retreat. Their support reminds you that the sewing community wants you to have a fulfilling and inspiring getaway.
Reconnecting With Familiar Faces at Sewing Retreats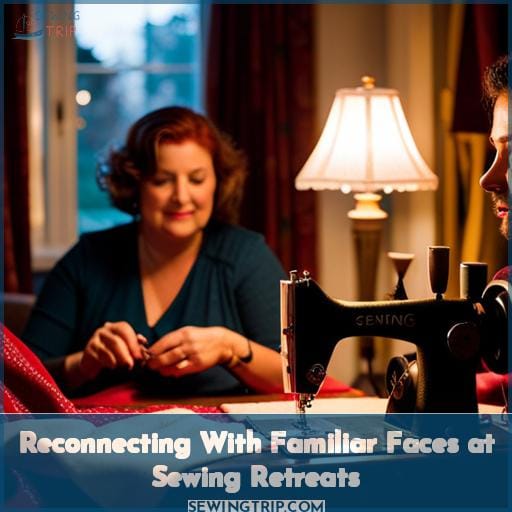 Good day, quilting friends! There's nothing quite like the joy of reconnecting with familiar faces and building relationships at a sewing retreat. As you reconnect with fellow quilters over shared passions, the bonds of friendship grow even stronger.
The Joy of Seeing Familiar Faces
Atta folks return each season to snatch up the fellowship and fun our retreat serves up. Building relationships with old pals feels like comin' home. We quilt, we laugh, we inspire each other. Reconnecting joy blossoms with every familiar face. Our retreat connections grow stronger, nourished by community bonding.
| Day | Morning | Afternoon |
| --- | --- | --- |
| Friday | Check-in and mingle over breakfast | Sit and sew session |
| Saturday | Design class | Scavenger hunt and happy hour |
| Sunday | Show and tell brunch | Make and take project |
Our retreat creates lasting bonds between kindred spirits. Quilting links us heart to heart.
Building Relationships and Connections
You'll quickly build meaningful relationships and make new connections at sewing retreats. Attendees become fast friends as you bond over shared passions during classes, meals, and free time. Veteran retreaters welcome newcomers into the fold. Mentors emerge to guide beginners.
You leave with an expanded network of sewing companions—treasured friendships that continue long after the retreat ends.
Hosting or Attending a Sewing Retreat

Taking time away from your regular routine to attend a sewing retreat can be incredibly rejuvenating. Focusing your creative energy on a fun sewing project for a few days, free from distractions, allows you to recharge while learning new techniques from experienced sewers in a relaxed social setting.
Tips for Hosting a Sewing Retreat
Hosting your own sewing retreat has special perks compared to just attending someone else's. You can shape the experience and make it distinctly yours by creating your ideal retreat space. Consider getting planning assistance, forming a team for decisions, carefully selecting the venue, timing the retreat strategically, and securing sponsor support.
With thought and care, you can craft a sewing retreat that fulfills your creative vision.
Benefits of Attending a Sewing Retreat
You'll find attending a sewing retreat provides a creative boost and chance to de-stress surrounded by like-minded crafters, according to a recent poll showing over 80% of attendees leave feeling energized and inspired.
These focused getaways offer uninterrupted sewing time away from daily distractions for creative recharge. Dealers and sponsors enhance the experience while you build connections with fellow attendees.
Showcasing the Sewing Retreat Experience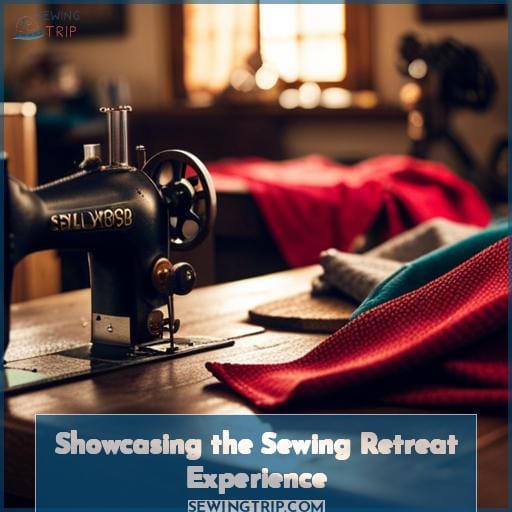 A sewing retreat offers an unforgettable weekend of creativity and community. Let me share some photos and stories from past retreats to give you a taste of the experience. At a recent spring retreat, attendees spent Saturday morning learning a new embroidery stitch from our talented instructor before breaking for a garden-fresh lunch on the patio.
In the afternoon, each participant worked on individual projects, whether quilting a baby blanket, sewing a dress, or experimenting with fabric art. During breaks, conversations wandered from sewing tips to family stories as new friendships formed.
After dinner, the evening ended with a pajama party, complete with popcorn, chocolate, and viewing embroidery books.
On Sunday, the group took a field trip to a local fabric shop before gathering for a final brunch. Hugs and promises to stay in touch were exchanged as the weekend drew to a close. The days flew by in a blur of laughter, learning, and memories made. I hope these glimpses capture the spirit and community of our sewing retreats.
Photos From Past Sewing Retreats
Don't forget, lovely snapshots and attendee quotes capture the true essence of past sewing retreats. Poring over albums of retreat memories warms the heart and rekindles the creative spirit. Pensive smiles in candid photos relive the joy of retreat bonding and accomplishments.
Heartfelt quotes crystallize meaningful moments and motivations. Past retreats live on through cherished mementos, stirring nostalgia and eagerness for the next retreat ahead.
Inspiring Others to Join a Retreat
Joining a quilting retreat aligns your needle with like-minded creatives, guiding inspiration through each stitch. Immerse yourself in quilting bliss and leave daily distractions behind to recharge creative juices.
Bond with fellow quilters over a shared passion. Absorb generations of quilting wisdom. Show off your latest projects and get feedback. Find inspiration from seeing others' works in progress. Try new techniques in classes taught by experts. Make new friends and memories. Experience the zen of quilting in community.
Finding the Perfect Sewing Retreat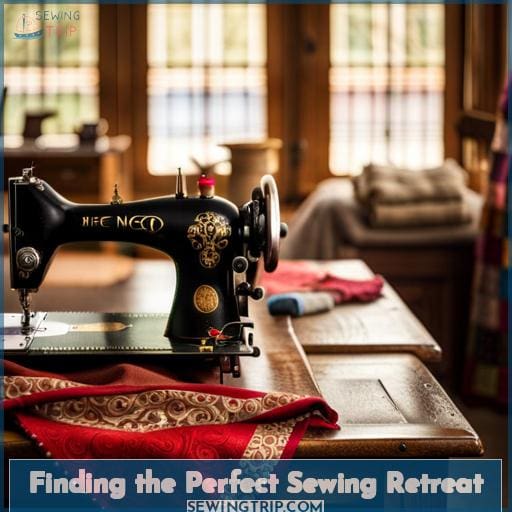 You'll love discovering fun new retreat locations and immersing yourself in various quilting activities. From scenic mountain resorts to charming beachside cottages, retreat venues across the country offer inspiring settings to fuel your creativity.
Search online or social media and consider location, amenities, schedule, and cost to find your perfect fit. Look for themed retreats for more focused learning, like workshops dedicated to quilting techniques or even decades, like 1950s-inspired getaways.
If you can't travel, some local shops host weekend retreats, and online groups organize virtual meetups. Wherever you end up, retreats let you fully immerse in quilting free from everyday disruptions. You'll build lasting friendships while learning new skills from talented teachers.
With countless options nationwide, start planning your next inspiring quilting adventure.
Conclusion
Whether you're a quilting expert or just a beginner, attending a sewing retreat is a great way to discover the joys of quilting and unleash your creativity. At a retreat, you'll get the chance to learn new skills, share ideas, and make new friends.
With experienced teachers to guide you, you'll gain a deeper appreciation for the craft and the people who share it.
You'll also have the opportunity to take home hand-sewn projects, new memories, and a renewed passion for sewing.
So don't wait any longer; find a sewing retreat in your area and let your creative spirit soar!