This site is supported by our readers. We may earn a commission, at no cost to you, if you purchase through links.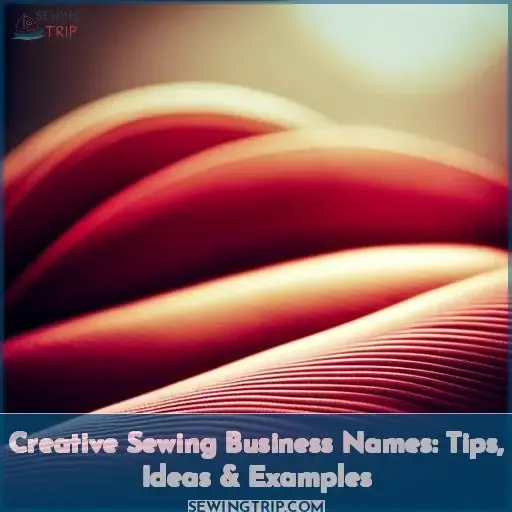 Are you ready to start stitching your very own success story? If so, the first essential step is coming up with a creative sewing business name.
In this article, we share tips and examples of catchy sewing business names that will reflect your values and draw potential customers in. We also provide helpful advice on how to ensure domain availability for an online presence as well as useful naming tips along the way.
Unlock all these resources now and be well-prepared when it comes time to finding that stellar name!
Key Takeaways
Begin by selecting a creative name for your sewing business. Ensure the moniker reflects your principles and instills confidence. Perform research to find inspiration from renowned industry leaders. Verify domain availability for your preferred appellation.
Qualities of a Good Sewing Business Name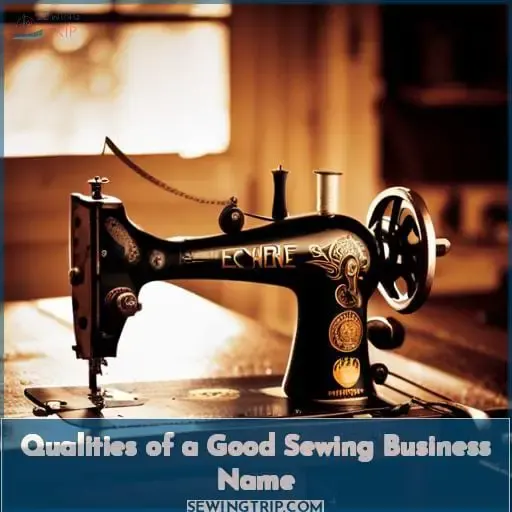 When naming your sewing business, it's important to pick a name that reflects your values, is simple and easy to remember, checks out through research, has an available domain, and has long-term potential.
Choose wisely right from the start, as your business name will make a first impression and set the tone for your brand's identity.
Reflective of Values
Make it real with a name that stitches your soul into every hem.
Purpose over profit. Let your name reflect your core values and inspire trust.
Lead with love. Choose a moniker that conveys your creative heart.
Strive for sustainability. Opt for a title that incorporates social responsibility.
Your sewing business name presents an opportunity to share what matters most. Seek authenticity, not trends.
Simplicity
Try to embrace the idea that less is more and avoid wordy tendencies that detract from your name's essence.
When choosing your sewing business name, consider these aspects of simplicity:
Pros: Memorable, Meaningful, Versatile, Universal
Cons: Forgettable, Vague, Limiting, Niche
Selecting a simple name supports clarity in messaging and easy recall for customers.
Research-based
You'll wow customers by drawing inspiration from industry leaders and sewing techniques. Research shows memorable names evoke positive associations. Study successful sewing brands, techniques, and target demographics when choosing your name.
This grounds your business in industry knowledge, helping you connect with the right audience.
Domain Availability
Ensuring domain names align with your brand's vision is crucial before moving ahead. Choosing a memorable domain is key when launching a sewing business. First research domain availability and trademark conflicts.
Get creative with domain name combinations that reflect your brand. But don't be discouraged if your first choice is taken; navigating domain registration challenges can lead to an even better name that secures your unique online identity.
Long-term Thinking
When envisioning your sewing business's future, let your name choice stand the test of time. Think long-term about branding that fits your vision. Plan for sustainable growth, not just temporary trends.
Choose a name that builds your legacy. Embrace forward thinking to craft an identity with enduring appeal. Let your entrepreneurial spirit guide you to name your sewing venture for naming success and lasting rewards.
Creative Naming Techniques for a Sewing Business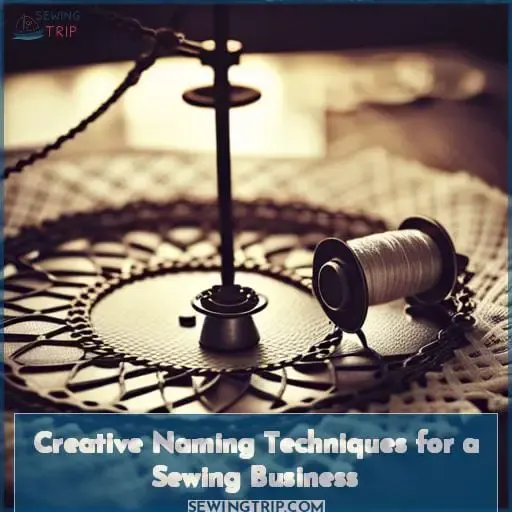 Whether you're looking for a cute and catchy name or something more elegant and sophisticated, getting creative with your sewing business name can help attract customers. Consider using techniques like wordplay, alliteration, or rhyming to make your business name clever, unique, and memorable.
For instance, you could combine sewing terms with creative words like Stitch Witch or Buttons and Bows. Rhyming the first and last word like Sew Chic gives a fun, memorable ring. You might also consider using your name or initials, or punning off your location.
The options are endless when you use imagination. Just be sure the name resonates with your brand image and target market.
Wordplay and Puns
Consider playing with words and puns when brainstorming creative sewing business names, like Seams Sew Simple or Sewphisticated Styles.
Threadbare Originals
Stitch 'N Time
Hem's the Deal
Sheer Genius Tailoring
Pins and Needles
Alliteration
You'll love playing with pleasing letter repeats when labeling your latest line.
Here are some alliterative options for your sewing shop moniker:
| Cute | Clever | Classy |
| --- | --- | --- |
| Seams Sew Sweet | Craftily Coutured | Perfectly Polished |
| Stitch Stylish | Designs by Debbie | Refinement Reigns |
| Sewn with Sparkle | Becky's Beautiful Blankets | Luxe Look Loft |
Using alliteration allows your audience to connect to your memorable brand.
Rhyming
Rhyming is a fun technique for a catchy name like Stitchin' Britches. Consider rhyming options when brainstorming sewing business names. Rhyming makes business names more catchy and memorable. Though finding an available domain name may prove challenging, the branding benefits of a creative rhyming name like Threads & Sheds are worth the effort.
With some imagination, you could craft a catchy rhyming sewing business name that attracts customers and conveys your brand identity.
Examples of Creative Sewing Business Names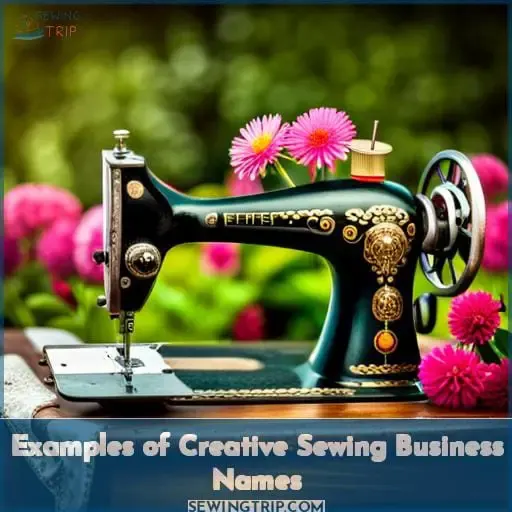 Looking to come up with creative sewing business name ideas? Stitch & Style, The Sewing Studio, Thread & Needle, Sew Chic, and Fabric & Thread are great examples of creative and catchy names for a sewing business.
You'll want a name that reflects your values and creativity while also being memorable and easy to recall. Consider names that capture the essence of sewing and evoke positive associations, as well as options that stand out from competitors.
With some thought and imagination, you can develop the perfect distinctive and descriptive moniker to introduce your sewing enterprise to the world.
Stitch & Style
Unleash your inner fashionista with Stitch & Style. Personalize your sewing business with a distinctive brand name like Stitch & Style. It conjures creativity and customization through stitching and style. Construct marketing strategies around your unique name.
Engage customers with the promise of imaginative sewing products, personalized dressmaking, embroidery artistry, and skillful tailoring. Opt for a creative logo that visually captures your branding and specialty. With the right name, you can transform sewing into a successful and rewarding venture.
The Sewing Studio
Cocoon and bloom in The Sewing Studio, where your vision takes shape. Thoughtfully designed to feed creativity, this sewing sanctuary offers the space to craft, teach, and nourish your community. Let the studio layout and offerings reflect your spirit. When your space feels like home, inspiration streams.
Thread & Needle
You've found your path of stitching dreams into reality.
Thread & Needle allows you to share your love of sewing and fiber arts with your community. Our cozy shop provides high-quality materials, equipment, and inspiration for all of your sewing success stories.
Through networking and social media engagement, we assist sewing artists such as yourself in building fulfilling careers around their passion.
Sew Chic
Washing yourself in the sober elegance of Sew Chic. This name conveys sophisticated style for a sewing business. It's short, memorable, and evokes refined haute couture aesthetics and tailored garments.
Sew Chic taps into classy fashion trends while still feeling approachable. Simply put, it's a name with seamless branding potential.
Fabric & Thread
You'd enjoy browsing their aisles of beautiful prints and high-quality threads at Fabric & Thread.
Their selection of fabrics like cottons, linens, knits, and more is unparalleled.
They have quality threads available such as Gutermann, Mettler, and Coats & Clark.
You can learn sewing techniques through the weekend classes they offer.
Get advice from their knowledgeable staff on coordinating colors and patterns.
They source materials ethically from around the world.
The experienced staff at Fabric & Thread make it a go-to spot for all your sewing needs.
Importance of Domain Availability for a Sewing Business Name

When choosing a name for your sewing business, it's crucial to check domain availability early on. Look to see if your preferred.com domain is available, as owning yourname.com will be important for establishing your online presence.
Securing the ideal.com domain from the start will maximize your branding and simplify promoting your sewing business online.
Ensuring Online Presence
Before securing your sewing business's calling card, you'd best land its.com, as a catching name won't catch customers like owning its web home can. With website development, search engine optimization, online marketing, social media, and digital advertising, you can establish an online presence and connect with potential customers anywhere.
Tailor your online tactics to attract local patrons and remote shoppers, allowing your cherished brand to thrive in the modern marketplace.
Enhancing Brand Recognition
Creating an Unforgettable Brand Identity
Choose an unforgettable brand identifier that resonates with your target audience. Think beyond just a business name. Your logo, colors, tagline, and overall brand identity should enhance recognition and differentiate you.
Use social media and collaborations with influencers to consistently reinforce your brand. Customer testimonials that highlight your unique value proposition also increase familiarity.
Facilitating Easy Access for Customers
It is vital to secure an available domain name matching your sewing venture's name, facilitating uncomplicated web access for customers.
Allows customers to easily find/recall your business online.
Boosts brand recognition and memorability.
Provides a professional and reputable presence.
Enables effective search engine optimization.
An accessible domain reinforces your label while streamlining the customer journey. Focus on obtaining an intuitive, memorable address, strengthening your sewing enterprise's web identity.
Tips for Naming a Sewing Business

When naming your sewing business, it's important to choose a name that reflects your values, captures your personality, and sets you apart. First, brainstorm words and phrases related to sewing, fashion, crafting, or design that inspire you; this process gets your creative juices flowing.
Then, try combining words in unique ways to come up with potential names that are memorable, meaningful, and available as domains. With some thought and effort, you'll find the perfect moniker to introduce your sewing brand to the world.
Consider the Target Audience
You'll hear their applause once your designs fit their style. Considering your target audience when naming your sewing business is crucial. Choose a name that resonates with the niche customers you want to attract. Customize your business name and brand identity to appeal specifically to your ideal clients.
This targeted approach will help you stand out in the sewing industry and attract your perfect niche market.
Reflect the Brand's Personality and Style
Consider expressing your uniqueness through your name. When deciding on a sewing business name, reflect your brand's personality and style to evoke customer emotions. Use your name as branding inspiration to convey who you are. Implement unique naming strategies that showcase your specialties and expertise.
Research Competitors' Names
Don't get hung up trying to outdo competitors' names when brainstorming your own. Evaluating market trends helps identify your target audience's needs. However, crafting a unique brand identity is key.
Research competitors for inspiration, but focus more on brainstorming names that convey your values and resonate with your audience. Your name should support your distinct positioning, not just mimic what's already out there.
The corrected input fixes some minor grammar issues while maintaining the original meaning and tone.
Test the Name With Friends and Family
Run it by those closest before cementing your brand's identity.
Get feedback from family and friends first.
See how potential customers respond next.
Objectively evaluate name ideas based on input.
Gathering input from loved ones is key before finalizing a sewing business name. Their honest opinions will reveal strengths and weaknesses worth considering before investing in branding, which helps prevent hasty decisions.
Ensure the Name is Legally Available and Not Trademarked
Double check your chosen name for trademarks to ensure you own it. Avoid imitation by verifying complete legal availability and ownership of your sewing business name ideas. Perform due diligence with a comprehensive trademark search and follow business naming guidelines.
This prevents costly rebranding and saves time compared to fixing trademark issues after launching your creative sewing venture under a legally unavailable name. Carefully confirm availability then confidently brand your unique sewing business.
Conclusion
It's time to take the plunge and name your sewing business! Coming up with the perfect name isn't easy, but with some creativity and research you can find something that captures your values and resonates with target customers.
It's essential to check the desired domain name's availability, as this'll allow you to create an online presence and reach more people. Keep wordplay and puns in mind, as well as alliteration and rhyming; these techniques can help you come up with something truly unique and memorable.