This site is supported by our readers. We may earn a commission, at no cost to you, if you purchase through links.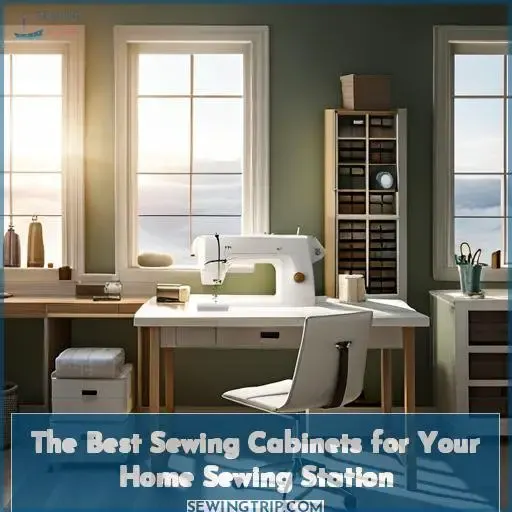 Does your craft room feel cramped and cluttered? You're not alone – limited space and overflowing supplies are the bane of every crafter's existence. Thankfully, there's a simple solution to keep your creative space neat and organized: Find the best sewing cabinets for your home sewing station.
With a dedicated sewing cabinet, you'll finally have a place to stow your fabric, thread, patterns, and tools out of sight but within reach. A quality sewing cabinet, like the ones I've tested and recommend below, offers custom storage solutions to keep your sewing essentials tidy yet accessible.
As an avid sewer and quilter, I know the agony of rummaging through bins and boxes trying to find matching thread. Let me help you discover the perfect sewing furniture to simplify your sewing room. A cabinet with specialized drawers, racks, and cubbies keeps you creating – not searching! Plus, you can keep your treasured sewing machine protected but ready to sew in a flash.
Get ready to say goodbye to the jumbled mess and hello to sewing bliss!
Key Takeaways
Dedicated sewing cabinets offer custom storage and organization for craft supplies, protecting the machine and maximizing workspace.
Folding cart cabinets may be handy but often have flimsy materials, unclear instructions, and unstable connections, leading to frustrating assembly.
Foldable wood tables with hidden storage and spacious worktops are a great option for keeping notions organized and laying out fabric.
When buying a sewing cabinet, consider size and space limitations, height and ergonomics, storage options, materials and construction, and the overall support it provides to your creative flow.
Top 5 Best Sewing Cabinets for Home Sewing Station
Hey there fellow sewist! Looking to upgrade your home sewing station? We've rounded up the top 5 best sewing cabinets to optimize your sewing space. From foldable tables to lift-top workstations, storage solutions to ergonomic designs, we'll guide you through the options to find your perfect fit.
Let's dive in to discover which cabinets offer the features, quality, and style to get your creative juices flowing.
Sewing Table Folding Cart Cabinet With Storage Shelves Casters Brown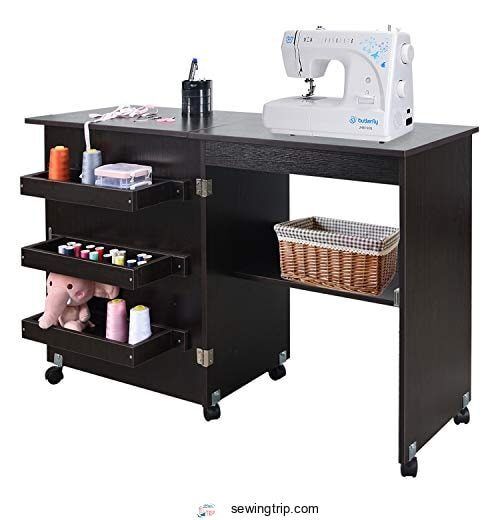 View On Amazon
This sewing cabinet may seem handy with its foldable design and hidden storage, but think twice before purchasing – flimsy materials and unclear instructions lead to frustrating assembly and questionable durability.
When fully expanded, the pegs connecting the tabletop are unstable and the plastic hinges can easily rip off if the doors are opened too wide. The materials feel cheap, and many buyers report vital hardware missing upon delivery.
Attempting to assemble with the vague instructions is an exercise in frustration. Despite its space-saving foldable frame, this sewing table's poor workmanship makes it not worth the hassle.
Foldable design saves space
Hidden storage bins
Wheels for mobility
Affordable price
Missing hardware in shipments
Flimsy materials
Unstable connections
Vague assembly instructions
Numerous negative reviews of assembly
Durability concerns due to cheap build
Folding Sewing Table Craft Station White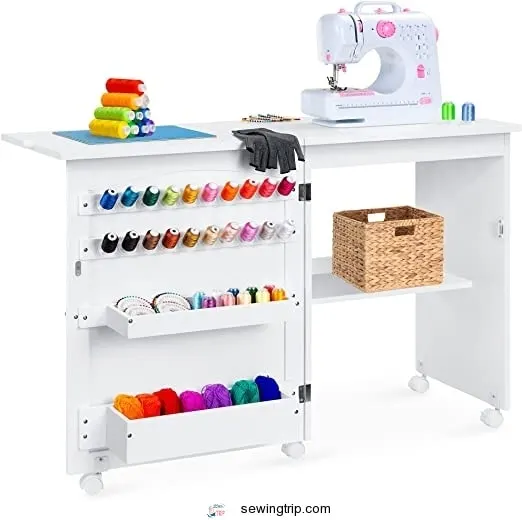 View On Amazon
Check out this foldable wood sewing table with handy storage and wheels to roll it around. The spacious white tabletop gives you room to layout patterns and fabrics while you work.
When not in use, simply fold it up into a compact side table that tucks away neatly. The mobility and foldable design make this a convenient addition to your craft room. With just some minor assembly, you'll have a functional sewing workspace with storage to keep all your supplies organized yet hidden.
Spacious tabletop work surface
Interior storage bins and shelf
Pegs for thread spools
Wheels for mobility
Folds into a compact side table
Particle board can crack during assembly
Some quality concerns with screws and holes
Instructions could be clearer
Sauder Sewing Craft Table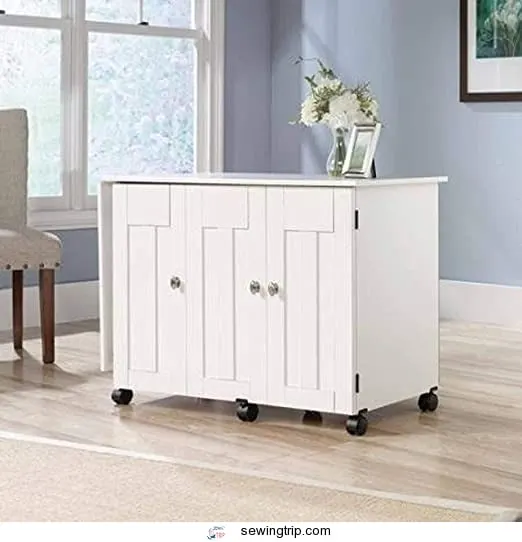 View On Amazon
The Sauder sewing craft table's sturdy cam connections and ample storage for your fabric make it an attractive addition to your sewing room, despite minor qualms about its plastic shelves.
This white rectangular cabinet offers handy open and closed storage options for all your sewing needs. The ready-to-assemble piece features detailed instructions for about an hour of assembly. With its clean lines and space to organize your supplies, it's a useful piece for your creative space.
Just be aware that the plastic shelves detract slightly from the look, and the lower shelf opening is a bit small.
Sturdy cam connections
Separated hardware bags
Picture instructions
Ample storage
Clean lines
Fabric layout space
Plastic shelves look cheap
One magnet doesn't work
Undersized lower shelf opening
Folding Sewing Table Multifunctional Sewing Cabinet Computer Desk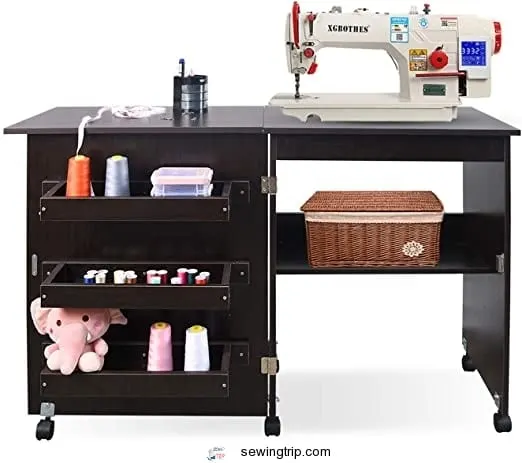 View On Amazon
You'll love how this space-saving wood/metal foldable sewing table easily transforms into a handy desk for your craft room. The versatile folding design allows you to free up space when not in use, then simply unfold it to create a useful workspace.
With built-in storage bins and a shelf, you can keep your notions and supplies organized yet accessible.
Foldable design saves space
Casters allow for mobility
Built-in storage keeps supplies organized
Sturdy expanded work surface
Multifunctional use as a craft table or computer desk
Some assembly required
Storage capacity is limited
Quality concerns noted in some reviews
Stability may be an issue with thinner metal legs
Not as stylish or decorative as other options
Giantex Folding Sewing Craft Table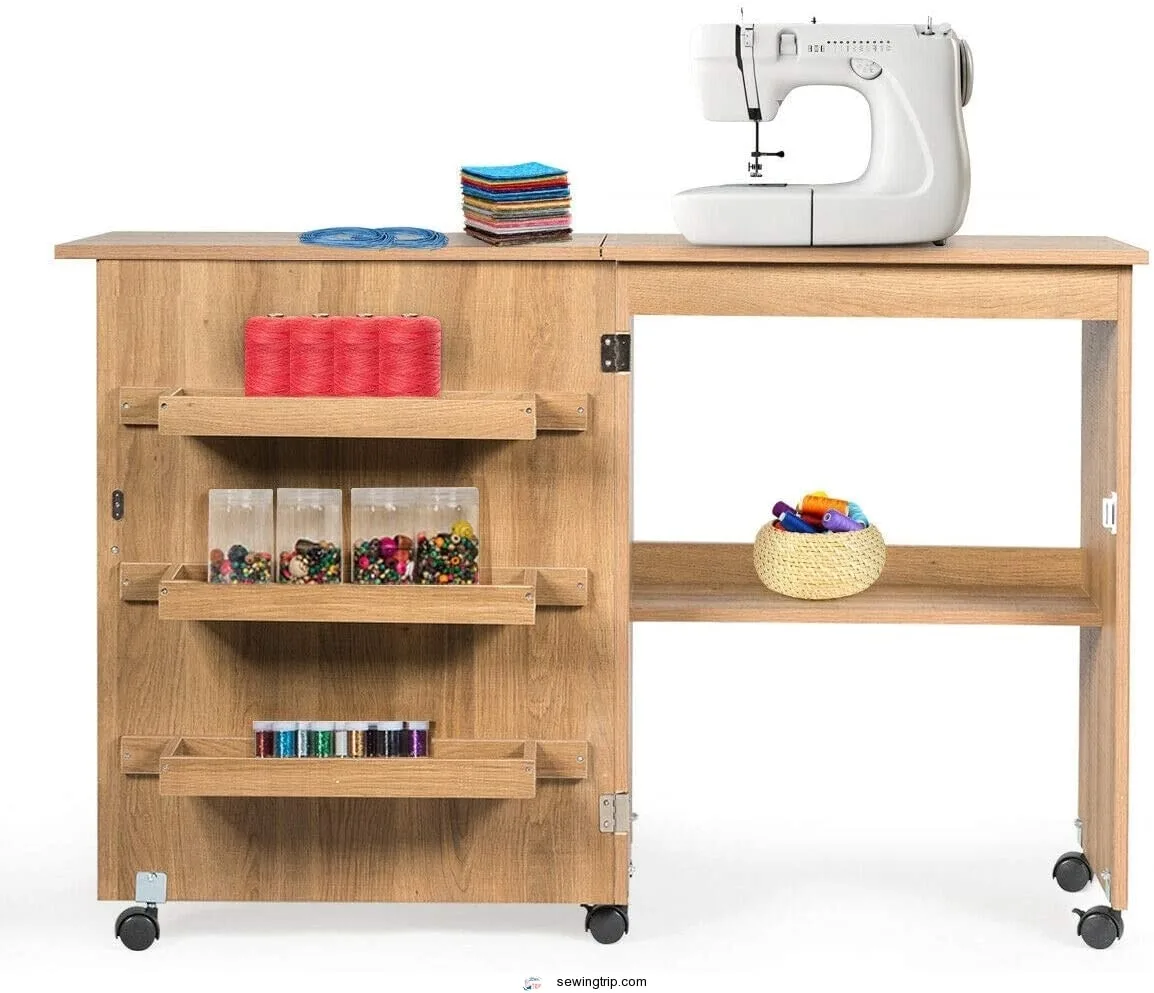 View On Amazon
Fold it away into a compact cabinet when you're done crafting with this engineered wood table. The sturdy work surface provides ample space for your projects, while the hidden storage bins keep your supplies organized yet out of sight.
Five casters allow you to easily roll the table around your creative space. Just be sure to lock the two wheels in place while you're working to prevent wobbles.
Spacious worktop
Three hidden storage bins
Folds into a compact cabinet
Five casters for mobility
Made of engineered wood
Some complaints of wobbliness
Shelves can hit knees when open
May not support heavy machines
Plastic wheels don't roll well
Reported issues with assembly
What to Consider When Buying a Flatbed Sewing Cabinet

When choosing the best flatbed sewing cabinet for your home sewing station, there are four key considerations to keep in mind.
First, evaluate the size and available space in your sewing room to determine the ideal dimensions and any space limitations.
Next, examine the adjustable height range and overall ergonomics to find a cabinet that allows you to sew comfortably for extended periods.
You'll also want ample enclosed storage options for organizing sewing notions and projects.
Finally, inspect the materials and construction to select a sewing cabinet sturdy enough to support your machine and withstand years of use.
By weighing these factors, you can select a high-quality flatbed sewing cabinet tailored to your space and needs.
Size and Available Space
You can't fit elephants in a closet, so measure your available space first when choosing a sewing cabinet. Consider the room dimensions and layout to select the ideal cabinet size and features. Compact, foldable cabinets allow condensed storage but limit workspace. Measure window placement when positioning stationary cabinets with overheads for best lighting.
If starting small due to budget or space constraints, choose adjustable height function or a lift kit for later upgrades. Focus on sufficient flatbed space for your machine's unique vibration damping needs and to prevent fabric slippage.
Height and Comfort
When picking a sewing cabinet, keep the height in mind. You'll want it high enough to sit comfortably without hunching over.
Ensure the cabinet is tall enough for you to sit with proper posture.
Consider matching the table height to your sewing chair's adjustability.
Look for customizable options like lift kits if needed.
Opt for a model with stable machine placement at a comfortable working height.
Prioritize easy accessibility to the machine and workspace without straining.
Storage Options
Y'all likely underestimate how much storage around 144 cubic feet provides for notions and fabrics when shopping for the perfect sewing cabinet. Think through your needs for space flexibility when choosing freestanding options with drawers, shelves, and accessory trays.
Compare cabinet dimensions, storage layouts, and assembly notes when selecting your flatbed preference.
Sturdiness and Durability
Focus on wobble-free construction with sturdy joints, thick tabletops, and steel frames for long-lasting sewing support you can trust. Opt for heavy-duty materials like solid wood over particle board to withstand hours of sewing.
Compare the thickness of tabletops and leg joints across brands. Test pre-built cabinets in person when possible, gently rocking them to check for stability. Customizable options like the Kangaroo Wallaby allow you to select tabletops suited for your machine's weight.
For confidence in your sew station's sturdiness, invest in quality materials built to endure years of passionate projects.
Why I Bought My Horn Sewing Cabinet

Let's delve into my experience buying the Horn sewing cabinet for my home sewing station. I chose this model for its custom flatbed insert, extensions, and lift positions, color options, and spacious workspace.
The specialized insert allows me to perfectly fit my sewing machine, while the lift feature adjusts to my ideal sewing position. With additional leaves, I can expand the surface area as needed. I'm thrilled about the custom colors as well.
Custom Flatbed Insert
Consider a custom flatbed insert for maximum workspace and machine compatibility.
Customized size for your space
Compatible cutout for your machine
Durable and smooth surface
Perfect fit for your furniture
A custom-made flatbed insert allows you to maximize your sewing area with an acrylic or wood surface tailored specifically to your workspace dimensions and sewing machine model. Having an insert professionally fabricated to fit your cabinet ensures stability, full machine access, and ample workroom for fabric and projects.
Extensions and Lift Positions
You can adjust the Horn sewing cabinet to your ideal height with its smooth lift mechanism and extensions. Select from multiple positions to customize your workspace. Sit or stand with the cabinet's adjustable height capabilities.
Extend the table surface for large projects or retract it for compact storage. With lift and extension options, you can tailor the Horn cabinet to meet your needs.
Color Options
Didn't you know the Horn cabinet comes in multiple color options to match any sewing space decor? With colors like cherry, oak, white, and black, which one complements your style? Pick a color swatch that enhances your wall palette and fabric tones.
The cabinet's paint variations allow you to match any dye options for a cohesive workspace.
Large Workspace
The expansive workspace lets your creativity soar as you tackle any sewing project. The Horn Cabinet's generous surface area provides ample room for quilting, garment construction, home decor projects, and more.
Adjustable legs, fold-down extensions, and specialty inserts customize your workspace. Integrated storage keeps your fabric stash, patterns, and supplies organized yet easily accessible.
Choosing the Best Sewing Cabinet for Your Space

When beginning your home sewing station, the best sewing cabinet makes all the difference. The Sauder Sewing Craft Cart offers handy storage and quality construction. South Shore's table provides a spacious wooden worktop paired with handy drawers.
For lifting your machine, consider the Arrow Sewnatra Cabinet with lift and insert or the more affordable Arrow Judy model. Looking to maximize workspace? Check out Arrow's Olivia cabinet with an expandable surface.
Sauder Sewing Craft Cart
I'd go with the Sauder sewing craft table for its handy storage and easy assembly. This vintage-styled cabinet neatly organizes my notions and fabric. The fold-down leaf and folding legs maximize workspace.
While assembly takes about an hour, the hardware bags help. My favorite features are the hidden storage bins and sturdy wood construction with decorative handles.
South Shore Sewing Craft Table
You'd love the ample storage space of South Shore's sewing table, cleverly hiding your notions until your next creation. This budget-friendly cabinet boasts versatile shelves and drawers to neatly organize thread, fabric, patterns, scissors, and more.
The adjustable leg design ensures stitch stability as you assess your latest quilt or dress.
Arrow Sewnatra Sewing Cabinet
Let's explore further with the handy Arrow Sewnatra cabinet that elevates your machine, providing an ergonomic sewing spot with ample storage at a mid-range price. The universal machine insert adjusts to fit your model, made of durable acrylic in creative designs.
Inserts can be swapped out for specialty machines, allowing for customization of insert size and adjustable height to achieve your ideal sewing position. This cabinet is suitable for any space, thanks to its lift-assist mechanism and abundant storage, while also keeping your machine easily accessible.
Arrow Judy Sewing Cabinet
The Arrow Judy sewing cabinet provides an ergonomic workspace with a lift feature in the $400 price range. This cabinet boasts adjustable height via a pneumatic lift, thread storage, large 5-inch wheels for mobility, and foldable legs for a smaller footprint.
The notions drawer keeps your sewing essentials organized. With lift-assisted ergonomics and strong folding legs, the Arrow Judy sewing cabinet creates a user-friendly sewing station in a compact size.
Arrow Olivia Sewing Cabinet
Expand your sewing horizons with the Arrow Olivia cabinet. Like a bird spreading its wings, this sewing station unfurls to reveal an expansive workspace for all your quilting and crafting dreams. With versatile leaf options, you can customize your workspace. When finished sewing, it folds away for easy storage.
Priced $600-700, it offers value with upgradeable features like lift and storage add-ons. Read assembly tips before purchasing to ensure smooth construction of this liberating cabinet.
Frequently Asked Questions (FAQs)
What are the benefits of buying a sewing cabinet versus a simple sewing table? A sewing cabinet offers more storage, workspace and features compared to a basic table. Consider storage needs.
You'll love a sewing cabinet's specialized features. They offer ample storage for fabrics, notions, and projects with drawers, shelves, and bins. Lifts and cutting inserts create an ergonomic workspace. Wheels provide mobility.
Should I build my own sewing cabinet or buy a pre-made one? Pre-made cabinets are quicker and easier but custom built allows personalization. Consider skills and time investment.
Pre-made cabinets save time, but building your own lets you customize dimensions and features perfectly for your space and needs. With carpentry skills, it's worth investing the time to create your ideal sewing sanctuary.
How difficult is assembly and installation of a sewing cabinet? Difficulty varies. Read reviews to gauge complexity of instructions and hardware. Allow 1-3 hours.
You'll need to set aside time for assembly when getting a sewing cabinet. Study those reviews first to get a feel for tricky instructions or missing parts.
Can sewing cabinets be customized after purchase? Some models offer interchangeable inserts, optional leaves, add-on storage. Research customization options.
Yes, many sewing cabinets can be customized! Look for models with interchangeable inserts, extensions, and add-on storage to adapt the workspace over time. Choosing furniture with custom options allows you to tailor your sewing station as your needs change.
Where can I buy sewing cabinets besides online or big box stores? Check sewing machine dealers, antique stores, craft stores, estate sales for used gems. Support local businesses.
You could find sewing cabinets at sewing machine dealers, antique stores, craft shops, and estate sales. Support small businesses while searching for charming vintage models or quality pre-owned gems.
Conclusion
As you sew, choosing the right sewing cabinet for your home sewing station is key. Your space, height, and storage needs should steer you towards the cabinet that fits you best. I chose my Horn cabinet for its custom insert and lift positions – though it digs deep into my coin purse.
Your thimble might fit the Sauder's budget-friendly shelving or South Shore's compact leaf. Test drive an Arrow to discover your cabinet soulmate. Whichever sewing furniture you pick, may your projects turn out bee's knees and your sewing sanctuary be the cat's pajamas.