This site is supported by our readers. We may earn a commission, at no cost to you, if you purchase through links.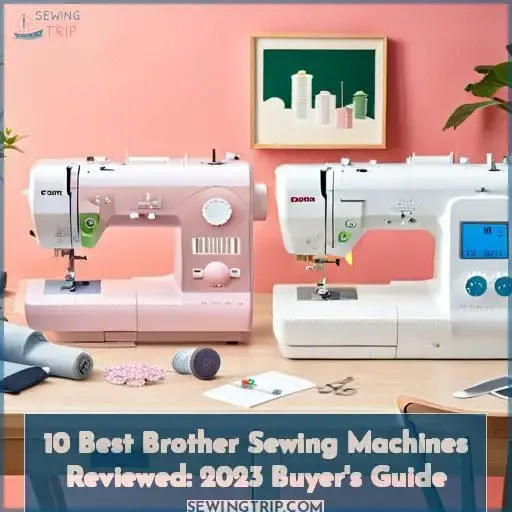 When you're looking to buy a Brother sewing machine, there are a lot of factors to weigh before choosing the right model. Start by deciding if you want a computerized or mechanical machine. Computerized machines have automatic features that make sewing easier, like automatic needle threading and one-step buttonholes.
You'll also want to consider weight and portability if you'll transport your machine, and the number of included presser feet and stitches.
To find your perfect match, you've got to balance size, computerization, automatic features, and cost.
Here's a comprehensive look at highly-rated Brother models to guide you. With the right information, you can confidently select a versatile, quality Brother machine that will open up creative possibilities for many years of sewing adventure.
Key Takeaways
Computerized models offer more stitches and automatic features.
LCD screens and automatic thread cutters are available in computerized models.
Mechanical models are more basic and affordable.
Consider budget, goals, and preference when choosing a Brother sewing machine.
Considerations Before Purchasing a Brother Sewing Machine

Before buying a Brother sewing machine, consider mechanical versus computerized features, automatic needle threaders, button versus hands-free operation, included presser feet, and how the machine makes buttonholes.
Mechanical Vs. Computerized
You'd be lost and frustrated without the computerized features and conveniences of modern Brother sewing machines! Choose computerized models for their stitch size options, automatic lift, and bobbin winders.
Mechanical machines lack these market innovations but have simpler thread tensions. Prioritize your sewing goals – computerized assists versatility while mechanical does basics.
Automatic thread cutter
Large selection of built-in stitches
On-screen editing capabilities
Automatic Needle Threader
Having an automatic needle threader saves tons of frustration and makes sewing projects quicker. This handy feature threads the needle with the press of a lever, saving you time and hassle.
Choosing a Brother sewing machine with an automatic needle threader allows you to spend less time prepping and more time creating. Since threading the needle can be tricky, this automation makes starting projects simpler.
Consider models like the user-friendly CS6000i or XM2701 that include this handy feature.
Buttons Vs. Hands-Free Sewing
Deciding between buttons and hands-free sewing depends on your project plans. Some models feature buttons to select stitches and patterns, while others have more ergonomic, hands-free designs with automatic bobbin changers and reverse controls.
Consider your needs regarding buttonholes, buttons, presser foot, walking foot, and feed dogs. The case materials and overall durability are also important. Hands-free operation adds convenience for frequent sewers focused on versatility and efficiency.
Included Presser Feet
Y'all are absolutely spoiled for choice with the huge selection of presser feet included. From zipper foot to buttonhole foot, Brother machines provide all the feet needed to tackle any project. The range gives beginners inspiration for DIY ideas while ensuring seam finishing success.
With handy operating instructions, y'all can master each presser foot accessory. An extension table boosts fabric control when starting out. The workshop is well-planned with Brother's wide-ranging presser feet.
Buttonhole Construction Process
Seeing properly sized buttonholes take shape before your eyes thanks to the automatic one-step buttonholer is a seamless joy. The machine handles buttonhole construction from start to finish, so you can sit back as the feed dogs move fabric under the foot to stitch, cut, and reinforce the buttonhole for sturdy wear.
Just insert a button to auto-set the length. This makes light work of shirt plackets or jackets. Forget about hand cranking a tiny manual stitch for endless button loops. Enjoy the modern conveniences of automated precision.
Are Brother Sewing Machines Any Good?

Y'all'd be amazin'ly surprised how good Brother sewin' machines can be for beginners once ya look past the fancy bells and whistles.
The key considerations are:
Needle stays sharp even after thick fabric projects
Adjustable presser foot pressure for any material
Decent range of built-in stitches for sewin' and quiltin'
Quiet motor won't disturb your creative zen
While computerized machines have more features, Brother's mechanicals cover the stitchin' basics. For hobby sewin', the cheaper models still deliver Brother's signature reliability.
For newbies, Brother mechanicals have all ya need to start stitchin' masterpieces.
What is the Brother Warranty?

You've got it for 25 years with the CS6000i. Brother's excellent warranty coverage provides peace of mind with your sewing machine purchase. Simply register your new Brother sewing machine online using the model and serial number.
This activates the limited 25-year warranty on the machine head, 5-year limited warranty on electrical components, and 1-year limited warranty on adjustments.
If any defects arise during the warranty period, first check your instruction manual for troubleshooting. You can also contact Brother customer service online or by phone for advice. If service is needed, locate your nearest authorized Brother dealer through the dealer locator on their website.
Joining a Brother sewing machine user forum can provide extra tips and assistance.
With proper care and maintenance, your Brother machine should deliver years of flawless performance. But it's reassuring to have their renowned warranty support behind your purchase.
How Much Do Brother Sewing Machines Cost?

You'll find Brother sewing machines range from very affordable basic models under $100 to computerized machines with hundreds of stitches costing over $500.
Brother CS6000i ($150) – Computerized 60-stitch model with automatic needle threader and hard case
Brother CE8080 ($180) – Computerized, 80 stitches, USB connectivity
Brother SE600 ($300) – Computerized, 103 stitches, 80 embroidery designs
Brother SA1855 ($500) – Computerized, 185 stitches, LCD touch screen
When purchasing, consider your budget, sewing goals, and whether you prefer mechanical or computerized. Mechanical models are more basic and affordable, while computerized models offer more stitches, automation, and connectivity but are pricier.
Look for key features like an automatic needle threader, buttonholer, included feet, and accessories. Additional capabilities like embroidery, wide tables, and computer input add versatility and convenience.
Investing more upfront means benefiting from extra functions that save time and expand possibilities over the long term.
How Do I Choose the Best Brother Sewing Machine?

When selecting a Brother sewing machine, you'll want to consider size, weight, and portability if you plan on transporting it often. You'll also need to decide between computerized models with more functionality versus mechanical ones that are more basic and affordable, as well as determine which automatic features will be most useful, like needle threaders or one-step buttonholers, to save time and effort.
Finally, match the machine's price range and included stitches, feet, motors, and accessories to your sewing frequency, projects, and skill level.
Size, Weight, and Portability
You'd pack a portable Brother with ease of travel in mind. Weighing under 20 pounds, options like the CS7000X and CP60X stash inside their own carrying cases. The sturdy plastic protects them in transit. For frequent flyers, the ST150HDH's slim frame fits handily in overhead bins.
The built-in carrying handle makes porting it through airports a breeze. Its optional extension table clips on securely for extra workspace at your destination.
Computerized Vs. Mechanical
Computerized models offer more functionality with automated stitches and embroidery, but can be pricier and more complex than a trusty mechanical. However, computerized machines make intricate stitching and creative embellishments accessible.
Opt for mechanical models if your budget is tight or you plan on basic sewing. Troubleshoot problems by checking settings, rethreading, and cleaning before repairs. Access spare parts through the manufacturer. Consider motor speed for your projects – around 800 stitches per minute is versatile.
Automatic Features and Setup
One-step buttonholes and needle threaders save you time and hassle when first learning to sew. Look for Brother models like the CS6000i and XM2701 offering these handy features. Automatic needle threaders poke thread through the needle's eye while auto buttonhole settings handle buttonhole length and density.
Test different needle types, thread tensions, and LED lighting when sewing specialty fabrics. Embroidery attachments open creative options but aren't essential when starting out.
Price and Features
You'll want to match the machine to your sewing goals when considering price and features.
Built-in feet options
Motor limitations
Noise levels
Accessory availability
Customer service experiences
Brother sewing machines range widely in price and features. The basic LX3817 model lacks some ease-of-use features but costs less. The advanced XR9550prw is packed with features for ambitious beginners' serious sewing.
Consider computerization, stitches, accessories. Invest in more if sewing frequently; go basic for casual sewing.
What Sets Brother Sewing Machines Apart From the Rest

You feel the quality Brother's renowned for when those stitches slide silk-smooth through the fabric. Brother sets themselves apart by optimizing their sewing machines for top stitch control. Settings let you fine-tune stitch width and length for precision sewing. Their presser feet readily snap on and off, providing specialized functionality for hemming, zippers, and more.
Brother keeps machine noise low and fabric feeding smooth with quality components. Many models include an auto thread cutter to instantly snip threads. While mechanical Brother models have basic operation, computerized machines bring cutting-edge technology for ambitious sewing.
Features like built-in stitches, easy threading, LCD screens, and one-step buttonholes make Brother a top choice. Brother's outstanding owner satisfaction stems from a relentless commitment to innovation.
Their machines thoroughly satisfy sewers ready to unleash their creativity through garment making.
Frequently Asked Questions (FAQs)
What accessories are included with Brother sewing machines?
With Brother sewing machines, you'll get a nice selection of accessories. This includes multiple presser feet for various techniques, a wide extension table ideal for large projects like quilts, an automatic needle threader to make setup easy, a hard protective case, plus bobbins, needles, oil, a cleaning brush, screwdrivers, and more.
The accessories allow you to take on a wide variety of sewing and embroidery projects right away.
How user-friendly are the controls and displays on Brother sewing machines?
Brother sewing machines are designed for ease of use, with intuitive controls and user-friendly displays that make selecting stitches and settings a breeze. The LCD screens on computerized models are clear and legible, while the stitch selection dials on mechanical machines allow you to quickly choose your desired stitch.
Whether you're a sewing novice or a seasoned expert, you'll find the controls on Brother machines well-placed and simple to operate.
How noisy or quiet are Brother sewing machine motors?
Most Brother sewing machines have quiet, smooth motors that won't disrupt conversations. The motors are designed for continuous sewing without overheating or making irritating noises. You'll find the gentle hum soothing as you get lost in your projects. Feel confident in the reliable power and efficient performance.
Can I get Brother sewing machines serviced at local sewing/vacuum stores?
You can get most Brother sewing machines serviced at local sewing and vacuum stores. Take your machine's model number to find a shop that stocks Brother parts and has technicians familiar with the brand.
Brother also has an authorized service center search on their website to locate qualified shops near you.
How do I find and download embroidery designs for my Brother sewing machine?
Look on the Brother website under Support > Embroidery Designs for free designs. Check out embroidery design sites like EmbroideryDesigns.com, iTinta.com, or UrbanThreads.com to buy individual designs or collections. Search Etsy or eBay for sellers offering instant downloads of embroidery designs.
Use digitizing software like Embird to convert vector art or clipart into embroidery files. Connect a USB stick to your computer, save purchased or created designs, then transfer them to your Brother machine.
Conclusion
When purchasing a Brother sewing machine, you're buying into over a century of expertise. With their focus on reliability, satisfaction, and innovation, Brother has earned its reputation as a top brand.
Carefully match your sewing goals and budget to find the ideal machine from their lineup. Models like the versatile CS6000i and feature-packed XR9550PRW deliver excellent value. Whichever Brother sewing machine you choose, Brother's precision engineering and friendly instruction will keep you stitching happily ever after.