This site is supported by our readers. We may earn a commission, at no cost to you, if you purchase through links.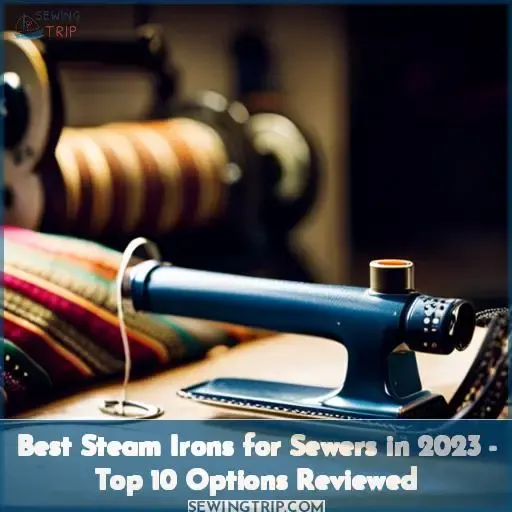 As a sewist, you know the importance of having a good iron for your fabric and quilting projects.
To help you find the perfect fit for your sewing requirements in 2023, we've reviewed 10 of the top-rated models that are ideal for sewers.
Read on as we provide an overview of each model along with what features should be considered before purchasing any steam iron specifically designed for use by sewers.
Key Takeaways
Choose a steam iron with an adjustable temperature control and at least 1500 watts of power. Look for features such as auto shut-off, anti-drip, and anti-calc. Use distilled or demineralized water instead of tap water.
Top 10 Best Steam Irons for Sewers
If you're looking for the best steam iron for your sewing projects, look no further! The top 10 options in this list are sure to make any sewer's life easier and more productive. From Rowenta Steam Iron DW2459 to Gravity Feed Steam Iron Silver Star ES-300, these models provide features such as adjustable temperature settings, powerful steaming capabilities, an auto shut-off system and 360-degree movement so that you can achieve professional-quality results with ease.
Rowenta Steam Iron DW2459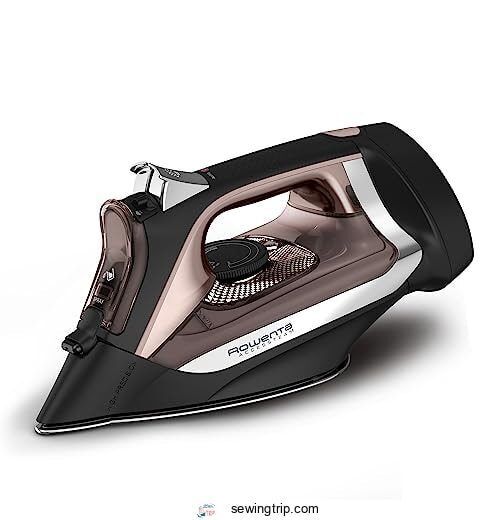 View On Amazon
You'll love the Rowenta Steam Iron DW2459 for its maximum steam distribution, effortless storage options, and exceptional glide – just like Jamie did when she quilted her grandmother's blanket. This premium steam iron has 1725 watts of power to tackle a variety of fabrics from cotton to wool and silk with ease.
It features a stainless steel soleplate that's scratch-resistant, plus an auto-off feature for added safety. The retractable cord makes it easy to use and store, while the comfortable handle ensures comfort during your pressing session.
Maximum steam diffusion
Made with high-quality stainless steel
Retractable cord for easy usage/storage
Auto-off feature for added safety
Can be used on delicate fabrics such as cotton/wool/polysilk/linen etc.
Short cord length
Difficulty reading the temperature dial
Difficult opening water cap
Panasonic Cordless Steam Iron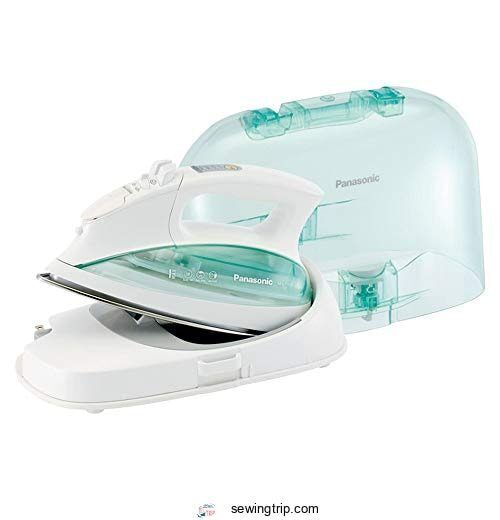 View On Amazon
Experience the convenience of wrinkle-free clothes with Panasonic's Cordless Steam Iron. With 1500 watts of power and a curved stainless steel soleplate, this iron offers powerful steam action and adjustable touch-button settings for all fabric types.
A temperature range from 248°F to 392°F ensures you can customize your ironing needs, while the retractable cord makes storage easy. The auto shut-off feature provides added safety, and the clear view LCD screen allows you to easily access settings without guesswork or frustration.
Powerful steam action
Adjustable touch-button settings
Temperature range from 248°F to 392°F
Retractable cord & auto shut-off feature
Clear view LCD screen & ergonomic handle design
Short cord length
Steam button may not respond
Water may dump out
Hamilton Beach Durathon Iron Steamer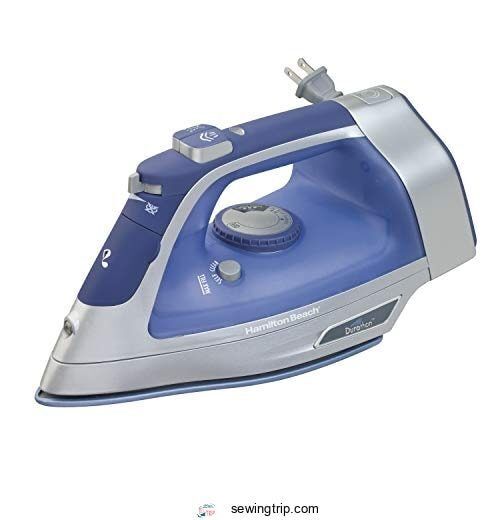 View On Amazon
Feel the power of this Hamilton Beach Durathon Iron Steamer as it smooths out even the toughest wrinkles with its superior steam and durable nonstick soleplate. With 10x more durability than traditional non-stick plates, this iron is designed to handle any fabric you throw at it.
The 3-way auto shutoff and anti-drip technology make for safe and easy use, while an 8-foot retractable cord gives you ample length without needing to be stored away when not in use. You can also adjust your steam levels accordingly thanks to spray, blast, adjustable steam features as well as vertical steaming options, all powered by 1500 watts of electricity! Plus, there's a large dial on the comfort handle so settings are easily visible at a glance.
10x more durable than traditional non-stick soleplates
60% more steam for superior wrinkle removal
8-foot retractable cord for neat storage space
Doubles as a vertical steamer
3-way auto shutoff
Anti-drip technology
Heavy compared to other irons
CHI Titanium Ceramic Iron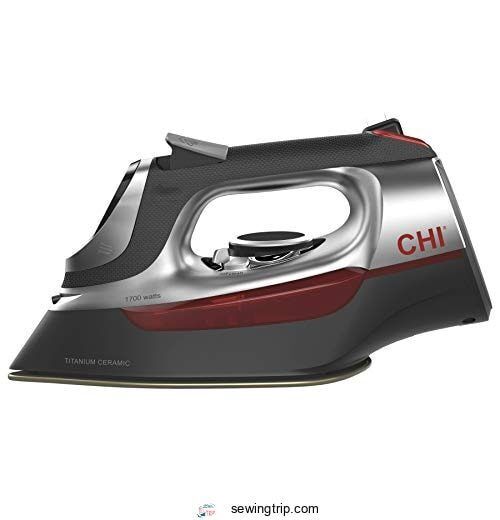 View On Amazon
The CHI Titanium Ceramic Iron features a titanium-infused ceramic soleplate that glides effortlessly over fabric, providing ultra-strong and scratch-resistant results. With 400 steam holes for powerful steam action, adjustable steam control, and an 8ft retractable cord for easy storage, this iron is perfect for tackling any fabric with ease.
The sleek design with matte chrome accents adds a touch of style to your laundry room, while the electronic temperature control ensures consistent heat across all fabrics.
Powerful 1700 watt motor
Curved stainless steel soleplate
Variable steam & temperature controls
Auto shutoff feature
Clear view LCD screen
Electronic temperature control with fabric guide
Sleek design with matte chrome accents
Short cord length
Steam button may not respond
Black Decker Digital Iron LCD
View On Amazon
You'll love the BLACK+DECKER D2030A Steam Iron, boasting digital settings for customized steaming and temperature control, plus safety features like auto-shutoff. It has a clear view LCD screen to easily customize fabric and steam settings with a variable temperature range from 248°F – 392°F.
This iron also comes with an 8-foot retractable cord for convenient storage while not in use. With its sleek design featuring matte chrome accents combined with its lightweight 10.
Good value for money
Easy to use
Digital screen helps alert when the iron is at set temperature
No instructions in French included in box
All settings don't work well
Singer Magic ESP-2 Electronic Steam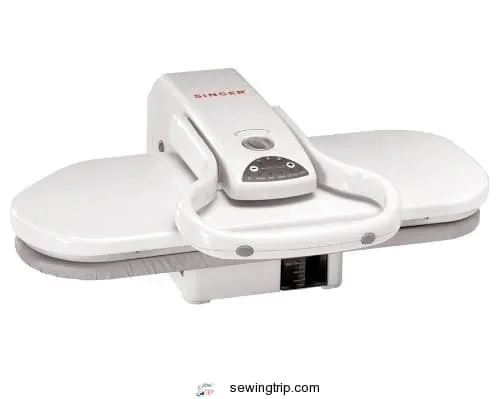 View On Amazon
Discover the Singer Magic ESP-2 Electronic Steam Iron, which provides professional pressing results with its extra-large pressing surface and auto-shutoff feature. For example, a seamstress was able to use it for 10 hours/day without any issues.
This iron comes with an array of features designed for convenience and ease of use, such as a one-year limited warranty, spray bottle, measuring cup, and pressing cushion.
The extra-large steam area allows you to quickly press larger items like tablecloths or curtains; however, some users have noted difficulty reaching areas near seams due to size limitations.
Auto-shutoff with electronic alarm
Extra-large pressing surface
Includes spray bottle, measuring cup, and pressing cushion
Short cord length
Difficulty reaching around seams
IDesign Metro Aluminum Spray Bottle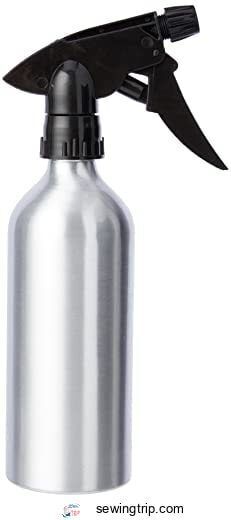 View On Amazon
Experience the convenience of mist spray and rapid refill with iDesign's Metro Aluminum Spray Bottle. This 12 oz capacity bottle is made from rustproof aluminum and features a protective interior lining for added durability.
The adjustable nozzle has an easy-to-use BPA free black plastic nozzle that can be set to your desired level for precise application. It's perfect for mixing acetone or auto transmission fluid, making it an ideal tool in any workshop or garage setting.
However, due to its flimsy construction, the handle may break after prolonged use, so you need to take extra care when handling this product.
Made from rustproof aluminum
Protective interior lining
Adjustable nozzle with mist spray
Flimsy construction
Need to prime before spraying
Handle broke after frequent use
Oliso Smart Iron ITouch Blue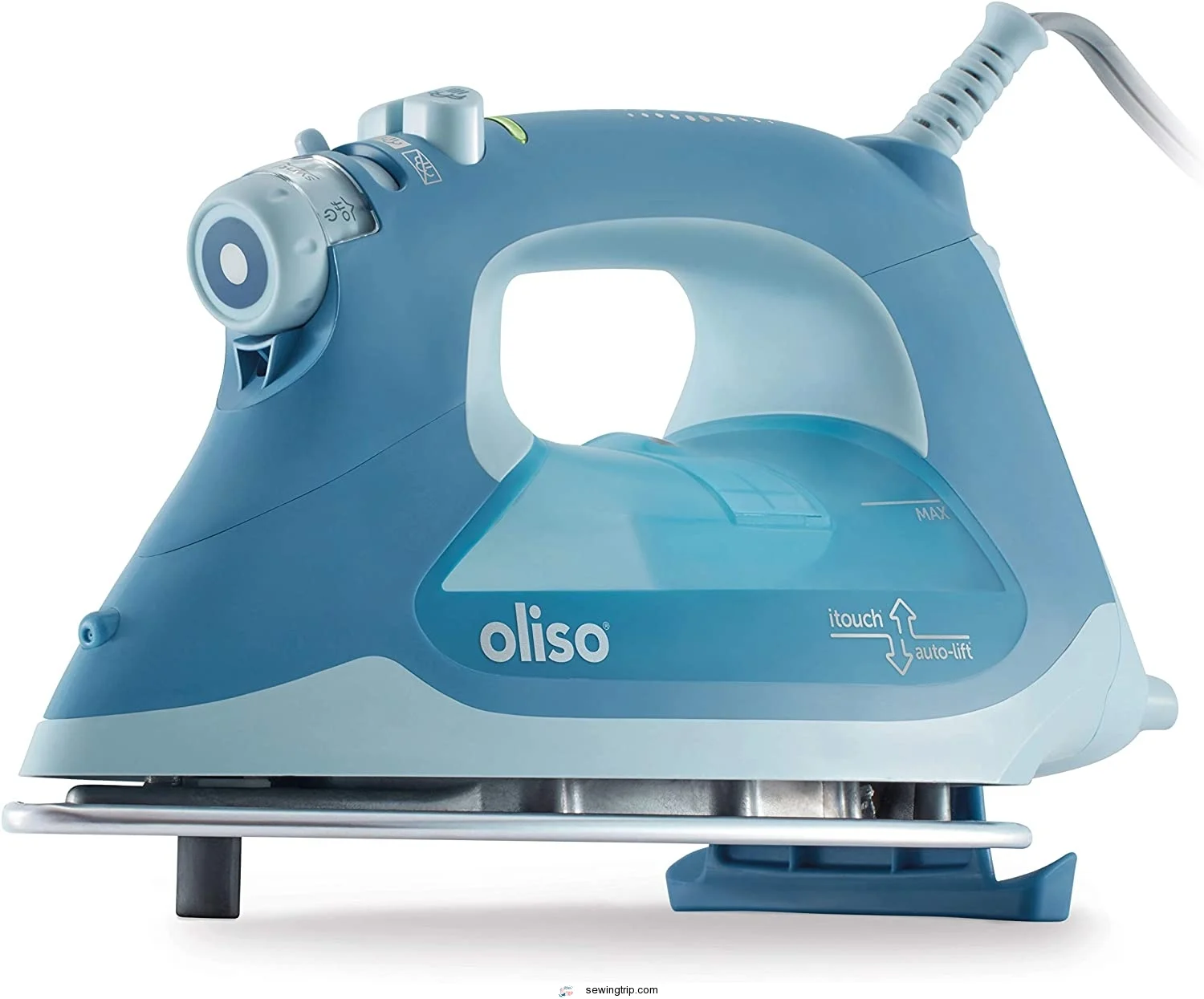 View On Amazon
Unleash the power of Oliso's Smart Iron ITouch Blue and enjoy effortless ironing with its 1800 watts of power, Pro-Press Stainless Steel soleplate, auto shut-off feature for added safety, and 12.7 oz side fill tank! This professional-grade pressing iron is perfect for home use, featuring an extra-large pressing surface that's 10 times larger than a conventional iron.
The iTouch Technology prevents burns, scorching, or tipping by lowering when you touch your hand to the handle and lifting when you stop using it. It also has adjustable steam control with fabric guide settings, so you can get just the right amount of steam needed for different types of fabrics.
Powerful 1800 watt motor
Auto Shut-Off Feature provides added safety
Adjustable Steam Control & Fabric Guide Settings
Handle may break after prolonged use
Not suitable for all fabric types
Laurastar Premium S3 Iron
View On Amazon
Make ironing a breeze with the Laurastar Premium S3 Iron, boasting an extra-large pressing surface for quick and easy wrinkle removal. With built-in lime scale filter technology, double volume of extra fine steam, and constant pressure of 3.
5 bars that produces 200 litres per minute, you can be sure of professional quality results every time. Its foldable board comes with six height adjustment settings to cater for all your ironing needs, while its removable 1.
2 litre reservoir ensures uninterrupted use without waiting around too long for it to heat up – only three minutes! The two pairs of integrated wheels make moving this system a hassle-free task, so you can take it wherever required in no time at all.
Built-in lime scale filter technology
Double volume of extra fine steam
Constant pressure of 3.5 bars
Foldable board with 6 height adjustments
Short cord length
Steam button may not respond
Water may dump out
Gravity Feed Steam Iron Silver Star ES-300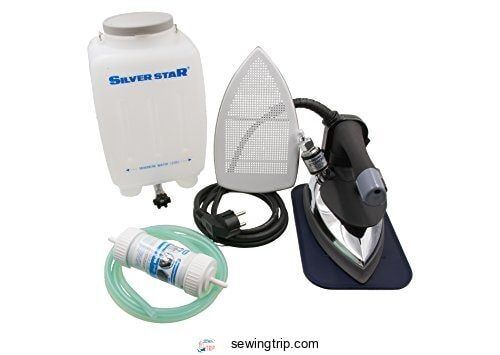 View On Amazon
Discover the Gravity Feed Steam Iron Silver Star ES-300, an incredibly efficient and powerful ironing tool that brings professional results to your home at a fraction of the price. With its auto shut-off feature, this classic-style steam iron is designed for those who demand superior quality results.
The included filter helps with water and shoe protection while providing virtually endless steam. It's properly weighted so it won't tire out your wrist as you work on larger projects like quilts or curtains.
Auto Shut-Off Feature
Includes Filter for Water and Shoe Protection
Virtually Endless Steam
Short Cord Length
Unreliable Steam Button Response
What to Look for When Buying a Sewing Iron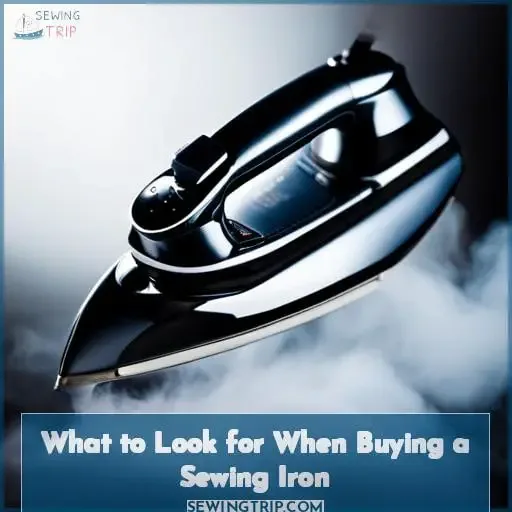 When it comes to buying a sewing iron, there are several features to consider. Look for one with powerful steam capabilities and adjustable settings for different fabrics. Ensure the sole plate is made from a durable material such as stainless steel or titanium-infused ceramic, and check the heat settings have a wide range for quick and efficient completion of any task.
Steam Power
You'll be impressed with the power and steam diffusion of a sewing iron when choosing one for your project. A quality steam iron produces high levels of pressurized steam at adjustable settings, allowing you to select the ideal temperature and amount of moisture required for each fabric type.
Depending on your needs, you can choose from basic irons, cordless models, or professional-grade machines that feature multiple dry/steam settings plus additional features such as water reservoirs, anti-calcium systems, and more.
When using an iron regularly, it's important to maintain optimal performance by cleaning it frequently; descaling products are available, too, if needed. Steam controls make them easier to use, while special soleplates provide smoother gliding action over different fabrics with fewer wrinkles.
Iron Type
When selecting an iron for sewing, consider the type of iron as there are different options available. The Panasonic Cordless Steam Iron is a great choice that offers fabric type settings, energy-saving features, and steam holes with an adjustable temperature range from 248°F to 392°F.
For added convenience, it has textured grip handles and an auto shut-off feature. Sewing machines require more powerful steam power than regular irons, so check heat settings, soleplates, and temperature control before purchase.
Sole Plates
When shopping for a sewing iron, look for one with a durable and scratch-resistant soleplate that glides over fabric effortlessly. Opt for Singer Expert Finish or Oliso Smart Iron iTouch Blue for efficient heat distribution on all kinds of fabrics.
Check the power capacity and flat surface size to make sure it's suitable for your projects' needs. Consider cord length, temperature control settings, and steam settings too! Make sure features like auto shutoff are included in case of accidents; cleaning tips can also help keep your iron free from mineral build-up, so it lasts longer.
Heat Settings
Look for an iron with adjustable heat settings so you can tailor the temperature to different fabrics. Look for a range of temperatures from low to high and accurate steam control. A fabric guide on the machine will help you select the right temperature, as well as prevent scorching delicate materials like silk or rayon.
The cord length should be long enough that it won't get in your way when moving around your workspace; consider retractable cords if space is an issue.
Durability and Safety
Ensure your iron has durability and safety features such as auto-shutoff, anti-drip, and anti-calc for reliable performance. Look for power levels of at least 1,500 watts with adjustable temperature control, depending on the fabric type.
Consider a retractable cord for easier storage or transport. Choose a pressing station setup in front of windows or a stand-alone one; steam holes should range from 400 to 800 for maximum steam diffusion and glide.
Iron types vary, so select accordingly: gravity feed irons are good options, while cordless models offer convenience when travelling, but may lack power compared to corded ones. Use distilled water instead of tap water, which can cause build-up inside the soleplate over time.
Ironing Vs. Pressing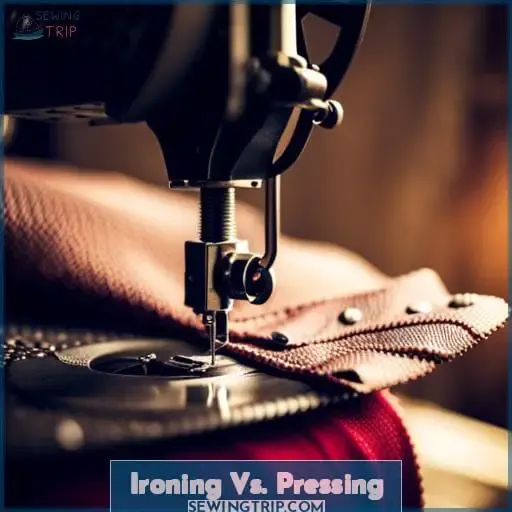 Moving from selecting the best steam iron for sewers to ironing vs. pressing, it's essential to understand the differences. Ironing is a back and forth motion with an up and down press, while pressing is lifting the fabric off the board after each pass of heat or steam before setting it back down.
Consider fabric types when deciding which method works best – some fabrics are better suited for ironing, while others do better with pressing techniques due to their delicate nature. Utilize an adjustable temperature control, anti-drip feature, independent steam adjustment settings, and auto shut-off to achieve professional results.
Professional irons are designed differently than mini steam irons, so make sure you have enough power (1,500–2,000 watts range) and a sturdy handle that won't get hot during use. Extra features like a cord length of 7 feet or more can prove convenient when maneuvering around your workspace on any size iron board surface area.
Setting Up a Pressing Station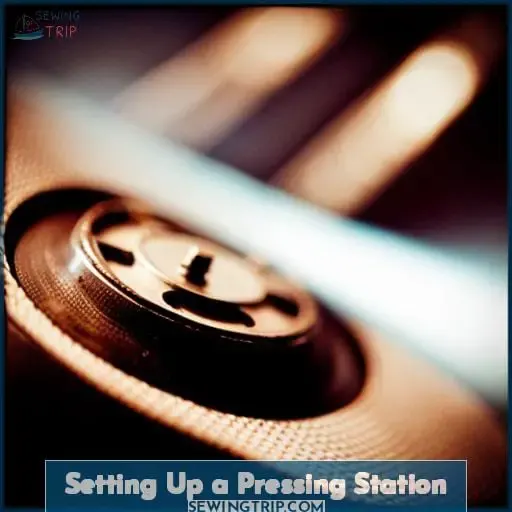 Setting up a pressing station is an essential part of any sewer's toolkit, with steam irons providing 30% faster ironing than traditional models. The best models have adjustable heat settings and sole plates to provide the right amount of steam power for different fabrics.
A fabric guide can help sewers select the temperature setting best for their material. Having a dry iron on hand can be helpful in removing wrinkles without using extra water or moisture from steaming.
For those looking for top-of-the-line results, the Oliso TG 1600 Pro Plus Smart Iron has an auto shut-off system, a pivoting handle, and iTouch features that make it easy to use while ensuring safety during operation.
With all these options available at varying price points, sewers should consider energy-saving features and power capacity when deciding what type of model works best for them.
Iron Usage and Maintenance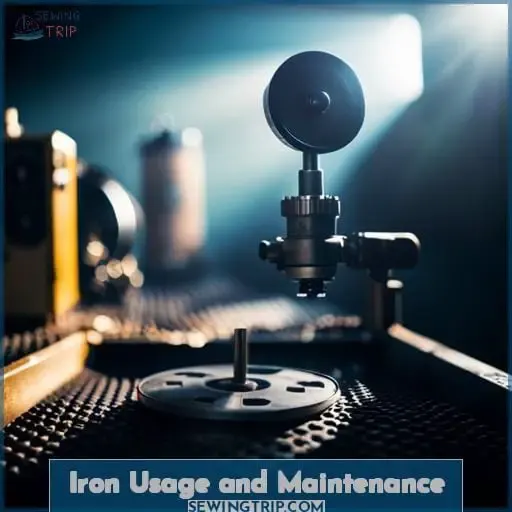 Now that you've set up your pressing station, it's time to learn how to use and maintain your iron. First, make sure you're using an ironing board for maximum control when working on multiple layers or complex fabrics.
Then select the right steam power setting—it should match the thickness of fabric as well as its weave. The type and sole plate material should also be considered; stainless steel is usually preferred because it glides quickly over surfaces with minimal sticking while still providing a strong burst of steam when needed.
Heat settings are important too; choose one appropriate for each kind of fabric being worked on so you don't damage them. Safety features like auto shut-off timers can help prevent burns due to overheating, especially if left unattended for long periods during larger projects like quilts or serious dressmaking work such as suits.
For heavier fabrics requiring more heat, try the Rowenta 6080 Eco-Intelligence Iron. It's been designed specifically with this in mind—its extra powerful 2400W motor helps deliver hot air evenly across even delicate fibres without scorching them! For those who want professional results every time they press their garments or linens at home, investing in a Laurastar Ironing System might be worth considering.
Frequently Asked Questions (FAQs)
What is the best way to store a steam iron?
To store your steam iron safely, unplug it and wait for it to cool completely. Place the iron in its box or a padded bag, then put it on a shelf or in another secure location away from children and pets.
How often should you descale a steam iron?
Descale your steam iron regularly to keep it performing at its best. Use a mixture of distilled water and white vinegar to flush out minerals, giving you clean, powerfully-steaming results.
What is the most energy efficient steam iron?
The most energy-efficient steam iron is the Panasonic Cordless Iron NI-QL1000G, with its 1,500 watts of power and double-tipped soleplate. Enjoy effortless gliding, temperature control from 248°F to 392°F, a heat-resistant carrying case, and a detachable water tank for convenience.
What is the difference between steam ironing and dry ironing?
Dry ironing uses direct contact with hot metal plates to remove wrinkles, while steam ironing utilizes pressurised vapour to do the job. Steam irons offer more control and can be used on a variety of fabrics; dry irons are best for heavier garments such as denim or canvas.
Are there any natural alternatives to using distilled water in a steam iron?
Yes! Distilled water is not the only option. Try using filtered or bottled spring water for your steam iron to keep it free of limescale buildup and ensure optimal performance. With its natural minerals, this alternative will help extend the life of your appliance and make ironing easier and more efficient.
Conclusion
In 2023, there are hundreds of steam irons available for sewers, so it can be hard to decide which one is best. Fortunately, the top 10 best steam irons for sewers have been carefully reviewed and selected to help you make an informed decision.
With features like auto shutoff, temperature control, and a retractable cord, there's a steam iron for every need. From the powerful Rowenta Steam Iron DW2459 to the Gravity Feed Steam Iron Silver Star ES-300, there's a steam iron that will work perfectly for any type of fabric.
Remember, when selecting the best steam iron for your needs, consider steam power, iron type, sole plates, heat settings, durability, and safety. With this knowledge in hand, you can be sure to find the perfect steam iron for your sewing needs in 2023.