This site is supported by our readers. We may earn a commission, at no cost to you, if you purchase through links.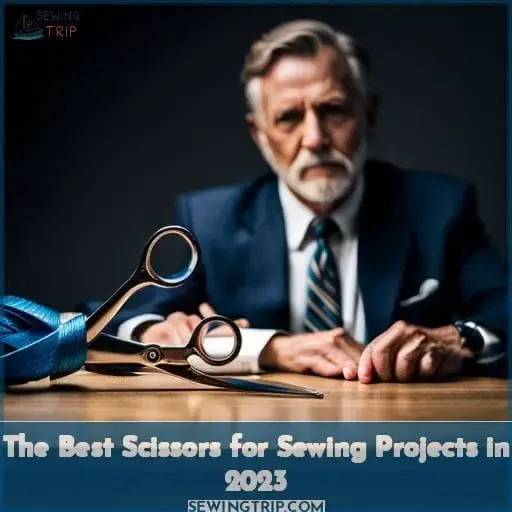 Gather round, fabric scissors at the ready. We're about to cut through the noise and get to the heart of which sewing scissors are sharpest. You can practically hear the snip snip as we pit these blades against each other.
Don't let those scissors get dull – we've got comparing to do! From pinking to embroidery, we'll test which steel stands strong. By the end, you'll have an arsenal of knowledge to choose the best scissors to start your next project right.
Let's get cutting!
Key Takeaways
Invest in quality brands for sharpness and durability.
Choose scissors based on the type of fabric being used.
Consider the ergonomic features of the scissors to prevent fatigue.
Properly store scissors to protect the blades.
Top 10 Best Scissors for Sewing
Welcome to today's sewing chat, where we will be discussing the top 10 best scissors for sewing! We will cover details about the Gingher 9-inch trimmers, Mundial chrome shears, KAI's stainless steel scissors, the Guggenheim tailor shears, Karen Kay Buckley's purple set, Tula Pink's curved pair, Havel's snips, KAI's pinking shears, Fiskars-Gingher curved embroidery scissors, and Handi Quilter's batting scissors.
I will provide tips on each so that you can choose the right cutting tools for your projects.
Gingher Lightweight Bent Trimmers 9 Inch

View On Amazon
You'll delight in how the 9-inch Gingher bent trimmers' razor-sharp stainless steel blades glide smoothly across fabrics, their lightweight nylon handles fitting snugly in hand for effortless control. Whether you're a veteran sewist or just picked up your first sewing machine, you'll find these trimmers are true workhorses.
The long, pointed tips nip cleanly into tight spaces, quickly snipping threads on your latest quilt or embroidered pieces. They are ambidextrous and comfortable for prolonged use, embodying Gingher's dedication to quality craftsmanship.
Smooth, effortless cutting
Lightweight yet durable
Ambidextrous design
Long 9-inch blades
Expensive
Can feel heavy for some
Loose pivot screw reported
Mundial Dressmakers Shears Chrome Plated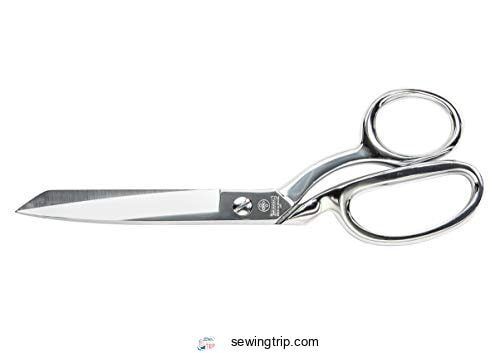 View On Amazon
Having smoothly chopped through yards of chiffon, silk, and satin, now wield the Mundial dressmakers' shears to masterfully slice through heavier swaths of wool and denim. The 8-inch carbon steel blades glide like magic, while the chrome plating keeps edges keen for detailed cuts.
Dropped forged and honed to perfection, comfortably grip the alloy handles as these hearty shears slice multiple layers with ease.
Ambidextrous rounded finger loops allow either hand to finesse the fabric. Trusted by upholsterers for over 20 years, add Mundial shears to your kit and watch your skills soar.
Long-lasting sharpness (20 years)
Heavy-duty cutting capability
Comfortable ambidextrous design
Only for fabric cutting
Must maintain with proper care
Sheath not high quality
KAI Scissors Stainless Steel Shears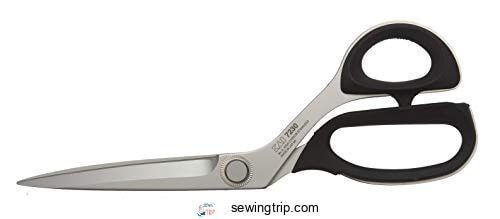 View On Amazon
These efficient stainless steel shears will make effortless work of all your sewing projects. I know a quality pair of shears can be an investment, but these Japanese-made professional-grade scissors are well worth it.
With blades crafted from carbon-hardened stainless steel, they cut with precision through even the toughest fabrics. The steeper cutting angle allows for the clean, smooth slice of shears twice the price.
At just 9 inches, they're lightweight enough for prolonged use. And their razor-sharpness will have you zipping through projects feeling like a pro. Once you experience how beautifully they glide through denim, canvas, and quilting cotton alike, you'll wish you'd upgraded sooner.
Treat yourself to shears actually designed for sewers – your hands will thank you.
Extremely sharp carbon steel blades
Lightweight but substantial feel
Superior leverage from length
Cuts multiple layers cleanly in one motion
Expensive but great value
Requires occasional sharpening
Too lightweight for some
Professional Tailor Shears Guggenhein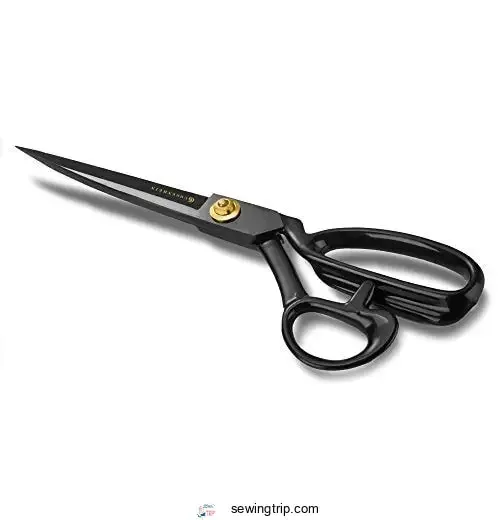 View On Amazon
After testing myriad professional scissors, you'd wish these tailor Guggenheim's cut everything you threw at 'em. They smoothly glide through thick denim, heavy canvas, and layers of fabric. These stainless steel shears make cutting seem effortless.
Their long blades and comfy grips let you shear material in a continuous motion without tiring your hand. Made from quality materials, these ambidextrous scissors fit either hand and require minimal effort compared to other brands.
For heavy-duty cutting jobs where precision counts, these Guggenheim tailor shears are your best bet.
Sharp stainless steel stays keen
They slice easily through dense fabrics
Comfortable grips suitable for either hand
Long blades for continuous cutting
Expensive compared to other brands
Some issues with blades sticking
They must be cared for to maintain sharpness
Karen Kay Buckley Perfect Purple Scissors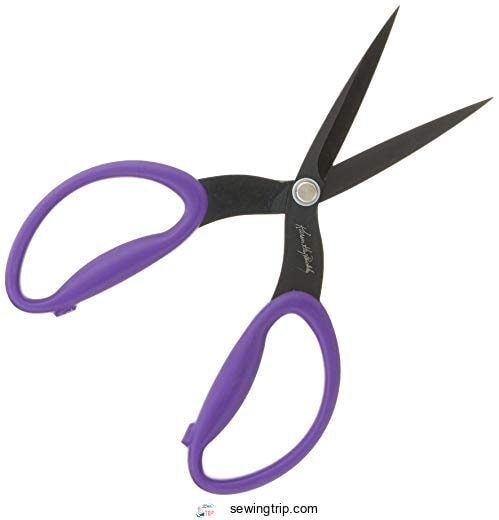 View On Amazon
Since exacting cuts matter in needlework, keep frail fingers comfy with the lightweight, ergonomic Buckley purples. These popular purple scissors feature cushioned handles and finger holes sized for arthritis sufferers.
The micro-serrated blades grip fabric, pulling it into the shears for clean cuts. No more frayed, uneven edges! The sharp pointed tips allow detailed cuts all the way to corners.
I love that the set includes several sizes for different tasks. The plastic cover keeps the blades safely protected so they stay sharp.
Lightweight and comfortable
Good for arthritis sufferers
Clean cuts, no frayed edges
Sharp pointed tips for detail
Multiple sizes for different jobs
Protective cover keeps blades sharp
Expensive
Potential quality issues reported
May require multiple cuts
Not as sharp out of the box for some
Tula Pink Curved Scissors

View On Amazon
When it comes to choosing a pair of scissors for your sewing projects, imagine yourself effortlessly gliding through fabric with the Tula Pink Curved Scissors. These lightweight, pink-colored scissors are designed specifically for quilting, sewing, and crafts.
With their 5 micro-serrated blades and spring-action curved handles, you can easily get very close to the material for detailed work. The sharp pointed tips allow for precise cutting all the way to the tip while holding thread securely without slipping.
Although they come with a higher price tag and may require multiple tries to cut through thicker fabrics, these Tula Pink Curved Scissors offer sewers a fun and functional tool that will make detailed cuts with ease.
Lightweight design
Easy to use
Allows you to get very close to the material
Sharp blades provide clean cuts
Effortless cutting experience
Expensive compared to other similar products on the market.
May require multiple tries when cutting thick fabrics.
Some users mentioned that they were not as sharp as expected or comparable to cheaper versions.
Havel Embroidery Snips

View On Amazon
You'll find these quick curved embroidery snippers handy when clipping threads on hand or machine projects. The Havel Snip-Eze are lightweight silver scissors with squeeze handles, ideal for easy one-handed use while sewing.
Simply squeeze the padded handle to snip threads cleanly without removing fabric from the machine. The sharp pointed tips can clip thread corners on applique and other detailed work. They require minimal hand strength, so they are gentle on arthritis and fatigue.
The ambidextrous design works for both lefties and righties. The tops even slide right under your presser foot for quick access! Keep them on your machine with the built-in magnet, so you'll never go searching mid-project again.
Sharp pointed tips for detailed cutting
Squeeze handles require little effort
Lightweight and easy to use
Sticks to the machine with a magnet
Tops fit under the presser foot
May dull over time with heavy use
Squeeze grip may cramp some hands
Only for lightweight embroidery tasks
KAI Ergonomic Pinking Shears Sewing Scissors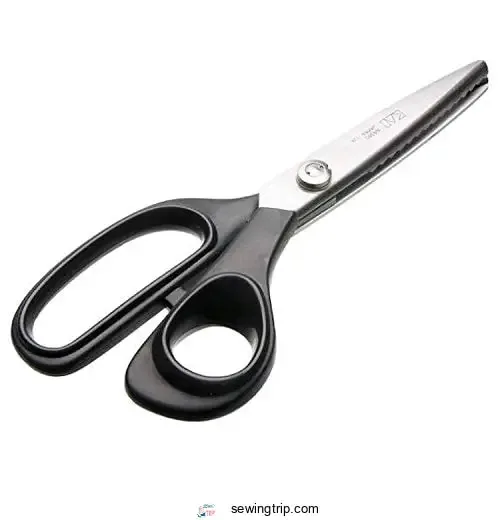 View On Amazon
With those top-quality KAI Ergonomic Pinking Shears under your belt, you'll breeze through thick fabrics and get the cleanest cuts of your career. You need shears that can glide through denim like butter. These professional-grade stainless steel scissors are specially designed for all-day sewing and easily slice multiple fabric layers.
The ergonomic handles with rubber inserts ensure a comfortable grip and smooth cutting. They are ambidextrous and nicely balanced, preventing hand cramps for lefties and righties alike. Satisfaction is guaranteed with free returns, so you can snip risk-free. Consider the KAI shears your new secret weapon to flawlessly cut any fabric with razor precision.
Ergonomic rubber handles prevent hand cramps.
Clean cuts through thick fabrics.
Stainless steel stays sharp.
Ambidextrous for lefties/righties.
Free returns if unsatisfied.
Expensive.
Can be hard to fully open.
Requires effort with large handles.
Fiskars Gingher Double Curved Embroidery Scissors
View On Amazon
The Gingher curved embroidery scissors neatly snip into tight spaces for detail work on your hooped projects. Their unique design allows you to trim threads inside hoops without repositioning. The durable chrome finish keeps these scissors sharp for precision trimming around intricate shapes and corners.
Fingering the ergonomic handles feels natural, reducing hand strain during prolonged use.
These high-quality scissors are worth the investment for neat, effortless cutting when appliquéing and embroidering.
Curved design fits inside hoops.
Sharp pointed tips for detail.
Durable chrome finish stays sharp.
Expensive compared to alternatives.
Small size not ideal for all tasks.
Can be slippery if fingers are oily.
Handi Quilter Batting Scissors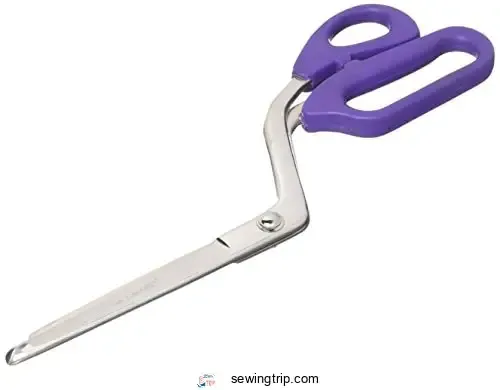 View On Amazon
Precisely cutting batting with this smooth tool will make trimming quilts effortless. These ergonomic Handi Quilter Batting Scissors are specially designed to cleanly cut through batting without snagging or compromising the quilt top or backing fabric.
The lightweight purple handles are easy to grip in either hand, while the sharp five blades produce neat, straight lines to trim batting to size on your longarm machine.
You'll find these scissors to be one of the handiest tools for getting perfectly trimmed batting edges.
Specially designed for batting
Rounded tips prevent fabric snags
Lightweight and easy to handle
Very large scissors
Mainly for Handi Quilter batting
What Should I Look for in the Best Sewing Scissors?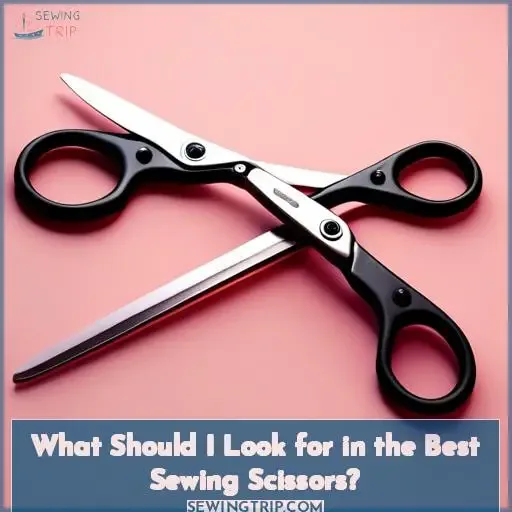 When choosing the best sewing scissors for your projects, sharpness and fabric-appropriate blades are key. Opt for quality shear brands known for holding an edge through thick woven fabrics or intricate cuts on delicate material – this precision will save time and frustration over cheap scissors that fray edges or get gummed up halfway through a seam.
Keep Your Scissors Sharp
Your fabrics deserve scissors that actually cut cleanly, not ragged edges from dull blades. Prevent blade damage by only using your fabric shears on cloth or thread. Hone the cutting edges gently with fine sandpaper when they start to snag.
Oil the pivot screws occasionally so the blades glide smoothly. Sanitize and polish the handles too. Proper care keeps your shears sharp for quality cutting. Quality sewing scissors are worth the investment for clean, precise cuts.
Do Your Scissors Cut the Kind of Fabric You Cut?
You've got the wrong snips if you're cutting stack can't be hacked. Are your scissors suited for the fabrics you sew? Thin, slippery satins slip around standard shears. Micro-serrated blades grip silks and prevent fraying fleece edges. Longer dressmaking shears float along broadcloth patterns.
Invest in quality blades specifically for your fabrics. Scissor steel matters for smoothness.
So Who Would Win? Which Are the Best Sewing Scissors Overall?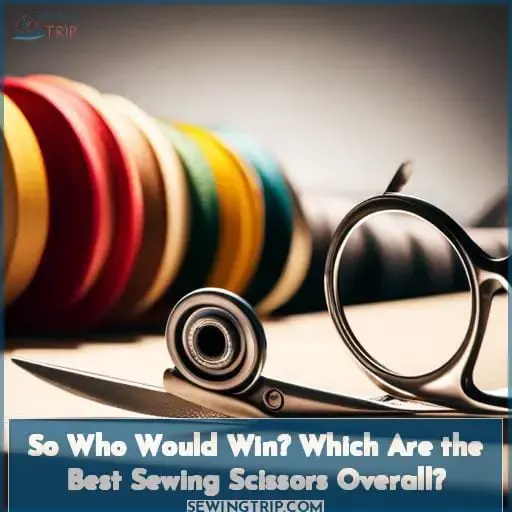 After reviewing the top sewing scissors, the Gingher Lightweight Bent Trimmers stand out as an exceptional overall choice. Their razor-sharp stainless steel blades glide smoothly through fabric, while the lightweight handles ensure comfort and control.
For most sewers, these scissors balance performance, durability, and usability better than anything else available. Investing in high-quality fabric scissors like the Ginghers pays off through their longevity and precision.
Their bent shape keeps the blades properly aligned to the material for effortless cutting. While the lower-cost Fiskars and Mundials are adequate, Gingher's reputation for uncompromising quality makes them worth the price.
Treat your fabric scissors well by only using them on fabric and getting them sharpened regularly – this ensures you'll have them in your sewing kit for years to come!
Investing in Good Sewing Scissors: is It Worth It?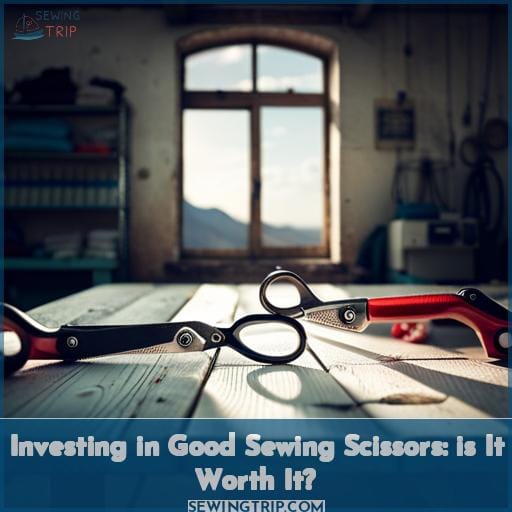 Quality is worth every penny when your skills and time are on the line. Those new picker perfect shears glide through fabric edges like butter, preventing fraying and torn threads. Beginners' purchases dull quickly, frustrating your artistry. The sharpness of scissors slices precise patterns and intricate appliques in a single, smooth motion.
Maintenance sharpening restores that finesse over years of service. With shears, each cut is effortless; your touch creates. So invest in superior, long-lasting scissors and watch your skills blossom. Master precision cutting.
Popular Features of Scissors to Keep in Mind While Shopping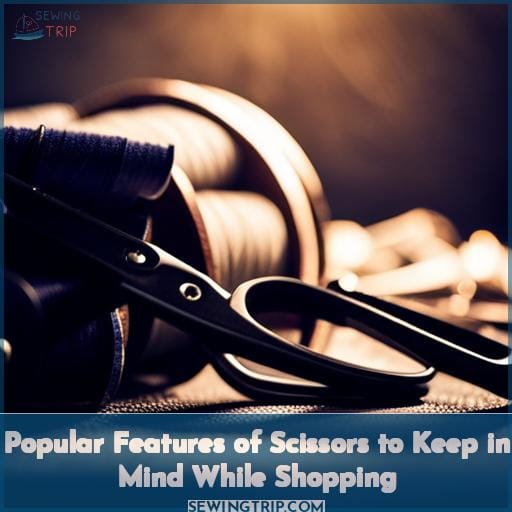 Don't forget comfort is crucial when choosing your next scissors. Look for contoured handles that fit your hand and prevent fatigue, no matter how long your project. Rubber grips add control. Embroidery scissors need tiny, lightweight builds for detail work.
Sturdy stainless steel is best for professional fabric shears to withstand heavy cutting. Carbon steel takes sharper edges but requires vigilant blade care to prevent dulling. Custom-handled shears feel luxurious. Prioritize quality and sharpness over quantity.
Start with one excellent pair suited to your dominant hand rather than a huge set you'll rarely use. Proper storage protects your investment. With the right pair handled properly, your trusted shears will become a sewing companion for years of smooth, effortless snipping.
Frequently Asked Questions (FAQs)
How often should I sharpen my sewing scissors?
Sharpen your shears every 4-6 months. Test sharpness regularly by snipping fabric layers. Notice clean cuts and a crisp snipping sound? Keep sewing! Hear dragging or feel resistance? Time to sharpen. Maintain blades properly for smooth performance. Invest in quality; it's worth it.
What's the best way to clean stuck-on fabric pieces from my scissors?
First, use tweezers to pluck off loose bits of thread or fabric. Then, scrub the blades gently with a soft-bristle toothbrush and soapy water. Finally, remove stubborn stuck pieces with a cotton ball and rubbing alcohol or nail polish remover applied sparingly to the blades only.
Are spring-loaded scissors better for sewing than traditional models?
You bet! Spring-loaded snips are handy for quick, one-handed thread cuts without moving your project. The spring action reduces hand strain too. But for precision cutting, traditional scissors offer more control.
Which scissors are easiest to use for left-handed sewers?
For lefties, the easiest scissors to use are ambidextrous styles that fit nicely in either hand. Look for ergonomic handles with rounded sides to handle seamlessly, left or right. Opt for spring-loaded snips to reduce hand strain as you master effortless control over your projects.
Do I really need multiple pairs of sewing scissors for different fabrics?
You need at least two pairs for sure! Keep one pair sharp just for fabric, and another for rougher cuts of paper and thicker materials. Scissor blades naturally dull over time, so keeping fabric shears exclusively for fabric ensures clean, precise cuts for your projects.
Conclusion
You have many splendid options for the best scissors for sewing. Whether you're after shears for dressmaking, embroidery, pinking, or applique, brands like Gingher, Mundial, and KAI offer you first-rate tools.
Keep your top choices sharp, choose the right scissor for your fabrics, and invest in quality instruments. With the finest scissors suited to your projects, you'll cut through fabrics smoothly and precisely, saving time and frustration.
For flawless cuts and creations, arm yourself with the best scissors for sewing.