This site is supported by our readers. We may earn a commission, at no cost to you, if you purchase through links.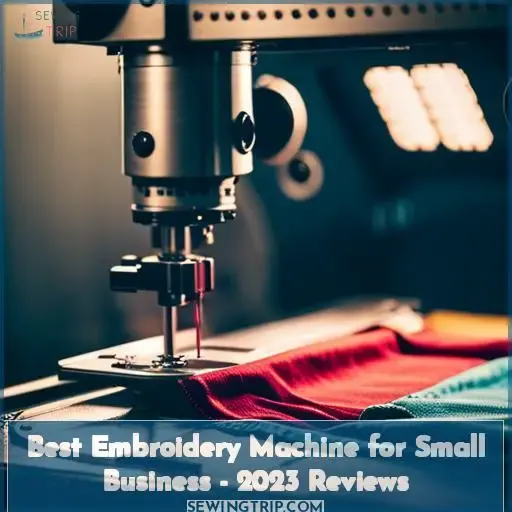 Take your home embroidery from hobby to business effortlessly with the best embroidery machine for small businesses. With so many options out there, it can be daunting to decide which one is perfect for you and your unique needs.
But never fear! I've compiled a list of 2023 reviews on the top-rated machines that are ideal for any small business owner in need of an upgrade.
From Janome MB4S Embroidery Machine to Simplicity Bobbin Winder Machine, this guide has all your bases covered when it comes to finding the perfect match – ensuring exceptional results and boosting productivity like never before!
So buckle up as we take you through what factors should be considered before buying an embroidery machine, plus mistakes commonly made by new entrepreneurs in this industry – giving you a head start into making money with ease.
Key Takeaways
Consider portability, thread tension, built-in designs, and size when selecting an embroidery machine. Research the features of the machine, such as adjustable thread tension, built-in fonts/designs, and USB port.
Utilize tools, such as sharp scissors, magnetic needle picker, bobbin winder, and fabric in hoop, for crafting techniques. Ensure regular maintenance of the machine, such as cleaning, storage, and software compatibility.
What to Look for in an Embroidery Machine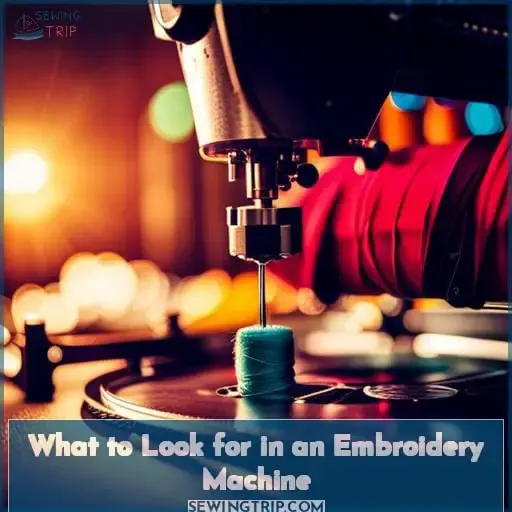 When searching for an embroidery machine, there are several important considerations to bear in mind. Needles, single or multiple heads, built-in designs, and portability are all key factors that will determine the best option for your small business needs.
Utility should also be taken into account, as some machines offer extra features such as remote computer screens and thread cutters.
Needles, Single or Multiple
When deciding on the right embroidery machine for your small business, consider whether you want a single- or multi-needle option to suit your needs. Needles range from size 1 to 11 and come in different types such as metallic, plastic, and coated.
The thread type and fabric type used will also affect needle selection. Multi-needles offer more design options than a single-needle machine, but require additional setup time and effort when changing threads or designs.
Embroidery Designs Included
Make your projects stand out with a machine that offers a variety of built-in embroidery designs to choose from. Consider the size of the embroidery area, number and type of stitch patterns, fonts used for lettering and monogramming, plus needle threaders available on the machine you're looking at.
Look for machines with USB ports so you can easily import new designs or transfer existing ones.
To get started in business, look no further than Brother PE535, which includes 80 built-in designs, 9 fonts, and a USB port; Janome MB4S, offering 160 preprogrammed designs and 10 monogramming fonts; Juki HZL F600, featuring 200+ stitches and an 8 LCD display; CAMFive CFHSHT1502 FP Double Head 15 Color Embroidery Machine, with 1500 spm speed capacity and accessories like Madeira Thread Starter Kit for two heads; and Singer Legacy SE300, with 250 stitches, 800 SPM sewing speed, and 700 EMB RPM! Find the best embroidery machine for your small business today!
Portability and Utility
Ensure your embroidery machine is portable and offers utility to make the most of your project. Consider its size, design limitations, thread tension control, and ease of transport. Design storage capacity is also important for time efficiency; find a machine with a high-capacity USB port or internal memory bank.
If you're looking for a home business model, check out the BAi Embroidery Machine—it's highly rated by professionals. For those who want to open their own shop, consider Brother's DreamWeaver XE Innov-is VM5100.
It offers precision stitching via advanced technology, giving you full control over every detail in each piece.
8 Best Options
If you're looking to start a small embroidery business, there are many great machines available on the market today. The Janome MB4S Embroidery Machine, EverSewn Sparrow Sewing Embroidery Machine, Brother PE535 Embroidery Machine, CAMFive Embroidery Machine, Singer Legacy SE300 Embroidery Machine, Juki HZL F600 Sewing and Quilting Machine, Bohin Super Automatic Needle Threader, and Simplicity Bobbin Winder Machines are all excellent options for your needs.
Each one offers features that will help you create beautiful designs quickly and easily with precision results every time.
1. Janome MB4S Embroidery Machine
With its metal construction, intuitive needle threading system, and 80 built-in designs, the Janome MB4S Embroidery Machine has everything you need for a professional apparel shop. It boasts an AC motor with fast speed of up to 800 stitches per minute and adjustable tension settings, making it one of the best machines available.
It also includes a bilingual user manual and instructional DVD to help inexperienced users get familiarized with its functions quickly. Plus, it has a USB port connection, allowing you to easily import embroidery designs from memory sticks, making it perfect for both amateurs and professionals.
Furthermore, this model comes backed by a 25-year limited warranty, providing peace of mind in case any issue arises during your project's execution time frame.
Metal construction
Intuitive needle threader system
80 built-in designs
Fast stitching speeds up to 800 spm
Adjustable tension settings
Includes USB port connection
Some users have reported grinding noises after 1 month.
2. EverSewn Sparrow Sewing Embroidery Machine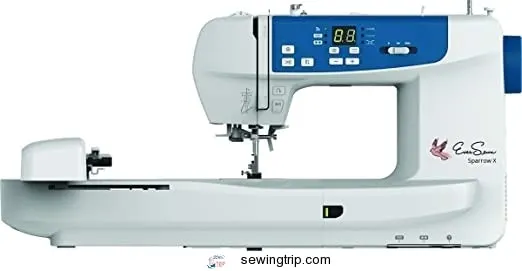 View On Amazon
Take your embroidery to the next level with the EverSewn Sparrow Sewing Embroidery Machine, boasting an impressive 4.75×7-inch hoop size and 850 RPM stitching speed. With over 100 built-in designs, two included hoops sizes for maximum customizability of your project, and a USB port for importing most design files into this machine – you can create truly unique projects at home or in a professional setting.
Thread cutting is made easy with its automatic thread cutter feature while speed control ensures that all stitches are even and precise no matter how fast you're working. The powerful motor allows it to be monitored from another room when needed too! This machine also includes accessories such as snap-on presser feet which make sure every stitch lays perfectly flat on fabric surfaces; plus adjustable tension settings ensure that each piece looks professionally finished despite user skill level differences.
Over 100 built-in designs
Two included hoop sizes for maximum customization
Automatic thread cutter feature
Speed control ensuring even stitches
False advertising on embroidery speed
Not beginner-friendly
Manual not clear regarding importation of designs
3. Brother PE535 Embroidery Machine
View On Amazon
Experience the convenience of Brother's PE535 Embroidery Machine, featuring an intuitive needle threading system and large 3.2 LCD touchscreen for creating beautiful projects. USB port connection allows you to easily import designs from a memory stick, while its adjustable thread tension ensures consistent stitching quality on any fabric type.
With nine built-in fonts and 80 pre-programmed embroidery designs included, this machine is perfect for both beginners and experienced users alike. The 4 x 4 embroidery field size ensures that even small projects can be completed quickly without sacrificing detail or accuracy in design replication.
Intuitive needle threading system
Large 3.2 LCD touchscreen
Easy USB port connection
Adjustable thread tension
Nine built-in fonts & 80 pre-programmed embroidery designs
4 x 4 embroidery field size
Not a traditional sewing machine
Cannot go bigger than 4 x 4 space
Software exclusive to Brother
4. CAMFive Embroidery Machine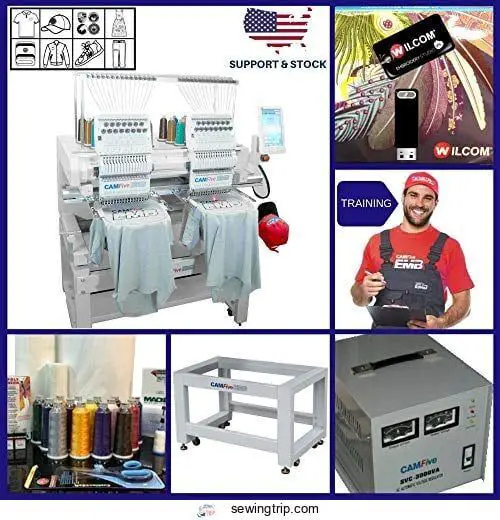 View On Amazon
Discover the CAMFive Embroidery Machine, boasting a 19.6" x 16.5" working area, 1200 spm speed, and 8 Humanized design Control Panel with Instant design and 100 Million stitches of memory capacity to create professional-level embroidery for apparel shops.
This machine includes a Madeira Thread Starter Kit For two Heads, Wilcom OEM Digitizing Software Design, One-on-One Two days on-site installation and training, as well as a 2000VA Voltage Regulator in its package.
With an ergonomic Steel Stand and full set of frames included, it can be used 24/7 without any need to worry about wear or tear due to long hours work periods, making this perfect for small businesses that require efficiency from their tools when embroidering t-shirts, caps, polos, etc.
The touch screen HD LCD 8 Humanized design control panel allows you easy access, through which you can select your desired designs quickly, while the reverse sewing feature provides extra security at times when mistakes are made during operations.
Standard USB port
Design preview & edition on panel
Pattern repeat cyclically
Semi-compact design works 24 hrs per day
Expensive compared with other machines
Not compatible with Singer Centaur II & Husqvarna Viking
5. Singer Legacy SE300 Embroidery Machine
View On Amazon
Unlock the power of creativity with the Singer Legacy SE300 Embroidery Machine, featuring 250 built-in stitches and 800 spm for amazing designs. This machine is packed with features to make embroidering easier and more efficient.
The extra-large embroidery area allows you to sew larger projects without having to adjust your hoop size. It also comes with an upper thread sensor, 10 snap-on presser feet, 200 built-in embroidery designs plus 6 alphabet options, and adjustable thread tension that can be set for optimal results on different fabrics or stitch patterns.
250 Built-In Stitches
Adjustable Thread Tension
Extra Large Embroidery Area
Snap On Presser Feet
Upper Thread Sensor
USB Stick Design Transfer Feature
Hard to Thread Needle
Memory Stick Not Compatible with Computer
Thumb Drive Doesn't Work
Bobbin Tension Must Be Set for Embroidery Setting
Clips Won't Go Under Free Arm
File Format Is.DST
Motor Can Seize
6. Juki HZL F600 Sewing Quilting Machine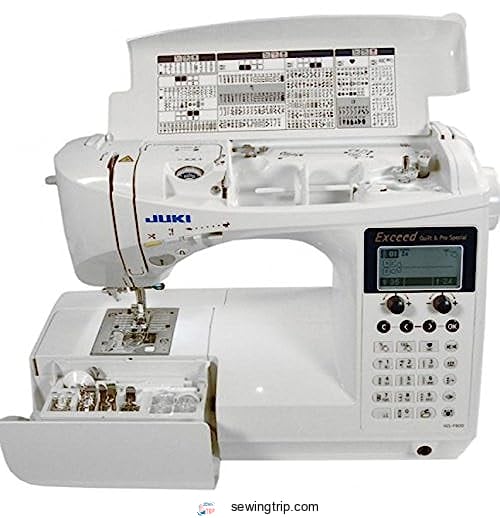 View On Amazon
Try out the Juki HZL F600 Sewing Quilting Machine for a powerful sewing experience with its 255 built-in stitches, LCD screen, and automatic needle threader. This machine has an array of features to make your quilting project easier than ever before.
The stitch selector switch on the LCD screen allows you to easily choose from a variety of patterns and stitches, including decorative, utility, alphabet, and buttonhole ones, while maintaining accuracy in detail.
It also comes with an open-toe presser foot, patchwork presser foot, and edge sewing presser foot, so you can sew through four layers of heavy denim material without difficulty or worry about fraying edges! As if that weren't enough, it also includes adjustable thread tension control and quick-changeable feet, so you don't have to awkwardly adjust them when switching between different projects or fabrics.
255 Built-in Stitches Including Basic/Stretch/Decorative Patterns & Letters
LCD Screen With Stitch Selector Switch For Easily Choosing Patterns & Stitches
Automatic Needle Threading
Variety Of Accessories In Accessory Tray
Soft-Sided Dust Cover Included
High-Quality Industrial-Style Buttonholes – 16 Types
Expensive Price Tag
Thread Tension Could Be Better Adjusted
May Not Work With Small Needles
7. Bohin Super Automatic Needle Threader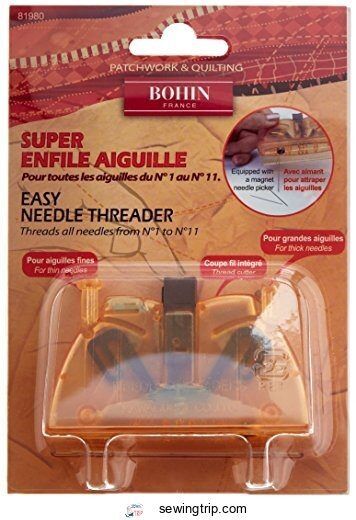 View On Amazon
Take your embroidery game to the next level with Bohin's Super Automatic Needle Threader! This handy little tool makes threading needles a breeze. It's compatible with needles from size 1 to 11, and features a built-in thread cutter so you can quickly finish projects without having to cut each individual strand of embroidery floss.
The lever also stops moving after 8 months, making it more reliable for long-term use than other brands on the market. It works 99% of the time and threads even those small needles that other brands don't always manage.
Easy to use
Works with most sizes (1 – 11)
Built-in thread cutter
Lever stops moving after 8 months
Can handle small needles better than others
May not work well for smaller sized needles
Relatively high price point compared to competitors
Difficulties experienced when trying
8. Simplicity Bobbin Winder Machine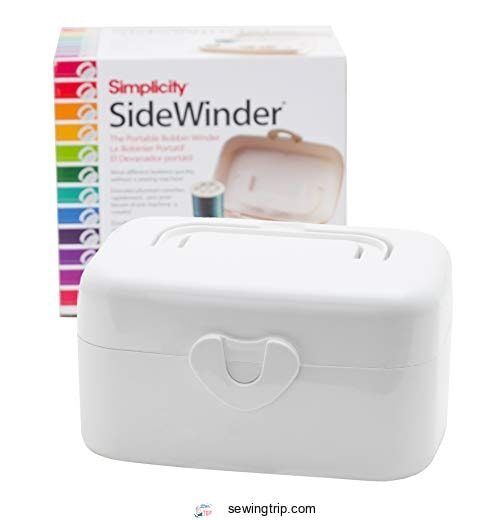 View On Amazon
The Simplicity Bobbin Winder Machine is an essential tool for all levels of sewists, providing quick and easy bobbin winding with its automatic shut-off feature. Perfect for home or travelling use, this machine runs on 120 volts and can be powered by two AA batteries when on the go.
Compatible with most bobbins except those from Singer Centaur II, Husqvarna Viking, and some Brother machines; it also comes with a manual and power cord to set up quickly. Its compact size makes it convenient to store in any sewing kit while saving time threading bobbins evenly.
Saves time for all levels of sewists
Fills bobbins with thread evenly
Automatic shut-off feature
Wrong size for some bobbins
Instructions not very good
Can be a hassle to use compared to doing it manually
Factors to Consider When Buying an Embroidery Machine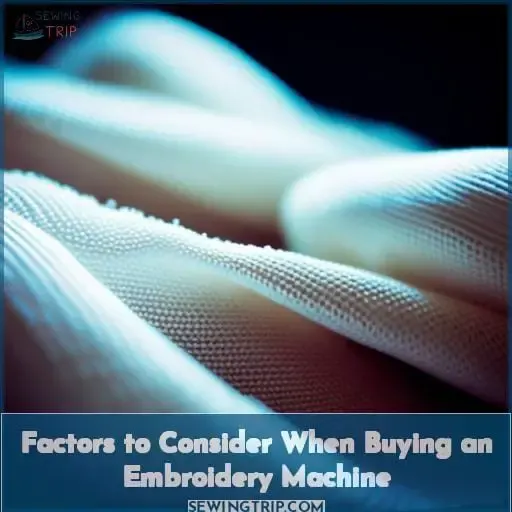 If you're looking to start an embroidery business, it's important to do your market research and create a comprehensive business plan. Additionally, you need the right equipment and supplies, as well as effective marketing strategies, to be successful.
Knowing these key points will help ensure that you make the best decision when buying an embroidery machine for your small business.
Market Research
Before you invest in an embroidery machine, take the time to do your research and ensure it fits your needs. Consider competitors' pricing strategies, current design trends, and business strategies such as hiring help or outsourcing certain tasks.
Look for special features like portability and utility of the machine, as well as ease of use.
Compare needle types between machines
Analyze hoop size capabilities
Examine available built-in designs
Investing in a good quality embroidery machine requires careful consideration, so be sure to evaluate all factors before making a decision!
Business Plan
Creating a business plan is essential for defining your goals and ensuring you have the resources to achieve them. It should include marketing tips, budgeting strategies, diversifying plans, tracking expenses, and pricing guidelines.
When selecting an embroidery machine for home business use or small businesses, consider factors like needle size, single or multiple heads, and hoop size, along with built-in patterns. You may even want to look at the best commercial embroidery machines available that offer features such as a large working area and speed control—key elements when it comes to selecting the best machine for your needs.
Equipment
You'll need the right equipment to start an embroidery business, so make sure you explore all your options! From market research and a business plan to supplies and marketing, having everything in place is key.
Consider factors such as: embroidery machine financing; finding the best home or computerized model for your needs; tools such as sharp scissors, sturdy cloths, and design objects; setting goals. Don't forget that you also need proper craft techniques, like threading machines correctly with fabric in a hoop before starting any project.
Supplies
To make sure your business is successful, you'll need the right supplies for your embroidery machine. Designing techniques, selecting a beginner or home machine, pricing strategies, and product branding all matter when choosing the best embroidery equipment.
Consider a Bravo Embroidery Machine as an ideal starting point for small businesses; its monogramming capabilities are perfect for customizing projects quickly and easily! The Brother PE535 offers 80 designs with its 3.
Marketing
Marketing your small business embroidery venture can help you reach a larger customer base and make more money. Utilize marketing strategies like branding tactics, product placement on social media platforms, and targeting consumers who are interested in the best embroidery machines for small businesses.
Review the latest reviews of single-head or multi-needle machines to find one that fits your needs perfectly! Get creative with product placement: review sites, blogs, and even YouTube videos about the machine you choose.
Use these tools to engage potential customers while building trust through transparency by highlighting both positive and negative points from other users' experiences with their own machine purchase or use.
Financial Mistakes When Starting an Embroidery Business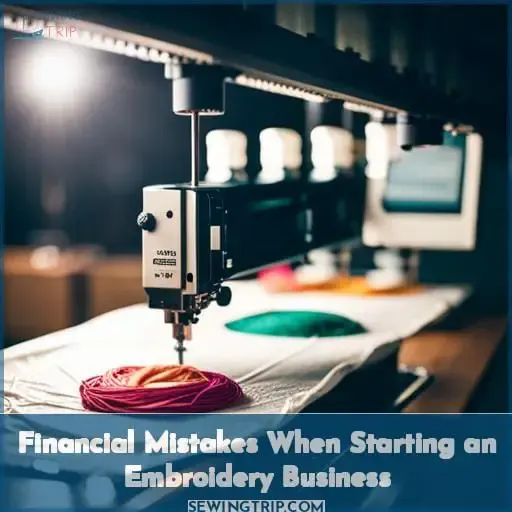 Starting an embroidery business can be a great way to make money, but it is important to avoid making financial mistakes. Not having a budget, not diversifying investments, failing to track expenses and income properly, and neglecting marketing are all potential pitfalls that could cost you financially.
Furthermore, pricing incorrectly without researching the competition or setting goals can negatively impact your bottom line. Having a website is also essential in today's digital world for any business to s쳮d.
Not Having a Budget
Not having a budget in place before starting an embroidery business can be like navigating a minefield – you never know where the next step will take you! Careful financial planning and money management are essential for success.
Consider setting up budgets, developing pricing strategies, and exploring marketing tactics. It's also important to invest in the right equipment; research into home embroidery machines, as well as affordable or inexpensive options, is key.
Not Diversifying
Diversify your embroidery business to make the most of every opportunity and maximize profits. Consider pricing errors, budgeting advice, diversifying strategies, marketing tactics, and goal setting when selecting a machine like the Brother Persona Embroidery Machine or Commercial Monogram Machine.
For larger projects, choose something like a MB-7 Seven-Needle Embroidery Machine.
Not Tracking Expenses
Keeping accurate records of all expenses is crucial to running a successful embroidery business, as it can act as a roadmap to help you avoid financial pitfalls. Mistakes such as not budgeting correctly or not planning for profit margins can be avoided with market research and an understanding of various embroidery machine brands, from automatic to industrial-grade.
Businesses should also consider small-scale equipment like business machines and those designed for smaller projects when selecting their ideal brand. For entrepreneurs new to the industry, tracking expenses ensures they make wise decisions in terms of cost and quality, avoiding wasting money on inefficient products or services and risking poor results due to inferior material choices.
Not Marketing
Reach out to potential customers and make sure they know about your embroidery business! Don't miss out on marketing. Create a budget, set achievable goals, and track expenses for success. Invest in an affordable starter machine that has features such as speed control or thread cutter.
Speed & stitch count
Needle quantity & type
Hoop size
Built-in designs

An effective marketing strategy can help you reach more customers while avoiding pricing mistakes, making it easier to s쳮d in this ever-changing industry!
Not Pricing Correctly
Underpricing your services can lead to lost profits in the long run, so make sure you're accurately pricing for your embroidery business. Research different models, tactics, and techniques to create a pricing strategy that works for both you and your customers.
Consider cost-plus or competitive-based strategies to ensure maximum profitability without sacrificing quality of service. When selecting an embroidery machine for clothes printing or decorative designs, consider price range, features like needles, hoop size, and built-in designs offered by brands like Brother PE535 or Janome Memory Crafts.
Not Having a Website
You could be missing out on a world of customers if you don't have an online presence for your embroidery business. Website development is key to success, as it will allow potential clients to find you and discover what services and products you offer.
Consider cost analysis when deciding which platform works best for your needs, determine branding strategies that are unique to your product offering, engage in social media marketing tactics such as paid ads or influencer partnerships – all these considerations must come together in an effective website design strategy tailored towards the particular aspects of selling embroidery machines near you (or at home).
Choosing the right machine is also important, so look into top-rated models with basic features like automatic needle threaders or stitch counters; compare prices from different vendors before making a purchase decision.
Not Setting Goals
Without setting achievable goals, you risk not making the most of your embroidery business. To ensure success, it's important to set realistic and attainable targets so you don't run into costly mistakes or pricing issues.
With a budget in place and diversifying investments also necessary for long-term sustainability, goal setting can help identify successes as well as areas needing improvement. Understanding what the best embroidery machines are capable of – with features such as needles, single or multiple heads, and hoop size – included in cost calculations when selecting one will be beneficial to any small business venture.
Sewing and embroidery machine needs can be met while avoiding overspending on unnecessary elements that could lead to failure without proper forethought.
How to Make Money With Embroidery Workshop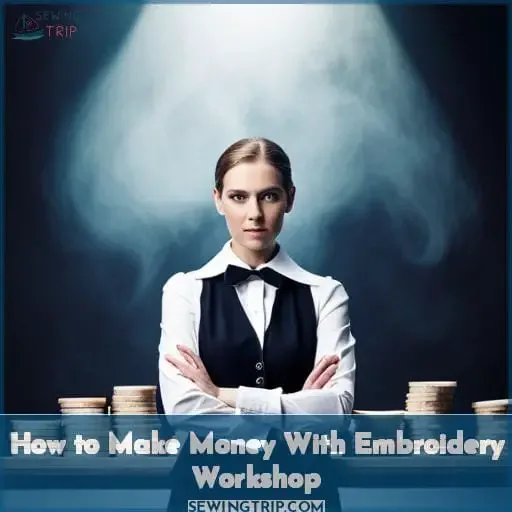 If you are looking to make money with an embroidery workshop, it is crucial that you streamline your workflow, increase profits, and find customers. To do this effectively, investing in the right kind of equipment and supplies is essential; finding the best embroidery machine for a small business can help get your venture off to the right start.
Streamline Workflow
To maximize profits, streamline your workflow like a well-oiled machine. Utilize embroidery techniques to improve thread quality and reduce loose ends. Maintain machines regularly for optimal performance, including stitch selection and fabric types.
Invest in an embroidery machine with multiple heads for quick turnaround times on bulk orders or custom designs.
Increase Profits
Maximizing profits from your embroidery workshop requires careful research and negotiation to find the right equipment. Promote your services and products on social media. Set up accurate pricing structures, understanding supply chain costs that affect materials and labor.
Research different types of machines for shirts to decide which is best for customers – from beginners to those wanting monogramming capabilities.
Find Customers
Connecting with potential customers is key to making money with your embroidery workshop. Here are five tips for successful customer outreach: 1) Develop targeted marketing strategies; 2) Research pricing strategies; 3) Set clear and measurable goals; 4) Expand customer base through diversification initiatives; 5) Utilize an appropriate embroidery machine that best suits the needs of a small business.
Reach out on social media, attend local events, and network to spread awareness about your services.
Tools and Crafting Techniques Needed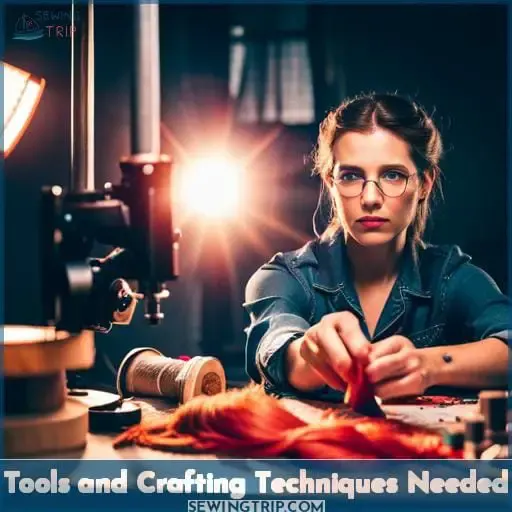 Starting a business in embroidery requires certain supplies and techniques. You will need sharp scissors, stitching thread, sturdy cloth for your design object, and fabric in the hoop to put into the machine inputs.
Knowing how to use all of these items together is key to creating beautiful pieces with precision accuracy.
Sharp Scissors
Having a sharp pair of scissors is essential for creating intricate embroidery designs. Precision feeding systems, adjustable thread tension, and built-in needle threaders all help create even stitches and smooth fabric manipulation, leading to beautiful results.
A bobbin winder ensures an evenly wound bobbin, while a magnetic needle picker makes removing small needles from the table easy. An at-home embroidery machine or multi-needle industrial model with features such as speed control and stitch selection switch can provide professional-level work without breaking the bank.
Stitching Thread
Choosing the right stitching thread for your projects is essential to achieving a successful outcome. There are numerous types of threads available, and you must consider needle size as well as fabric choice when selecting one.
Threads can be used on both hand embroidery and machine embroidery machines, though different power requirements may apply depending on the type of machine. Embroidery files also affect how much thread is needed for each project – it's important to take that into account before starting a new design.
How much you spend on an embroidery machine depends largely on the kind of work you do; there are multi-needle options for more complex designs, but they tend to cost more than single-head models initially.
Sturdy Cloth
Choose the sturdy cloth for your embroidery project that will withstand wear and tear while still looking great. Consider needle selection, thread types, fabric selection and stitching techniques to ensure a successful outcome.
For example, denim is a durable choice but may not be suitable if intricate patterns are desired; linen provides an elegant look with a smooth texture; satin's shiny finish can create beautiful effects when combined with different threads or stitches.
Opt for light-weight fabrics such as cotton or polyester blends when using thick embroidery floss, as they provide more flexibility without fraying easily during complex projects. When selecting thread type and color, take into account fabric hue to enhance its beauty while adding contrast so the pattern stands out from the background material.
Design Object
When selecting a design object for your embroidery, pick something that really pops to make your work stand out. Consider purchase decisions, pricing strategies, and customer feedback when browsing options.
If you're looking for unique digital designs or online tutorials, there are plenty of resources. Choosing colors carefully can also help elevate an otherwise simple pattern and give it more personality; consider subtle gradations, complementary shades, and hues that will add depth.
Machine Inputs
Before using an embroidery machine, you'll need to input the design and other details. Single-needle or multi-needle, hoop size, built-in designs, cost value, and desired features are all important factors when selecting a model.
Make sure you choose one that meets your needs without breaking the bank. Consider future use, too. Check for user-friendly controls like touchscreens or LED lights; these will make operation smoother than more traditional models.
Evaluate each option based on its features to get a reliable machine with lasting power.
Fabric in Hoop
Positioning the fabric in the hoop is critical for creating beautiful, professional-looking embroidery projects. On average, an experienced embroiderer can set up a project in less than two minutes. Ensuring proper thread tension while securing the fabric is key. Different fabrics require different levels of tension; too tight or too loose will affect stitching results.
Needle threaders are helpful when dealing with intricate stitch patterns on fine fabrics like silk or lace. Bobbin winders help spread out threads evenly for consistent coverage during sewing and prevent tangling.
Understanding which stitch patterns work best with specific materials will enhance your artwork's appearance and durability.
Frequently Asked Questions (FAQs)
What type of materials are best for embroidery?
Embroidery is a canvas for creativity, allowing you to stitch together fabrics of different textures and hues. The best materials are lightweight and tightly woven fabrics like cotton, linen, satin, or silk; they provide an ideal surface for intricate designs.
For added durability, consider using stabilizers such as interfacing or foam under the fabric to give support during stitching.
How long will an embroidery machine last?
An embroidery machine can last anywhere from a few years to several decades, depending on its usage and maintenance. Regular cleaning and proper storage will extend its lifespan significantly. Quality machines built with durable parts are more likely to stand up against wear and tear over time.
What software is compatible with an embroidery machine?
Software compatibility with embroidery machines varies, depending on the machine. Most can read design files from USB memory sticks and many come pre-installed with software that allows you to create designs.
Look for a machine that offers software like Wilcom or Janome Digitizer, which offer features such as editing and lettering tools, advanced stitch effects, object rotation, and more.
Are there any special maintenance requirements for embroidery machines?
Yes, regular maintenance is important to keep embroidery machines working properly. Oiling moving parts and cleaning the needle area are essential for smooth operation.
What is the best way to learn embroidery?
Learning embroidery has never been easier! With online tutorials and classes, you can gain the skills to create beautiful projects. Invest in quality supplies and practice regularly for best results. Seek out experienced professionals who can guide you on your journey towards mastering this craft.
Conclusion
With so many embroidery machines on the market, it's hard to know which one is best for your small business. Fortunately, the eight best embroidery machines for small business in 2023 have been reviewed and analyzed to help you make the right choice.
Did you know the average embroidery machine costs around $1,500? It pays to do your research before buying, as all these machines come with their own unique features. Consider factors such as needles, single or multiple heads, hoop size, number of built-in designs, portability, and utility when making your decision.
With the right info, you'll be able to find the best embroidery machine for your small business.