This site is supported by our readers. We may earn a commission, at no cost to you, if you purchase through links.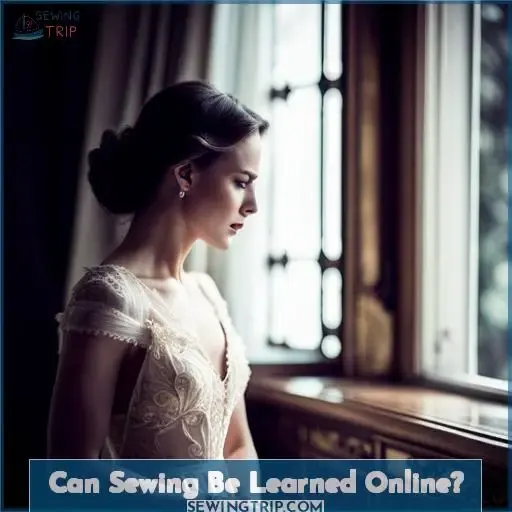 Are you ready to take your passion for sewing and apparel design to the next level? Learning how to sew online is an excellent way for both beginners and experienced seamstresses alike, who are looking for a convenient option.
With the right platform, you can learn all of the techniques necessary as well as develop creative ideas from any location around the world.
In this article, we will explore some of the best online platforms where one can learn sewing skills. We will also discuss the benefits and challenges associated with taking classes in this format, as well as the paid membership options available on these sites.
Additionally, we will provide tips that could help you make the most out of your learning experience.
Key Takeaways
Online sewing platforms offer a variety of classes and courses for all skill levels.
Online sewing classes provide flexibility in terms of schedule and pacing.
Paid options like Craftsy, Domestika, and Skillshare offer affordable and comprehensive sewing courses.
To be successful in learning sewing online, it is important to set goals, engage in sewing communities, and enjoy the learning process.
Best Online Platforms for Learning Sewing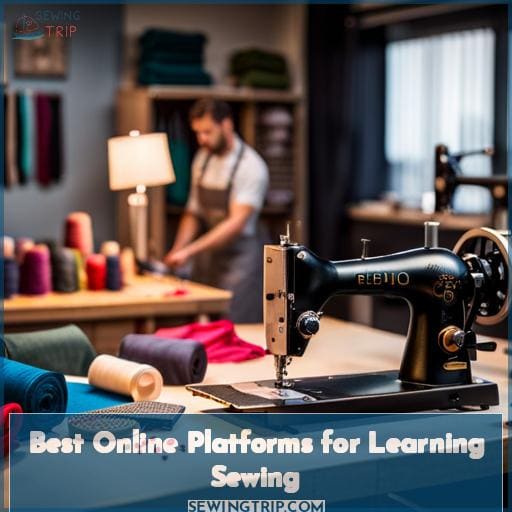 Looking to learn sewing online? Check out Skillshare, Craftsy, Domestika, Udemy, and Creativebug for a variety of sewing lessons at different price points. With options from free tutorials to personalized instruction, you're sure to find the perfect fit for your sewing education through one of these quality online platforms.
Skillshare
Check out Skillshare's 30-day free trial to access quality sewing classes without commitment and immerse yourself in creative new projects.
Learn sewing basics like stitching, hemming, and zippers.
Build a portfolio of completed sewing projects.
Get feedback from instructors and class peers.
Cancel anytime within 30 days if not satisfied.
Use affiliate links to get your first month free.
The Skillshare community facilitates seamless online learning and creativity. Sign up for unlimited access to sewing instruction.
Craftsy
Swing by Craftsy for budget-friendly sewing classes that allow you to master techniques at your own pace. Craftsy offers hundreds of sewing, quilting, embroidery, and fashion classes for a low monthly fee.
The courses teach both basic and advanced techniques at your own speed. Users rave about the affordable pricing and comprehensive course selection compared to Skillshare.
Domestika
You should try Domestika's Plus membership with the benefits of paying per class if it works for you. Domestika offers helpful creativity courses with a supportive community. Reviews praise the inspiring instructors.
Sewing classes develop skills from beginner to advanced. Learn online at your own pace through Domestika's high-quality video lessons.
Udemy
Folks, Udemy comes packed with sewing classes for all skill levels to empower your creativity.
Learn sewing fundamentals to get started.
Access a wide range of sewing techniques.
Find the right course for your interest.
The selection of sewing classes on Udemy is impressive. With quality instructors and affordable pricing, Udemy offers the perfect online learning platform for sewing. Review the course details and instructor credentials to find the best fit for your goals.
Creativebug
Handy online sewing lessons are readily available through Creativebug's enormous library of high-quality video tutorials taught by recognized sewing experts. Their online workshops cover everything from sewing techniques and terminology to completing fun projects step-by-step.
Creativebug provides creative inspiration and support for sewing projects, big or small, beginner or advanced.
Benefits and Challenges of Online Sewing Classes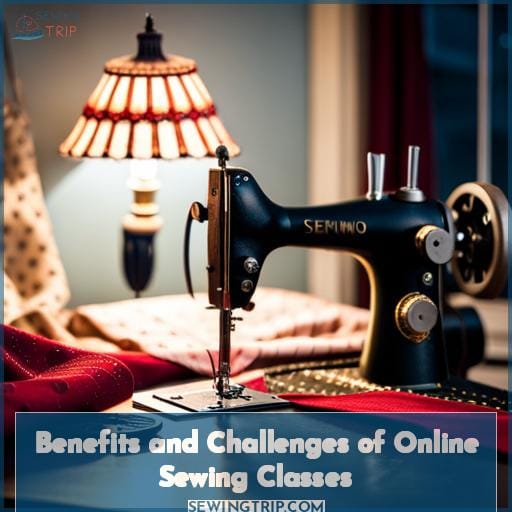 Sewing online offers many benefits but also poses some challenges. With the flexibility to learn in your own time and space, as well as affordability, online platforms provide a variety of class options to choose from.
However, limited hands-on instruction can make achieving a perfect fit difficult compared to an in-person class.
Convenience and Flexibility
You're getting a flexible schedule alongside the comfort of your own home. With online sewing classes, you gain:
Self-paced learning
Access to virtual workshops
Progression at your own skill level
The convenience and flexibility of learning on your own time allows you to master sewing techniques through video tutorials, paid classes, or free ebooks.
Affordability
Look, online sewing classes can be a real bargain compared to pricey in-person lessons. It's like getting custom drapes on a thrift store budget. Spend a fraction on Skillshare for access to sewing machine techniques.
For DIY projects on a budget, nothing beats the affordability of online options.
Variety of Class Options
There is a multitude of live and pre-recorded sewing classes available to cater to your unique learning style. Compare personalized attention in paid live classes to skill-focused free options. Weigh project-based versus technique-driven approaches. Ensure instructors have credentials in garment sewing and pattern drafting.
Limited Hands-on Instruction
Hands-on time shapes skills; virtual lessons alone miss touching fabrics, adjusting patterns, and tailoring garments.
Feeling different fabrics.
Perfecting fit.
Mastering parts like zippers.
Developing a tailored eye.
Practical application cultivates mastery.
Difficulty in Achieving Perfect Fit
Achieving the perfect fit and tailoring for your projects may prove tricky without an instructor's expert eye and guidance. Mastering alteration techniques, pattern adjustments, and fitting solutions requires hands-on practice.
Seek in-person lessons when aiming for precision in fit and finish. Tailoring dilemmas arise without an expert's tips.
Paid Online Sewing Classes and Membership Options

Promising paid online options for learning to sew exist through various membership sites. Craftsy provides affordable tiers and high-quality sewing classes, while Skillshare utilizes a subscription model offering both Skillshare originals and teacher content.
Domestika presents the opportunity to pay per class or purchase a plus membership.
Craftsy Membership
You'll love Customizably Craftsy's comprehensive, quality sewing classes with affordable membership options for your continuous learning journey.
Learn from step-by-step video lessons at your own pace.
Get inspiration from hundreds of sewing patterns and projects.
Join a creative community of fellow sewists.
Access classes anytime, anywhere – online or on the mobile app.
Domestika Per Class Payment and Plus Membership
With Domestika allowing you to pay per class or opt for benefits through a Plus membership, it provides another tailored approach to learning sewing techniques digitally. Choose per class to sample topics or go Plus for exclusive content, portfolio reviews, unlimited downloads, and discounts.
Compare pricing and variety between Domestika and Craftsy as both offer quality instruction just a click away.
Skillshare Subscription Model
Yes, Skillshare offers a mix of Skillshare Originals and teacher-created classes through its subscription model, so you can find quality sewing instruction without breaking the bank. Recommended Skillshare sewing classes like Sewing Basics, Hand Sewing Basics, Zippered Project, and Cork Fabric Bag provide structured lessons.
With a yearly Skillshare subscription, you get affordable access to numerous sewing and craft classes. Explore Skillshare's free trial first, then compare it to Craftsy and Domestika for the best value.
Tips for Making the Most of Online Sewing Classes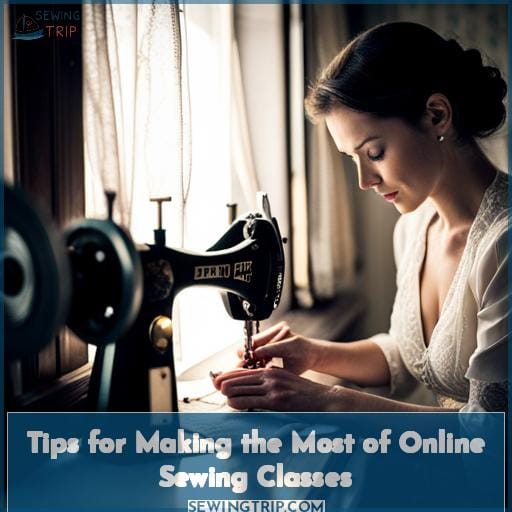 When learning a creative skill like sewing, it is important to set goals and choose the learning path that is right for you. Share experiences and recommendations along the way, and have patience while enjoying the process as you develop your skills over time.
Setting Goals and Choosing the Right Path
Depending on your objectives, customizing your learning path can help you get the most out of online sewing classes.
Set a goal to complete a specific project like a dress or quilt. Choose classes that build the required skills.
Take intro classes across sewing, patternmaking, and garment construction for a broad overview.
Focus on a specialty like couture sewing or tailoring for more advanced development.
Build a learning path over time mixing free and paid platforms based on changing interests. Supplement online learning with in-person lessons for tricky techniques like fitting and draping.
The possibilities are endless when you tailor online sewing classes to your goals and interests.
Sharing Experiences and Recommendations
Share your wins and struggles, friend; we're in this together. Finding that perfect online sewing class takes time. Don't give up! Let's keep sharing honest reviews and recommendations. Together, we'll find the hidden gems.
Join an online sewing community to get tailored advice. With patience and perseverance, we'll all become master sewers.
Patience and Enjoying the Learning Process
Hang in there while you find your groove with those needle and thread, girly!
Take time to get comfortable with your machine. Rushing leads to frustration.
Don't compare your progress to others. Focus on your growth.
Make mistakes. They are part of learning.
Explore different techniques. Discover what you enjoy most.
Let your creativity flow. Sewing is an art form.
Conclusion
In summary, learning sewing online can be a great way to explore the world of fashion and design. There are a variety of platforms available, such as Skillshare, Craftsy, Domestika, Udemy, and Creativebug, each offering different benefits and membership options.
With convenient access to comprehensive courses, free tutorials, and the ability to customize learning experiences, you can find the perfect class for your skill level and budget.
However, it's important to remember that online classes do have some limitations. These include limited hands-on instruction and difficulty in achieving a perfect fit. Despite these drawbacks, online classes can still be a great option for those looking to learn how to sew.
Whether you want to learn basic sewing skills or create your own custom patterns, online classes provide a flexible and accessible way to acquire these skills.