This site is supported by our readers. We may earn a commission, at no cost to you, if you purchase through links.
Are you ready to take your sewing skills up a notch? Curve sewing is an essential technique for anyone who wants to produce more professional garments.
In this article, I'll show you how to use curve sewing like a pro – from French Curve rulers and Hip Curves that are great for pattern alterations, through to other useful curved rulers that can help achieve the perfect fit.
With these tips in hand, you'll be able to create beautiful curves on all sorts of fabric types – from lightweight stretchy knits through thick woven fabrics.
So let's get started – it's time to unleash your inner designer!
Key Takeaways
Curve sewing is essential for professional garment production.
French Curve rulers and Hip Curves are useful tools for pattern alterations.
Mastering curve sewing with these tools enhances garment alterations.
The right tools and rulers make curve sewing more accessible.
French Curve Ruler: the Essential Sewing Tool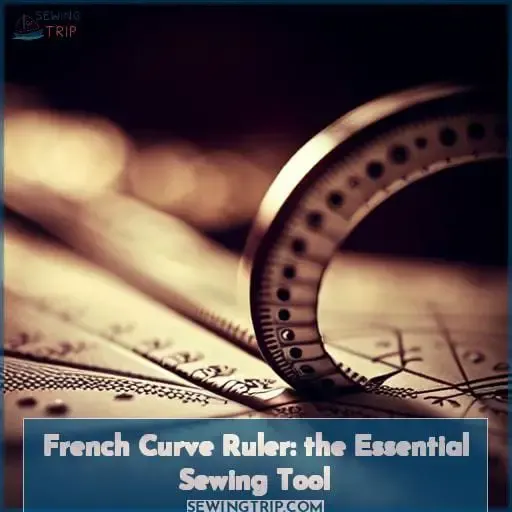 You can't live without your trusty French curve for flawless garment alterations, can you? This magical tool glides smoothly along edges, lending symmetry and grace to your sewing projects.
Master its subtle curves to elevate simple sleeves into works of art. Adjust darts and ease effortlessly into the ideal silhouette. Hemlines hug curves just so when guided by its genius. Drape necklines and shape collars to perfection.
This stalwart companion aids you in liberating garments from the humdrum to the sublime. Let its nuanced bending capacity unlock your creativity. Whether conjuring gowns or mending trousers, a French curve in your toolkit proves essential.
Evoke its assistance, and both fabric and form yield to your vision. With this deceptively simple strip of plastic, you manifest curves in all their glory.
How to Use the French Curve Ruler for Pattern Alterations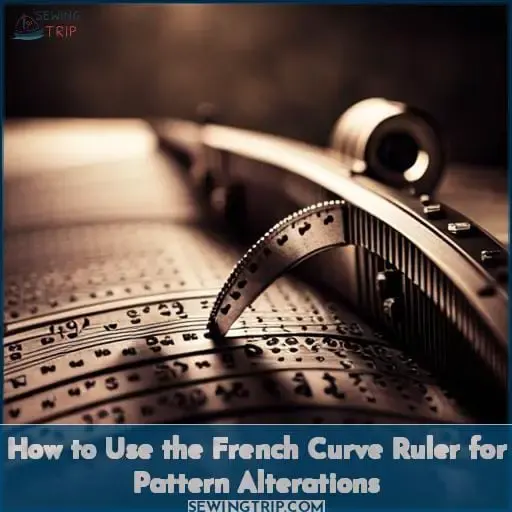 When working with knit fabrics, the French curve ruler is an essential tool for smoothly altering necklines, armholes, waists, and hips. Carefully pivot the curved edge along pattern markings to blend sizes and create the precise contoured shaping you need.
Adjusting Necklines and Armholes
Balancing necklines and armholes proficiently demonstrates your skill. Use your curve ruler to trace the current pattern edge. Pivot the ruler along this line to adjust the neckline and armhole seam to the desired position, whether it needs to be lowered or raised.
Utilize the concave or convex curves to achieve a smooth shape. Ensure symmetry by checking both sides.
Creating Smooth Curves for Waist and Hip Adjustments
With endless possibilities, fitting marvels unfold as you glide the magical curve across pattern lines, transforming awkward angles into aesthetically pleasing waist and hip silhouettes. Trace the French curve ruler along the pattern's hip line to subtly add width. Make small pivots with the curve to gradually blend extra ease into side seams and darts.
Create the perfect contour by finessing the fabric with gentle persuasion from your curved companion.
Blending and Grading Patterns With the French Curve Ruler
Align the French Curve ruler along the pattern's current sizing lines and pivot it to trace the new size, preserving the curves for a smooth blend between sizes.
Mark the current pattern size measurements.
Align the curve along those marks.
Pivot the ruler to the desired size markings.
This technique maintains the original shaping and curves, creating a seamless blend between sizes. With practice, you'll gain confidence using the French curve for precision blending and grading. Mastering this versatile tool is crucial for professional pattern alterations and garment construction.
The Hip Curve: Achieving Perfect Fit for Hips, Lapels, and Elbows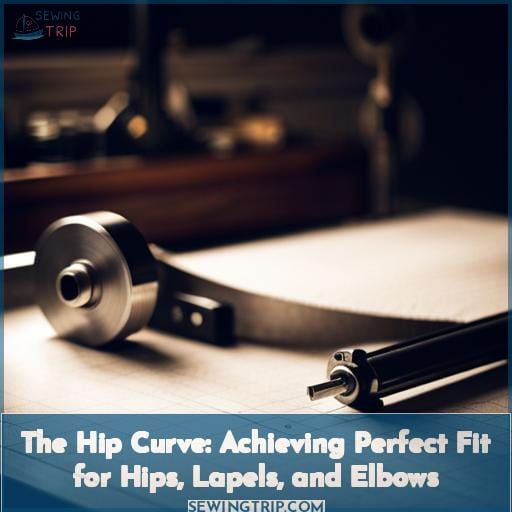 You'll tailor dress pants perfectly using that hip curve. Position the ruler along the hipline to check the fit.
Use the hip curve to smooth lapels and eliminate collar gaps. Match the ruler's curve to the lapel and trace.
For elbow darts, align the hip curve along the armhole then pivot it to create the dart.
Check different hip curve options like the Dritz hip ruler or Fairgate curve for versatility.
Whether adjusting hiplines, smoothing lapels, or fitting elbows in sleeves, a hip curve ruler is an essential garment alteration tool.
Master curve techniques with a hip ruler and achieve perfect style lines.
Other Useful Curved Rulers for Sewing and Pattern Drafting

As a savvy sewer, you understand the importance of having the right curved rulers for working with knits and achieving a perfect fit. The Vary Form, Sew Easy French Curve, and Dritz Styling Design rulers are essential for smoothly grading patterns, altering darts and lapels, and making precise adjustments to hips and thighs.
With these in your toolkit, you will enhance your sewing skills and gain greater control over garment construction.
The Vary Form Curve Ruler by Fairgate
You've discovered the Fairgate Vary Form curve ruler, which is perfect for drafting various curves when altering patterns. It allows you to trace concave and convex edges smoothly, mark the fabric accurately, align the curve precisely, and cut with precision.
Additionally, it helps you adjust darts and add shape to collars, as well as hem knits without distorting them. You can even combine curves to create original designs. Made of lightweight plastic, this transformative tool glides effortlessly, enabling you to master garment fit effectively.
The Sew Easy French Curve Ruler
Upgrade your sewing game with the Sew Easy French Curve in Imperial Measurements today! This transparent ruler enhances pattern adjustments for proper garment fitting. Master sewing techniques like measuring curves with the fashion tool's calibrated edge.
Choose the Sew Easy curve for altering necklines, sleeves, and hiplines when ruler selection optimizes your sewing mastery. Adjust patterns precisely for smooth transitions. The plastic French curve creates professional, tailored garments that fit your form.
The Dritz Styling Design Ruler
The Dritz Styling Design Ruler is your handy curved tool for pattern alterations and original designs. This versatile 12-inch ruler creates smooth curves for necklines, sleeves, skirts, and more. Trace its unique lines when drafting an original pattern or altering store-bought designs.
The marked edge provides proper grading between sizes. Flip to utilize concave or convex curves. Made from durable plastic, it's a budget-friendly ruler to add to your sewing tool arsenal.
Top 5 Curved Rulers for Sewing and Pattern Alterations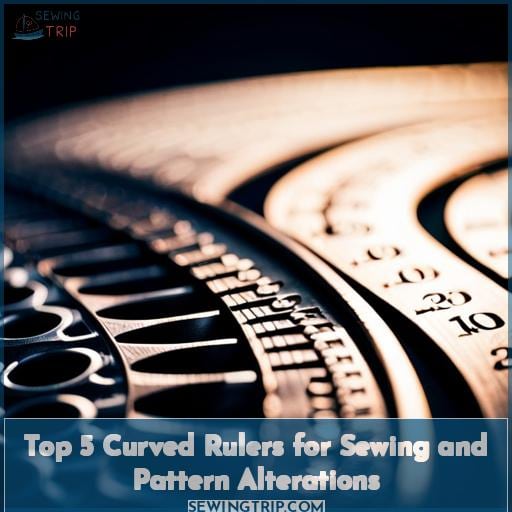 You truly need a handy hip curve for smoothly shaping those tricky pattern alterations. When it comes to achieving precision in your garment alterations, having the right sewing tools is crucial. Here, we present the top 5 curved rulers for sewing and pattern adjustments that will empower you to master the art of curve sewing and take your sewing game to the next level.
| Ruler Features | Sewing Techniques |
| --- | --- |
| Durable and Transparent | Perfect for contour dart adjustments |
| Versatile Sizes | Ideal for blending and grading patterns |
| Calibrated for Accuracy | Great for shaping necklines and armholes |
| Lightweight and Sturdy | Essential for achieving a tailored fit |
| Multiple Curve Types | Excellent for creating smooth transitions |
Pacific Arc French Curve Set: This acrylic set offers versatile French curve shapes in various sizes, making it ideal for pattern making, drafting, and woodworking. Its transparency allows for accurate drawing, and it's backed by Amazon's money-back guarantee, ensuring quality.

Dritz Clear Curved Hip Drafting Ruler: Designed for hip and thigh adjustments, this transparent ruler features a 1/8-inch grid for precise measurements. It's perfect for creating long, softly curved lines in your patterns.

Fairgate 24 Inch Curved Monitor: This aluminum curve ruler is calibrated for accuracy and can replace a full set of French curves. It's perfect for drawing sleeves, armholes, collars, and unique contours, making it an essential tool for fashion designers.

Fairgate 12 inch Vary Form Curve Ruler: With clear inch and millimeter markings, this plastic curve ruler is versatile and lightweight, making it useful for various pattern adjustments and curved lines.

Sew Easy French Curve Imperial Measurements: This 18-inch ruler offers multiple curve types for neckline, armhole, sleeve cap, hipline, waistline, and hemline adjustments. It also includes a grading grid for personalized pattern sizing.
These top 5 curved rulers are your keys to mastering curve sewing and achieving flawless garment alterations. With their durability, versatility, and precision, you'll have the power to create the perfect fit every time.
Conclusion
Sewing curves can be a daunting task for even the most experienced sewists. But with the right tools and techniques, you can master the art of curve sewing in no time.
Whether you're using a French Curve, a hip curve, or a styling-design curve, you'll find the perfect tool for your project. With the right ruler, you can easily adjust necklines and armholes, create smooth curves for waist and hip adjustments, and blend and grade patterns with precision.
And with some practice, you'll be able to sew curves that look like they were made by a professional.