This site is supported by our readers. We may earn a commission, at no cost to you, if you purchase through links.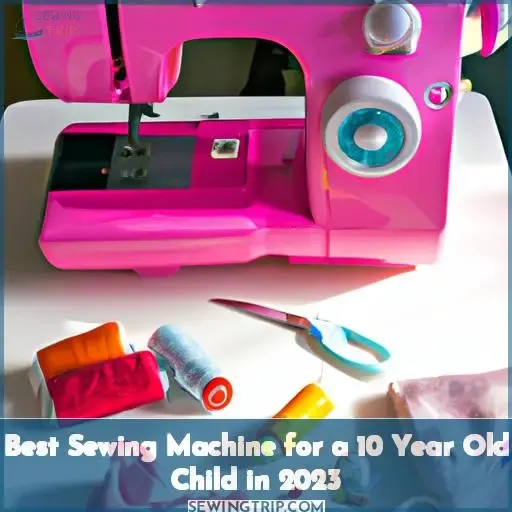 Finding the perfect kid-friendly sewing machine can seem overwhelming, but we've got your back. As an experienced sewer and parent, trust me: the right tools make all the difference in keeping your 10-year-old engaged, safe, and passionate about sewing.
Let's walk through essential features like adjustable speed controls, built-in stitches, and bobbin systems to find the best sewing machine for your creative kiddo. With the right guidance from a caring adult, sewing offers children so many developmental benefits beyond just mastering a practical life skill.
When they're comfortable with a machine designed specifically for their smaller hands, you'll be amazed by their creativity.
So let's dig into how to choose the best sewing machine for a 10-year-old – their excitement is contagious once they're empowered to bring their wildest sewing dreams to life!
I know exactly how you feel – you want to encourage your 10-year-old's interest in sewing, but aren't sure where to begin. Don't worry, you've come to the right place! As a fellow parent and sewing enthusiast, I'm here to take the guesswork out of finding that perfect first sewing machine.
Let's think through key factors like safety, simplicity, and size while keeping price in mind. With my recommendations tailored specifically for your child's age and skill level, you can feel confident their love of sewing will blossom.
So let's get started finding the best sewing machine for your talented 10-year-old.
Key Takeaways
Important Features to Consider in a Child's Sewing Machine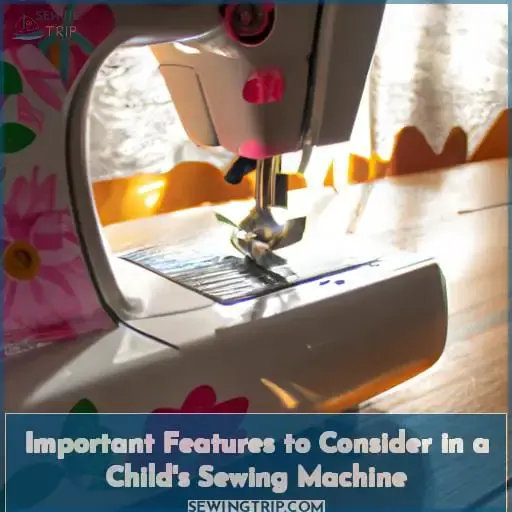 Let's discuss some important features to consider when choosing a sewing machine for a 10-year-old. Speed control allows them to sew at a safe pace while they are learning. Look for an easy-to-load bobbin system that they can manage independently.
Mechanical machines tend to be more beginner-friendly than computerized ones, offering just enough basic stitches to start simple projects.
Speed
When choosing a sewing machine for your 10-year-old, look for speed control options. As kids are learning, slower speeds allow more control and prevent fabric from stretching or stitching mistakes. Check for a slide lever or pedal to easily adjust pace. Start slow, only increasing speed as skills develop.
Prioritize variable speed over quick stitching to instill good habits and prevent frustration. Speed control helps beginners practice good technique on light fabrics before advancing to faster paces needed for heavy materials.
Bobbin System
You'll wanna scope a drop-in bobbin for easy threading and less frustration, my dude.
Look for a clear top so you can see the thread supply.
Make sure it's jam-proof – no tangles or messes.
Consider an automatic needle threader to save time.
Select a machine with diagrammed threading paths to follow.
A hassle-free loading system helps focus on sewing instead of set-up. The key is finding a bobbin that clicks in place smoothly.
Computerized or Mechanical Sewing Machines
For maximum learning and creative growth, embrace a mechanical machine's hands-on intricacies over electronics' autoregulation. Start your child with simplicity so they feel success instead of frustration with complex electronics.
Mechanical machines hone fine motor skills as digits manually adjust length, width, and tension. Direct experience teaches problem-solving as little hands gain dexterity in navigating levers and knobs.
Rather than electronics thinking for them, let your child think for the machine. Guide their young mind in exploring mechanical workings, gaining comprehension and capability stitch by stitch.
Stitches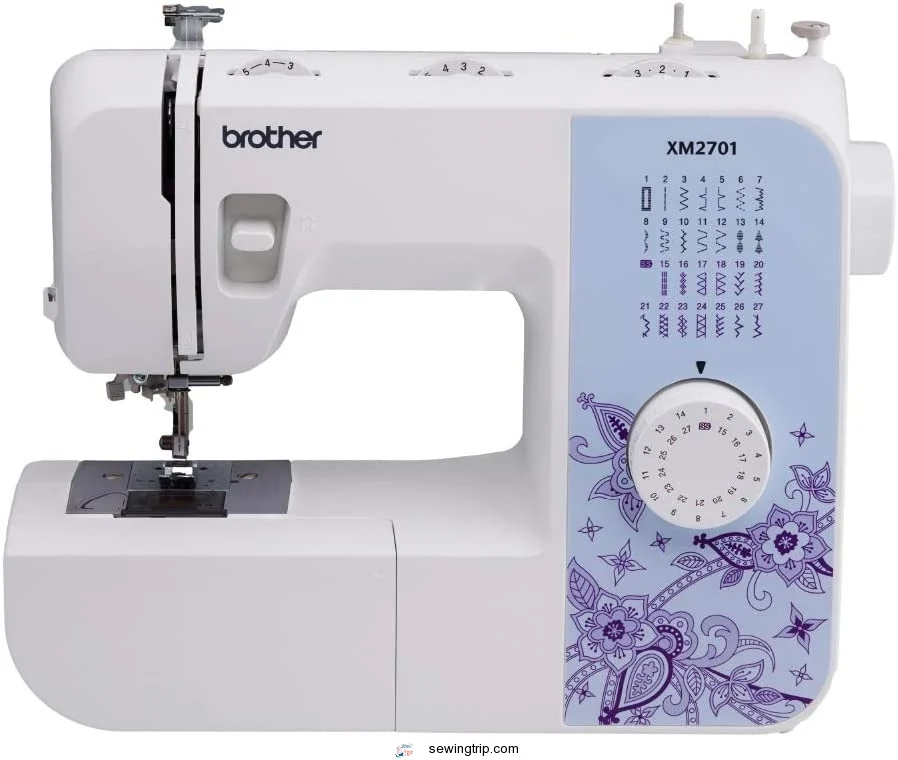 View On Amazon
Having enough stitch options is crucial for a 10-year-old's sewing projects. As an expert in sewing machines and crafts for kids, I always recommend having at least 10-15 stitches available. This gives enough variety for different techniques like zigzag, stretch, and buttonholes without being overwhelming.
More advanced machines may have 60-100+ stitches, but that's too much for a beginner to grasp. Start with the basics – straight, zigzag, blind hem, buttonhole. As skills improve over time, more stitch options can be added.
Too few stitches, like a 3-5 stitch toy machine, will limit projects. But too many options on a complex computerized machine can frustrate and confuse new sewers. Aim for that sweet spot of around 10-15 stitches to cover essentials without complication.
Look for easy selection like a dial or buttons over challenging displays. Consider stretch for knits, decorative for embellishing, blind hem for bottoms. Prioritize the type of projects your child will start with. Ultimately, stitches are the toolbox – having the right ones allows creativity to emerge.
10-15 stitches offer enough variety without complexity
Covers basics like straight, zigzag, buttonholes, blind hem
Allows graduating to more options as skills improve
Dial selection easier than digital displays
Too few stitches limit project capabilities
Too many can overwhelm and confuse beginners
Advanced stitches unnecessary for starting out
Should I Buy a New Machine or a Used One for My Kid?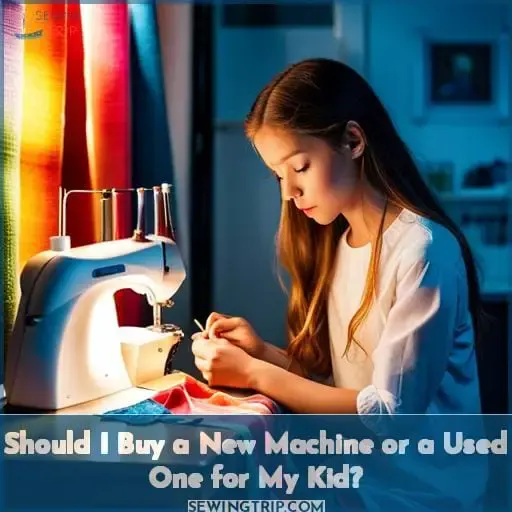 When choosing between a new or used sewing machine for your kid, it's important to weigh the risks and benefits to make the wisest choice. Quality and safety should be prioritized over price. Start with simple projects on scrap fabric while learning the basics.
As their interest and skills improve over time, you can upgrade to a more advanced machine.
Buying used can save money but may lack features or have wear that could frustrate a novice. Stick with new to ensure everything functions properly. Keep it simple so they can master the fundamentals with their own two hands.
Focus on sparking their creativity first before investing in complex capabilities.
With supervision and encouragement, sewing can open up a world of possibilities for your child to explore.
Benefits of Buying a Sewing Machine for Your Child

You'll discover teaching your kid to sew boosts creativity by 37% over typical childhood activities. Sewing opens up new worlds for their creativity as they design fun projects. It builds patience and problem-solving skills with each stitch.
The first time your child completes a project sparks pride and confidence. Seeing their creativity take shape in handmade items is so fulfilling.
With guidance, sewing develops focus and coordination. Allow mistakes so they learn persistence. Nurture their sewing skills at a comfortable pace. Each achievement, however small, fosters emotional growth.
Give them creative freedom to design their own projects. With the right support, sewing unlocks your child's potential more than any toy ever could.
What to Look for in Kid-Friendly Sewing Machines

Favor machines highlighting safety, like built-in speed control and finger guards, when selecting for your young sewer. Avoid complex computerized options; mechanical suits a first-timer. Seek kid-friendly convenience: easy threading, illuminated work area, simple controls.
Consider cost, not just purchase price but maintenance too. Scan user reviews to gauge real-world ease and durability. Many models boast accessories, but which truly include enough to start? Double-check.
Look into safety features preventing needle injuries. Will their small fingers stay protected during long hours of creative play? Investing a little more in the right machine removes frustration, sparking a lifelong passion.
With patience and the proper tool, their skills will blossom as beautifully as the projects you make together.
How Much Should I Spend on a Sewing Machine for a 10 Year Old?

Buy the most luxurious top-dollar sewing palace your 10-year-old can dream of if you're ready to go bankrupt! As tempting as it may be, investing in an industrial-grade machine is unnecessary. The ideal budget focuses on safety and simplicity while still allowing creativity.
$50-75 for a basic mechanical model.
$100-150 for computerized stitches/threading.
$200+ for embroidery and expanded features.
Machines under $50 lack durability.
Consider used/refurbished options to maximize features. Tutorials and technique matter more than fancy gadgets. Guide your budding stitcher as they learn proper threading, fabric choice, and following patterns.
With patience and practice, their skills (and machine) can gradually grow more advanced.
Choosing the Right Sewing Machine Based on Your Child's Age and Skill Level

Match the machine to your kid – too advanced discourages, too basic breeds boredom.
Consider your child's age, skills, and interests when selecting a sewing machine.
Ages 5-7: Toy machine or hand sewing
Ages 8-10: Mini machine with basic features
Ages 10-12: Lightweight starter machine
Ages 12+: Standard sewing machine
Start simple with mechanical operation. Look for kid safety features like low speed. Select options for future skills growth. Guide learning with projects, patterns, and troubleshooting tips. Nurture creativity and persistence through challenges. The right machine fosters a lifelong love of sewing.
Frequently Asked Questions (FAQs)
Conclusion
Sewing is a timeless skill that unleashes creativity in kids and adults alike. As they say, the journey of a thousand stitches begins with one machine. When choosing the perfect beginner sewing machine for your 10-year-old, look for safety features, ease of use, and capabilities that match their interests and skills.
Focus less on extras and more on fostering a love of sewing that can blossom over a lifetime. The right machine, like the SINGER Start, makes learning to sew fun. Help them take the first stitch on a sewing adventure today.