This site is supported by our readers. We may earn a commission, at no cost to you, if you purchase through links.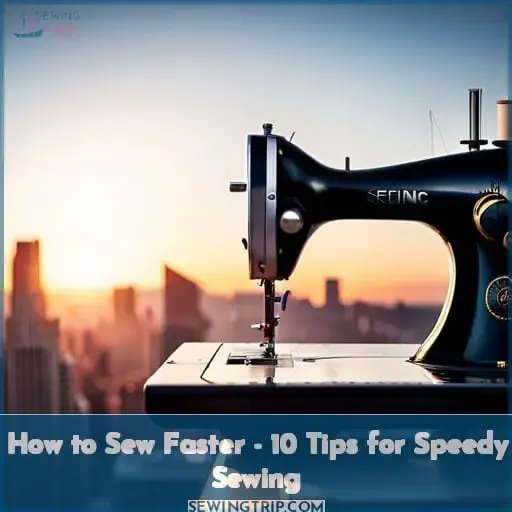 Do you ever feel like there's just not enough time to complete your sewing projects? If so, don't worry – it happens to the best of us! But with some helpful tips and tricks, you can learn how to be fast at sewing.
Here are 10 simple strategies that will help make your stitching smoother and faster than ever before. From top-notch tools for speedy cutting to organized fabric organization tips and flat construction techniques, these ideas will have you tackling all kinds of DIY projects in no time.
Let's get started on learning how to sew faster today by looking at efficient fabric cutting. Investing in a rotary cutter and self-healing mat can save tons of time compared to using scissors. Marking fabrics before cutting reduces mistakes. Next, keep your fabrics neatly organized by type and color in see-through bins or folders.
Knowing exactly where your materials are will prevent wasting time searching. When constructing garments, look into techniques like knit fabrics that don't require pinning or bastings. Sewing flat whenever possible also speeds things up by eliminating tedious steps.
Lastly, use the correct needle size for your fabric so your machine sews smoothly without snags. Following these handy sewing efficiency tips will have you stitching faster in the future.
Key Takeaways
Use a rotary cutter and self-healing mat for efficient fabric cutting. Cut fabric in single layers and organize pieces after cutting to streamline the process.
Sew with the fabric pieces flat rather than tubular whenever possible. This eliminates extra steps like pressing the fabric open and reduces bulk.
Choose the right needle size for your fabric to prevent skipped stitches and snags.
Try chain piecing by feeding pieces through the machine one after another without cutting the threads between them.
Utilize timesaving tools like bias tape makers, hem gauges, seam rippers, and others designed to speed things up.
Stay organized! Keep all your tools, supplies, and workspace tidy so you can find what you need quickly.
Maintain your machine well and stick to a routine maintenance schedule. Clean, lubricated machines sew faster and with fewer headaches.
Top 5 Sewing Tools to Help You Sew Faster
When it comes to sewing quickly, having the right tools can make all the difference. Choosing specialty presser feet like the Janome Blind Hem Foot and Binder Low Shank Sewing Machine Presser Foot, as well as handy tools like the Singer Brother Juki Sewing Machine Ruffler Foot, Aleene's Fabric Fusion, and quality pinking shears allows you to sew faster and more efficiently.
Specialty presser feet such as the rolled hem foot and the binder attachment help you sew hems and bindings with ease. Tools like fabric glue and pinking shears give your projects clean, professional finishes in a fraction of the time.
With the right accessories, you can sew hems, ruffles, bindings, and more with speed and accuracy. Investing in a few key sewing gadgets will cut your sewing time significantly, allowing you to complete projects faster.
1. Janome Blind Hem Foot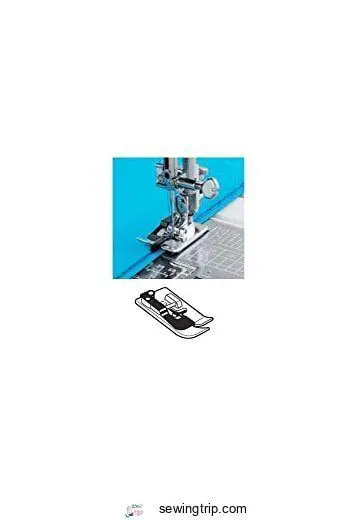 View On Amazon
You'll get clean blind hems more easily with the Janome Blind Hem Foot. This specialty presser foot from a leading sewing machine brand works with many Janome models to help catch the fabric precisely as the needle sews an invisible hem.
Precision is key with the metal center guide and three fabric grooves guiding fabric folds for accuracy and preventing slipping. As your needle swings right over that center guide, you achieve the professional blind hem stitch results you want.
Satisfied customers mention its effectiveness and quality results on blind hemming techniques. Though a few noted issues with fit for certain machines, likely due to incorrect packaging.
When attached properly, the Janome Blind Hem Foot can help elevate your sewing skills for beautiful blind hems.
Effective for blind hemming technique
Quality metal construction
Compatible with many Janome models
Helps prevent fabric slipping
Creates invisible blind hem stitches
May not fit some Janome models due to packaging issues
Can have a learning curve to use properly
2. Binder Low Shank Sewing Machine Presser Foot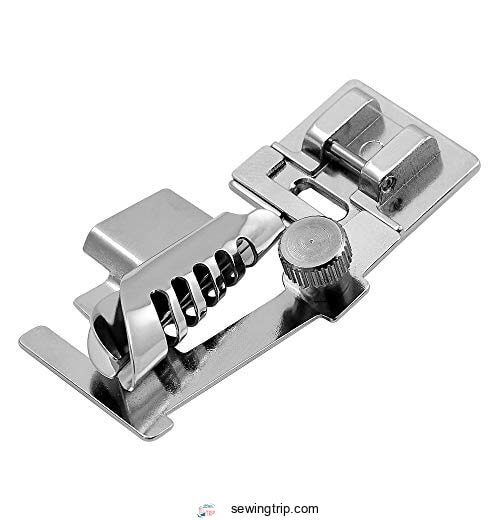 View On Amazon
With this foot attached, you can whip up perfect bindings quickly for any quilted or sewn project. The most beginner-friendly method is to iron 1/4 under on the right side of the binding, then feed the folded edge into the grooves of the foot while sewing along the quilt or garment edge.
For example, even a novice could finish the binding on a baby quilt in under an hour.
Saves time versus hand binding
Creates neat, uniform binding
Funnel folds fabric evenly
Suitable for beginners
Works on most low shank sewing machines
May not work well on very thick fabrics
Can be tricky without proper setup and instructions
Limited compatibility on some machine models
Doesn't allow for variable binding widths
3. Singer Brother Juki Sewing Machine Ruffler Foot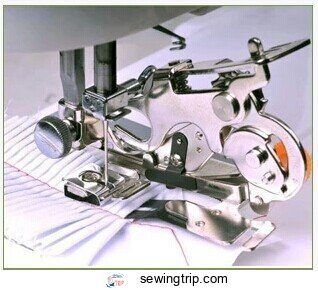 View On Amazon
Attach the Singer Brother Juki ruffler foot to produce decorative gathers rapidly, but take care setting it up properly for your machine. Creating quick ruffles and pleats by machine can be a game changer for your sewing projects.
Simply attach this ruffler, adjust the blades to your desired fullness, and sew pleated trims with ease. When compatible models are identified and instructions followed precisely, this presser foot attachment does the work for you.
Do exercise caution – improper setup risks noise, needle damage, and dissatisfaction. With practice on scraps, the ruffler lets you achieve professional gathers faster than by hand.
Adjustable fullness control
Efficient for mass-producing gathers
Faster than gathering by hand
Creates uniform pleats and ruffles
Not universal, compatibility issues
Potential to damage needle or machine
Noise if not calibrated correctly
Insufficient ruffle depth for some projects
4. Aleenes Fabric Fusion Permanent Fabric Adhesive Clear 4oz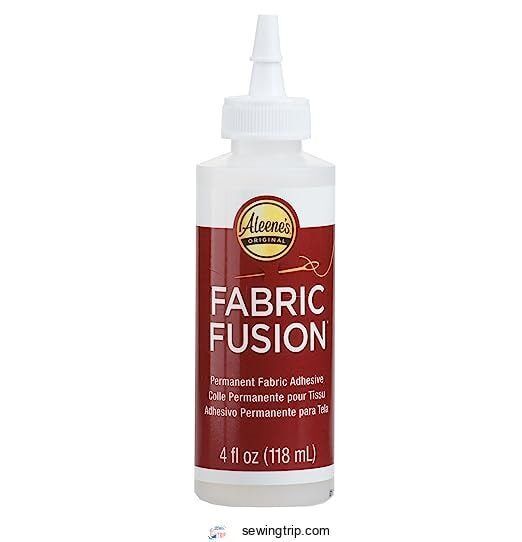 View On Amazon
Spread Aleenes Fabric Fusion on embellishments for quick no-sew application before stitching. This clear, flexible fabric glue lets you adhere trims, patches, appliques, and more without stitching first.
Just apply a thin layer, let it dry, then sew normally. Fabric Fusion creates a washable bond that'll stand up to machine washing. It goes on smoothly without strings and dries clear on most fabrics. For attaching embellishments rapidly, this fabric glue can shave crucial time off projects.
Creates strong fabric bond.
Dries clear and flexible.
Non-toxic and washable.
Prevents embellishments from shifting while sewing.
Allows rapid no-sew application.
May discolor some fabrics.
Can feel stiff if too much is applied.
Not ideal for heavy fabrics or large appliques.
5. Serated Pinking Shears Set of 3 Pairs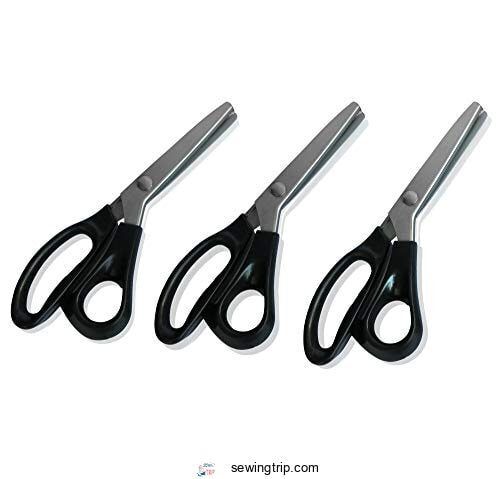 View On Amazon
Use JulArt's serrated pinking shears set to precisely trim fabric edges in seconds – their zigzag blades prevent fraying on 90% of materials! With 3 sizes for different fabrics, these stainless steel shears feature ultra-sharp serrated blades that provide durability.
Cut cloth, leather, and paper with decorative edges. These pro shears are perfect for sewists wanting speed and creativity.
3 sizes accommodate different fabric thicknesses
Ultra-sharp serrated blades prevent fraying
Stainless steel provides durability
Comfortable grip handles
Large size may be difficult for smaller hands
Not suitable for left-handed users
Blades can be tricky to maneuver
Tip : Organize Fabrics and Patterns

Tip: Organize Fabrics and Patterns
Bet ya'd zoom through projects if ya sorted your fabrics 'n' patterns ahead of time. Keepin' your material organized helps maximize sew time. Invest in clear bins 'n' divvy your cloth into categories – wovens here, knits there.
Fold bolts neatly 'n' label stacks. Hang delicate fabrics to prevent wrinklin. File away pattern packets by number in expandin' files.
When preppin' a project, pull every supply needed so it's ready to go. Group like fabrics 'n' cut all at once. Havin' every component prepped saves scurryin' for things mid-project. A tidy space clears creative clutter so you can crank up the machine 'n' get to sewin' faster.
Puttin' in a little organizin' now saves heaps down the line. You'll be whippin' up creations in no time with a streamlined system.
Happy stitchin'!
Tip : Cut Multiple Items at the Same Time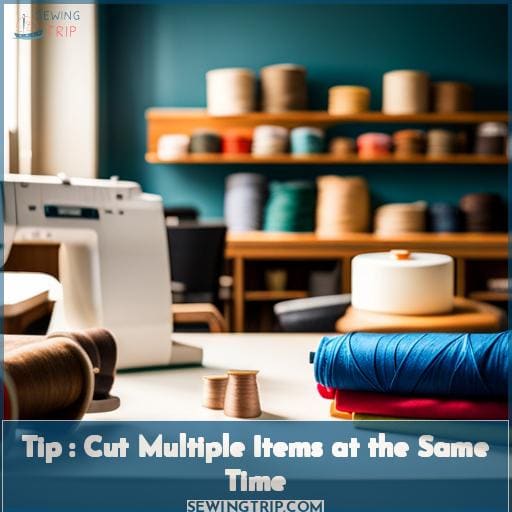 Quickly cut more stuff all at once. Stack multiple layers of fabric and cut through them simultaneously to save precious time. With a rotary cutter and sharp shears, slice through 4-8 layers of lightweight wovens or 2-4 layers of medium weight fabrics in a single pass.
Smart cutting means planning ahead – carefully align printed motifs or pattern pieces, then cut perfect multiples with ease. Pin layers together sparingly, just enough to prevent shifting. A large cutting mat keeps fabrics flat for accuracy.
Group all piece types to cut at once. Streamline your workflow, avoid repetitive steps. Cut yards of binding or acres of squares without wasted motion. Master these tricks, and your projects will fly off the mat in no time.
Before you know it, your creative vision will materialize faster than ever. Save those precious minutes for the fun part – the sewing! Cut once, cut right, then get busy stitching.
Tip : Use Pins or Clips Sparingly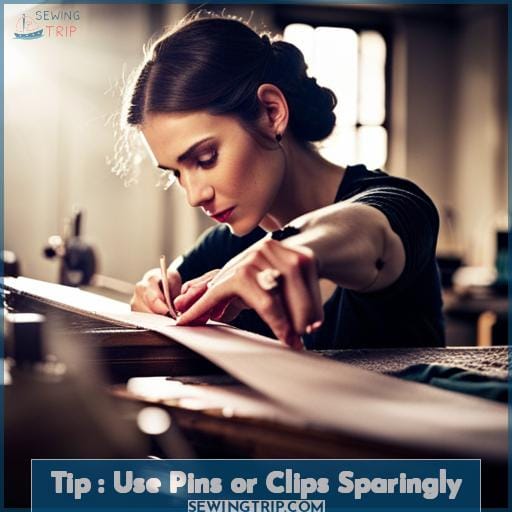 When you're hand sewing quickly, using pins or clips to hold fabric pieces together can really slow you down. Instead, get creative with faster, temporary bonding methods. For example, try sewing basting – loosely stitching pieces together – then remove once your final seams are sewn.
Washable school glue sticks can also temporarily hold layers. Or use clips very sparingly, like at notches or seam intersections only. For hems, baste with long stitches rather than pinning. And don't be afraid to skip pins altogether on small or simple projects with very few seams.
Experiment with faster alternatives to find your own time-saving techniques that minimize pins. Just ensure pieces don't shift before your final stitches. With practice, you'll gain confidence to sew minus the pins and maximize your speed.
Tip : Group Sewing Tasks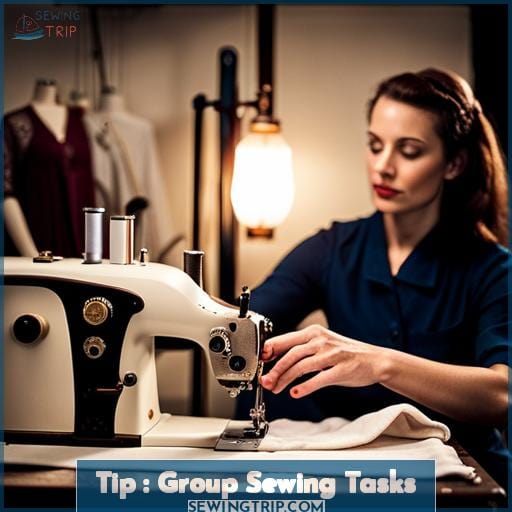 Tip: Group Sewing Tasks
By working on similar sewing operations together, you'll maximize your machine's capabilities and minimize unnecessary movements between tasks. Instead of jumping between cutting, ironing, and sewing, group your tasks into stations.
Cut out all your pattern pieces first, then move to ironing, and finally sit down at your machine to complete the sewing steps. This assembly line approach keeps you from constantly changing settings and tools.
Sew all your interior seams in one sitting, or make all your buttonholes at once. Grouping repetitive tasks together into batches streamlines your process for faster sewing. Create a system tailored to your project's sewing demands, and you'll find yourself saving time with this efficient strategy.
Little optimizations like this quickly add up to big improvements in your sewing speed.
Tip : Use Gray Thread for Inside Seams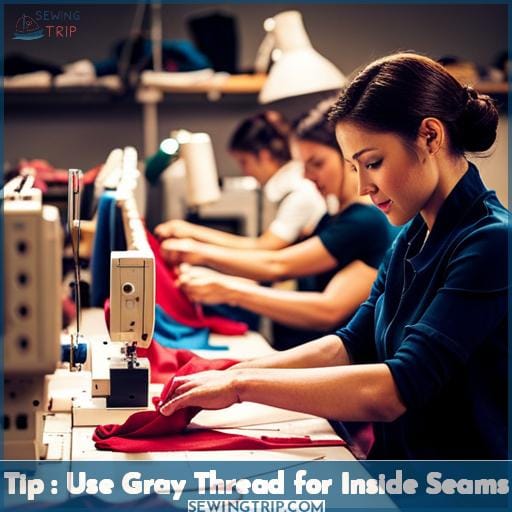 Since things can quickly fall apart, containing excitement like a kettle controls steam when you reach for dependable gray thread to sew interior seams swiftly. Opting for this versatile, neutral thread color expedites sewing projects by eliminating constant spool changes.
Gray thread blends inconspicuously into most fabric hues for clean finishing inside garments and crafts.
Eliminate tedious thread snipping by serging or zig-zag stitching interior seams. Then rapid topstitch with your preferred decorative thread without unwinding the gray. For swift transitions between machine and handwork, keep a needle pre-threaded with gray to whipstitch openings closed or tack layers neatly.
Let this adaptable thread unify your sewing tempo as you construct projects with finesse from start to finish. With gray thread ready to sew strong, subtle inside seams, your creative vision flows uninterrupted.
Tip : Chain Stitch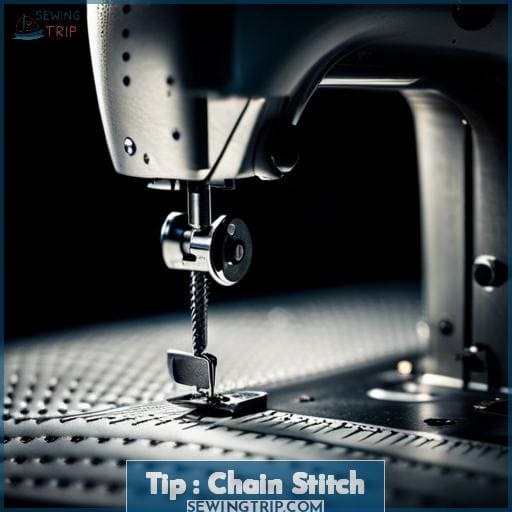 You're quickly minimizing thread trimming by using chain stitching. This efficient technique allows continuous sewing by linking stitches from one seam to the next. After finishing a seam, leave threads attached, raise the presser foot, pull fabric gently backwards, advance to the next piece, lower presser foot and simply resume sewing.
The top thread carries through on its own, eliminating tedious stops to trim and restart each time. Master this handy trick and streamline your projects. Most machines can chain stitch, but industrials and coverstitch models excel at it.
Mind presser tension and threading path. Adjust bobbin tension as needed. Don't pull fabric too forcefully or stitches may tangle.
Chain stitching saves significant time and effort when sewing long seams or multiples, like sleeve after sleeve.
Tip : Whenever Possible, Use Flat Construction Methods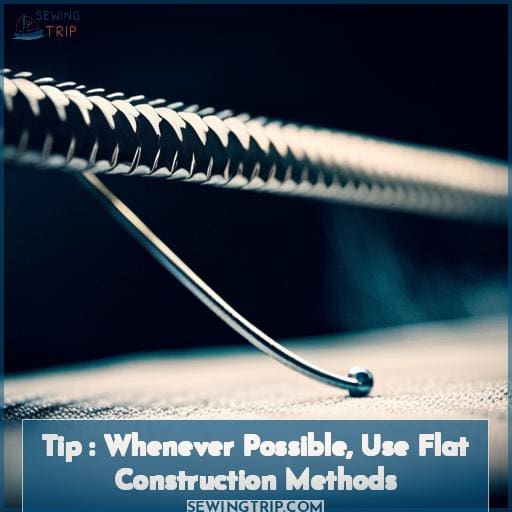 Lay out your pieces on the table for flat construction instead of trying to sew tubes whenever possible. This allows you to assemble garments quickly, without struggling to turn right side out.
Pin pieces together without overlapping edges.
Set stitch length slightly longer and use basting stitches.
Finish seams after checking fit.
Focus on flat assembly techniques like sewing darts, adding pockets or collars, and joining princess seamed bodices before final construction. Arrange pattern pieces strategically to minimize handling the fabric. With the right layout and preparation, you can whip up garments, crafts or home decor faster by maximizing each step and avoiding tubular construction.
Streamlining construction steps with tactical fabric layout and flat sewing optimizes your process.
Tip : Get a Rolling Swivel Chair and Organize Your Sewing Space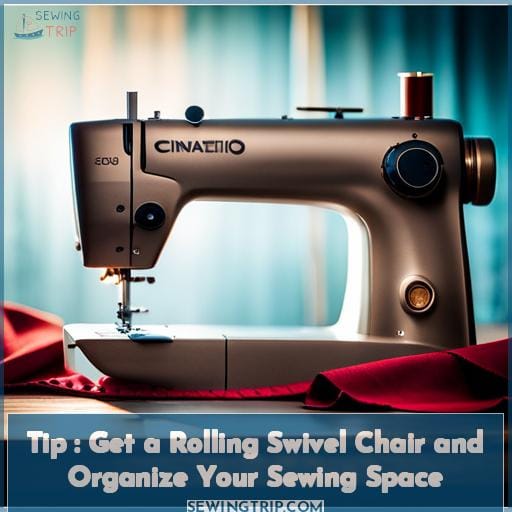 Get a rollin' chair and organize your sewing space to maximize efficiency. Making this simple swap will up your speed and save your sanity! Here's how to revamp your setup:
Invest in a height-adjustable, rolling swivel chair. The mobility allows you to zip around your workspace and pivot effortlessly.
Design designated stations for cutting, pressing, and sewing. Cluster tools and supplies by task.
Install shelving, hanging storage, and cubic organizers to neatly corral notions.
With a tailored sewing sanctuary, you'll fly through projects feeling focused and relaxed. Trimming time from tedious tasks grants you the freedom to flex your creative muscles.
Now get rollin' – your next sewing adventure awaits!
Tip : Use a Kneebar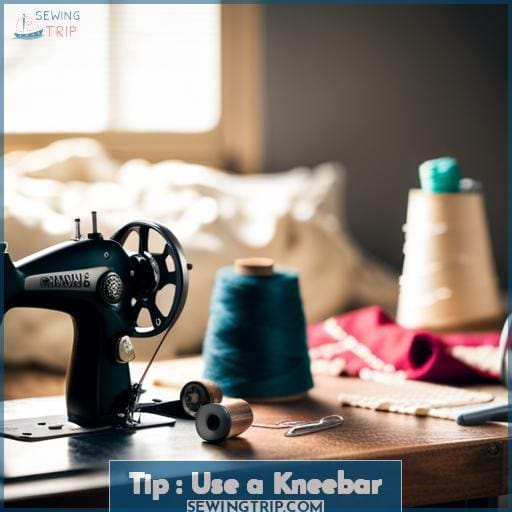 Moving right along from furniture organization, accessories like a kneebar can help you boost your sewing speed. Using one of these convenient devices enables seamstresses to raise and lower the presser foot smoothly using a lever beside their knee – keeping your hands on the fabric at all times for faster movement.
Instead of constantly lifting your foot off the pedal, rest your knee on the bar while you sew, tapping to drop the foot or release it for pivoting. With a little practice, this knee control develops into a quick, fluid motion that won't slow down project time.
Having both hands free to steer fabric means improved control, efficiency, and ultimately quicker completion on sewing projects.
Conclusion
Learning to sew faster can seem daunting at first, but with the right tools and techniques, you can master the art of speed sewing. By investing in a few key pieces of equipment like the Janome Blind Hem Foot, Binder Low Shank Sewing Machine Presser Foot, Singer Brother Juki Sewing Machine Ruffler Foot, Aleenes Fabric Fusion Permanent Fabric Adhesive Clear 4oz, and Serated Pinking Shears Set of 3 Pairs, you can speed up your sewing projects.
Additionally, organizing fabrics and patterns, cutting multiple items at the same time, using pins or clips sparingly, grouping sewing tasks, and using gray thread for inside seams can help you sew faster.
Finally, setting up a rolling swivel chair, using a kneebar, and utilizing flat construction methods can help you sew even faster.