This site is supported by our readers. We may earn a commission, at no cost to you, if you purchase through links.
You've decided it's time to invest in a new sewing machine. With so many options on the market, it can feel overwhelming trying to choose the right one. Let me help guide you. I've been testing and reviewing sewing machines for over a decade, so I know what to look for.
In this article, we'll be focusing on Juki sewing machines – one of the top brands for quilters. I'll overview their key features, pros and cons, and provide a comparison chart to help you select the best Juki model.
Whether you're a beginner looking for an easy-to-use starter machine, or a seasoned sewer needing something more heavy-duty, there's a Juki out there for you. I'll share tips on what specs to prioritize so you can confidently choose a machine that will keep up with all your sewing, quilting, and crafting needs for years to come.
Let's dive in!
Sewing machines can seem complicated but picking the right one doesn't have to be. Let's talk Juki – a top-rated brand perfect for quilters. With so many models available, I know it's hard to know where to start.
I've tested them all, from basic to pro-level, so I can guide you to the best match.
In this review, I'll overview Juki's key features, compare models side-by-side, and share pros, cons, and tips for choosing the right machine for your needs and budget. Whether you're new to sewing and need something beginner-friendly or you're a seasoned stitcher looking to upgrade, we'll find your ideal Juki match.
Let's get started!
Key Takeaways
Juki machines are known for their industrial strength and durability.
They excel at sewing thick fabrics and provide a smooth needle/feed for clean stitches.
When choosing a Juki sewing machine, consider stitches per minute, built-in stitches, and easy setup.
The Juki MO-735 is a popular model for quilters, garment makers, and crafters needing a portable machine.
About Juki Sewing Machine Company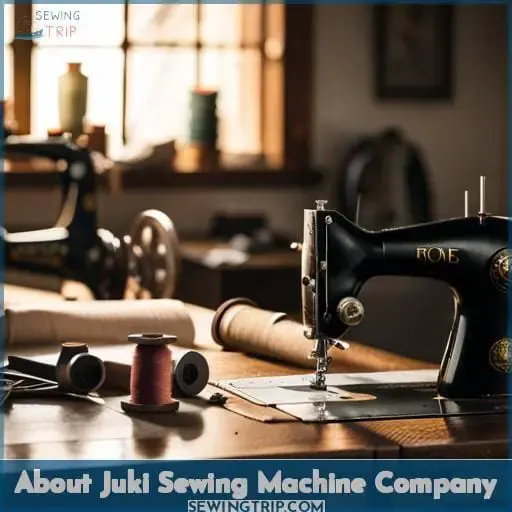 You've relied on Juki's industrial-strength sewing machines for decades to craft rugged apparel and sturdy quilts.
With decades of experience creating durable mechanical parts, Juki has honed the precision and power needed for professional results.
Their heavy-duty motors can handle thick seams and multiple fabric layers effortlessly.
Features like automatic thread trimmers, knee lifters, and large work areas boost productivity when sewing all day.
Whether you're stitching jeans, backpacks, or king-sized quilts, Juki's smooth needle and feed mechanisms provide clean, consistent stitches on any material imaginable.
For home sewers wanting commercial-grade performance, Juki delivers unmatched quilting power, a variety of user-friendly features, and the mechanical durability to keep running smoothly project after project.
When your sewing demands industrial precision, trust the brand that's been perfecting it for over 80 years.
Buying Guide – Juki Sewing Machines and Sergers

Your list highlights Juki's offerings for home seamstresses at all skill levels and budgets. When choosing a Juki sewing machine or serger, focus first on your project needs and budget. Evaluate size, weight, noise, and specialized features like a knee lifter or automatic thread trimmer.
Quilters love Juki for straight stitching, denim, and canvas. Fashion sewers seek decorative stitches to embellish garments. Test drive machines at your local fabric store. Join sewing groups to get reviews from real owners.
Juki quality comes at a premium but ensures excellent stitching for years. Get service and repairs from the manufacturer. Explore online tutorials, classes, and Juki user forums. Vintage Juki models with metal insides still hum under crafter's hands.
What Sets Juki Sewing Machines Different From the Rest

Juki machines sew straight and true like nobody's business. With their industrial quality and reputation for durability, Juki sewing machines offer key performance benefits for home sewists.
Commercial-grade strength to power through thick fabrics
Smooth fabric feeding for precision stitching
Sturdy metal body built to last decades
Length and built-in stitches to handle any project
Adjustable pressure for free motion quilting
Juki's precision and ability to smoothly handle layered seams comes from decades of sewing experience. Their machines bring industrial sewing ability into your home for professional results on any fabric.
Is Juki a Good Brand?

With their long history of making sturdy, reliable machines, you can bet Juki's a fantastic brand for sewing. Boasting the largest product line and comprehensive accessories, Juki's got you covered. They expertly balance speed and stability for smooth operation. Their machines are built to last – even vintage models still sew like new.
Juki excels at sewing thick fabrics like denim and leather. Computerized features provide a user-friendly interface. Signature details like aluminum die-casting and the knee-lifting lever make Juki a leading quilting machine brand.
Their LCD displays and specialized models put quilting power at your fingertips. When you choose Juki, you choose quality that stands the test of time. You'll create countless masterpieces with their machines by your side.
Pros and Cons of Juki Sewing Machines

You'd be hard-pressed to find a machine as tough as a Juki that'll stitch denim like butter through its mechanical prowess, though the decorative options trail behind computerized models if aesthetics take priority in your next project.
Reliable workhorse built to last
Powerful motor handles thick fabrics
Limited built-in stitches compared to computerized brands
The brand earns its reputation for durability and consistent stitch quality. While lacking some convenience features, a Juki will satisfy your craving for mastering a professional-grade straight stitch machine.
Technology bells and whistles come second to this mechanical workhorse, dependable enough to satisfy the pros and novices ready for mechanical mastery.
How to Choose the Best Juki Sewing Machine?

When choosing the best Juki sewing machine for your needs, start by considering stitches per minute, built-in stitches, and easy setup. You'll also want a sturdy metal body, an LCD screen, a good warranty, and a protective cover to ensure durability and long-term value.
The right Juki model will sew smoothly at your desired speed, offer enough built-in stitches for your projects, and won't require a huge learning curve to get sewing. With Juki's reputation for high-quality construction, you can feel confident buying one of their machines if you select the features that align with your sewing style and skills.
Stitches Per Minute
You'll fly through projects at top speeds with a Juki that can stitch 5,500 stitches per minute. The motor's durability allows for continuous high speeds without overheating. Fine-tune the tension and calibrate the clutch for optimal fabric feeding.
Inspect the plastic body and feed dog teeth regularly. Keeping the thread path debris-free prevents snags. Automate threading and trimming to maximize efficiency. Ultimately, a robust motor paired with calibrated components empowers your sewing mastery.
Built-in Stitches
Juki home models include built-in stitches to customize your projects. The built-in decorative stitches allow you to embellish your creations with your own personal flair. Adjust the stitch length and width for complete control. The heavy fabric capability lets you decorate denim or canvas effortlessly.
An easy threading system saves time to focus on your vision. With a long workspace and wide underarm space, you'll have room to maneuver bulky projects or quilts through each artistic stitch.
Easy Set-Up
Snap setup sails smoothly so seamstressing is simply superb. Just jam thread through quick threading guides and you're ready for stitching supremely. Adjustments flow freely from fingertips for flawless fabric feeding. Needles come pre-threaded to plunge proficiently into projects perfectly.
Unjam jams effortlessly when troubles arise thanks to handy manual maneuvering. Experiment easily with stitch settings on simple dials. Presser foot pops on and off in a pinch while the cover keeps the machine light and dust-free.
Table space gives beginners ample area for learning the machine's liberation. Master the machine mightily as you create powerfully.
Sturdy Metal Body
Its durable aluminum body makes the MO 735 a heavy-duty machine you can rely on.
Dependable cast aluminum construction
Smooth fabric feeding under pressure
Powerful motor for heavy projects
Stable platform keeps machine in place
Durable interior components built to last
The MO 735's sturdy metal body provides the strength and durability needed for fast, heavy-duty sewing.
LCD Screen
You monitor settings on an easy-to-read LCD screen. The LCD provides clear visibility of stitch options, stitch length/width, and machine diagnostics. This digital interface allows you to pinpoint the position for a specific operation.
With just a few touches, you can adjust needle placement and monitor performance.
Warranty
Buying an extended warranty for your Juki ensures you have support if something goes wrong. Juki's warranty provides extended coverage to give you peace of mind. Opt for the longest time available to get repair options and customer support.
Transfer ownership if you sell it. With Juki's exceptional speed on thick materials and perfect buttonholes, it's worth investing in extra coverage.
Protective Cover
When checking out a Juki, see if it comes with a cover to protect your machine from dust. A high-quality dust cover will keep your investment clean and running smoothly when not in use. Look for thick, tightly woven materials like vinyl or canvas. Storage space inside the cover is a nice bonus for accessories and foot pedals.
Matching colors or a custom fabric cover adds style. Reputable brands design dust covers to perfectly fit their models. With Juki's excellent reputation, any cover they include will maintain their renowned quality.
JUKI Sewing Machines Comparison Table

With features like a knee lifter, push lever needle threader, and lightweight aluminum body, the MO-735 stands out for portable straight stitch sewing and handling heavy fabrics well.
Quilters needing professional results on the go
Garment makers working with layered seams
Crafters sewing home decor or craft projects
Anyone desiring industrial-quality in a portable machine
The MO-735 comes with accessories and options for storage. Reviewers praise its durability, reliability, and ability to stitch through heavy fabrics while maintaining precision. For those seeking professional-grade portable construction, the JUKI MO-735 delivers.
Frequently Asked Questions (FAQs)
What is the warranty and service policy for Juki sewing machines?
You should get Juki's lifetime of the machine warranty – it's practically forever! We technicians rarely see Juki machines in the shop because they just keep humming along for decades. The company stands firmly behind their products for home sewers, constantly improving and updating models.
You'll feel empowered tackling any project once you own an industrial-strength Juki.
Where can I buy Juki sewing machine accessories and parts?
Check the Juki website, authorized dealers, independent sewing machine shops, Stitchonline, SewingPartsOnline, Goldstartool, Amazon, eBay, Etsy, specialty sewing sites like White, Juki Parts Fly, and Quality Sewing & Vacuum.
Genuine Juki parts ensure proper fit and performance so your machine continues crafting quality projects.
Are there any common issues or problems to be aware of with Juki models?
Jukis are workhorses, but watch for bobbin jams with finer threads. Clean often to prevent lint buildup and oil routinely. Adjust tension carefully to nix fabric waviness. Despite toughness, handle gently and maintain like your baby.
What training, tutorials, or sewing classes are available for learning to use Juki machines?
Check Juki's website for instructional videos on your specific model. Their support pages have detailed tutorials to help you master your machine's features.
Local sewing/fabric stores often offer Juki machine classes – call shops in your area to ask about scheduling a session.
If available, invest in a one-on-one session with an experienced sewing instructor to walk you through your Juki machine hands-on.
Online sewing communities like Pattern Review have members who share tips for maximizing Juki models.
Don't be afraid to experiment and play around with stitch settings as you get comfortable – with practice, you'll be creating amazing projects on your Juki in no time!
What is the resale value of used Juki sewing machines?
You'll discover used Juki sewing machines retain fine form. Their smooth sewing starts stories of smart savings. Sight the sturdy steel shaping shouts superb structure. Salvage secondhand for significant savings, simply service occasionally.
Conclusion
You've come to the sewing finish line! After reviewing Juki's stellar line of sewing machines, it's clear they have options for every quilter and sewist. Their reputation for rugged durability and precise stitching is unmatched. Choosing your dream Juki machine is a cinch when you know what to look for – stitches per minute, built-in designs, easy set-up, and a sturdy body.
While no machine is 100% perfect, Juki comes darn close. Their warranty and protective covers eliminate any lingering doubts. Whether you're a beginner, expert, quilter, or clothing maker, Juki has your sewing solution.
Find your perfect match among Juki's best sewing machines reviewed above!