This site is supported by our readers. We may earn a commission, at no cost to you, if you purchase through links.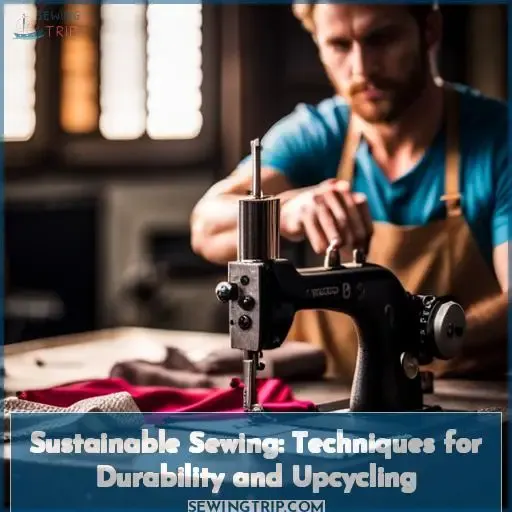 Sustainable sewing can significantly reduce fashion's impact on the environment. But it requires intention and creativity.
Choose sustainable fabrics like organic cotton, recycled materials, and natural fibers like linen and hemp.
Use quality materials and techniques so garments last for years, not just seasons.
Upcycle old clothes and fabrics into new creations. Turn old jeans into skirts or decorate scraps with embroidery.
Buy fabric thoughtfully and precisely. Get accurate measurements so you buy only what you need.
Compost fabric scraps you can't reuse. Some communities accept textile waste for composting.
Consider impacts of shipping when sourcing materials. Support local when possible.
Rent or borrow seldom-used specialty tools like embroidery machines. Share resources with other sewers.
Sew slowly and thoughtfully, not quickly and carelessly. Focus on quality over quantity.
Let creativity guide you. Make pieces you'll treasure forever. With intention and care, sewing sustainably benefits you and the planet.
Key Takeaways
Choose eco-friendly fabrics like organic cotton, recycled materials, linen, and hemp.
Prioritize quality materials and techniques for long-lasting garments.
Upcycle old clothes and fabrics into new creations.
Define your sustainability priorities before starting each project.
Find Your Sustainability Priorities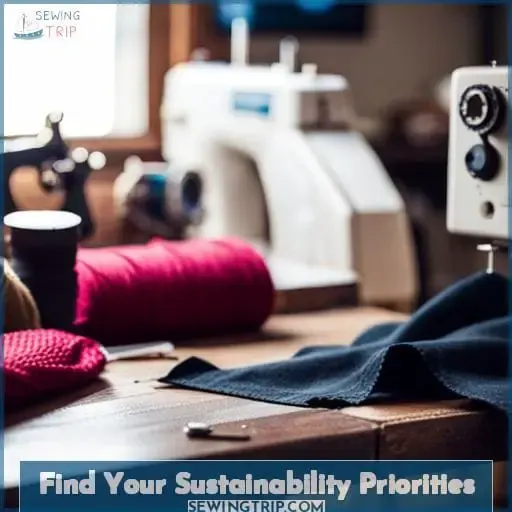 You've gotta define your own sustainable sewing values first before starting any project. What's most important to you – using natural fabrics, reducing waste, or shopping secondhand? Make a list of your top sustainability priorities and revisit it when embarking on each new project.
That'll keep you focused on sewing consciously. Maybe it's supporting small ethical brands, sewing for longevity, or simply making use of what you already have.
Outline your sustainable sewing goals, from reducing your environmental impact to sparking joy through creativity. Know your personal sustainability values before diving in. Prioritizing eco-consciousness in sewing is a journey, so be kind to yourself.
Start where you are, then build on it project by project.
Sew Things That Last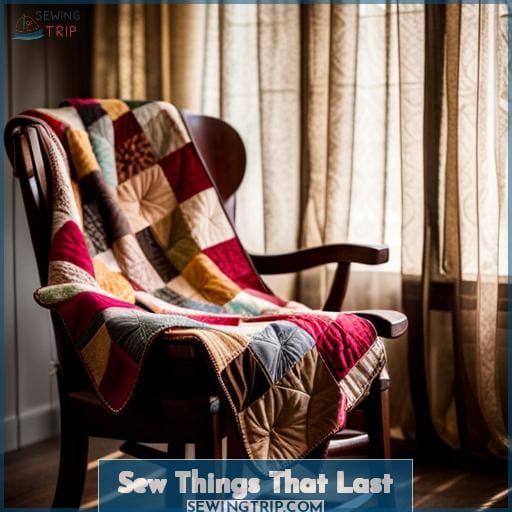 Cut through the consumption cycle with durable construction. Opt for quality fabrics, reinforced seams, and generous allowances to craft sustainable projects that endure in both form and function. Durable construction allows us to break free from the endless cycle of consumption.
Choose high-quality, long-lasting fabrics and reinforce key areas like seams and straps. Be generous with things like seam allowances so projects can be adjusted as needed over time. The result will be sustainable creations that hold up beautifully while avoiding waste.
Taking the time to build things thoughtfully lets us craft items that truly last, in terms of both aesthetics and usefulness.
Techniques for Durability
Let the iconic butterfly wings represent the sustainable sewing techniques that lend flight to the longevity of your handmade creations. Reinforce seams with flat felled finishing and bartacks for strength. Allow elastic at stress points and wider seam allowances for flexibility.
Master visible mending and creative patching to lovingly prolong the life of each garment. Thoughtfully choose quality fabrics and notions to provide a solid foundation. With mindful, intentional construction focused on durability, your pieces will soar through the years as cherished sustainable heirlooms.
Reducing Waste
Don't trash the planet; minimize waste and give scraps new life through creative reuse. Reduce production waste. Sustainable practices like zero-waste patterns and upcycling fabric scraps keep textiles out of landfills.
Eco-conscious sewing means matching projects to fabric yardages, finding uses for small bits, and exploring natural dyes. Minimizing waste takes intention but yields fashion that nurtures the environment.
Your scraps can become someone's treasure through a zero-waste project. With some creativity, waste gets minimized and sustainability maximized.
Make Sustainable Fashion Choices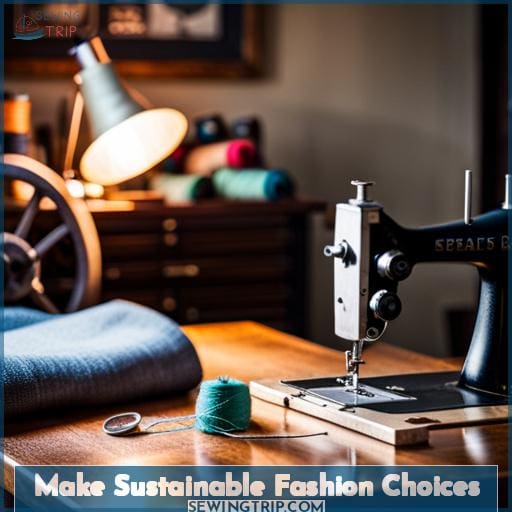 Make sustainable fashion choices in these trying times. Select sustainable fabrics like organic cotton, bamboo, hemp, and recycled polyester. Support ethical fashion brands using eco-friendly materials and fair labor practices.
Opt for sewing notions like organic thread and plant-based interfacing. Thrift second-hand textiles from garage sales and thrift shops. Employ sustainable techniques like zero-waste pattern making, visible mending, and upcycling.
Stitch with sustainable and recycled materials. Repurpose old clothes into new garments.
Together we can revolutionize fashion, protecting people and planet. Our needles prick holes in the status quo, stitching a new paradigm of ecological harmony and social justice.
Upcycling – the Trend That Will Never Get Old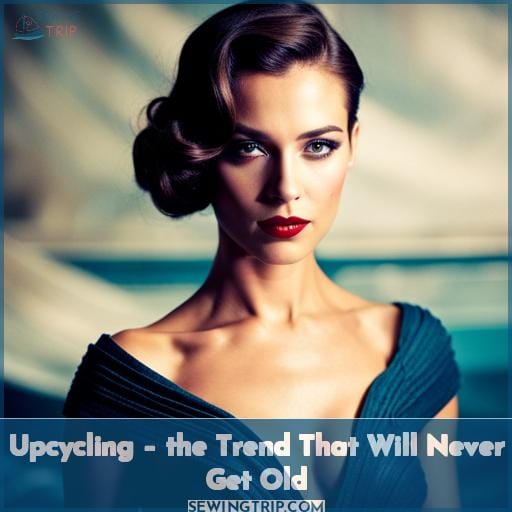 Have you ever looked at an old pair of jeans or t-shirt and thought there must be more you can do with them than just toss them? Upcycling is the perfect solution for giving new life to worn items while embracing sustainability.
Turn those jeans into a fashionable denim skirt, recreate a shirt as a breezy cami, decorate with hand-embroidered flowers, try your hand at natural fabric dyes, or spruce up your wardrobe by adding custom touches like embroidery or patches to pockets.
Turn a Pair of Jeans Into a Skirt
Be wise as an owl and upcycle those old jeans into a stylish skirt. Transforming jeans into a skirt is an eco-friendly way to give denim new life.
Determine the desired skirt shape and length.
Cut the jeans apart at the inseam and side seams.
Finish the cut edges with an overlock stitch or zigzag stitch.
Sew the jean panels together in your chosen shape.
Add a closure like a button placket or zipper.
Complete the look by adding fun pockets or embroidery!
Through repurposing denim with creativity and intention, you can reduce waste and make a fashion statement with sustainable style.
Fashion a Shirt Into a Cami Top
You can fashion a shirt into a cute cami top. For a shirt transformation, choose a flowy blouse or t-shirt. Then cut a straight line below the armholes to get that repurposed cami conversion. Creative styling with an eco-friendly flair – try a cropped tie-front or asymmetrical hem for maximum sustainable impact.
Reinvention never goes out of fashion when you're green sewing. So take that unused shirt and make it fabulous again.
Decorate With Floral Embroidery
A few hand-stitched flowers instantly liven up last season's dress. Grab embroidery floss in pops of color for DIY floral embellishments. Try backstitch and satin stitch patterns for easy ways to add eco-friendly embroidery.
With recycled fabric scraps and creative, slow fashion techniques like visible mending and bold floral accents, you can make sustainability a central part of your sewing projects.
Naturally Dye Your Fabrics
You can naturally dye your fabrics at home with things like avocado pits or turmeric to add color to textiles in an eco-friendly, creative way.
Experiment using natural dyes from kitchen scraps.
Attempt solar dyeing outdoors.
Combine and match dye sources for customized colors.
Spruce Up Your Pockets
Let's add interest to pockets with appliqués, embroidery, or contrasting fabrics for eco-friendly flair. Creative pocket designs reveal your sustainable values. Reshape existing garments by adjusting pocket size or swapping in colorful, upcycled linings.
Functional additions like extra pockets or zippered closures renew purpose. Clever embellishments make garments truly unique. With mindful alterations, imbue meaning into forgotten pieces. Sustainability empowers self-expression and honors clothing's role in mental well-being.
Even More Sustainable Sewing Ideas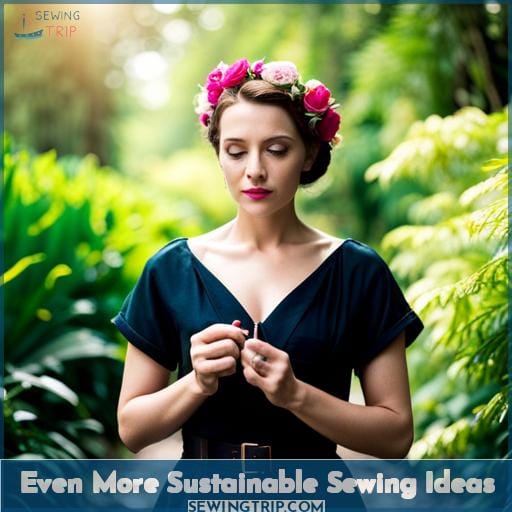 Look around your home for creative ways to upcycle old clothes and fabrics. Make a tie-dyed pillowcase from an old white shirt, turn an old t-shirt into a teddy bear, or gather fabric scraps to sew practical items like heat packs and denim quilts.
Consider making a pillowcase out of an old shirt by tie-dying it. Give an old t-shirt new life by transforming it into a st■ animal. Collect leftover fabric pieces and sew useful things like hand warmers or patchwork blankets.
Getting crafty with the textiles you already own helps reduce waste. Breathing new life into worn-out wardrobe staples takes creativity and skill.
Tie Dye Your Home
Cup the patched denim into a cozy cushion and settle in for a delightfully comfy afternoon. Explore tie dye techniques to transform fabric scraps into one-of-a-kind home decor. Give new life to worn linens and silks with do-it-yourself dyeing. Craft an heirloom quilt or pillow from repurposed fabrics.
Let your creativity flow as you build a sustainable home and join the sewing community. Reuse everything you can by making fabric heat packs or a patchwork wall hanging.
The T-shirt Teddy
Why not make a super cute t-shirt teddy for the kiddos out of that old tee? Crafting a T-shirt teddy tutorial is an easy way to partake in creative fabric repurposing for a sustainable DIY st■ animal.
Cut out the teddy bear pattern pieces.
Sew the front and back teddy panels together.
Stuff firmly with a polyfill alternative.
Through simple projects like this, we can adopt more eco-friendly habits in our crafting and everyday lives.
Put Your Fabric Scraps to Good Use
You ought not wait; instead start assembling a versatile selvedge travel pouch from those fabric scraps.
| Project | Materials | Benefits |
| --- | --- | --- |
| Scrap fabric zip pouch | Scraps of cotton, denim, linen + zipper | Protect small items while traveling |
| Patchwork fabric bowls | Cotton quilting scraps + bowl template | Add color to your kitchen |
| Scrap fabric coasters | Leftover felt, interfacing, cotton | Make functional home decor |
| Denim scrap placemats | Repurposed denim + binding tape | Give scraps new life as table decor |
Creative reuse of fabric scraps reduces waste while allowing for self-expression.
Sew Your Own Heat Packs
Feel the warmth of handmade heat packs from upcycled fabric when the winter chill sets in.
Rice, flax seeds, or wheat can be used as natural fillers
Soft cotton or flannel are great choices for the exterior
Cute prints and patterns allow for visible flair
Vibrant fabric scraps enable an eco-friendly design
Hand or machine stitching provides a personal touch
Upcycling fabric scraps into cozy hand-sewn heat packs makes for a sustainable project that will provide warmth in an eco-friendly way.
Patchwork Denim Quilt
Make an heirloom patchwork denim quilt from repurposed denim, as the old saying goes, Waste not, want not. Refashion faded jeans into stunning patchwork designs! Cut vintage denim into geometrical pieces, arranging them into artistic quilting blocks.
Practice your raw-edge appliqué on each block, securing the layers with decorative stitching. Hand quilt or machine quilt serpentine designs across the denim for added texture.
Sustainable Sewing Helps to Reduce Waste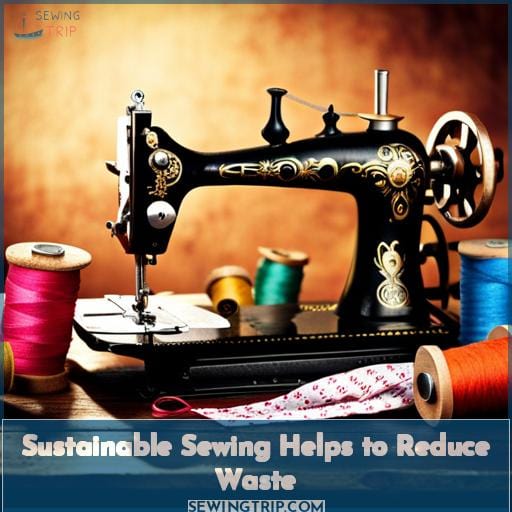 Thinkin' of our environment as you stitch up new treasures from scraps keeps waste outta landfills. Sustainable sewin' helps reduce fabric waste by repurposin' textiles into eco-friendly fashion. Seek out fabric recyclin' options and use pre-loved materials. Opt for reusable tools and notions, like handmade pincushions, to avoid disposables.
Practice waste-free techniques like pattern layouts that maximize fabric yardage. Get creative – turn old clothes into quilts or remake tired tees. Upcycle jeans into handbags. Visibly mend damaged garments. Adopt stitches like flat felled seams for durability, reducin' waste from poor construction.
Ultimately, stitch thoughtfully to craft lastin' pieces while keepin' textiles out of landfills.
Make Eco-friendly Fashion Choices With Gudrun Sjöden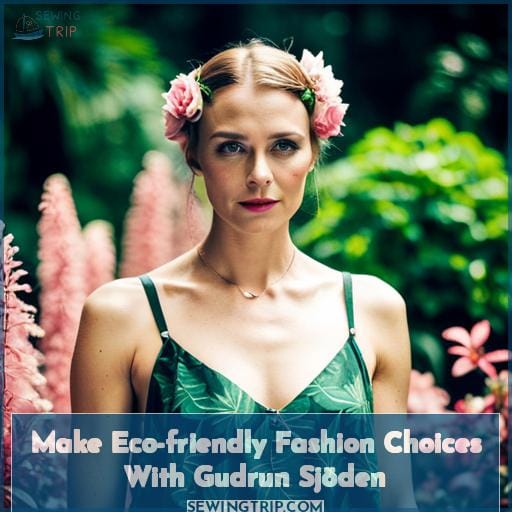 You'll love how Gudrun Sjödén saves the environment through fine fair fashion. Consider Gudrun Sjödén's sustainable designs when shopping for eco-conscious wardrobe additions. She uses organic cottons or recycled materials in many pieces and clearly labels garments made from sustainable fabrics, so you can make informed choices.
Opt for her longevity-focused fashions to reduce fashion waste – investment pieces designed to endure, crafted from natural materials.
Gudrun shares environmental impact details in product descriptions, highlighting sustainable practices like energy-efficient production methods.
Make space in your closet for her flowing prints in gentle hues, stitched to last. Choose classic, beautiful pieces from Gudrun to embrace sustainable fashion and honor our shared world.
Conclusion
Sustainability is a must in today's sewing projects. By taking a few steps, you can ensure your sewing is sustainable. From finding your sustainability priorities to making sustainable fashion choices, there are lots of ways to do your part and create eco-friendly garments.
Upcycling is a great way to reduce waste. With a little creativity, you can turn old jeans into a skirt, a shirt into a cami, and decorate with floral embroidery. There are also more sustainable sewing ideas like tie-dyeing your home, making a t-shirt teddy, using fabric scraps for useful items, heat packs, and patchwork denim quilts.
With help from Gudrun Sjöden, you can make eco-friendly fashion choices and reduce waste.
Sustainable sewing is more than just a trend – it's a necessity. With a little creativity and effort, you can make an impact.