This site is supported by our readers. We may earn a commission, at no cost to you, if you purchase through links.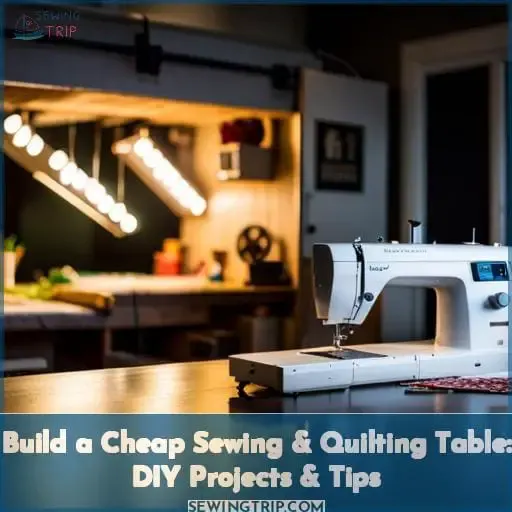 Building an affordable sewing and quilting table is possible with the right materials and tools. Crafting can be expensive, but it doesn't have to be. By following some DIY tips, you can construct your own custom workstation that meets all your needs without overspending.
This article provides detailed instructions for making a cheap sewing and quilting table. We will walk through choosing materials and tools, planning measurements, cutting preparation, and more. With these steps, you can craft an economical yet practical workspace perfect for sewing garments or piecing together quilt designs.
First, think about the materials. Consider using inexpensive wood like plywood or pine boards for the tabletop and base. Pine is softwood, which makes it easier to work with. Plywood is made from thin sheets of wood glued together.
You'll also need tools like a saw, drill, sandpaper, wood glue, nails or screws, and paint or stain. Don't buy everything new. Look for used tools at garage sales or thrift stores. Borrow from friends or relatives if you can.
When planning the measurements, make sure to customize the table size and height to suit your needs.
With the right preparation, you can build a sewing and quilting table on a budget that will serve your crafting needs for years to come.
Key Takeaways
Enhance your sewing and quilting experience with a dedicated workspace.
Organize your materials efficiently with a custom table designed for your needs.
Choose affordable building materials like plywood and pine boards to keep costs down.
Upcycle old furniture or salvaged materials into a one-of-a-kind sewing table on a budget.
DIY Sewing and Quilting Tables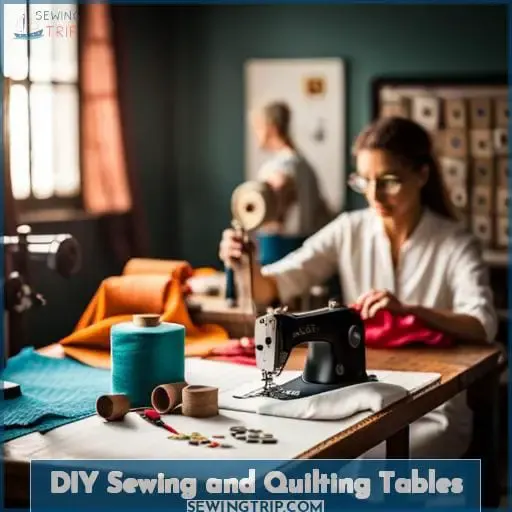 You will have an ideal workspace for your crafting needs when you make these DIY sewing and quilting table plans. From a positively aqua modern fabric sewing table with from-scratch plans to transform a regular table into your sewing station with some basic tools and paint, building a multi-purpose sewing nook made especially for your creative projects can be easier than you think.
The DIY sewing table ideas provide step-by-step instructions to create a custom sewing area perfect for your needs. With a fold-down table, rolling cart, or repurposed desk, you can build a functional and stylish sewing station to call your own.
The sewing table plans range from beginner to advanced, so sewists of all skill levels can construct their dream sewing space. Give an old table new life or build one from scratch – these sewing table DIY projects will help you maximize your sewing productivity and passion.
The Aqua-Colored Modern Craft Sewing Table Blueprint
You can easily adapt your space for sewing and quilting with this imaginative aqua-colored modern craft table plan that incorporates smart storage and an ergonomic design. This stylish table features aqua paint and matching storage bins to coordinate your workspace.
The tabletop opens to reveal hidden storage for sewing essentials, keeping your craft area tidy. Built-in folding leaves create extra surface space when needed. Adjustable legs allow you to customize the height for ergonomic sewing.
Follow this aqua-themed design to optimize your crafting organization and sewing table aesthetics with a DIY table alternative.
The Extra Small Adjustable Folding Sewing Table Build
A petite yet functional folding sewing table option could involve cobbling together a tiny folding table for sewing on the go. Choose folding legs for adjustable height options. Consider a tabletop that folds in half or slides into a compact case.
Look for lightweight, sturdy materials. Incorporate storage with bags, baskets or a shelf below. Aim for maximum portability while retaining crucial features like flatness, measurements and knee space for fluid sewing.
With some handy DIY skills, a small, stowable sewing station can be crafted on a tight budget.
The Diy Bargain Upholstery & Dressmaking Table Design
The thrifty upholstery and dressmaking table design would really help your projects take shape. Start with a sturdy secondhand table and add durable plywood cut to size. Secure with wood glue and nails for a smooth surface.
Customize the height and storage with bins underneath to organize supplies. Ample workspace lets you spread out fabrics and patterns while ergonomic seating reduces fatigue. For pennies on the dollar, you've built an adaptable sewing sanctuary that fuels creativity.
The Tuckaway Folding Collapsible Yellow Sewing Table Idea
Consider the tuckaway folding collapsible yellow sewing table idea for temporary or portable sewing needs. This space-saving design features a folding mechanism allowing you to tuck it away when not in use.
Choose from color options like yellow to brighten your sewing room. Portability features like casters or lightweight materials provide easy mobility. Opt for sturdy construction with thick tabletops and steel frames for stability while quilting or sewing.
With creativity, you can build this budget-friendly sewing table to suit your needs.
The Vintage Blue Quilting and Sewing Table Project
You can complete that vintage look with a classic blue quilting and sewing table for under $50. Salvage a thrifted wooden table and give it a creative makeover with some retro charm. Sand away years of wear, antique the finish, and add vintage hardware for a nostalgic crafting space.
Reinvent a discarded piece with a simple vintage revamp and build your ideal sewing nook on a budget. Reinventing a discarded piece with a simple vintage revamp allows you to build your ideal sewing nook on a budget.
Salvaging a thrifted wooden table and giving it a creative makeover with some retro charm lets you complete that vintage look with a classic blue quilting and sewing table for under $50. Sanding away years of wear, antiquing the finish, and adding vintage hardware creates a nostalgic crafting space.
What is a Sewing and Quilting Table?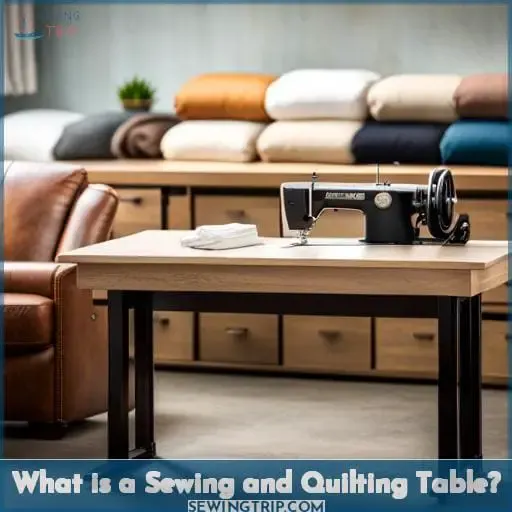 Building your own sewing and quilting table offers many rewards. Carefully considering the features you need, like a smooth surface, knee space, and stability, will help you create a versatile workspace for all your projects.
Let's explore the purpose, benefits, and important features to guide your DIY table design.
Purpose and Benefits
Having a dedicated sewing and quilting table provides many benefits for your creative projects.
It improves workspace efficiency and organization.
It allows for comfortable quilting with ample surface area.
It provides versatility for different crafting mediums.
It saves money compared to buying specialized furniture.
A well-designed table tailored to your needs enhances your ability to complete sewing, quilting, and craft projects.
Features to Consider
Consider your future projects and current machine to determine the ideal size and layout when building a custom table tailored to your sewing setup. Analyze your budget, workspace, and design priorities when selecting materials. Opt for versatility with fold-down leaf extensions, wheels for mobility, and adjustable heights.
Ample table space allows for smoothing large quilts or sewing garments. Choose finishes like butcher block or laminate for easy cleaning and durability. Customize with a machine insert, storage, and an ergonomic chair space. Careful planning creates an efficient, inspiring sewing sanctuary.
Choosing the Right Materials and Tools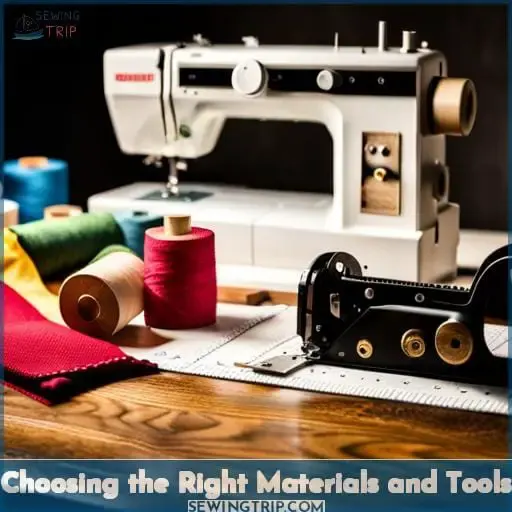 Looking for creative, affordable ways to build your own sewing and quilting table? With some basic tools, materials, and imagination, you can make a functional, customized workspace without breaking the bank.
Start collecting your essential tools like a drill, circular saw, and measuring tape.
Affordable Options
The budget-conscious crafter grasps at cost-effective solutions to furnish their workshop.
Scour thrift stores and garage sales for discarded tables to upcycle.
Use inexpensive plywood and 2x4s from the hardware store.
Opt for basic metal legs instead of fancy wooden ones.
Save money by doing the work yourself rather than hiring a carpenter.
With some creativity and elbow grease, an affordable sewing and quilting table can be crafted on a limited budget.
Essential Tools
You'll need more than a hammer and nails for this DIY project. Gather your carpentry basics like a cordless drill, sandpaper, wood glue, clamps, and a circular or jigsaw before starting. Having the proper workspace essentials ensures your woodworking skills shine through any crafting tool challenges.
Invest in quality DIY techniques, not cheap gadgets. Rout a clean edge with a trim router. Drill pilot holes to prevent wood splitting. Use 2x2s for sturdy supports. With the right setup and skills, you'll build a sewing cart that will last.
Planning and Measuring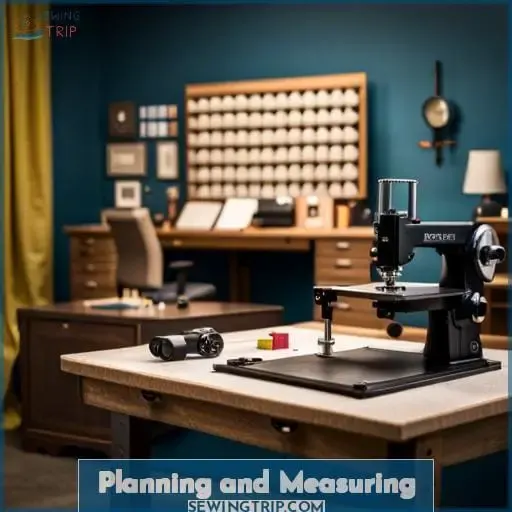 Let's start by visualizing your ideal sewing workspace. First, determine the size and shape of the tabletop you need for your projects and room layout. Next, carefully assess the space available in your crafting area, taking measurements to find the maximum dimensions for your DIY table.
Determining Size and Shape
Measure twice and cut once if you want a perfectly sized sewing sanctuary. Visualize the ideal shape and size for your space. Consider traffic flow and storage needs. Examine design magazines for inspiration on proportions.
Sketch concepts to determine dimensions. Thoroughly measure the available area, allowing ample clearance. Thoughtful planning creates a functional haven tailored to your unique needs. With mindful measuring and shaping, you can build your dream sewing sanctuary.
By carefully planning and shaping the space, you'll craft a sewing sanctuary perfectly suited to your needs. Measuring meticulously and mapping the dimensions ensures you maximize every inch. With diligent planning, you'll fashion a sewing space that fulfills your vision.
Considering Your Workspace
Take clear photos of your workspace from all angles before you start, so you know exactly how much room you've got.
Create space for cutting fabric.
Ensure good lighting all around.
Organize notions and tools.
Accommodate the machine, iron, and chair.
Allow room to walk around.
Consider every inch to build the ideal sewing sanctuary catered to your needs and style.
Cutting and Preparation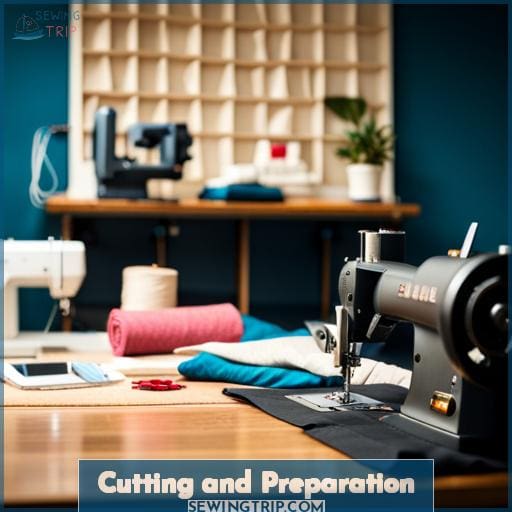 You need to ensure your tabletop is cut to the right dimensions before final assembly. Smooth the edges by sanding them thoroughly, then apply your choice of stain or paint to finish the surface and protect the wood.
The tabletop should be sanded until the edges are smooth. Stain or paint can then be applied to finish the surface and protect the wooden tabletop.
Cutting the Tabletop
Once you've prepared and marked your materials, it's time to make the first crucial cuts that'll separate the plywood into the gorgeous worktop you envision. Using a circular saw with a sharp blade, carefully follow the lines you measured and marked to cut the plywood sheets to size.
Take it slow and steady, letting the saw do the work—no need to force it. Double-check measurements before each cut. A perfectly cut tabletop ensures everything else will come together smoothly. With focus and care, you'll soon have the shaped tabletop ready for sanding, finishing, and transforming into your ideal sewing workspace.
Sanding and Finishing
Dry those tear-filled eyes, friend, for sanded smoothness awaits. Gently remove lingering debris with 220-grit sandpaper before progressing to a finer 320-grit to achieve that desired silky-smooth finish.
Apply even pressure across all surfaces, taking care around edges and corners. Once satisfied, prepare for staining by wiping away lingering dust with a dry tack cloth. Remember – proper sanding and surface preparation are the foundation on which your finishing techniques will shine.
Now dry those eyes and witness the transformative power of your capable hands. Sand on, crafter.
Building Supports and Assembly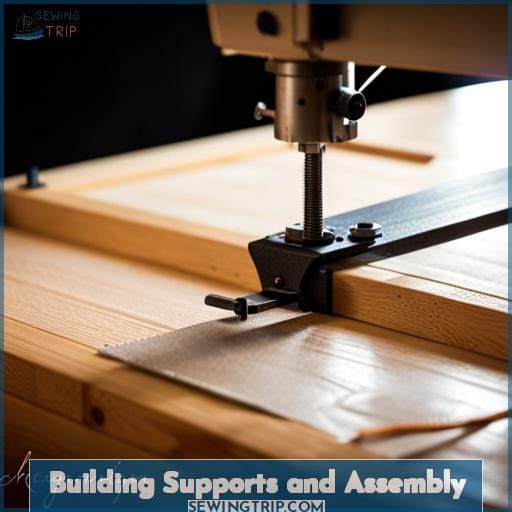 When assembling your inexpensive sewing table from plywood and pine trim or adapting a basic dining table, your first step is to ensure the supports for the tabletop are secure and sturdy. To achieve a solid quilting and sewing space, check any necessary bracing with shims and pilot holes, reinforce supports if needed, and perform a test fit of the legs to the tabletop to guarantee the table won't wobble or warp over time.
Creating Sturdy Supports
Lean on your inner fortitude as you brace the legs of this creative endeavor, securing a foundation of support to uphold the dreams woven at its surface. For a sturdy, lasting build, consider steel rebar inside hollow table legs or wooden braces across the underside joined with bolts.
Optimize for your machine's weight and expected projects with corner legs, center support rails, and aprons transferring force to the floor. Knowledge of physics empowers ingenious reinforcement so your machine sits steady amid quilting marathons.
Securing the Tabletop
Flatten any warping along the edges of your tabletop before fastening them to the frame, preventing buckling later on.
One of the key techniques for securing the tabletop of your DIY sewing desk is to drill pilot holes before driving screws or nails. This prevents splitting the wood.
Consider using corner braces or metal L-brackets for added strength at the joints.
Adhesive can also be effective, but may need clamps during drying. Bolts drilled up from underneath look neat and clean.
Adding Functionality and Storage Options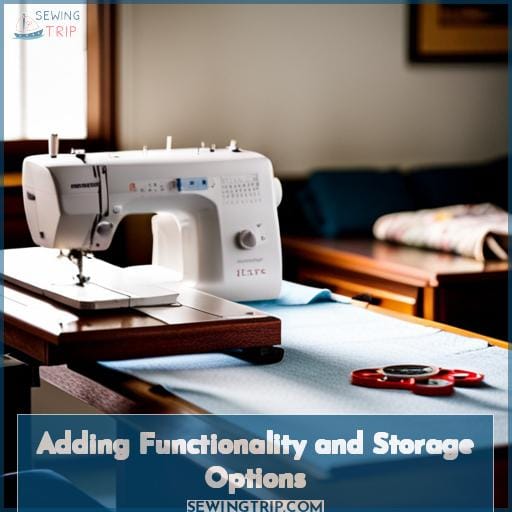 You'll want a place for all your sewing essentials. Add shelves or drawers underneath your table to neatly organize your thread, notions, scissors, patterns, and other necessities. Consider including hanging storage pouches on the sides or a magnetic strip to hold pins and needles right where you need them.
Adding Shelves or Drawers
You'd be smart to add some storage space with slides or drawers for all your sewing gadgets.
| Drawer design | Shelf placement | Storage solutions |
| --- | --- | --- |
| Full extension | Above work area | Stackable bins |
| Soft close | Below work area | Dividers |
| Organizers | On side | Trays |
| Shallow | Angled | Baskets |
| Deep | Back of table | Fabric cubbies |
Adding functional components like drawers or shelves opens up space for thread, patterns, notions, and more.
Incorporating Thread and Notion Storage
Have you considered cubbies and pegboards for thread holders to keep your notions tidy right at your fingertips? For thread organization and notion storage solutions, get creative with these ideas to optimize your sewing room setup:
Use pegboard with cups to neatly organize thread spools.
Repurpose shoe holders into notions caddies.
Hang plastic shower caddies for easy access to tools.
Mount magnetic strips to store pins and scissors.
Use tiered wall-mounted letter trays for small parts.
With some DIY sewing furniture and clever storage hacks, you can build an efficient sewing studio tailored to your unique needs and style.
Finishing Touches and Customization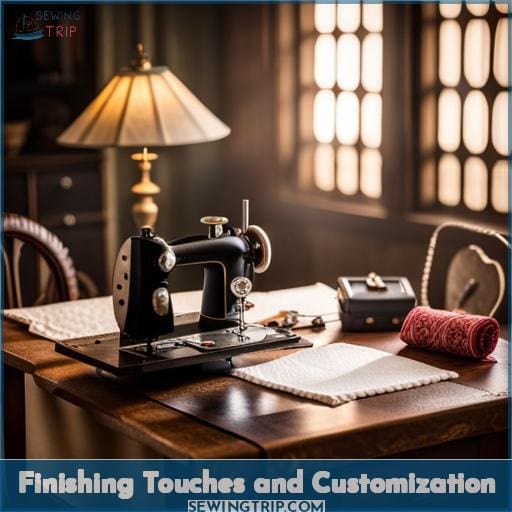 Of course! Let's add some personality to your sewing table. Whether you paint or stain the surface, be sure to seal it properly before customizing with fabric, stencils, or your favorite colors. Then personalize it by adding accessories like trim, storage, or even a personalized nameplate.
Painting or Staining the Table
Let's get creative with painting or staining your table to match your sewing room's style.
| Paint Color Options | Wood Stain Options | Sealing Finishes |
| --- | --- | --- |
| Bright white | Natural pine | Polyurethane |
| Soft greys | Dark walnut | Spar varnish |
| Soothing blues | Red mahogany | Shellac |
| Vibrant reds | Espresso | Wax |
Before committing, experiment with samples. To protect and beautify the table's surface is key.
Adding Personal Touches
Consider accessorizing your table with a handcrafted quilt featuring your favorite animal as you put the finishing touches on your creative workspace.
Add a fabric skirt or covers for a cozy feel.
Personalize with painted designs, stencils, or decals.
Affix hooks or magnets for handy storage.
Display favorite sewing notions, patterns, or photos.
Embrace your inner artist. Transform the space into your own with special details and creative touches.
Tips for Building on a Budget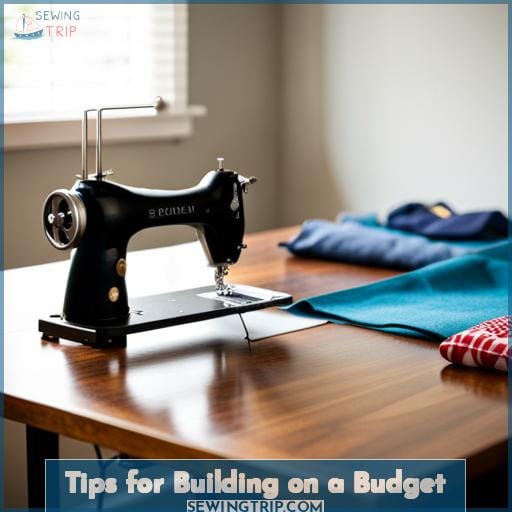 Hey there quilter! When trying to build an affordable sewing and quilting table, get creative with recycled materials and shop around for deals. Scope out thrift stores, garage sales, and salvage yards for sturdy wood pieces you can upcycle.
And don't forget to check discount retailers for legs, casters, tools, and hardware that will bring your thrifty table together.
To keep costs low, look for salvaged wood, old furniture, and scrap materials that can be repurposed into a custom sewing station. Used lumber, an old door, and leftover tiles can make a functional and charming tabletop with personality.
DIY YouTube videos are another fantastic free resource for beginner woodworkers. With a little elbow grease, you can build exactly what your sewing space needs on a budget.
Using Recycled Materials
Get creative with thrifted dressers, old desks, and recycled wood scraps for a unique sewing table. Upcycling unwanted furniture is an eco-friendly way to build on a budget. Sand and stain an old office desk, or repurpose a dated dresser by removing the drawers.
Salvage wood pallets for rustic table legs. Use reclaimed barn boards or flooring samples for the tabletop surface. With a little imagination, you can construct a one-of-a-kind sewing station without breaking the bank.
Shopping Deals and Discounts
You'd be amazed at what great finds are at the thrift store if you keep an eye out for old tables to upcycle.
Scan sale ads for discounted machines and supplies. Sign up for store loyalty programs and newsletters for extra coupons. Check clearance bins for remnants to refashion. Visit yard sales and online swaps for notions at bargain prices.
Scoring deals on materials allows more room in the budget for specialty feet and tools that elevate skills. With persistence, creativity, and an eagle eye, building a functional sewing space is very doable on a strict budget.
Troubleshooting and Maintenance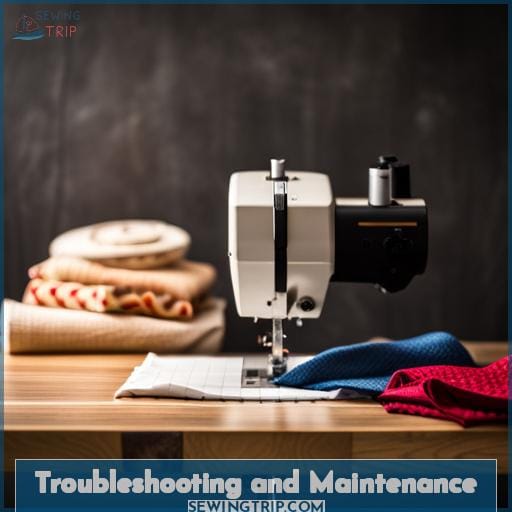 Ready to step up your sewing and quilting game but your budget won't allow for a fancy table? No problem! Focus on ensuring stability and durability while regularly cleaning and maintaining your table.
A simple table adapted for sewing can be a sturdy workspace that lasts for years with proper care and reinforcement.
Ensuring Stability and Durability
Bolt boards to legs and shim the machine to ensure your DIY sewing table has stability.
| Method | Benefits |
| --- | --- |
| Cross Braces | Resist racking and shaking |
| Corner Blocks | Strengthen joints |
| Table Skirt | Hide braces and increase rigidity |
| Levelers | Compensate for uneven floors |
| Double Thickness Top | Prevent sagging over time |
With careful construction and strategic reinforcements, your budget-friendly sewing sanctuary will provide years of quilting and crafting enjoyment.
Cleaning and Maintaining Your Table
Routinely wipe down your table after each use to remove dust, lint, and stray bits of thread that can accumulate over time. Wiping with a slightly damp cloth helps pick up debris. For tough stains, use a gentle cleaner like dish soap and water.
Avoid harsh chemicals that could damage the finish. Apply a fresh coat of polish periodically to protect the surface. With regular care, your sewing table can remain beautiful and functional for years to come.
Conclusion
Building a sewing and quilting table doesn't have to break the bank. With a few basic materials, the right tools, and creative planning, you can create a custom workspace that suits your needs and budget.
From finding repurposed materials to taking advantage of special offers, there are plenty of ways to save money and build a sturdy, attractive table.
With a few finishing touches and customization ideas, you can make the perfect sewing and quilting table. So if you're looking to upgrade your workspace, don't settle for an off-the-shelf solution. Create a cheap sewing and quilting table that's tailored specifically to your needs.