This site is supported by our readers. We may earn a commission, at no cost to you, if you purchase through links.
Crafting is a great way to express your creativity and bring joy into the world. From clothes, handbags, toys, to quilts, there are endless possibilities of what you can create with a needle and thread.
Sewing is an art form that offers liberation from the mundane by allowing us to make something unique with our own hands.
In this article, we will provide some tips on how to best prepare for a successful sewing trip – no matter if it's home-based or outdoors.
Key Takeaways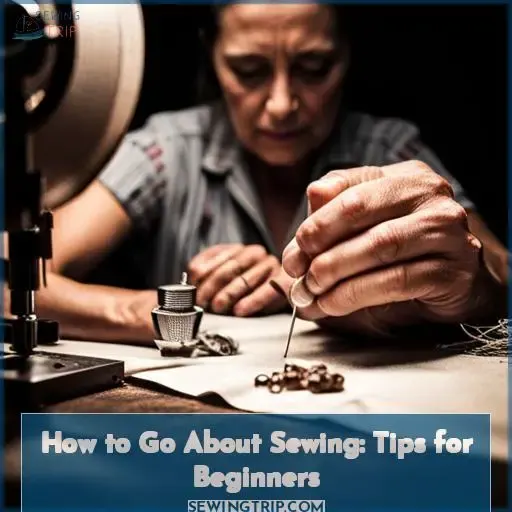 Proper preparation is essential for successful sewing projects on the go.
Consider the lighting conditions and bring additional lighting sources if needed.
Pack a travel sewing kit with essential tools and specialty items.
Keep a sewing diary or notebook to document progress, ideas, and project details.
Preparing for a Sewing Trip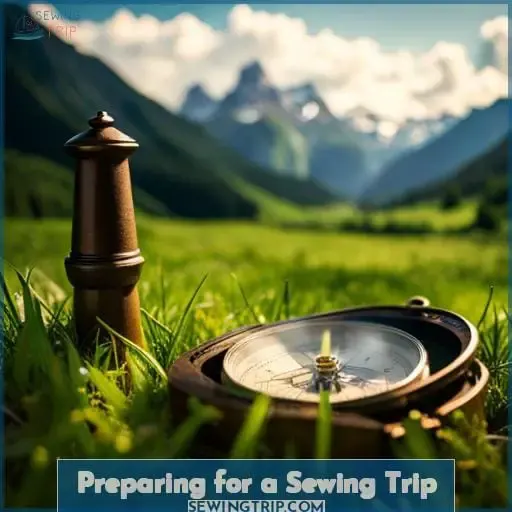 Prepare for a successful sewing trip by pre-cutting fabric, gathering the right tools and notions, packing in bags and containers that travel well, and making notes of your plans in a notebook!
To ensure you have all you need to take on any projects while away from home, create a detailed packing checklist. Make sure to factor lighting solutions into your planning as some hotel rooms may not provide enough light.
Bring fabrics already cut so they're ready when an idea strikes – having extra yardage is never bad either! Consider bringing along project tracking sheets or even keeping a travel diary to document progress made along the way.
Don't forget to also add items such as thread snips or seam rippers too – essential if anything goes wrong during construction.
For those with access to space for larger equipment like sewing machines, consider taking them – just make sure they fit comfortably inside the car trunk before setting off on your journey!
With these tips in mind, there will be no more excuses not to become empowered through creative expression while traveling wherever life takes you next time around.
Packing for Sewing on the Go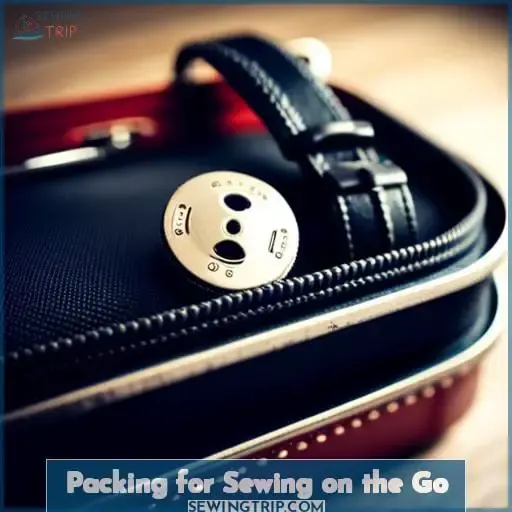 With the right preparation, you can confidently take your sewing projects anywhere. To make sure you're ready for anything, start by jotting down any ideas in a notebook and assembling a basic sewing kit with scissors and other essential tools or notions.
Additionally, pre-cut fabric pieces to save time once an idea strikes while on the go! All of these things combined will set you up for success as soon as your feet hit the pavement.
Notebook
Keep track of your creative journey and all the inspiration you find along the way by jotting down notes in a notebook! Bring pre-cut fabric, special tools, travel bags, project bags, and even packing cubes if needed.
Don't forget to bring extra spools of thread or teaching classes with you too. A travel machine is great for taking on longer trips, but don't forget your cutting mat! Capture each moment as it comes so that when returning home from any destination, there will be no surprises.
Sewing Kit
Bringing along a simple sewing kit is essential for your on-the-go projects; it will ensure you always have the right tools at hand. Cut fabric, take a travel machine, pack project bags, and specialty tools to make sure you never miss out on an opportunity to sew! A variety of lighting is necessary for quilt retreats or hotel rooms – consider the Day Star 12-block Quilt Kit and Union Square Placemat kits.
Fabric
Cutting fabric before traveling is essential for any on-the-go sewing project, so you can quickly get creative wherever life takes you! Pre-cut fat quarters, a yard of extra background fabric, and a travel iron to make sure your projects come out perfect.
Don't forget the Alberta Skies Placemat Kit or Sew Together Bag for good lighting and handy notes.
Tools & Notions
Pack a small sewing kit with essentials – buttons, needles, thread, and scissors. Add in specialty tools like select options for the Emily tote or Tori Tote Bag and Caitlyn Tote. Don't forget hexagon papers! Organize your project bags for easy access on the go.
Sewing in Different Settings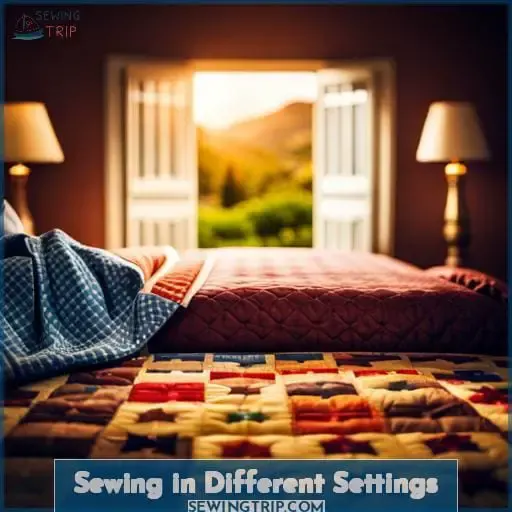 Taking up a sewing project on the go can be exciting and rewarding. Whether you're at home, outdoors, in a hotel, or even on vacation – there are ways to make your work easier and more enjoyable. To ensure success when moving between settings, it is important to consider how each environment might affect your progress; from lighting conditions to the type of tools needed for certain tasks.
Home & Outdoors
Regardless of your location, you can easily make time for sewing by creating an inspiring environment at home or outdoors. Pre-cutting fabric and packing a sewing machine with specialty tools and notions in a small project bag will help you get started quickly with any great idea that pops up.
You should also bring along travel projects, binding bags, and portable projects such as quilting squares to work on whenever the mood strikes – just don't forget to take notes! A small fold-up table is ideal for hotel rooms or picnics if needed.
Hotels & Vacation
When you're away on vacation, there's no excuse to put your sewing projects aside – break out the fabric, notions, and machine, and get stitching! Pack a travel iron for hotel rooms. Bring an extra spool of thread. Have a variety of lights for good lighting conditions.
Sewing retreats are great too. Plan ahead by pre-cutting fabric and packing specialty tools in project bags.
Enjoy yourself while mastering this creative art form during your next sewing vacation.
Dealing With Challenges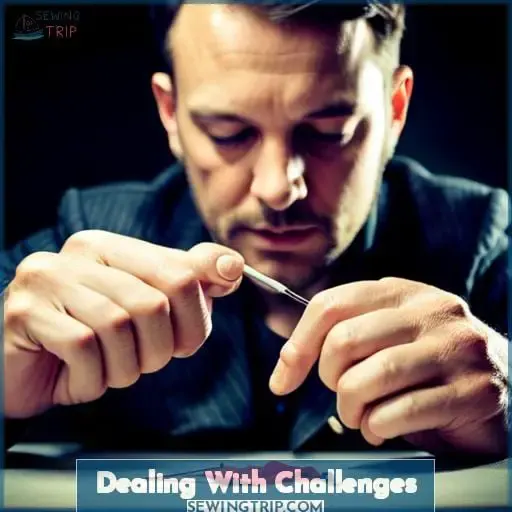 When embarking on a sewing project, you need to be prepared for the various challenges that may arise. From dealing with lighting issues to packing cubes and an iron for hotel rooms, even setting up a table in your room can help make the process more efficient.
Lighting
Good lighting is essential for a successful sewing project, so make sure to bring along various types of lights when traveling. Portable iron and travel tables are great options that can brighten up any room, while having a variety of thread colors and different sizes will give you extra time to work on different types of portable projects.
Packing Cubes
Pack your projects with ease and convenience by using packing cubes – they're perfect for keeping all of your sewing materials organized so you can focus on creating beautiful works of art!
Pre-cut fabric, bring a travel iron, have project bags in different sizes, and take along a sewing machine.
The biggest downside is that it takes up more room – but if you pack smartly with nice size cubes or bigger cases for larger items, there won't be any need to worry about leaving something behind.
Packing cubes will help make sure everything fits securely when traveling for business trips or sporting events where time is of the essence!
Iron
Bringing a travel iron along with your sewing kit is essential; it'll make pressing fabrics and quilts much easier. The temperature of the iron should be adjustable to accommodate different types of fabric, allowing you to tackle any project while on your trip.
It's also great for hotel rooms that don't provide an adequate source of heat or great weather outside that would otherwise ruin delicate materials like silk!
Packing cubes are perfect for keeping all these items together so they can easily fit in your luggage without taking up too much space.
With a travel iron, you'll find it easy to go about sewing wherever life takes you!
Table
Having a small fold-up table handy makes it easier to sew in hotel rooms or wherever your travels take you! This folding table allows for an easy room setup with plenty of space to spread out your sewing projects.
With a travel iron, sewing kit, and project bag, the creative possibilities are endless.
Keeping Track of Projects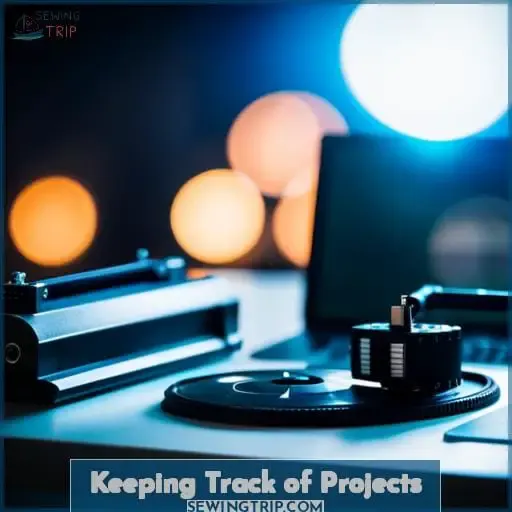 Keeping track of projects while sewing on the go is essential to staying organized and efficient. A good way to do this is by writing notes in a diary or notebook about each project, such as details on fabrics used, measurements taken, supplies needed, etc.
Taking regular breaks throughout your sewing journey will give you time to reflect back on these notes and make any necessary changes for future projects.
Diary
Keeping track of your travel sewing projects is important, and making a diary can help you stay organized. Writing down the details of each project will allow you to remember what happened during your travels more easily.
Taking notes on packing cubes, ironing tips, specialized lighting needs for specific projects, and project bags will make sure everything goes as planned.
Having this record also allows for quick reflection on how things went while traveling – from successes to lessons learned – all while providing motivation to continue crafting beautiful works of art wherever life takes you!
Notes
Taking detailed notes throughout your travel sewing journey is key to capturing helpful tips and tricks that you can refer back to in the future!
From fabric pre-cutting, packing a specialized sewing kit, and bringing extra supplies for mess-ups or new ideas – it's essential for any sewer who wants success on their trip.
Having a notebook with project details will also help keep track of progress made while away from home.
Writing down lighting needs, ironing techniques, and bag sizes needed are all crucial elements that make up an organized and prepared travel sewist!
With this information at hand, plus your own experiences along the way, you'll have everything necessary to achieve amazing creations wherever life takes you.
Attending Sewing Retreats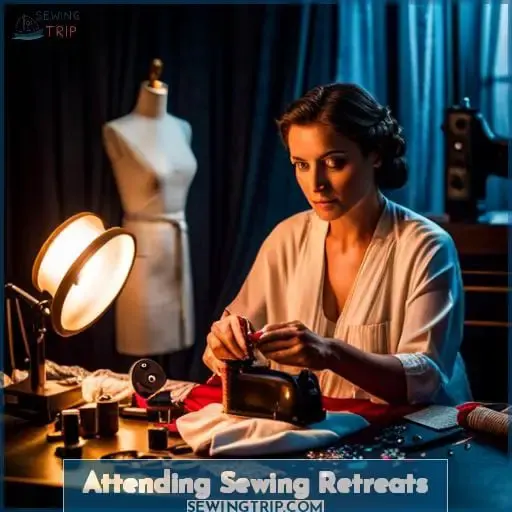 Now that you've mastered the basics of keeping track of your projects while sewing on the go, it's time to look into attending a retreat! Sewing retreats are great opportunities to meet other like-minded sewists and learn new techniques.
Before you attend, make sure you have all your supplies ready: pre-cut fabric, a sewing machine if necessary, specialty tools for whatever projects may come up during the trip – don't forget project bags and even a travel iron if needed.
Once at the event, take advantage of this unique opportunity by asking questions from experienced attendees or instructors so that when it comes time to continue working on these new ideas later down the road, they will be easier to remember.
Take notes throughout your journey – both written ones in notebooks as well as mental reminders.
Keep an open mind; think about how each step can be improved upon in order for future projects to benefit from what was learned here today! Finally, allow yourself some relaxation away from home with fellow quilters who understand exactly where you're coming from – because everyone needs an escape sometimes!
Downloadable PDFs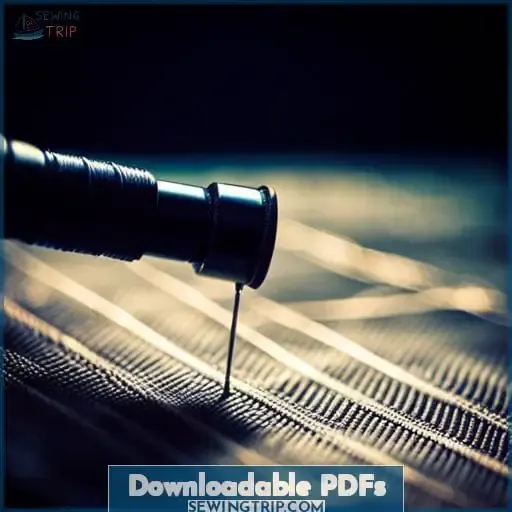 Grab a copy of our downloadable PDF with tips for attending sewing retreats and make the most out of your quilting getaway! Before you go, it's important to prepare by pre-cutting fabric, bringing along specialty tools and notions, packing project bags in different sizes, and having extra fabric handy just in case.
Once there, take advantage of this unique learning opportunity. Ask questions from experienced sewists or instructors so that when you continue working on these new ideas later down the road, it will be easier.
Keep track as well. Write notes in notebooks and mental reminders while also creating a sewing diary to document what was worked on during the trip.
And lastly, remember to relax away from home surrounded by like-minded people who understand exactly where you're coming from!
Outdoor Sewing & Binding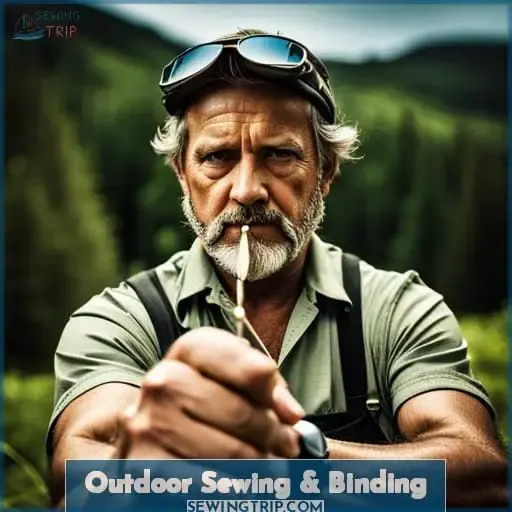 Explore the joys of sewing outdoors and binding quilts at home with these tips! Make sure to bring proper outdoor lighting, along with all your necessary sewing gear. If you're traveling by car, consider securing a machine transport bag for safe travels.
Don't forget about pre-cutting fabric and packing extra materials just in case something goes wrong on the go. For efficient binding methods, hand stitching is always an option. You can also use a lightweight iron or a special presser foot for larger projects! Lastly, take advantage of any learning opportunities that come up while you're away.
Encouragement & Ideas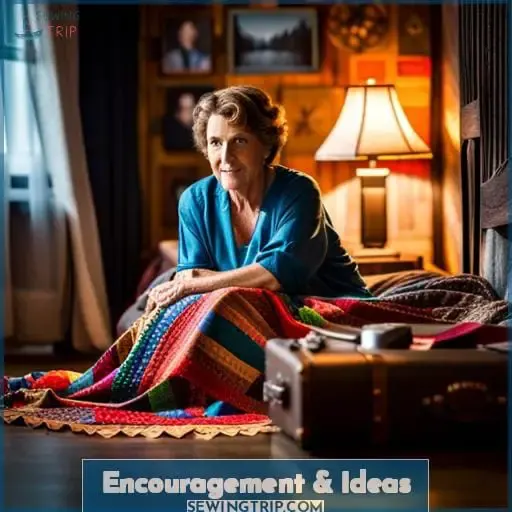 Take an adventure into the world of sewing on the go and gain valuable tips to help make it easier! With a little preparation, you can be ready for all sorts of exciting projects while traveling. Make sure to pack your travel iron, sewing kit, and notes so that no detail is forgotten.
To ensure good lighting conditions wherever you find yourself, bring along some extra travel lighting sources such as lamps or LEDs that don't take up too much space in your bag.
And lastly, remember why you're doing this: for liberation and power through mastering new techniques on the road!
Thanks & Happy Quilting!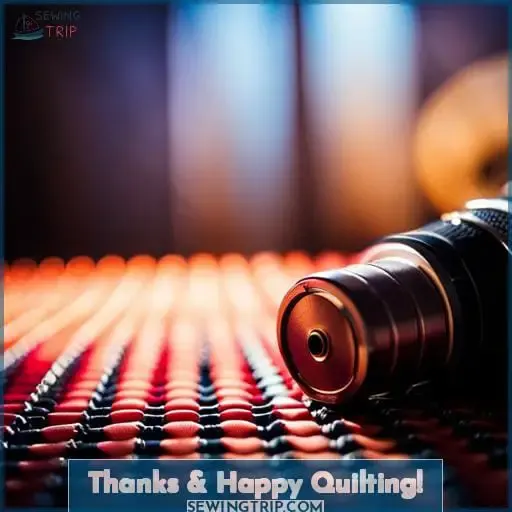 So, as you embark on your sewing journey, enjoy the process and happy quilting!
As you explore different settings to sew in, make sure to bring along a travel iron and sewing kit.
To keep track of progress made while away from home, use an organized sewing diary or notebook for notes. Finally, don't forget about taking part in fun activities such as attending retreats with fellow quilters – it's always a great way to learn new techniques and gain inspiration from others who share your passion.
No matter where life takes you, there is no need to worry because now with proper preparation, you can take on any project big or small, wherever and whenever! Make sure to pack up that trusty travel bag filled with supplies, tools, and notions so when opportunity strikes, be ready to go forth and create something beautiful and unique.
Frequently Asked Questions (FAQs)
What type of fabric should I use for sewing?
Experiment with different fabrics to find a type that fits your sewing needs best! Soft, lightweight cottons are perfect for apparel projects like dresses and shirts.
What is the best way to store fabric while traveling?
Pack fabric in airtight containers to protect it from moisture. Roll clothing and use vacuum bags for extra space-saving.
What are the benefits of attending a sewing retreat?
Attending a sewing retreat can provide an opportunity to learn new techniques, collaborate with like-minded creatives, and benefit from the motivation of others.
Are there any tips for using a sewing machine outdoors?
You can maximize your outdoor sewing experience by bringing a reliable sewing machine, additional fabric and thread, an extension cord if necessary, and any specific tools you may require.
What items should I include in a sewing kit?
Pack a sewing kit with basics such as scissors, thread, needles, and pins. Add in fabric markers, a seam ripper, and a thimble for more intricate projects.
Conclusion
Sewing on the go is a rewarding experience, providing a sense of accomplishment and a creative outlet. With the right preparations and knowledge, any sewist can feel confident in their travels. Take the time to pack carefully, prepare for any challenges, and keep track of what you've accomplished.
Sewing is like a puzzle, with each stitch being a piece that fits into the larger picture. With a little planning and some creativity, you can make any sewing trip a success.