This site is supported by our readers. We may earn a commission, at no cost to you, if you purchase through links.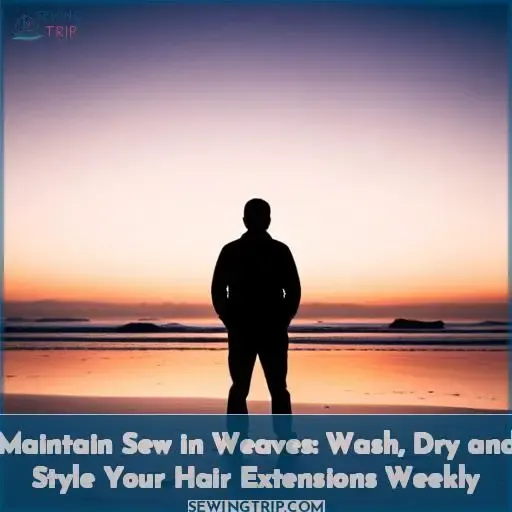 Calling all sew in queens! As someone who knows the ins and outs of maintaining weaves, I'm here to help you keep your new locks lush.
A sew-in can feel glamorous at first, but keeping that hair healthy takes work.
Here's the real deal on caring for a sew-in. You've gotta wash and condition it weekly – no exceptions. Use a nozzle or applicator to target the scalp and keep braids clean. Thoroughly rinse out all products so they don't cause buildup.
I won't lie, it's high maintenance. But taking good care of your sew-in is the only way to make it last and avoid damage.
Trust me, a little TLC goes a long way. Let's keep that hair poppin'!
Key Takeaways
Wash and condition hair weekly using a nozzle or applicator to target the scalp and rinse thoroughly.
Moisturize natural hair and extensions regularly to avoid damage.
Protect hair by tying it up loosely or braiding for sleeping/lounging to prevent matting and tangling.
Schedule professional maintenance appointments every 4-6 weeks for washing, deep conditioning treatment, and tightening.
What is a Sew in Weave?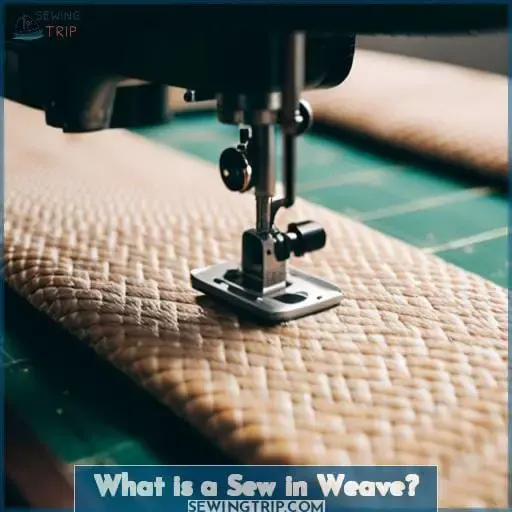 When you're done with your sewing machine, a sew-in weave gives your natural hair a break from harsh styling tools while allowing you to rock long, luscious locks.
A sew-in weave involves braiding your natural hair into cornrows, then sewing wefts or tracks of hair extensions onto the braids. This method allows you to achieve length and volume without damaging your real hair.
The extensions are sewn securely to the cornrows, so they stay put but are still removable.
With quality human hair extensions and proper care, sew-ins can last 6-8 weeks. During that time, you can swim, exercise, and style your hair without worrying about the sew-in coming loose. When it's time for a change, simply remove the stitches and braids to switch up your look.
Sew-ins let you experiment with different styles while nurturing your natural tresses.
How to Wash and Style Sew In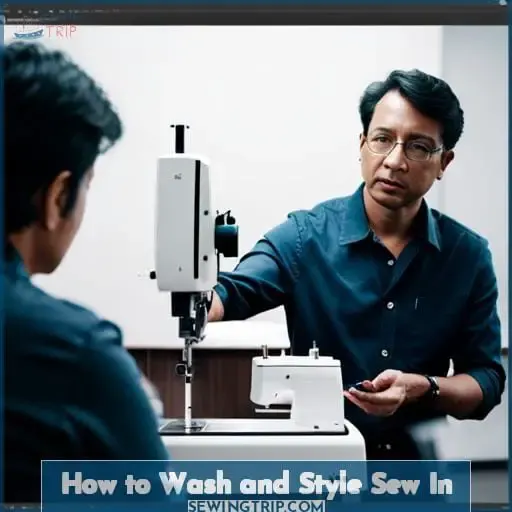 When caring for your sew-in weave, it's crucial to properly wash, dry, and style it weekly. Focus on gently shampooing, conditioning, air drying, moisturizing, and styling the extensions to maintain their quality and your natural hair's health.
Handling your sew-in with care allows you to keep it looking fresh while avoiding damage.
Shampoo and Condition
You'll want to shampoo and condition your sew-in weave at least once a week to keep the hair clean, detangled, and looking its best. Avoid getting the hair soaked while washing. Use a gentle, moisturizing shampoo and conditioner.
Protective styles like sew-in weaves require regular cleansing to remove excess oils and product buildup. Use a shampoo brush to gently cleanse the scalp without over-manipulating the hair. Follow with a moisturizing conditioner, taking care not to oversaturate the weave hair.
Styling products like leave-in conditioner and oils will help maintain moisture and manageability between washes. Overall, gently shampooing and conditioning sew-in weaves weekly promotes hair health and beauty.
Dry and Moisturize
After washing and conditioning your sew-in weaves, you'll need to properly dry and moisturize them to maintain their beauty and longevity.
Gently towel dry hair
Apply leave-in conditioner
Let air dry or diffuse
Massage oil into strands
Avoid heat styling
Two word discussion ideas:
Hair products
Detangling tips
Styling options
Scalp care
Maintenance frequency
Style Hair
Now that you've dried and moisturized, you'll want to style your sewn-in hair extensions carefully each week to maintain their look and longevity. Gently brush and use heat styling tools on low settings to avoid excessive pulling or friction that can damage the hair.
Wash Hair Weekly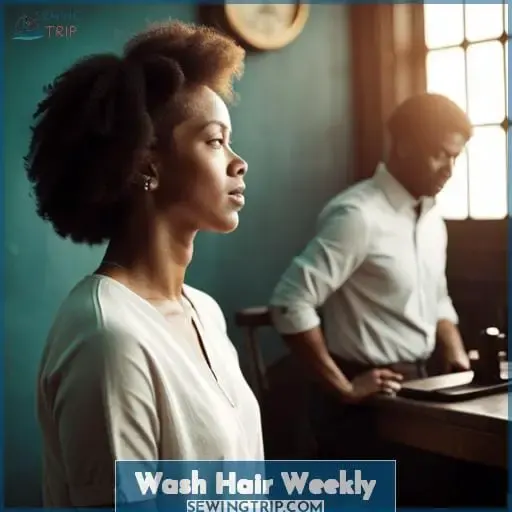 Along with styling your sew-ins daily, you'll want to wash your natural hair once a week to remove product buildup and keep your scalp clean.
Use a moisturizing shampoo and conditioner to cleanse your scalp without stripping your natural hair.
Focus the shampoo at your hairline and nape to target dirt and oils.
Rinse thoroughly, then apply a moisturizing conditioner avoiding your weft tracks.
Let the conditioner sit for a few minutes before rinsing it out.
Avoid Too Many Products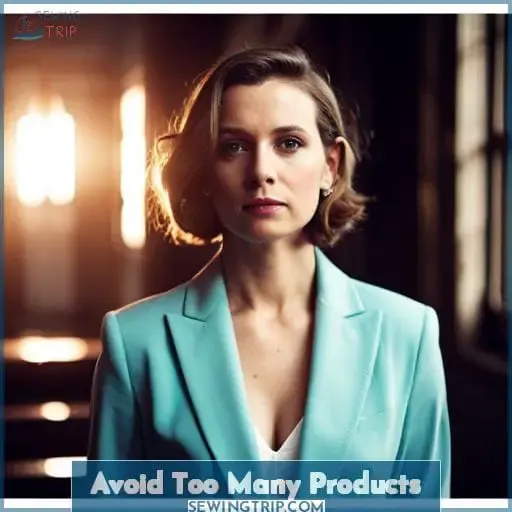 However, you won't want to overload your hair with too many styling products as that can weigh down the extensions and cause buildup.
When styling your sew in weave, stick to just a few essential products:
| Product | Use |
| --- | --- |
| Leave-in conditioner | Adds moisture and detangles |
| Heat protectant | Protects from heat damage when using hot tools |
| Hair oil or serum | Smooths flyaways and frizz without heaviness |
| Styling foam or mousse | Holds curls or waves without stiffness |
| Hairspray (optional) | Sets style in place without crunchiness |
Using a minimal, targeted approach to styling will help keep your sew in light, bouncy and fresh. Avoid overdoing it with heavy creams or too many serums, which could make hair limp or lead to product buildup over time.
Mousses detangle waves, hold and avoid dryness. Many conditioners damage styles with heat. Protective styles hide extensions while drying techniques prevent frizz. Conditioning oils detangle braids and reduce frizz.
Keep Hair Up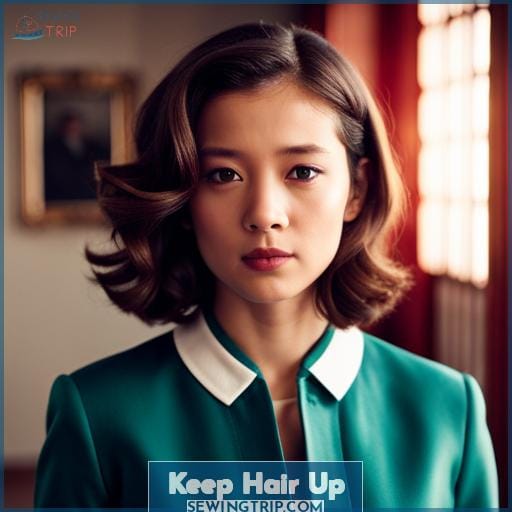 You often should tie your hair up in a loose ponytail or bun to keep sewn-in weave extensions from tangling and matting. Doing so reduces friction between the natural hair and extensions that can cause tangling.
Additionally, keeping hair up helps prevent shedding and breakage of your natural hair underneath the weave.
When sleeping or lounging around the house, braid your hair into two loose braids or put it in a high bun using a soft scrunchie. For a quick hairstyle, loosely wrap your hair into a topknot. Avoid tight ponytails that pull on the extensions and cause tension on your scalp.
Loose updos reduce stress on the hair and prevent matting while conveniently keeping your style in place.
Get Professional Maintenance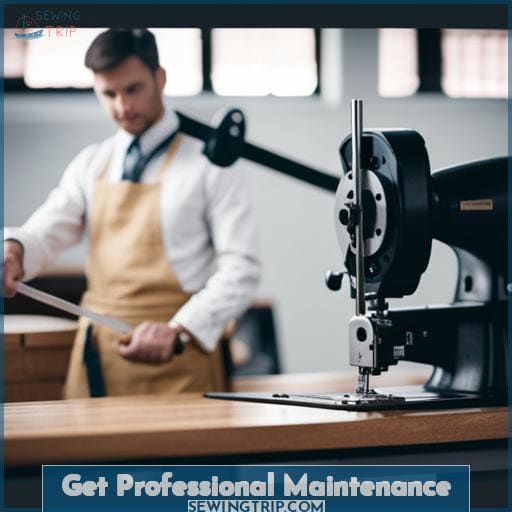 Getting your sew in weave professionally maintained is crucial for keeping your extensions looking fresh and preventing damage. Schedule appointments with your stylist every 4-6 weeks for a wash, deep conditioning treatment, and redo of any locs that need tightened.
Avoid overwashing at home, as this can cause tangling. When you do wash, use a sulfate-free shampoo and gentle motions. Let your stylist handle the detailed styling since they have experience working with weave hair.
With regular professional care, your sew in will stay frizz-free, tangle-free, and beautiful for months.
Give Hair Breaks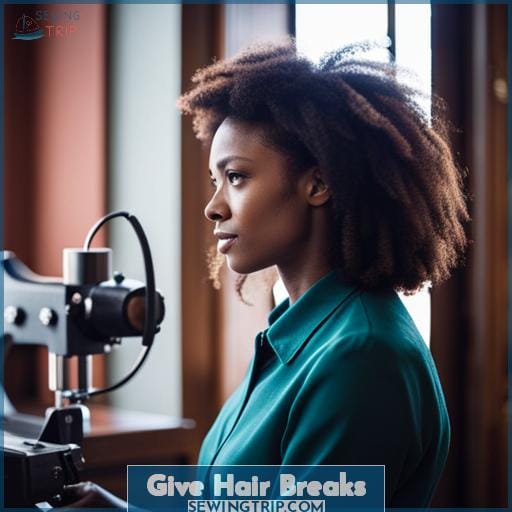 After removing your sewn-in weave, giving your natural hair some breathing breaks helps restore its health. Taking breaks allows your scalp to breathe and hair to recalibrate. This helps hair remain strong and vibrant.
| Break Length | Frequency |
| --- | --- |
| 1 week | Every 6-8 weeks |
| 2 weeks | Every 12-16 weeks |
| 4 weeks | Every 24+ weeks |
Giving your natural hair breaks from sew-ins is crucial for maintaining the health of your hair long term. Consider moisturizing, conditioning, and gently massaging your scalp during each break. With a thoughtful maintenance schedule, your natural hair will thrive beautifully.
Buy Quality Hair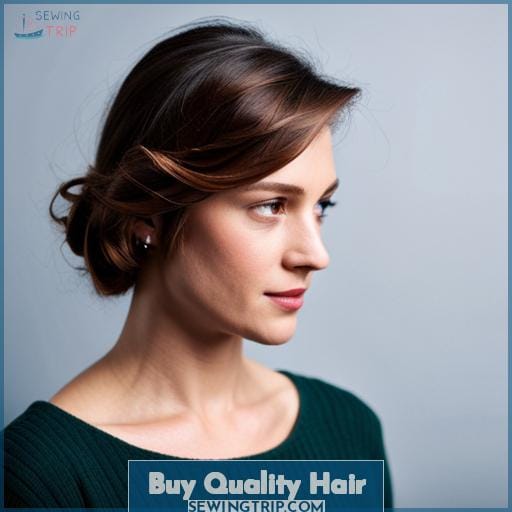 When selecting hair for your sew-in weave, it's important to invest in quality. Buying cheap hair may seem tempting at first, but it likely won't last through styling and washing. Opt for 100% Remy human hair, which is the highest grade and most durable. It's cuticle aligned to reduce tangling and shedding.
Remy hair also retains moisture well, so it responds better to products and heat styling. For longevity, choose virgin hair that hasn't been chemically processed. Though pricier upfront, quality hair allows more wears between installs, saving money and protecting your natural hair.
With proper care, Remy human hair can last 3-6 months. For best results, have a professional handle the install and removal.
Maintain During Workouts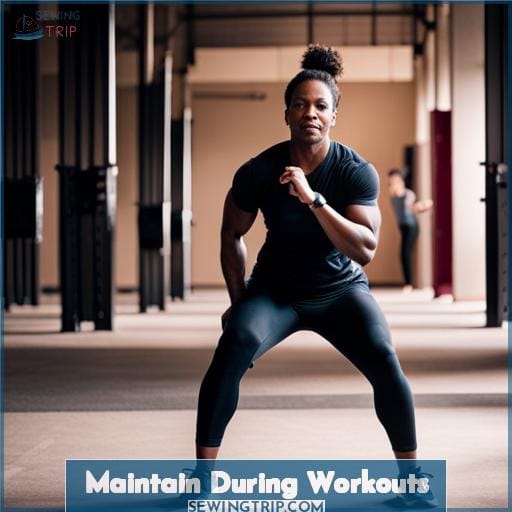 Although sweat can damage hair extensions, you'll want to keep working out to remain healthy while wearing your sewn-in weave.
Tie hair up securely
Use a headband to absorb sweat
Rinse out after workout
Let air dry before restyling
Protective style, human hair, scalp massage, heat damage, moisturize ends
Keeping your natural hair and extensions clean, conditioned, and protected during workouts will allow you to maintain your sew-in while staying active.
Frequently Asked Questions (FAQs)
How often should I get my sew in redone? Getting your sew in redone depends on how fast your natural hair grows, but typically every 6-8 weeks is recommended.
Getting your sew-in redone every 6-8 weeks works best for most people. How fast your natural hair grows determines the ideal timing. Going too long between appointments allows matting and breakage to occur. Scheduling regular maintenance appointments helps keep your style looking fresh and keeps your natural hair healthy underneath the extensions.
Can I wear my hair up with a sew in? Yes, you can wear a sew in in many upstyles like a high ponytail or bun as long as the braids are secured tightly to your head. Avoid tugging on the extensions.
You can absolutely put your sew-in up! Just be gentle and avoid too much tugging when securing it in a ponytail or bun. The braids need to be tight to your scalp so the extensions don't pull. Regularly moisturize your own hair too for longevity.
Conclusion
Transport yourself to a salon chair, feeling pampered as stylists gently detangle your new sew-in weave. Revel in the soothing scent of shampoo as they massage your scalp, washing away buildup to maintain your faux locks.
Soon you're immersed in the soft hum of the hooded dryer, moisture wicked away so your stylist can finesse your tresses into perfect submission. Don't fret about maintaining your sew in – with weekly washing and styling, your weave will last longer, helping you rock flawless hair for weeks on end.