This site is supported by our readers. We may earn a commission, at no cost to you, if you purchase through links.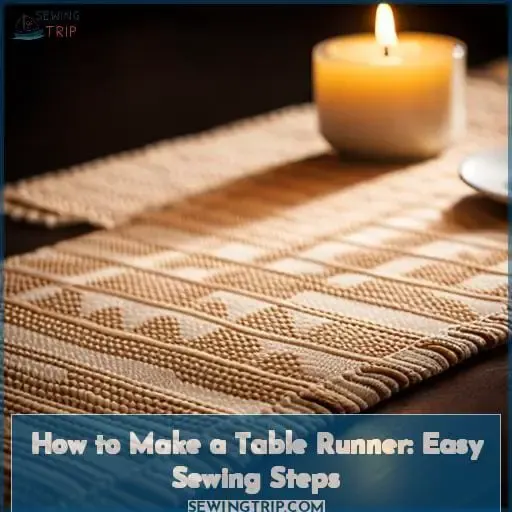 Do you want to spruce up your table but don't know how? Making a beautiful and unique table runner is an easy way to update any room with style. With just some basic sewing supplies, you can make a gorgeous reversible table runner in no time.
From choosing the right fabric for your project to learning tips for beginners, this guide will show you exactly how to make a stunningly stylish table runner that will bring life into any space!
Let's get started and learn all there is about creating the perfect DIY project – How To Make A Table Runner!
Key Takeaways
Choose fabric prints that enhance your table decor.
Create a reversible design using coordinating prints.
Use sharp scissors for precise cuts.
Consider fabric variations for different seasons.
How to Make a Table Runner
Embark on a journey of creativity with the artful trio of fabrics: the Navy Gingham Oilcloth Fabric Yard, the Check Cotton Duck Fabric Yard, and the White Cotton Lawn Fabric Yard. Craft your visions into reality as you explore the versatility and elegance offered by these materials, adding a touch of sophistication to your home decor and sewing projects.
Navy Gingham Oilcloth Fabric Yard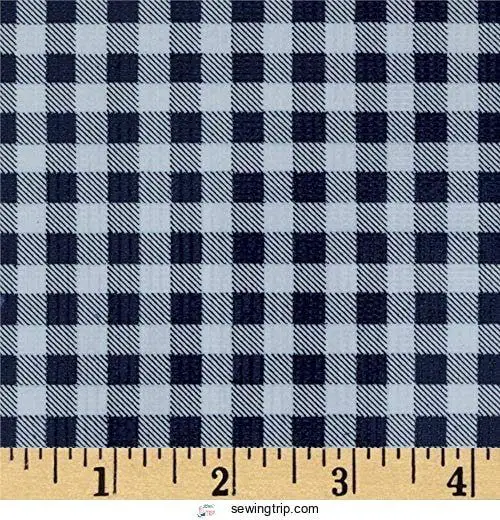 View On Amazon
Transform your surfaces into showcases of enduring style with the Navy Gingham Oilcloth Fabric Yard – a versatile companion for your creative projects. Crafted with meticulous attention to detail, this vinyl-coated oilcloth effortlessly combines resilience with the softness of a cotton mesh base, resulting in a remarkable blend of durability and elegance.
Embrace its boundless potential for crafting, adorning, and protecting, as you immerse yourself in the world of artistic possibilities.
Pros:
Durability: Crafted from bonded vinyl, this fabric offers long-lasting protection against spills, stains, and scratches, ensuring your surfaces stay pristine.

Versatility: Whether you're crafting placemats, designing tablecloths, or lining shelves, this fabric adapts seamlessly to various creative projects.

No Hemming Needed: Thanks to its construction, there's no need for hemming – simply cut it to your desired shape and enjoy the clean, finished look.

Easy Maintenance: Cleaning is a breeze; a quick wipe with a damp cloth is all it takes to restore its pristine charm.

Customizable: Sold by the yard and cut to your desired length, you can order precisely what you need for your projects.
Cons:
Limited Color Options: The fabric comes in a specific navy gingham pattern, which might not suit all design preferences.

Not Suitable for Dry Cleaning: While the fabric is easy to clean, it's not recommended for dry cleaning.

May Not Suit All Settings: The classic gingham pattern might not fit every aesthetic or setting, limiting its versatility in certain environments.
Check Cotton Duck Fabric Yard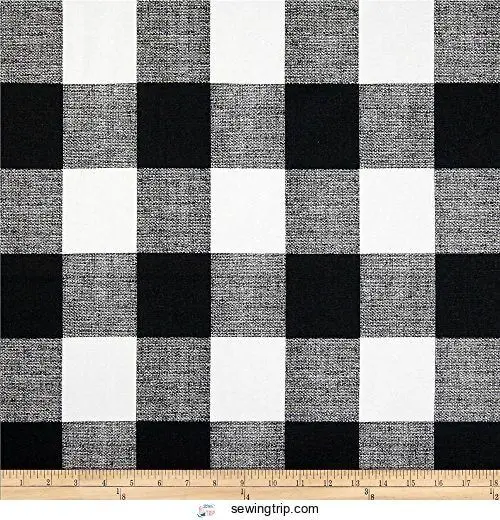 View On Amazon
Embrace timeless charm as you envision accent pillows and window drapes with our check cotton duck fabric yard, bringing elegant flair to all your home decor creations. Crafted with care, this versatile medium-weight fabric features a classic check pattern that adds a touch of sophistication to any design.
The screen-printed pattern on premium cotton duck material ensures lasting beauty, while the black and white color palette effortlessly complements various design styles.
Elevate your space with draperies, valances, curtains, and swags that exude both style and versatility.
Versatile medium-weight fabric suitable for various home decor accents.
Classic check pattern adds a timeless touch to your creations.
Screen printed on premium cotton duck material for lasting beauty.
Ideal for window accents, accent pillows, upholstery, and more.
Wide fabric width of 54 inches offers ample room for your projects.
Sold by the yard and cut to order for your convenience.
Not suitable for machine drying; air drying is recommended.
Cold water and mild detergent (Woolite) recommended for washing.
Not suitable for dry cleaning.
White Cotton Lawn Fabric Yard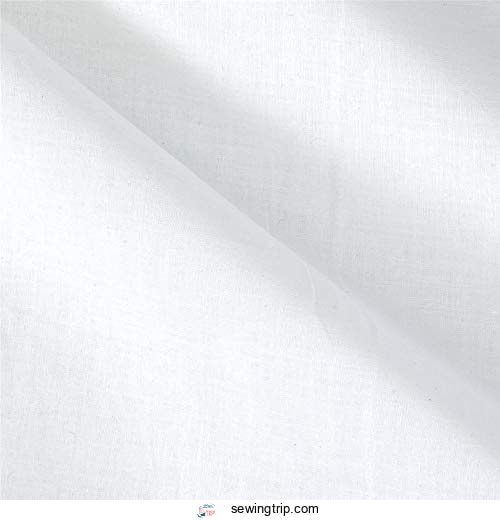 View On Amazon
Experience the elegance of our soft White Cotton Lawn Fabric Yard for your delicate sewing projects. Immerse yourself in the luxury of crafting with this finely woven fabric, perfect for heirloom sewing.
Whether designing airy blouses, fluid dresses, or graceful shirts, its featherlight feel and ultra-smooth texture will elevate your creations.
Transform your ideas into masterpieces with the artistic potential of this fabric. Sold by the yard, acquire the exact amount needed and discover the joy of working with delicacy, comfort, and style in one graceful canvas.
Lightweight and soft
Finely woven for a smooth texture
Ideal for delicate projects
Versatile uses like blouses, dresses, and shirts
Sold by the yard and customizable
Requires gentle care
May wrinkle easily
Limited thickness for heavy projects
Choosing the Right Fabric for a Table Runner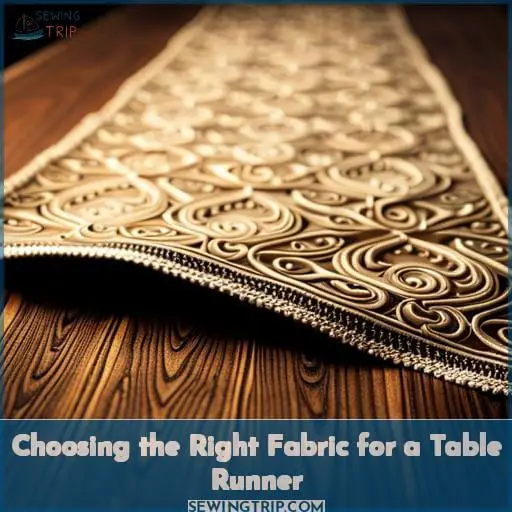 When selecting fabric for your table runner, consider durability, texture, and design. Choose fabrics like cotton, linen, or easy-care blends in solids or prints that will withstand spills and everyday use while complementing your table decor.
What Material is Best for Table Runners?
Selecting the perfect fabric for your creation involves considering factors such as durability, color coordination, and practicality. When making a reversible table runner, the fabric you choose sets the tone for your decor.
Opt for cotton or linen blends, which provide the right balance of elegance and functionality. Consider a solid color for one side and a coordinating print for the other to enhance versatility. This choice ensures your table runner complements various occasions with style and finesse.
How Do I Choose a Table Runner Fabric Print?
Explore a plethora of captivating fabric prints that effortlessly infuse your living space with style and charm. When choosing a print for your table runner, consider the overall fabric selection and coordinating colors.
Opt for patterns that enhance your table decor, whether it's a festive holiday gathering or a casual everyday setting. Let your creative instincts guide you as you strike the perfect balance between fabric patterns and color choices.
Which Fabric is Best for a Table Runner?
Opt for a fabric that embodies both durability and elegance, adding a touch of sophistication to your dining space.
Reversible Designs: Opt for fabrics that work well on both sides for versatile year-round use.
Coordinating Prints: Choose fabrics that coordinate well with your existing decor for a harmonious look.
Seasonal Variations: Consider using different fabrics for various seasons to refresh your table's ambiance.
Fabric Type: Cotton, linen, and blends offer a perfect balance of aesthetic appeal and practicality.
By following these fabric selection tips, you can create a table runner that not only enhances your dining area but also showcases your mastery of design and craftsmanship.
Sewing Steps for a Reversible Table Runner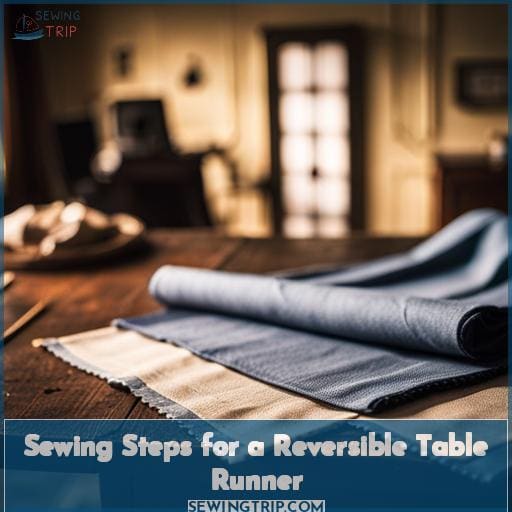 Embark on your creative journey to craft a stunning reversible table runner with these step-by-step instructions. Gather your supplies, including 2-2 1/2 yards of main and backing fabric, a sewing machine, pins, scissors, and an iron.
Learn how to cut your fabric according to dimensions, expertly pin and sew the pieces together, trim corners, and achieve crisp edges. Once completed, you'll be ready to turn and press your table runner, revealing a beautifully reversible addition to your decor.
Supplies Needed
Gather the essential supplies you'll need for this DIY project, including 2-2 1/2 yards of main and backing fabric, a sewing machine, pins, scissors, and an iron, along with optional tools like a rotary cutter, quilting ruler, and self-healing cutting mat to enhance your crafting experience.
Here's a quick overview of the necessary supplies to get you started:
Now that you've gathered your supplies, you're ready to move on to the exciting process of creating a beautiful reversible table runner that will enhance your home decor and showcase your sewing skills.
Step 2 – Cut Your Fabric
Time to dive into the creative process! With your chosen fabrics in hand, it's time to wield those scissors and bring your vision to life by cutting your materials to the required dimensions.
Use a rotary cutter and quilting ruler for precise straight lines.
Measure fabric width to determine how many strips needed.
Cut two equal rectangles for each fabric.
Add 1-2 inches extra width and length.
Square the edges for even sides.
Cutting your fabric is an exciting step that transforms plain material into the building blocks of your project. With care and precision, you'll craft the perfect canvas to create your reversible table runner masterpiece.
Step 3 – Pin and Sew
Place the fabrics right sides together and pin the edges so you can sew them with a 1/2-inch seam allowance. Take your time pinning to ensure the fabric layers are perfectly aligned. Sew slowly and backstitch at the beginning and end for a secure seam.
Step 4 – Trim Corners
Clip the corners after turning your runner right side out. This trimming technique finishes the edges and prevents bulk. Cut 1/4 inch into each corner at a 45-degree angle for a clean finish. Alternative corner cuts, such as rounded or squared edges, provide reversible design options when crafting your table runner.
Step 5 – Turn and Press
Carefully turn your table runner right side out through the opening, using a turning tool to gently press the corners and edges into place for a crisp finish. Like a caterpillar emerging from its cocoon, your creation takes shape with delicate handling.
Grasp the beauty of this key turning point, where precision transforms a pile of fabric into an elegant table runner. Handle with care as straight edges and sharp corners come to life, knowing that each crease and fold brings you one step closer to a polished home decor piece.
Tips for Making a Reversible Table Runner for Beginners
When pursuing your table runner project, equip yourself with essential tools designed for beginners. Invest in the user-friendly SINGER Fashion Mate 3333 Sewing Machine, complete with an automatic needle threader and an array of stitch options, along with charming Pastel Flower Head Pins for effortless fabric handling.
Source your fabrics thoughtfully, like the versatile Black Carolina Gingham Fabric Yard, and add precise Fiskars Scissors into the mix for clean cuts every time.
SINGER Fashion Mate 3333 Sewing Machine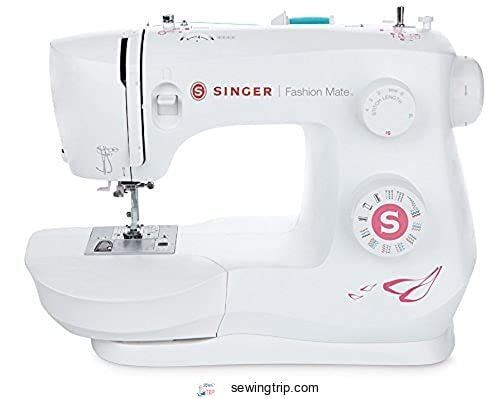 View On Amazon
Elevate your sewing projects with the SINGER Fashion Mate 3333 Sewing Machine, where functionality meets durability, providing you with the platform to bring your fashion and crafting ideas to fruition.
With 23 built-in stitches and a convenient 4-step buttonhole, you can tackle any sewing project with ease. The automatic needle threader saves time and eyestrain, while the heavy-duty metal frame offers stability for smooth sewing.
The free arm lets you easily navigate tricky areas like sleeves and pant hems. With a range of included accessories, this versatile machine empowers your creativity.
Automatic needle threader for quick threading
Heavy-duty metal frame provides durability
Free arm for easy access to tricky areas
23 built-in stitches offer versatility
Range of included accessories
Limited to basic stitches
Manual thread tension adjustment
No quilting extension table
Smaller workspace than larger machines
Pastel Flower Head Pins Set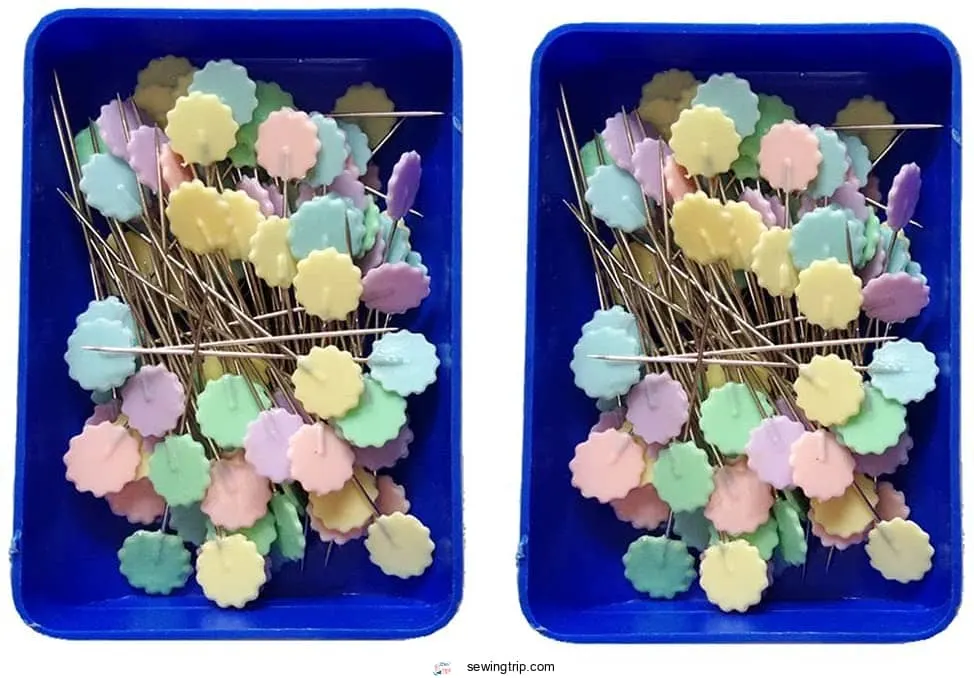 View On Amazon
Color your projects with the vibrant pastel flower head pins. Transform your fabric creations with these 200 delightfully colorful pins, available in an appealing array of soft pastel tones. Their versatility will elevate your sewing, embroidery, quilting, and general crafting to new creative heights.
Use them practically to secure layers or mark positions, or simply add a decorative flourish with their rainbow hues.
See your projects in a new light and tackle even bulky fabrics with ease as these sharp, gripped pins hold firmly in place. Enjoy the charming addition of a Rimobul coaster for functional style. Crafting has never been so easy or enjoyable.
Available in multiple pretty pastel colors
Total of 200 pins for all your projects
Sharp and grippy for securing layers
Enhances visibility when sewing or crafting
Includes a bonus Rimobul coaster
Pins are very sharp, store safely
Keep away from children and pets
Extra care needed when using due to sharp points
Black Carolina Gingham Fabric Yard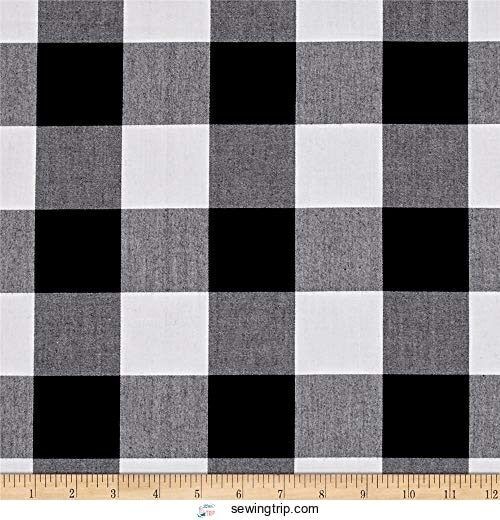 View On Amazon
Use this classic gingham fabric when crafting peppy picnic blankets or cheery kitchen curtains. The black and white checkerboard design adds retro charm to any project. Unleash your creative potential by crafting unique quilts, aprons, pillow covers, or even handbags with this fabric yard's versatile woven texture.
Match the checkered pattern seamlessly across your designs for a polished look.
Classic black and white gingham check design
Versatile uses including quilts, clothes, decor
Sold by the yard for customization
Durable cotton fabric easy to launder
May require extra yardage for pattern matching
Handwash recommended for delicate projects
Limited color options compared to prints
Fiskars 8 Ergonomic Scissors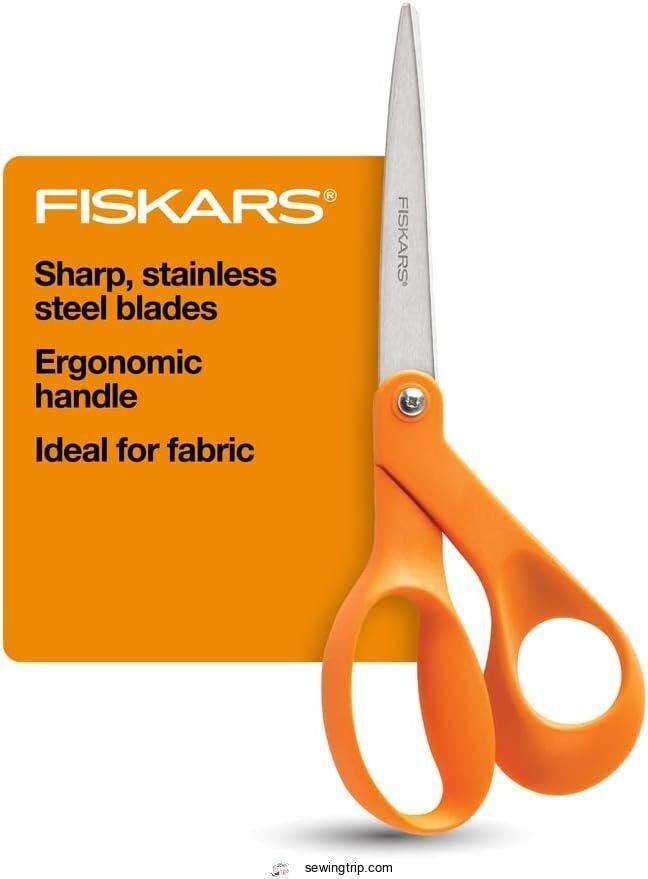 View On Amazon
Cut your fabric with precision using Fiskars 8-inch ergonomic scissors. You'll love how their sharp stainless steel blades glide through fabric layers and provide clean cuts all the way to the tip.
With their lightweight, ergonomic design, these scissors are a dream to use for extended periods of time. Forget hand and wrist fatigue; it's easy with the molded handle that encourages a natural position, maximizing leverage and control.
Make quick work of tricky tasks like pattern cutting, trimming seams, and cutting curves thanks to the innovative bent handle that keeps your fabric flat.
Sharp, precision-ground stainless steel blades
Clean cuts all the way to the tip
Lightweight and ergonomic design
Reduces hand fatigue
Bent handle keeps fabric flat
Ideal for detailed cutting tasks
Lifetime warranty
Higher price point
Not suitable for thick materials like leather
Requires care to prevent blade damage
Standard Sizes and Overhang for Table Runners
Go bold with your table runner designs. Choose from our wide selection of floral quilting fabrics and pair them with a medium-weight fusible interfacing for a perfectly customized runner. With the right materials, you'll have the tools to bring your creative tablescape visions to life.
Floral Quilting Fabric Bundle – 50pcs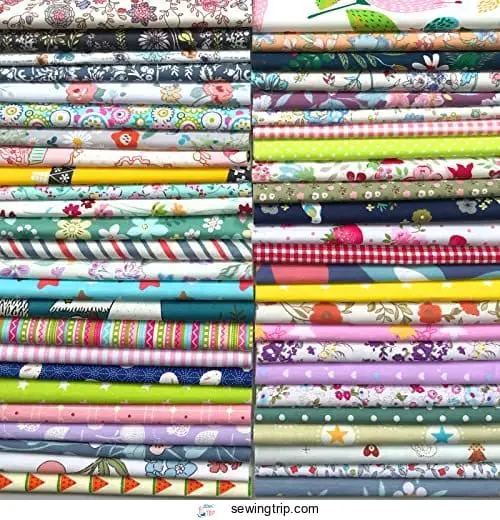 View On Amazon
Immerse your senses in the tactile beauty of the high-quality cotton as you envision the vibrant possibilities. Each exquisite floral sheet becomes a canvas for your imagination, unlocking a realm of creativity.
Craft dazzling costumes, sculpt whimsical decorations, and master the art of applique with this fabric bundle. The delicate patterns transcend the ordinary, inviting your inner artist to flourish.
High-quality 100% cotton material
Finer upgraded texture
50 different floral patterns
Versatile 8 x 8 square size
Suitable for diverse crafts and projects
Manual cutting adds artisanal charm
Flexible cutting and usage options
Raw edges may occur due to manual trimming
Size deviations around 0.5-1cm possible
Limited color and pattern options
Medium Weight Fusible Interfacing

View On Amazon
Keep on hand a packet of medium-weight fusible interfacing for reinforcing your table runner's fabric as needed. This versatile interfacing is an invaluable asset when working with delicate fabrics like linen or silk that require stability.
It smoothes and reinforces fabric, adding subtle structure without sacrificing drape or flexibility.
Easy to apply with an iron
Made in the USA
Balances support and drape
Adds subtle structure
Smoothes and reinforces fabric
Requires additional cost
Can alter hand/texture
Adds light bulk
May not work for all fabrics
Can't be removed after fusing
More Sewing Projects for the Kitchen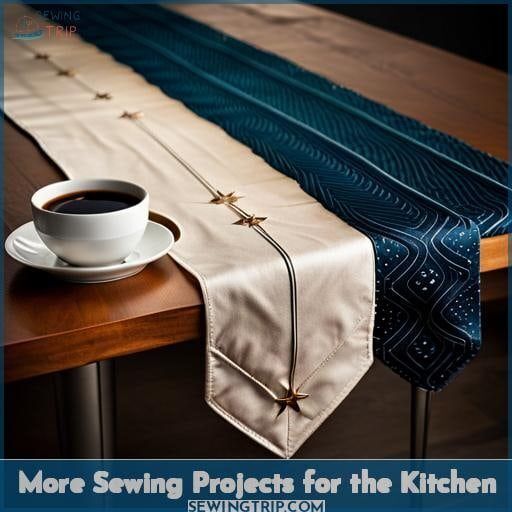 You can expand your world of crafting with even more captivating projects for your kitchen that will leave your guests speechless! Let your imagination run wild as you design custom DIY aprons showcasing your unique flair.
Craft coordinating fabric coasters and placemats with leftover materials, adding a unified touch. Try your hand at oven mitts and pot holders, taking functionality to stylish new heights.
With just a bit of fabric, interfacing, and your trusty sewing machine, you'll soon fill your kitchen with delightful homemade accessories. Bring your visions to life, unleashing your inner crafting superstar one stitch at a time.
The possibilities are endless when you open your heart and home to the magic of sewing.
Conclusion
To wrap up, making a table runner is a great way to spruce up your kitchen or dining area. With the right fabric, sewing machine, and supplies, you can create a beautiful and reversible table runner that is sure to impress.
From selecting the perfect material to cutting and sewing your masterpiece, this DIY project is easy and enjoyable. With a few simple steps, you can create a stunning table runner that will last for seasons to come.