This site is supported by our readers. We may earn a commission, at no cost to you, if you purchase through links.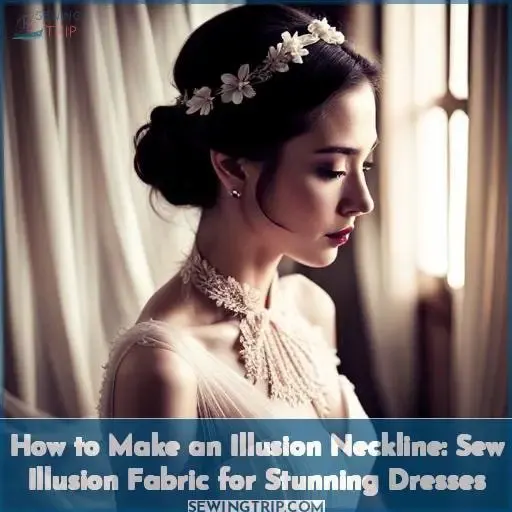 Fabric teases your imagination. You yearn for the perfect silhouette to flatter your figure, but structure binds you. Escape restriction with illusion designs. Translucent fabrics free you to balance modesty and allure.
Master illusion techniques to reveal as much or as little as you desire. Stitching lightweight meshes invokes mystery and intrigue. Your power emerges in the subtle suggestion of skin. Guide the eye while concealing imperfections.
Sewing illusion necklines takes practice, but don't be daunted. Start simple, then innovate complex creations. Experiment with different fabrics to find your style. Honor your body's beauty with elegance.
Illusion fashion helps you take command of your image. Wield it to project the essence of you.
Key Takeaways
Fabric selection plays a crucial role in creating an illusion neckline, with options such as lace, tulle, and polyester offering varied styles.
Stitching techniques like stretch needles and zig-zag stitches are essential for achieving smooth and professional looks.
The use of a serger can help in creating clean and finished illusion edges for a seamless integration with the design.
Precision and attention to detail are necessary when adding an illusion neckline to a wedding dress, including steps like cutting and finishing the illusion fabric.
What is an Illusion Neckline?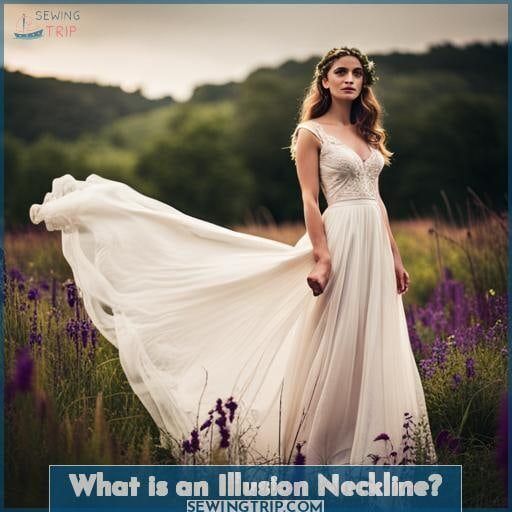 You're using the illusion neckline to highlight your features by replacing fabric with skin and adding sophistication. Consider the general fit and shape of your dress when choosing this illusion design.
Select the right sheer fabric, like lace, tulle, or a polyester illusion fabric, to create the magical see-through effect. Be mindful of pattern considerations – some dresses won't easily accommodate an illusion neckline without extra fabric.
This neckline illusion flatters and adds interest by drawing the eye up to your décolletage. Try it with a sweetheart neckline for a very feminine look. Pair the illusion fabric over a more subdued dress section to make it pop.
Take care when cutting and stitching the delicate material. With the right choices, you'll achieve an elegant illusion neckline that is both beautiful and sophisticated.
Fabric Choices for an Illusion Neckline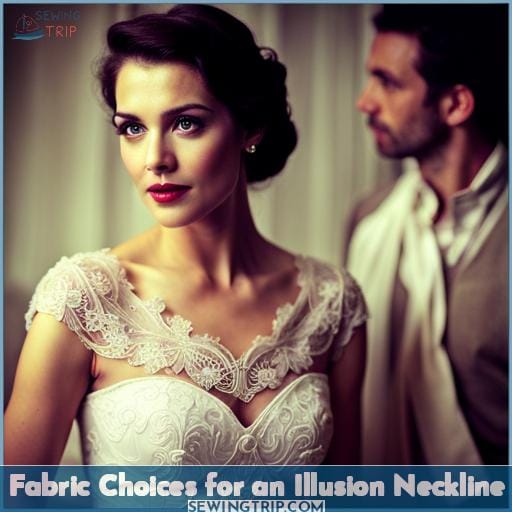 Let's get inspired with delicate fabrics for a sensual illusion neckline! Tulle, netting, and lace are dreamy choices to create sheer style magic, though their fragile nature means handwork calls for a gentle touch.
With the right pattern and stitching technique, you'll shape a stunning accent over bare skin that highlights your silhouette's sophisticated elegance.
Tulle
Illusion fabric like tulle can make the neckline feel magical. Sheer, lightweight tulle adds allure. Look for styles like English netting or French Alençon lace detail. Stretch tulle ensures a perfect fit, moving with you.
Match skin tone through nude illusion colors. Create elegant mesh accents along necklines, cutouts, or sleeves.
Netting
Nets are like a barely-there veil delicately draping your décolletage.
Sheer transparency accentuates your assets.
Mirrors light for an ethereal glow.
Featherweight fabric caresses your skin.
Sexy peekaboo peek of skin titillates.
Natural beauty illuminated.
Like gossamer wings, the netting flatters and intrigues. Its diaphanous fabric subtly seduces, hinting at the sensuality beneath.
Lace
You've got lovely lace adding elegance to your illusion neckline. Using vintage tatting or lace appliques with raw silk edges and Swarovski crystals provides drama. Intricate petit point borders and lace patterns complement wedding dresses. Stretch needles prevent snags when sewing illusion fabrics, highlighting your features.
Sewing Techniques for Illusion Fabric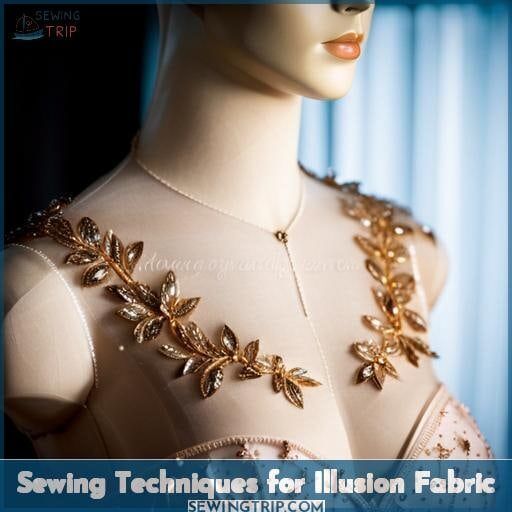 To sew delicate illusion fabric like a pro, start by threading your sewing machine with a stretch needle and selecting a narrow zigzag stitch. This will allow the fabric to move with your body while preventing runs. Trim away any excess illusion material after stitching to reduce bulk.
If you have access to a serger, use it to encase the fabric's raw edges for a clean, professional finish.
Stretch Needle and Zig-Zag Stitch
You'd secure that stretchy mesh with a zigzag stitch and a stretch needle when sewing an illusion neckline. A zigzag stitch allows the illusion fabric to stretch without popping stitches. Use a stretch or ballpoint needle to avoid snagging the delicate material.
Place appliques along the neckline before stitching the illusion fabric. Expert tips like taping methods and stretch sewing ensure a custom fit. With care, the illusion neckline will complement any dress while flattering sensitive skin.
Trimming Excess Fabric
You'll achieve a smoother finish by trimming excess illusion fabric after sewing. Proper fabric handling is crucial when trimming illusion mesh. Roll the raw edges under and then trim them close to the stitching.
This will reduce bulk and create a clean, professional neckline that is flattering. To enhance comfort, blend illusion colors with the skin tone. Lastly, consider adding bead or lace attachments when connecting to the dress.
Using a Serger
Use a serger if you have one to finish the edges of the illusion fabric. A serger will bind and neatly finish the delicate material in one step.
Choose the perfect color match for the thread.
Combine a 3-thread overlock and a 4-thread mock safety stitch.
Adjust tension settings for even stitches.
Prevent skipped stitches by not pulling the fabric.
Achieve smooth transitions around curves with ease.
Determining Dress Compatibility for an Illusion Neckline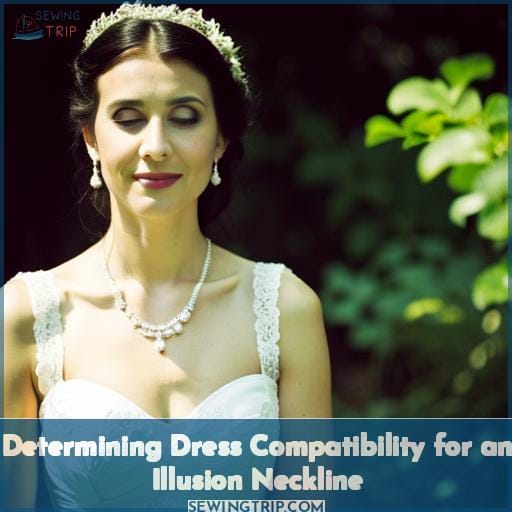 An illusion neckline requires some forethought before cutting into your dress. The material compatibility and construction determine if this style will complement or complicate your design. Ensure ample seam allowance and shoulder room so the transparent panel drapes cleanly.
Limit the surface area to strategic zones that reveal just enough skin amidst structured support. Research material choices and test purchase options to find the right lightweight fabrics that move fluidly with the dress.
Mesh, lace, and chiffon can elegantly transform necklines, but poorly integrated illusion risks sagging away from the body or tearing under strain.
Approach this technique thoughtfully, mock up the look, and tweak the pattern until the dress conditions are right for the illusion's sultry magic.
Adding Beading to an Illusion Neckline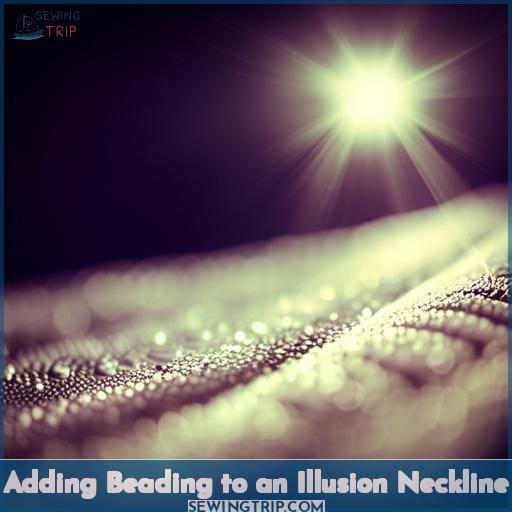 Attach the illusion neckline using beading strips for a decorative touch. Consider different beading styles like mournful arched beading for a vintage look, dramatic statement beading to make it a focal point, folksy angel beading for a whimsical feel, balanced aesthetic beading for an overall refined style, or elegant complimentary beading that accentuates your best assets.
Beading can add visual interest, texture, and a bit of sparkle. Use varying sizes and shapes of beads, combining colors and materials like glass, wood, metal, or acrylic. Arrange beads in meandering vines, bold geometric designs, or delicate floral motifs.
Let beading strips frame, highlight, and draw the eye. Make the illusion neckline a work of art with the perfect beads.
Creating Complex Designs With Illusion Fabric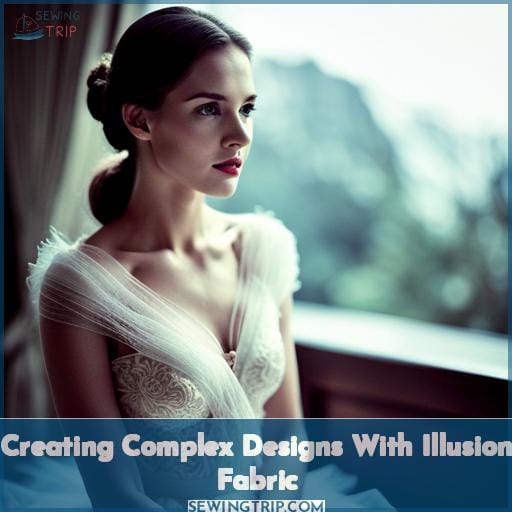 You're quite right that sewing the piece very closely against the lace or appliqués could give the mesh the support it needs to lay flat and not look baggy. With illusion fabrics, consider juxtaposing sections of solid fabric against the see-through mesh to create visual interest through contrast.
Strategically place opaque fabric pieces adjacent to the illusion mesh in aesthetically pleasing designs that imply the contours of the body in a modest way. Use geometric shapes, asymmetry, and texture variations to express complex concepts and engage the mind's desire for intellection.
Do not hesitate to experiment with unusual color combinations and avant-garde designs. The transparency of illusion fabric allows you to overlay multiple layers in unexpected ways.
Illusion fabric opens up boundless possibilities for you to unleash your creativity.
Finding Patterns for Illusion Necklines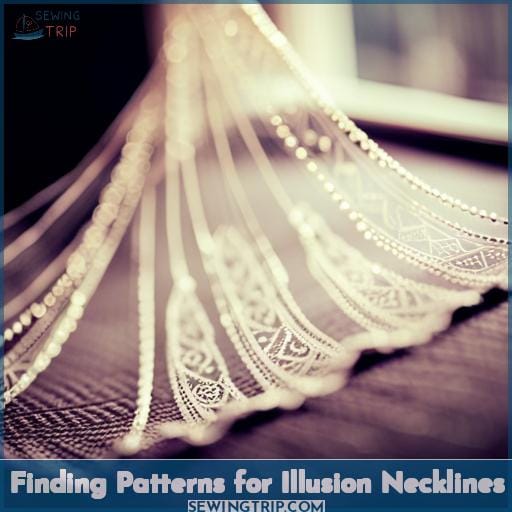 Didn't ya know there are tons of illusion neckline patterns at fabric stores and online for grabbin'?
Check out Simplicity, McCall's, and Vogue for the latest illusion neckline patterns.
Independent designers on Etsy offer unique indie patterns with a modern twist. Search illusion neckline pdf pattern to uncover some gems.
Don't forget to scope the pattern books at your local fabric shop. Ask the sales associate for their fave illusion neckline picks.
For a custom fit, look into services that create made-to-measure patterns tailored to your exact measurements.
Modifying an existing pattern is also an option if you can't find the perfect illusion neckline pattern.
With so many patterns out there, you'll have no trouble finding an illusion neckline style that suits your taste and brings visions of red carpet glam to your sewing room! Now get ready to start cuttin' and stitchin' your next showstoppin' illusion neckline creation.
Adding an Illusion Neckline to a Wedding Dress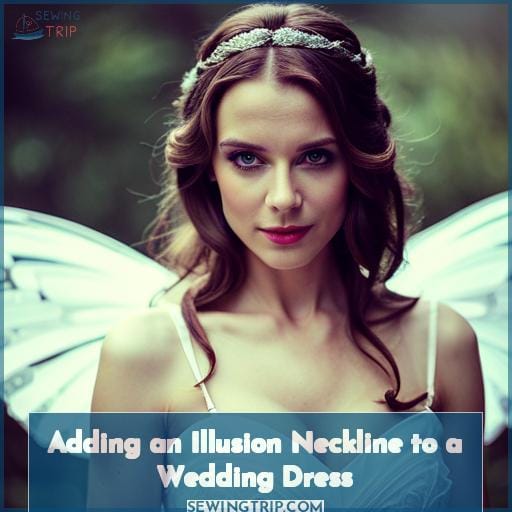 You're keen to give your wedding dress an elegant illusion neckline. I applaud your vision! Adding an illusion fabric can highlight your décolletage in a sophisticated way.
Start by inserting side seams to separate the bodice. This allows the illusion panel to conform smoothly. Shoulder shaping is key, so consider adjustable clasps. They permit tweaks for a perfect frame.
Next, cut your sheer fabric, likely polyester mesh, and attach it to the dress's lace overlay with tiny appliqués. Blend the fabrics beautifully! If the panel bunches, use boob tape for a smooth look.
Finally, join the sheer and lining at the armholes. A narrow zigzag finish keeps seams flat and secure.
Cutting and Finishing an Illusion Neckline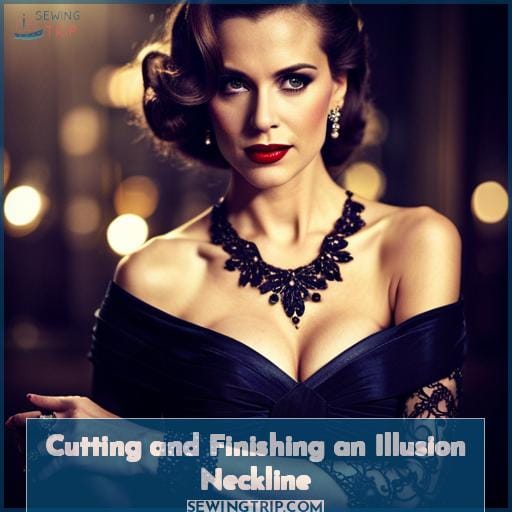 Here's how to carefully cut and finish the illusion mesh for a seamless look.
Select a sheer, lightweight mesh that matches your skin tone and has some stretch, like nylon or spandex.
Cut the illusion neckline fabric using the finished garment pattern, allowing 1/4-inch seam allowances.
Stay stitch the neckline cut edge by machine with a narrow zigzag stitch before assembling it into the garment.
Finish the illusion fabric's raw edges with narrowly rolled hems or baby hems. These professional techniques prevent fraying.
By making thoughtful fabric choices and using precise cutting and finishing techniques, you'll achieve a flawless illusion neckline that elegantly frames your décolletage.
Addressing Common Concerns and Solutions

When creating an illusion neckline, you'll need to consider potential issues like irritation and removal. Buying the right illusion fabric is crucial for avoiding problems down the road. Some common concerns are skin irritation from delicate materials and the ability to remove an illusion neckline from an existing dress.
Having the proper supplies like stretch needles and sergers allows you to sew illusion fabric correctly the first time. With the right planning and quality materials, you can create an elegant illusion neckline that suits your style.
Illusion Neckline Irritation
Wearing lotion under an illusion neckline can prevent skin irritation during your event. For example, Miranda experienced redness and itching from her mesh bodice until she applied coconut oil beforehand.
Keep the delicate fabric smooth against your décolletage by taping it securely. Gently dry the area after bathing, then moisturize regularly with a rich lotion. When cleaning the dress, use a gentle detergent to avoid harsh chemicals irritating your neckline.
With some preparation, you can avoid irritation from your stunning illusion design.
Removing an Illusion Neckline
Snipping off the delicate sheer mesh reveals bare skin and frees you from scratchy neckline discomfort. Carefully remove the illusion panel, evaluating bust shape and dress lightness without the extra layer.
Though opinions differ on keeping the illusion's sophistication, your comfort comes first. Focus on shoulder placement and consider a lace overlay for coverage if desired.
Buying Illusion Fabric
You're better off avoiding the hassle and just buying quality illusion fabric online. When it comes to creating an exquisite illusion neckline, sourcing the right fabric is paramount. Choose delicate yet durable materials like nylon or nylon/spandex blends for that perfect stretch.
Pay attention to fabric yardage, and opt for stretch needles and compatible thread types for a seamless result. Make fabric comparisons to ensure you're getting the ideal shade that matches the skin tone under different lighting conditions.
Online retailers offer a variety of options, allowing you to craft a neckline that showcases your innovation and mastery.
Frequently Asked Questions (FAQs)
How can I address the issue of itching or irritation caused by an illusion neckline?**
Soothe illusion neckline irritation with finesse. Shield your skin with hypoallergenic fabric patches. Embrace moisturizing solutions like body lotion or coconut oil. Elevate comfort, owning every elegant moment.
Is it possible to use double-sided clear body tape to flatten the mesh of an illusion neckline?**
Transform your illusion neckline with finesse. Elevate elegance and comfort by using double-sided clear body tape.
Can an illusion neckline be sewn tightly under lace to achieve a better fit?**
Sculpt a flawless fit: Seamlessly unite lace and illusion fabric for a divine illusion neckline. Amplify elegance, conquer fit issues. Precision is paramount. Your mastery transforms visions into exquisite realities.
What should I consider when dealing with appliqués attached to the illusion mesh of a dress?**
When working with appliqués on illusion mesh, ensure seamless integration. Place appliqués strategically, enhancing the gown's allure. Achieve harmony by considering mesh stretch and fabric properties. Elevate your creation with confident design mastery.
Could you share an example of someone's personal experience with removing an illusion neckline from their dress?**
Step into a world of bold transformation. Picture a determined bride, shedding the confining illusion with grace. Like a butterfly emerging, she seizes her power, crafting an unforgettable tale of mastery and renewal.
Conclusion
As the needle gracefully weaves through delicate illusion fabric, the artistry of crafting an enchanting illusion neckline comes to life. The Illusion Neckline: Sew Illusion Fabric for Stunning Dresses unveils the secrets behind this ethereal design element.
From the intricate choice of fabrics like tulle, netting, and lace to the finesse of sewing techniques – using stretch needles and zig-zag stitches for a flawless fit. Your vision of elegance flourishes as you add intricate beading or conjure complex designs that merge seamlessly with your creations.
With the wisdom shared here, finding the perfect pattern to enhance any dress becomes effortless. Embark on the journey of augmenting a wedding dress with a modest yet graceful illusion neckline, ensuring that each stitch reflects your expertise.
As you master the art of cutting and finishing the illusion neckline, you transcend challenges and realize the allure of true craftsmanship.
Illuminate your work with knowledge on common concerns, like addressing the delicate nature of illusion fabrics on sensitive skin or contemplating the removal of an existing illusion neckline. Navigate through fabric purchases with newfound confidence, armed with insights that empower your choices.
The world of fashion is a canvas of endless possibilities, and the magic of illusion necklines is yours to wield. Elevate your creations, captivate the beholder, and with every thread, create a masterpiece that embodies elegance and sophistication.
Experience the transformative journey of crafting the captivating allure of an illusion neckline, adding an enchanting touch to your sartorial marvels.