This site is supported by our readers. We may earn a commission, at no cost to you, if you purchase through links.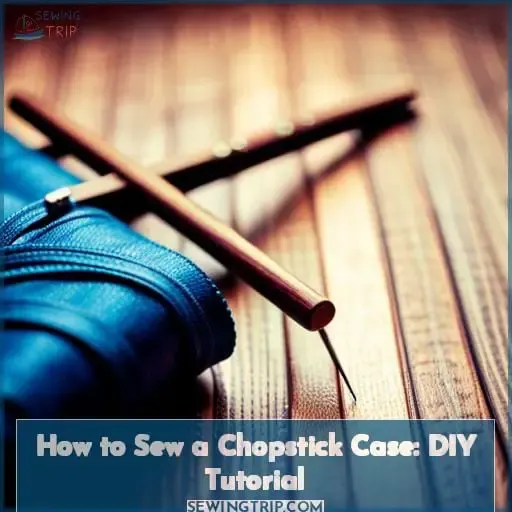 Are you looking for a fun and creative DIY project? Why not try sewing your very own chopstick case! This tutorial will cover the materials, design ideas, and step-by-step instructions needed to make your very own personalized chopstick holder.
You'll be able to take it with you wherever you go or give them away as gifts. Whether it's for an everyday lunch on the go or a special event like Chinese New Year, this how-to sew a chopstick case guide is sure to have something that suits everyone's needs.
Key Takeaways
Consider aesthetics and sustainability when choosing fabric.
Explore various closure options such as elastic, buttons, leather lace, or Velcro.
Use zigzag stitching to prevent fraying.
Personalize chopstick cases with unique colors and patterns.
Materials and Design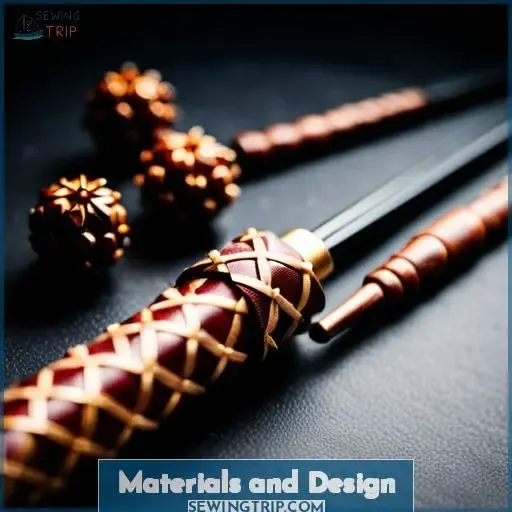 Let's delve into the world of crafting practical and charming chopstick cases. When creating these delightful sleeves, your fabric choice sets the tone, while the dimensions ensure functionality. Don't hesitate to explore alternative designs beyond the feminine touch for a personalized touch that suits any style.
Fabric Choices
You'd be surprised that over 85% of takeout chopsticks in North America are used just once before being tossed out, but you can make a difference by sewing your own reusable chopstick case from eye-catching fabrics like Kokka's glittery animal prints.
When selecting fabric for your handmade chopstick holders, consider patterns and textures that resonate with your style. Explore a variety of color options to match different occasions. Choose sustainable fabrics to align with your eco-conscious values, and don't hesitate to embrace cultural influences in your fabric choices.
Size and Dimensions
For crafting the perfect sleeve, take into account the dimensions – around 9 inches with neatly folded corners – ensuring an ideal fit for your utensils. These dimensions strike a balance between practicality considerations and stylish customization ideas.
The fold provides durability while also allowing room for decorative embellishments. When selecting fabric, consider both the aesthetic appeal and functionality, as the right fabric choice complements your sewing techniques and ensures a template for a long-lasting chopstick case.
Whether you prefer hand stitching or using a sewing machine, these dimensions provide a canvas for your creativity to flourish.
Alternative Design Options
Consider different closures like elastic, buttons, leather lace, or Velcro for your chopstick pouch. Over 60% of craft enthusiasts opt for personalized closures, adding a unique touch. Elevate your creation with these alternatives. Use a sewing ruler for precise measurements and a zigzag stitch to prevent fraying.
Don't limit your fabric options; experiment with decorative paper too. These variations showcase your mastery, fostering innovation in your crafting journey.
DIY Chopstick Case Pouch Tutorial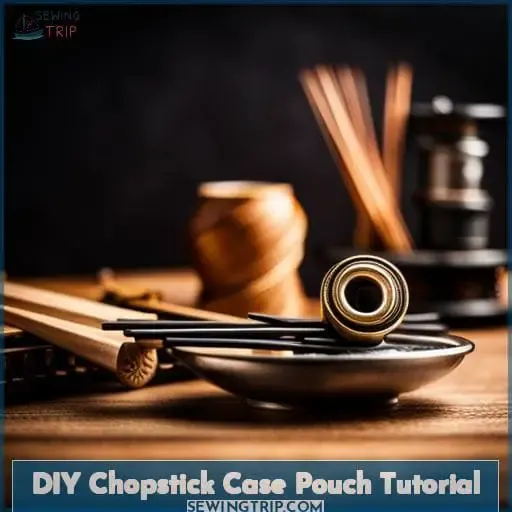 Let's delve into creating your very own chopstick case pouch with this DIY tutorial! We'll walk you through the necessary materials you'll need and provide clear, step-by-step instructions to guide you through the sewing process.
Required Materials
Gather the necessary materials to make the pouch: two main fabric pieces, two additional fabric pieces, a 30 cm cord, and a cord lock. Your fabric selection is crucial; consider both aesthetics and durability. Begin by using sewing techniques like zigzag stitching to prevent fraying.
As you stitch the main and additional fabric together, think about customization options—this is where your personal touch shines. Sustainability considerations should guide your choices too. Finally, add finishing touches, ensuring your sewn chopstick sleeve is not only functional but also a reflection of your craft.
Step-by-step Instructions
Follow these steps to bring your creation to life:
First, take your main fabric pieces and delicately unite them, encasing the essence of your design within.
Then, let the fabric's edges embrace one another, secured with the dance of the zigzag stitch, ensuring that frayed thoughts remain at bay.
Next, intertwine the main fabric with its partner, uniting them like old friends reuniting after a journey, as if folding a cherished memory.
Gently coax the amalgamation of fabrics to turn inside out, revealing their hidden aspirations.
With purpose, press the iron's warmth upon this transformation, instilling permanence in every crease.
Lastly, invite the cord to weave through, its journey culminating in the cord lock's firm embrace, a promise to keep intentions intact.
Variety of Chopstick Cases and Boxes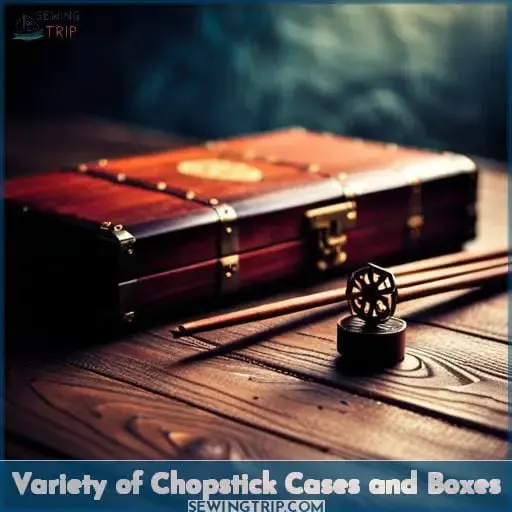 Explore the diverse array of chopstick cases and boxes that cater to your personal style and needs. Discover a variety of options boasting various features and captivating designs, from elegant wooden gift sets to charming patterned pouches.
You can easily find these delightful accessories on platforms like Omiyage.ca or through local specialty stores, adding a touch of creativity and functionality to your dining experience.
Different Options Available
Explore the array of diverse alternatives at your disposal to fashion distinctive designs that resonate beyond the conventional feminine patterns, encompassing elements like elastic, button fastenings, leather lace, and Velcro for an inventive twist on this craft project.
Customization options are abundant, from fabric varieties to creative alternatives for decorative embellishments. Experiment with stitching techniques and protective finishes to craft chopstick cases that reflect your style and ingenuity.
Features and Designs
Discover the array of innovative designs and captivating features that adorn these stylish sleeves, capturing your attention with options that go beyond the ordinary. These unique pouches come in a variety of patterns and colors, offering you a wide selection to match your personal taste.
Customize your chopstick case with decorative embellishments and creative patterns, while enjoying practical variations like the thumb hole for easy access.
Diverse range of patterns and colors
Customization options for a personal touch
Practical thumb hole for easy access
Creative embellishments for unique designs
Sustainability features to reduce waste
Where to Find Them
To locate them, you can check out the Dining section on Omiyage.ca. Here, you'll discover an array of vibrant options to suit different tastes and preferences. From eco-friendly outlets to artisan markets, various online retailers offer an enticing selection.
These sources specialize in chopstick storage boxes, bamboo and wooden chopsticks, catering to those seeking both practicality and aesthetic charm.
Explore the table below to glimpse the diverse range available:
| Type | Material | Features |
| --- | --- | --- |
| Faux Leather | Synthetic | Various Colors |
| Wooden Sleeve | Wood | Natural and Rustic |
| Decorative Pouch | Fabric | Patterns and Colors |
Unveil your creative side and sew a chopstick case that resonates with your unique style and purpose.
Chinese Banquet Chopstick Cases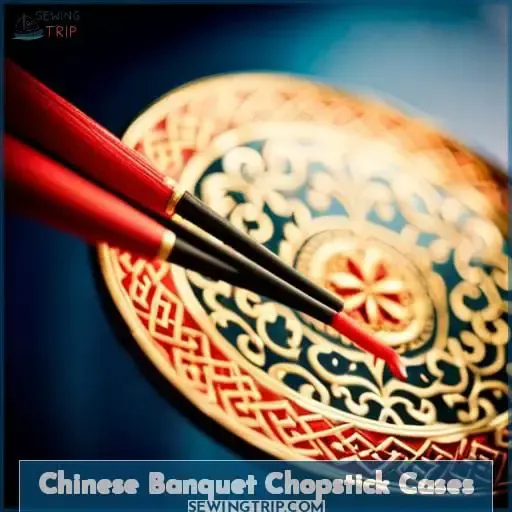 For an engaging Chinese New Year craft project, dive into creating personalized chopstick cases that are not only vibrant and colorful but also incredibly easy and swift to make. This tutorial equips you with step-by-step guidance, led by Jennifer DeCristoforo, a crafting expert and author of the Lucky Bamboo Book of Crafts.
Gather some basic materials like paper squares, tape, and scissors, and get ready to inspire creativity, especially among kids, with these delightful and personalized chopstick cases.
Craft Project for Chinese New Year
For a quick and kid-friendly project related to Chinese New Year celebrations, consider creating colorful and personalized items using simple materials like paper squares, tape, and scissors. Engage children and add a personal touch to your Chinese banquet table settings with this craft idea from Jennifer DeCristoforo, author of the Lucky Bamboo Book of Crafts.
Gather vibrant paper squares in various sizes for the Paper Squares Craft.
Involve children in cutting, folding, and decorating the paper for a kid-friendly project.
Customize each chopstick case with unique colors and patterns to add colorful personalization.
Follow Jennifer DeCristoforo's step-by-step guide for expert guidance with her tutorial.
Infuse the essence of Chinese culture into your festivities with these charming chopstick accessories for a Chinese Culture Celebration.
Simple and Quick Project
Crafting these delightful items is a breeze – a project that's both simple and quick, ensuring you have an enjoyable time while creating something beautiful and functional for your Chinese New Year celebrations.
Chopstick Case Inspiration comes to life as you follow rapid DIY techniques, effortlessly stitching together fabrics. The angled tips and origami paper add charm to your chopstick rest. Unveil your innate mastery and innovation with this easy, exciting sewing endeavor.
Tutorial and Materials Needed
Create a piece of practical art by bringing together your chosen fabrics, neatly uniting their edges, and delicately threading something through to keep your treasure secure. Explore sewing techniques that fuse beauty and utility. Opt for fabric selections like Japanese designs or wood finishes.
Experiment with stitch variations and custom embellishments, such as intricate floral patterns. Complete your DIY project with finesse, turning fabric into personalized Chinese banquet chopstick cases.
Themed Wedding Chopstick Sleeve Place Cards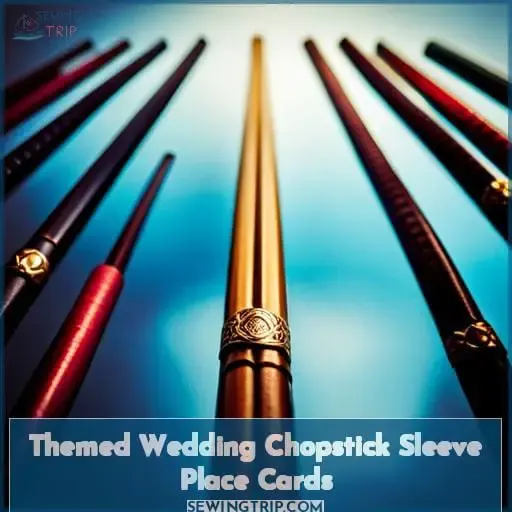 For an enchanting touch to your special day, delve into the art of repurposing as you transform travel-themed wrapping paper into exquisite chopstick sleeves. Elevate your wedding with a personalized flair by elegantly inscribing your guests' names on linen cardstock, creating charming banners that adorn each sleeve.
Gather your scissors, X-Acto knife, and glue stick as you embark on this creative journey, crafting a unique memento that perfectly harmonizes with the joyous atmosphere of your wedding celebration.
Repurposing Materials
Transforming everyday materials into something remarkable ignites a sense of creativity that awakens the artist within. With a touch of imagination, those forgotten remnants can evolve into exquisite pieces that tell a unique story, adding a touch of sentiment to your table.
Upcycling techniques open doors to sustainable repurposing. Think creative revamping – perhaps an elastic loop from old garments or a leather lace reinvented as a charming pouch closure. Don't forget your trusty glue gun to seamlessly meld corners and materials. Your resourceful crafting fosters eco-friendly innovations, making each piece a testament to your ingenuity.
Personalizing With Guests' Names
For a personalized touch, consider adding your guests' names to linen cardstock banners using Photoshop, engaging them in the process and making each place card uniquely memorable. Crafted with elegant fonts and creative embellishments, these customized tags become more than just name cards; they transform into cherished keepsakes.
Elevate the experience further by attaching a handcrafted wax seal for an extra touch of sophistication. Your guests will appreciate the thought and effort behind these meticulously designed chopstick sleeves, enhancing the overall ambiance of your special day.
Tools and Steps Required
To achieve this, you'll need an assortment of tools and follow these steps to craft the themed wedding sleeves:
Tools Introduction:
Gather essential tools for a seamless crafting experience.
Material Preparation:
Prepare travel-themed wrapping paper and linen cardstock.
Employ precise sewing techniques for polished results.
Stitching Process:
Stitch carefully, ensuring snug compartments for chopsticks.
Finishing Touches:
Attach guests' names and a Double Happiness seal for elegance.
Now, with the right tools and these steps, you're on your way to creating personalized themed wedding chopstick sleeve place cards that add a unique touch to your special day.
Conclusion
Creating your own chopstick case is an easy, sustainable, and fun craft project! With a few simple materials, you can make a beautiful and personalized case that is perfect for gifting special chopsticks.
You can use fabric, elastic, buttons, leather lace, velcro, or any other material to make your chopstick sleeve.
You can also find a variety of pre-made cases and boxes that come in different styles and designs. With a bit of imagination and creativity, you can make a chopstick case for any occasion. Whether it's for Chinese New Year or a themed wedding, the possibilities are endless.
So, grab your sewing supplies and get started on your own DIY chopstick case!