This site is supported by our readers. We may earn a commission, at no cost to you, if you purchase through links.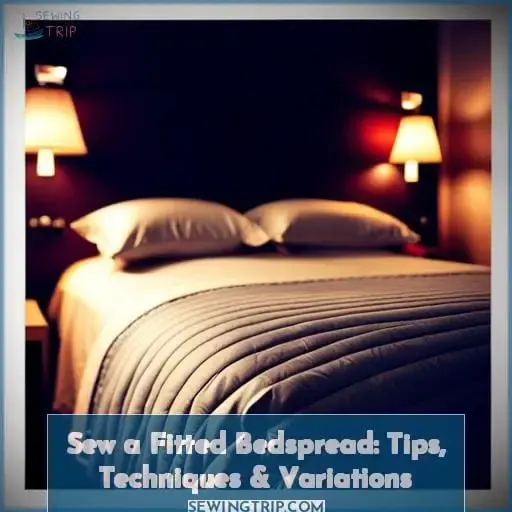 Are you looking to add a stylish finishing touch to your bedroom? With the right materials and expertise, sewing a fitted bedspread is an enjoyable project that will leave you feeling proud of your handiwork.
According to experts, 8 out of 10 Americans prefer using bedspreads as part of their décor.
Here, we'll provide tips on how to sew a fitted spread for any type or size mattress, as well as variations and ideas for customization.
Key Takeaways
Fitted bedspreads provide a smooth, wrinkle-free surface and eliminate excess fabric tucking.
Accurate measurements are crucial for creating a perfect fitted bedspread.
Consider different bed types when sewing fitted bedspreads and adapt accordingly.
Experiment with various prints, piping accents, or dual-sided fabrics for creative customization.
What is a Fitted Bedspread?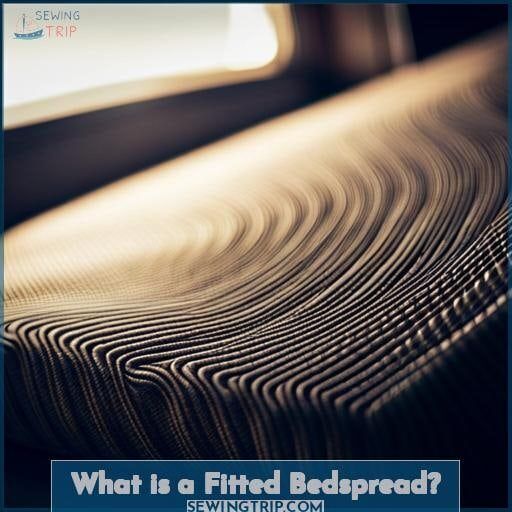 You'll love how quick and easy it is to make your bed look picture perfect with a custom-fitted bedspread tailored just for your mattress. A fitted bedspread provides a smooth, wrinkle-free surface and eliminates the need to tuck excess fabric under the mattress.
Choose a medium to heavyweight fabric like cotton, linen, or twill that'll hold its shape. Take careful measurements of your mattress length, width, and thickness before calculating yardage. Cut the bedspread top to be an inch or two wider and longer than the mattress to allow some ease.
Pin the spread to the mattress, matching seams and corners, then sew a straight stitch along the edges or pin and sew mitered corners for a more finished look. With just some basic sewing skills and accuracy, you can create a polished, professional bed design.
Your mornings will feel more tranquil when making the bed takes seconds instead of minutes.
Why Use a Fitted Bedspread?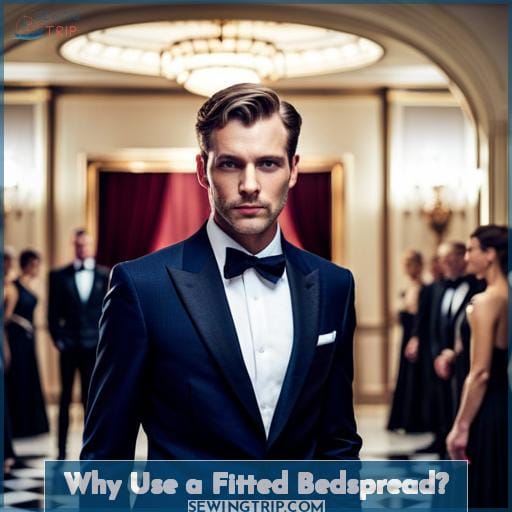 Applying a snugly tailored bedspread to your sleeping space keeps things tidy and hassle-free, honey. A fitted style eliminates messy loose corners and wrinkles. It transforms a basic bed into a polished, put-together look pronto.
Skip the daily tucking ritual and make your mornings fuss-free. Enjoy the smooth styling a fitted bedspread offers year-round. From warm flannel in winter to breezy cotton in summer, it adapts to any bedding.
When it's time to wash, just unzip and throw it in the machine. No struggling with massive quilts.
Stay on trend with the latest colors and prints. The cost per use makes fitted bedspreads a value buy. Sewing your own lets you pick custom fabrics to match your room. Measure twice to get the sizing right, allowing extra length and depth.
Take your time pinning and cutting. Sturdy seams and stitching will keep it looking fab for years.
Fitted bedspreads are a game changer for your sleep space.
Types of Bedspreads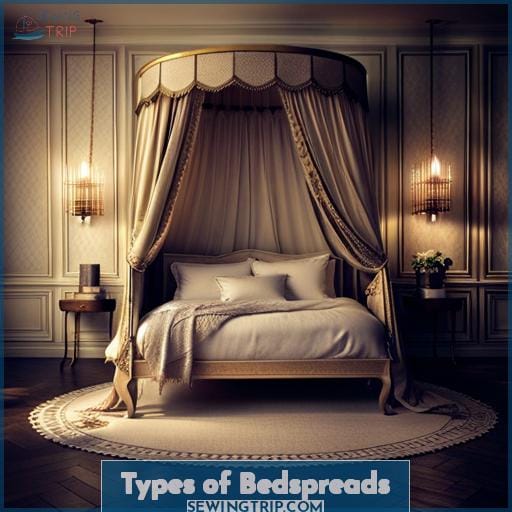 When it comes to crafting fitted bedspreads, there are two key types to explore: the Split Corner Bedspread and the Throw Type Bedspread. These distinct styles offer versatile solutions for your bedding needs, and in the following points, you'll learn how to master the art of sewing both with precision and ease.
Split Corner Bedspread
To keep lower footboards or posts from getting in the way, go for a split corner bedspread. Measure accurately for the right size, adding extra length for pillow tucking and split corners. Depth measurement is crucial – be sure to account for box springs and elevated frames.
When sewing the split corners, use a French seam to enclose edges neatly. Sew the pieces together with a 1/4 seam allowance, then trim and turn right sides together.
Get creative with fabrics – wovens, quilted, or even bedsheets work. For elastic attachment, measure mattress width plus 1-2 for stretch and sew the elastic corners at each split with strong stitches. With good sizing and corner splitting, you can adapt any bedspread for unique beds.
Throw Type Bedspread
Putting your throw bedspread inside out and stitching like you're on a spree makes an adorably cozy fitted cover, my friend.
First, measure your mattress and add a hem allowance. Next, turn the throw inside out to encase those raw edges. Pin the perimeter to the underside of the spread and sew along the line. Make sure to leave space at the corners for a snug fit around the mattress.
When completed, flip it right side out for an instant fitted spread full of homemade charm.
How to Measure for a Fitted Bedspread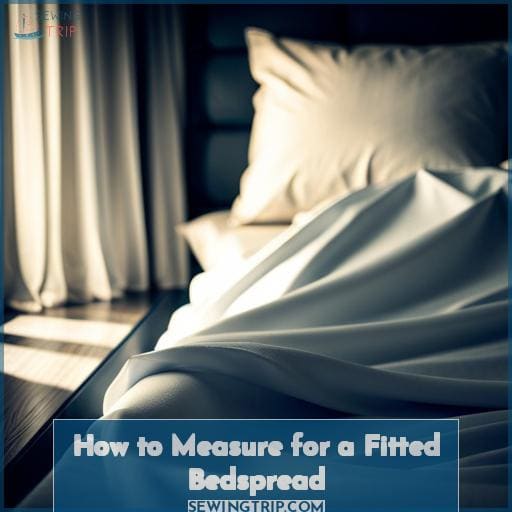 Get out your measuring tape and measure twice for a bedspread that fits just right.
Measure the length – From headboard to footboard, add 16 for tuck.
Measure the width – Side to side with a bit of overhang.
Measure mattress height – From the floor to the top of the mattress.
Measure bed skirt drop – Distance from the top of the box spring to the floor.
Measure corners – Diagonally from corner to corner.
With the right measurements, you can cut and sew a bedspread that hugs the mattress just right. Allow extra fabric for hems and seam allowances. For a tailored look, choose medium to heavy weight fabrics with a bit of stretch like twill or cotton sateen.
Attach ties, elastic, or decorative cording to fit snugly. Let your creativity shine through with fun fabrics, contrasting linings, and decorative stitching. With some simple sewing skills and accurate measuring, you can create a beautiful fitted bedspread to suit any style.
How to Sew a Fitted Bedspread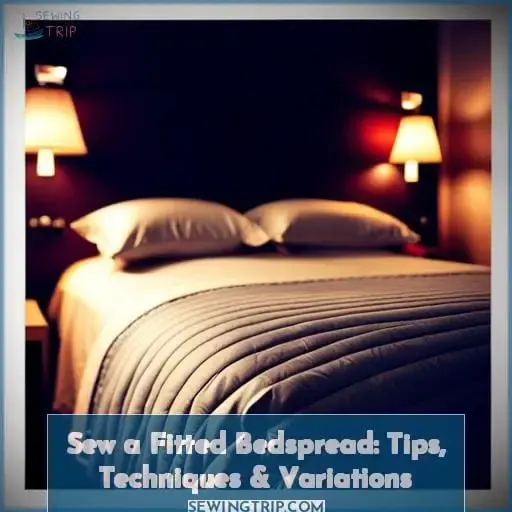 Getting your fitted sheet project just right requires careful measuring, cutting, sewing, and finishing. Start by accurately cutting out each corner of your flat sheet, then sew the corners with an even 1/2-inch seam allowance.
After pressing the edges, sew wide elastic to the edges with strong stitches, then slip your custom fitted sheet over the mattress for a perfect fit.
Cutting Out the Corners
After measuring accurately, trim the corners of the fabric. To ensure a proper fit, use sharp scissors to cut precise right angles in each corner. Take your time while cutting; rushing can result in uneven corners. Cut just outside the marked lines to allow for seam allowances.
Well-trimmed corners guarantee a tailored, polished finished bedspread that fits snugly on your mattress.
Sewing the Sheet Corners
Take your sheet over to the sewing machine and quickly sew up those corners. Align the edges of the flat sheet with the foot boards of the twin bed. Press the linen edges so that the quilt will attach neatly. Secure the sheet corners to keep the bedding flat over the mattress.
Pressing the Edges
When pressing the edges, go slowly and carefully to ensure a crisp, clean fold. Focus on taking your time with pressing techniques – improper folds will affect how the fabric drapes on the mattress. Consider bedspread styles like pleated or gathered when planning measurements and elastic attachments.
With the right fabric selection and precise pressing, your finished bedspread will lay smoothly across the mattress.
Sewing the Elastic to the Sheet
You're questioning if stretching the elastic as you attach it truly ensures a snug fit around the mattress. Stretching the bed linen elastic taut prior to securing it with strong stitching guarantees that no bunching occurs and delivers the snuggest bedding DIY.
The elasticity allows the sheet to fully conform to the contours of the mattress.
Finishing Your Fitted Sheet
Once the elastic is sewn, carefully trim any loose threads and turn the sheet right side out to finish the fitted sheet. With the elastic in place and all seams enclosed, a simple fitted sheet is complete.
Choose bold prints or solids for creative bedding decor that suits your style. Match shams and quilts in coordinating fabrics for a pulled-together bedding ensemble.
Covering Your Mattress
Measure it snugly before pinning your fitted bedspread to the mattress. Once you have the right measurements, follow these tips for covering your mattress:
Use mattress pads for protection.
Consider different bedspread styles like duvets or comforters.
Stay on top of bedding trends.
Make it custom with creative fabrics.
Add personality through bedroom decor.
Tips for Sewing a Fitted Bedspread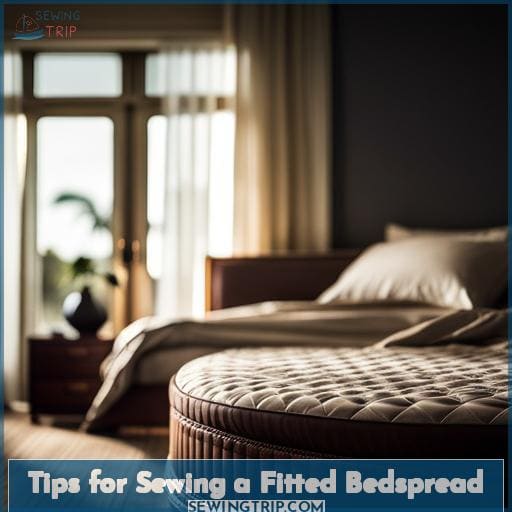 Sewing a fitted bedspread requires care in fabric selection and stitching technique. You'll need to choose a durable, washable fabric and reinforce seams and corners with sturdy stitching and ample seam allowances.
Additionally, adjusting for different bed frames, such as four posters or bunk beds, also requires forethought.
Choosing the Right Fabric
When selecting fabric for your fitted bedspread, let tactile textures tantalize your fingertips as you envision cozying up under soft-spun sheaths. Consider durability, texture, color, and pattern when choosing the perfect fabric for your bedspread.
| Fabric | Durability | Texture | Color Options | Pattern Choices |
| --- | --- | --- | --- | --- |
| Cotton | Good | Soft, smooth | All colors | Solids, prints |
| Flannel | Medium | Soft, fuzzy | Dark colors | Plaids |
| Satin | Delicate | Shiny, slippery | Bright colors | Solids |
Let your preferences guide you to the ideal fabric. The right choice will bring you years of cozy comfort.
Strong Stitches and Seam Allowances
Ensure your sewing machine's stitches penetrate both fabric layers fully and allow ample seam allowances for durability. When sewing fitted bedding, choose a longer stitch length to grip the fabric. Use quality thread in a size and fiber content suited to the project.
Allow 1/2 seam allowances, trimming only after stitching. This provides strength for laundering and years of use.
Measure precisely for Washable Materials and Bedspread Dimensions. Account for Pillow Tucking extra length. Consider Box Spring heights for proper fit. Your bedding will maintain structure and neat corners over time with strong stitches and generous seam allowances.
Considerations for Different Bed Types
You're right that split corner bedcovers neatly accommodate low footboards.
Here are some considerations for sewing fitted bedspreads for different bed types:
Measure accurately for the right bedspread size and depth based on the mattress and bed frame.
Add extra width and length for pillow tucking and overhang.
Adjust sewing techniques and stitch strength for heavy use beds like King and bunk beds.
Get creative with fabric choices and split corner designs for four poster and canopy beds.
Coordinate colors and fabrics for the style and look you want.
How to Make a Split Corner Bedspread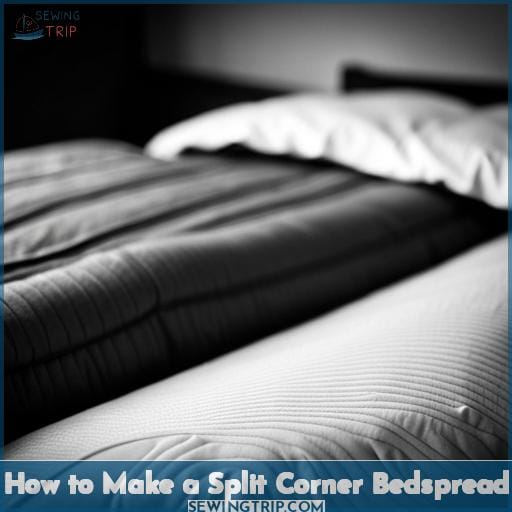 Measure accurately to create a customized split corner bedspread that accommodates your bed's low footboard or four-poster frame. Start by carefully measuring the length and width of your mattress, then add a couple of inches for a fabric allowance when cutting your fabric.
For depth, measure from the top of your mattress down to the floor, and add about 16 inches to allow for tucking under pillows. When sewing the split corners, I recommend finishing the edges with a French seam to prevent fraying.
Simply sew wrong sides together, trim close to stitching, press open, then sew again with right sides together.
You can get creative and make it uniquely yours. Try using bold printed fabrics or add ties, lace, piping, or other embellishments. For a beach house bunk bed, an elasticized sheet on the bottom creates a smooth look.
With the right measurements and stitches, you'll have a customized, fitted bedspread that suits your style and bed frame.
How to Turn a Throw Type Bedspread Into a Fitted Spread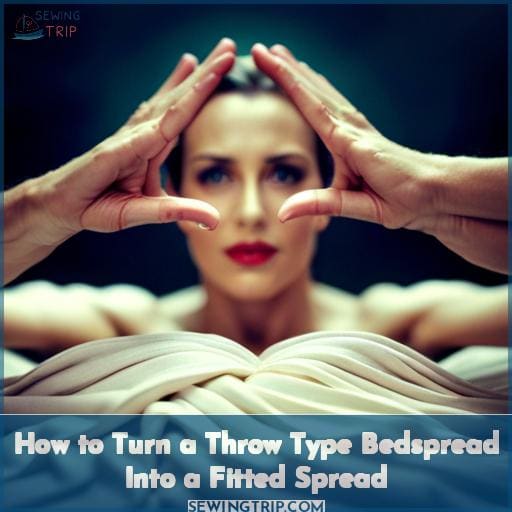 Tuck away your troublesome flat bedspread and transform it into a snugly fitted dream in just a few simple steps.
Gather your materials – the throw bedspread, pins, measuring tape, scissors, sewing machine, and thread.
Measure your mattress length and width and add 12 to each measurement for overhang.
Cut your flat bedspread to your custom size measurement, adding 1 seam allowance.
Pin and sew fitted casings on 3 sides, leaving one short end open.
With some strategic cuts, pins, and stitches, that loose throw bedspread is now a tailored bedding solution.
Feel the satisfaction as you slip the fitted bedspread over the mattress. No more wrinkles or straightening needed thanks to your Bedspread Transformation.
Utilizing simple Fitted Bedding Techniques led to a complete Bedspread Makeover.
Follow these customized Bed Cover alterations anytime for a quick update. And remember the Bedspread Alteration Tips – measure twice, cut once for the perfect fit!
How to Make a Split Corner Bed Skirt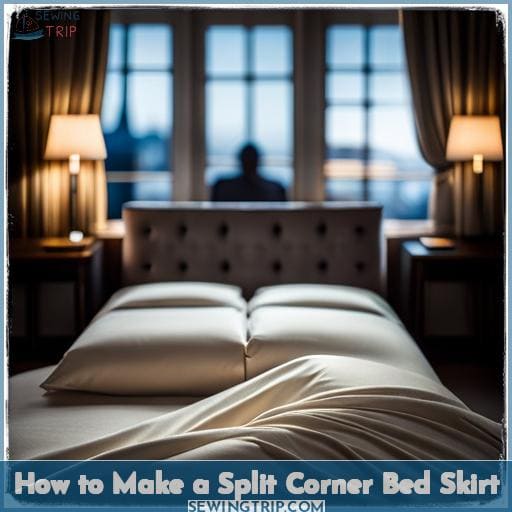 After hemming those fitted sheets, whip up a split corner bed skirt to fancy up your bedroom furniture in a jiffy.
When making a split corner bed skirt, follow these crucial steps for a professional look:
Measure twice, cut once. Accurately measure and mark the corners of the bed skirt before cutting any fabric.
Mind the depth. Calculate the drop or length from the bed frame to the floor. Adjust for box springs and bed height.
Choose wisely. Opt for medium to heavyweight fabrics with a nice drape. Polyester blends limit wrinkles.
Apply these techniques for flawless split corners every time. After hemming, wrap elastic casing to secure. Measure and pin the corners before sewing. For longevity, enclose seams and use quality thread.
With focus and care, this quick project dresses up any bedroom. Your skill will be evident in the details.
Variations and Creative Ideas for Fitted Bedspreads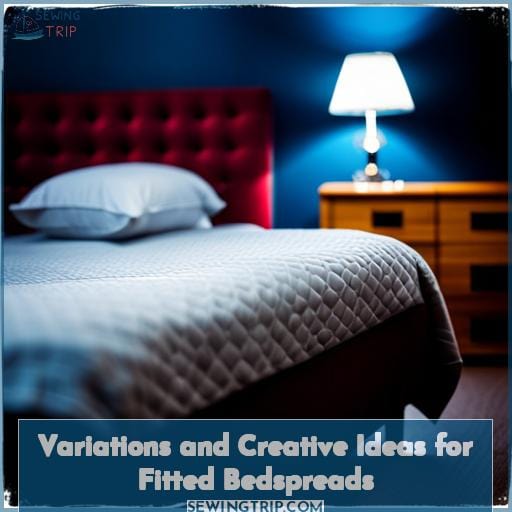 Fabric choices can really customize your style while using creative techniques like split corners or extended hems. When making your own fitted bedspread, consider fabrics that reflect your personality and complement your bedroom's decor.
Play with different patterns, textures, and colors to create a one-of-a-kind bedspread. For a romantic cottage look, select a soft floral cotton print in muted tones. Or go bold with a modern geometric print in vivid hues.
Extended hems that puddle on the floor can add drama while split corners accommodate unique bed frames. Take measurements carefully and allow ample fabric for creative styling. With the right planning and fabric selection, you can design a fitted bedspread that's a true expression of your style.
Experiment and have fun with mixing colors, layering patterns, and adding embellishments like tassels or ribbon. A DIY fitted bedspread offers the perfect chance to showcase your design skills and custom fabric choices.
Conclusion
Creating a fitted bedspread is a simple and rewarding project that can be completed in a few hours. It's a great way to save money and customize your bedroom. But you'll need to take accurate measurements and choose the right fabric if you want to achieve the perfect fit.
Consider the type of bedspread you need, whether it's a split corner or throw type, and make sure to factor in the depth measurement for proper sizing. Also, make sure to use strong stitches and seam allowances for a long-lasting bedspread.
With the right tips and techniques, you can easily create a beautiful fitted bedspread that will make bed-making a breeze.