This site is supported by our readers. We may earn a commission, at no cost to you, if you purchase through links.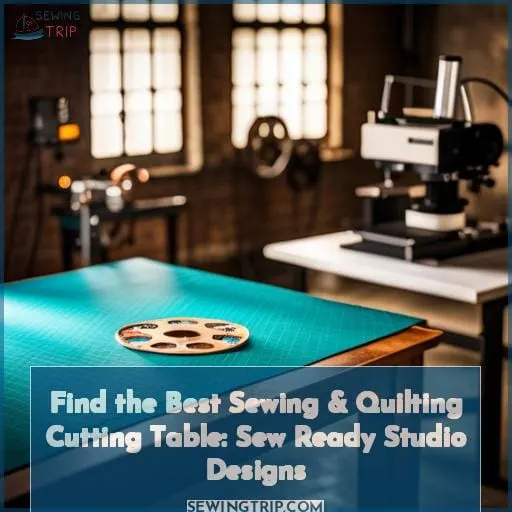 You're looking for the best cutting table to make sewing and quilting projects easier and want one designed just for fabric cutting. The Sew Ready Studio line of cutting tables gives you sturdy and spacious surfaces for efficient cutting, along with handy storage to keep your tools organized.
Their tables let you spread fabric out flat and see your pattern pieces, so you can cut precisely and without frustration.
The Sew Ready Studio Craft and Cutting Table creates an ideal cutting station to save you time and hassle. You'll gain more control over your sewing and quilting projects with a large tabletop and storage drawers built for fabric tools.
It provides the freedom to cut fabric smoothly and neatly, resulting in professional-looking finished products.
With the right cutting table, you can master even the most complex patterns and fulfill your desire for perfectly cut fabric.
Key Takeaways
The Sew Ready Studio Design table offers a spacious 36 x 59 work surface for efficient fabric cutting and seeing the full view of pattern pieces.
The premium Design table features sturdy steel frame construction, laminate worktop, adjustable legs, slide drawers, and shelf for stability.
Pair the Design table with a large 36 x 59 Sullivans rotary cutting mat for a smooth cutting surface.
The Sew Ready folding table adjusts to standing height to prevent strain, with storage drawers, a shelf, and a smooth laminate top.
Sew Ready Cutting Table Review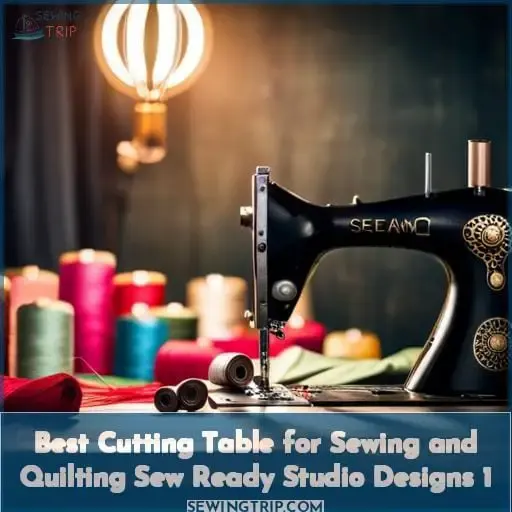 You'd love the Sew Ready Premium cutting table – with its spacious 36×59 work surface, it can slice your fabric cutting time by 90%! This sturdy table provides the ideal cutting station for avid sewists.
Its heavy-duty steel frame and laminate top offer durability to withstand high volume use. Four lockable casters allow you to easily move the table around your workspace. The adjustable height legs range from 29.
75 to 38.75, so you can customize the table to your ideal working height and prevent back strain. Two slide-out mesh drawers and a lower shelf keep all your fabric, patterns, scissors, and other supplies organized and within reach.
With Sew Ready's excellent cutting table, you'll gain the large, smooth, stable work area needed to cut fabric and materials precisely and efficiently.
Top 3 Sew Ready Cutting Tables
When shopping for a cutting table, look for one that provides ample workspace and storage like the Sew Ready sewing table with storage drawers. Pair it with a quality rotary mat like the 36 x 59 Sullivans to optimize your cutting surface.
Consider adding the Wallaby II sewing cabinet for extra storage to keep all your sewing gear organized and easily accessible.
Sewing Table With Storage Drawers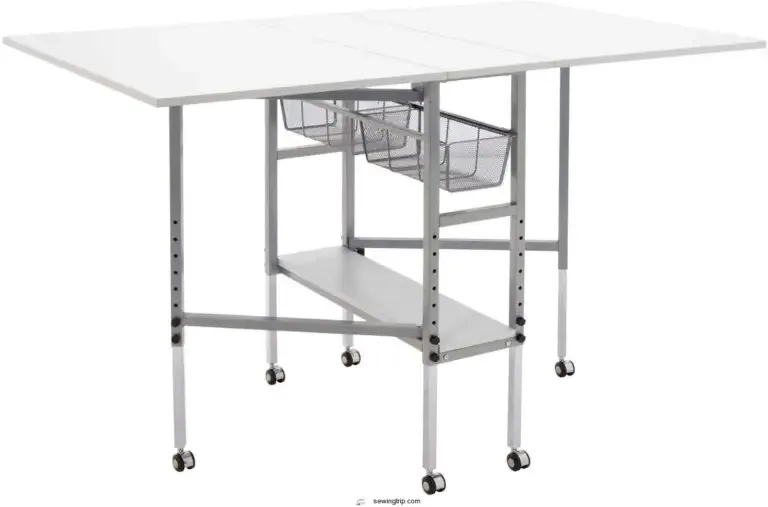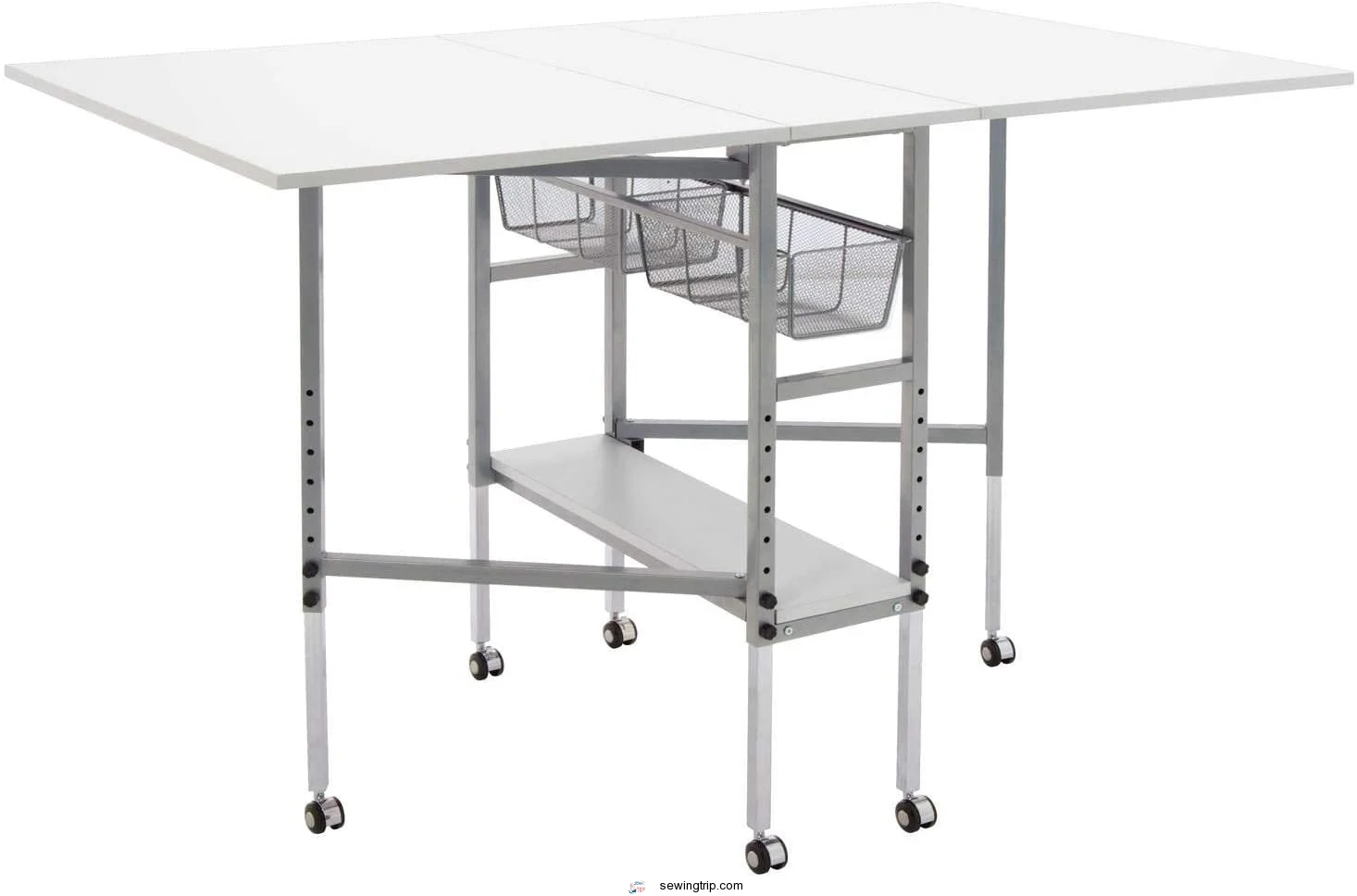 View On Amazon
This height-adjustable sewing table's gonna save your back! With its large 58.75 x 36.5 work surface extending out and folding down for storage, you'll get ample space for fabric layouts and projects.
The adjustable height legs range from 29.75 to 38.75 inches, allowing you to customize it to your ideal working height and prevent back and neck strain from bending over. It also features two slide-out mesh storage drawers and a lower shelf to keep your sewing gear organized and within easy reach.
Gliding around on its four locking casters, you can move it wherever needed in your craft room. Made from powder coated steel and engineered wood, it provides a durable, smooth work zone for cutting fabric precisely.
Spacious work surface
Adjustable height for comfort
Built-in storage keeps supplies handy
Smooth laminate good for fabric
Casters allow heavy mobility
Some issues with shipping damage
Missing hardware in some boxes
Customer service responsiveness varies
Sullivans Cutting Mat White 36×59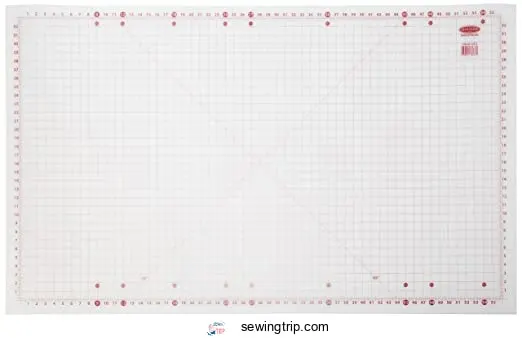 View On Amazon
Pair the spacious Sullivan's cutting mat with the height-adjustable sewing table and backaches'll be history. This large 59 x 36 low-density polyethylene mat gives you ample space for layouts 'n rotary cutting fabric pieces precisely.
The 6-pound flexible plastic withstands frequent slicin' by rotary blades without damage. Its grid layout even includes handy yardage markings to simplify measuring your fabrics. Made right here in the USA, it provides an affordable, smooth surface that's built to last through all your quilting and sewin' projects.
With its size 'n durability, this mat's an essential sidekick for your fabric cuttin' needs.
Large size good for sewing projects
Withstands frequent use by rotary cutters
Grid and markings simplify measuring fabric
May curl if stored rolled up
Not self-healing like some rotary mats
Numbers placed oddly for some users
Wallaby II Sewing Cabinet With Storage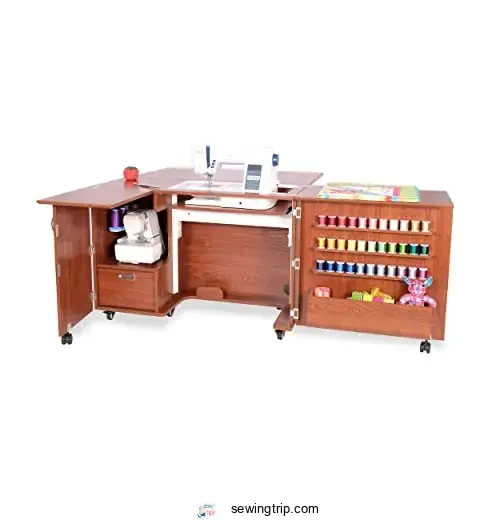 View On Amazon
Keep your sew space neat and organized with the Wallaby II cabinet by Arrow Sewing. This sturdy 31-pound teak wood cabinet provides lots of handy storage next to your sewing station with its 3 shelves, drawer, and 2 flat-panel doors for stashing supplies out of sight.
The rectangular design offers ample added workspace thanks to the flat top, so you can spread out fabric and patterns while you work. With heavy-duty casters that allow you to easily roll the cabinet around your craft room or studio, this floor-mountable unit gives you the freedom to rearrange your creative zone anytime.
The quality materials like the smooth teak wood make this a long-lasting furniture investment for avid sewists and quilters.
Provides lots of storage with shelves, drawer, and doors
Flat top offers additional workspace
Casters allow easy mobility
Challenging assembly (20 hours)
Low-quality hardware and poor instructions
Not enough workspace on left side for quilting
Sew Ready Cutting Table Pros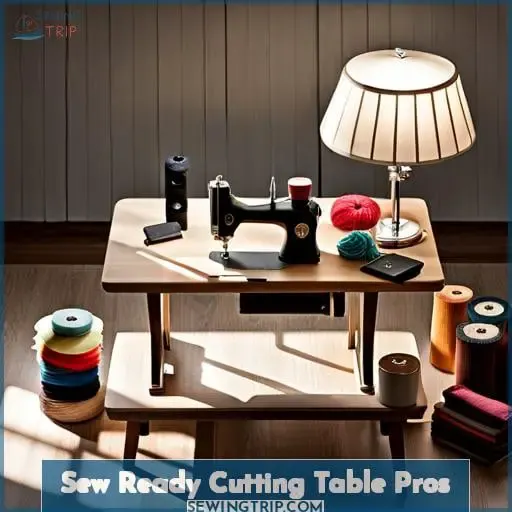 You'll absolutely love the Sew Ready cutting table's adjustable height legs and built-in storage bins, which provide quilting comfort and keep all your sewing notions neatly organized like a seamstress's treasure chest.
Smooth laminate surface
Locking casters
Foldable side panels
Sturdy steel frame
Convenient storage drawer
The Sew Ready cutting table offers ideal height mobility with adjustable legs so you can find the proper height for cutting fabric and sewing projects comfortably. Built-in storage keeps your sewing gear neatly organized and within reach. With affordable pricing and ample workspace, it's an essential sewing tool that will provide comfort and convenience consistently as you pursue your love of quilting and sewing.
Pair it with a self-healing rotary cutting mat and ironing board cover for a complete cutting station.
Sew Ready Cutting Table Cons

Make sure the Sew Ready's casters lock properly on carpeting to prevent the table from shifting as you cut. The Sew Ready cutting table's casters may not lock well on thick carpeting, causing the table to shift during cutting.
Assembly can also be tricky, with unclear instructions and hardware that doesn't always fit properly. Customization is limited too, with no options to choose table size or features for your space. With its large fixed worksurface, the Sew Ready table may not work well in small sewing spaces.
So consider your workspace size and assembly skills before purchasing this cutting table. For maximum stability when cutting fabric, add bracing or extra locking casters, especially if using on carpet.
The Sew Ready cutting table offers lots of workspace but does have some limitations.
How to Choose a Sewing Cutting Table

Choosing the perfect cutting table can be overwhelming, but listen to your space and workflow to find the one that fits your needs like a glove.
Size – Make sure it fits your available floor space when open and folded. Measure carefully.
Surface – Look for smooth laminate that won't snag fabric and is easy to clean.
Adjustability – Height adjustability accommodates standing or sitting. Drop leaf saves space when folded.
Mobility – Locking casters let you move the table but keep it steady during use.
Focus on a table with the right proportions for your body and tasks. Test work heights and arrangements.
The ideal cutting table improves your sewing speed, accuracy, and comfort. Listen to your body and space to select the perfect fit.
Frequently Asked Questions (FAQs)
How durable are the Sew Ready cutting tables over years of use?
The Sew Ready Premium cutting tables are built to last for years of frequent use. Their sturdy steel frames and engineered wood surfaces stand up well to the demands of sewing and quilting projects. Regular maintenance helps maintain their quality and durability over time. With proper care, these well-made tables should serve avid crafters for many years.
Do the Sew Ready tables come fully assembled or require building?
The Sew Ready tables usually require some assembly. But take heart – with the clear instructions, you'll be cutting fabric on your sturdy new table in no time. Just follow each step carefully to build a long-lasting workspace for your creative projects.
What cutting mat sizes fit perfectly on the Sew Ready models?
The 36 x 59 inch Sullivans mat fits perfectly on the Sew Ready Premium's expanded 58 x 36 inch workspace.
What is the warranty coverage and support like for Sew Ready cutting tables?
Sew Ready offers a standard one-year warranty against defects in materials and workmanship. Their helpful customer service team aims to promptly resolve any issues via phone, email, or video support. Reach out to get manufacturing flaws fixed or replacement parts shipped free of charge within the coverage period.
Are the Sew Ready cutting tables easy to clean and maintain?
The laminate surfaces of the Sew Ready cutting tables are easy to wipe clean with a damp cloth. The leg levelers help keep your workspace level for smooth fabric flow. Just be sure to avoid harsh cleaners that could damage the finish over time.
Conclusion
You've come to the end of your sewing journey, friend. Like a long hike up a winding trail, you started with eager steps full of anticipation. The path rose steadily before you as you climbed higher, focused on the goal ahead.
There were obstacles along the way – doubts crept in, choices gave you pause. But you found renewed strength in the company of fellow travelers, those who cheered you on.
Now you stand atop the summit, looking out across your hard-won view. You made it this far because you believed in yourself.
The next trail awaits, but for now, take pride in how far you've come. The only way forward is up.