This site is supported by our readers. We may earn a commission, at no cost to you, if you purchase through links.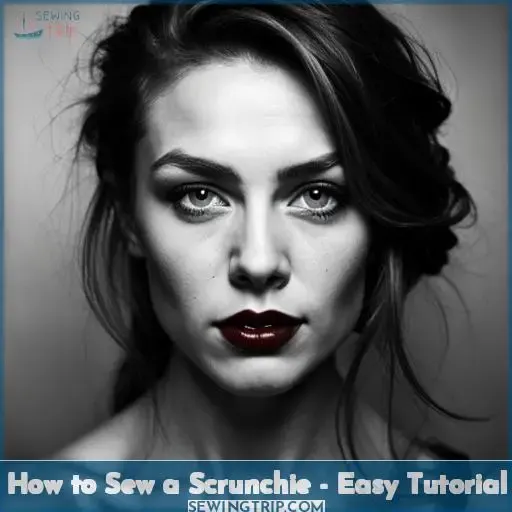 Are you ready to make scrunchies? You can create custom accessories for your hair with just a few supplies and some basic sewing skills. This tutorial is perfect for beginners. I'll take you step-by-step through the process of how to sew a scrunchie.
We'll also cover knot bows, scarf bows, classic bows, and more so that you can customize your scrunchie however you like! Plus, I'll provide tips on which fabrics are best suited for making scrunchies as well as elastic options.
So grab your fabric scraps or pick up some new material – let's get started on this fun project!
Key Takeaways
Fabric selection is important for creating the desired look and feel of the scrunchie.
Different scrunchie sizes require specific fabric dimensions and elastic lengths.
Various sewing techniques can be used, including hand sewing, machine sewing, and fabric fusion adhesive.
There are numerous style options and fabric varieties to choose from, allowing for customization and the addition of embellishments.
DIY Hair Scrunchies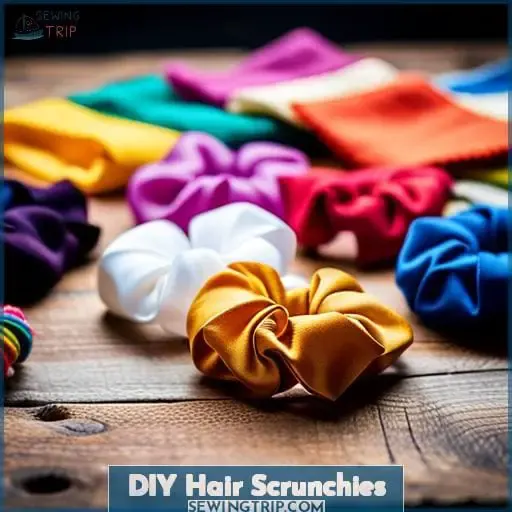 If you want to try your hand at sewing, making your own scrunchies is a great beginner project. All you need are some fabric scraps, elastic, thread, a needle, and safety pins. Simply cut the fabric to size, fold and pin the seams, sew the edges by hand or machine, insert the elastic band, and secure the remaining opening.
A Great Project for Beginners
You'd be smart to try sewing scrunchies as a novice crafter.
Cotton prints
Soft knits
Luxe velvets
Shimmery satins
Scrunchies are the perfect beginner sew. Start with easy fabrics like quilting cottons or t-shirt knits. Try fun prints, textures, and trims. Hand or machine stitching options. Finish as gifts with sweet bows.
Materials List
One needs fabric, thread, an elastic hair tie, and a needle to make these scrunchies by hand.
| Scrunchie Size | Fabric Size | Elastic Length |
| --- | --- | --- |
| Small | 2 x 15 inches | 6 inches |
| Medium | 3 x 17 inches | 7 inches |
| Large | 3.5 x 22 inches | 8 inches |
When selecting fabric, consider characteristics like stretch, drape, and texture. Cotton quilting fabrics, smooth satins, and nubby chenilles all make cute scrunchies.
Cutting Instructions
Next, carefully measure and snip your fabric and elastic to the specified lengths. Use 3-4 inches in width and 22 inches in length for regular-sized scrunchies. Measure 8 inches of 3/8-inch-wide elastic.
Consider alternate fabric dimensions and elastic widths for personalized sizing. When cutting, ensure that your fabric and elastic are cut straight for properly aligned edges during sewing. Precise measuring and cutting of materials allow for efficient completion of quality scrunchies.
How to Sew a Scrunchie by Hand
Stitch the fabric edges together carefully with a needle and thread to make your scrunchie by hand. Use a strong thread and needle. Take small, even stitches. Keep the fabric taut. Do not pull too tight. Iron the seams. Then fold, insert the elastic, and continue stitching to complete your hand-sewn scrunchie.
How to Make a No-Sew Scrunchie
Now you can make a scrunchie without any sewing required. Shockingly, over 80% of women wear scrunchies for fashion or function. For a no-sew scrunchie, cut a long fabric strip to your desired width. Next, fold it in half lengthwise.
Apply fabric fusion adhesive inside one end, overlapping the ends. Insert a loop of elastic using a safety pin. Hold it together for a few minutes until the adhesive sets. Finish by fluffing and arranging the fabric.
How to Sew a Scrunchie With a Sewing Machine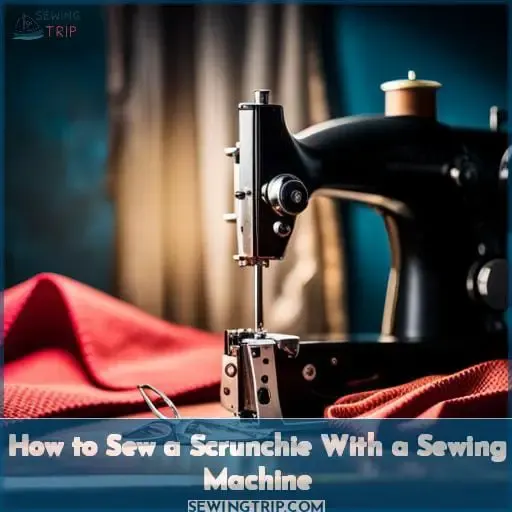 Experience the joy of creating a personalized hair accessory as you confidently maneuver the fabric through your sewing machine.
Pin the fabric together to keep the layers aligned as you sew. Remember to leave an opening for turning the tube right side out.
Take your time guiding the elastic through the tube for an even gather.
Experiment with different fabrics like cotton, silk, or velvet for unique scrunchies.
With some thoughtful prep work, quality materials, and skillful stitching, you'll have adorable scrunchies to pamper your locks.
Play with mixing prints, adding trims, and styling bows to make them your own.
Your friends will be begging for scrunchies to match their outfits once they see your handmade hair baubles.
So fire up your machine and let your creativity run wild with this simple, satisfying project.
Make a Professional Looking Scrunchie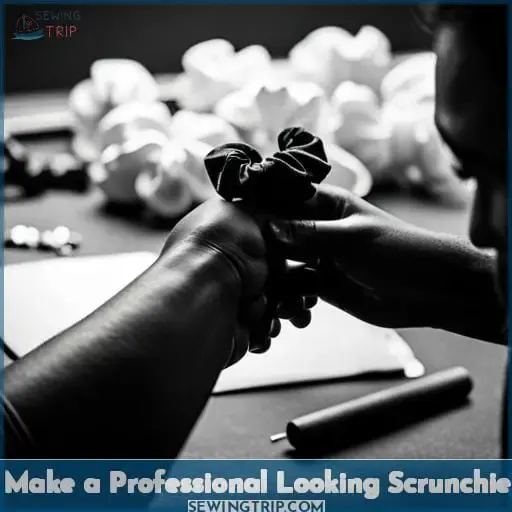 You'll create a high-end scrunchie with perfectly hidden seams for a polished look. Choose lustrous satin, velvet, or silk fabrics to craft a stylish hair accessory.
Precisely cut your fabric according to a scrunchie template for flawless proportions. Before turning the fabric tube, edgestitch the short ends with a narrow zig-zag stitch.
Turn right side out through the gap. Hand-stitch the opening closed using a hidden ladder stitch.
Embellish your scrunchie with elegant trims, charms, or bows. Finally, creatively gift wrap your scrunchie in tissue paper and ribbon so the recipient can fully appreciate the luxurious details.
With meticulous construction techniques, you'll achieve a refined hair accessory worthy of the finest boutiques.
Scrunchies With Knots, Bows, or Tails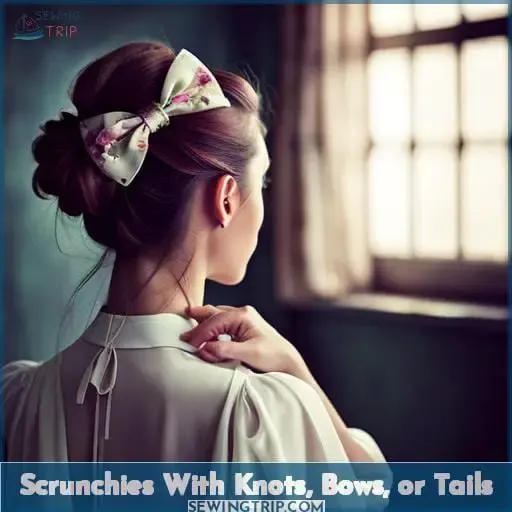 Stitching lively scrunchies with creative bows takes some practice, but with the right tips, you'll be tying festive knot bows, draping whimsical scarf bows, and crafting classic bows in no time. From prepping your fabric and elastic to basic bow techniques, following these easy bow scrunchie instructions will add fun flair to your hair accessories and sewing skills.
How to Make a Knot Bow Scrunchie
Create a fun, flirty hair accessory with a knotted bow scrunchie that turns heads. Choose a lightweight woven cotton, silk, or polyester fabric. Use 1/4-inch elastic for all hair types.
Cut a 10-inch strip of fabric.
Tie it into a square knot, leaving tails.
Position the knot over the stitched scrunchie seam.
Stitch through the center of the knot to secure the bow.
Trim the tail ends on a diagonal for flair.
Knotted bow scrunchies make thoughtful gifts and stylish hair accessories.
How to Make a Scarf Bow Scrunchie
Discover a fun new twist with a trendy scarf bow scrunchie to instantly elevate any outfit. Tie a matching fabric strip or scarf into a bow, leaving extra fabric for arranging. Pin it in place before gathering the bow into the seam. Consider a double-thickness knot or triple bow variation and secure it with a few hidden stitches.
Top it off with a decorative button or gem for extra pizzazz. Play around with different fabrics, prints, and bow shapes to create a custom hair flair.
How to Make a Classic Bow Scrunchie
Tie up your hair in style with a classic bow scrunchie that's simple yet chic. The classic bow scrunchie is a timeless look that pairs nicely with various outfits.
Single knot bow
Double knot bow
Folded fabric bow
Wired ribbon bow
When attaching the bow, use a tight double knot and add a dot of fabric glue inside the knot to keep it secure.
Best Fabric for Scrunchies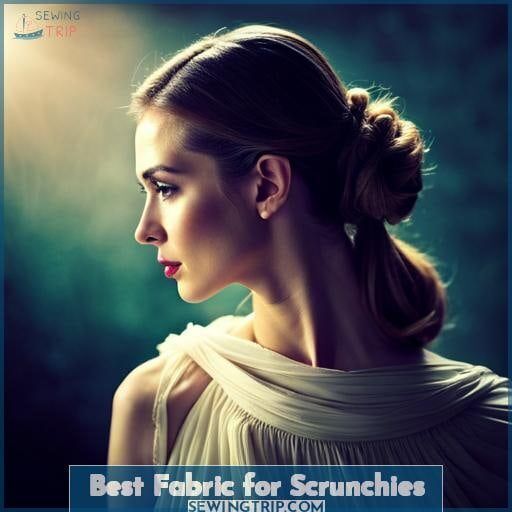 Stitch up style using lush fabrics to concoct chic scrunchies. Fabrics like silk, velvet, knits, and lace add opulent detail. Consider lighter fabrics like silk or satin for casual daywear and velvet or lace for luxe evening scrunchies.
Small-scale prints and solids excel on scrunchies to minimize visible stitching. Pair fabrics with complementary elastic – thin elastic for lighter materials, thick for heavy fabrics.
Refer to this fabric cheat sheet:
| Fabric | Description |
| --- | --- |
| Silk | Fine, lightweight, drapey |
| Velvet | Soft, plush pile fabric |
| Knits | Flexible, stretchy fabric |
| Lace | Openwork embellished fabric |
Experiment with different fabrics and elastics for custom scrunchies that suit your personal flair.
Elastic for Scrunchies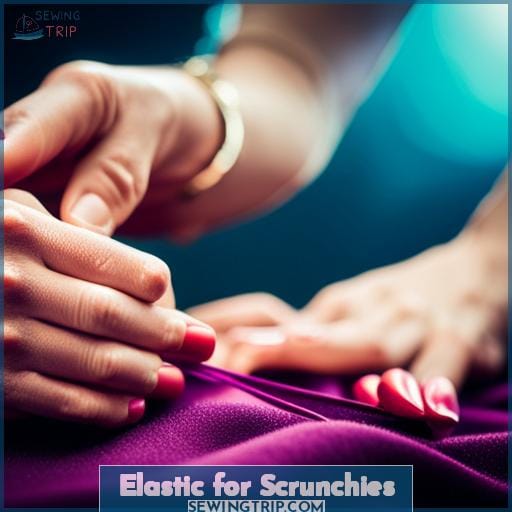 You'll want to measure your elastic for scrunchies to suit the size and ensure a snug fit.
Elastic Width: 1/4 is best for scrunchies. Wider elastic can look bulky.
Elastic Type: Braided elastic has the most stretch and durability. Knit elastic frays easily.
Elastic Length: For adult scrunchies, cut an 8-inch length. For kids, 6 inches is usually sufficient.
Elastic Color: Match or contrast your scrunchie fabric. Black is versatile. Add pops of color for fun.
Choosing the right elastic is key for comfy, customized scrunchies. Measure around your ponytail to determine the ideal width and length. Opt for quality braided elastic in coordinating colors for the best hair accessory elasticity and longevity.
With the proper stretchy elastic, your homemade scrunchies will be both functional and fashionable.
DIY Hair Scrunchie Measurements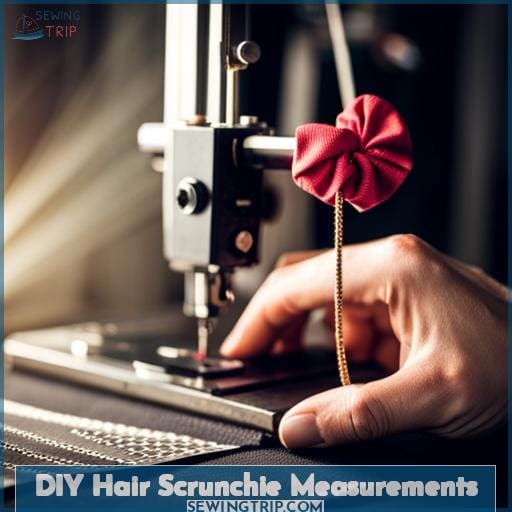 Measure your head's circumference before selecting the fabric length for your homemade scrunchie to ensure a customized, comfortable fit.
For an average-sized scrunchie, cut your fabric 9 by 20 inches. Those with thick hair may prefer more length, like 22 inches.
For extra small heads, reduce the fabric to 7 by 16 inches. Large noggins need about 11 by 24 inches. Consider stretchier fabrics like jersey or modal if your measurements fluctuate.
Alternatively, forgo sewing altogether. Simply tie a scarf or wrap a t-shirt fabric strip into a trendy twisted scrunchie.
In the end, proper measuring with the right materials makes for a scrunchie with a flawless fit.
Free Scrunchie Sewing Pattern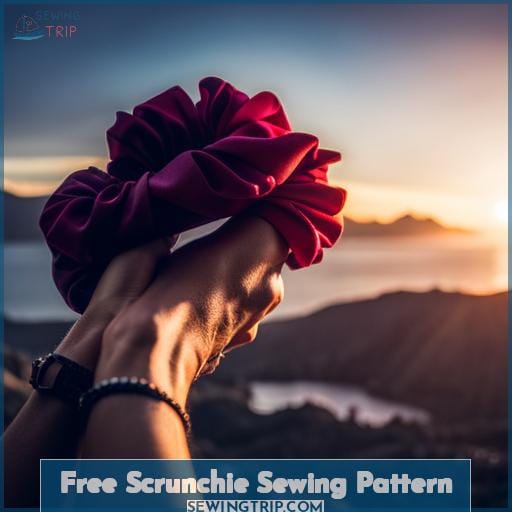 Tailor a free scrunchie sewing pattern to personalize your creation. Consider whether cotton, silk, or velvet best suits the intended wearer. Play with widths to adjust sizing for buns or ponytails. Choose elastic with some stretch to avoid gripping the hair too tightly.
Finish with a simple knot, pretty scarf tie, or classic bow. Quick fold and stitch methods allow you to whip up a set in an hour. Scrunchies make lovely gifts when paired with hair accessories like brushes, clips, and headbands.
With an array of fabrics, elastics, and bow options, free patterns offer versatility in designing scrunchies that will delight any recipient. Experiment and find your signature style while perfecting this quick DIY accessory.
Top 2 Products for Sewing Scrunchies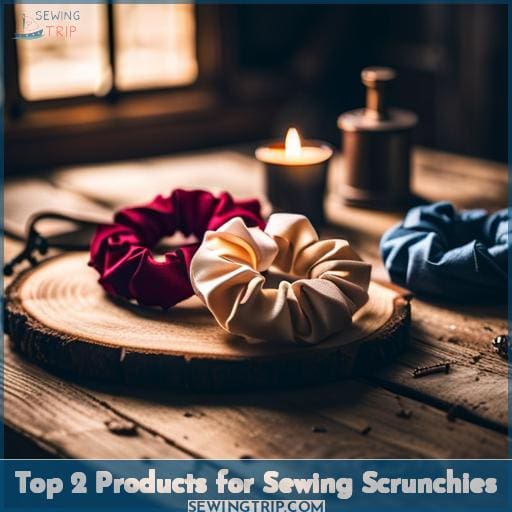 Welcome to sewing scrunchies! When organizing your workspace, the Turn It All six-pack dumbbell stand keeps your hex dumbbells tidy so you can focus on your project. For adhering fabrics and embellishments, Aleene's Quick Dry Fabric Fusion bonds materials permanently without the need for needle and thread.
Turn It All Six Pack Dumbbell Stand
Neatly organize your hex dumbbells upright in the lightweight Turn It All plastic stand, keeping weights tidy and preventing messy piles on the floor. The 2.08-ounce stand with six slots conveniently stores up to six sets of dumbbells for quick and easy access.
In your search for sewing accessories to organize projects, this dumbbell stand offers an unexpected solution for keeping scrunchies and materials neatly stored upright.
Aleenes Quick Dry Fabric Fusion Permanent Adhesive
How about securing scrunchie trims when Aleene's tackiness makes it easy, though its tendency to leak through thin fabrics later requires caution. When bonding fabric for scrunchies, take care with Aleene's. Its initial sticky texture helps secure trim pieces quickly so projects stay on schedule.
However, thin or slippery materials risk bleeding and having a wet look over time. Try a small test strip first to check suitability. Fabric fusion works well for firmly attaching thicker fabrics in time-sensitive crafts, with care taken based on your material.
What's Next?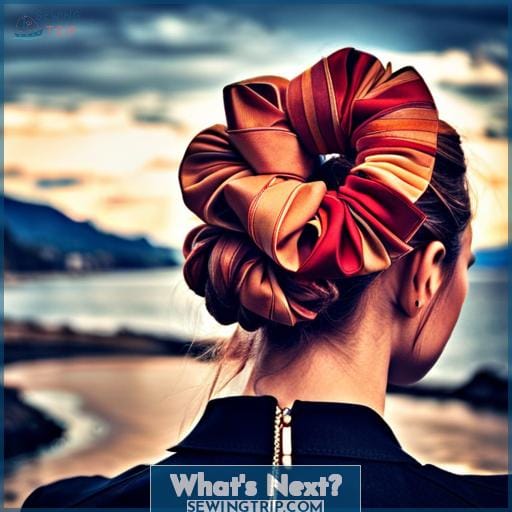 Now that we've covered some essential tools for sewing scrunchies, let's explore creative ways to make them your own.
Scrunchies are the perfect canvas for expressing personal style. Play with different fabrics like luxe velvet, delicate lace, or eye-catching metallic. Mix and match materials for an eclectic look. Thicker elastics provide more grip for long, thick hair, while narrow elastics suit shorter styles.
For added flair, try a fun furry pom pom or stylish bow. The styling options are endless. Wear one on your wrist between hair stylings or stack multiples on your arm for an on-trend statement. However you choose to style them, scrunchies are the ultimate versatile accessory to show off your creativity and make a fashion statement.
Conclusion
It's never been easier to create your own unique scrunchies than it is now! With just a few materials, a little bit of time, and this helpful guide, you'll be well on your way to crafting your own stylish scrunchies.
From knot bows to classic bows and tails, there is something for everyone to create. Whether you go for a professional-looking scrunchie or a modern twist, the possibilities are endless with the type of fabric and elastic you choose.
And don't forget the Turn It All Six Pack Dumbbell Stand and Aleene's Quick Dry Fabric Fusion Permanent Adhesive – they're sure to come in handy for this how-to-sew-a-scrunchie project.
So grab your supplies and get creative – you won't regret it!