This site is supported by our readers. We may earn a commission, at no cost to you, if you purchase through links.
Do you want to make money by flexing your sewing muscles? If so, it's time to take a look at how to sew for a living. With the right strategies and resources, anyone can learn how to generate an income from their passion for creating beautiful garments or home decor items.
In this article, we'll walk through several tips on ways you can make money with your sewing skills in 2023, as well as marketing techniques that will help get the word out about your services.
Key Takeaways
Sewing skills can be turned into a profitable business.
There are various ways to make money with sewing.
Utilizing social media and online platforms to showcase skills and attract customers.
Ways to Make Money With Sewing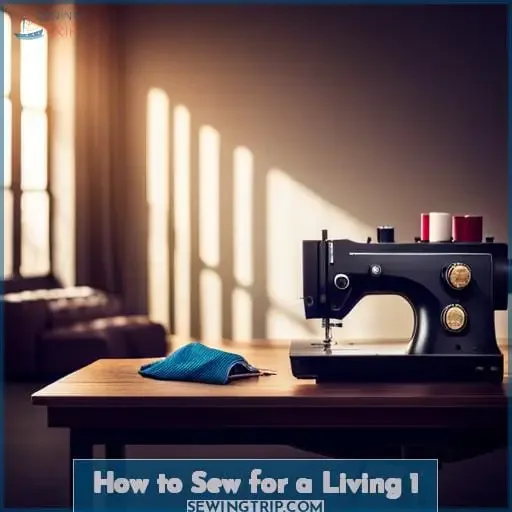 Are you interested in making money with your sewing skills? There are many ways to do this, from offering repair and alteration services to garment-making or specializing in home decor. You could also become a sewing tutor, sell crafts, or even start repairing sewing machines! With the right knowledge and dedication, you can turn your passion into profit.
Repair and Alteration Services
You can make money with your sewing skills by offering repair and alteration services that bring a smile to people's faces! Get familiar with tailoring basics, fabric selection, garment fit, and different types of machines.
Use the right sewing tips for mending broken zippers or replacing missing buttons. Offer a professional machine repair service or specialize in altering pairs of jeans so they fit just right.
Garment Making
Creating custom garments can be a great way to make money with your sewing skills! For example, Daniela Koeva used her talent for pattern drafting and design to start an Etsy shop that specializes in handmade home decor items.
To create these pieces, she must have knowledge of tailoring techniques, fabric types, and color combinations, as well as hemming styles.
It's important for the aspiring seamstress or tailor to understand pattern drafting before starting any type of project. With experience level comes confidence when tackling all kinds of tasks, from simple mending jobs to creating detailed couture creations.
Sewing parties are becoming more popular too. It's a fun way to showcase your sewing skills while making some extra cash on the side!
Home Decor Specialization
Specializing in home decor can be a fun and profitable way to utilize your sewing skills! Mastering cozy fabrics, pattern drafting, color theory, fabric selection, and embellishments will help you create unique pieces.
Make a duvet cover or pillowcases for an online store or craft fair. Utilize your sewing machine to make custom home decor items that are sure to stand out! Take time to learn the basics of pattern drafting so you can confidently design whatever projects come your way without any issues.
With patience and skillful workmanship, anyone can turn their love of fabrics into money-making opportunities!
Sewing Tutor
Being a sewing tutor can be an incredibly rewarding experience for those who are passionate about sharing their skills. Daniela Koeva, a stay-at-home mom and sewing enthusiast, provides students with the necessary tools and techniques they need to make beautiful garments from home.
Offer one-on-one lessons that cover tutorials on neckline alterations or basic pattern drafting.
Help others learn something new by offering personalized classes tailored specifically towards each student's needs and provide access to a brand new machine if they don't already own one!
Craft Sales
Selling your handmade creations is a great way to make money with sewing. You can showcase and share your skills, reach out to new customers, and build a business that brings joy! To start crafting for cash, consider the patterns you'll use as well as pricing.
Research fabrics in current trends. Look into marketing tactics such as setting up an online store or creating flyers. You may also want to invest in a quality sewing machine if you don't already own one.
Join an online marketplace or check local boutiques for potential retail opportunities.
Sewing Machine Repair
Offering sewing machine repair services is an excellent way to make money with your knowledge of stitching, allowing you to monetize a timeless skill that's been around since the Industrial Revolution.
You'll need experience in machine maintenance, operation, and fabric selection, as well as familiarity with thread types and needle sizes.
To get started, consider attending classes at local libraries or asking veteran sewing machine repairmen for help. Big box stores may also offer courses on this subject, while dry cleaners often provide basic repairs too! With some effort and dedication, you can become an expert in this field, making money by helping others keep their machines running smoothly.
Advertising and Marketing Techniques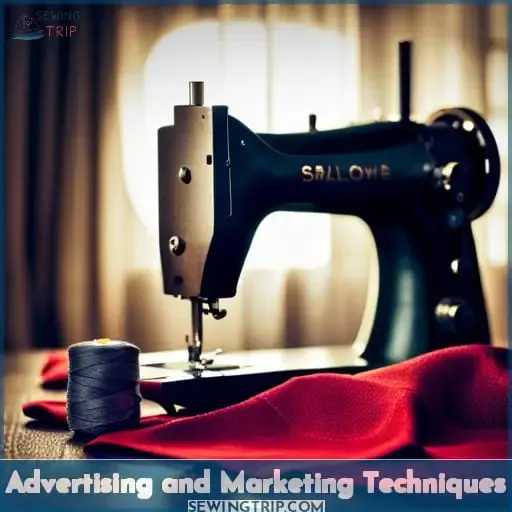 Getting started with advertising and marketing for a sewing business can be daunting. But, there are several simple methods you can use to get the word out about your business.
Word of mouth is often an effective way to spread the news around town. Additionally, flyers and consignment shops are great options for reaching local customers, while online marketplaces will help reach more people further away from home.
Business cards should also not be overlooked as they may prove useful in networking or when handing them out at events or trade shows.
Word of Mouth
Spread the word about your sewing skills, and you can use powerful word-of-mouth advertising to reach potential customers! Start by joining local Facebook groups and attending events related to your type of sewing business.
Make sure everyone knows what kind of services you offer, pricing strategies, customer service policies, etc.
You can also network with consignment shops or boutiques to get more exposure. Get creative with ideas on how best to market yourself. Create flyers or postcards for distribution at flea markets or craft shows where people might be interested in investing in your work.
Flyers
Create a buzz around your sewing business with custom flyers! Flyer design and distribution are essential elements of any advertising campaign. Keep up with the latest trends by creating content that resonates with potential customers.
Utilize local outreach to get your flyer into the hands of those looking for extra cash or part-time jobs in sewing, such as providing alterations or offering lessons/video courses on how to sew.
With an effective flyer design in hand, take time each week distributing them at flea markets, craft fairs, or other places where people will be interested in learning more about your services.
Consignment Shops
Visit consignment shops to show off your sewing skills and get the word out about your business! Connect with local owners who are looking for tailoring tips, fabric selection advice, or other seam finishes.
Utilize pattern drafting techniques to craft unique garments that will draw attention in the store. Present garment designs on family members and friends as live models – bulletin boards can help display new work clothes if you don't have any willing participants.
Online Marketplaces
Maximize your sewing business potential by taking advantage of the vast opportunities offered by online marketplaces! With product reviews, price comparison, shipping rates, and customer service readily available to customers, it's no wonder why many expert sewers are turning to creating an online presence.
Platforms like Big Cartel and Etsy allow you to create a store with ease so that people from all over can view and purchase your unique garments. Setting up shop involves marketing strategies such as email campaigns or e-book cost reductions.
Don't wait any longer – take control of how you earn money with sewing today through the power of an online store.
Business Cards
Grow your sewing business with customized business cards! Business cards are essential to creative branding, networking strategies, and marketing tips. Designing them effectively will help you target the right audience for different sewing businesses or a full-time job.
Whether you need a little extra spending money or want to make it your main source of income, personalized business cards can be used as powerful tools in teaching others about making money from home businesses like yours.
Focus on unique designs that stand out while representing the quality of work that comes with each order placed through your store.
With these insights into how to promote yourself using custom-designed business card printing services, take advantage now and reap the rewards later!
Local Publications
Take your sewing business to the next level by advertising in local publications – it's an amazing way to get noticed and attract more customers! With free advertising, you can reach out directly to people interested in custom baby clothes or any other type of project.
Local marketing is one of the best ways for a sewing master with years of experience like yourself to showcase their work. Print ads, newspaper ads, and magazine ads are all viable options that will help you gain visibility among potential clients.
The biggest reason why investing time into this kind of advertisement pays off is because it allows people who need customized garments or projects know where they can find quality services like yours! So don't miss out on this opportunity – advertise now and see your dreams come true as a successful business owner!
Social Media Presence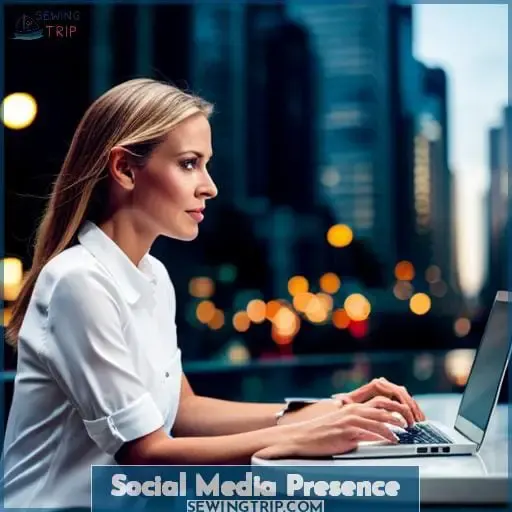 Creating a presence on social media is essential for any business, including those in the world of sewing. From TikTok to Instagram, having an online presence can be a great way to reach potential customers and grow your business.
You could also consider creating content such as tutorials or reviews on YouTube or joining Facebook Groups focused around pattern drafting and other topics related to sewing for a living.
TikTok
Share your sewing journey and tips on TikTok! It's a great way to engage with an audience passionate about clothes design. Showcase creative projects, share garment care advice, discuss fabric choices, and display the basics of sewing – all in short videos that capture people's attention.
Plus, make sure to link out your Facebook group and YouTube channel for more detailed content! With this approach, you can reach those who are looking for guidance from a stay-at-home mom like yourself.
And don't forget to add some fun by adding music or hashtags related to clothing design into the mix too – it'll help spark conversations amongst viewers eager for liberation through mastering the art of sewing.
Instagram
Showcase your sewing skills and creativity on Instagram, inspiring others to create their own clothing designs! Brand yourself as a sewist influencer by crafting content that works with your unique strategy.
Use hashtags to target local crafters or flea markets for more visibility, and post ideas that highlight the joys of sewing craft.
Get creative – turn an ordinary outfit into something extraordinary with quick alterations or show off stunning garments you've made in the past.
YouTube Channel
Grow your sewing business by creating a YouTube channel to share tutorials, pattern drafting tips, and alteration ideas! Showcase your latest creations and projects while inspiring others with unique styling.
You can also offer video versions of the neckline alteration ebook or the latest blog posts.
Reach out to customers who are interested in personalizing their own garments by offering them access to patterns you have drafted yourself, as well as collar alteration advice.
Facebook Group
Discover how connecting with other sewing enthusiasts in a Facebook group can help you take your business to the next level! Whether it's exchanging customization tips, discussing fabric choices for projects, or sharing basic sewing know-how and ideas, there's something for everyone.
It's a great way to find people at any skill level who are looking to make their pipe dream of having a new wardrobe or making a full-time living through crafting into reality.
Set Up a Booth at the Local Farmer's Market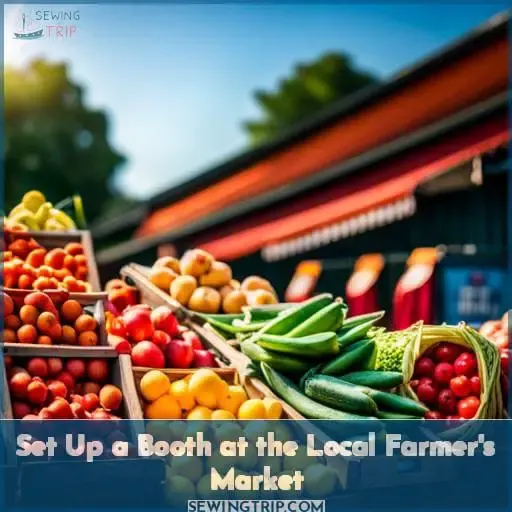 Experience the joy of selling your creations at a local farmer's market and watch as customers appreciate your work! Setting up a booth can be an excellent way to make some extra money or even become profitable.
Create stands that show off all of your handmade items, from place mats to quilts, in an attractive display. Incorporate unique marketing tactics such as offering discounts for repeat customers or samples of products you may have made with farmers' produce from the market itself.
Develop pricing models that are fair yet still allow you to make money and don't forget about time management – it's easy to stay too long when things are going well!
When times get hard, consider taking advantage of this opportunity by putting away enough savings for family vacations or other large expenses. So if needed, you can take some time off without worrying about losing out on lots of money while away.
You will find yourself having plenty more opportunities than just making sales every weekend at the local farmer's market.
Build a Blog and Specialize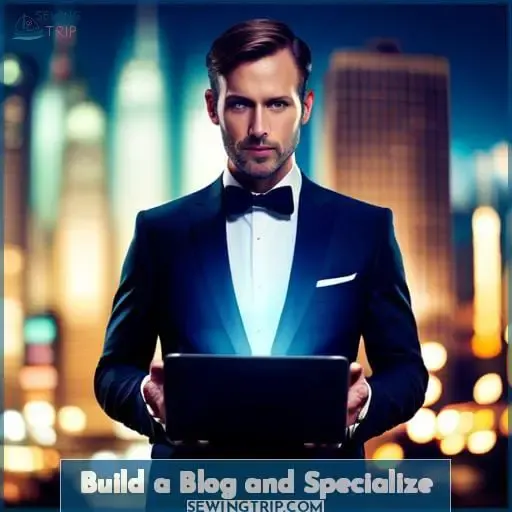 Start transforming your passion for sewing into a successful business by specializing in one area and building an online presence to showcase your work. Master the basics of pattern drafting, fabric selection, machine maintenance, as well as digital marketing skills like garment styling.
People's sewing machines will be humming with repairs and alterations or custom orders for special occasions.
Make sure you have fun while learning how to sew so that it doesn't feel like another job. Use social media platforms such as Instagram or TikTok where people are more likely to engage with what you're doing than on traditional websites.
Develop ways for people to find out about your services, including word-of-mouth referrals and advertising through local publications or Craigslist ads. Ultimately, lead potential customers right back to your home page featuring photos of samples along with price information.
Frequently Asked Questions (FAQs)
What type of equipment do I need to start a sewing business?
You need a sewing machine, fabric, thread, and notions to start your own business. Invest in quality tools that will help you create the best work. Look for reliable brands with warranties and customer service support.
What are the licensing requirements to operate a sewing business?
You need to research licensing requirements specific to your area. Depending on the country, state, or province you live in, you may be required to obtain a business license and/or other permits before operating a sewing business.
What are the best fabrics and materials to use when sewing?
Choose fabrics and materials that are best suited for the project at hand. Consider drape, breathability, stretchiness, durability, and ease of care when selecting a fabric.
How can I find customers for my sewing business?
Network and advertise your sewing business to find customers. Utilize online marketplaces, local publications, flyers, word of mouth, boutiques, and consignment shops for maximum exposure.
What are the tax implications of running a sewing business?
As a sewing business owner, you must pay taxes on any income earned. You may need to register for self-employment tax and file quarterly returns.
Conclusion
You now know the many ways you can make money with sewing. You can start small and grow your business over time. From repair and alteration services to teaching classes and selling crafts, you have a number of options.
You can also use advertising and marketing techniques like word of mouth, flyers, consignment shops, and more. With a strong presence on social media, a blog, and a booth at the local farmer's market, you can take your sewing business to the next level.
Get creative, try something new, and don't forget to allude to the success of other sewing entrepreneurs to inspire yourself.