This site is supported by our readers. We may earn a commission, at no cost to you, if you purchase through links.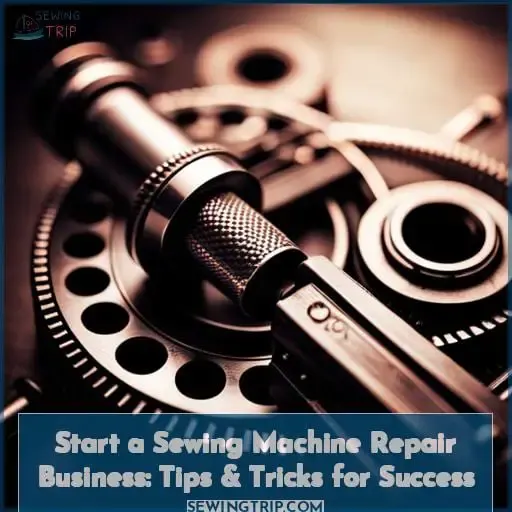 Having the right skillset to start a sewing machine repair business is vital if you want to be successful. Knowing how to use and fix machines from multiple brands can give you an edge in the market, as well as understanding the earning potential of this type of business.
To help get your venture off on the right foot, here are some tips and tricks for starting a sewing machine repair business that will set you up for success.
Before getting started though, consider one example: I recently attended a convention in Las Vegas held by Vacuum & Sewing Machine Dealers Trade Association where there were individuals referred to as industry interrupters who had made their money fixing vintage machines – something most businesses don't do! It's evidence that with hard work and dedication, it can pay off big time when running your own sewing machine repair shop.
Key Takeaways
Skillset and knowledge of multiple sewing machine brands are crucial for success in the repair business.
Training courses and certification from reputable organizations increase credibility and attract more customers.
Considerations such as renting or buying a workspace and storage area should be taken into account.
Effective advertising and marketing strategies, including a website and social media presence, are essential for success.
Why Start a Sewing Machine Repair Business?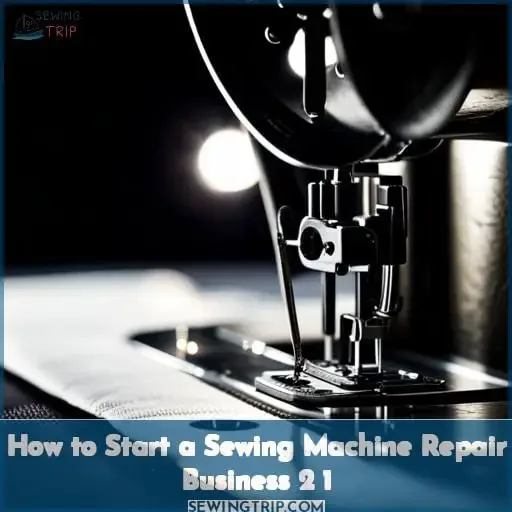 With the high demand for sewing machine repair technicians, combined with your knowledge of how to fix them and potentially uncapped earning potential, starting a sewing machine repair business is an excellent opportunity.
Alexander Belmont has made it his mission to help others learn how to become successful in this field by providing training courses at the Fix Sewing Machines Institute.
You'll need some equipment such as tools and parts before you start your own business, so sourcing these items ahead of time is important. After getting certified in multiple brands from the institute, it's time to create a business plan that outlines customer outreach methods like websites or house calls, as well as estimated costs for repairs.
Your website should be professional yet engaging enough for customers who are looking into fixing their appliances themselves rather than hiring someone else.
With dedication and commitment towards s쳮ding in this industry, coupled with proper planning and execution techniques, anyone can start up their own sewing machine repair business – no matter where they are located – even if it's just out of their home!
Learn the Skills of Sewing Machine Repair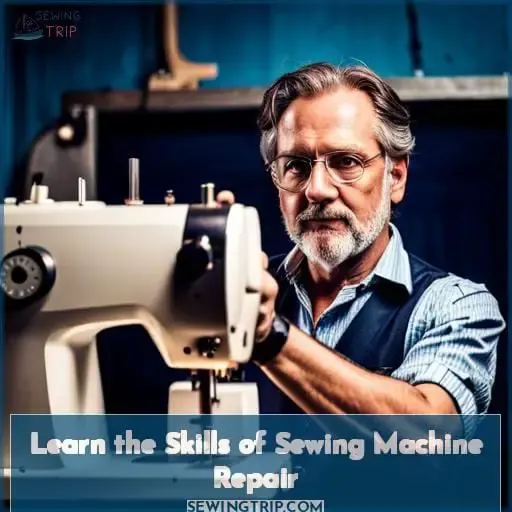 You can become a skilled sewing machine repair technician by learning the necessary techniques, such as those taught at the Fix Sewing Machines Institute. These courses provide students with essential knowledge in testing techniques, repair techniques, and upgrades to their skillset.
Basic maintenance and troubleshooting tips are also covered throughout these correspondence courses, so you'll have all of the necessary skills needed to successfully operate and maintain sewing machines for customers.
You'll gain valuable experience from hands-on practice in routine servicing that will help build your confidence when working on different types of machines used by consumers today.
Additionally, having certification from reputable organizations like The Fix Sewing Machine Institute gives customers peace of mind, knowing they're receiving quality service from a certified technician – something that's sure to attract more loyal clientele over time!
Become a Certified Technician in Multiple Brands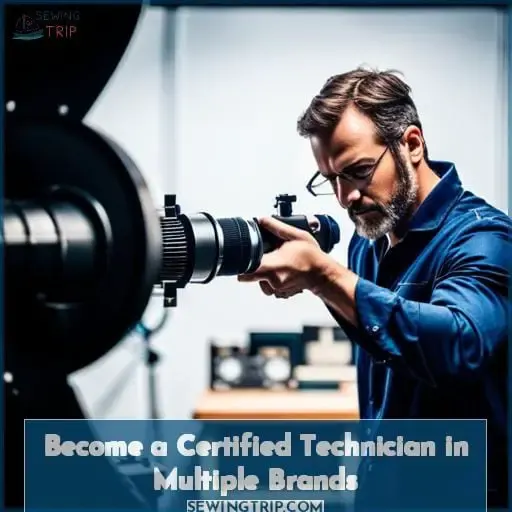 Gaining certification in multiple sewing machine brands will set you apart and help you attract more customers. Becoming a certified technician in various brands is an essential part of becoming a successful sewing machine repair technician.
The Fix Sewing Machines Institute offers courses with David Trumble to gain the necessary qualifications for repairing all types of machines, from basic models to embroidery machines. These classes provide hands-on training so that students can understand the brand's intricate workings and receive their diploma certifications for each piece of machinery they work on during class sessions or at home practice hours.
Repair specialization is important when it comes to providing quality service. Having expertise over many different makes and models helps build trust among clients while increasing your value as a professional technician.
Investing time into getting certified in several different machine brands gives technicians an advantage above competitors who only specialize within one company's products.
Choosing the Right Location for Your Business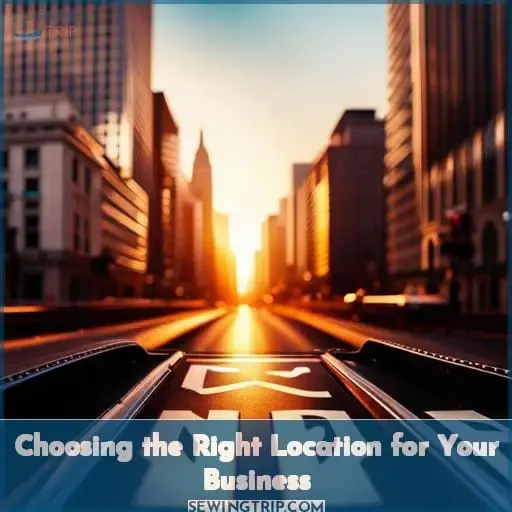 Deciding on the right location for your sewing machine repair business is crucial to success, so it's important to carefully consider all options before settling on a space. Renting or buying a workspace and storage area are two main considerations when starting this type of business.
It can also be run as a home-based operation with house calls and customer outreach programs.
Additionally, effective advertising must be employed to reach potential customers throughout the United States of America.
Parts sourcing is another consideration when running any kind of sewing machine repair business. Ordering parts as needed tends to be more efficient than stocking them long term due to limited space available for storing items such as machines themselves or extra large components like motor assemblies.
With careful planning and research into local markets across America, any aspiring technician should have no trouble finding their ideal location where they will thrive doing what they love most: repairing garments!
Building an Effective Website for Your Repair Business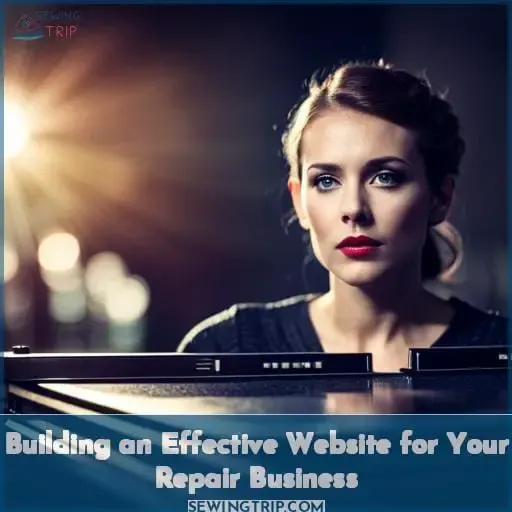 Take your sewing machine repair business to the next level and create an effective website that will attract more customers from near and far. With website hosting, SEO optimization, ad campaigns, customer tracking, and payment processing capabilities available online today, creating a great company image is easier than ever.
Social media platforms also allow you to effectively market your services while allowing potential customers to easily find information about major repairs or small works undertaken by your repair services business.
Establishing yourself as an expert in sewing machine repairs can be done by providing detailed descriptions of the types of work you do along with testimonials from satisfied customers.
Creating content such as blog posts or videos demonstrating how-tos related to repairing machines can help highlight any special knowledge or skills you have too! Utilize all these resources for maximum impact on those searching for someone who offers reliable repair solutions – this could be just what takes your business up one notch higher!
Understanding the Earning Potential of Sewing Machine Repair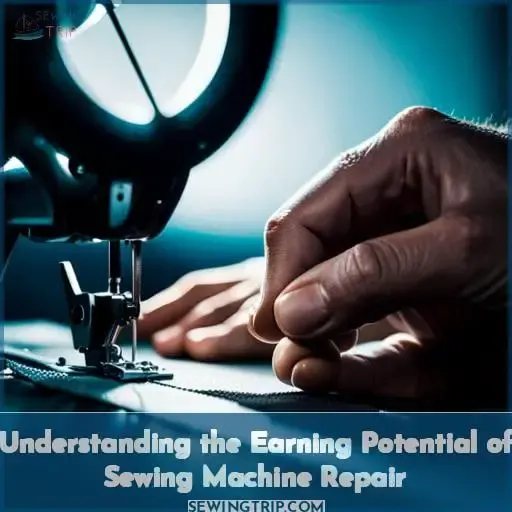 Understanding the earning potential of sewing machine repair can help you decide if this is the right business opportunity for you. Here are four key elements to consider when assessing your success: pricing models, customer relations, marketing strategies, and parts ordering.
Pricing models will determine how much you charge per job. Customer relationships can be built through friendly communication and good service. Marketing strategies should focus on getting your name out there while keeping costs down.
Finally, parts ordering needs to be well organized so repairs are done quickly and efficiently at minimal cost.
Additionally, being certified as a sewing machine repair technician in South Carolina offers recognition that increases credibility with customers who need reliable services.
Roles and Responsibilities of a Sewing Machine Repair Technician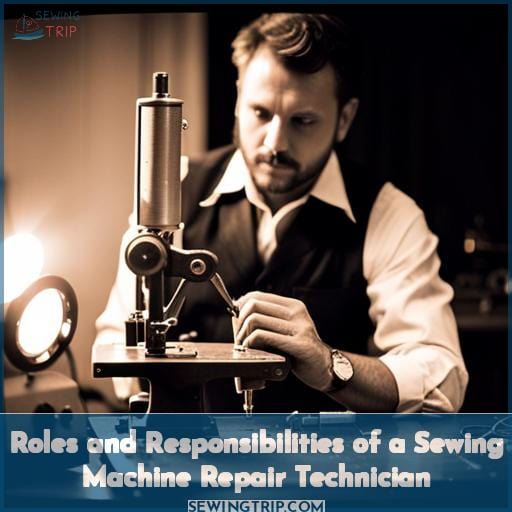 As a sewing machine repair technician, you'll be in charge of keeping customers' machines running smoothly and efficiently – so why not make it your mission to become an expert today? You'll need to learn the proper repairing techniques as well as parts sourcing.
Customer service must also be taken into consideration when creating pricing plans for repairs.
Additionally, troubleshooting tips should always be on hand in case of any issues that may arise during maintenance technicians' visits or between customer visits.
To stay highly competitive in the field of sewing machine maintenance and repair services business, completing a course from Fix Sewing Machines Institute is recommended due to its renowned reputation for teaching students all they need to know about successful machine repair services businesses.
This includes fixing common problems with various brands and models, along with other important information needed when starting out.
With these new skills under your belt, along with dedication towards excellent customer satisfaction and regular preventative maintenance practices, you'll have no problem establishing yourself within this highly profitable business sector!
Analyzing the Market and Startup Expenditure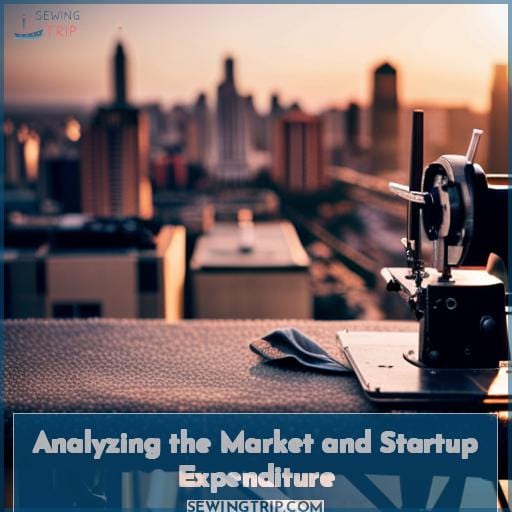 To get your sewing machine repair business up and running, it's time to analyze the market and crunch the numbers on expected startup costs.
Start by comparing prices for similar services in your area to ensure you're competitive with pricing.
Then, research customer needs so that you can offer the right supplies at a reasonable price.
Next, check availability of parts needed for repairs as well as competition analysis. This will help determine what type of service or products are in high demand locally.
Lastly, stay ahead of trends within this large industry by taking advantage of resources like Fix Sewing Machines Institute, which offers corporate sewing machine repair workshop training courses and is renowned for producing successful sewing machine repair technicians.
By utilizing these steps when preparing a business plan, you'll be ready to take off into uncharted waters!
Frequently Asked Questions (FAQs)
What is the best way to market a sewing machine repair business?
Create a website, market on social media platforms, and get certified with different sewing machine brands to promote your business. Advertise in local publications and use word-of-mouth referrals for maximum exposure.
How much money can I expect to make with a sewing machine repair business?
With the correct skills and knowledge, you can earn an impressive income with a sewing machine repair business. Make sure to get certified in various brands and utilize effective marketing strategies to attract customers.
What are the necessary tools and equipment for sewing machine repair?
You'll need a range of tools and equipment to repair sewing machines, such as screwdrivers, pliers, clips, and rulers. A good quality light source is essential for inspections. Keep thread cutters handy along with spare parts like bobbins and needles.
What other services can I offer alongside sewing machine repair?
You can offer additional services such as fabric and thread trimming, buttonhole making, hemming, and restitching. You could also provide maintenance services for machines that need regular cleaning or lubrication.
Additionally, you may offer refurbishing of older sewing machines to make them function like new again.
How can I obtain the parts and supplies needed for sewing machine repair?
Conclusion
If you're looking to make a living as a sewing machine repair technician, you may have made the right choice. You could soon be on your way to becoming a certified technician in multiple brands and helping people with their sewing machine woes.
Not to mention, the potential earning possibilities are limitless. But without the right knowledge and understanding of the market, you'll never get very far. So take the time to learn the skills, do your market research, and you could soon be reaping the rewards of owning your own successful sewing machine repair business.