This site is supported by our readers. We may earn a commission, at no cost to you, if you purchase through links.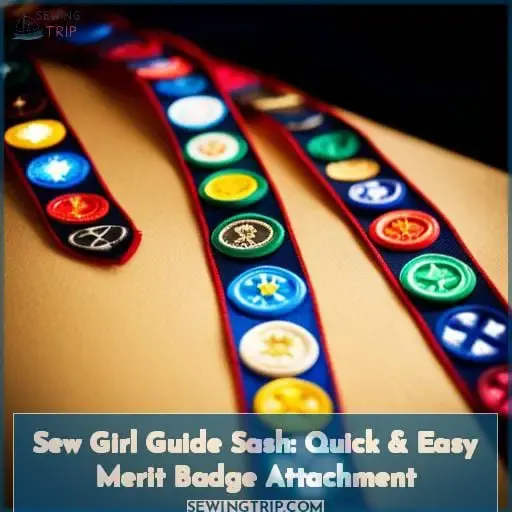 Are you ready to show the world what an awesome Girl Guide you are? Then it's time to get sewing! Making sure your merit badges, pins and awards are securely attached is key. In this article, we will walk through four methods for attaching them safely and easily—from using a needle and thread, adhesive cutouts, hot glue, or iron-on sheets—so that your sash will stay looking sharp without having any of those pesky holes in the fabric.
Key Takeaways
A needle, thread, adhesive cutouts, hot glue, and iron-on sheets are common methods for attaching Girl Guide merit badges, pins, and awards to a sash.
Tips for safe sewing include using a thimble and a sharp needle, plus using masking tape as a guideline for straight lines.
Adhesive sheets, fusible web, and fabric glue are alternatives to sewing.
Customizing badge placement and using temporary attachments are methods for personalizing your Girl Guide sash.
Sewing a Merit Badge Onto a Sash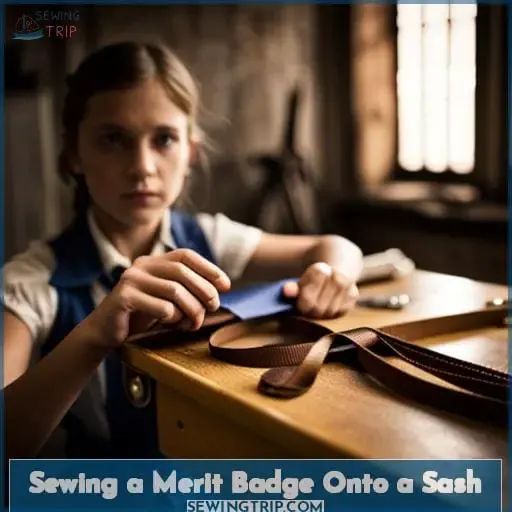 Instead of sewing, use double-stick Badge Magic to easily attach your hard-earned badges onto your sash, like sticking stars onto the night sky. Simply peel off the paper backing and press each badge firmly onto the sash. The premium adhesive keeps badges securely in place, even after washing.
Display your merit badges prominently on the front of your sash; no need for perfect rows. Let your sash showcase your mastery and accomplishments. With Badge Magic, embellishing your sash is as simple as peel, stick, and done.
Earn that badge, then proudly display it – no sewing or needles required. Your beaming sash motivates you onwards to greater heights while representing your dedication and growth. So try Badge Magic and relish the ease of decorating your sash with the badges emblematic of your journey.
Attaching Merit Badges Using Cutout Adhesive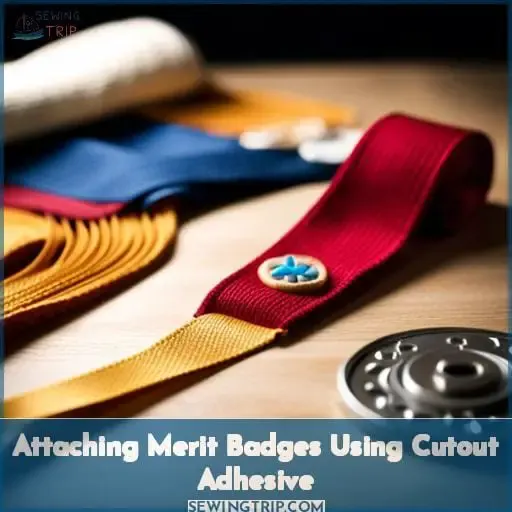 You can quickly stick badges on with cutout adhesive. Cutout adhesive like Badge Magic offers a fast, easy way to attach patches and badges without sewing. Simply peel and stick them where you want. The adhesive keeps them securely in place, even after washing.
It's made to stick on fabric, foam, plastic, wood, metal, and more. So you can decorate your sash, clothes, gear and other items.
Alternatives like double-sided fusible web sheets provide a similar no-sew solution. While sewing badges is more work, some prefer it for a permanent hold. But cutout adhesive allows moving badges around until you find the perfect placement.
It's ideal when you want to quickly decorate your girl guide sash with badges symbolizing your achievements and readiness for the next level.
Attaching Merit Badges Using Hot Glue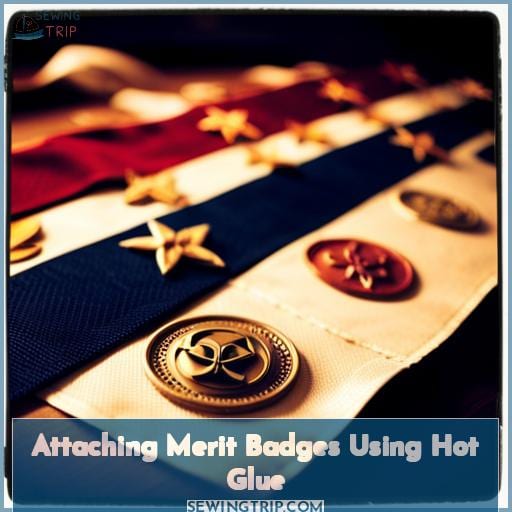 Let's get crafty with hot glue for attaching those badges to the sash! Set up your hot glue station with the gun plugged in and heating up. Lay out your sash and arrange the badges where you want them. Apply a small dab of hot glue to the back of each badge, then quickly press into place on the sash, holding for 30 seconds as it sets.
The hot glue provides a quick adhesive for badge placement and creative alternatives to sewing.
With some careful positioning, the badges can be easily rearranged later with the help of a seam ripper to soften the glue.
Attaching Merit Badges Using Iron-on Sheets

Iron-on sheets let ya attach badges without sewin'.
Position and peel. The sheets stick on both sides, lettin' ya move the badge before ironin' to fuse it permanently.
No sewin' needed. Just iron to attach the badge – no needle and thread.
Repositionable before ironin'. Ya can remove and reposition the badge until ya iron it.
Works on fabrics like the sash. Good bond on materials like the sash fabric.
Washable after ironed. Once fused with heat, it'll withstand washin'.
Compared to sewin', iron-on sheets are an easier option for displayin' ya hard-earned merit badges neatly on the sash.
Safely Sewing Merit Badges and Patches Onto Your Sash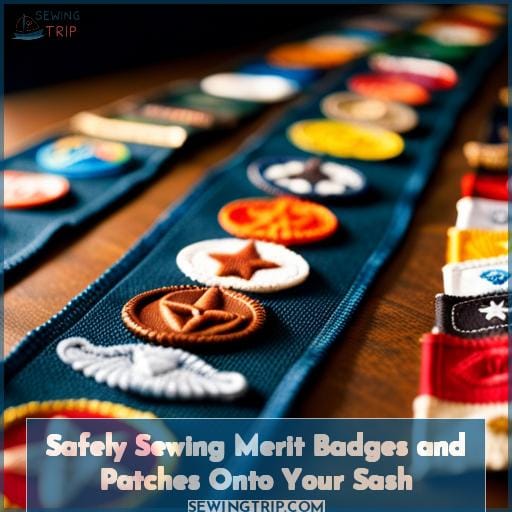 First, use a thimble to push the needle and avoid painful finger jabs. Choose a sharp, heavy-duty needle that can pierce the fabric easily. You may want to pre-attach badges to an iron-on sheet for easier positioning before sewing.
Take care not to pull too tightly on the thread to prevent puckering. For straight lines, use a guide like masking tape.
Curved edges can be tricky, so go slowly and carefully. There are alternatives like adhesive sheets and tape if sewing isn't for you. With patience and preparation, you can customize your sash by safely adding badges in creative ways.
Alternative Methods for Attaching Merit Badges and Patches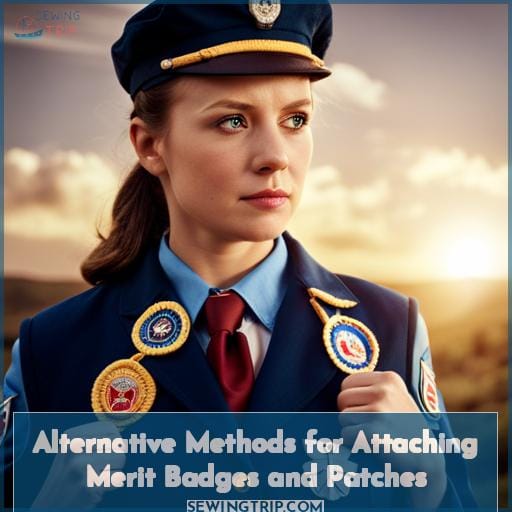 You can easily stick on badges with Badge Magic adhesive sheets instead of sewing them. Simply cut the adhesive to fit your patch, peel off the backing, position the patch, and press firmly for instant bonding.
Fusible web like Steam-A-Seam is another handy no-sew option. It sticks badges in place temporarily so you can reposition if needed before permanently fusing with an iron. Adhesive tape can also quickly attach badges, though it may not hold up over time.
Fabric glue sticks well but can get messy and leave sticky residue. For convenience plus durability, adhesive sheets like Badge Magic are the best way to go. Alternatives like fusible web and tape allow you to adjust badge placement, while fabric glue suits small or temporary attachments.
You have many options, so try a few methods to find the easiest badge bonding for your sash.
Conclusion
With over 1.6 million Girl Guides around the world, you're sure to come across a few who want to learn how to sew their own sashes. Sewing a merit badge sash is a great way to show off your accomplishments, and with the right materials and techniques, it can be easy.
Whether you choose Badge Magic, hot glue, iron-on sheets, or sewing by hand or machine, you can easily attach merit badges and patches to your sash. When you finish sewing your sash, you'll have a symbol of your hard work and dedication to the Girl Guides.