This site is supported by our readers. We may earn a commission, at no cost to you, if you purchase through links.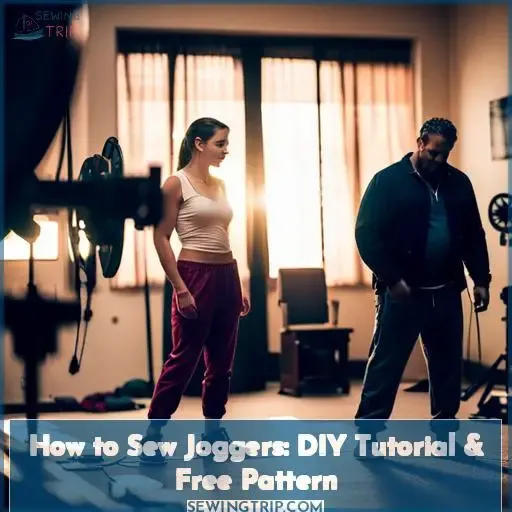 Unlock the power of creativity with this tutorial on how to sew joggers! This project is perfect for sewists of every skill level, and you'll be able to customize your own look while creating something that's comfortable and stylish.
Let's dive in! To get started, gather together everything from the supplies list below:
A few yards of fabric
Some thread
Scissors
So we can make our very own pair of jogger pants. Imagine slipping into those soft cotton beauties when they're done!
Printing out the pattern pieces is simple: just set your printer settings for no scaling or actual size with page orientation at auto or portrait before printing out page 1.
Key Takeaways
Gather all necessary supplies, including fabric, thread, scissors, and quality sewing tools.
Choose a soft, stretchy fabric that is light- to medium-weight for the joggers.
Make sure to pre-wash and iron the fabric before starting the sewing process.
Carefully follow the step-by-step instructions, using zigzag stitches for stretch fabrics and matching the thread color to the fabric.
What You'll Need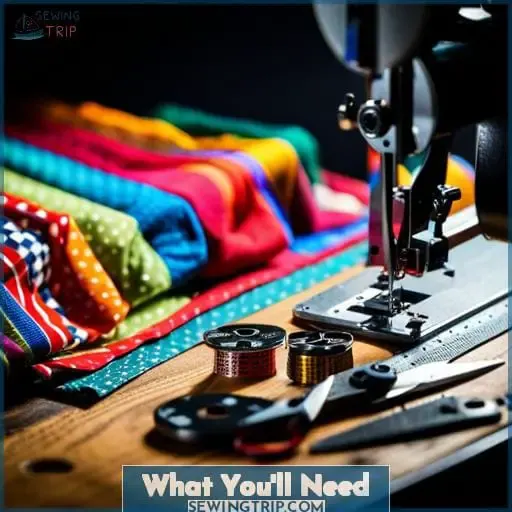 You'll need some quality sewing tools like sharp shears, pins, a rotary cutter set, and measuring tape to start making those cozy joggers you've been dreaming about.
First, pick a soft, stretchy fabric like French terry or ponte knit that will move with you. Check the pattern's sizing guide to select your size, and purchase plenty of 1 and 3/8 elastic for the waist and cuffs.
Prepare the fabric by prewashing and ironing it before cutting. As you sew, take it slow with zigzag stitches on your machine for stretch fabrics.
Follow each step carefully, pressing seams and elastic as you go. With some patience and the right materials, you'll create the perfect custom joggers.
Printing Instructions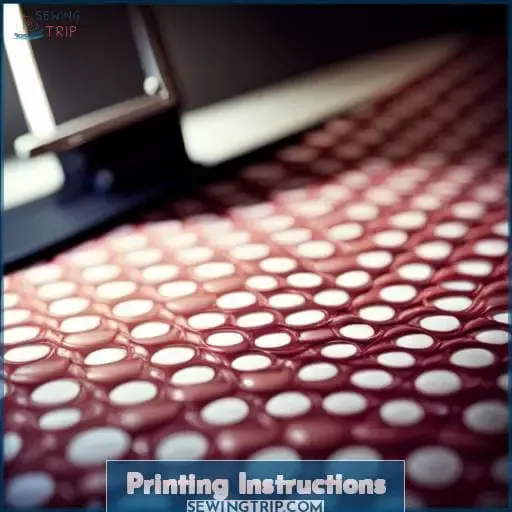 Take care when printing the free pattern pieces. Follow each layer guide to perfectly cut your fabric and start sewing stylish new joggers. To print the pattern layers, be sure to select actual size or 100% scale to avoid distortion.
Lay out the pattern sheets according to the guides, taping together along matching lines. Use pins to secure the pattern pieces to your fabric, minding the layout's grainline. When cutting, take care not to snip into adjoining pieces! If issues arise, check your printer settings and the PDF file to troubleshoot.
For best results, opt for a light to medium-weight knit like French terry with enough drape and stretch.
Pattern Assembly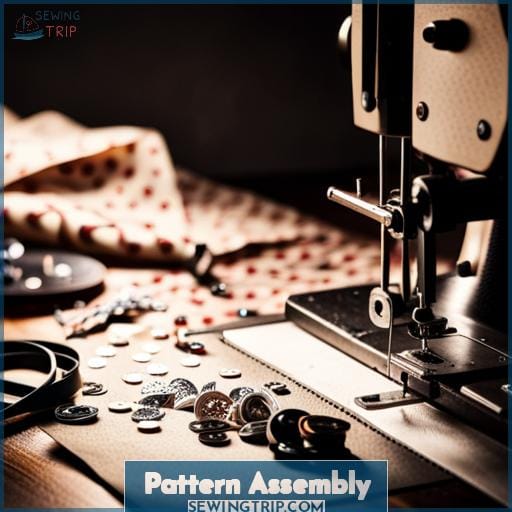 Follow those free patterns, pinning cut fabric pieces precisely before stitching seams, inseams, and cuffs with care. Lay out your pattern according to the grainline indicated, using fabric with enough stretch and recovery for joggers.
Adjust sizing as needed; add seam allowances. Pin pattern pieces, aligning notches and markings. Use sharp shears to cut a single layer at a time. Transfer all pattern markings to fabric. Carefully pin assembled pieces, easing fullness and matching notches for accuracy.
Feed fabric gently; let the machine do the work. Take your time sewing for optimal results. With the right preparation and patience, you'll have custom joggers tailored to you.
Pattern Pieces Checklist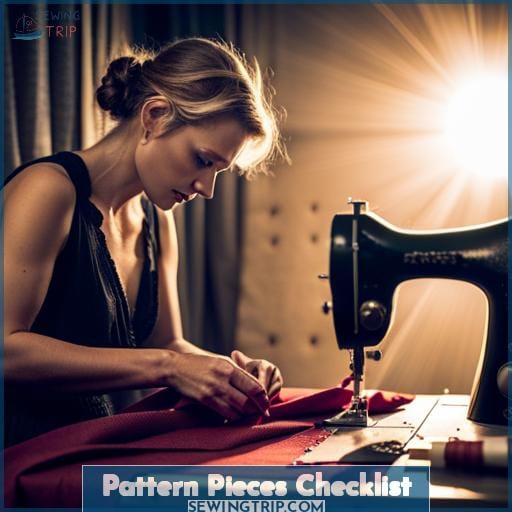 Make sure the necessary pattern pieces are traced before cutting into the fabric to smoothly construct your joggers using the guidelines included. Organizing the pattern pieces helps avoid mistakes during sewing. Fabrics like cotton knits or french terry cloth work well.
When cutting, pay attention to notions like pocket placement and elastic sizing for the waistband and ankles. Marking seam allowances on the pieces makes sewing the crotch, side seams, and pockets together easier.
Before final construction, try the joggers on to check the fit and make adjustments as needed. Little details like perfectly sized elastic and neat pocket construction elevate basic joggers into an expertly sewn garment you'll love wearing.
Adjusting Fit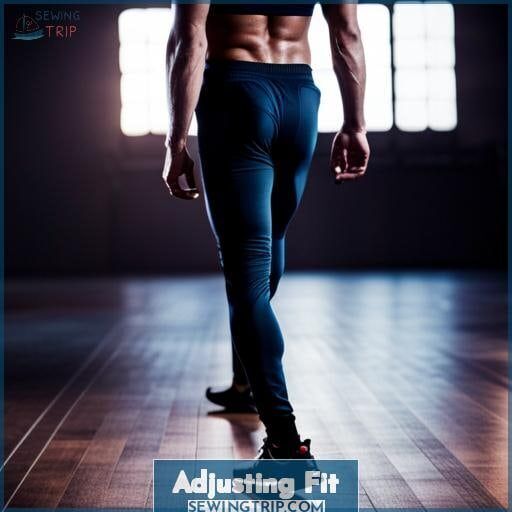 When sewing joggers, you'll want a slightly loose but comfortable fit. Start by selecting your size based on the finished hip measurement. Choose a knit fabric with enough stretch – like interlock or French terry – to allow for easy movement.
Fine-tune the fit by adjusting the side seams and inner leg length as needed. Take in the side seams gradually if the legs are too wide. Lengthen the inner leg seam if the crotch length's too short. For a more tapered leg, simply narrow the ankle cuffs.
Sew the waistband casing on the smaller size for a snug fit. Change up the look with slanted or patch pockets.
Sewing Steps for Joggers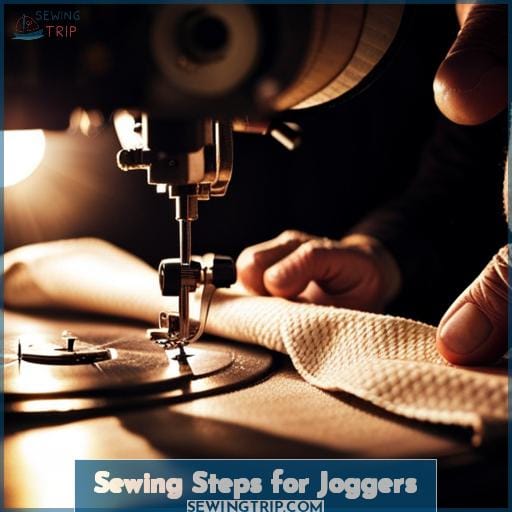 Gather your materials and let's start sewing these jogger pants! We'll begin by creating the pant legs, making the waistband, attaching the pockets, sewing on the waistband, and finishing with the pant cuffs.
Making the Pant Legs
You're gonna want to measure twice and cut once when making those jogger bottoms, 'cause we all know how tricky getting the length right can be. For a purrfect fit, take your time measuring the inseam from crotch to hem. Soft knits like French terry or sweatshirt fleece work best, allowing stretch through the hips and knees.
Side seam pockets keep essentials handy when you're on the move. For a tapered look, attach your elastic cuffs before hemming the leg opening.
Crisp zigzag stitches finish off the raw edges and cinch in the width. Leave those hems unfinished for a casual, lived-in vibe.
Creating the Waistband
Secure your waistband happiness by carefully pulling the elastic through. For joggers, choose 1 wide elastic. Measure your natural waistline before cutting to ensure a comfortable fit. Divide and mark the waistband into four equal parts to align with the pant seams.
Leave a small opening for inserting the elastic. Use a bodkin or safety pin to thread the elastic through the waistband casing. Adjust the length of the elastic for a snug fit; overlap the ends and tightly stitch them to secure.
Cotton fabrics will shrink so prewash them. Match your thread color to the fabric. Neatly box stitch the openings on the waistband and ankle casings for a tidy finish.
Adding the Pockets
Attaching the pockets adds functionality. About 60% of joggers have front pockets, so pin and sew pre-cut pocket pieces to each side seam before joining the front and back leg pieces. For stability, align the tops and sides of each pocket lining with the side seams.
Welt or patch pockets work well. Match thread color to the pocket fabric for invisible stitching. Size the pockets as needed; more space lets you carry more when active. Cotton-twill blends withstand wear.
Next, bring the leg pieces together to keep constructing the joggers for this sewing tutorial for beginners.
Attaching the Waistband
The turquoise cone thread allows you to sew crotch seams before comfortably pinning waistband quarters in place.
Mark the waistband into quarters and the pant waist into eighths for easier matching.
Pin the waistband to the pants, with right sides together, matching the quarter and eighth markings.
Sew continuously around the waistband, backstitching at the start and end.
Pull the waistband upward and fold the inner edge over. Topstitch for a finished look.
Sweatpants tutorials show similar waistband steps. With quality supplies, you'll achieve a professional-looking custom fit. Troubleshoot gapping by adjusting the waistband width or lengthening the elastic.
Finishing With Pant Cuffs
Once your waistband's snug, fold and stitch those cuffs nice 'n tight before you're through. Stitch the cuff openings before folding in the raw edges, locking in soft fibers with that cover stitch. Rolled cuffs offer versatility, letting you showcase prints or go monotone. For tapered legs, take in those side seams and insert skinny elastic.
With the right fabric and fit, you'll master joggers for lounging and living your best life.
Cuff Options
Styling Joggers
Elastic Alternatives
Rolled Cuffs
Tapered Legs
Drawstring Ties
Raw-Edged
Banded Ankles
Shirring Elastic
Folded-Over
Ribbed Details
Knit Fabric Stretch
Facing Inwards
Contrast Coloring
With the right techniques, you'll craft the joggers of your dreams. Experiment with details until you perfect your personal pair.
Conclusion
With a few basic tools and a free pattern, you can create your own stylish joggers in no time! With a little practice, you'll become adept in no time. Not only will you have a unique piece of clothing, but you'll also gain a sense of accomplishment as you show off your custom-made joggers.
With your newfound expertise in sewing, pattern making, and garment construction, you'll be prepared to take on any project that presents itself.