This site is supported by our readers. We may earn a commission, at no cost to you, if you purchase through links.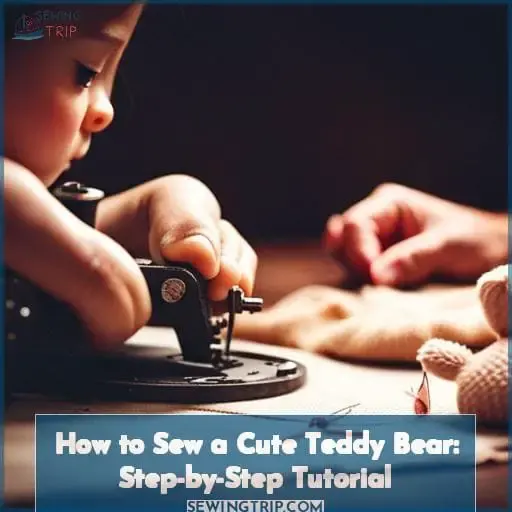 You'll be sewing hugs and snuggles in no time! This crafty tutorial guides you through transforming fabric into a cuddly teddy bear friend.
Stitch by stitch, we'll piece together the head, body and limbs into an adorable st■ animal.
Before you know it, you'll have a new furry buddy to love thanks to your sewing skills.
Supplies Needed for Sewing a Teddy Bear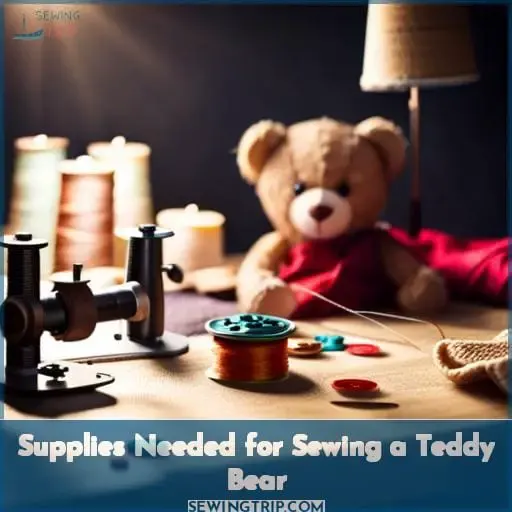 Two yards of fleece fabric, stuffing material, thread, scissors, eyes, nose, and pattern are needed to sew a teddy bear. Select soft fleece in fun colors like neon yellow or tan. Match thread color closely to fabric.
Use plastic safety eyes sized 18mm for average teddy bears. Felt makes great noses.
Precision counts when making bears. Take time to cut pattern pieces precisely. Pin pattern to minimize mistakes. Check arm and leg segment lengths match. Sew slowly and check stitching often. Small stitches prevent puckering.
Hand-sew facial features with tiny stitches. Attach eyes securely so no threads show.
Creating a custom teddy bear requires patience but is very rewarding. A homemade bear given with love will be treasured for years.
Preparing the Bear Fabric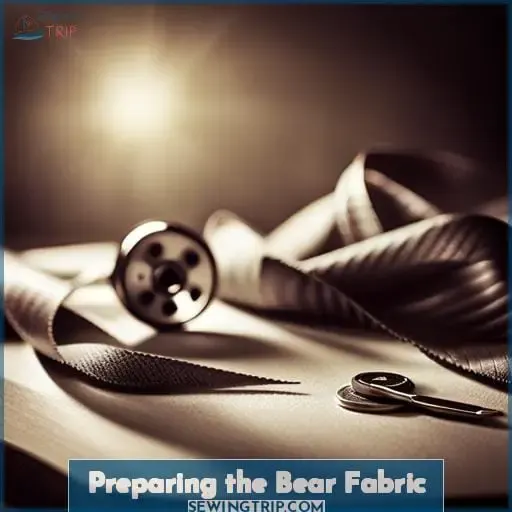 Choose your fabric yardage based on the teddy bear sewing pattern, and pre-wash to avoid shrinkage before cutting out pieces.
Select soft, fuzzy fabrics like fleece or faux fur that are ideal for hugs.
Allow extra yardage for parts like the belly that require fabric width.
Wash fabric in cold water and air dry to preshrink before cutting.
Iron fabric flat if needed, then follow pattern layouts precisely.
When choosing fabrics for your teddy bear, opt for soft, fuzzy materials like fleece or faux fur that feel nice to cuddle. Be sure to buy ample yardage, especially for large pattern pieces like the belly that require the full width of fabric.
Always pre-wash your fabrics in cold water and let air dry to preshrink before cutting out pattern pieces. This prevents the teddy from shrinking later. Iron fabrics flat if needed, then carefully follow layout diagrams and cut pattern pieces precisely for best results sewing your new furry friend.
Whipstitch Technique for Repairing Bears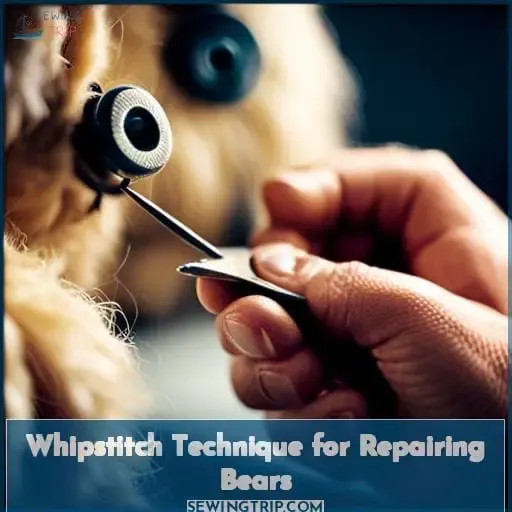 To repair a teddy bear, gather the necessary supplies and begin by using a hand sewing needle and coordinating thread to whipstitch the damaged area.
Keep stitches close together and pull thread gently taut after each stitch. Take care to keep fur out of the way while stitching.
Stop whipstitching once the opening is closed.
Here are some whipstitch tips for repairing bears:
| Whipstitch Tips | |
| --- | --- |
| Keep fur out of stitches | Fluff matted fur after |
| Check for loose fur often | Gently brush fur over stitches |
| Use matching thread | Take time for precise stitches |
The key to bear repair is using a whipstitch technique with matching thread, while taking care to keep fur out of the stitches. With patience and precision, the lovingly repaired bear will soon be ready to snuggle again.
Alternate Stitching Techniques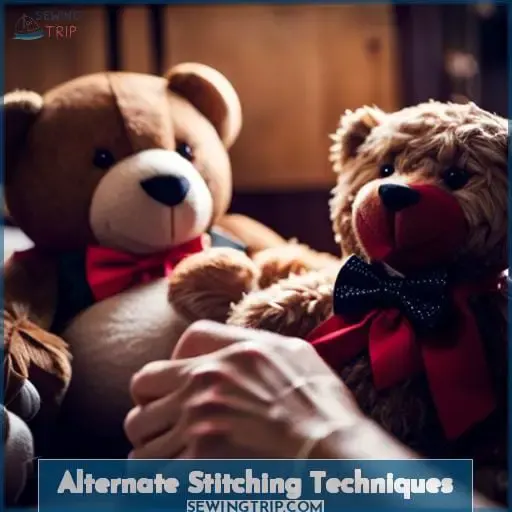 With slip stitches, you're creating invisible seams instead of closing openings on your teddy bear.
Get creative with alternate stitching techniques like:
Ladder stitch for invisible seams between pieces
Overcast stitch to prevent fraying
Backstitch for extra strength on seams
Whipstitch gives a handmade look for decorative edges
Choosing the right thread is key. Match thread color closely to the fabric. Contrasting thread can make seams stand out. Take time to sew precise small stitches for a professional finish. Check periodically for puckering and gently ease the fabric.
Finish by tying knots neatly inside the bear. Trim excess thread flush to the fabric. Then fluff out the fur and brush over sewn areas. With practice, you'll perfect alternate stitches to craft adorable soft teddy bears.
Finishing Touches After Sewing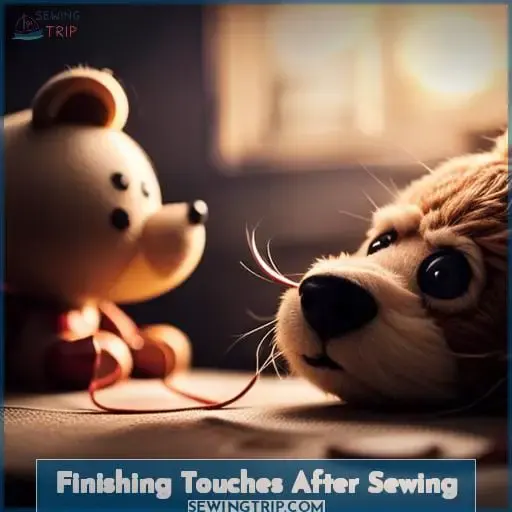 Frequently, you'll want to trim excess thread close to the fabric once your teddy bear sewing is complete. Take time to carefully trim any ragged or long threads sticking out from the stitches. Use small scissors to snip the thread ends flush with the fur or fabric. This gives your handmade teddy bear a neat, professional finish.
Next, gently fluff any sections of matted fur around the stitching. Use your fingers or a soft brush to redistribute clumped fur and bring out the plush pile. Check for any bald spots and lightly brush more fur over sewn areas to hide stitches.
For flat fabric bears without fur, simply press seams with an iron on low heat to flatten them.
Periodically examine all seams, openings, and appendages. Make sure the stuffing is distributed evenly and seams aren't puckered. Your meticulous finishing touches ensure properly sewn seams, smoothly brushed fur, and a cute teddy ready for hugs.
Sewing the Teddy Bear Head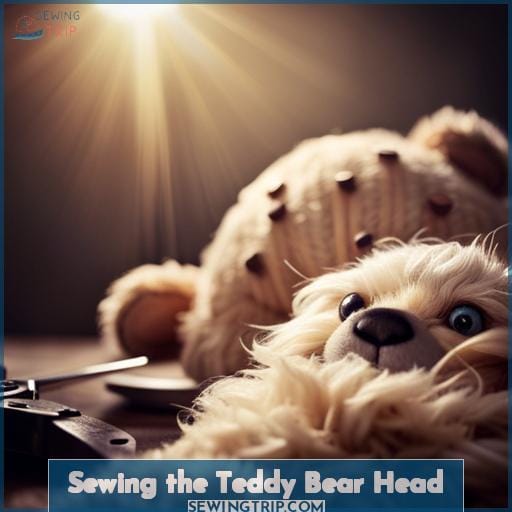 Having double checked your stitches, you're now ready to start sewing the teddy bear's head by first assembling the ears, forehead, side pieces, and mouth.
The key steps are:
Pin the ears in place on the head front, leaving the straight edge open for turning and stuffing later.
Next, align the forehead piece to the top. Pin and whipstitch it between the ears.
Attach the side head pieces in the same way, sandwiching the ears. Whipstitch the seams carefully.
Finally, pin the mouth piece in position matching the points. Sew the mouth's center seam closed.
With the main head pieces assembled, you'll soon have a cute teddy ready for snuggles! Continue checking your thread tension and stitch length as you gain experience hand-sewing.
Assembling the Teddy Bear Body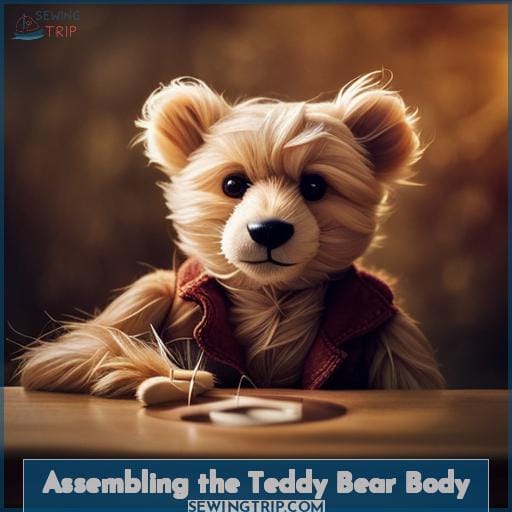 Start assembling the teddy bear's body by first sewing the belly center seam together.
Next, join the hand front pieces to the arm fronts. Make sure right and left sides match up.
Then, connect the leg and arm pieces to the belly, aligning the edges precisely. Be sure to leave an opening for stuffing the bear later.
Sew the back center seam together with the tail in place. Then attach the bottom leg and arm pieces to the back.
Join the feet bottoms to the leg openings and stitch up any remaining body seams as marked on your pattern.
Once sewn, turn the bear right side out through the opening and stuff firmly with fiberfill.
Hand sew the head to the body last.
Following these assembling techniques will build a beautifully jointed teddy bear body.
Attaching the Head to the Body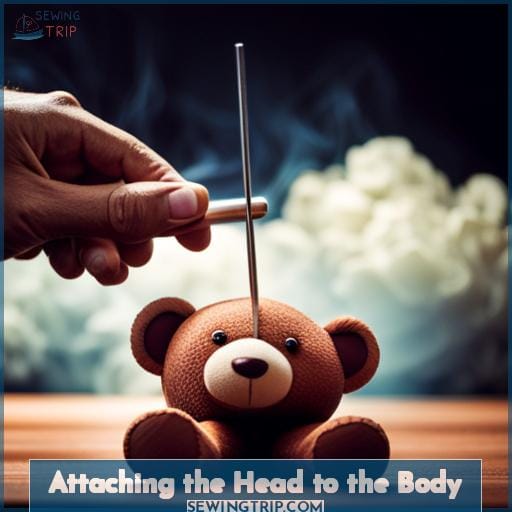 After completing the body, it's time for you to attach the st■ bear head to the body by hand sewing the pieces together with a whipstitch.
Center the head on the body front and pin it in place.
Position the head so the facial features align as desired.
Align the head and body seams precisely before stitching.
Reinforce the neck attachment with tight, close whipstitches.
Take care orienting the head so your st■ bear's expression conveys the desired emotion. The angle of the nose and placement of the eyes communicate joy, curiosity, or sleepiness. Allow extra time to get the features aligned evenly. Soon your beloved new furry friend will be ready for hours of imaginative play and cuddles.
Stuffing the Teddy Bear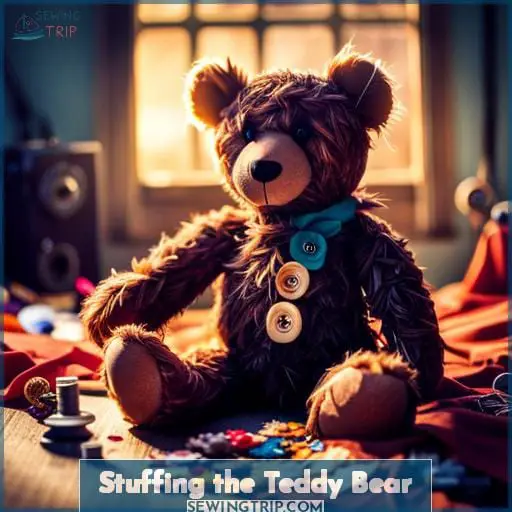 Before stuffing your teddy bear, check that all seams are securely sewn to prevent splitting.
Having the right filling is crucial for giving your teddy its cuddly shape. Polyester fiberfill is commonly used for a soft and cozy feel.
Fluff the stuffing before adding small pinches through the openings to evenly fill out the head, body, arms and legs.
Use a chopstick or pencil to poke fullness into the toes and ears.
Once satisfied with the plumpness, hand stitch the openings closed with matching thread.
Your beloved bear is now ready for hugs and adventures.
Presenting Your New Handmade Teddy Bear
Having stitched up your adorable new teddy bear, it's now time to lovingly present him to the excited child you made him for.
Choose fun fabric like brightly patterned fleece or soft faux fur to make your bear extra huggable. Add whimsical decorations like a big bow tie, top hat or flower crown to give him personality. Sew a bandana around his neck printed with the child's name for a personalized gift.
Present your teddy in a pretty gift box or homemade bed so he feels welcomed from the start. Share the history of Teddy Roosevelt's namesake bear for a meaningful naming ceremony.
However you gift your handmade teddy, do it with joy, knowing the love you stitched into every seam will be cherished for years. Your time and care created a new furry friend with an unbearably cute handmade charm.
Conclusion
You now have the tools and knowledge to create your very own handmade Teddy Bear!
With the right supplies and techniques, you can stitch up a cozy and cuddly friend that will be a treasured companion for years to come.
Whether you're a beginner or experienced sewer, this tutorial will help you craft the perfect teddy bear with a few simple steps.
Now it's time to put your sewing skills to the test and make your own adorable hug-able bear!