This site is supported by our readers. We may earn a commission, at no cost to you, if you purchase through links.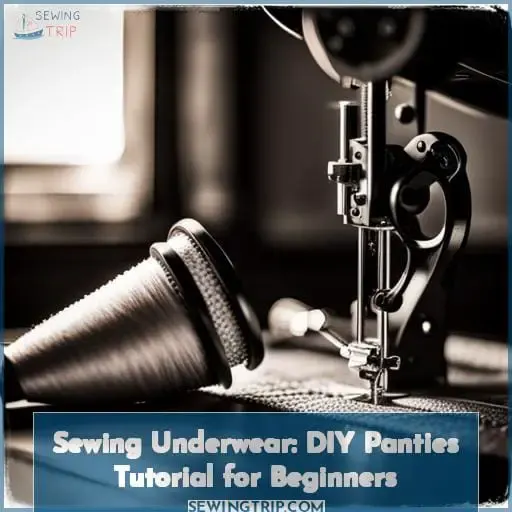 Are you ready to take on a new challenge? Sewing your own undergarments is an empowering project that can help you gain confidence in your sewing skills and express yourself through fabric. Whether it's creating period undergarments or just making the perfect pair of panties, learning how to sew undergarments will open up endless possibilities for customizing clothing with unique prints and fabrics.
In this tutorial, we'll cover everything from gathering materials and understanding basics of construction all the way to embellishing your finished product.
Key Takeaways
Sewing underwear is a great way to boost sewing skills and express creativity.
Choose smooth, stretchy fabrics like jersey or modal for optimal comfort.
Pay attention to proper needle choice and tension settings when sewing knits.
Consider specialty fabrics like zorb, PUL, and merino wool for period underwear.
Gather Your Materials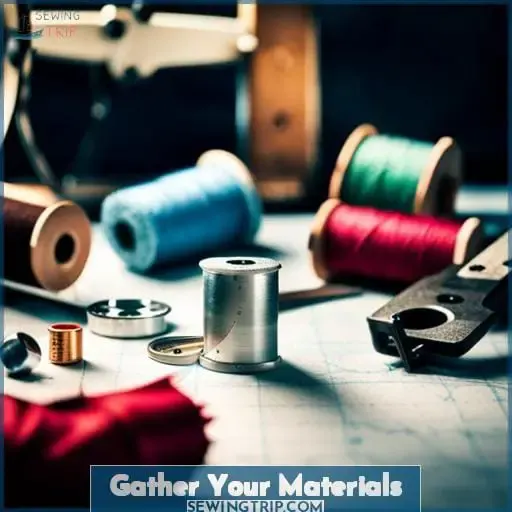 When making underwear, choose your materials carefully. Start with smooth, stretchy fabrics like jersey or modal paired with soft elastic in widths that suit the project, and be sure to fit your sewing machine with a new ballpoint needle before stitching.
Consider smooth, stretchy fabrics such as jersey or modal paired with soft elastic in widths suited to the project. Also, be sure to fit your sewing machine with a new ballpoint needle prior to stitching.
Recommended Fabrics
When choosing fabrics for your underwear, opt for soft, breathable knits like cotton jersey or modal that will feel great against your skin. Cotton jersey and modal offer stretch, moisture-wicking, and breathability for ultimate comfort in your handmade panties.
For functional designs like period or postpartum underwear, specialty fabrics provide absorbency: merino wool, zorb, and PUL (polyurethane laminate). Consider your needs and choose quality knits that feel amazing next to your most sensitive skin.
Elastic Options
Yours is gonna look so fly once you snag that smooth waistband elastic!
Choosing the right elastic is crucial for comfort and fit. Here's what to look for:
Waistbands – 1/2 to 1 wide regular elastic
Leg openings – 1/4 to 1/2 wide picot edge or lace
Foldover elastic for easy application
Plush elastic for maximum comfort
Match elastic width to pattern recommendations
Rock your custom creations with the perfect elastic!
Sewing Machine and Needle Requirements
Be careful with your sewing machine's needle. Opt for ballpoint needles that glide through knits without snagging for smooth seams. Match the needle size to your thread and change needles frequently, as bent, blunt, or damaged needles can cause skipped stitches, snags, and uneven seams.
Set your machine to a narrow zigzag stitch around 2mm long and 0.5mm wide; this allows the stitch to stretch without breaking when your fabric stretches. Go slow over bulky seams to avoid needle breakage. Follow your machine's tension recommendations for knit fabrics, but do test on scrap material first.
Understanding the Basics of Underwear Construction

When making your own underwear, start by creating a custom pattern based on an existing pair that fits well. Then prewash your chosen fabrics, such as silk jersey or organic cotton, to prevent shrinking.
Carefully lay out the pattern pieces following the grain line on the knit fabric for optimal stretch.
Creating an Underwear Pattern
Trace your existing favorite pair to make your own custom underwear pattern. Fold the panties, noting the shape and seamlines. Mark with pins and paper pattern making tools. Draft your paper pattern to mimic your favorite fit with 1 cm seam allowances added.
Test the paper pattern and tweak for any fit adjustments needed before cutting the fabric. Experiment with variations in rise, length, fabrics, and colors for your perfect custom panties using this simple homemade pattern method.
Prewashing Fabric
Prewashing your fabric before sewing will prevent unwanted shrinkage later. Carefully prewash all fabric you plan to use for underwear. Use a gentle cycle and cold water when prewashing delicate materials such as silk, bamboo, or modal rayon.
For cotton fabrics, hot water is acceptable. Line dry or tumble dry on a low setting after prewashing. Once prewashed, check the grainline and straighten any edges on the fabric. Prewashing will minimize shrinkage, an essential step for well-fitting underwear.
Properly pretreating fabrics helps handmade underwear maintain its shape and last longer.
Laying Out the Pattern on Knit Fabric
You want to pay attention to grainline when laying out the pattern on knit fabric. Mark the grainline with disappearing ink or pins. Align the grainline arrows on the pattern pieces along the lengthwise grain of the fabric.
Knits have four-way stretch, so pattern placement is key. Position pattern pieces efficiently to maximize yardage. Prep fabric by prewashing and pressing. Carefully lay out pieces as shown in the pattern guide.
Follow layout diagrams to optimize use of fabric width when cutting pieces. Proper pattern alignment maintains the garment shape and allows stretch.
Stitching the Pieces Together

When assembling your underwear, start by sandwiching the back piece between the two crotch pieces, being sure to match up the seams and stitch them together. Then, take the assembled crotch and back piece and attach the front piece in between the crotch piece and crotch lining to complete the main construction, finishing any raw edges as needed for a clean interior finish.
Assembling the Back Piece and Crotch Pieces
Attaching the crotch pieces creates a firm foundation for your homemade underwear. Carefully position the back piece between both lining and fabric crotch sections, aligning grain lines. Secure with stay stitching or pins before sewing crotch seams. Test elastic and customize your pattern's rise.
For stretch fabrics, zigzag stitch components together, then attach waist and leg elastics. Take your time constructing the gusset area and personalizing the fit for empowerment through mastery of sewing techniques.
Attaching the Front Piece
With great care, stitch the front piece to the assembled back and crotch pieces. Did you know that 33% of people report dissatisfaction with the fit of store-bought underwear? Making your own allows for a perfect personalized fit.
Sew the front piece to one side of the crotch pieces using a straight stitch.
Stitch the other side of the crotch pieces to the front piece.
Reinforce seams with a zigzag stitch for durability.
Custom-made underwear delivers unparalleled comfort through meticulous construction techniques and thoughtful fabric choices. Experiment with embellishments for a touch of personal flair. Enjoy your sewing journey toward liberation and empowerment.
Finishing Raw Fabric Edges
Now finish any raw fabric edges with an overlock stitch for a clean inside. An overlock stitch finishes seams and hems in one step. For the best results, trim close to the seam before overlocking. This seam finishing creates a professional inside appearance.
| Serger Stitch Options | Description |
| --- | --- |
| 3-thread overlock | Basic overlocking stitch |
| 4-thread overlock | Wide overlock stitch |
| Rolled edge | Narrow overlock for lightweight fabrics |
Sewing Elastic in Underwear

Let's start by measuring, cutting, and sewing elastic for your underwear project. You can custom fit your panties by measuring elastic lengths and cutting pieces to the right sizes. Then, attach the elastic using different styles depending on your preference – add a picot edge for decorative flair, use a foldover waistband for comfort, or utilize regular elastic for a smooth fit.
Taking care when applying elastic ensures a quality finish that retains its shape through washing.
Measuring and Cutting Elastic
Measure and snip your elastic into quarters before pinning it to the leg and waist openings for perfectly customized fit.
Measure the waist and leg openings to determine the length of elastic needed. Add 1-2 for overlap.
Cut the elastic to size with sharp scissors. Make sure the ends are straight and even.
Divide the elastic into quarters and mark with pins. This helps distribute stretch evenly.
Matching the pins, pin the elastic to the right side of the fabric's openings.
Adjust pins if needed for a snug fit. Now you're ready to sew the elastic in place for comfy, custom underwear.
Sewing Elastic for Different Styles (Picot Edge, Foldover, Regular Elastic)
Once you've successfully sewn your panties, securing the elastic becomes easy by sandwiching picot edge elastic between the fabric and securing it with a zigzag stitch for a delicate finish or fold-under elastic to fold into the waistband or leg openings for a clean look.
Experiment with elastic techniques like overlapping and stitching the ends or dividing the elastic into sections to pin and attach. For decorative options, add lacy picot edge or wide elastic for a retro waistband.
With the right stretchy elastic varieties and tips, you can create comfortable, custom panties.
Tips for Sewing Period Underwear

When sewing period underwear, choosing specialty fabrics is essential. Carefully selecting materials like Zorb, polyurethane laminate (PUL), merino wool, and modal rayon will provide the absorbency, leakproof layers, moisture control, and comfort needed for success.
Personalizing your creations with lace, picot elastic, mesh accents, color blocking, and custom sizing allows you to make underwear perfect for your unique needs. Consider trying different silhouettes, fabrics, closures, and absorbency levels to find what works best for you.
Mixing up styles like bikini, hipster, or boyshort cuts in an assortment of colors and prints keeps your collection fun and fashionable. With some practice sewing knit fabrics, elastics, and moisture-wicking layers, you can create cute, functional underwear tailored specifically for your cycle.
Choosing Specialty Fabrics
Let's highlight key absorbency by layering zorb within the panty gusset.
Use PUL fabric for a leakproof barrier.
Cotton jersey or modal offer moisture-wicking.
Merino wool regulates temperature.
Try athleisure fabrics for active days.
Mix prints and solids for a personalized look.
Care Instructions for Period Underwear
Simply rinse and air dry your period underwear to maintain the fabrics.
These care instructions will keep your homemade period underwear in great shape:
| Action | Details |
| --- | --- |
| Rinsing | Use cool water to rinse period underwear after use. Avoid hot water. |
| Air Drying | Hang or lay flat to air dry. Don't put in the dryer. |
| Stain Removal | Use hydrogen peroxide, lemon juice, or oxyclean to pre-treat stains before washing if needed. |
| Washing | Wash in cold water, delicate cycle. Use a gentle, fragrance-free detergent. |
With proper care, your custom period underwear will last a long time. Enjoy your homemade, eco-friendly pieces!
Personalizing Your Period Underwear
You absolutely must personalize your period underwear to boldly express your one-of-a-kind style! Here are three enjoyable ways to make your period panties distinctly yours:
Add lace panels or trim for a delicate, feminine look.
Utilize bold prints and fun fabrics like mesh or metallic spandex.
Stitch in a concealed pocket to contain a heating pad or small essentials.
Trying out various fabrics, elastics, and embellishments enables you to design period underwear reflecting your personal flair.
Step-by-Step Guide to Sewing Panties

When sewing panties, start by cutting out the fabric pieces according to your pattern. Carefully cut out the front, back, crotch lining, and any other pieces, following the grain line and adding seam allowances.
Then, begin sewing the pieces together, sandwiching the crotch lining between the front and back pieces. Finish by sewing on different styles of elastic – try picot edge, foldover, or regular elastic for the leg openings and waistband.
Cutting the Fabric
Perfection in panties starts with proper cutting. Use a pattern or trace existing panties, adding 1 cm seam allowances. Mark the fabric grainline and cut front, back, gusset and optional lining pieces as needed.
Cut elastic strips for leg openings and waistband. Check that the elastic width suits your plans. Align pattern pieces on the fabric grain for optimal stretch and drape. Take care when cutting knits – use weights, spray adhesive or pins to prevent shifting.
Sharp scissors prevent stretching. Mark darts and other sewing details. Precise cutting sets the stage for precision sewing and perfect personal panties.
Sewing the Panties
After sandwiching the delicate fabric pieces together, guide the blind hem foot along the seams to blanket stitch your custom panties. Ensure proper tension, straight stitch length, and quality needle choice while sewing to prevent puckering or skipped stitches.
Check undergarment fit and make any necessary adjustments before finishing seams.
Reinforce elastic attachment points with zigzag or stretch stitches.
Gently press finished seams with a warm iron to flatten.
With practice, you'll gain confidence in sewing intimates with custom details like lace accents for an empowering sense of mastery.
Sewing Different Elastic Styles
To add a polished finishing touch, carefully attach the elastic to the fabric's edges.
For the waistband, use a wide elastic and stitch it to the wrong side with a zigzag stitch. To finish leg openings, try using picot edge or stretch lace and sew it to the right side with a twin needle.
Experiment with foldover elastic at the waist or picot trim along the legs for extra detailing and a custom look.
| Elastic Style | Description | Tips |
| --- | --- | --- |
| Wide Elastic | Use for waistband. Provides stretch and structure. | Stitch to inside waistband with zigzag stitch. Overlap ends. |
| Picot Edge | Gives a delicate, lacy effect. Use for leg openings. | Stitch to right side with twin needle for professional finish. |
| Foldover Elastic | Creates a thicker waistband when folded. No casing needed. | Fold over elastic to encase raw edge. Stitch using zigzag stitch. |
Ideas for Embellishments and Customizations

When embellishing your handmade underwear, consider adding bows, crystals, and buttons for a feminine touch. You can also mix fabric colors or patterns for a custom look, like using picot edge elastic on your nightgowns and camisoles to add dainty details.
Adding Bows, Crystals, and Buttons
You can get creative and customize your homemade underwear by embellishing with bows, crystals, and buttons for about 65 cents per pair. Carefully position crystals using hot glue after washing and drying the fabric. Sew on decorative buttons by hand using strong thread in contrasting or matching colors.
Add feminine bows at the waistband or leg holes, using ribbon, lace trim, or leftover fabric pieces. Explore different looks by mixing and matching fabrics, textures, and embellishments to make your own intimate designs.
Mixing Fabric Colors or Patterns
Mixing different fabric colors and patterns is a fun way to make your homemade underwear more stylish. Play with various pattern and color combinations for completely customized designs. Mixing prints, solids, and textures creates endless stylish variations for fabric pairings.
Experiment with creative color combinations and pattern mixes when sewing DIY underwear. The possibilities are endless when pairing different fabrics, colors, and prints. Be creative and try unusual or bold combinations – mix stripes with polka dots, pair complementary colors, or use contrasting hues.
The right fabric pairings can make your homemade underwear truly unique and reflect your personal style. Don't be afraid to think outside the box. Combining patterns, colors, and textures in unexpected ways can lead to delightful results.
With some creativity, you can design custom underwear you won't find anywhere else.
Using Picot Edge Elastic on Nighties and Camisoles
Adding frilly picot edge elastic personalizes nighties and camisoles for a delicate, feminine look. The fun, scalloped trim lends nightwear elegance with picot edge styling. Apply lingerie embellishments like picot elastic when sewing techniques for camisoles.
Customize intimate apparel with delicate details. The scalloped edges evoke femininity and grace.
No-Serger Panty Sewing Method

When making panties with minimal fabric like old T-shirts on a regular sewing machine, it's crucial to maintain the stretchiness by using a zigzag stitch. Carefully sandwich the crotch pieces between the front and back pieces, then stitch them together with a narrow zigzag that flexes with the fabric instead of popping the stitches.
This zigzag stitch allows the stitching to move with the fabric's natural stretch rather than breaking the threads. Varying the stitch length and width will help optimize the stitching for different fabric types and stretch levels.
Take care not to stretch the fabric excessively when sewing to avoid distorting the shape. Lightly holding the layers, rather than pulling, aids in smoothly guiding the fabric under the presser foot. With practice, homemade panties can have a comfortable, customized fit and take advantage of fabrics otherwise headed for the scrap bin.
Using Minimal Fabric (e.g., Old T-shirts)
Cutting up old t-shirts provides a fast, free panty sewing fabric that requires minimal yardage.
T-shirt scraps
Mesh lace
Silky cami fabric
Thrifted finds
Emotionally liberating and sustainable, scrap fabric panties let your inner artisan shine through with personalized touches.
Sewing Process Using a Regular Sewing Machine
Gather the stretch fabric, sandwich the pieces together, and zigzag stitch the clever construction before donning your handmade knickers with confidence. Set your sewing machine to a narrow zigzag stitch, with a shorter stitch length and lowered tension for stretchy fabrics.
The key is to prevent skipped stitches while maintaining just enough stretch in the seam. Mark points for elastic placement with pins. When stitching elastic, use a zigzag or triple zigzag stitch and stitch over the elastic multiple times for durability.
Avoid breaks in stitching when pivoting at curves. Your handmade underwear awaits – make the world your runway.
Maintaining Fabric Stretchiness With a Zigzag Stitch
Maintain the stretch by zigzagging over the seams. A medium-length zigzag stitch ensures the fabric retains a flexible stretchiness during construction. Avoid overly dense or tight stitches that could inhibit natural movement. Set the sewing machine to a width of 3-4mm and a length of 1-2mm for optimal elasticity.
Check tension settings to prevent puckering on the right side. Lightly stretch fabric edges while sewing for a perfectly supple join.
Free Panties Patterns and Customization Options

Whether you're sewing underwear for the first time or looking to recreate a favorite pair, starting with a free panties pattern that you can customize is a great approach. Trace your own panties to make a pattern or explore the many free options online, taking care to mind elastic placement at the center back, front, and leg openings for a perfect fit.
Then, personalize with details like lace, mesh, buttons, or by mixing fun fabrics and prints to make them your own.
Tracing Existing Panties for a Custom Pattern
Lay your favorite pair of panties flat and trace the shape onto paper to create a custom panty pattern suited to your body's curves.
Pin the panties to paper.
Trace the front and back pieces.
Mark the waistline.
Trace the crotch.
Add 1 cm seam allowances.
This quick tracing method produces a pattern tailored to your unique shape for a perfect custom fit.
Elastic Placement Tips
Place the elastic at the center back, center front, and halfway points along the legs for a custom, comfortable fit. Choosing the right tension prevents sagging while providing flexibility. Thoughtfully position elastics to flatter your form and functionally support you through all life's motions.
| Elastic Type | Placement Tips |
| --- | --- |
| Waistband | Center Back + Center Front |
| Leg Openings | Halfway Along Legs |
| Picot Edge | Decorative Accents |
| Foldover | Enclose Edges |
Exploring Various Free Panties Patterns Online
Exploring the Many Free Panties Patterns Online
The internet offers a treasure trove of free panty sewing patterns for crafty customization and easy construction. Mix and match style lines, fabrics, elastics, and embellishments to design your dream undies.
From high waisted to low rise, tailor the fit. Choose soft, stretchy fabrics like modal or athletic jersey for comfort against the skin. Play with lace, mesh, ribbons, or mix fun prints. Whether you're a beginner or advanced sewer, online resources provide creative freedom.
Professional Finish With Singer Brother Janome Sewing Blind Hem Foot

Now that you've selected your knit fabric and elastics, it's time to think about achieving a clean, professional finish. This is where the Singer Brother Janome Sewing Blind Hem Foot comes in handy. Compatible with most sewing machines, this ingenious foot lets you sew nearly invisible hems for a flawless look.
Follow these blind hemming techniques and your underwear will have a polished finish:
Fold and press the hem allowance to the inside. The right side should remain visible.
Position the fabric under the blind hem foot, lining up the folded edge with the metal guide.
Sew slowly, keeping the folded hem edge flush against the metal guide. The zigzag will catch just a few threads of the fabric fold.
With some practice stitching samples first, you'll be able to execute perfect blind hems every time.
Conclusion
With the right materials, supplies, and tools, you can confidently begin your sewing journey and create your own beautiful underwear. Whether you're making period underwear, everyday panties, or something more special, the steps outlined in this tutorial can help you create a professional finish with the Singer or Brother sewing machine's blind hem foot.
With careful measurement, cutting, and stitching, you can create a wide variety of underwear styles and embellishments. With a bit of practice and the right supplies, you can complete sewing underwear projects quickly and easily.
So don't wait – get creative and start sewing!