This site is supported by our readers. We may earn a commission, at no cost to you, if you purchase through links.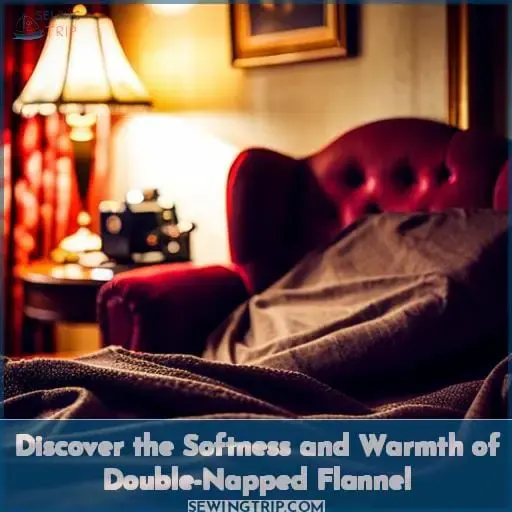 Are you looking for a cozy fabric that will keep you warm and snug during the colder months? Look no further than double-napped flannel! This type of flannel is made from two layers of napping, which makes it extra soft and plush.
Not only is double-napped flannel incredibly comfortable, but it also provides superior warmth compared to regular single napped fabrics.
In this article, we'll explore what exactly makes double-naped flannel so special and how to find quality fabric by the yard so you can create your own winter projects with ease.
So if comfortability combined with warmth are important factors when selecting a suitable winter fabric, then read on as we share all about what is double napped flannel today!
Key Takeaways
Double-napped flannel offers exceptional warmth and comfort in colder months. It is made with two layers of napping, creating a soft and plush texture. This fabric can be made from cotton, wool, or synthetic fibers such as polyester. Double-napped flannel is perfect for blankets, sleepwear, and winter apparel due to its cozy feel.
What is Double-Napped Flannel?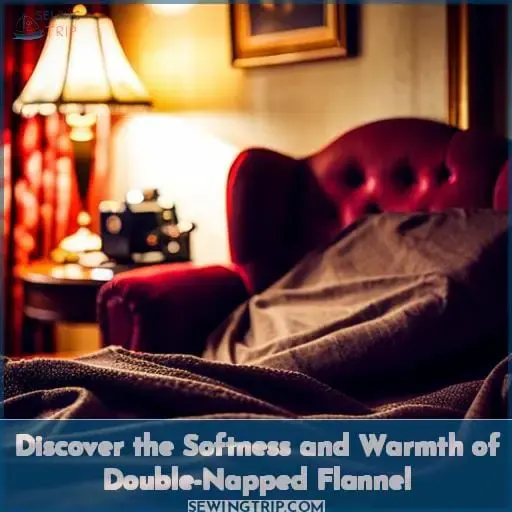 You find a quiet place to feel the soft caress of understanding wrap around your heart. Double napped flannel is made by brushing both sides of the fabric to raise the fibers. This creates a soft, plush feel and traps more air for warmth. Compared to single napped flannel with one brushed side, double napping doubles the coziness.
Flannel can be made from cotton, wool or synthetic fibers like polyester. Double napped cotton flannel is a popular choice, providing breathability and softness. The fabric is lightweight yet warm, available in a rainbow of solids and prints.
Careful laundering preserves the brushed texture. Wash in cold water with gentle detergent and tumble dry low. Though it may pill slightly, the flannel remains deliciously soft. With double the fuzzies, double napped flannel is ideal for blankets, sleepwear and winter apparel.
How is Flannel Napped?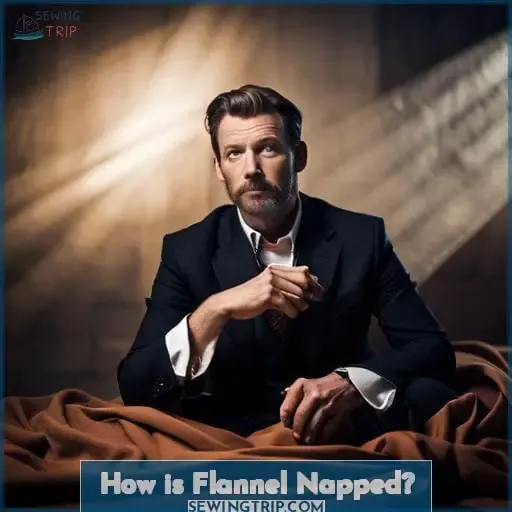 To create the cozy softness we crave, flannel is napped by passing the fabric through metal rollers covered in small wire bristles. This raises the fibers on both sides of the fabric evenly, creating a soft fuzzy surface.
The napping process involves:
Feeding the woven fabric through rollers with metal teeth or wires.
The tiny wires catch and lift the fibers up from the fabric base.
Nap length is adjusted by the spacing and angle of the wires.
More napping makes a thicker, fuzzier surface for warmth.
Napping transforms flannel into the snuggly winter-worthy fabric we love. Double-napped flannel has extra plushness while remaining lightweight enough for cozy shirts and sleepwear. With softness maximized through napping, flannel is ready to embrace us on chilly nights.
What Makes Double Napped Flannel Fabric Special?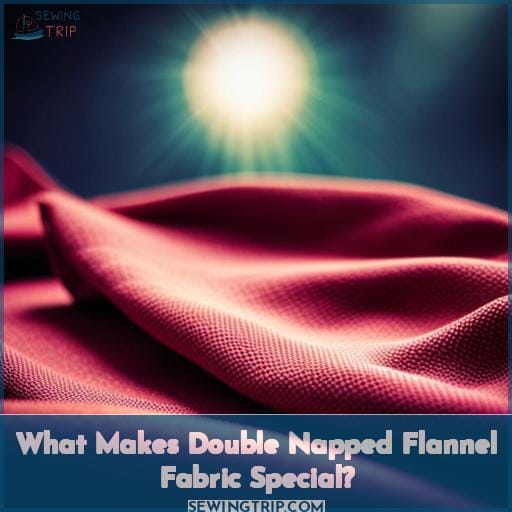 Welcome to the world of double napped flannel! This cozy fabric provides unbeatable softness and incredible warmth for chilly weather. Pair it with your favorite wardrobe pieces like shirts, pajamas, and accessories to stay toasty when temperatures drop.
The double nap on this fabric creates a super soft surface, perfect for snuggling into on a cold day. Unlike regular flannel with one napped side, double napped flannel has two fuzzy surfaces for extra comfort.
The napping process raises fuzzy fibers on both sides of the woven cotton, resulting in a warm, plush fabric that traps heat close to your body. Beyond the double-sided coziness, high quality double napped flannel resists fading and pilling even after many washes.
It's no wonder this classic fabric remains a top choice for cold weather loungewear and sleepwear year after year. Slip under a double napped flannel blanket or wrap up in a cozy flannel robe when you need warmth and softness during chilly seasons.
Softness and Warmth
The cushy texture envelops you like a hug on a chilly day. Double napping this organic cotton flannel makes it super soft and cozy for chilly weather. Running your fingers across the fabric, you feel its plush, cushiony surface. The double brushing raises more fibers, creating a pillowy feel that insulates you against the cold.
This fluffy fabric brings wintry comfort as its velvety nap traps heat. Snuggling in double napped flannel, you savor its light, fuzzy texture. When visiting fabric stores, seek out this softly napped cotton to bundle up on cold days.
Suitable Uses
With its coziness and versatility, double-napped flannel is a perfect choice for making winter apparel, accessories, quilts, blankets, and more. Ideal for receiving blankets, doll patterns like knot dolls and dolly diapers, and even velour alternatives, its soft pastels beautifully suit winter sewing projects.
Sold as fabric by the yard, its velvety feel also works great for bed sheets. With so many suitable uses, double-napped flannel brings warmth and comfort to any winter project.
Advantages of Double Napped Flannel Sheets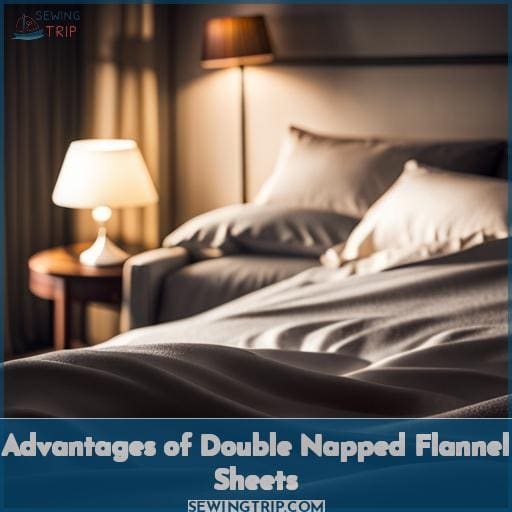 Looking for relief from winter chills? Double napped flannel sheets offer greater comfort at a surprisingly affordable price. Overall, these super cozy and stylish textiles are ideal for those wanting to turn down the heat and still enjoy restful nights.
The double napping gives the flannel sheets an extra layer of warmth, perfect for cold winter nights. The soft, brushed fabric helps insulate your body heat while wicking away moisture.
Though they offer hotel-style luxury, double napped flannel sheets are quite economical. The extra napping does not significantly increase production costs. So you get the comfort of double layered bedding at an affordable single layer price point.
With various colors and patterns available, double napped flannel also provides style. From solid colors to buffalo plaids, you can find sheets to match your bedroom decor.
If you want to be toasty warm without cranking up the thermostat, double napped flannel sheets are a great solution. Their plush comfort will have you looking forward to hibernating under the covers all winter long.
Warmth in Cold Regions
You'll find cozy comfort nestled under those soft flannel sheets when the biting winter wind howls outside. When frost nips your nose, snuggle into bedding made with this brushed-on-both-sides fabric. Its fibers trap air between you and the cold outside. Flannel's breathability keeps you cozy without overheating.
Polyester double-napped flannel resists shrinking when machine washed and dried; yet, cotton and wool have their natural fiber benefits. As you bundle up for snow fun or hunker down next to a crackling fire, know your flannel sheet-covered bed awaits.
Cost-effectiveness
Save money by choosing double napped flannel sheets over single napped. Flannel sheets stitched thickly on both sides maximize warmth and softness for the price. Doubled fabric means doubled defenses against bone-chilling winter nights. Why suffer the cold when flannel's fuzzy fibers insulate your budget? Flannel sheets snuggle up, trapping body heat without trapping your wallet.
Invest in restful nights, not restless shivering. Extend your buying power with flannel's insulating power. Opt for double napped over single and sleep soundly through winter, comforted by the extra coziness and savings.
How to Find Double-Napped Flannel Fabric by the Yard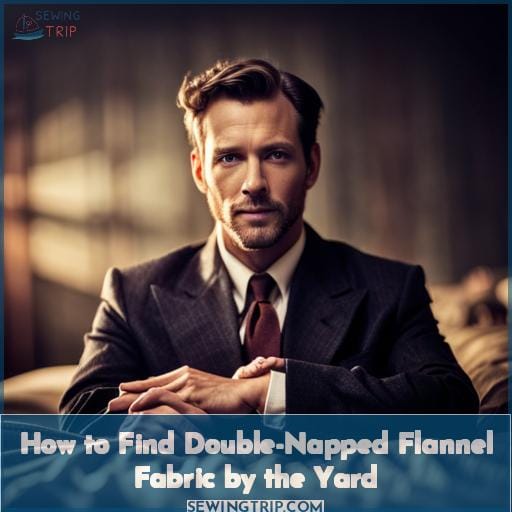 Finding double-napped flannel fabric by the yard is easy through online stores, physical stores, or by placing special orders. Begin by browsing online fabric shops like Joann, Fabric.com, or Etsy to find a wide selection of solid colors, prints, plaids, and checks in various weights and at different price points.
Next, visit your local fabric store to feel the fabrics in person. You can also ask an employee at your local store to place a special order for you if they don't have what you're looking for in stock.
Online Stores
There are plenty of online stores to shop around for that special double-napped flannel, partner!
Etsy
Amazon
Fabric.com
Joann
Hancock Fabrics
When purchasing online, be sure to check fabric details such as fiber content, weight, and width. Request fabric swatches if uncertain about color and texture. Read reviews, compare prices across various shops, and do not hesitate to ask the sellers questions! Quality flannel is worth putting in the extra effort.
Physical Stores
Check locally owned fabric stores for soft pastel double-napped cotton flannel sold by the yard. Exploring the aisles allows you to feel the fabrics in person, comparing textures and colors side-by-side.
Smaller shops also offer the benefit of personalized service, with knowledgeable staff guiding your search. Though selection may be limited, prioritizing convenience and hands-on inspection can make local stores the ideal source for specialty fabrics like soft cotton double-napped flannel.
Special Orders
You might consider asking a sales clerk to order some dreamy pastel double-brushed cotton if none's on the shelves. Special ordering allows for custom designs, extensive fabric varieties, and expanded color options through the store's supplier.
The ordering process is simple: Choose the fabric, provide the required yardage, and wait for delivery.
Washing Tips for Double-Napped Flannel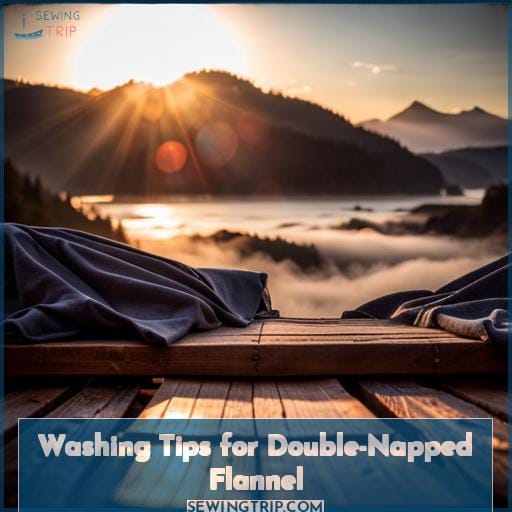 When washing new double-napped flannel, start with a cold water gentle cycle using half a cup of white vinegar without detergent. For subsequent washes, use a gentle soap in consistent water temperatures, turn the items inside out, and consider adding vinegar during rinsing to reduce pilling while keeping the flannel ultra-soft.
Initial Wash
Machine wash that soft flannel in cold water before you cuddle up. Run it solo through the washer's gentle cycle with a half cup of vinegar and no soap. This prewash prevents pilling so your snuggly flannel stays smooth. When it's time for that first wear, you'll be warm, cozy, and free of lint fuzz.
Subsequent Washes
For proper care, use gentle soaps during laundering to nurture your flannel's supple softness.
Laying flat to dry instead of harsh tumbling
Washing in cold to lukewarm temperatures only
Avoiding fabric softeners and bleach to keep colors bright
Turning inside out helps minimize pilling and fuzzing
Treating your flannel gently will allow its soft and cozy embrace to comfort you for many winters to come.
Pilling Prevention
Turn your garments and pillowcases inside out, and throw in some white vinegar for the rinse. This helps prevent little fuzz balls from forming on your flannel as the fibers rub together in the wash. Nothing ruins the buttery softness of double napped flannel like pills. With proper care and tender loving care, you can keep that winter-warming fabric feeling cozy and fresh, unleashing its full potential for snuggly warmth.
Care Instructions for Double-Napped Flannel Fabric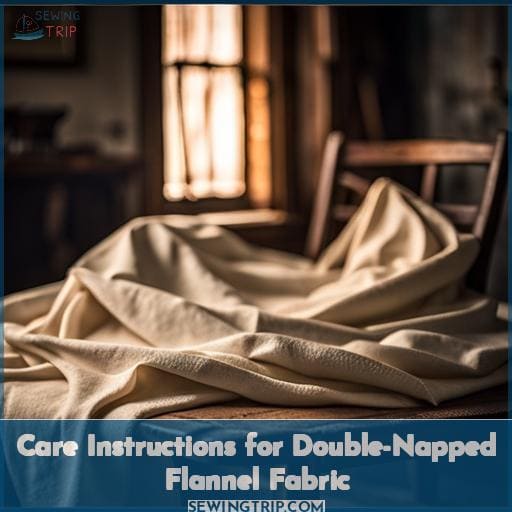 You'd best handle double-napped flannel with care to preserve its softness. Follow these care tips for your precious fabric:
Wash in cold water with a mild detergent or soap flakes to avoid damage.
Use the delicate or hand wash cycle on your machine.
Hang dry or tumble dry on low when just damp. High heat can damage fibers.
Steam iron on low while slightly damp to avoid scorching the fabric.
Store folded or rolled, not hanging, to prevent stretching out of shape.
Periodically wash alone to avoid pilling from contact with other fabrics.
With some TLC, your double-napped flannel will retain its cozy softness and warmth for many seasons to come.
Conclusion
Wrapped in warmth and softness, double-napped flannel is the perfect fabric for winter. Available in a range of colors and styles, it is ideal for making cozy garments and accessories. Plus, it's easy to find double-napped flannel fabric by the yard online or in stores, and special orders can be made.
Double-napped flannel sheets are also great options for very cold regions. When washing and caring for this fabric, it's important to follow the washing instructions for the best results.