This site is supported by our readers. We may earn a commission, at no cost to you, if you purchase through links.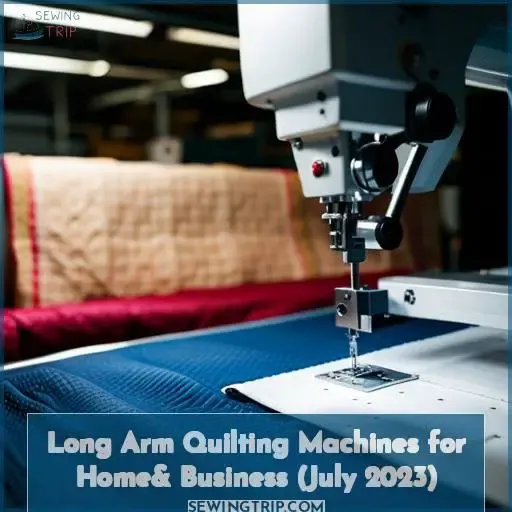 Y'all ready to finally master longarm quilting like a pro? I know those domestic machines just aren't cutting it for your art anymore. You're craving more space to free-motion quilt those big beautiful designs you've got churning in your mind.
Well saddle up, 'cause those Q-matic longarm beauties are here to liberate your creativity.
Once you experience the freedom of maneuvering yards of fabric under that long arm, you'll feel the power. No more quilting constraints. Just you, miles of fabric, and that smooth gliding needle ready to stitch your visions to life.
So c'mon and explore all the empowering longarm options out there. Let's dive in and find the perfect match to unlock your full quilting potential.
Key Takeaways
BERNINA offers the Q Series with Q-matic automation, providing precision engineering and innovative features.
Baby Lock longarms like Millie, Lucey, and Lenni offer lightweight handling and lifetime durability.
Gammill longarms range in price and include computer-guided models like Vision and Statler.
Longarm quilting machines speed up production and allow for creative freedom but require practice and maintenance for optimal performance.
BERNINA Longarms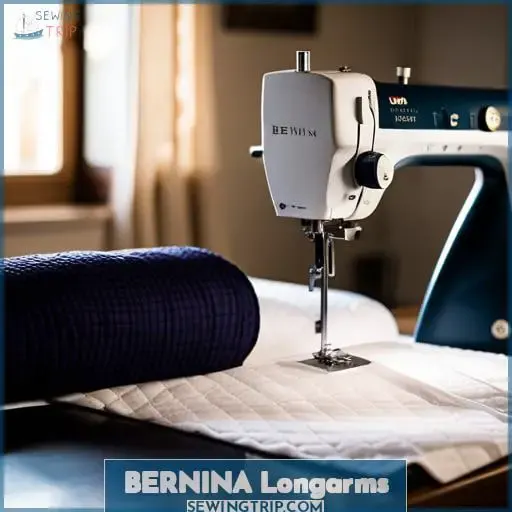 BERNINA longarm quilting machines offer precision craftsmanship with innovative features. The Q Series models are equipped with the BERNINA Stitch Regulator, kickstart function, and other tools to make quilting projects easier.
Accessories like the laser pointer and rulers give you more control, while the Q-matic add-on provides automation. With Swiss engineering and 125 years of experience behind it, the BERNINA longarm allows you to quilt with speed, accuracy, and creativity.
Q Series Models
You'd be thrilled with how the techie Q 20 longarm enables you to quilt up to 1,500 stitches a minute!
The Q 20 is Bernina's stand-up frame model.
With a 20 throat space, it handles any quilt project.
The Q-matic add-on automates repetitive tasks.
Experience the precision and innovation of the Bernina Q Series longarms. These Swiss-engineered beauties offer features like digital tension control and ergonomic handles to master longarm quilting with ease.
Feel the freedom and creativity flow through your fingers as you quilt up to 1,500 stitches per minute on the Q 20 stand-up model.
Features
You can enjoy the precision of BERNINA's digital tension control and forward threading while efficiently producing high-quality quilts. BERNINA longarms like the Q Series offer amazing features that enhance your quilting experience.
The Q-matic system allows for semi- or fully automatic quilting, freeing you to focus on design. Generous throat space gives you room to quilt king-sized projects. Stand-up frame models promote ergonomic quilting.
With the leading technology of BERNINA longarm quilting machines, you can master this craft and create quilts that make a statement.
Accessories
Course those nifty attachments and extras help you get precision results faster than a hare down a bunny trail.
Laser Pointer – Perfect pinpoint placement
Rulers – Guide your lines and angles
Handles – Control your machine with ease
Q-Matic – Automate repetitive tasks
Digital Tension – Precision stitch quality
With the right accessories, you'll be quilting up a storm before you can say Bob's your uncle! The possibilities are endless when you equip your longarm for efficiency.
Q-matic Automation
The certified, modular add-on Q-matic automation increases production for the technologically savvy quilter. This Bernina Q-matic longarm quilting automation system pairs with Q-matic software for automation capabilities on Bernina's Q-Series machines.
While not available for every model, this pioneering Bernina longarm option boosts efficiency through automated quilting. Combining the precision of Bernina's Swiss engineering with customizable automated quilting, the Q-matic liberates your creativity.
Innovations
Dang, BERNINA's forward threading and digital tension control make quilting as easy as slicing pie! Those innovative features, plus the ergonomic handles, provide you with supreme quilting mastery. The handles adjust for standing or sitting. Experience effortless quilting with the BERNINA Stitch Regulator.
The Q-matic connects to Bernina longarms, transforming your frame into an automation system.
Advantages
You'll love BERNINA's precision Swiss engineering and 125 years of sewing experience for innovative design and flawless performance.
Unmatched precision and consistency for beautiful, even stitching.
Intuitive controls and helpful features like digital tension adjustment.
Reliable performance backed by excellent customer service and support.
Customizable options to suit your unique quilting needs and style.
From automated quilting capabilities to free-motion artistry, BERNINA longarm quilting machines empower your creativity while providing the quality and reliability quilters have trusted for over a century.
Discover how their innovative longarm quilting systems can liberate your quilting potential.
Baby Lock Longarms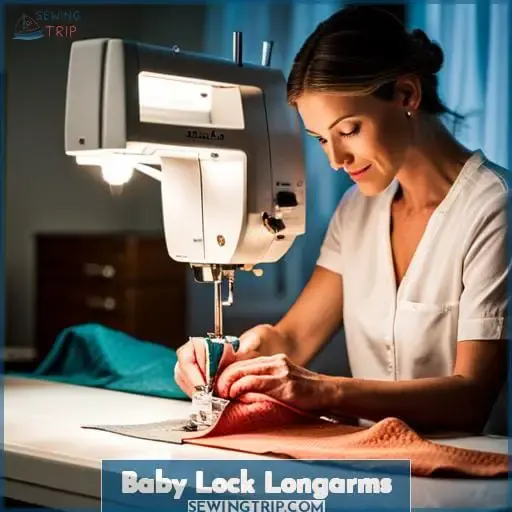 As a quilting enthusiast, let me introduce you to Baby Lock longarm quilting machines. With top-of-the-line models like Millie, Lucey, Lenni, and Larry, Baby Lock longarms provide lightweight handling, lifetime durability, and a graceful quilting experience.
These machines offer simple, easy-to-use controls, maneuverable handling, and unmatched reliability for flawless quilting results.
Models
Cept Millie slides around the quilt like butter on hotcakes. This 15-inch Baby Lock beauty glides effortlessly with 360-degree maneuverability. Her lightweight carbon fiber rails dance nimbly across fabric. Turning on a dime opens boundless potential.
Experience the freedom of dancing with both hands, no rails in the way. Mastery emerges not from mechanics but the connection between quilter, machine, and fabric.
Attributes
Your highfalutin, hoity-toity Baby Lock longarm has more bells and whistles than a three-ring circus under the big top. Lightweight handling and graceful quilting allow you to float free, dancing with fabric like a prima ballerina.
Simple controls put power at your fingertips, unleashing creativity. Experience effortless gliding as this handcrafted machine liberates your spirit. Masterful maneuverability and reliability allow a lifetime of quilting to unfold with ease, as if the machine disappears, leaving pure flow.
Controls
It's real easy running them simple controls for graceful moving and stitching. Baby Lock makes it a cinch to quilt with their intuitive controls and handy features:
With Baby Lock, quilting feels like liberation through their thoughtful and nimble design.
Handling
You'd glide effortlessly along those quilting lines with the lightweight maneuverability of a Baby Lock. The palming precision handles and spacious longarm table allow your creativity to soar on a flexible throat.
Master new techniques as you quilt freely on the stand-up frame or sit-down table. Experience the unbounded potential of quilting mastery with Baby Lock's graceful handling.
Reliability
You can rely on Baby Lock's lifetime quilting reliability. With graceful handling and lightweight maneuverability, Lucey glides effortlessly across your stand-up frame or sit-down table. Her simplicity enables mastery as you quilt for hours without frustration. Baby Lock perfected Lucey's handcrafted feel and lifetime durability through precision manufacturing.
Like all Baby Lock models, Lucey delivers more throat space, power, and precision than Bernina longarms for liberation in your artistry.
Sale
Baby Lock longarms have floor models and close-outs going fast through the end of this month. You all best hop on down to the shop before they're snatched up if you're looking for a stellar deal on one of these top-tier machines.
Nothing beats getting your hands on a gently used Baby Lock and taking those intricate designs for a spin. Plus, you get to skip the waiting with ready-to-go models just waiting for an inspired quilter like you.
Gammill Longarms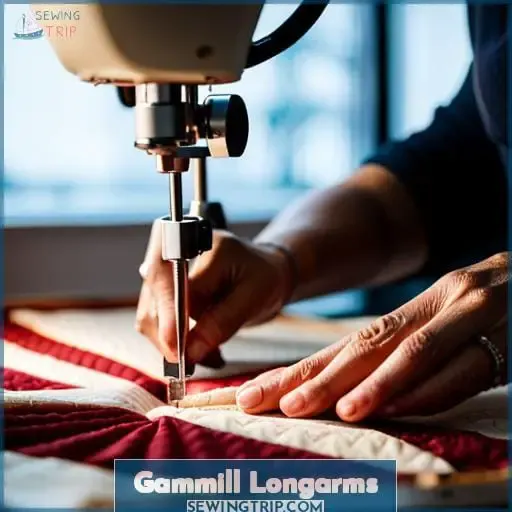 When investing in your hobby, a Gammill longarm quilting machine will propel your quilting to the next level. Gammill offers a range of options, from the Vision 2.0 to the Statler Ascend, starting at $14,999 to $48,999, including delivery, installation, and training in the lower 48 states.
You'll also get guidance to find the best longarm for you, avoiding shopping mistakes. Join the Gammill community for support – tap into education opportunities and connections with other quilters to unlock your creativity without frustration.
With the features, resources, and expertise Gammill provides, you'll be empowered to master longarm quilting techniques and make your quilting dreams a reality.
Options
The company offers prices starting at $14,999-$48,999 with delivery, installation, and training included for those in the lower 48 states. From basic Vision models to the fully-loaded Statler options, Gammill has the perfect longarm quilting machine for your creative journey.
Their Statler line brings the precision of computer-guided quilting without sacrificing artistic freedom. With Gammill's support, you can quilt intricate designs while avoiding frustration. Let their expertise guide you to the longarm that matches your quilting goals. Bernina longarm quilting enables boundless creativity.
Includes
Check it, Gammill's got you covered with delivery, installation, and training in the lower 48 when you grab one of their sweet setups starting at just fifteen grand. The support will have you flying free as a bird, unleashing your creativity without frustration.
Get your hands on those innovative Bernina Q Series machines with Bernina longarm quilting and enjoy the precision and versatility of Bernina stitch regulation.
Guidance
You can look to Gammill for help in finding the best longarm and avoiding shopping mistakes. With my years of experience in quilting, I know how overwhelming it can feel to choose the right machine. Gammill experts are there to guide you based on your skill level, budget, and quilting goals.
From needle to frame, they ensure you get the tools to create, not frustrate. Together, we'll find the perfect fit so you can master this craft and unleash your creative spirit.
Support
We'd be grateful for providing equipment, education, and training that bring out your creativity without any frustration. As experts in longarm quilting, we aim to empower quilters like you with the tools and knowledge needed to create works of art.
Our vast selection of machines, frames, and accessories, paired with personalized training, give you the freedom to quilt on your terms. Contact us today to unlock your creative potential with the support of our caring team.
Quilting Machine Selection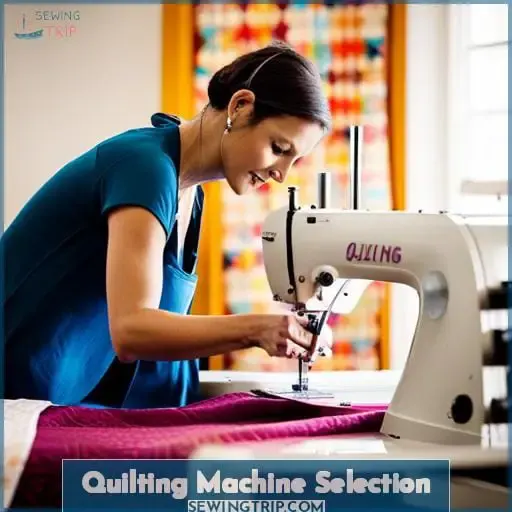 Let's dive right into discussing long-arm quilting machines and how they can speed up your quilting production. With arm lengths ranging from 18-30 inches (30 inches being best for industrial work), these machines must be paired with a quilting frame to hold your quilt taut while the machine glides along the rails.
Top brands like King Quilter, Handi Quilter, Grace, Juki, and Brother provide the machines themselves plus all the needles, software, tools, and guidance you'll need for workshops or personal quilting.
Experts are available to recommend the right equipment and answer any questions you have along the way.
Speeds Production
Invest in this time-saving beauty to pump out quilt after gorgeous quilt. With longarm quilting machines, you'll speed up production compared to normal quilters or hand quilting. Choose an 18-30 inch throat space and pair it with a sturdy frame for maneuverability.
Reliable brands like Bernina offer innovative features such as digital tension control and ergonomic handles that ensure precision and comfort. Dive into the liberating world of longarm quilting and unleash your creativity, with the confidence that these machines provide the power and mastery to bring your visions to life.
Arm Lengths
Get better stitch quality and maneuver large quilts easily with arm lengths from 18 to 30 inches.
30-inch arms provide ample space for large, queen, and king-size quilts.
Look for at least 24-inch arms to quilt throws and twin-size quilts with ease.
18 to 22-inch arms work for smaller projects like wall hangings and baby quilts.
The spacious dedicated longarm sit-down table allows generous arm space for the perfect Bernina longarm quilting machine.
Paired With Quilting Frame
A top-notch quilting machine needs to be paired with a sturdy, adjustable frame to spread the quilt taut, so you can glide smoothly across the surface – have you visualized dancing across a tiled ballroom floor in satin slippers? The frame holds the layers evenly, allowing the longarm to glide effortlessly as you quilt.
Sturdy frames prevent shifting or stretching, while adjustable frames accommodate any quilt size. Reliable brands like Gammill, Baby Lock, and Bernina offer compatible quilting frames to get the most out of your longarm quilting machine.
Brands
You'll be amazed at the quality of brands like King Quilter, Handi Quilter, Grace, Juki, and Brother.
The top brands provide excellent options from starter to pro models so you can find your perfect match.
Provide
You can take advantage of free shipping and same-day shipping, with orders arriving in just 3-7 days. Our team provides machines, needles, software, and tools for workshops to help you get quilting fast.
We know longarm quilting can feel overwhelming, but our experts are here for you, ready to answer your Bernina longarm questions and recommend the perfect longarm quilting machine and accessories you need.
Looking for Traditional Quilting?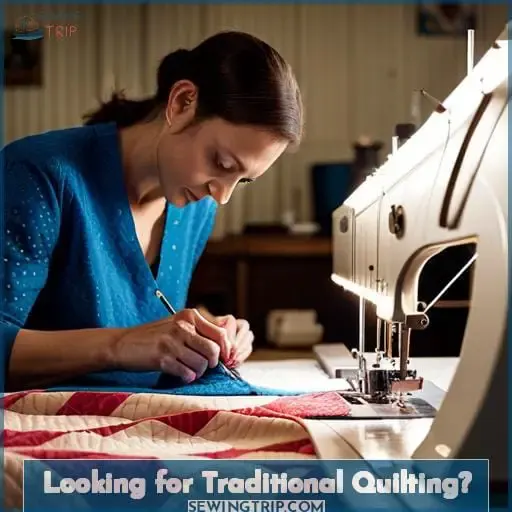 As an avid quilter yourself, traditional quilting speaks to your soul with time-honored stitches and shapes. The allure of free-motion quilting on a longarm beckons, yet handwork connects you to earlier generations.
Simplicity comes from choosing basic geometric shapes and the organic flow of basic quilting designs. Needles pierce fabric, and thread weaves its magic. Master tension to avoid puckers; a balanced quilt emerges stitch-by-stitch.
Let the rhythm of traditional quilting transport you. The needle dances as you guide it by hand. Each quilt stitch anchors ancestral wisdom into the layers – stories stitched into the fabric of family history.
Honor them by learning traditional quilting techniques before exploring free-motion innovations.
Frequently Asked Questions (FAQs)
What size quilts can I make with different length longarm machines?
You can do it all with your longarm, my friend! Small lap quilts to king-size beauties, the sky's your quilt to fly free. An intermediate arm opens your wingspan, while industrial lengths liberate your spirit.
How difficult is it to learn to use a longarm quilting machine?
Learning to use a longarm quilting machine is like learning to ride a bike – at first, it feels awkward and unstable, but with practice, your confidence grows until quilting feels intuitive and freeing.
Focus on the joy of creating and don't get discouraged by mistakes. In time, you'll be cruising across the quilt with ease, making each unique design a reflection of your vision and voice.
What maintenance and cleaning does a longarm machine require?
Maintain your longarm machine frequently with daily cleaning and lubrication. Ensure that the thread paths remain lint-free for smooth operation by wiping down the rails and checking the wheels. Regularly lubricate the bars and bearings to keep your machine gliding easily. With consistent care, your longarm machine will reward you with years of precision and reliability.
Is there specialty thread I need to use with a longarm quilting machine?
You'll want a quality cotton-polyester blend thread. Go with a recognized brand like Aurifil or Mettler that's designed specifically for quilting. Using the proper thread helps prevent skipped stitches, thread breaks, and tension problems on your longarm.
Do I need special lighting or furniture for my longarm quilting machine?
Yes! To see your quilting clearly, use adjustable-height task lighting. To prevent back and wrist strain, use a high quilting table and an ergonomic chair.
Conclusion
You've sifted through all the options and done your homework. Now it's time to trust your instincts and go for the perfect long arm quilting machine for your home or business. Don't overthink it – you have more knowledge than you think. Let your passion for quilting and your personal style be your guide.