This site is supported by our readers. We may earn a commission, at no cost to you, if you purchase through links.
Embarking on a journey to become a master seamstress? Finding the right sewing machine is key if you want to create beautiful textiles for years to come. With so many models of machines available, it can be difficult choosing the best one for beginners.
But don't worry: we've put together this guide featuring our top 8 picks as well as some advice on features and budget-friendly options that will help you find your perfect match!
Our list includes everything from Singer mending machines and Brother CP2160L sewing machines, all the way up to Bernette Swiss Design Sewing Machines.
8 Best Sewing Machines for Beginners
Looking to buy your first sewing machine? We've rounded up the 8 best options for beginners in 2023.
The Singer M1000 is a lightweight, versatile pick with 32 stitch applications for basic mending and decorative work.
The Lavender Floral Brother CP2160L has 60 built-in stitches and a durable metal frame to support larger projects.
The user-friendly Janome MOD 50 offers 50 stitches, a one-hand needle threader, and an easy-view bobbin.
Bernette's Swiss Design model provides 23 stitches, automatic buttonholes, and extras like a needle threader.
For pros, the heavy-duty Consew walking foot machine is made for upholstery, leather, auto, marine, and canvas sewing.
There are also portable choices like the Mini Sewing Machine and Nex machine with built-in stitches for clothing alterations and crafts.
Check out our top 8 list to find the best beginner sewing machine for your needs.
1. Singer M1000 Mending Machine
View On Amazon
With the Singer M1000 Mending Machine, everyday garment repairs and creative projects are at your fingertips. Thanks to 32 stitch applications and an ultra-portable design, you can sew anywhere inspiration strikes.
Ultra lightweight and portable
32 stitch applications
Reverse lever for seam reinforcement
Adjustable thread tension
Easy thread monitoring
Only suitable for basic sewing projects
Limited functionality compared to computerized models
Manual thread tension adjustment can be tricky
2. Lavender Floral Brother CP2160L Sewing Machine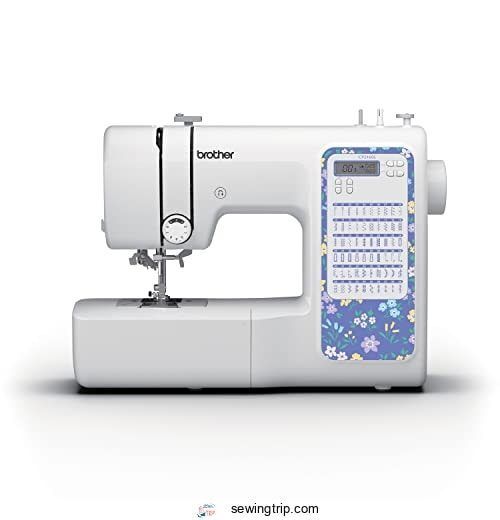 View On Amazon
Enjoy embellishing your projects with the sixty built-in stitches this bad boy's got. The versatile range of utility, decorative, and heirloom stitch functions, as well as 7 auto-size buttonholes, empower you to explore your creative potential.
Its durable metal frame construction provides stability when working with thicker fabrics like denim. The spacious needle-to-arm workspace lets you handle bigger projects with ease. The improved 2-step automatic needle threader saves you time and frustration.
60 built-in stitches for versatile sewing
Sturdy metal frame for thick fabrics
Large workspace accommodates bigger projects
Automatic needle threader saves time
Warranty only valid for US 120V use
Floral color scheme may not suit all tastes
3. Janome MOD 50 Computerized Sewing Machine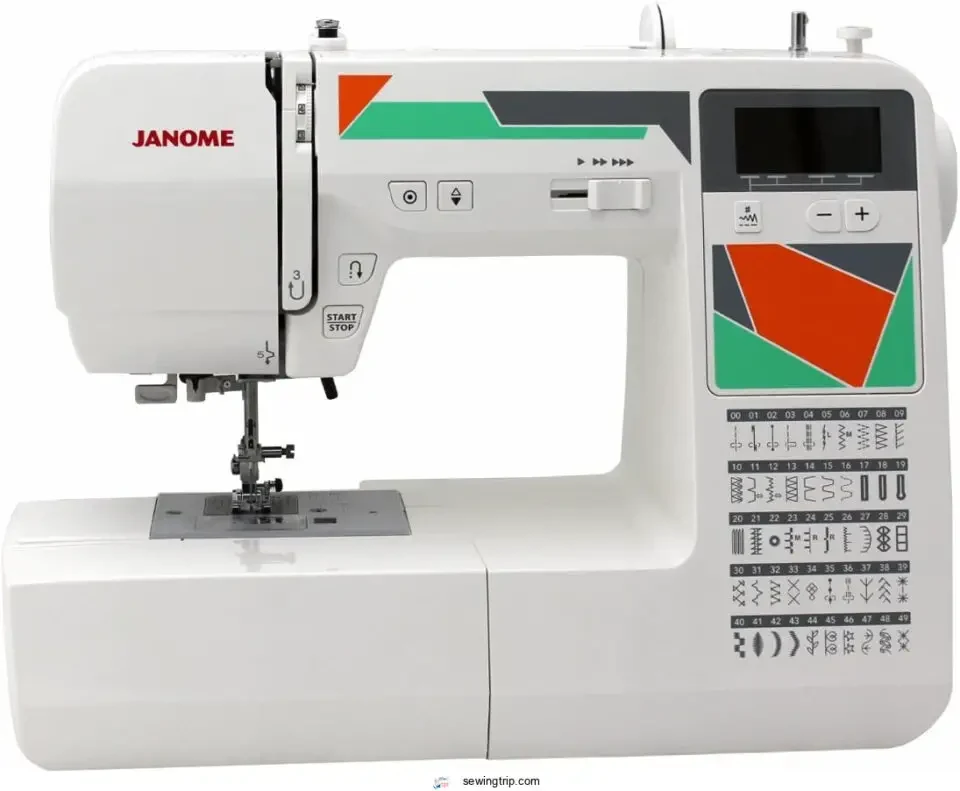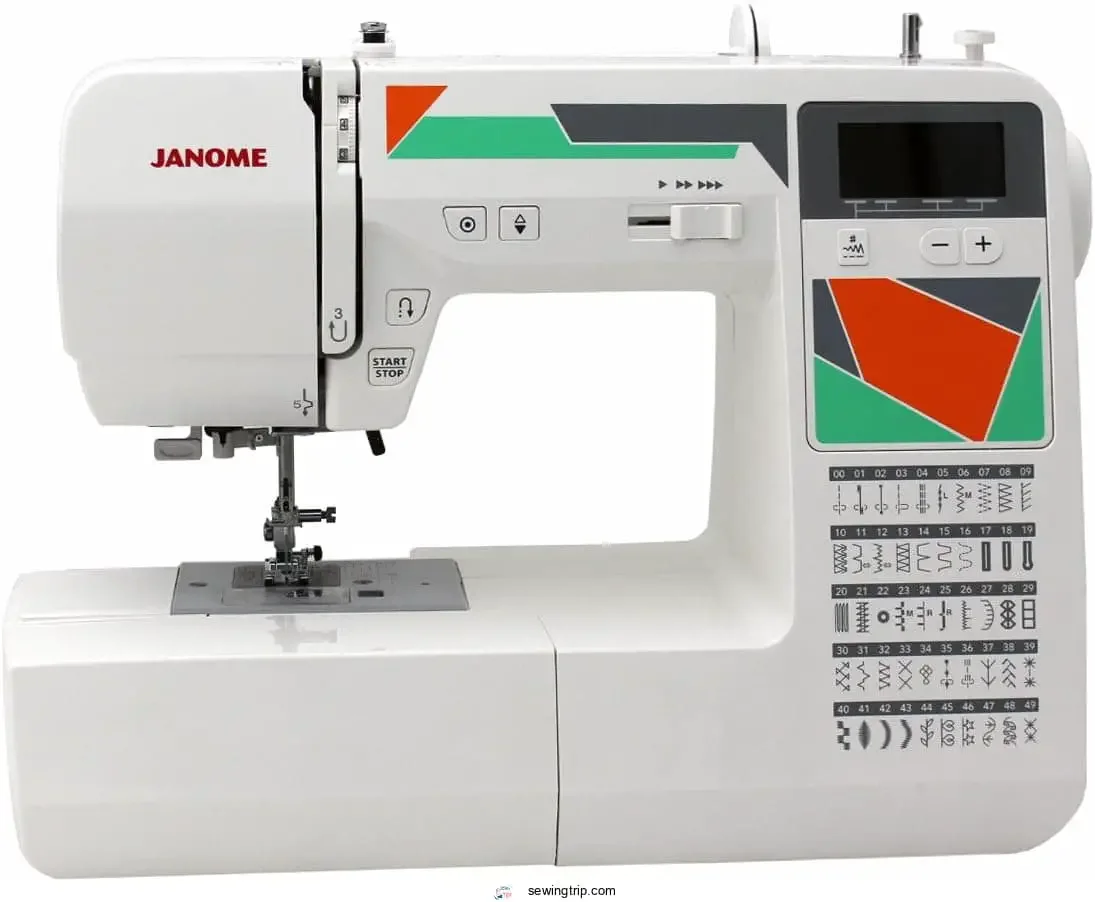 View On Amazon
Bring home beautiful results with the Janome MOD 50 Computerized Sewing Machine. This user-friendly, feature-packed sewing machine has everything a beginner needs to get started on projects, both simple and more advanced.
Effortless threading and bobbin winding make setup a breeze. With 50 built-in stitches to choose from, you'll have plenty of options to create the perfect stitch for any project type or fabric. The LCD display with easy navigation keys allows you to clearly see your selected stitch settings.
Sew through layers or difficult spots with the reverse button, reinforce stitches with the lock button, and stop precisely with the needle up/down button. The generous workspace and free arm provide flexibility and access for sewing sleeves, pant legs, and more.
User-friendly for beginners
LCD display with stitch selection/settings
50 built-in stitches, including buttonholes
Needle threader and top-loading bobbin
Free arm and ample workspace
No automatic thread cutter
Not portable due to heavier weight
4. Bernette Swiss Design Sewing Machine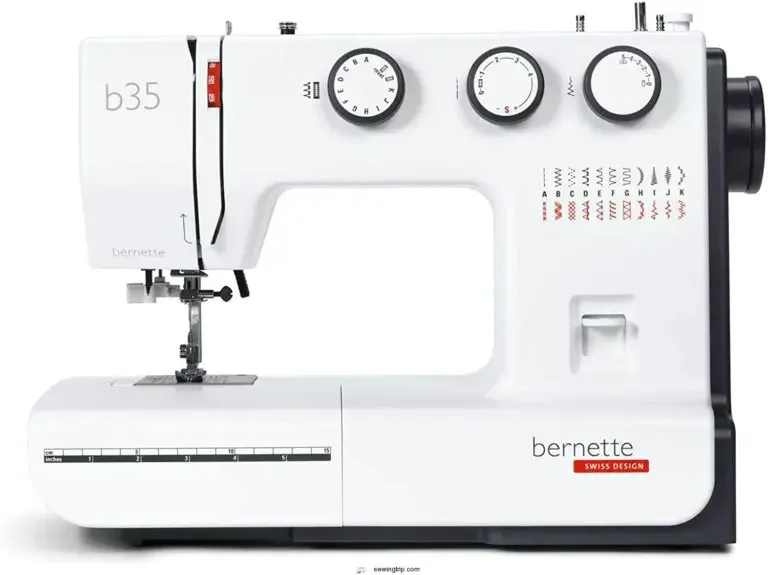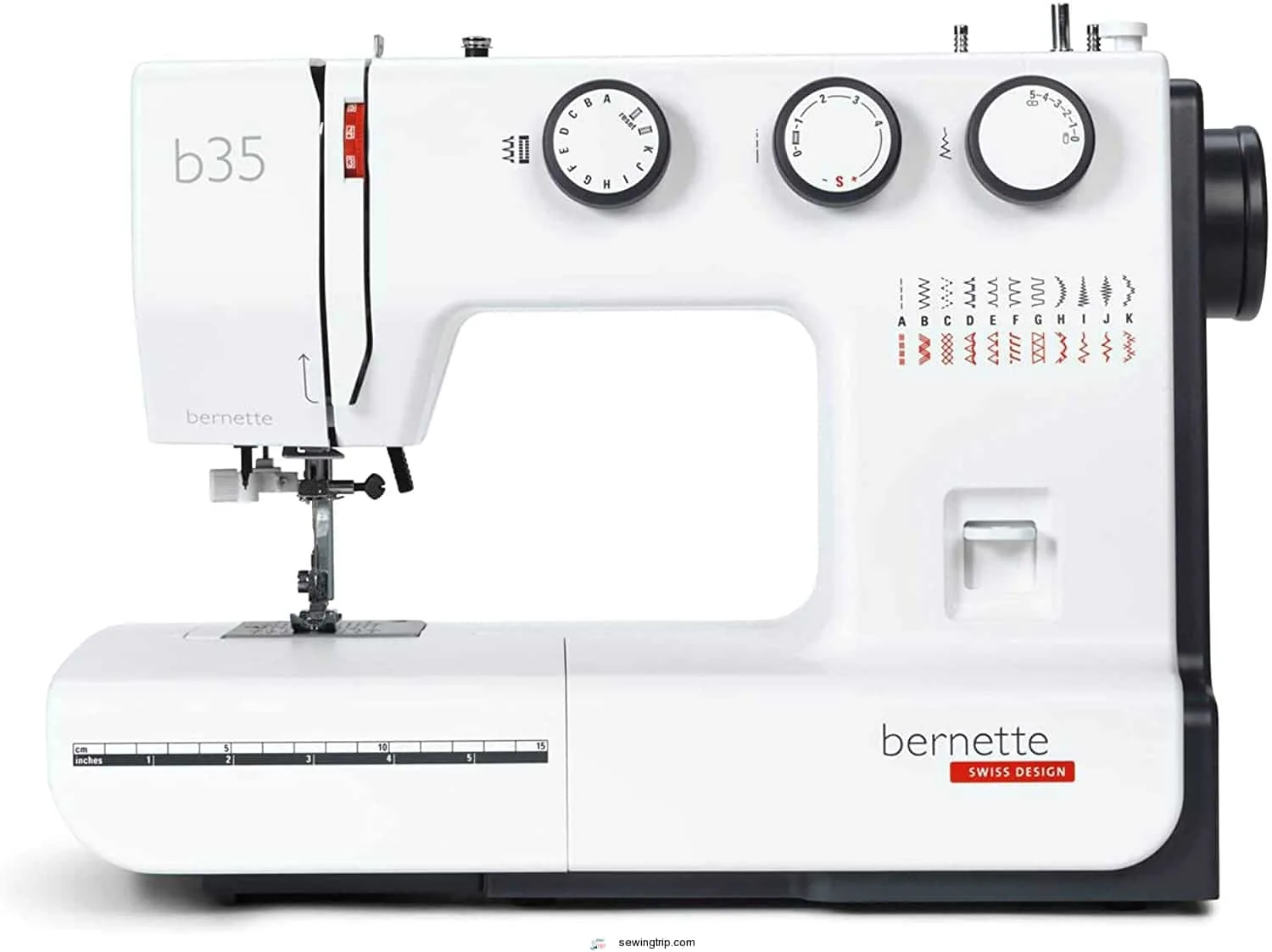 View On Amazon
Grab quick setup with the Bernette Swiss Design's automatic buttonholer. This workhorse mechanical machine packs sewing versatility into a compact, user-friendly package. With 23 built-in stitches for utility and decorative needs, width/length/pattern dials for customization, and 7 helpful presser feet, it adapts to diverse fabrics and projects.
Effortlessly whip up buttonholes with the 1-step auto function. Accessible tension adjustment enables tweaking on the fly for ideal stitch formation. Other smart touches like the manual needle threader, thread cutter, and 2-step presser foot lift maximize efficiency.
Though lacking a digital display, simple mechanical dials put full creative control at your fingertips. The Swiss Design empowers beginners and busy sewers to realize their visions with precision and ease.
Automatic 1-step buttonholer
23 built-in stitches
Customizable stitch width/length/pattern
7 versatile presser feet
Lacks digital display and computerization
Fewer built-in stitches than some models
5. Consew Walking Foot Industrial Sewing Machine With Table Servo Motor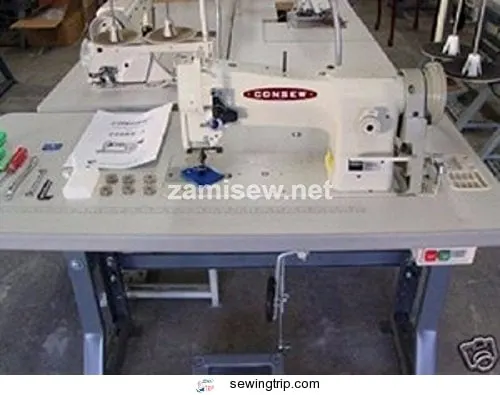 View On Amazon
Discover the remarkable versatility of the Consew Walking Foot Industrial Sewing Machine with Table Servo Motor – a powerhouse choice for professionals seeking reliability in handling everything from upholstery and leather to auto, marine, and canvas work.
This industrial-strength workhorse comes fully equipped with a sturdy table and servo motor for immediate sewing projects. Operators will find its adjustable walking motion height, high foot lift, and extra-long stitch length make quick work of heavy-duty materials.
With its specialty foot, this sewing machine handles all fabrics smoothly and evenly. The Consew delivers the high performance that upholsterers, leatherworkers, auto shops, boat builders, and canvas makers demand.
All-inclusive setup with table and servo motor
Specialized for heavy fabrics like leather and canvas
Adjustable walking motion height
Extra-long 10mm maximum stitch length
Large bobbin capacity
Geared towards industrial use
Requires ample workspace
Not ideal for delicate fabrics
6. Mini Sewing Machine for Beginners With Table Light Kit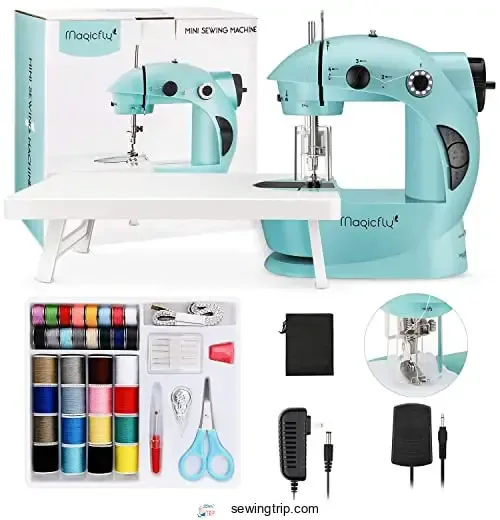 View On Amazon
Unveil the compact creativity of a beginner's essential – a mini sewing marvel. Picture yourself effortlessly stitching with this petite powerhouse, a gateway to your sewing journey. Delight in its simplicity of use, single stitch style, and AC/DC adaptability. Let its portability empower your sewing practice anywhere, with helpful accessories and an extension table enhancing stability.
Watch your confidence grow as you grasp the basic techniques. Then graduate to greater projects, learning the skills this mighty mini teaches you.
Portable and lightweight
Good for basic techniques
AC/DC power options
Comes with useful accessories
Extension table for stability
Only offers one stitch type
Small work area
Not suitable for heavy-duty projects
Limited features compared to standard machines
7. Nex Sewing Machine Crafting Mending Portable Built-in Stitches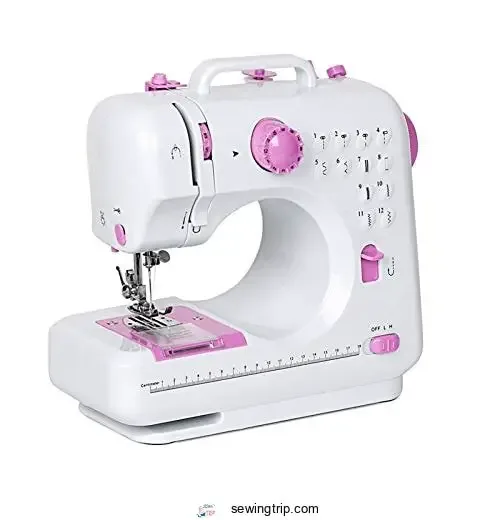 View On Amazon
Select the lightweight Nex sewing machine for effortless home projects as it has 12 built-in stitches and adjustable speeds that encourage beginners to safely tackle projects like clothing alterations or quilting squares.
Designed with convenience and functionality in mind, this versatile sewing companion lets you get creative or make practical fixes thanks to a dozen versatile stitch modes, speed control for precision work, built-in illumination, and DC or battery operation for portability.
Ideal for clothing fixes, crafting, and decorative projects, the space-saving Nex machine empowers your sewing skills with handy features like threading diagrams, online tutorials, and NEX support.
Lightweight and portable
12 built-in stitches
Adjustable speed settings
Built-in light for illumination
Battery or adapter powered
Ideal for clothing fixes and crafts
Easy-to-follow instructions included
Online video tutorials available
Space-saving design
Smaller workspace than standard machines
Limited built-in stitches compared to computerized machines
Not suitable for heavy-duty or intricate sewing projects
No automatic thread cutting feature
Parts may be difficult to replace if needed
8. Juki Computerized Sewing Machine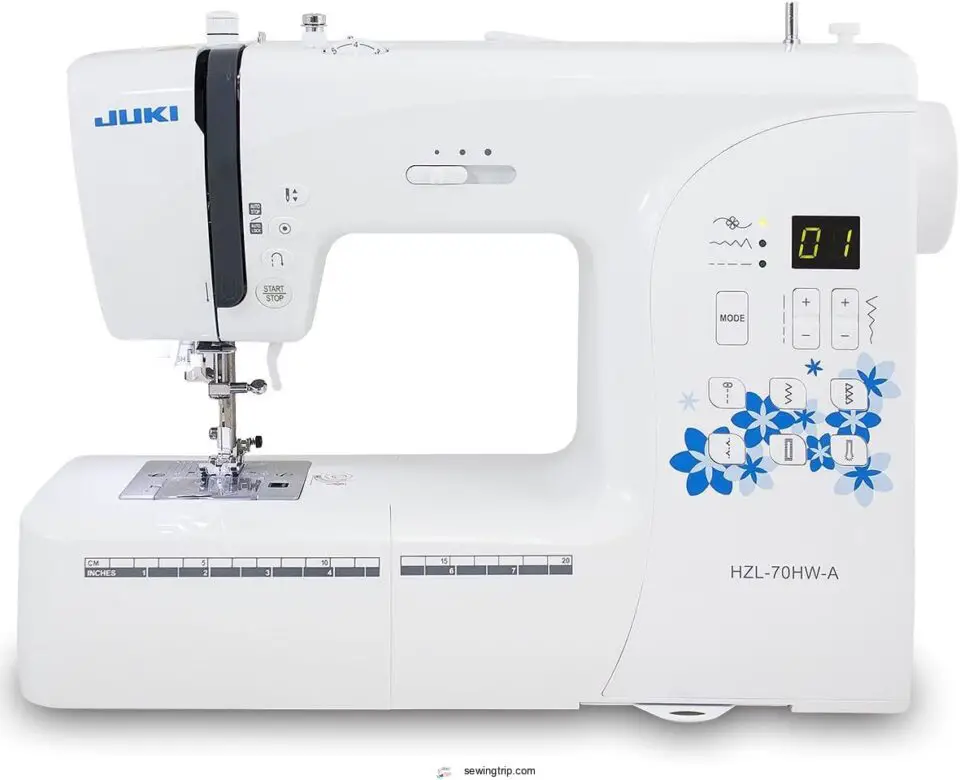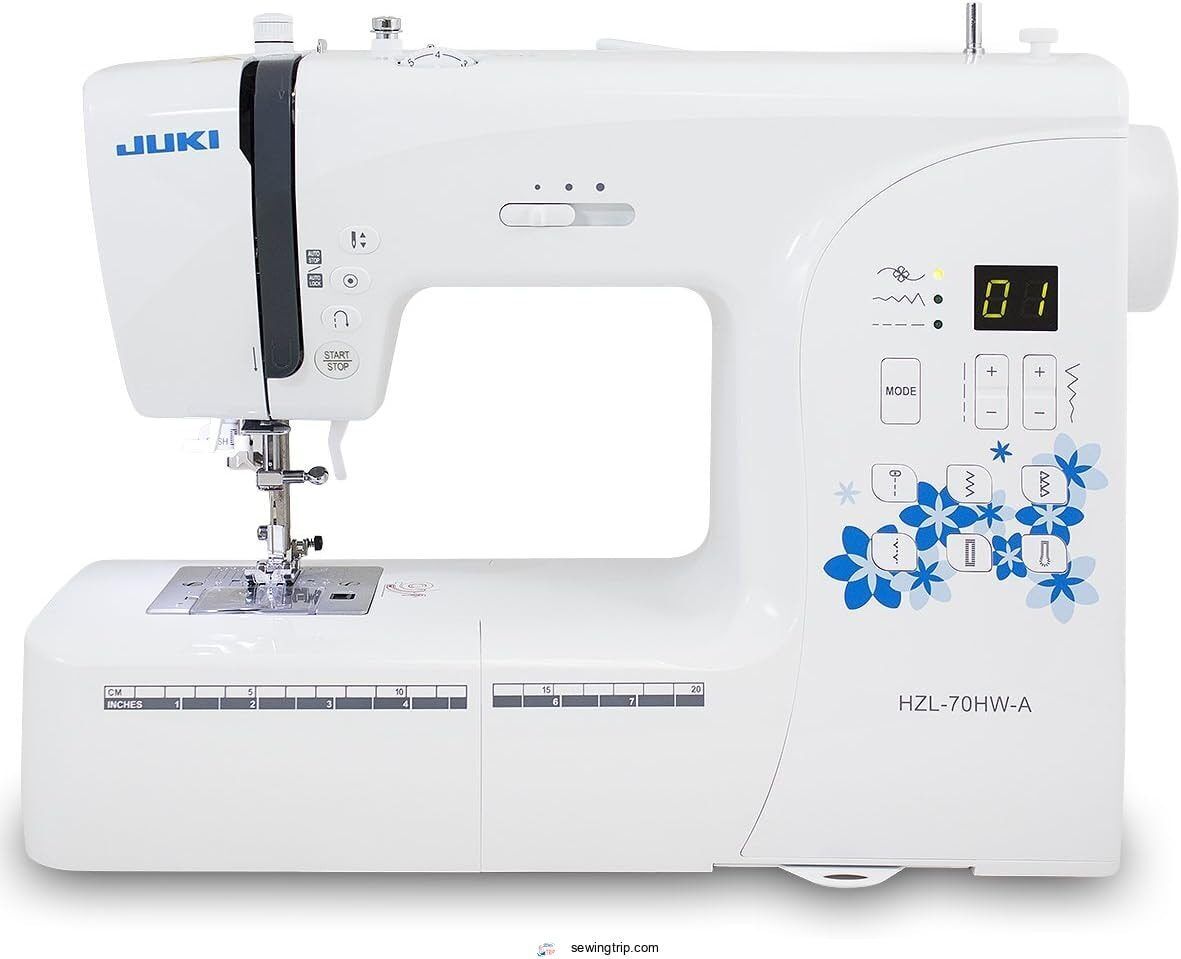 View On Amazon
Bring home professional results with the Juki Computerized Sewing Machine. This advanced industrial-grade sewing machine utilizes box feed technology for superior stitch quality and feeding. It can handle projects from delicate fabrics to heavy materials like denim with no fabric shrinkage.
With ample workspace, 180 stitch patterns, automatic needle threading, LED lighting, and buttonholes suitable for various fabrics, this versatile machine simplifies and beautifies your sewing.
Whether you're sewing lightweight or heavy-duty materials, the Juki Computerized Sewing Machine delivers exceptional performance for empowered sewing mastery. With its industrial capabilities made accessible, this machine enables you to bring high-end results into your home sewing.
Superior stitch quality and fabric feeding
Sews all fabric weights with no shrinkage
180 built-in stitches plus lettering
Ample workspace for large projects
Automated features for fast set up
Higher price than consumer machines
Learning curve with advanced features
How to Choose a Sewing Machine for a Beginner

Choosing a sewing machine to dive into the world of sewing should be an exciting journey. Consider features like whether you want a mechanical or computerized machine, simple functionality or built-in stitches, and budget-friendly options that still offer quality performance to find one that fits your needs and goals as a beginner.
Key features to consider
Hey champ, when buying your first sewing machine, don't put the cart before the horse – make sure it has user-friendly features like easy threading, adjustable speed control, and a top drop-in bobbin.
Ease of use – automatic needle threader, easy bobbin loading
Adjustable stitch length and width settings
Variable speed control
Affordable price point for beginners
Choose a machine with features that suit your skill level. Start simple, then upgrade as your abilities grow!
Mechanical vs. computerized
If you're overwhelmed by all the features and over-the-top decoration of fancy computerized machines, a basic mechanical option will let you hone your skills without added complexity. Mechanical models focus on fundamentals like straight stitching and zigzag. This simplicity allows you to grasp the basics, from threading to stitch width, without expensive bells and whistles.
Computerized machines offer helpful functionality like automatic thread trimming and hundreds of decorative stitches. However, this can be daunting for absolute beginners. Consider your learning style and project needs when deciding between basic mechanical and feature-loaded computerized machines.
Budget-friendly options
For first-time sewers on a limited budget, the Singer M1000 Mending Machine offers basic mending functionality at an affordable price of under $100.
There are several other budget-friendly options to consider as a beginner:
Brother XM2701 – Under $150, 27 built-in stitches, automatic needle threader
Janome MOD-19 – Compact and portable under $200, 19 stitches
Singer Heavy Duty 4423 – Under $200, basic straight & zigzag stitches
Juki HZL-LB5100 – Computerized under $400, easy bobbin threading
EverSewn – Sparrow 15 – Under $100, portable & lightweight
Choosing an affordable starter machine allows you to learn sewing without a huge investment upfront. Look for key features like easy threading, zigzag stitch, and automatic buttonholer.
Conclusion
The search for the perfect sewing machine can be daunting, especially for beginners.
Our top 8 picks for the best sewing machine for beginners provide an array of options for all levels of sewers. From the Singer M1000 Mending Machine to the Juki Computerized Sewing Machine, each of these machines is packed with features to help you sew with ease.
When choosing a sewing machine, be sure to consider features such as the number of built-in stitches, type of machine, budget, and portability.
With this guide, you'll be able to find the best sewing machine for beginners that meets all your needs.
References
bestsewingmachinereviewspot.com