This site is supported by our readers. We may earn a commission, at no cost to you, if you purchase through links.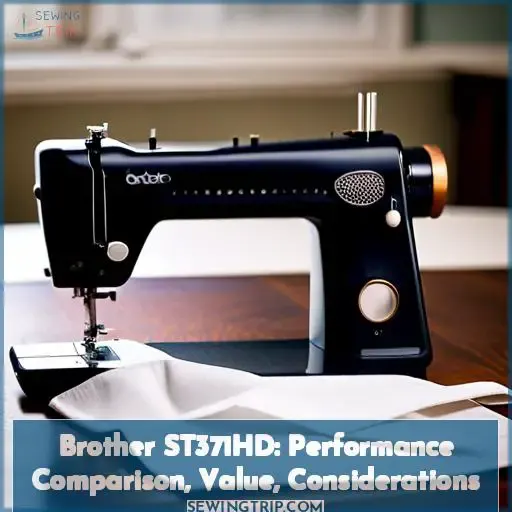 Looking to conquer your sewing projects with finesse and vigor? Wondering if the Brother ST371HD is the key to unlocking your sewing aspirations? Delve into this comprehensive review to unearth the performance intricacies, value propositions, and vital considerations before making that decisive purchase.
Is this mechanical marvel truly a game-changer for your crafting journey?
Embark on a journey of sewing prowess as we scrutinize the performance of the Brother ST371HD. From its stitch precision on various fabrics to its user-friendly setup, every facet of its sewing finesse awaits your exploration.
But the real question looms: does it stand tall against its contemporaries, especially when it comes to the coveted button work? You seek mastery, power over your creations – let's discern if the ST371HD can be your trusty companion.
Key Takeaways
The Brother ST371HD sewing machine offers 37 built-in stitches for a wide range of fabrics.
Users have reported issues with straight stitches on certain fabrics and buttonhole quality.
The machine is easy to use and set up, with efficient threading and bobbin winding processes.
The ST371HD provides good value with its impressive features, affordability, and durability backed by a 25-year limited warranty.
Performance Comparison
Delving into the performance comparison of the Brother ST371HD sewing machine, you will find a comprehensive assessment across key aspects: Sewing, Ease of Use, Ease of Setup, and Button Work. By examining these facets, you will gain a nuanced understanding of how this machine fares in delivering reliable stitches, user-friendly operation, hassle-free setup, and efficient buttonhole creation.
Sewing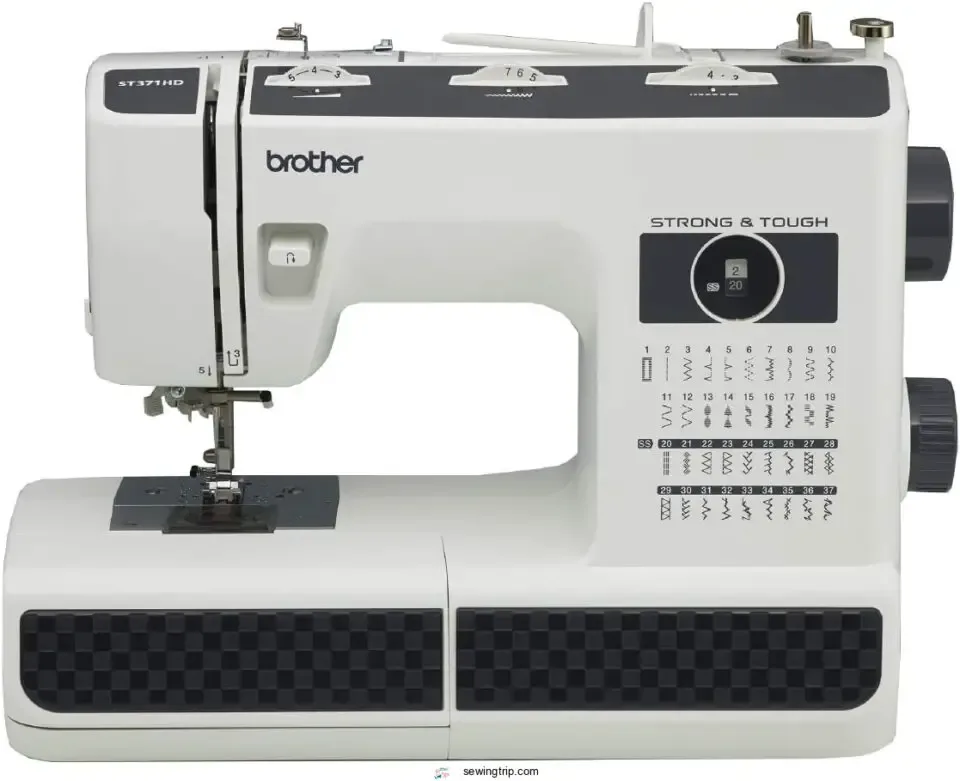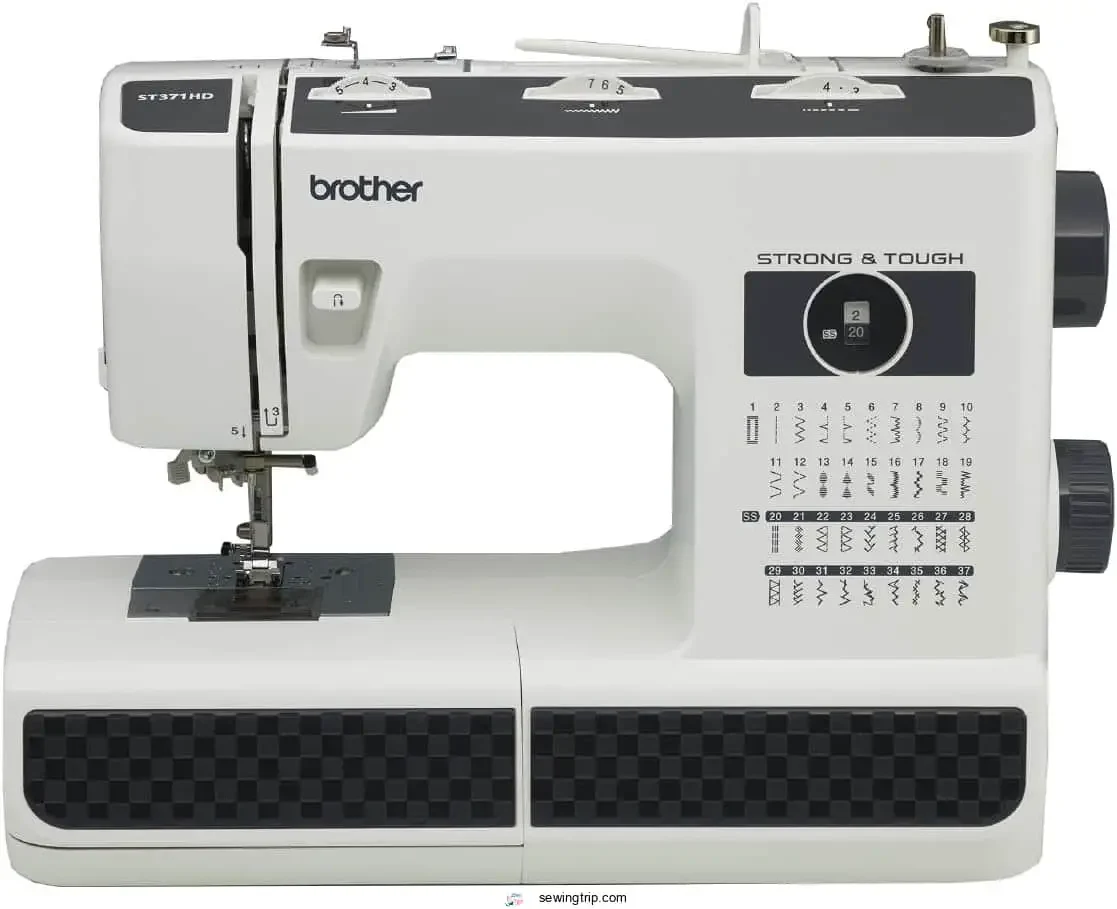 View On Amazon
Delve into the sewing capabilities of this versatile machine – it's where the Brother ST371HD truly shines. With its array of 37 built-in stitches, from utility essentials to intricate decorative options, you'll find your creativity unhinged as you tackle projects ranging from rugged outdoor fabrics to delicate silks.
The ST371HD's metal needle plate and heavyweight needles ensure smooth fabric feeding, even when handling challenging materials. Whether you're hemming jeans, crafting intricate designs, or working with multiple layers of fabric, this machine rises to the occasion with finesse.
Its drop feed feature enables free-motion sewing, granting you the freedom to let your imagination run wild.
Versatile range of 37 built-in stitches for various projects.
Capable of handling a wide range of fabrics, from heavy-duty materials to delicate silks.
Metal needle plate and heavyweight needles ensure smooth fabric feeding.
Drop feed feature allows for free-motion sewing, perfect for creative designs.
Automatic needle threader and Quick-Set drop-in top bobbin simplify setup.
Some users have reported issues with straight stitch quality on certain fabrics.
Zigzag stitch may have flaws and tight bottom thread tension.
Buttonhole quality is subpar, and buttonhole presser may not catch fabric properly.
Dim lighting could cause shadow casting on the work area.
While suitable for beginners, detailed instructions may be needed for optimal use.
Ease of Use
Explore the realm of user-friendly convenience as the intuitive design of the Brother ST371HD sewing machine effortlessly guides you through projects with its straightforward threading process. Letting you glide through your creative endeavors like a skilled navigator through calm waters, the machine's user-friendly interface alleviates shadow concerns with its clear directions.
Although its threading process is simple, be mindful of lighting issues that might cast shadows. The ease of use extends to button work, though the buttonhole quality could be improved.
Ease of Setup
Discover how easy it is to set up the Brother ST371HD sewing machine for your projects. Mastering the initial setup ensures a smooth sewing experience, even if you're new to the world of sewing.
Efficient Bobbin Winding: Learn the perfect bobbin winding technique to avoid irregular winding that could disrupt your stitching process.

Seamless Threading Process: Navigate through the threading process with ease, ensuring correct placement and tension.

Bobbin Loading Tips: Gain insights into proper bobbin loading for optimal stitch formation and to prevent thread jams.
Encountering setup troubleshooting or needing thread tension adjustment guidance? Don't worry; this guide equips you with the know-how to overcome common setup challenges.
Embrace the simplicity of setting up your Brother ST371HD, even if you're new to mechanical machines. Achieve mastery over your sewing projects by starting with a solid setup foundation.
Button Work
Switching gears to the button work aspect of the Brother ST371HD, you might find it intriguing that the machine scored a 4 out of 10 in this category.
Let's take a closer look at the button work performance of this sewing machine:
| Buttonhole Quality | Buttonhole Presser | Stitching Quality | Buttonhole Alignment |
| --- | --- | --- | --- |
| Subpar | Doesn't catch fabric | Needs improvement | Challenging |
The Brother ST371HD struggled in the button work department. Its 1-step buttonhole lacked an automatic stop, resulting in uneven buttonhole stitching.
The buttonhole presser often failed to grip the fabric properly, leading to subpar buttonhole quality.
If button work is a significant part of your sewing projects, you might want to consider other Brother sewing machine models with better buttonhole performance.
Value

Delve into the topic of value by considering the Brother ST371HD sewing machine's impressive array of features and its reasonable price point. This machine combines versatility, durability, and performance for both novice sewists and experienced crafters.
The ST371HD stands as a testament to Brother's commitment to delivering quality within a budget-friendly package.
Its robust metal construction, automatic needle threader, and Quick-Set drop-in top bobbin contribute to a hassle-free sewing experience. The machine's LED light enhances visibility, underscoring its thoughtful design for user convenience.
By assessing user satisfaction and durability factors, it's evident that the ST371HD offers value beyond its cost. Whether you're diving into your first sewing project or seeking a reliable companion for your creative ventures, the Brother ST371HD proves to be a commendable choice that strikes an ideal balance between performance and affordability.
Considerations Before Purchasing a Brother Sewing Machine

Delving into the realm of selecting a Brother sewing machine brings forth several crucial considerations that can significantly influence your sewing experience. As you embark on this journey, you'll need to weigh the merits of mechanical versus computerized models, appreciate the convenience of an automatic needle threader, decide between traditional button-operated sewing and hands-free alternatives, recognize the value of included presser feet, and grasp the nuances of buttonhole construction processes.
Your choice will undoubtedly hinge upon these factors, shaping the path to finding the perfect sewing companion.
Mechanical Vs. Computerized
Explore the Mechanical vs. Computerized Debate in Brother sewing machines to tailor your choice to your creative aspirations. Mechanical models, like the Brother ST371HD, emphasize durability and heavy-duty sewing.
Their straightforward design and manual controls are ideal for those who value simplicity and control over intricate features. In contrast, computerized options offer a wider range of stitch variety, user-friendly features, and automated functions, catering to diverse projects.
Automatic Needle Threader
Discover the magic of effortless setup with the Brother ST371HD's automatic needle threader. Threading your machine becomes a breeze, ensuring you dive right into your sewing projects without frustration.
This feature's functionality not only saves time but also enhances threading efficiency. Unlike some mechanical machines, such as the Brother ST150HDH, which lack this hands-free sewing convenience, the automatic needle threader empowers you with a quick and hassle-free start to your creative journey.
Buttons Vs. Hands-Free Sewing
Consider how convenient it is to have the option of hands-free sewing when using a Brother sewing machine. Hands-free techniques offer a new level of freedom and efficiency in your sewing projects. While button sewing is a common method, the Brother ST371HD and similar models like the ST150HDH provide hands-free convenience.
You can focus on fabric placement and guiding while the machine handles the stitching. This feature is especially beneficial for buttonhole stitching and quilting, allowing you to master intricate designs with ease.
So, explore the hands-free benefits and elevate your sewing prowess with Brother's versatile machines.
Included Presser Feet
To enhance your sewing experience with the Brother ST371HD and other Brother sewing machines, a diverse range of included presser feet awaits you. These sewing accessories are your key to unlocking a world of stitching possibilities.
With a selection of presser feet tailored to different stitch options and sewing techniques, you'll have the tools to conquer any project. From addressing fabric bunching in your sewing tests to ensuring fabric compatibility, these presser feet offer the mastery and power you seek in your sewing endeavors.
Buttonhole Construction Process
Exploring the sewing machine's capabilities is like unraveling a captivating story; the buttonhole construction process weaves intricate threads of functionality, transforming fabric into tailored artistry.
Buttonhole techniques offered by the Brother ST371HD open up a world of creative applications. Its automatic bobbin winding and zigzag stitch capabilities ensure precise and sturdy buttonholes. Experimenting with different stitch varieties and fabric compatibilities empowers you to master the art of creating flawless buttonholes.
Troubleshooting tips enhance your expertise, granting you the mastery to execute buttonholes that truly elevate your sewing projects.
Are Brother Sewing Machines Any Good?

Wondering if Brother sewing machines are up to the task? Well, here's the scoop: Brother has a solid reputation for crafting reliable and affordable sewing machines that cater to both novices and seasoned stitchers alike.
Their machines have been lauded for their durability, offering years of dependable service.
When it comes to affordability, Brother sewing machines come in a range of price points, making them accessible to a wide audience without compromising on quality.
Performance-wise, Brother machines consistently hold their own in the sewing world. User experiences often highlight the ease of use and versatility these machines offer. Whether you're a beginner looking for a user-friendly mechanical model or an experienced sewist seeking the advanced features of a computerized sewing machine, Brother has you covered.
Moreover, Brother sewing machines often come with a variety of included presser feet, enhancing their value and versatility right out of the box. Plus, they back their products with a solid warranty, providing peace of mind for your sewing endeavors.
So, if you're in the market for a reliable and affordable sewing companion, Brother Sewing Machines are indeed a good choice.
What is the Brother Warranty?

Discover the reassuring embrace of the Brother ST371HD's warranty, a promise as steadfast as the sturdy stitches it weaves into your creations. The Brother warranty coverage offers a 25-year limited warranty, reflecting the brand's confidence in the machine's durability.
Throughout this extensive duration, you'll experience the benefits of worry-free sewing, knowing that the warranty safeguards against potential defects in materials and workmanship. While the warranty terms provide significant support, it's essential to note that certain limitations might apply.
If you encounter any issues, the warranty support process involves reaching out to Brother's customer service, who will guide you through troubleshooting steps and potential solutions. With the Brother ST371HD, not only do you have a reliable sewing companion, but you also have the backing of a comprehensive warranty that underscores Brother's commitment to your sewing journey.
How Much Do Brother Sewing Machines Cost?

Now that you're acquainted with Brother's generous 25-year warranty, let's delve into the practical aspect of owning a Brother sewing machine: the cost. Understanding sewing machine prices is pivotal when considering your investment.
Brother offers a range of models to cater to various budgets and needs. Here's a snapshot of what you can expect in terms of pricing:
Affordable Options: Brother sewing machines come in models that are budget-friendly, often priced below $100, making them accessible to beginners and those with tight budgets.

Cost Range: The cost of Brother sewing machines can vary widely based on the model's features and capabilities. You can find consumer machines in the range of $100 to $350 or more.

Pricing Trends: Keep an eye on pricing trends as Brother frequently releases new models. This can lead to price reductions on older models, offering excellent value for money.

Brother Models: Brother offers a diverse lineup of sewing machines, from basic mechanical models to advanced computerized ones. The price point varies depending on the model's complexity and features.
Understanding the sewing machine market and Brother's offerings can help you make an informed choice that aligns with your budget and sewing requirements.
What Accessory Feet Come With the Brother ST371HD?

Curious about the accessory feet that come with Brother's ST371HD sewing machine? This versatile powerhouse offers six interchangeable feet, including a spring action zigzag foot, blind stitch foot, and zipper foot, ensuring you have the right tool for every sewing need.
Using the accessory feet that come with the Brother ST371HD sewing machine can enhance your sewing experience and expand your creative possibilities.
Spring Action Zigzag Foot: This foot is designed to handle zigzag stitches and other decorative stitches. Its spring action mechanism helps create smooth and even stitches, especially when working with stretch fabrics.
Blind Stitch Foot: The blind stitch foot is useful for creating invisible hems and seams. It helps you achieve professional-looking finishes on garments and home decor projects.
Zipper Foot: The zipper foot assists in attaching zippers to your projects. It allows you to sew close to the zipper teeth, ensuring a neat and secure attachment.
Nonstick Foot: The nonstick foot is ideal for sewing on tricky fabrics like leather, vinyl, and suede. Its specialized design prevents the fabric from sticking to the foot while sewing.
Buttonhole Foot: The buttonhole foot is used for creating buttonholes. It guides the machine to sew perfectly sized and aligned buttonholes for your garments.
These accessory feet provide versatility and enable you to tackle a wide range of sewing tasks with precision and ease. Whether you're working on clothing, home decor, or craft projects, having the right accessory feet can make a significant difference in the quality of your finished products.
What Can You Sew With the 37 Stitches?

Explore the incredible versatility of the 37 built-in stitches on the Brother ST371HD. This sewing machine allows you to bring your sewing projects to life with an array of creative options and fine-tuned precision.
Whether you're venturing into intricate embroidery, reinforcing seams with utility stitches, or enhancing your designs with decorative flair, these stitches offer limitless possibilities.
From delicate silks to sturdy outdoor materials, the ST371HD's robust construction ensures seamless fabric feeding. Experiment with stitch combinations to achieve unique patterns and textures, giving your creations a personalized touch.
With options like the blind stitch foot, spring action zigzag foot, and zipper foot, you can tailor your stitch selection to suit different fabric types and project requirements.
Let your imagination flourish as you harness the stitching prowess of the Brother ST371HD to adorn your fabrics with exquisite embellishments and elevate your sewing mastery.
What Other Features Are There With the Brother ST371HD?

Sure, you'll appreciate the thoughtful design of the Brother ST371HD sewing machine, which comes equipped with a built-in carrying handle, making it conveniently portable for your sewing projects. With its impressive array of 37 built-in stitches, ranging from utility to decorative options, and a selection of 6 interchangeable feet, including a spring-action zigzag foot, you'll have the versatility you need to tackle a wide range of sewing tasks with confidence.
Built-in carrying handle
With the grace of a skilled dancer, the built-in carrying handle of this remarkable sewing companion allows you to effortlessly transport creativity from room to room, ensuring your projects are never confined by space or imagination.
Portability Benefits: The well-designed handle adds a touch of convenience to your sewing experience, making it easy to move the machine whenever inspiration strikes.
Handle Durability: Crafted with durability in mind, the handle can withstand the demands of frequent transportation without compromising its functionality.
Easy Transportation: Whether you're shifting your sewing station or attending a crafting class, the carrying handle ensures that your Brother ST371HD accompanies you without hassle.
37 built-in stitches
Discover the array of creative possibilities that open up as you explore the 37 built-in stitches on the Brother ST371HD sewing machine. Whether you're a seasoned sewist or just starting out, these stitches offer versatility and inspiration for various projects.
Take a look at the table below for a quick guide on stitch variety benefits, creative stitching ideas, and stitch application inspiration.
| Stitch Type | Benefits | Creative Ideas |
| --- | --- | --- |
| Utility Stitches | Strong and durable | Hemming, mending |
| Decorative Stitches | Artistic embellishments | Embroidery, quilt borders |
| Stretch Stitches | Flexibility in seams | Knit fabrics, sportswear |
Customize your creations with the stitch selection guide, and let your imagination flourish with this sewing powerhouse.
Experiment with combinations to create unique designs. For intricate projects, the Brother SQ9285 offers added decorative stitches, while the Brother LX3817 is perfect for lightweight fabrics.
Elevate your sewing skills and explore the world of stitches with the Brother ST371HD.
6 interchangeable feet
Take a stroll through the features, and you'll find six versatile interchangeable feet awaiting your creative touch with the Brother ST371HD. These foot options provide an exciting array of creative stitching possibilities that cater to your project-specific needs.
Whether you're quilting, hemming, or adding decorative elements, the enhanced sewing experiences these feet offer will empower your mastery of diverse techniques.
Conclusion
Concluding this exploration of the Brother ST371HD sewing machine, have you discovered the performance champion you're seeking? Through a meticulous comparison of sewing prowess, user-friendly operation, and button work finesse, a comprehensive view emerges.
Delve into the value this machine offers – a balance between affordability and functionality, backed by the legacy of Brother craftsmanship. While pondering your purchase, consider vital aspects like mechanical vs. computerized options, the convenience of needle threading, hands-free capabilities, and the array of included presser feet.
Reassured by Brother's reputation, you're left with a query: Are Brother sewing machines truly worth the investment? Fear not, for their reliability speaks volumes. Now, inquire about the warranty coverage and cost range – vital factors in your decision-making journey.
As you marvel at the 37 built-in stitches, envisage the possibilities they unlock, from intricate designs to sturdy hems. Moreover, don't overlook the subtle features like the built-in carrying handle and the inclusion of six versatile interchangeable feet.
With the Brother ST371HD, you're not merely acquiring a sewing machine; you're embracing a reliable, durable partner for your creative endeavors.