This site is supported by our readers. We may earn a commission, at no cost to you, if you purchase through links.
The release of the Brother ST371HD sewing machine is Brother's first heavy-duty machine – and we think it's a great start to the business.
Sure, it doesn't have the bells and whistles of other machines, but it's sturdy, reliable and a great machine to sew at home.
If you're looking for a heavy-duty sewing machine that can really go a long way industrial level, the Brother ST371HD is not for you.
But if you are looking for a personal, mechanical sewing machine that is perfect for both general sewing projects, thick materials and layers, this machine could be the right one.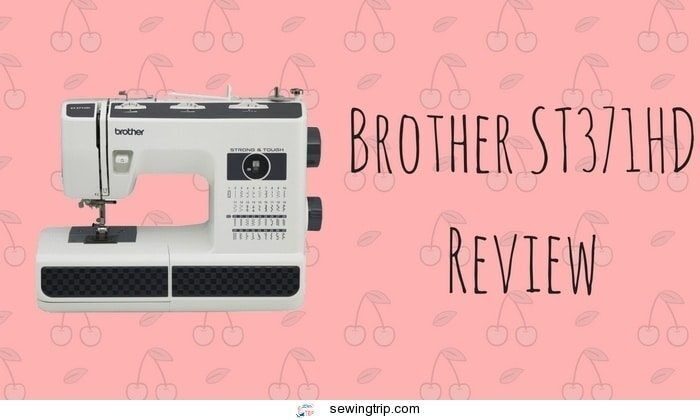 Here's our in-depth review of the machine to help you make up your mind.
Brother ST371HD: The Details
The Look
With a blue, Gr ice and white color scheme, the Brother ST371HD is unlikely to win awards for incredible aesthetics.
Are we the only sewers craving a pastel colored machine?
But it's a neat little machine that's light for its heavy sewing skills.
Let's go through the functions: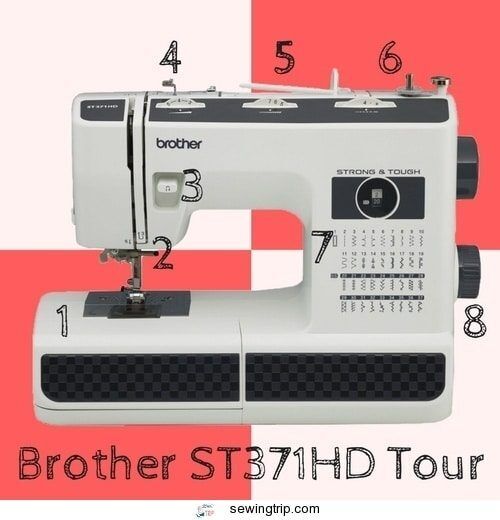 Free arm: for free motion sewing
Automatic needle threader: press the small lever for automatic threading
Reverse sewing lever: easy topstitching for hems and seams
Tension control dial: manual change of thread tension
Handle: for easy portability
Spool Winder
Stitches: all 37 built-in stitches and buttonhole
Stitch selection dial: find and use the stitch you want to use
And here's a video tour of the ST371HD:
Specs
14.3 pounds
12.21 x 16.10 x 7.87 in
37 built-in stitches including one automatic one-step buttonhole
Maximum 800 stitches per minute
Mechanical
Using the SA156 coils required
25 year limited warranty
Accessories
The Brother ST371HD comes with the following accessories in the box:
6 presser feet: blind stitch, buttonhole, button sewing, non-stick, spring action zigzag and zipper
Foot controller
3-piece needle set: #11, #14 and #16
Twin needle
Spool pin
4 spools
Power cord
Instructions for use
Instruction DVD
Brother: The Company
Although the most important thing to consider is the machine itself when it comes Before buying sewing machines, it is also a good idea to review the company itself. Often this can give you an idea of the strength of their customer service and the longevity of the machine.
The ST371HD by Brother and unless you've been hiding over the decades You're probably familiar with them.
Brother in 1954 as the US branch of Japan-based Brother Industries Ltd.
That means that with a Brother sewing machine you get the Japanese-inspired technique combined with the American convenience, safety and customer service you are looking for.
Apart from sewing machines, Brother has a long history of producing a range of products for the home and office, including printers, scanners and vinyl makers.
One of the major bonuses of buying the Brother ST371HD is that they give you a 25-year limited warranty and unlimited telephone support for the life of the product.
That's a service level that we don't imply with an unbranded sewing machine, or one from a lesser company.
The Warranty
Brother offers a 25-year limited warranty on the ST371HD, which categorizes as follows:
Parts, labor and associated accessories: 1 year
Electronic components and printed circuit boards: 2 years
Chassis moulding: 25 years
Remember that you must keep your proof of purchase to see the proof of purchase and show to make use of the warranty, and that you will also have to pay the costs of shipping and packaging.
You can read the full Brother standard warranty here.
Heavy functions
The Brother ST371HD is on the market brought as'Strong and Tough'— hell, it's even written on the machine! —so Brother has come a long way to make sure it meets your expectations.
What do you want from a heavy-duty sewing machine?
For us it's simple: the ability to handle different material thicknesses and sew through multiple layers of fabric.
Simple, right? Not always.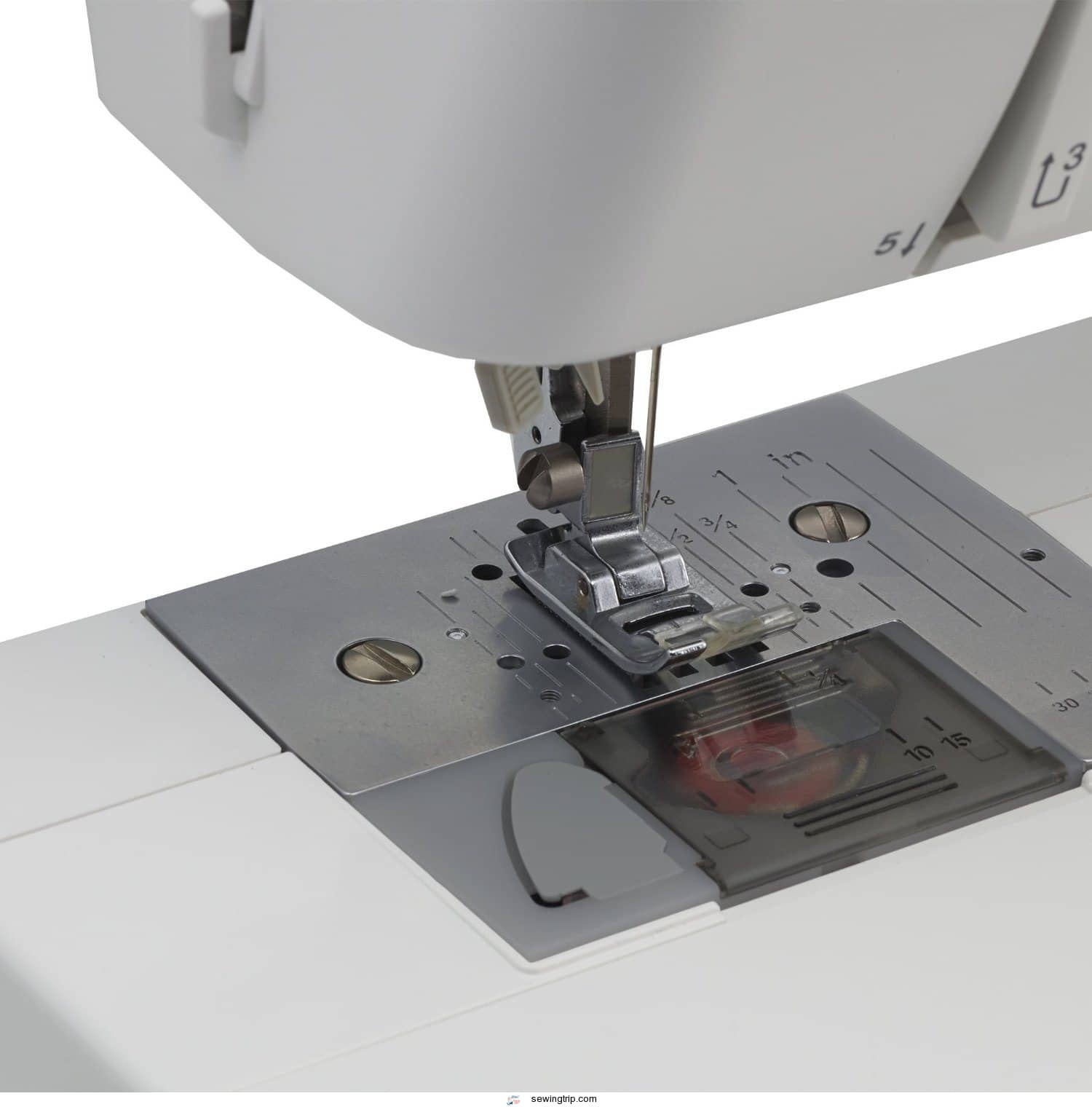 The metal stitch plate
Luckily, the ST371HD has the chops to handle our tough projects with ease. At this low price, that's something to celebrate.
Here's what the Brother ST371HD packs in the heavy department:
Heavyweight needles: Includes #16 for heavy fabrics and #14 for multiple layers
Metal needle plate: Provides smooth fabric feed and aids alignment with the engraved measurement guide
Metallic wire hook
Spring-loaded zigzag foot: helps you glide seamlessly over thick seams and copious layers
Anti-stick foot: ideal for moving over non-woven fabrics, such as suede, that can otherwise be difficult
Brother ST371HD Review
Right: time to do the right things – how is the Brother ST371HD, anyway? Is it worth its price tag?
Let's see…
Notable features
Apart from its robust specs, the ST371HD has a few other interesting features to keep in mind.
Automatic Needle Threader
A convertible free arm for hemming sleeves and cuffs
Brother-exclusive, fail-safe, fast drop-in top spool
Adjustable stitch length and width
As we mentioned in the introduction, the Brother ST371HD is not a flashy, high-tech sewing machine. It's not even automated.
What it is, however, is reliable: it gets the job done. It's also cheap. Novice sewers and those on a budget will find excellent value for money.
The Positives
Great for Heavy Duty Sewing
As you would expect from a'strong and sturdy'sewing machine, the Brother ST371HD is perfect for sewing heavy fabrics and multiple layers.
The metal needle plate provides a smooth fabric feed whether you're using silk or suede, and the #16 needle makes temporary work of harder materials (without tearing).
For multiple layers, the #14 needle is ideal for tackling fabrics of different thicknesses, while the springy zigzag foot glides effortlessly over different materials.
Although the machine doesn't have the same sturdy feel as the more expensive heavy-duty sewing machines – the components feel like they're plastic – the 25-year limited warranty should give you some peace of mind its durability. We found it tough enough to take on quite large projects, including sewing outdoor canvas materials.
Easy to use bobbin
We know this will be a big pro for all beginners, as well as old hands (like us!) who hate fiddling with the coil.
The Brother jam-resistant quick-set drop-in top bobbing stays in place and helps to deliver even and reliable stitches. There's even a thread guide mark on the bobbing holder to help you keep the thread in place.
The bobbin wonder is simple to use and makes it easy to thread spools of different threads.
The transparent cover over the bobbin is also a delicate touch, making it easier to see when you're running out of thread.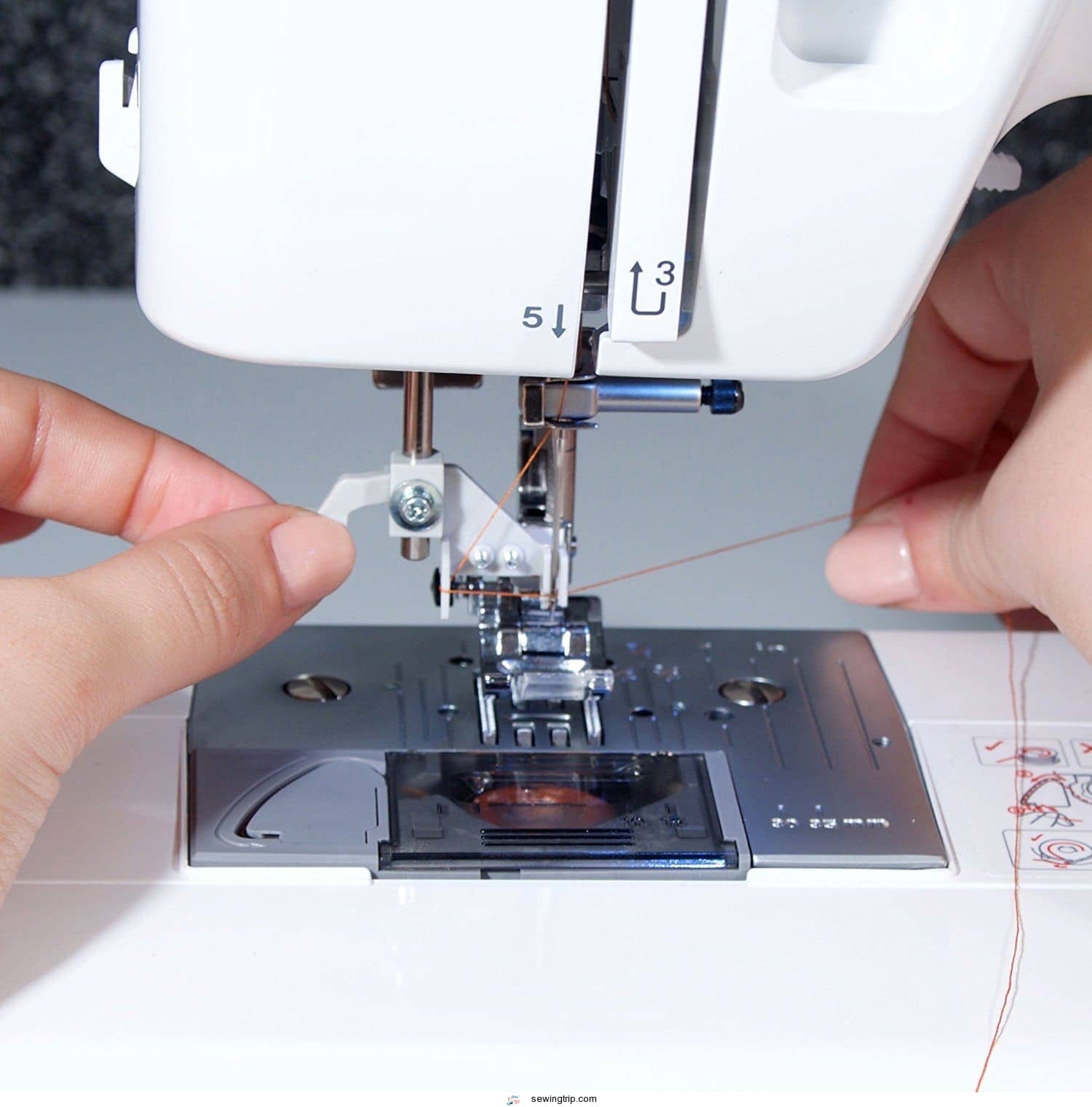 Easy threading and transparent bobbin cover
Overall, the bobbin system is user-friendly and convenient for everyone.
Automatic Needle Threader
Here is another feature that both beginners and experienced seamstresses.
The will appreciate automatic needle threader, actuated by simply pushing down the lever on the side, causes the thread the needle.
For sewers with poor eyesight, or even just those of us who get frustrated with threading, this is a really valuable point.
The stitch selection dial
It is undeniable that the Brother ST371HD isn't as sleek as those sewing machines with a computerized LCD screen, we really love the easy-to-use stitch selection.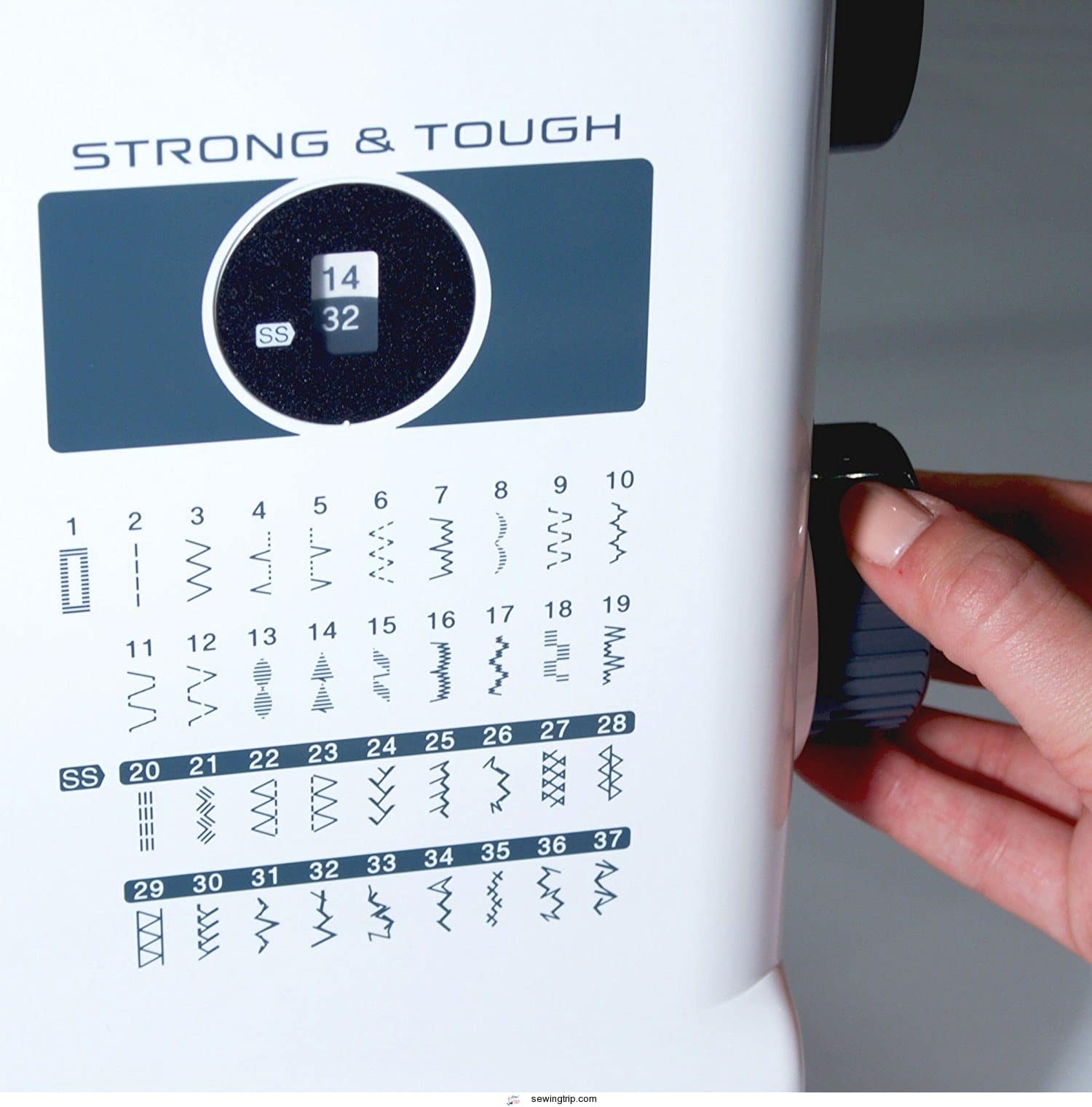 You simply select the desired stitch by pressing the button on turning the side of the machine. The 37 built-in stitches are all printed on the front of the ST371HD, so it's easy to choose which one you want.
While some seamstresses may think 37 included stitches fades compared to some of the machine's competitors, we think it's a great number to meet all your daily sewing needs.
Apart from the most prolific tinkerers, using 100+ different stitches?
Other little features we love:
The 6 presser feet snap on for easy changes
Free arm and feed dogs can for free motion sewing
Built-in handle
Adjustable stitch size
Free customer support lifetime telephone support
No need for periodic oils
Storage compartment in the workspace
It is cheap!
The cons
Of course has a reasonably priced machine a few drawbacks. Whether these issues are a deal breaker depends entirely on why you need to use a sewing machine.
It's Pretty Basic
What we love about the Brother ST371HD is that it is reliable and gets the job done. It's great for everyday sewing and for heavier projects.
But other than that…it can't offer much.
It has only 37 built-in stitches, one buttonhole and . There are no fonts for tinkerers to use and no options for embroidery.
For specialist sewing you need a specialist sewing machine (and probably one with a higher price tag). The Brother ST371HD isn't – it's just a good everyday machine.
A few features are missing
There are a few features we would have liked on the Brother ST371HD out from the user experience and convenience factors.
There is no stop/start button and sewing must instead by moving the feet. This may take some getting used to for beginners, but it shouldn't be too much of a problem (even if it's a little clunky).
An important feature we feel is missing is a button for the up/down position of the needle. We find sewing around corners so much easier when we can just press a button to lower the needle, but unfortunately this will have to be a manual change with the ST371HD.
Again, it's not a deal breaker, as it is possible to complete the action yourself, but it takes away from the convenience of the sewing machine.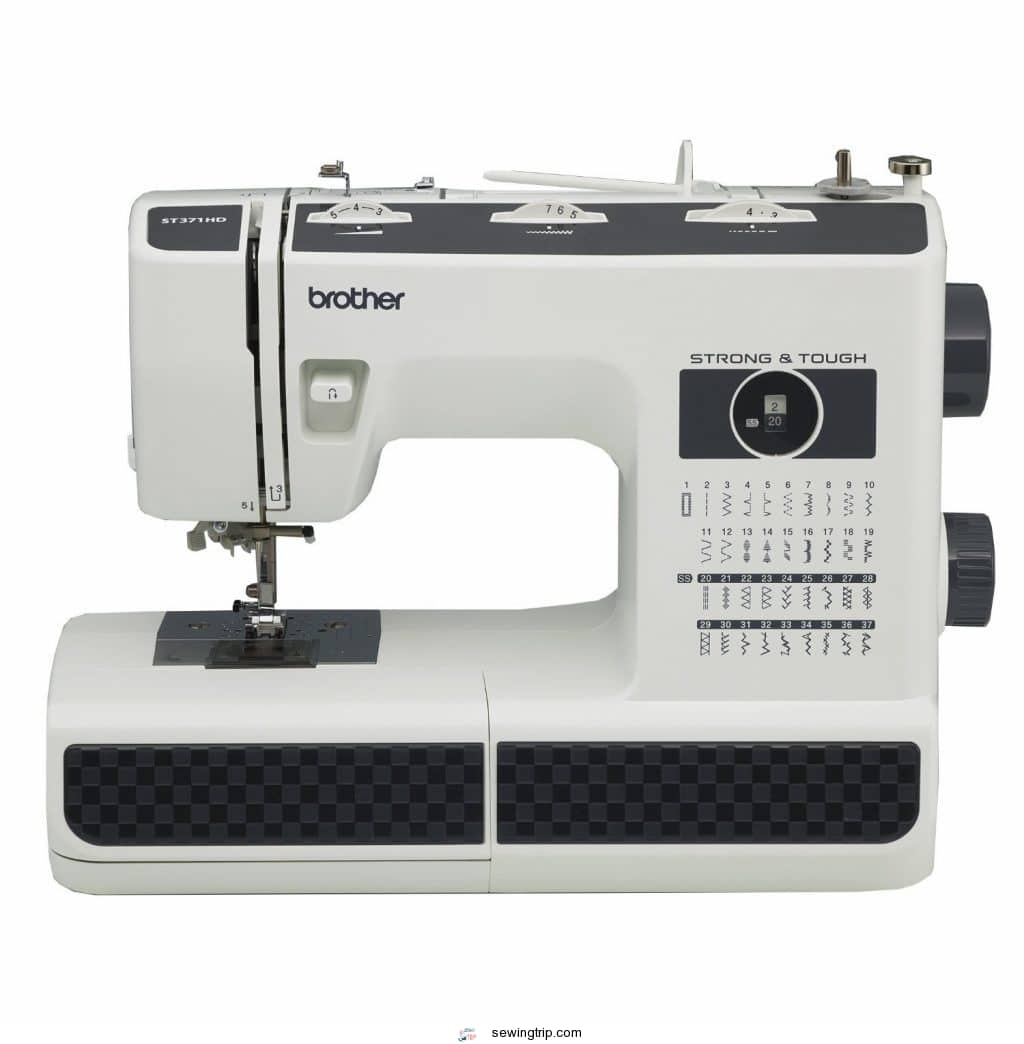 No Automatic thread tension or speed control
A few more things that may put beginners off the Brother ST371HD is the fact that you have to set the thread tension yourself by turning the dial on the top of the machine.
Some of the more high-tech sewing machines will set the tension for you automatically, which makes the learning curve a little easier.
There is also no speed control available, which LduGrV0Ocan be a bit nerve-wracking for beginners who like to sew slowly before building up the speed.
Other minor features that could be improved
We wish it felt a little more durable
The LED light is not so bright on the work area
Brother ST371HD Overall verdict
All we highly recommend the Brother ST371HD.
[0 on.]Yes, it's not high tech. Yes, it is not for hobbyists. And yes, it looks retro.
But you know what?
It's reliable, and it gets the job done. We love that.
It's great for heavy-duty sewing and for your everyday needs – whether you're hemming your favorite jeans, sewing a Christmas costume or trying to put together outer fabrics.
For such a reasonable price it is hard to find a real fault with the Brother ST371HD.
Where to buy the Brother ST371HD
You can find the Brother ST371HD for sale all over the internet, including at HSN and Jo-Ann.
Of course one of the most popular places to buy this sewing machine is at Amazon, where you can often find great deals.
In addition to selling the
] standalone machine, they also offer a bundle deal with a pack of 10 reels.

Have you tried the Brother ST371HD yet? What's your verdict?
Read more: Brother ST371HD vs Singer 4411
Would you like to see other models before buying? she decides? Check out our latest user reviews.