This site is supported by our readers. We may earn a commission, at no cost to you, if you purchase through links.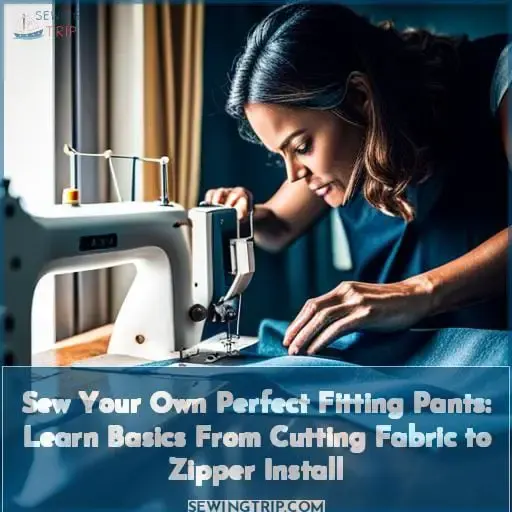 Looking to sew your own pants from scratch? Let's start with the basics. Choosing the right pattern is key – look for a simple pull-on elastic waist style with no zippers or pockets to begin with. Be sure to take accurate waist and hip measurements first to determine your pattern size.
Then gather the fabric and notions listed on the pattern envelope – you'll likely need 2.
Once you've prepped your fabric and pattern, it's time to tackle the fly zipper. Proper zipper placement and following a good tutorial are musts for a clean finish. We'll walk through cutting and sewing each piece, step-by-step, to construct your pants.
Now it's your turn – share your makes, get feedback from fellow sewers, and feel a sense of accomplishment.
Key Takeaways
Choose the right pattern and fabric for your project.
Carefully measure to get the proper fit.
Follow each construction step in sequence.
Request feedback to enhance your skills.
Sewing Pants Basics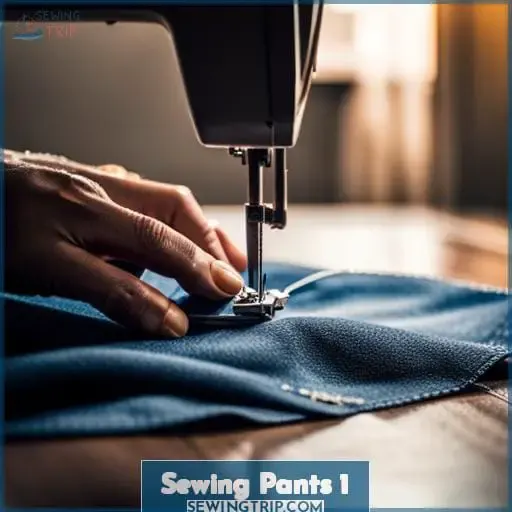 You'll love makin' a custom pair that fits just right! Start with quality fabric and a tried 'n' true pattern for the silhouette you want. Cut your fabric carefully followin' the pattern pieces. Mark darts and construction details before sewin.
Insert the fly zipper followin' a good tutorial – it's easier than you think! Sew the crotch seam last to join the front and back pants legs.
Hem the bottom and you're ready to rock your new duds! Followin' each step patiently is rewarding, and soon you'll be tweakin' patterns and fabrics for exactly the look you want.
The sense of accomplishment each finished garment brings will have you stitchin' up unique pants again and again.
Choosing a Pants Pattern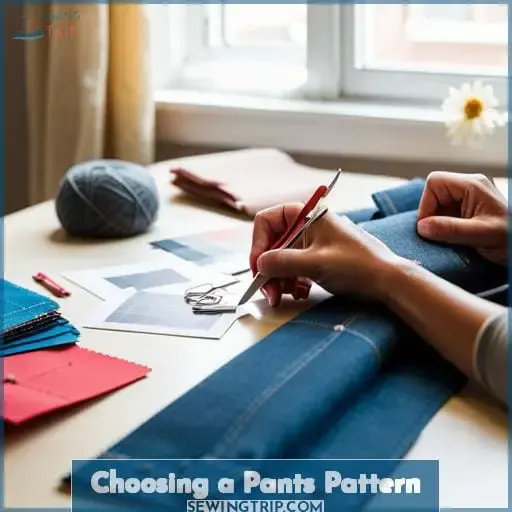 When making your own pants, you'll first want to decide which style you're aiming for—maybe wide-leg, skinny, joggers, or classic chinos. Then carefully select your pattern size by measuring yourself according to the sizing chart, allowing room for wearing ease to ensure a comfortable fit.
Finally, check the recommended fabric yardages listed with each size in the pattern instructions so you'll be sure to buy enough material for your custom pair.
Pants Styles
Here are the pants styles that'll make your friends green with envy! From wide legs to slim fits, the options for customizing are endless. Play with waist widths, leg shapes, cool embroideries and fly fabrics like corduroy or velvet.
Sew yourself some far out flares, funky pull-ons or a pair of slick trousers – whatever your heart desires! With the right pattern and patience, sewing pants to showcase your inner rockstar is easier than licking butter off a biscuit.
Sizing
All right then, let's figure the yardage you'll be needing for those far out pants you're itching to make.
Measure your waist, hips, inseam, and outer leg length.
Check the finished garment measurements on the pattern envelope.
Compare your measurements to the pattern sizes listed.
Select the pattern size closest to your measurements.
When it comes to selecting the correct pattern size for your homemade pants, start by carefully measuring your body. Then compare those measurements to the finished sizes listed on the pattern envelope or guidesheet to choose the closest fit.
This'll provide the yardage needed and prevent fit adjustments later. With the perfect pattern size, you'll be grooving in custom pants in no time.
Yardage Needed
Shoot, you won't believe the enormous amount of fabric your snazzy trousers will be devouring! Grab that handy dandy pattern envelope and scrutinize the finished measurements. Then unfurl your trusty tape measure and circumference those curvy calves, bodacious booty, and torso territory.
Compare thy bod's numbers to the pattern's and select the size calling your name. Multiply its yardage by fabric width, then add a smidgen extra for pattern matching, alterations, or just in case.
Install a Fly Zipper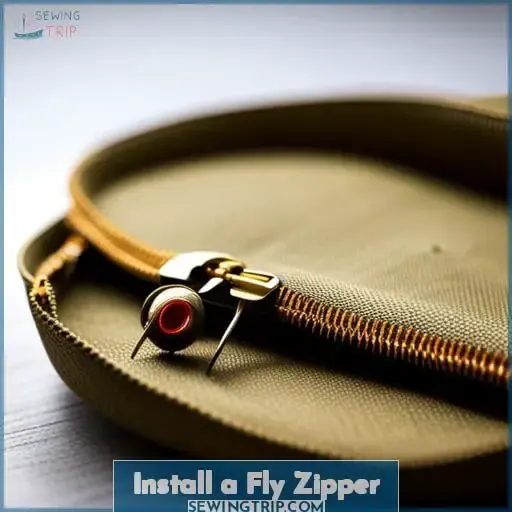 When installing a fly zipper for pants, proper zipper placement and orientation are crucial for a professional finish. You'll need to decide between using a left or right side zipper based on whether you are sewing men's or women's pants, then carefully follow a zipper installation tutorial to ensure correct positioning and stitching.
Getting the zipper installed neatly on the first attempt takes patience and precision, but is very satisfying once mastered.
Zipper Placement
You'll want to install that zipper before sewing the inseam for a clean finish. Position the fly shield behind the zipper, with right sides together. Carefully pin the zipper in place, keeping the teeth straight. Machine baste close to the teeth.
Then sew the other side of the zipper the same way, handling it gently to avoid sticking. Check out a good video for invisible zipper techniques and zipper repair tricks to master proper zipper handling.
Left Vs Right Zipper
Let that zipper sing on the left side, girlfriend, for your feminine fly will feel fancier than a fluttering butterfly when you flip the script on zipper tradition.
Position zipper teeth on left pant leg edge, not right.
Women's pants traditionally reverse men's construction.
Enjoy creative freedom sewing your own custom zipper side.
With a handy zipper foot, you'll stitch a professional left fly to practically style your unique figure. Simply align each fabric edge to zipper teeth, zigzag neatly, and voilà – a zipped pair fit for your self-expression.
Following a Tutorial
Girl, just click that tutorial and zip up fun new pants pronto!
Carefully follow each step, from marking the seam allowance to stabilizing the fly piece. Modify your zipper by neatly topstitching it to the left pant leg. Use sharp scissors, straight pins, and a zipper foot to precisely align the woven fabric edges to the zipper teeth.
As you zigzag stitch, press as you go for professional results. With clear instructions and hands-on practice, you'll fashion an elastic-waist pair with a flawless left fly in no time.
Sew the Pants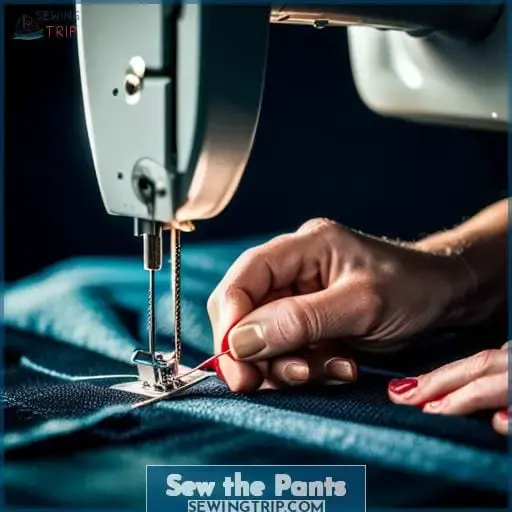 Properly cutting out the fabric pieces according to the pattern guide is the crucial first step when sewing pants. Once you have cut your fabric accurately, you can move on to construction by methodically stitching the pieces together.
Finally, neatly finishing the raw edges and hems will complete your pants with a polished look.
Cutting Fabric
Carefully cutting the fabric is crucial before you start stitching those pants to get the perfect fit. Lay out the fabric grain properly. Use a rotary cutter and mat for precise edges. Cut single or multiple layers based on thickness. Follow tissue pattern lines exactly, no shortcuts.
Refold bolts neatly after pulling desired yardage. Kind store helpers can guide fabric choice.
Construction Steps
You're about to stitch up some magic following that zipper tutorial. Align pattern pieces precisely. Interface the waistband for structure. Finish seam allowances to prevent fraying. Choose flat felled, welt, or patch pockets per style. Measure twice, cut once. Press as you go.
Mind the grain. Check the fit frequently. Serge raw edges. Topstitch for durability.
Finishing
You'll press those seams flatter than a pancake to finish off your pantaloons before rocking them around town. Prepare the fabric by washing, drying, and pressing. Finish the waist with a clean facing or elastic casing.
Finish the side seams by serging, zigzag stitching, or pinking to prevent fraying. Hem the edge with a double turn or clean finish. Insert functional welt, off-seam, or patch pockets carefully. Mind the directionality of prints. Press each seam as you stitch. Quality pressing creates a crisp, professional finish for your stylish pants, jeans, or shorts.
Share Your Makes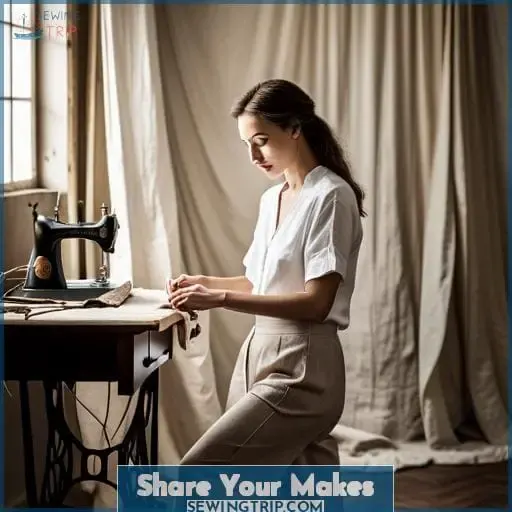 Let's celebrate completing your sewing projects! Share photos of your finished pants to show off your hard work. Ask for constructive feedback from others to improve your skills. Feel proud of accomplishing your goal of making custom-fitted pants.
Show Off Finished Pants
Strut in your wide-leg jeans with a crop top and chunky heels for a retro vibe.
Show off the utility pockets on your cargo joggers paired with sneakers and a graphic tee.
Style your linen culottes with a flowy blouse and flats for a chic summer look.
Have fun with bold prints, mixing your patterned pants with a solid color tee or sweater.
Tailor the length to make cropped, ankle, or full length pants that suit your frame.
Camille would be so proud of your sewing skills! Rock those homemade pants with confidence.
Get Feedback
Love seeing your stunning creations! Asking for feedback helps us all improve our skills.
| Patterns | Zippers | Fabrics |
| --- | --- | --- |
| Fit | Source | Care tips |
| Alterations | Construction | Video ideas |
Share details on your make. We'll provide feedback on patterns, zipper sources, fabric care, alterations, construction videos. Our sewing knowledge grows together. Your pantalones inspire tutorials, spark video ideas.
Feel Accomplished
Measure twice, cut once.
Press seams as you go.
Adjust fit with darts.
The hem height impacts the silhouette.
Your hard work has paid off, pal. Those pants prove your dedication. Your skill improves with each stitch. Relish tangible progress. Focus ahead, not on the path behind. Keep learning, growing, sewing onward.
Frequently Asked Questions (FAQs)
How much fabric do I need for my size pants?
Before buying fabric, dear friend, check the yardage requirements on the back of your pattern.
What type of fabric works best for pants – woven, knit, stretch?
When selecting fabric for pants, woven with slight stretch works wonders. Its subtle give grants freedom while maintaining structure, so seams sit smoothly against your shape. All-cotton wovens drape divinely, yet may wrinkle. Knits snuggle close, though patterns need adjustment.
Experiment to find your perfect match—the fabric embracing your form as though custom cut.
What sewing machine settings should I use for pant fabric types?
How do I make adjustments to the pants pattern for my body type?
Trace your actual body shape onto the pattern tissue to compare proportions. Add width through the hips and thighs where needed. Shorten or lengthen inseam lengths as necessary. Adjust the waist shaping to suit your shape.
Sew a muslin mockup first to test the fit. Checking the fit on a muslin will ensure the final pants flatter your figure.
What are some tips for hemming pants to the perfect length?
Measure while barefoot, pinch fabric at desired length and mark with pins. Try the pants on again to double check the length. Turn up the hem, press it, and machine stitch close to the folded edge or hand sew an invisible hem.
Take your time measuring, mark accurately, and check the fit before finishing hems.
Conclusion
Making your own pants is incredibly rewarding. But where do you start?
You begin by choosing a pattern with the right style and fit. Calculate the yardage you'll need for your size.
Before you know it, you'll have an amazing pair of pants that fit you flawlessly. Now it's time to show off your sewing skills and rock those new pants! Sewing your own pants takes dedication, but the sense of accomplishment is unmatched.