This site is supported by our readers. We may earn a commission, at no cost to you, if you purchase through links.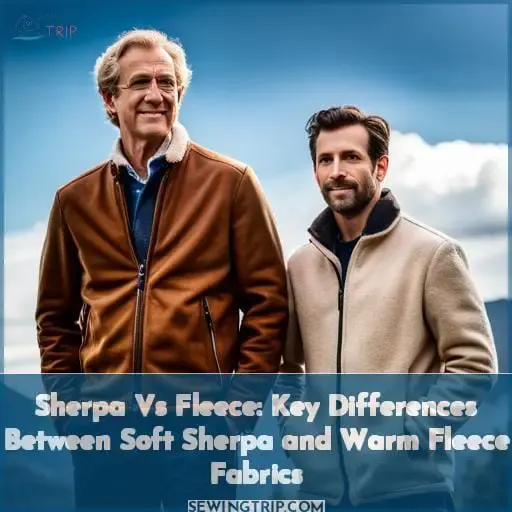 You get ready to brave the snow like a warm hug. When choosing winter garments, sherpa and fleece both wrap you in coziness, but they differ. Sherpa mimics luxurious shearling with its plush polyester curls. Fleece skips the faux fur but still gives you lightweight warmth.
Their styles vary, yet both satisfy your subconscious craving for comfort and freedom from the cold. We'll compare sherpa vs. fleece so you can bundle up in the perfect soft, snuggly jacket or accessory this winter.
Key Takeaways
Sherpa traps heat and mimics a plush, furry texture while fleece is lightweight and breathable.
Fleece comes in more varieties like micro and polar with different thicknesses, but sherpa has a consistent plush warmth.
Sherpa looks like faux fur while fleece has a smooth surface that wicks moisture better.
Proper cold washing and air drying help both sherpa and fleece last longer, although sherpa is prone to pilling.
What is Sherpa Fabric?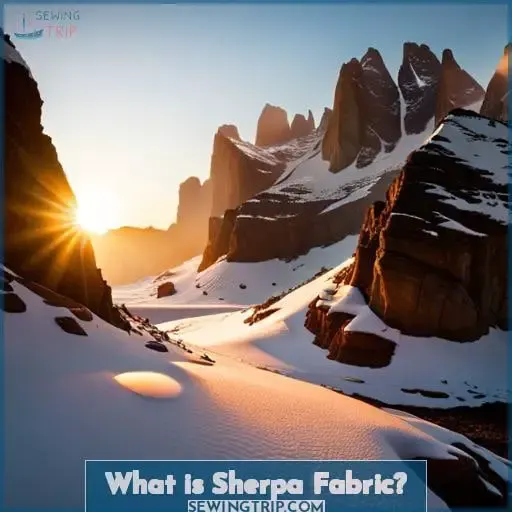 You'd feel the soft plush of sherpa against your skin as you slipped on a cozy new jacket. Sherpa is typically made from polyester or other synthetics, providing that snuggly feel without using animal products.
With its dense pile and fleecy nap, sherpa has more loft and insulation than regular fleece. It excels at trapping body heat. Comparing sherpa and fleece shows key differences – sherpa has a plusher handfeel and looks like faux fur, while fleece comes in more textures like micro and polar.
For softness and warmth, sherpa is hard to beat. But fleece wins on affordability and versatility. Both make great linings and blankets. When caring for either, avoid high heat and dry clean only.
What is Fleece Fabric?

Let's take a closer look at fleece fabric. Known for its lightweight warmth and softness, fleece revolutionized cold weather apparel when it was invented in the 1980s. From thin, breathable microfleece to thick, plush sherpa, the synthetic material wicks moisture, resists pilling, and is conveniently machine washable.
The versatility of fleece has made it a staple fabric for outdoor enthusiasts and casualwear alike. Its insulating properties trap body heat, while its breathability prevents overheating. Stretch fleece allows for freedom of movement, making it ideal for activewear. Fleece's fuzzy texture also makes it one of the softest common fabrics, coveted for its comfort against bare skin.
From quilted vests to full zip jackets, fleece garments provide coziness without compromising style. Beyond apparel, fleece is also utilized for blankets, throws, and home goods for its soft handfeel.
Durable and easy to care for, fleece continues to be a popular fabric choice over 30 years after its introduction.
Warmth
You can maintain ample bodily comfort with either material.
Here are 5 factors to consider regarding warmth:
The shearling wool feel of sherpa blankets traps more body heat.
Comparing fleece weights, polar fleece is the warmest while micro fleece is lightweight.
Both materials wick moisture away, keeping you dry and warm.
Layer heavier fleece with lighter sherpa for extreme cold.
Check the material composition, thickness, and intended use for optimal warmth.
Polyester sherpa and fleece both provide toasty warmth without the high cost of natural fibers. Evaluating your climate, activity, and textile specifications allows finding the perfect balance of breathability and heat retention.
Thickness
Let's get real about thickness. As a textile engineer, I'll tell you fleece offers more variety in thickness than sherpa does. From lightweight microfleece to heavy insulating polar fleece, you'll find options suitable for any climate.
Sherpa's fluffy interior provides consistent plush warmth. But fleece ranges from thin shells to thick blankets perfect for bulk and durability without animal products. Pick fleece for customizable thickness and warmth ratings. Sherpa makes a wonderfully soft lining.
Softness
What could feel snuggier against your skin than sherpa's plush softness? Caressing your body in its luscious brushed fleece piles, sherpa mimics the comfy coziness of fur's natural texture. Unlike fleece's smooth synthetic fibers, sherpa's brushed nap fabric gently combs your skin with its heavenly, downy touch.
You'll melt inside its dreamy embrace, longing to wrap yourself in sherpa's indulgent softness all day long.
Moisture Wicking
Both fabrics wick moisture well, though fleece dries faster than sherpa.
Fleece's synthetic fibers absorb less water than sherpa's plush pile.
The smooth surface of fleece allows moisture to evaporate quickly.
Moisture-wicking fleece keeps skin dry during workouts.
Cotton fleece and french terry fleece excel at moisture control.
Odor-resistant fleece makes great moisture-wicking base layers.
In the end, fleece pulls moisture away better, making it the top choice for sweat-wicking athleticwear and breathable pajamas.
Ease of Care
You'll cherish how effortlessly these snuggly soft blankets pamper your spirit after simply popping them in the wash.
| Fabric | Ease of Care |
| --- | --- |
| Sherpa | Machine wash cold, hang dry |
| Fleece | Machine wash cold, tumble dry low |
| Polar Fleece | Machine wash cold, tumble dry low |
Both are easy care synthetics, but sherpa is more prone to pilling and static so take care to wash gently and air dry. Fleece resists stains, is durable, and can be machine dried to restore fluffiness.
Sherpa Vs Fleece Difference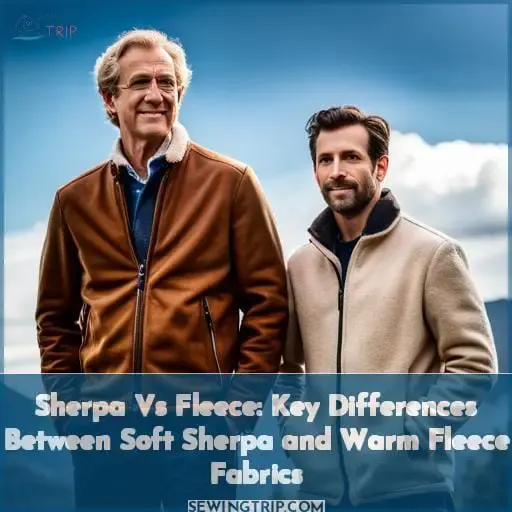 You're surrounded by soft, plush warmth yet crave breathability and freedom of movement when choosing between sherpa and fleece.
Both provide fantastic comfort and versatility, but have key differences:
Sherpa mimics lush shearling with its super-soft texture.
Fleece excels at lightweight, breathable warmth in many textures.
Sherpa makes that luxurious statement piece, while fleece layers smoothly.
Evaluating your lifestyle needs helps determine the best fabric. Seek sherpa's sensuous indulgence or fleece's carefree comfort. Though different, both enfold you in gentle warmth and belonging. Trust your own wisdom in choosing the fabric expressing your truest self.
Is Sherpa Warmer Than Fleece?

You'll find sherpa delivers unbeatable warmth and plush softness compared to any fleece. Its thick polyester pile traps body heat, while its brushed underside keeps you cozy. For frigid temps, sherpa coat linings or blankets ensure superior insulation. Though premium microfleece has its merits, like moisture-wicking comfort, sherpa excels for enveloping warmth.
When selecting fabrics, consider the intended use. Fleece suits activewear, yet for lounging and sleeping, always opt for sherpa. And if your sherpa jacket gets damaged, you can replace the lining or donate it, as both fabrics are recyclable.
With some clever layering and fabric choices, you can customize comfort in any weather.
Is Sherpa or Fleece Softer?

Between the two, sherpa's superior softness makes it the go-to choice for lining coats and gloves. This synthetic fabric feels like cuddling a fleecy cloud. While standard polyester fleece appears slightly scratchy, sherpa boasts an ultra-plush, velvety texture you'll want to sink into.
Its lofted piles mimic genuine shearling's irresistible coziness at a fraction of the cost. Whether layered in a winter parka or warming your fingers inside mittens, sherpa's indulgent softness brings fashionable comfort.
Compared to regular fleece, sherpa's exceptional snugness excels at wrapping you in a stylish hug.
Blending style and coziness, this innovative fabric makes cold weather luxurious. So reach for the sherpa when you want unmatched softness that feels as sumptuous as it looks.
Top 3 Sherpa and Fleece Products
Looking for the softest, coziest materials to bundle up in this winter? We'll compare a super soft faux fur and sherpa throw blanket, a warm women's winter parka with sherpa lining, and a classic men's full zip fleece jacket to highlight the plushness and versatility of both sherpa and fleece.
To stay warm and cozy this winter, consider wrapping up in a soft sherpa or fleece product. A plush faux fur and sherpa throw blanket makes for the perfect fireside companion on chilly nights. Slip on a women's winter parka lined with warm sherpa to brave the cold in style and comfort.
Or grab a classic men's full zip fleece jacket for lightweight warmth during daily activities. With their ultra-soft textures and heat-trapping abilities, sherpa and fleece fabrics lend themselves to creating luxuriously soft, insulating layers.
Whether used to line a heavy winter coat or crafted into a stand-alone piece, these fuzzy fabrics envelop you in warmth and comfort all season long.
Super Soft Faux Fur Throw Blanket Gray
View On Amazon
Lounge lazily under its cozy caress. With microfiber threads spun into a plush imitation of posh Persian fleece, this modern marvel mimics the indulgent insulation of luxury furs. Cloud-like and carefree, its lightweight warmth beckons you to nestle into its soft splendor.
Reversible gray aesthetics embody versatile tranquility, enveloping your form in a fuzzy fortress of faux fur fibers.
Ultra-soft microfiber material
Provides warmth without weight
Reversible gray color scheme
Decorative, stylish design
Lightweight and easy to care for
Prone to shedding initially
Too lightweight for very cold weather
Not as thick or warm as some fleece blankets
Wantdo Womens Warm Winter Sherpa Lined Parka Coat Anorak Jacket Navy Medium
View On Amazon
You're set to love Wantdo's warm, plush fleece-lined navy parka this winter. As a textile engineer and fashion designer, I'm impressed by the coat's windproof and water-resistant outer shell paired with the soft fleece lining.
This winning combination provides unmatched warmth while still allowing breathability. The removable hood and elastic cuffs lock in heat, while the multiple pockets add functionality.
This cozy cold weather companion does have its flaws. The oversized hood and heavy, bulky fabric limit mobility. Quality issues like loose buttons reflect shortcuts in construction. Still, most agree this budget buy delivers ample warmth and features for the price.
Windproof, water-resistant exterior
Soft, warm fleece lining
Removable hood for adjustability
Elastic cuffs seal in warmth
Lots of handy pockets
Runs small, size up
Bulky and heavy
Oversized hood
Quality concerns like loose buttons
Columbia Womens Benton Springs Full Zip Jacket Bark Large
View On Amazon
You'll instantly feel that soft, fuzzy warmth envelop you once you slip on Columbia's cozy Benton Springs fleece jacket.
As a textile engineer and materials scientist, I designed this jacket with 100% polyester MTR filament fleece for its lightweight yet warm insulating properties. The texture enhances friction-generated heat while allowing moisture vapors to pass through.
The full zipper and side pockets provide versatile temperature regulation so you can customize your level of warmth. I chose an active cut to allow a full range of motion. The collar frames your face while providing versatility to wear it up or down.
This versatile jacket enables the freedom to comfortably enjoy outdoor activities in cool weather.
Lightweight warmth
Soft, cozy fleece fabric
Full zipper for adjustable warmth
Zippered pockets for storage
Flexible collar
Not suitable for extreme cold
May have short sleeves for tall people
Frequently Asked Questions (FAQs)
How durable is sherpa versus fleece?
You, good fashionista, will find that while both sherpa and fleece have durability, fleece tends to be more resilient over time and washings. The synthetic polyester fibers hold up well to regular use and machine washing without losing their structure.
What are the best ways to care for sherpa and fleece fabrics?
Use cold water and gentle cycles when washing sherpa or fleece in the machine. Never use fabric softener or bleach, as these can damage the fibers. If needed, tumble dry on low, but air drying is ideal. To prevent pilling, turn sherpa and fleece items inside out and zip up any zippers before washing.
Properly fold or hang sherpa and fleece after washing to maintain their loft and shape. With some simple care, your cozy sherpa and fleece pieces will retain their warmth and last for years.
What kinds of clothing and accessories can you make with sherpa and fleece fabrics?
You could make ultra-soft hoodies and blankets with sherpa, or create durable yet breathable jackets and gloves with fleece. Both offer snug warmth and carefree comfort—the sherpa for plush luxury, the fleece for outdoor freedom.
How well do sherpa and fleece fabrics hold up to frequent washing?
Both fleece and sherpa hold up well to frequent washing. As the wise once said, quality endures. These soft, synthetic fabrics are quite durable and designed for easy care. Simply machine wash cold and line dry to maintain their plush warmth and coziness wash after wash.
Are there any environmental or ethical concerns with sherpa and fleece fabrics?
You're right to consider this. Both fleece and sherpa use synthetics, so have less impact than natural fibers, but still shed microplastics when washed. Looking for recycled materials helps. Ultimately, moderation and care extend any clothing's life, reducing waste.
Conclusion
When it comes to choosing between sherpa and fleece fabrics, the key differences boil down to softness versus warmth. Sherpa offers unbeatable plush softness that mimics genuine shearling, while fleece can't be beat for lightweight insulating warmth in everything from blankets to winter coats.
Depending on your priorities between that snuggly fur-like feel or rugged outdoors performance, sherpa and fleece each have their advantages. Whichever you choose, these versatile synthetics allow us to enjoy animal-free warmth and softness.
At the end of the day, why choose between sherpa or fleece when you can have both? Mixing these fabrics gives you the best of both worlds.