This site is supported by our readers. We may earn a commission, at no cost to you, if you purchase through links.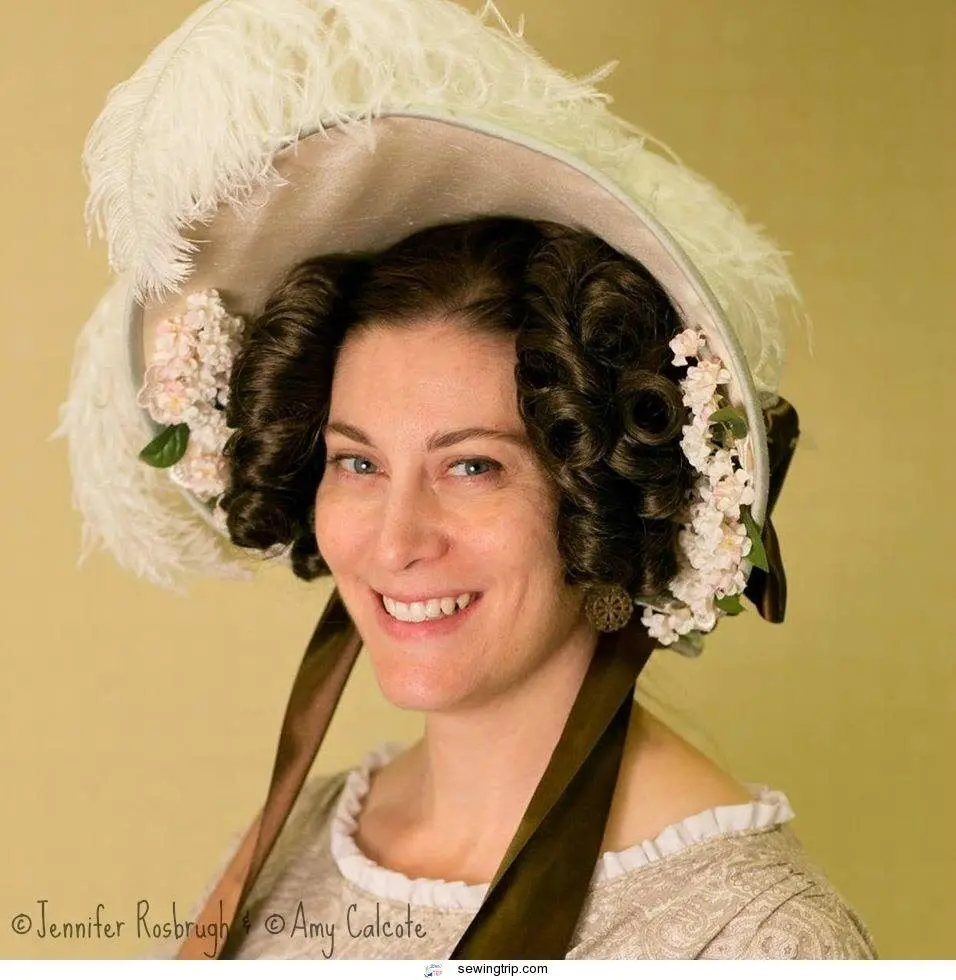 Jennifer Rosbrugh is the owner of Old Petticoat Shop and the blog HistoricalSewing.com. She teaches the art of making period costumes and garments, mainly 19e century, but including about 18e century and early 20th. She does this through online sewing classes ranging from undergarments to hats, beanies and detailed posts on her blog. Her shop sells sewing patterns focusing on undergarments and accessories, which she considers important items in creating a historic silhouette! We reached out to Jennifer to learn more about her story and her companies. She gave such brilliant responses that we include them here literally.
We asked Jennifer how she started sewing, and she told us " When I was in my early years ninety high school, my mom said I could choose a sewing machine or typewriter as a gift (ha!). Since my background has almost always been business-oriented since selling pom-pom creatures when I was four from my grandparents'shop to majoring in business in college, it was a super tough choice! I ended up with the sensible typewriter. But oh, how my heart longed for a machine of its own! "
Jennifer started sewing perhaps around the age of five with in the beginning " little things, you know – but when I was 12 and went to high school; I made most of my clothes. Favorites were Victorian accented dresses and floral cardigans – Molly Ringwald / 1980s / Victorian inspired stuff. I learned most of the basic skills from my grandmother. My mom sewed a little, but didn't have time to teach me so much. I used to take the Clothing class as a sophomore in high school as an elective. I didn't have a sewing machine in college (see above), so I sewed little for a few years. They bought my machine in 1997 and I started sewing clothes again. I went to the Fashion Institute of Design and Merchandising (FIDM) a few years after my studies to gain skills in pattern drawing and draping. "
We asked Jennifer how she became interested in period costumes. She told us: " It's part of those long ago vague memories whose origins cannot . Anne of Green Gables with Megan Follows captured my mind with romantic sensibilities. But the obscure Disney movie Summer Magic with Hayley Mills really started the passion. I fell in love with the girls'outfits in the movie and that they could make their own party dresses from a " beautiful pattern book. " Victoriana's charm got me hooked early on! "
" In 1998, while sewing my own clothes again, I discovered Jennie Chancey's " Titanic Dress Project " when that film's costumes fueled the historical costume community, and its pattern line, Sense and Sensibility for Regency-inspired clothing. Then I came across the Truly Victorian pattern line. It genuinely shocked me that there were sewing patterns I could buy to make the beautiful Victorian dresses I was dreaming of. Because I depended so much on patterns to make clothes, this discovery made my heart beat faster with expectation and creativity. While going through the program at FIDM, I focused many class projects on costumes from the era – in particular 19th based on the century. "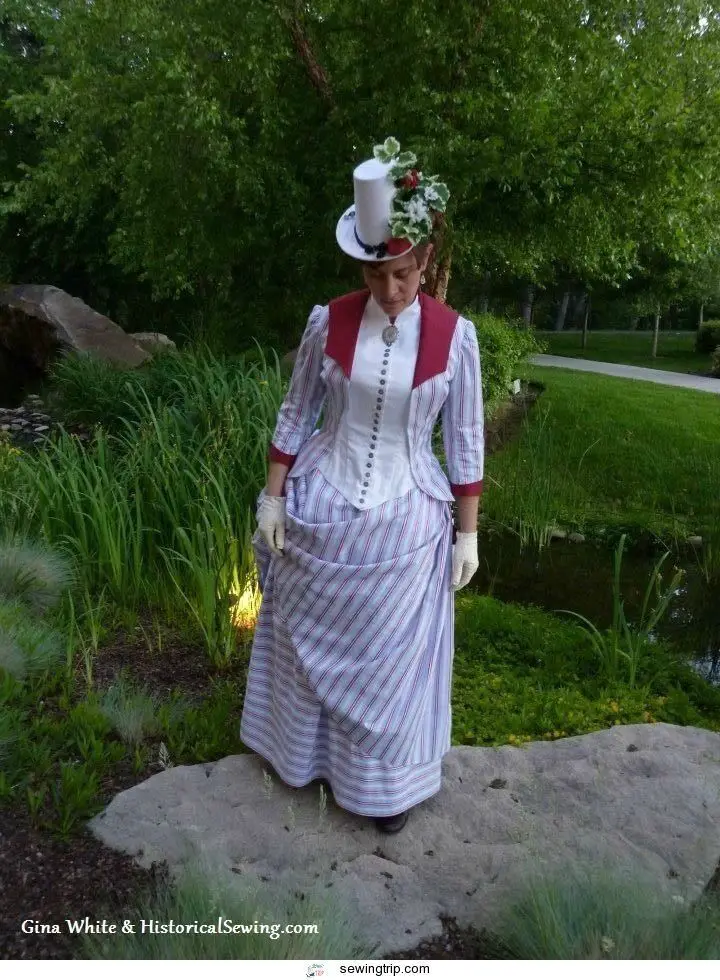 Next, we asked Jennifer what advice she would give to someone starting out with period costumes. She replied: "Find the time that appeals to you – that speaks directly to you – and focus there to build your fabric selection skills, a good silhouette with undergarments and structures, construction techniques and finishes including accessories. Starting in an era you love will motivate you to move on and learn. Then go to other eras. "
" Remember to always follow your heart. Life is too short to compromise because someone else doesn't like the direction you are going. However, if you dress up under the direction of a superior, such as in a theater production, follow their guidelines until you get the shots. "
" Period costume is creative and personal; those of us who are in it focus on a few specific elements – being historically accurate, fine hand stitching, brilliant tailoring, perfecting the paper pattern, selecting the best fabrics and colors, etc. There is no " right or wrong, " just pleasant choices. Go out with the confidence that each project is for getting to know the art and discovering yourself. "
We really like these bullets!
Do not give unsolicited advice.
Teach someone else a skill that you have developed.
Keep your eyes peeled for options and opportunities to explore.
Take breaks.
Remember it will never be perfect; but strive for excellence.
Occasionally do the quick and dirty project, as well as the challenging piece of clothing that takes tens of hours to keep your mind and skills fresh.
Timing projects out is okay.
Encourage others who come after you.
Celebrate the big and small wins.
Keep moving forward!
We asked what sets Jennifer's company apart, and she said: "My Blog and Shop go far beyond the modern sewing hobby, which seems to be mainly home accessories and knitted garments. As " cosplay " and historical fashion interest has grown into mainstream sewing, my niche is to provide accessible resources on how to use historically accurate techniques and materials in clients'creations, as well as to show shortcuts for the busy 21st century seamstress. Those who like 19e century fashion, whether working with limited time frames and budgets or full resources are welcome to our Joyful community. I take clients of all skill levels on a journey to build their skills and then watch them fly. I encourage my fans and clients to follow their hearts when sewing – be it a time or a historical mishmash. My goal is for my followers to share their (historical) creativity with the world in how to suit them. "
When we asked Jennifer to tell us about some of her proudest projects or moments, she said: " Every comment, email and mail I receive from students showing off their success in a challenging (to them) project makes my heart rejoice. I take pride in pushing through their personal barriers and preconceived ideas to achieve a goal. These successes encourage me to move forward in my own goals of continuing to learn historical garment sewing. "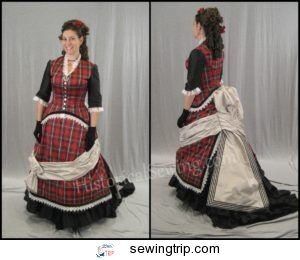 " As for a specific project I am proud of, my 1875 Scotch Soda evening dress would be. It is a dear dress for me because I made it from silk tartan in the pattern of my ancestors, MacGregor. They ordered the fabric in Scotland and I reproduced an elegant fashion plate. The challenge of reproducing the record is a wonderful memory, and a goal achieved. But I think I'm most proud of cutting and matching that red plaid fabric – the most expensive I've ever bought! To me it has more meaning than just a Victorian bustle dress. "
" And for a truly selfish and proud moment, it was at a Jane Austen festival. My husband and I in Regency clothing that I had made (excluding hats and shoes) and accompanied by a friend who is a great customer. The key event was in a community house and we arrived about half an hour after the start. People wandered among the few dozen vendor booths. Nobody knew. When the three of us walked through the doorway, the entire room stopped " " and all eyes turned to us. We felt like the party arriving from Netherfield! (Pride Prejudice reference.) We and proud to have influenced the entire event that way, knowing we looked like we were stepping out of time. "
Finally, we asked Jennifer what is the most challenging project and / or obstacle she has had to overcome. She replied: " Good question! Since I have been sewing for almost 35 years, there have been several projects that have challenged my talents and improved my skills. Every top, skirt, and suit is a learning experience, but not everyone stretched me out. "
" My most challenging project would probably be my 1876 evening dress – the " Wedding Cake Dress. " The design was from a fashion slide from Godey's Lady's Book – a prominent 19th C. comparable he publication to modern Vogue. It was the first project that I wanted to reproduce as precisely as possible. I wanted to look like that fashion picture! "
" That dress taught me so much about Victorian fashion and construction – the layers, fabrics, embellishments and the unattainable proportions of fashion graphics. It challenged my fitting and pattern design skills so far, went well beyond the basics I learned in fashion school. That dress taught me a lot about scale when I'm reproducing a draft from a sketch, painting, or photo. I have gained a deeper understanding of fabric selections based on period descriptions and how to translate them into modern materials. The underlined layers and substructure tested my knowledge and opened up new techniques to produce the desired silhouette. I love the dress and of course would change a few things if I ever did it again simply because of what I learned about the process immediately after and also over the years. "

You can learn more about Jennifer, her lessons and talent at:
Blog: /
Online Classes: http://classes.historicalsewing.com/
Shop: https: // .cm /
You can find her every day on Facebook: https: // www .facebook.com / HistoricalSewing
Instagram: https://www.instagram.com/historicalsewing/
Email: [email protected]