This site is supported by our readers. We may earn a commission, at no cost to you, if you purchase through links.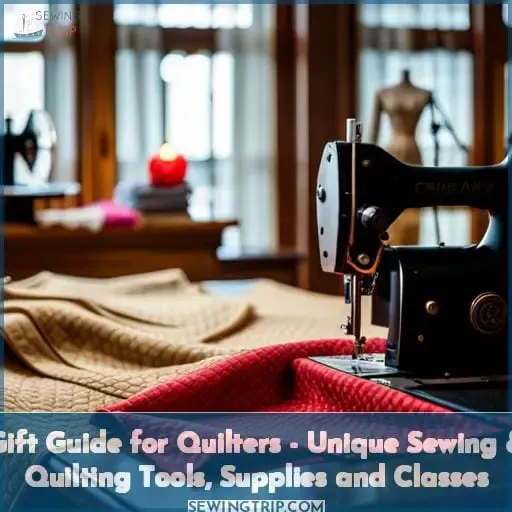 Need a gift for your favorite quilter? We've got you covered! This comprehensive guide is chock-full of creative and practical sewing gifts. From handcrafted tools to online classes, we'll help you find that perfect present.
Whether they're just starting out or have been quilting for decades, you'll discover unique gift ideas to delight even the pickiest quilter. Mini irons for travel, gift cards for fabric shopping, and custom sewing labels are just a few of our favorites.
And if your budget is tight, check out the gift ideas under $25 – charm packs, cutting tools, and more! With so many options, you're sure to find something special.
Browse the guide, and let us help you pick the ideal gift to celebrate the quilter in your life!
Key Takeaways
Fabric gifts such as fat quarter bundles, charm packs, jelly rolls, and layer cakes are popular choices for quilters.
Quilting tools like rotary cutters, self-healing mats, rulers, and templates make great gifts for quilters.
Quilting accessories such as wheeled cases, adjustable dress forms, and steam irons are practical and thoughtful gifts for quilters.
Quilting education gifts like online classes, video tutorials, and books can help quilters improve their skills and expand their knowledge.
Unique Gifts for Quilters and Sewing Lovers

Here are some ideas to jumpstart your fabric and quilting gifts. Look for unique handmade sewing tools like custom seam rippers, stencils, and marking pens. Surprise your favorite quilter with high-quality fabric bundles in their favorite colors or choose a monthly subscription for fresh bolts delivered to their door.
Fill their notions drawers with interesting buttons, trims, specialty tape measures, and homemade thread racks.
Handcrafted Quilting Tools
Does sewing nourish your soul? Then consider handcrafting a few tools with your own two hands to add that personal touch to your quilting gifts.
Pincushions
Thread catchers
Seam rippers
Bobbin holders
Needle books
Handmaking quilting notions infuses love into every stitch. Let your creativity shine through homemade gifts from the heart for your quilting tribe.
Fabric
Give them a layer cake from the local quilt shop if you really want to see their face light up. You know they'll cherish those coordinated 10 fabric squares, especially in a fun print like floral or geometric.
Stop by during Fat Quarter Fridays to get 18 x 21 cuts on sale. Support small fabric stores and gift quality materials. Any sewist would love a stack of fabrics to start their next quilted masterpiece.
Notions and Sewing Supplies
You'll need quality notions and sewing supplies to create beautiful quilts and sewing projects. Needle minders keep your needles handy. Marilee's numbered pins mark piecing rows clearly. Colorful enamel pins are perfect for appliqué. Dritz numbered marking pins identify pattern pieces.
Mini Travel/Craft Iron

Pack a miniature iron for pressing seams on-the-go. This little wonder can pack some heat – don't let the tiny size fool you. Perfect for pressing open those seams in your latest stitching project, mini irons are able to get up to higher temperatures needed for heat-setting interfacing or pressing wool.
Tote it along to classes or retreats to keep projects looking sharp. I recommend looking for one with multiple temp settings and an auto shut-off for safety. While they won't replace a full-size iron, mini irons are super convenient when traveling or crafting in small spaces.
Choose a compact iron about 6 inches in length and under 1 pound. Read reviews before purchasing, as quality can vary.
Online Classes!

You know what's better than buying your special quilter another rotary cutter or pair of scissors? An online quilting class! With so many shops moving online, you've got options galore for virtual quilting workshops taught by renowned designers.
We're talking video tutorials filmed in beautiful studios, downloadable patterns, private class Facebook groups for asking questions, live Zoom calls with the teacher, and some even have optional in-person meetups.
Take your pick of quilting, machine piecing, hand work, modern, art, or traditional quilt patterns. Classes range from beginner quilting basics to challenging intermediate skills like paper piecing and applique.
Online learning lets your favorite quilter take a class from anyone, anywhere, in their PJs. With rolling enrollment, they can start a new skill anytime. Let them try that cool new technique from their Instagram feed.
Find the Perfect Sewing Machine

When choosing a sewing machine, make sure to consider key features like stitch selection, buttonholes, and feed dog adjustments based on your sewing plans and skill level.
As an experienced quilter, I know the excitement of investing in a new sewing machine. Take your time, identify must-have functions, and really get hands-on before deciding. With the right machine, you'll be able to take on any quilting project with ease! Test drive models, compare features, and find the one that best fits your budget and skills.
Gift Certificates

Giving a quilter a gift certificate to their favorite fabric or quilting store lets 'em shop for exactly what they want. Whether they're lookin' to spice up their stash with fresh prints, try out a new quilt recipe, or get tools to perfect their quilting designs, a gift card gives 'em options.
Stop by their local quilt shop to grab a gift card—the staff can recommend amounts based on their skill level. Want it to feel more personal? Make your own cute quilt-themed gift card or certificate! Add a photo of their quilting area or custom quilt block art.
Gift cards allow quilters to get supplies tailored to current projects. They'll appreciate you supporting their craft and community.
Handmade Gifts for Quilters or Friends Who Sew

Whether you're looking to delight your quilting bestie or searching for a special surprise for the seamstress on your list, handmade presents like a customized needle minder, a fabric-of-the-month subscription, or an urban-themed sewing station can add a personal touch and remind your recipient just how much you value their craft.
For the quilter who already has all the tools, how about an embroidered wallet to hold her quilting notions, a set of custom fabric labels, or a cozy sewing sweatshirt? She'll feel pampered and cared for with these original gifts from the heart.
A thoughtful present like a hedgehog pincushion, whimsical sewing socks, or an animal-themed sewing kit shows you took the time to find something they'll truly use and appreciate.
Needle Minder
Pretty needle minders make lovely little gifts for your sewing friends. Needle minders help quilters keep track of needles and pins while sewing.
Consider these creative needle minder gift ideas:
Cute animal pins like cats or dogs for the pet lover.
Fun food-themed ones like cupcakes or donuts.
Custom pins with their name or initials.
Needle minders make unique sewing-themed gift options. Give decorative pins featuring sewing machines, buttons, spools of thread, sewing boxes, and more. They're collectible enamel pins with strong magnets to keep needles handy while quilting.
Search for adorable, kitschy needle minder designs online or at quilt shops. Your quilting buddy will appreciate these creative, useful gifts.
Fabric of the Month Club
You'd make her day with a fabric-of-the-month club subscription.
| Fabric Club | Benefits |
| --- | --- |
| Jen Kingwell Club | Exclusive designs |
| Liberty Lovers Club | Iconic prints |
| Stash Builder's Club | Broad selection |
Surprise her each month with new fabrics or quilt kits delivered to her door. She'll have fresh projects ready at a moment's notice. Subscribe to her favorite designer's club or try a variety for inspiration. Building her stash over time beats shopping for fabric.
Urban Quilting
You could gift indie urban quilting patterns featuring modern minimalist designs.
Simple geometric quilts
Modern improv piecing
Minimalist color blocking
Bold graphic prints
Contemporary negative space
As a quilting instructor and shop owner, I know urban quilters thrive on constant creativity and individual expression. Seek out indie designers creating fresh modern quilt patterns with a graphic style.
Choose patterns featuring bold shapes, improvisational piecing, creative use of negative space, and unexpected pops of color on neutral backgrounds. Select minimalist designs that capture the urban vibe. Gift an aspirational pattern for their next artistic quilt.
Urban quilters need studio space to spark imagination. Gift certificates allow the purchase of SewEzi tables, design walls, or storage to curate fabrics. While quilting, friends chat and inspire. Give quilt-themed puzzles for gathering around.
Custom quilt row markers from local shops make lovely gifts and quilting room decor.
Seamstress Wallet
A personalized seamstress wallet filled with notions makes a thoughtful gift that any sewing enthusiast would appreciate. Select fabrics featuring their preferred prints. Include useful tools like needle minders, decorative pins, alphabet pins, themed jewelry, and sewing pins.
Handmake it with care. Customize it with embellishments representing cherished memories.
A rotary cutter blade holder protects fingers while rummaging. Mark their favorite needles or thread. Tuck a sweet handwritten note professing your pride in their mastery. Seeing their initials or preferred fabrics will elicit joy with each use.
You enable their artistry with every stitch. Their smile reflects gratitude for your thoughtfulness. Your shared love of craft nurtures connection. Each glance inside recalls your understanding and celebrates their passion.
A notion-filled wallet wraps necessity with thoughtfulness, fueling inspiration.
Spool Sewing Station
A hands-on friend would love a wooden spool sewing station to organize thread; in fact, over 80% of quilters say thread storage is their top organizational challenge.
Keeps spools in reach.
Build your own design.
Reuse vintage spools.
Add spool huggers.
As a quilting blogger, I know a spool sewing station makes a fantastic gift. It solves the number one quilting organizational headache – tangled thread! Building a custom station allows you to design something perfect for your friend's space and thread collection.
Grab some vintage wooden spools, a plank of wood, spool huggers, and needle minders for a functional gift that shows you care.
Custom Labels
Custom labels make thoughtful additions to gift baskets for creative friends. Gift them to your favorite quilter. Include a delightful selection of quilting socks. Add some cute sewing pins. Top it off with a spool of thread.
Custom labels take gifts up a notch. Make labels featuring their name. Add a fun sewing quote too. Print on sticker sheets for easy application. Iron on clothing labels work as well.
Custom labels show you care. Sewing friends will appreciate the personal touch. Label their sewing room and tools. Quilt labels add meaning to handmade gifts. Thoughtful custom labels delight creative crafters.
Desk Lamp
View On Amazon
The adjustable OttLite lamp brightens your creative space. This sleek LED desk lamp offers the perfect lighting for quilting, sewing, crafting, and reading. The flexible gooseneck lets you position the light exactly where you need it. No more neck strain from hunching over dim work.
The energy-efficient natural daylight LEDs reduce eye fatigue, so you can stitch for hours without headaches. Plus, the built-in USB port keeps devices charged. Choose from multiple brightness levels with the touch controls.
The weighted base and small footprint provide stability without taking over your table.
This versatile task lamp could be the perfect gift for the quilter who does it all.
Flexible and adjustable
Energy-efficient
Reduces eye strain
Charges devices
Modern, compact design
Not easily portable
Plastic material may be less durable
Brightness may not be enough for some
Sewing Sweatshirt
Brighten her day with a fun, casual Hot Sox sweatshirt boasting a colorful print she'll adore.
Appealing.
Playful.
Cheerful.
Comfortable.
Needle minders, decorative pins, themed t-shirts, numbered marking pins, and flower pins. Showcase your passion for quilting with this vibrant, soft sweatshirt she can wear while crafting or lounging. The lively sewing novelty print sparks joy. An ideal gift to uplift her spirits during long hours at the machine.
Give her a token of friendship to show you understand and share her creative passion.
Steam Iron With Retractable Cord
Look at this fantastic Rowenta iron that will make pressing seams a cinch for you with its powerful steam and retractable cord! As they say, smooth seams make the quilt.
| Features | Benefits |
| --- | --- |
| 350 micro-holes | Strong steam to tackle stubborn creases |
| 1725W power | Heats quickly for efficient wrinkle smoothing |
| Stainless steel soleplate | Provides smooth gliding over fabrics |
With its auto-off safety and retractable cord, you can't go wrong with this workhorse.
Sewing Room Sign
Hang a cute sewing room sign to personalize her creative space. Choose a fabric design featuring her favorite colors. Include a fun sewing quote she'll love seeing each time she works on a project. Find signs with charming images like thread spools or sewing machines.
Look for options with her name or a title like Jane's Sewing Studio. Buy one ready-made or make a custom sign yourself. Use applique letters with bright fabrics she likes. Sew on cute details like buttons or rickrack.
Display on the wall by her sewing table. Prop against a shelf or sewing machine. Pick a spot she'll see often while quilting. Place it where sunlight won't fade the colors. Give as a gift for her birthday or holiday. Present it already framed and ready to hang up.
Watch her smile widen reading the sweet sentiment. Listen to her joyful thanks for your thoughtful gift.
Gertie Sews Jiffy Dresses Book
Check out the Gertie Sews Jiffy Dresses book for some fast, vintage-style patterns, y'all'd enjoy whipping up in a day.
Sew cute swing dresses.
Quilt florals and solids.
Gift handmade frocks.
Y'all just gotta get this book! I've seen some mighty fine creations come from those pages. Grab your rotary cutter and fabrics, this book'll have you whipping up darling dresses for yourself and friends in no time.
We all could use a lil vintage charm in our closets. Trust me, once y'all start sewing, you won't want to stop.
Hedgehog Pincushion
Caress the charming hedgehog pincushion that will bring a smile whenever you reach for a pin.
Precious pincushion with pearl pins.
Poke pins through its plush back.
Sporty spikes grasp your gadgets.
The adorable animal rests nearby.
The handy hedgehog holds marking pins numbered.
Enjoy a twinkling smile every time you sew.
Choose from flowery and fun options too.
Brighten your sewing space with whimsy.
Organize essential tools playfully.
Keep pins in place tidily.
Stitch symbols and other designs.
Metal charms make pretty presents.
Custom creations show affection.
Bring delight with every prick.
Sewing Mug
Sip from this charming sewing mug as you craft your next quilt masterpiece. Embellish an ordinary mug with fabric, trim, and sewing notions for a creative gift your quilting friends will love. Choose cotton prints in their favorite color scheme and fuse them to the mug. Adorn it with rickrack, buttons, ribbons, appliqués – whatever inspires you.
Inside, tuck a gift card to the local quilt shop. Present it lovingly gift-wrapped with a handwritten quote about the beauty of handmade. Your thoughtfulness will be appreciated. This personalized present shows you understand the joy of quilting.
Rotary Cutter
Take the Olfa rotary cutter and self-healing mat I gifted you last month for a test drive on that new layer cake bundle from the local quilt shop before starting your next project.
Measure twice.
Cut once.
Let's head to Joann's for more fabric and supplies. Browse their wide selection of sewing tools and inch squares of fabric. Try out some new rotary cutters to find one you love. Cut quilt squares quickly and accurately with the smooth glide of a quality rotary cutter.
Keep creating beautiful quilts, my friend!
Erasable Pens
Enjoy jotting notes in colorful ink that can vanish with friction heat using Pilot's handy 7-pack of erasable FriXion clicker pens. The ink disappears with heat. Perfect for quilting sketches and fabric swatches too.
Sewing Socks
Slip on these fun sewing-themed socks from Hot Sox for a cute and comfortable gift. Display your passion with a stylish touch. Socks keep your feet cozy as you quilt. Choose vibrant colors and prints for yourself or friends. The soft, machine-washable cotton blends come in women's sizes.
Adjustable Dress Form
The customizing capability allows you to tailor it to match your unique figure.
Adjusts to your exact shape.
Mimics your body's contours.
Eliminates guesswork when draping.
Creates personalized sewing patterns.
Saves time and fabric.
No more ill-fitting garments.
Say goodbye to saggy seams.
Perfectly fitted clothes.
Professional finish.
Pin and drape with ease.
Mark alteration lines clearly.
Sew clothes that really fit.
Feel confident in your creations.
Show off your sense of style.
Flaunt your custom curves.
Display your handcrafted garments.
Share your sewing talents.
Inspire other hobby sewers.
Seam Ripper Sticker
When rippin' seams, a quality seam ripper sticker keeps fabric taut 'n tear-free.
Magnetic needle minders
Quilt-themed spool huggers
1000 piece quilt puzzles
As a longtime quilter, I know havin' the right tools makes all the difference. A good seam ripper with a sticky back lets ya remove stitches without shiftin' fabric.
Start with quality seam rippers, needle minders, and spool huggers. Then explore bigger tools like cuttin' systems and machines. Buildin' your quilting tool arsenal takes time but improves your skills immensely.
With practice and patience, you'll be piecin' complex quilt tops in no time. Keep learnin' new techniques and don't be afraid to rip seams. Enjoy the journey of mastery. Your unique style will emerge with each new project.
Flat-Head Pins
Use those colorful flat-head pins to keep your pieces aligned as you're quilting your latest project. They glide into fabric smoothly, with no snags or tugs. The plastic heads grab easily and stay put.
Choose flower pins for fun and add some whimsy and delight. Try different colors to coordinate with your fabrics, mixing and matching solids and prints. Press them in an old tomato pincushion or keep them close in a needle minder. These flat-head pins work wonders, preventing shifting, puckering, or distortion.
They ensure perfectly aligned pieces, ready for precise stitching. Your quilted creations will be spot on. Quilters love their flat-head pins, right alongside decorative thimbles, quilting rulers, and rotary cutters.
They're the sewer's little helpers, making wonders of patchwork and quilting. So grab those flat-heads, quilters, and get stitching on your next masterpiece.
Thread Spool Enamel Pin
Show off your love of sewing with a cute thread spool enamel pin.
Enhance tool kits
Decorate purses
Gift fellow sewers
As an enthusiastic quilter, I know you'll appreciate these charming and nostalgic pins. Thread your needle through the spool or proudly display it on a jacket. Choose vintage red and white or go modern with metallics.
Sized right for pin backs and needle minders. For other delightful notions, peruse our shop's quilt-themed puzzles, spool huggers, and more. Sewing friends will delight in these miniature reminders of happy hours at the machine.
Pattern Weights
View On Amazon
Palpably secure fluttering patterns under your fingertips as the roaring fan whisks your workspace when anchoring Dritz weights atop the cloth. Prevent frustration and flaws while cutting delicate patterns. Allow the steel weights to keep the paper pattern firmly in place while your rotary cutter slices confidently.
The heavy metal weights hug fabric, impervious to breezy bluster disturbing your focused flow. Precisely align multiples, knowing the weights cling like a quilting charm, a fortifying force defying any flutter.
Cut, shape, and craft with accuracy as the pattern stays steadily in position just where you intentionally placed it.
Heavy metal weights keep paper patterns secure
Prevent shifting of fabric when using a fan
Allows for precise, straight cutting lines without pins
Great for delicate fabrics
Small size may require multiples for large pieces
Can interfere with the rotary cutter if placed too close to the edge
Mini Animals Sewing Kit
Tuck a mini animal sewing kit into their stocking for a fun surprise.
These crafty 5 kits make perfect gifts.
Felt spool huggers
Enamel needle minders
Colorful decorative pins
Fabric scissors fobs
Needle threaders
A mini animal sewing kit has novelty gifts to delight. Who can resist the whimsy? Surprise your favorite quilter this season.
Thread Snips
You'd adore the Fiskars thread snips for their sharp blades that effortlessly trim threads in tight spaces. As your local quilt shop owner, I often recommend the Fiskars snips to quilters looking for quality scissors to trim threads in confined areas.
The spring-loaded design provides smooth, precise cutting every time. Topstitching and embellishing become frustration-free tasks with these petite shears.
Heavy-Duty Serger
The JUKI MO-1000 is the industrial serger you'd want for handling thicker fabrics and large projects with durability and ease.
Heavy-duty metal frame.
Powerful knife system.
Serges lightweight to heavyweight fabrics.
Offering commercial-grade performance, the JUKI MO-1000 industrial serger lets you tackle thick materials like denim with ease. It is built on a rigid full metal frame, providing skip-free sewing even at high speeds.
The knife system is engineered for strength when cutting multiple layers. Adjustable cutting width, differential feed, and stitch length give you versatility for any project.
With its industrial-quality parts, the JUKI MO-1000 delivers outstanding results on a wide range of fabrics from silks to canvas. You'll achieve beautiful stitches and professional-looking seams. This high-end serger can handle quilting, apparel construction, and home decor projects with power and precision.
The JUKI MO-1000 gives avid sewers commercial serger ability that lasts. Invest in this heavy-duty machine for flawless finishes, rolled hems, and durable performance when working with thick fabrics.
Rolling Sewing Machine Case
You'll love a rolling sewing machine case to easily transport your machine to classes and retreats.
| Pros | Cons |
| --- | --- |
| Protects machine. | Adds bulk. |
| Maneuverable wheels. | May tip over. |
| Spacious interior. | Heavy when full. |
| Telescoping handle. | Higher cost. |
A sturdy wheeled case keeps your precious machine safe. Glide it around instead of lifting. Customizable foam cushions your machine. Pockets organize your sewing gear. Enjoy mobility at retreats and classes.
QUILTING GIFTS UNDER $25

Hey there, quilting friends! If you're looking for the perfect gift for a quilter this season, we've got some suggestions for you. Quilters always love more fabric, so consider a pre-cut fabric bundle like a charm pack, layer cake, jelly roll, or fat quarter bundle.
These coordinated fabric collections are fun to receive and ideal for projects. Don't forget essential quilting tools like quality cutting and pressing tools, as well as versatile quilting rulers and templates.
THE GIFT OF FABRIC
Surprise your quilting buddy with a gorgeous bundle of fat quarters or a monthly delivery of curated fabrics. Pick fabrics in their favorite color palette or find novelty prints to spark inspiration.
Charm Packs
You'd love a fun charm pack subscription to try new fabrics each month. Those small squares offer a chance to explore new colors and prints. Sample a variety before committing to yardage. Mix and match possibilities galore.
Experiment more affordably. Quilt along with others. Share your makes online. Bond over fabric.
Layer Cakes
You can gift a layer cake for fun new quilt layouts. Discover fresh fabric combos in a neatly stacked 10 square collection. Pre-cut bundles spare time and effort. Try festive florals or batik beauties. Mix and match to your taste.
Surprise with tonal neutrals or bright fun hues. Arrange a striking medallion. Highlight focal fabric as large stars. Stitch up a cute baby quilt. Craft a holiday table runner. Give the creative comfort of quality cottons.
Let them delight in new textures. Watch their joy in arranging juicy colors. Gift the promise of future quilts. Each new project enriches their skills. Reward their dedication with inspiring new fabrics.
Visit local shops for fresh finds. Or order online for vast variety. Give them the luxury of choice. Let luscious colors and prints spark their imagination. Gift a layer cake for guilt-free quilting pleasure.
Jelly Rolls
Ever been thrilled by those luscious 2.5 fabric strips rolled up like a candy-colored carpet, making you imagine all the fun patterns you could piece together?
Strip sets
Stack n' whacks
Log cabins
Scrappy quilts
Those precut jelly rolls are the perfect gift to unwrap during the holiday season. Experienced quilters will love adding new fabrics to their stash or trying out fresh quilt patterns with coordinating strips.
Fat Quarter Bundle
Custom fat quarters from local quilt shops make wonderful fabric gifts.
| Prints | Solids | Specialty |
| --- | --- | --- |
| Floral | Red | Metallic |
| Nautical | Blue | Ombre |
| Animal | Green | Batik |
| Geometric | Yellow | Seasonal |
| Novelty | White | Kids |
Quilters love selecting special fabrics as gifts. Peruse the incredible options of coordinated fat quarters for a one-of-a-kind present.
QUILTING TOOLS EVERY QUILTER NEEDS
Essential tools like rotary cutters and self-healing mats are practically life-or-death for quilters to precisely cut fabric shapes. Needle minders keep needles at hand. Decorative pins individualize projects. Spool huggers prevent tangled thread messes.
Quality quilting tools ensure accuracy. Thoughtful sewing gifts inspire and equip.
Cutting Tools
You'll treasure quality rotary cutters and mats for precise cutting and safe fabric handling. Accurate rotary blades, self-healing mats, and fabric-friendly rulers enable smooth, straight cutting, which is essential for piecing.
Pressing Tools
Pick up a mini iron for precise pressing in small spaces. Pep up her tools with cute needle minders. Try a variety of decorative pins for a unique flair. Give long-time quilters fresh new pressing tools.
Quilting Rulers and Templates
You'd be wise to grab some quilting rulers and templates for precise cutting and piecing.
Clear acrylic rulers with grid markings for cutting straight lines and angles.
Creative acrylic templates for shapes like circles, triangles, and hexagons.
Ruler sets with multiple sizes and shapes to tackle any quilt block.
Rulers and templates open up limitless design options while ensuring accuracy. Invest in quality tools and your quiltmaking skills will grow exponentially.
GIFTS FOR QUILTERS WHO HAVE EVERYTHING

Explore storied patterns, stitch-rich projects, or enlighten with educational gifts. Consider gifting a new sewing machine for boundless creativity or treat them to their favorite shop's gift card. However you honor their love of quilting, they'll treasure thoughtful gestures from the heart.
Give a Pattern
Try creating personalized patterns with the quilter's name or favorite motifs for a special, one-of-a-kind gift. Customizing quilt patterns makes a cherished present. Design around their interests for a fun way to share your creativity.
Sewing nights with friends using new quilt patterns stitch extra special bonding moments.
Give Them a Quilting Project
You could gift a fat quarter bundle or charm pack to start a new quilting project.
Charm pack clubs
Jelly roll subscriptions
Layer cake fabric packs
Customizing fat quarters
Giving precut fabrics inspires creative quilting and provides variety to start quilts.
Educational Gifts
Quilters crave new techniques to expand their skills. Educational gifts help hone talents. Needle minders prevent lost pins. Decorative pins showcase successes. Guesswork wastes time. Classes teach tricks. Books explain processes. Tutorials present pro tips. Online learning suits schedules.
Retreats build community. Workshops offer guidance. Educational gifts provide perfect solutions.
Gift a New Sewing Machine
Splurging on the latest high-tech sewing machine would be over-the-moon exciting for the quilter obsessed with efficiency and gadgets! Visit your local quilt store to demo the expensive options. The knowledgeable staff is a great place to explore and try before you buy. Add bonus notions like needle minders and decorative pins to make it an extra special list of the best gifts.
Give a Gift Card to Their Favorite Quilt Shop
She'll love getting to pick her own fabrics with a gift card from her favorite local quilt shop.
Colorful prints
Coordinating solids
Novelty fabrics
Whimsical patterns
Luxurious fibers
Let her imagination run wild gathering supplies for her next masterpiece. She'll be thrilled with the freedom to curate her own custom fabric collection.
Gift Ideas Under $10

Looking for an affordable gift for the quilter in your life? Consider picking up a few fat quarters of fun fabric prints. Fat quarters, which are 18 x 21 cuts of fabric, allow quilters to add pops of color and variety to projects without buying full yardage.
Or surprise them with a set of quilting clips – they'll wonder how they ever sewed without them! These hold layers firmly when sewing, keep seams aligned, and are a must for working with slippery or delicate fabrics.
Finally, mini rotary cutters are handy for snipping threads, cutting notches, and trimming seam allowances.
Fat Quarters Fabric
You'll love tangling your fingers in the silky softness of a bundle of fat quarters, inhaling the scent of crisp cotton as you imagine all the possibilities those vibrant squares hold.
These precut squares of fabric open up a world of creative potential.
| Fat Quarter Size | Uses |
| --- | --- |
| 18 x 21 | Blocks, bags, pouches, small quilts |
| Vibrant colors | Scrappy quilts, variety |
| Coordinating prints | Sampler quilts, charm packs |
With some fat quarters, pattern swapping, and bleaching experiments, you'll be on your way to heirloom quilting mastery and belonging in the quilting community.
Sewing Tools and Notions
You'd find retractable tape measures handy for quickly taking measurements while sewing. My aunt loves her colorful seamstress tape from Singer since it fits nicely in her project bag. Have you seen the new notions and tools from your favorite designers? Notions subscriptions are great for trying new gadgets monthly.
I can't wait to test drive the new fabric lines and machine accessories. Let's chat about thread color trends and quilting technique tips to take your projects up a notch.
Sewing and Quilting Clips
Place those quilt blocks carefully with Clover's wonder clips. These colorful quilting clips firmly secure fabric layers without pinholes. Their gentle grip holds blocks in place for piecing, appliqué, and basting. Wonder clips simplify quilting projects and make excellent stocking stuffers.
Frequently Asked Questions (FAQs)
What are some good gifts for male quilters and sewers?
Let's ditch the macho expectations and embrace your creative side! You'll find joy in the freedom of expression through fabric art. Follow your bliss and get hooked on quilting – it satisfies the soul. We've got sewing machines, kits, and classes to unleash your inner quilter.
Where can I find personalized or monogrammed quilting gifts?
You can find personalized and monogrammed quilting gifts from many quilt shops and Etsy shops! Getting custom items made, like quilt labels, pin cushions, and scissor bags, adds a special touch. Consider combining monogrammed items with a gift certificate for quilt fabric or a class to complete the present and support local quilt shops.
What gifts would a beginner quilter or sewer appreciate?
Start with basic supplies like fabric, thread, needles, pins, scissors, and a tape measure. Then consider adding in a rotary cutter and mat or a seam ripper for the next tools to have on hand. Focus on building up an essential toolkit first before splurging on fancier gadgets.
Are there any monthly quilt/sew subscription boxes that could make good gifts?
You bet! A monthly subscription box would be a delightful surprise for any quilter. With so many fun options out there featuring fabrics, patterns, tools, and notions, it's a great way to explore new products and techniques every month.
Pick a box that fits their skill level and style for a gift that keeps on giving all year long.
What are some good quilting gifts for kids or teens interested in sewing?
Look into beginner-friendly sewing machines like the Janome 11706 or Brother CS6000i. Both are reasonably priced models that will let them get creative and learn quilting basics. A skill-building book like Teach Yourself Visually Sewing will support their learning.
Start their fabric stash with creative prints from Robert Kaufman or Art Gallery Fabrics. Don't forget the basics – quality shears, needles, and thread suited for quilting projects.
Conclusion
Well sew-istas, we've stitched together quite the quilting gift guide here, haven't we?
From handcrafted notions to fun fabric, online classes to specialty machines, there's something for every quilter on your list.
I know it can feel like searching for a needle in a haystack trying to find that perfect present.
Whether you choose a charm pack to inspire their next masterpiece or spring for that new serger they've been eyeing, your thoughtful gift will be treasured.
Remember, it's the love woven into every stitch that makes a handmade gift so special.
Now go forth and get quilting, crafters!
References
bestsewingmachinereviewspot.com