This site is supported by our readers. We may earn a commission, at no cost to you, if you purchase through links.
Headbands are a great and versatile accessory that can upgrade any wardrobe. From fun and chic to formal and elegant, headbands can be your best friend.
What's even better, handmade headbands are an excellent project for those sewing.! Headbands require very little sewing and you can use almost any fabric, from your favorite silk delight to an old t-shirt lying around.
For those who want to learn how to sew a headband, you've come to the right place. Where can you find the best patterns? What Are Some Good Reversible, Athletic, or Knit Headbands? What tools do you need?
We'll be covering all of that and more, so let's dive in!
Where to Find Free Headband Patterns
Design your headband pattern from scratch (or based on other patterns you already have tried) is an excellent exercise for beginner seamstresses.
Headbands are incredibly versatile and you can make them as simple or as complex as you want? There are many patterns for different types, and different embellishments – like pins and ribbons – are a great way to shake things up!
For those of you who need help to get started, we've prepared a few patterns for you here. If you want to branch out, you can find more patterns online with a simple search.
DIY Crafts is a great place to start and, for knitters, Stitch and Unwind got you covered.
Sewing or braiding a headband
Sewing a headband is easier than it looks. As a plus, it's stylish and fun too!
Here are some beginner-friendly tutorials for making headbands you will love (and use in any situation!)
Elastic Reversible Headband
For those who want something a little more secure, an elastic headband will stay fit on your head – even during the sweatiest days.
These are great for people who are very active, and they can also excellent training headbands!
In addition, this headband is reversible. If you feel sweaty, turn your headband to the other side until you take a shower! That way you can keep driving without having to pack an entire legion of headbands.
Materials
Fold-over elastic.
Substance.
Sewing machine.
Scissors.
Method
Cut out two pieces of headband using the template. They should be 12 inches long, with 1.25 inches on one end and 2.5 inches on the other.
Cut out ten inches of foldable elastic.
With the right sides of the fabric together, fold down ¼ inch from the longer edge of your headband.
Slide one end of the elastic into this fold so that it is between two pieces of fabric, perpendicular to the edge. Pin the elastic in place, as well as the fabric.
Now we can sew the edges. A sewing machine will make this process easier, but the hand is also perfectly acceptable (be careful not to shift the pins!). Start at the edge with the protrusion of the elastic. Secure the elastic. Then sew both longer sides closed. Make surer leaving about two inches open on each side and the other edge open.
Now pull the headband inside out through the openings you left on the longer side. sides.
Flatten the headband.
Measure the headband against your head to determine how long the elastic should be. Mark the length you will need, making sure not to add more than half an inch of clearance.
Insert the other end of the elastic into the open end of the headband – about ½ inch deep.
Topstitch this end, including the rest of the sides of the headband.
Backstitch the ends with the elastic to secure it.
DIY Braided Training Headband
While exercising is healthy for you, sometimes it's just too hard to get that training machine on to pack. What's worse is when you're in the middle of your warm-up routine and your hair keeps coming into your face!
To keep your head on the game why not make your headband? The fact is that scrunchies – with this DIY headband you can make as many as you want!
All you need is an old T-shirt, and no sewing involved!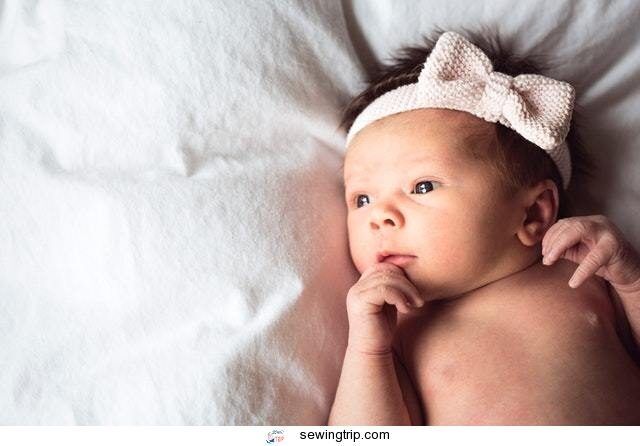 Materials
A large, old T-shirt, preferably seamless.
Scissors.
Tape.
Method
Cut the bottom of your shirt. Set it aside (it can later!).
Cut 5 horizontal strips 2.5 cm wide from the bottom. Try to straighten them, but they don't have to be exact.
Stretch and cut each strip in half. They should now be twice their original size.
Gather the strands together. Align them flush with each other so that they form a unit. Wrap one end in tape and then attach this end to a hard surface.
Now we can braid! Take the leftmost strand and pull it to the right.
Next, take the middle strand and place it one position to the left.
Take the rightmost strand and place it over the left.
Take the middle strand and place it over the right side..
Now continue with this pattern and repeat steps 5 to 8.
You can continuously change the length of your braid against your head. Trim the headband once you find a comfortable fit. Make sure you have three inches of slack across your desired length.
Now align both ends so that it substantially aligned each strand with one strand from the other end. Take a few strands to the outside of the braid and tie them together with a double knot.
Make sure no strands untied! Also tie the rest of the strands together with a double knot.
Cut the excess strands and remove the tape. Now you have your headband!
If you feel like making more headbands, chances are your T-shirt will have enough fabric for about two more pieces of clothing. If you need a larger collection, follow the instructions again to make more!
Here is a video showing an example of how to make a braided handmade headband.
Knitting a Headband
Headbands are great in the summer, but they're even better in the winter! Enter knitted headbands for your cold season needs!
This style doesn't just keep the hair out of your face; they are also great earmuffs. And, unlike hats, this won't ruin your hairstyle!
Basic knitted headband and ear warmer
Learning to knit a headband or ear muffs is a great beginner project and can for several hours – with a headband about 22 to 60 inches long.
This pattern for a knitted headband / ear warmer combo only requires basic tools, so it's cost effective too!
Materials
Knitting needles, size 6 or 8.
Medium weight yarn, around one skein.
Node.
Method
Cast on 7 stitches first.
Next, we will make a knit / purl rib pattern for 4 rows. For the first row, start with a knit, followed by purl, then knit, then purl, to the end of the row. For the second, start with a purl, then a knit, then a purl, and so on. Repeat this until you have 4 rows.
After 4 rows, start increasing the stitches. We're going to add an increase every odd row; the first row with an increase should be the 5th (Each even row must follow the same rib pattern on the first 4 rows.) If done correctly, you will have knit twice or purl two in a row with every other increase.
Repeat the knit / purl ribbing pattern up to the center stitch.
When you reach the double knit or purl in the middle, pick up the loop between stitch and stitch (with knit or purl) to continue the pattern.
Then finish with another knit / purl rib pattern.
Repeat steps 4 to 6 until you have a pattern about 10 cm wide.
When you are about halfway the desired length of your headband, you can scale the pattern. First, determine how long you sewed the 4-inch wide center. Finish the center by adding the same length.
Begin the first row of the decrease by repeating the pattern up to the middle stitch. Decrease by knitting or knitting the middle and the next stitch.
Repeat the rib pattern, creating an even number of stitches (because of the double stitch in the middle).
Then make a ribbing pattern across and towards the center. Knit or knit the double stitches together in the middle.
Then make a ripple pattern over the pattern and return the pattern to an odd number of stitches.
When you return to bind off, leave one stitch on the needle. You can transfer this stitch to a crochet hook and make a chain.
DIY Headband with Bow / Turban
For those who want something more challenging, why bother with this
] Bow / Turban Headband try?
The different parts of this design add to its complexity, but it also allows you to mix and match the colors to suit your mood.
For added versatility, this pattern can in two ways: with a bow or simply as a turban. For a more grown-up and understated headband, keep this one like a turban. For those who want a more fun and vibrant headband, you can add a cute bow!
Materials
1 strand yarn.
4mm needles.
Carpet needle (or crochet hook).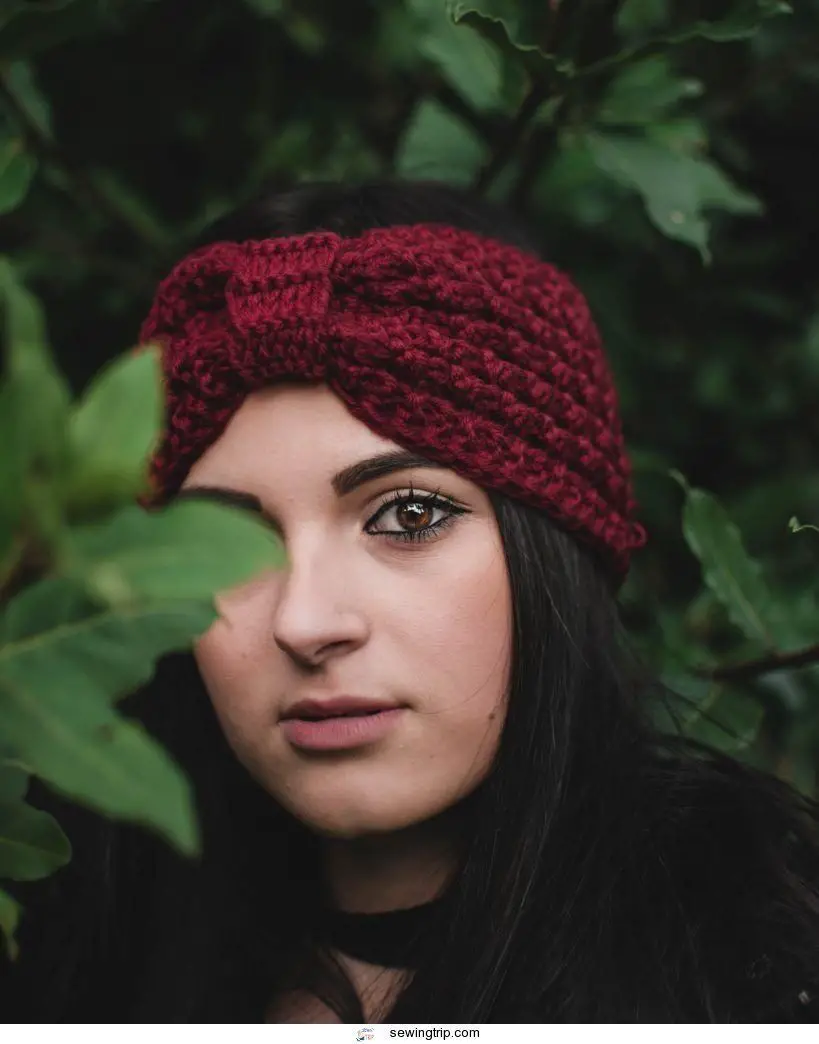 Method
Start casting 15 stitches.
Make a knit / purl garter pattern for 6 rows.
For rows 7 through 26, use a barley grain. A seed stitch is simply reversing a knit / purl pattern so that you purl your knits and purl your knits.
For the 27e row, knit one, and then yarn over. Continue using a seed stitch to the last stitch, then turn and sew one. At this point you should have 2 more stitches than before.
Continue to use a shredded stitch pattern for a length of approximately 12 inches.
Knit one. Then knit two stitches together.
Continue this pattern until you only have three stitches left at the end. For these three stitches, knit two stitches together and then knit one.
Make a barley grain pattern for the next 20 rows.
Make a knit / purl border for the last 6 rows.
Cast off all stitches.
For those who want to add a bow to your headband, knit the bow ring and bow. For those who don't want to add a bow, you can skip steps 2 and 7.
Ring cast 10 stitches.
For 36 rows, use a barley grain pattern. Cast off. This will be the ring that will around the bow and connect it to the headband.
Now to make the arc yourself. Cast 15 stitches, using a seed stitch pattern for 42 rows. Then cast off. If you don't want to add an arch, you can skip this step.
Now to assemble the pieces! Grab the headband and sew the ends together, making sure the ends of the yarn are not visible. This gives it a more finished look.
Now take the ring piece and place it over the ridges of the headband so that it covers the hem. Join the ends of the ring piece behind the headband and sew it together.
Once the ring piece , sew the back of the ring piece onto the headband itself. Make sure you secure it properly.
For those who want to add a bow, take the ends of the bow and tuck them into the bow ring from the right side of the headband. It should fit snugly and be easy to remove. With this you can mix and match bows!
This video shows another example of how to knit a headband turban style.
Conclusion
Headbands are a beautiful, versatile accessory. They are a substantial addition to any outfit, no matter the occasion. Plus, they are excellent beginner projects for the novice seamstress or knitter!
Hopefully these patterns have got you started on your homemade headband journey. So grab your favorite fabric or yarn and get started!
---
What is your favorite handmade headband pattern?