This site is supported by our readers. We may earn a commission, at no cost to you, if you purchase through links.
If you have a kid who loves dressing up with their dolls, from American Girl to Lori to Barbie, you'll want to shower them with accessories and outfits.
]
Doll clothes can quickly become expensive.
. here is no better way to save money and create a personal touch than to sew your own clothes for the dolls? But how do you even sew Barbie clothes?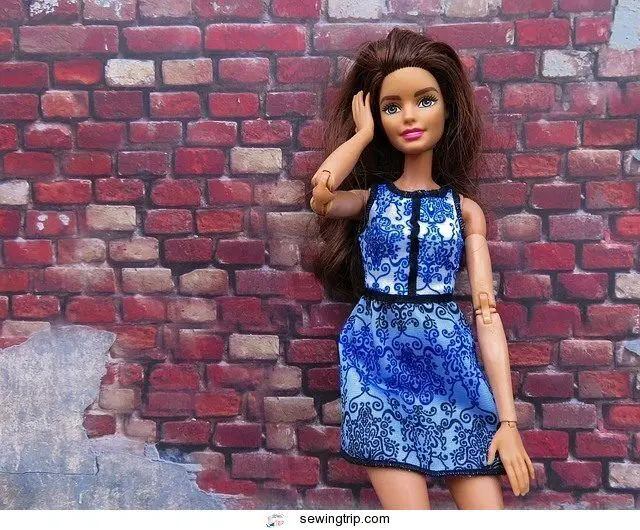 Here's an easy doll dress pattern to try out.
Where to find ideas and materials for sewing doll clothes
In addition to the pattern we outline below, there are a ton of patterns online, and once your kids are old enough how to use a sewing machine, they can even help you! . o fit any doll.
Once you master the basics, the possibilities are endless and you can even use your kids'old clothes as fabric.
Other dominant sources of cheap fabrics are scraps from other projects, or even clothes from thrift stores.
Although they can't do that with you or your kids. There are some wonderful materials that can for just a few dollars – much cheaper than you can get in ink by-the-yard.
Once you fabric, it's time to get started!
Gather your tools
Before you start your project, you need some basic tools. Collect the following:
Paper, to make the pattern
Scissors
Fabric of your choice, in a piece large enough for the size of your doll
Matching thread
Pins
A sewing machine or a hand needle
Fray stop, if your fabric is prone to fraying
Make the pattern for sewing doll clothes
First let's measure the toy.
Put your doll on a piece of paper about the same size as the doll. It doesn't matter what kind of paper you use, because this will be your pattern.
If you want to use something stiffer, like cardstock or poster board, you can. then use the pattern several times for different fabrics.
Once you have the right size: on the paper, draw two neckbands coming from her shoulders, then two rectangles that under her arms to her side. . his is her skirt and should fit around her when cut.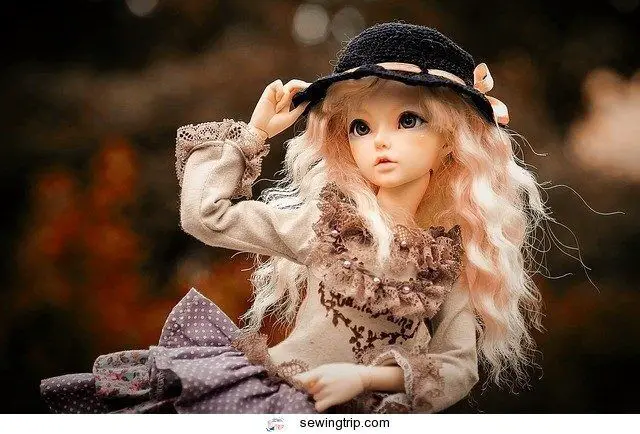 Cut out the pattern and place it over the doll to make sure it fits. . he straps should wrap around her neck and be able to be tied at the back.
From here on you can make the dress longer or shorter on her legs by adding more paper. or trim the paper shorter.
When you're happy with the fit, fold the pattern in half and trim it until it's even on both sides. Unfold it again to check, and then you're ready.
Sewing doll clothes
now you have a working pattern, it's time to sew the dress!
Fold your fabric in half and pin the pattern onto the fabric. Cut along the edge, leaving extra fabric around the bottom so you can finish the edge.
. ake your two pieces of fabric and turn them so that the wrong sides are facing you. . he side you want to see on the dress should touch on the inside. of the dress and sew a bottom edge to the dress to prevent fraying. Do not sew the neckband or it may be difficult to dress your doll.
Make sure to do a few backstitches. o make sure they hold wires. When you nrj. 4dIFPfpF, trim the excess thread and turn the dress right side out.
Slip the dress onto the doll and tie the straps around the back of her neck. Cut the straps to the desired length.
Depending on the type of fabric you are using, you can finish the edges with fraying, or you can finish the edges of the straps down and sew them on to prevent fraying during use.
Personalize it!
Now that you have a basic dress, spice it up!
Add lace at the bottom, tie a ribbon around the waist, or even add beads and sequins with a hot glue gun.
Once you've mastered the basic pattern, you can cut new sheets of paper to change the length or style, and pop them to any size.
All adult clothing patterns can get the basic shape, and once you know how to size them, you can even make matching clothes for your child and their doll.
Reuse old clothes, fabric scraps from other projects, or even fat quarters and scraps from fabric stores to save money net and give your child endless possibilities while playing with their dolls.
When your child is old enough, let them help you make them, teach them valuable skills and help them strengthen their hand-eye coordination.
Here's a video showing you how to make jeans for you dolls.
---
Do you have any tips for sewing doll clothes?