This site is supported by our readers. We may earn a commission, at no cost to you, if you purchase through links.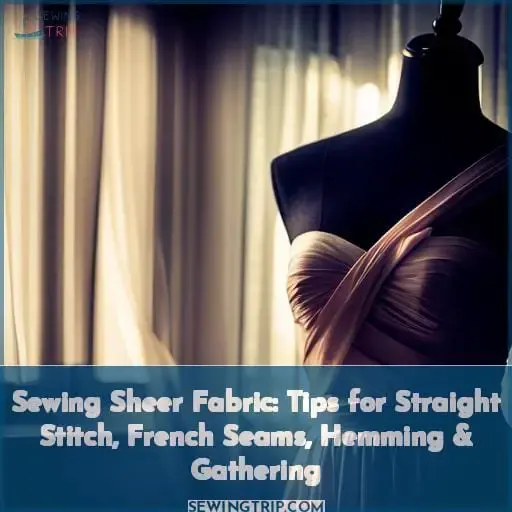 Struggling to sew sheer fabrics? You're not alone—every fashion designer, sewing instructor, and tailor knows mastering the delicate art of handling delicate materials is no simple feat. However, with a few tips and tricks, you can swiftly become a pro at stitching sheer fabric.
From straight stitch techniques to hemming and gathering methods for shear fabrics, this tutorial will have you creating beautiful garments in no time.
Key Takeaways
Use fine needles and pins to avoid visible holes.
Handle the fabric gently to prevent distortion.
Press seams with a clapper instead of an iron to avoid impressions.
Hand stitch hems using an almost invisible stitch or a narrow hem with lightweight thread.
Sewing Sheer Fabric: Tips and Techniques

When sewing sheer fabric, remember to use fine needles and pins so you don't leave visible holes, and be sure to stay stitch and handle the fabric gently so it doesn't distort. For seams, consider French seams or narrow hemmed seams and press with a clapper instead of an iron to avoid impressions.
When hemming, hand stitch using a very fine, nearly invisible stitch or a narrow hem using lightweight thread. For gathering, use the longest stitch length possible and keep pulls soft and minimal. Stitch slowly and carefully, testing settings on scraps first, and consider eliminating topstitching or using a subtle thread color.
Avoid pressing sheer fabrics; instead, use a steamer or clapper. If pressing is necessary, use a lower temperature setting with a press cloth. With care and the proper techniques, you can sew beautiful garments from delicate sheers.
How to Sew Sheer Fabric With a Straight Stitch

You can achieve gorgeous results sewing sheer fabric with a straight stitch if you carefully select the right needle and thread.
Opt for a sharp, fine machine needle (size 9-11) to pierce the delicate fabric smoothly.
Choose a lightweight, soft cotton thread that won't overpower the fabric.
Set your machine to a shorter than normal stitch length (around 1.5-2mm) for stability.
Use a fine silk or polyester thread in the bobbin to minimize show through.
Engage a straight stitch plate on your sewing machine to support the thin fabric as it feeds.
With the right supplies and adjustments, you can create beautiful sheer garments and accents. Take things slowly, make minor tension tweaks as needed, and revel in the satisfying transparency a straight stitch provides.
Your sheer pieces will have discreet, professional seams and finish details worthy of the runway.
How to Sew Sheer Fabric With French Seams

Great work sewing sheer fabrics with a straight stitch! Now, let's move on to another elegant technique for sheers and delicates – the French seam. This finessed finishing creates a professional look on semi-sheers like silk and lightweight linen.
Sewing sheer fabric with French seams fully encases the raw edges in a neat, narrow seam.
Sew the first pass with wrong sides together, 1/4" from edge.
Trim seam allowance to 1/8".
Press seam allowance to one side.
Fold the fabric over, encasing the first seam.
Sew a second 1/4" seam along the folded edge.
The double row of stitching hides any fraying fabric inside the seams. Take it slow, clipping curves and pressing as you go. With practice, French seams lend sheer gowns and blouses a couture finish. They keep raw edges fully contained – perfect for floaty chiffons and filmy silks.
Master French seams, and sheer fabric edges disappear into your impeccable garments. The technique protects delicacy with finesse. You'll love the clean professional look it gives your lightweight fabrics.
How to Hem Sheer Fabric

Piece the seam allowances together with the wrong sides facing out to create a narrow hem when hemming sheer fabric.
Roll or turn under the raw edge twice to encase it, pressing after each turn. This prevents fraying.
Use a fine thread that matches the fabric color and a small needle. Avoid a wide stitch length.
Use a washable fabric glue stick on the hem's folded edge for added stability when stitching.
For curved edges, clip the hem allowance frequently to ease fullness around the curve.
On straight hems, hand stitch using a blind hem or catch stitch to invisibly secure the hem.
When hemming sheer fabrics, take it slow and steady. Focus on precise pressing, delicate handling, and neat blind stitches to create an invisible finish. With care, light fabrics can have a refined hem that maintains their beauty. Mastery over these techniques allows you to create elegant designs using diaphanous fabrics.
How to Gather Sheer Fabric

Pull threads to easily gather sheer fabrics and avoid unseemly puckers when gathering:
Run a line of long gathering stitches just inside the seam line to control the fullness.
Use lightweight, sheer fabrics that won't add bulk when gathered – choose polyester chiffons, silk chiffon, or nylon mesh.
Reduce your thread tension to avoid breaking delicate fabrics when gathering.
Gently pull the bobbin threads to shirr the fabric into even gathers before securing threads.
Press gathered sections with a warm iron, avoiding direct contact. Allow the steam to remove any final puckers.
Create stunning sheer overlays, cascading ruffles, and ethereal gathered skirts with these techniques. Gathered sheer fabric adds lightweight drama, romance and softness to any dress or blouse for artistic flair.
Experiment with different types of gathers to make ordinary designs extraordinary.
Conclusion
With the right techniques, sewing sheer fabric can be enjoyable for fashion designers, sewing instructors, and tailors. Knowing how to properly sew this delicate fabric is key to creating beautiful garments that'll last.
From straight stitching to hemming and gathering, these tips can help you achieve a professional finish. With practice and patience, you can master sewing sheer fabric and make beautiful garments you'll be proud of.
So don't let the challenge intimidate you; have fun and enjoy creating something beautiful.
Master straight stitching. Use a sharp, fine needle and lightweight thread in a coordinating color. Lengthen the stitch length to 2.5-3 mm for stability. Use an even-feed presser foot to prevent puckering.
Avoid skipped stitches by placing a sheet of tissue paper under the fabric as you sew. Tear away after stitching. Use a finer machine needle, size 60/8 or 70/10. Lower presser foot pressure as well.
Hemming prevents edges from fraying over time. Finish raw edges with narrow hems, rolled hems, or lace trim.
For gathering, use a wide zigzag stitch to attach two layers, then pull up the bobbin threads.
With practice, you can master these techniques for beautiful, lasting sheer fabric creations.