This site is supported by our readers. We may earn a commission, at no cost to you, if you purchase through links.
We all want our homes to feel like safe havens, don't we? The key is surrounding ourselves with textures and colors that soothe our souls.
It all starts with upholstery. Whether you're covering that cozy chair where you curl up with a cup of tea or outfitting your family room sofa, upholstery fabric creates the backdrop for togetherness.
But with so many upholstery fabric types and names, how do you choose? Let this guide illuminate the nuances between cotton, wool, leather, linen, polyester, olefin, acrylic, and more.
We'll explore grade scales, pilling resistance, sofa recommendations, and where to buy. You'll gain the knowledge you need to select upholstery fabrics that turn your house into a home.
Key Takeaways
Natural fabrics like cotton, wool, and leather each offer unique benefits and considerations for upholstery. Cotton is soft but prone to staining, wool is extremely durable but can have odor issues, and leather brings elegance but requires extra care.
Synthetic fabrics such as polyester and olefin provide benefits including wrinkle and fade resistance. Microfiber polyester has a velvety feel and excels at resisting stains and spills.
The grade scale of A-F for upholstery fabrics helps match the appropriate quality and durability to your budget and decor plans.
For sofas, microfiber polyester prevents pilling and resists stains, while cotton is affordable yet shows stains easily.
Upholstery Fabric Basics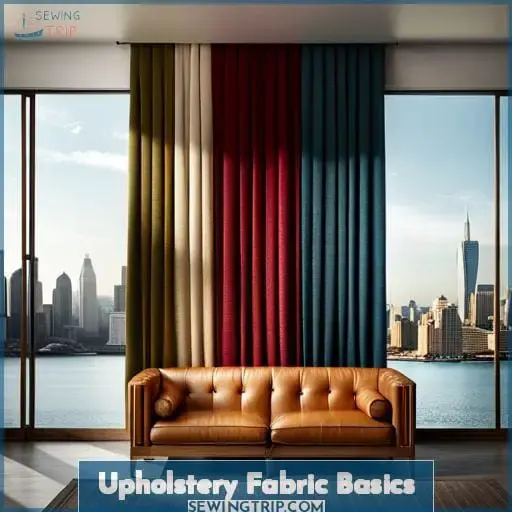 You'd feel the softness of cotton, the warmth of wool against your skin, the smooth finish of synthetic fibers like polyester as you ran your hand over quality upholstery. Upholstery fabrics need to be durable, strong, and able to withstand heavy daily use and weight without damage.
Natural fibers like cotton, wool, and leather each offer their own aesthetic look and feel. Cotton is a comfortable, affordable choice but can be more stain-prone and trap dirt. Wool is extremely durable and resists fading but can have odor issues when wet. Leather brings elegance and is pet-friendly but requires extra care and maintenance.
Many opt for synthetic fabric blends like poly-cotton to get the softness of cotton with more wrinkle resistance. Polyester is frequently used for its wide range of colors and patterns. And faux leather delivers the appearance of real leather for half the price.
With so many options, it's best to consider the amount of use, your lifestyle and if you have kids or pets before choosing an upholstery fabric type.
Natural Fabrics for Upholstery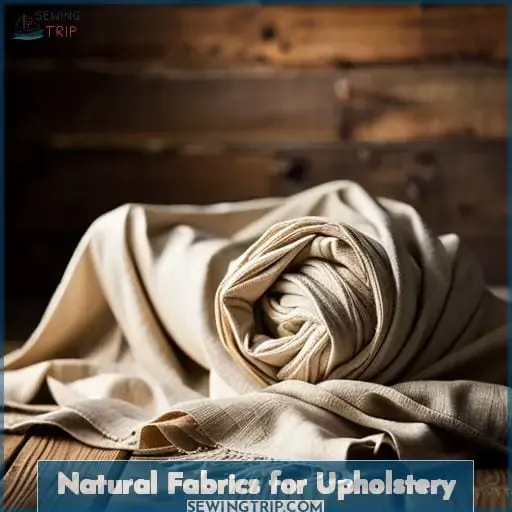 You can make an upholstery fabric decision with confidence when considering these popular natural fibers. Think about cotton if you want a soft, cozy fabric which needs some stain protection. Wool is extremely durable but can have possible odor issues if it gets wet. Leather has a luxurious, elegant appearance yet needs ongoing maintenance and care.
Linen looks casually textured but wrinkles and stains easily in heavy traffic areas. Each natural fabric offers distinct benefits to know before making your upholstery choice.
Cotton
Feel cotton's soft comfort against your skin as you relax into the sofa's plush cushions.
Soft, breathable feel
Natural comfort perfect for lounging
Affordable durability that endures daily life
This natural woven fabric embraces you as you unwind. Its sturdy fibers offer a cozy haven day after day.
Wool
Snuggle into wool's sturdy embrace as you lounge on the sofa, its durable fibers cradling you in long-lasting comfort.
| Wool Qualities | |
| --- | --- |
| Very durable and sturdy | Resists pilling and staining |
| Good for high-traffic areas | Can have odor issues when wet |
| Thick and warm | |
Wrap yourself in the enduring comfort of wool. As seasons change, its fibers hold strong to support you.
Leather
Leather's durability cradles you in long-lasting comfort as the seasons change. Its pet-friendly fibers withstand heavy use on high-traffic sofas. Leather easily cleans pet hair while retaining its elegance. Though expensive initially, it endures over time with proper care.
Linen
Linen embraces you in a casual wrinkled texture whenever you lounge, though it stains easily if accidents happen.
Wrinkles easily from use
Lightweight, breathable feel
Requires gentle laundering
The laidback linen fabric clothes your furniture in wrinkled comfort. Its breezy, textured look infuses relaxed living spaces with casual charm. However, wine spills and dirt smudges readily show on this natural fiber. With care, it will gently embrace your style for years.
Synthetic Fabrics for Upholstery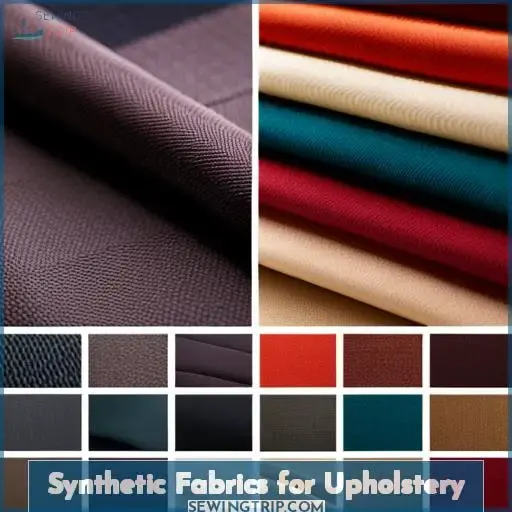 When specifying upholstery, consider polyester. You'll appreciate how it resists wrinkling and retains color. Olefin is great for outdoor furniture since it's durable and recyclable. Acrylic resists fading but can have pilling problems to watch for.
Polyester
You'll love how polyester resists wrinkles and retains its color, making it a smart choice for active homes. This easy-care synthetic withstands busy families while maintaining a fresh look over time. Polyester won't pill or fade from the sun like other synthetics may. While microfiber offers a soft velvet feel, and olefin works well outdoors, polyester gives you the most versatility inside your home.
| Fabric | Wrinkle-Resistant | Fade-Resistant | Easy-Care |
| --- | --- | --- | --- |
| Polyester | Yes | Yes | Yes |
| Olefin | Somewhat | Yes | Somewhat |
| Microfiber | Somewhat | Somewhat | Yes |
| Acrylic | Somewhat | Somewhat | Somewhat |
Let polyester bring durability and style to your decor without the fuss.
Olefin
Olefin is perfect for your outdoor pieces – it's extremely durable, stain-resistant already, and even recyclable. You'll love using olefin for poolside cushions or patio furniture covers. The synthetic holds up against weather, resists fading from sunlight, and won't absorb messes like cotton might.
Olefin makes cleanups easy since liquids bead right up without soaking in. And when it's time to replace cushions down the road, olefin can be recycled unlike polyester or microfiber.
Acrylic
Acrylic upholstery fabric withstands fading and wrinkling, though lower quality acrylic may pill with heavy abrasion. You'll like how acrylic resists crushing and staining compared to cotton or linen while keeping its color beautifully.
It's an affordable synthetic for sofas, chairs, and ottomans that mimics other fabrics like wool minus the pilling.
Blending acrylic with cotton gives you the soft feel you want with enhanced wrinkle resistance. Heavy solid acrylic works well, but stick with tightly woven acrylics to prevent potential pilling issues down the road.
Let acrylic bring you softness and dye retention without the high cost of delicate silk.
Popular Upholstery Fabric Names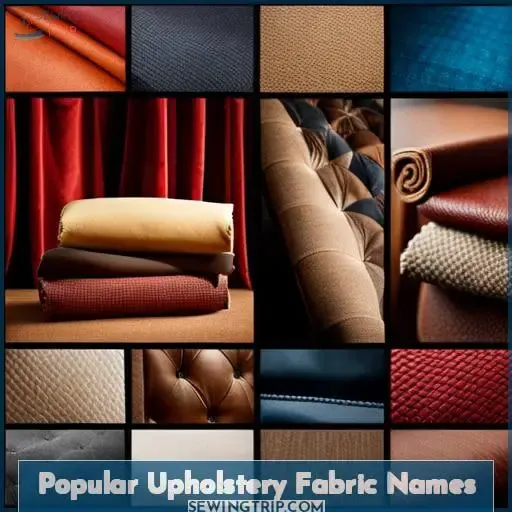 Common choices include denim for a casual decorative look and cotton when seeking comfort and affordability. When choosing upholstery fabrics, consider the popular options that suit your style and needs.
Cotton offers a soft, comfortable feel that breathes well, though it can show stains. For high-traffic areas, microfiber polyester is a smooth velvet-touch fabric that resists stains and spills.
Leather makes a sophisticated statement with unbeatable durability, while also being easy to clean. Wool blended with synthetics creates a sturdy upholstery that withstands pilling and fading. Polyester on its own provides decor-friendly wrinkle resistance and color retention.
Review the positives and drawbacks of each before deciding which matches your home's character and expected usage. With some smart comparisons beforehand, you'll find it easy to pick the perfect fabric to reinvent your space.
Upholstery Fabric Grade Scale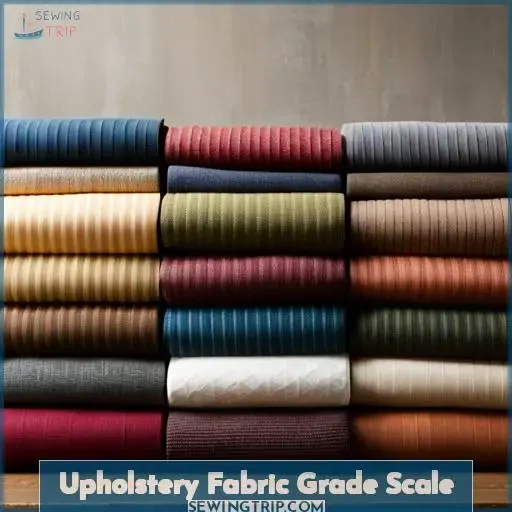 Grading lets you choose upholstery smartly, seeing weaves and fibers ranked A-F for quality so the sofa you pick fits usage and style.
Check the upholstery grade to gauge how long it will last and perform. Higher grades mean more durability.
The grading scale goes from A to F. An A grade is the lowest quality and cheapest cost.
Grades factor in fiber content, weave style, thread count, and overall construction.
Popular fabrics often fall in the C to E range. For example, cotton is usually a C or D while leather ranks higher around D to E. Polyester and microfiber earn a C to D. Wool blended synthetics reach a C or D grade.
Knowing the grade difference helps narrow choices fitting your decor plans and budget.
Which Fabrics Resist Pilling?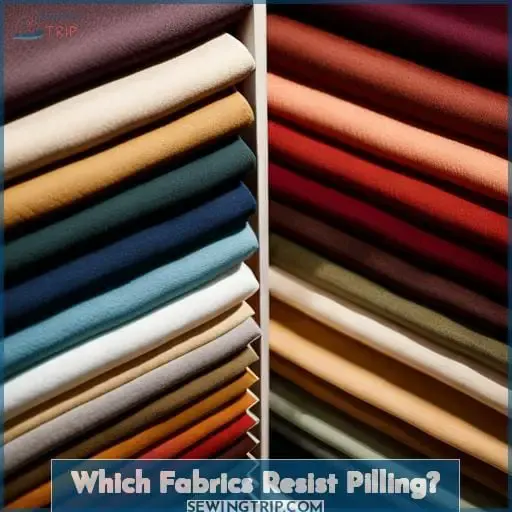 You'll find tightly-woven synthetics like polyester don't pill easily with normal use. As an upholsterer, I always check the fabric content first when clients want furniture that resists pilling. Materials like cotton and wool that have looser weaves are more prone to pilling from the friction of daily use.
The little pills form as fibers work loose. Tighter synthetic weaves of microfiber and polyester have fewer loose fibers on the surface to pill.
Wool and cotton blends still have pilling tendencies from the natural fibers even when blended with synthetics. The looser weave leaves them vulnerable to pilling with repeated use. For sofas and chairs seeing a lot of wear and tear from kids and pets, synthetics like microfiber and polyester woven densely make the best choice.
The tight construction keeps pills from forming so the upholstery maintains its smooth look much longer. With the right upholstery that doesn't pill, you'll have furniture looking its best for many years.
Best Sofa Fabric Options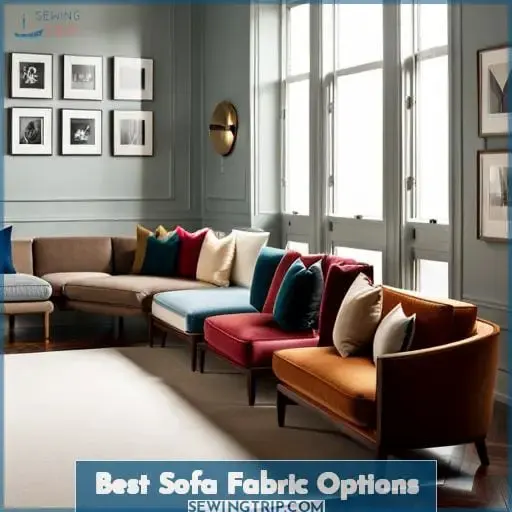 When choosing the snuggly soft sofa that's just right for your family, consider stain-fighting synthetics like leather and polyester or durable natural fibers like linen that'll only get better with age.
The best upholstery fabrics for family sofas include:
Cotton – Affordable and soft but shows stains easily.
Microfiber Polyester – Smooth velvet feel that resists stains and wear.
Leather – Extremely durable and easy to clean pet hair.
Linen – Casual look that gains character over time.
For kids and pets, microfiber polyester is a winning choice. The tight weave prevents pilling while resisting spills and wear. Leather stands up to heavy use while wiping clean easily. Linen wears in, not out, developing a cozy vintage vibe.
While budget-friendly cotton attracts stains and dirt trapped in the weave. When making memories with your family, choose a fabric that handles real life beautifully.
Car Seat Upholstery Fabrics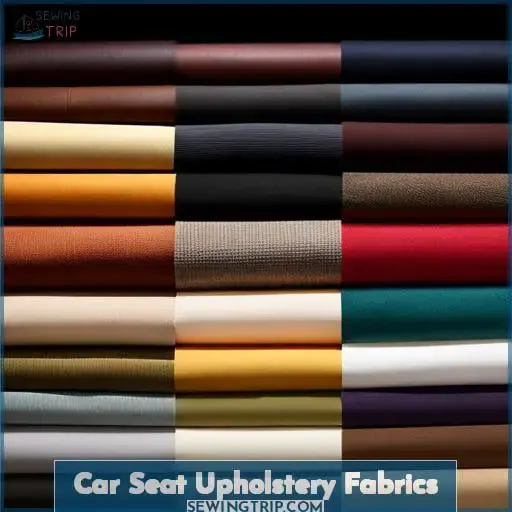 Whoa, buddy, you're cruisin' for a bruisin' if you think any ol' raggedy fabric'll hold up in your hot rod. Only the slickest, most bodacious threads'll make the scene in your swingin' ride, daddy-o! From plush velvets to custom prints, you're lookin' to slap some serious style on those seats, cat.
So peel out and pick up the hippest, happenin' fabrics to pimp your whip and cruise the strip in total glam, my man!
If you wanna be the big kahuna of the strip, you need a primo interior that turns heads. Start with classic leather or vinyl. Smooth as pomade and tough as a greaser, they feel plush and keep their good looks after years of wear.
Polyester microfiber is the ultra-hip choice, my man. Its velvet vibe looks luxe but wipes clean in a jiffy.
Just be cool, stay sharp, and get jiggy with the top threads, buddy. Your tricked out sled will be the baddest this side of town!
Using Upholstery Fabric for Curtains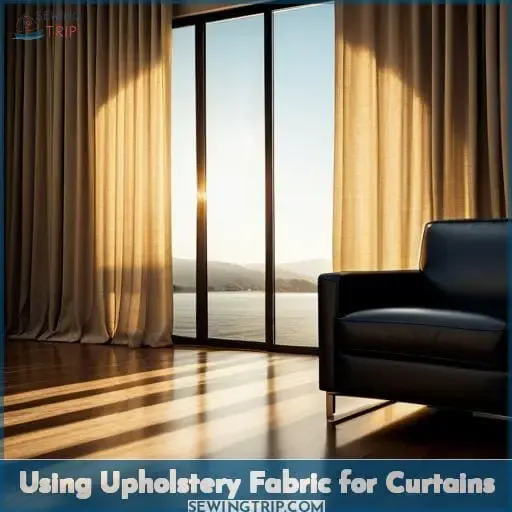 Let's get creative with it! Upholstering your drapes with heavy-duty fabrics lends a bold, tailored vibe that commands attention.
Cotton provides a soft, casual feel while resisting fading and wear.
Wool woven styles add rich texture and elegance to any room.
Polyester microfiber offers a smooth, velvety finish with unbeatable durability.
Trading flimsy curtain fabrics for sturdy upholstery materials is a game-changer. The weight and structure provide that ultra-formal look of custom draperies without the huge price tag. Choose tightly woven cotton for an approachable farmhouse vibe. Or go bold with microfiber's sleek drape and luscious feel.
The rich colors and patterns of wool make a glamorous statement. Whatever your style, upholstery fabrics infuse your windows with high-end luxury.
Reimagine your drab drapes and illuminate any space with the flair and durability only these specialty textiles can provide.
Where to Buy Upholstery Fabric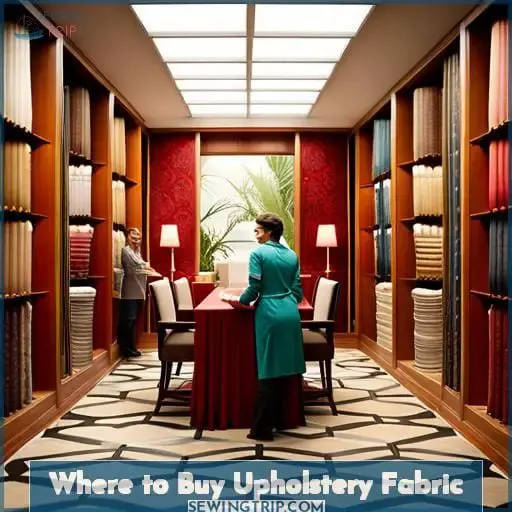 You're ready to tackle an exciting new DIY upholstery project. But where to find that perfect fabric? Have no fear – quality upholstery fabrics are easier to get than ever.
We'll guide you on an inspiring journey to track down those gorgeous textiles. Say goodbye to lackluster big box options. It's time to unlock a world of stunning upholstery fabrics to breathe new life into your furniture.
First up – fabric and department stores. Their wide selections allow you to see and feel options firsthand. Find sturdy cottons or cozy wools. Trace intricate jacquards that set your creativity ablaze.
Beyond the tactile in-store experience, countless online retailers empower your search. Narrow down the exact content, quality, cost and yardage you need. Polyesters and acrylics offer durability with vivid hues.
Armed with knowledge and inspiration, you'll uncover the perfect textiles for all your upholstery dreams.
Frequently Asked Questions (FAQs)
What are the pros and cons of using upholstery fabric for homemade projects like pillows or tote bags?
You've got a yen for DIY with a stitch-in-time, but upholstery fabrics' weight and weave snag, bunch, fray—a real hot mess without the right needles, thread, backing. Still, a penny saved is a penny earned, so try pre-quilted cottons or soft microfibers first before velvets or leatherette that need pro handling.
How do I know if an upholstery fabric is safe for use in children's rooms or nurseries?
You'll want to verify a fabric's safety for kids before using it in their spaces. Check for certifications like OEKO-TEX that indicate tested toxicity levels. And steer clear of delicate, high-maintenance fabrics prone to issues when exposed to messy play and careless care.
What really matters most is choosing a material able to withstand a child's joy.
What's the best way to clean or wash different upholstery fabrics at home?
You should check manufacturer instructions for care. Wool and silk only tolerate dry cleaning. Cotton, polyester, and olefin often wash at home in cool water with mild detergent – even bleach on occasion! Handle delicates gently, as scrubbing can pill or tear fibers.
Where can I find upholstery fabric sold by the yard for DIY projects?
You can find upholstery fabric sold by the yard at fabric stores, big-box stores, and online retailers. Browsing in-store selections or ordering samples allows you to get a feel for the fabric's quality and ensure it'll work for your project before purchasing yardage.
We have a great selection of upholstery fabrics for all your DIY upholstery needs.
How much upholstery fabric should I buy for reupholstering a chair or sofa at home?
When reupholstering furniture at home, buy at least 5 yards of fabric per seat cushion and 3 yards per sofa back. Allow extra yardage for pattern matching and inevitable mistakes. Upholstery fabrics often have limited width, so plan for multiple panels or special ordering wider widths if needed for your project to avoid mismatches.
Conclusion
Upholstery comes in over 20 fabric types, giving upholsterers endless design possibilities. Wool has remained the top choice for decades thanks to its durability and stain resistance. When selecting fabrics, consider the pros and cons of natural versus synthetic fibers.
Test swatches to ensure you get the look and feel you want. Acrylic and poly blends resist pilling on high traffic upholstery.
Whether you're reupholstering a vintage sofa, choosing seat covers for your car, or making stylish curtains, this guide outlines everything you need to pick the perfect fabric for your needs and budget.