This site is supported by our readers. We may earn a commission, at no cost to you, if you purchase through links.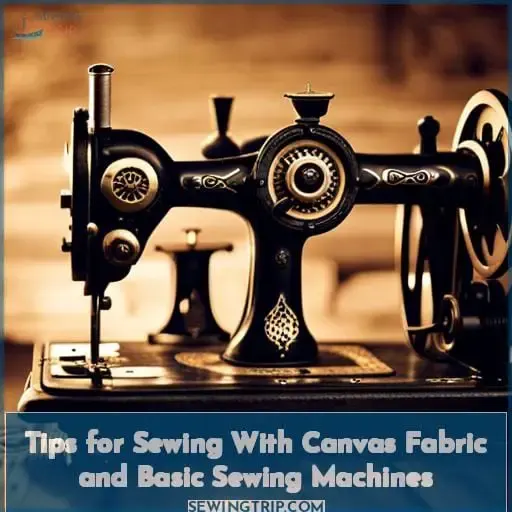 Picture it now – the cool crisp air, smell of coffee brewing, and hum of your sewing machine warming up. You're energized by the thought of starting your next sewing project, but this one involves canvas.
Don't let the fabric intimidate you! With the proper tools and tips, sewing canvas can be a liberating experience that empowers your creativity.
By choosing heavy-duty needles and thread, adjusting stitch length and tension, and pressing carefully, you can master sewing with canvas fabric on a basic machine. Let this comprehensive guide on tips for sewing canvas unlock your potential so you feel confident to take on any sturdy fabric project.
With the right know-how, you'll relish the texture and feel of canvas as you create durable, high-quality items through your own self-determination.
Key Takeaways
Canvas is a strong and durable fabric made of tightly woven cotton.
Longer stitch lengths and thicker threads are recommended for sewing canvas.
Pre-washing and pressing canvas helps eliminate shrinkage.
Denim sewing needles in sizes 90/14 to 110/18 are ideal for sewing canvas.
What is Canvas Material?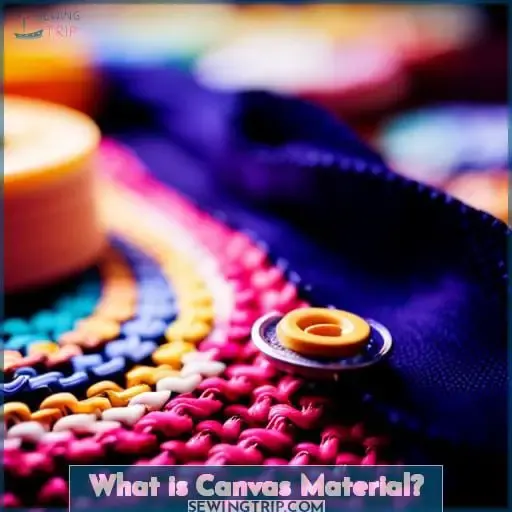 You're looking to work with durable canvas for your latest project. Canvas is a tightly woven cotton fabric known for its strength and durability. When working with canvas, consider using longer stitch lengths of 3-4mm and thicker threads like cotton-wrapped polyester.
Pre-wash and press your canvas to eliminate shrinkage. Use denim sewing needles in sizes 90/14 to 110/18 for best results. Finish your seams with techniques like French seams or zigzag stitches to prevent fraying.
With some preparation and the right tools, canvas makes an excellent material for bags, upholstery, and more.
Tips for Sewing With Canvas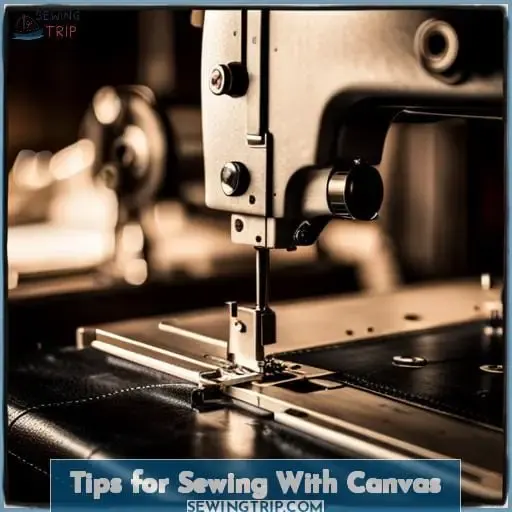 When working with canvas fabric, it is crucial to choose the right needles and thread. Select needles between sizes 90/14 and 110/18, such as denim or upholstery needles, and pair them with durable threads like polyester or cotton-wrapped polyester in the proper weight.
Maintain an even stitch length of around 3.0-3.5mm and balanced tension to prevent puckering. Secure layers together with clips or tape and press with a hot iron, avoiding overstretching.
Choosing the Right Needles for Canvas
Proper needle choice helps ensure the most effective sewing of canvas projects. Use sharp needles in sizes 90/14 to 110/18 for the best stitching. Consider a jeans needle for extra piercing power. Choose topstitch needles for visibility.
Regularly change needles to keep stitches smooth. And always match thread size to needle size when sewing canvas.
Selecting the Appropriate Thread for Canvas
Choose robust threads like polyester and cotton-wrapped polyester when stitching canvas fabrics. These heavy-duty threads are perfect for the durability and strength needed to sew through thick canvas material.
Consider thread weight, sheen, and color to match your project's needs. Adjust the upper and lower tension on your sewing machine to ensure smooth stitching without any puckering or loose stitches. By selecting the appropriate thread for canvas, you'll achieve professional-looking results that will stand up to wear and tear.
Stitch Length and Tension for Sewing Canvas
Achieving the perfect stitch length and tension is crucial for creating strong, professional-looking seams that will make your canvas projects truly stand out.
Keep stitch length between 3.0-3.5mm for durable seams on canvas.
Vary tension based on project needs – increase for straighter stitching or decrease to allow thread overlap for flexibility.
Consider backing seams with interfacing to add structure and prevent stretching.
Prewash canvas to account for shrinkage that could throw off dimensions.
When sewing with canvas, minding your stitch settings ensures finished pieces with neat seams that withstand wear.
Using Clips and Tape for Fabric Stability
You'll hold layers together when sewing canvas by using clips or tape.
Small binder clips work well to keep fabric tight and flat.
Alligator clips with rubber jaws grip fabric smoothly without slipping.
Masking tape applied along edges adheres fabric layers in place.
Pattern weights or small sandbags placed on layers keep canvas straight and even.
Using the right clips or tape when sewing canvas stabilizes fabric for accuracy.
Ironing and Pressing Techniques for Canvas
Carefully iron the canvas on the wrong side using a medium heat setting before sewing for a smooth surface. Gently press with steam to shape details, taking care not to stretch or distort the fabric. Test your stitches on scraps first and reinforce stress points. Proper pressing allows the canvas to feed evenly during sewing for crisp, clean results.
How to Sew Canvas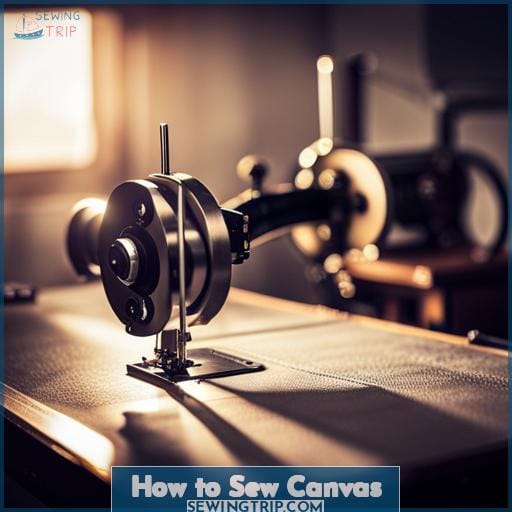 When working with canvas fabric, you'll want to take some time to prep your materials and workspace. From selecting the right needle and thread to finishing edges properly, following essential techniques will allow you to sew durable creations with your standard sewing machine.
Prepping for Sewing With a Basic Sewing Machine
Prepare your basic sewing machine for canvas projects by installing a heavy needle and sturdy thread. To get set up, you'll need to: 1) Select a sharp size 16 or 18 needle. 2) Choose an all-purpose polyester or cotton/poly core thread.
3) Set your stitch length to 3-4 mm for durability. 4) Attach a walking foot to prevent slippage. 5) Use an iron-on interfacing to limit fraying. With these key steps, your machine will be ready to handle thick canvas fabric.
Additional Sewing Tips for Working With Canvas
When stitching canvas, consider using a walking foot for even feeding and to prevent puckering.
Finish seams by serging, zig-zagging, or overcasting raw edges.
Manage thick layers by using clips instead of pins to hold the fabric while sewing.
Tame curves and corners by clipping into the seam allowance 1/8 inch apart.
Add stability by using interfacing or tear-away stabilizer as needed.
Pre-treat the fabric by shrinking the canvas using steam before cutting and sewing.
Remember to test stitch settings and tension on scraps before starting your project. It is also important to change needles at least with every project and to use the appropriate heavyweight threads, needles, and presser feet.
Finishing Touches for Canvas Projects
You're ready to make those finishing touches that will really make your canvas creation pop! Consider binding edges with bias tape for a clean finish. Add custom interfacing to areas that need reinforcement. Choose a coordinating lightweight fabric as a lining for bags and totes.
Secure handles and straps with extra stitching or rivets. Take time pressing seams – it makes a difference! Small details like reinforcing stress points go a long way to polish off your home decor masterpiece.
Can I Hand Sew Canvas? How to Sew Canvas by Hand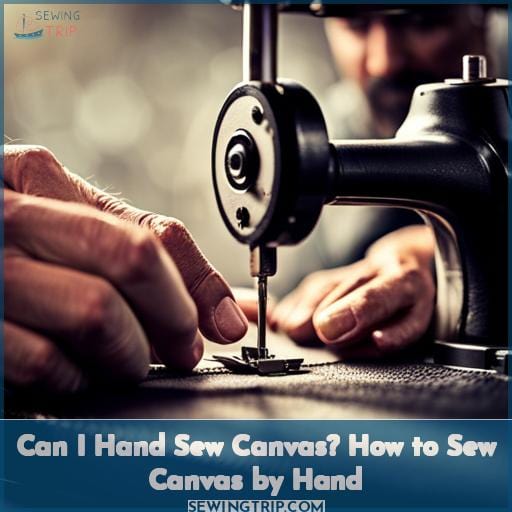 You can hand sew canvas using backstitches or running stitches with thick needles.
Use thicker needles like upholstery, denim, or leather needles that can pierce through the thick fabric.
Opt for sturdy threads like upholstery thread that'll hold up to the demands of hand sewing canvas.
Prevent fraying by using pinking shears on raw edges or applying fray check liquid.
Backstitches and running stitches work well for hand sewing canvas. Follow with a knotted end to secure threads. Take care not to pull too tight to prevent puckering. With the right needles, threads, and techniques, you can manually sew canvas with neat results.
Sewing Canvas Tutorial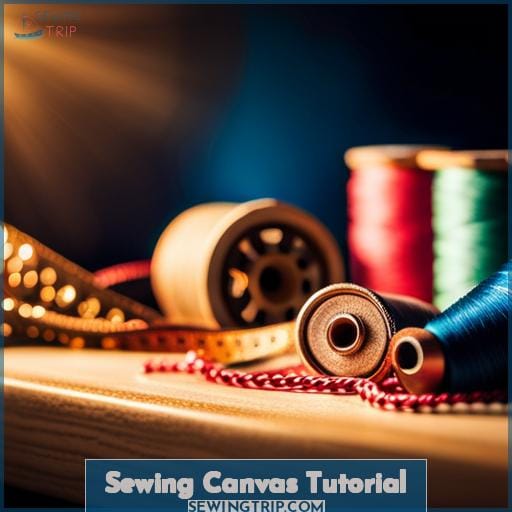 When sewing with canvas, you'll want to start with the right supplies. Choose an appropriate sewing machine needle, sturdy thread like polyester or cotton-wrapped polyester, and a heavy-duty machine that can handle the thick fabric without any issues.
Overview of Canvas Fabric
Canvas fabric is durable and versatile for most projects, but it may require special tools like sharp needles and heavy-duty thread to avoid skipped stitches. For example, when making an outdoor pillow from canvas, select an upholstery-weight thread and a size 16/100 needle for optimal stitching.
Canvas is used in many applications, including ship sails, painter drop cloths, works of art, decorative projects, and vintage furniture, due to its durability and cost-effectiveness.
Essential Tools and Equipment for Sewing Canvas
When embarking on canvas projects, have heavy-duty threads, a walking foot, and a sturdy sewing machine ready.
Investing in the proper heavy-duty equipment will make sewing canvas an enjoyable endeavor. Sturdy needles and thread are essential, as is an even-feeding walking foot. Marking tools like chalk help when cutting.
Choosing the Right Thread for Sewing Canvas
Polyester thread adds strength when stitching canvas fabric. For heavy projects, use quality polyester or cotton threads. They resist abrasion, provide seam durability, and meet tension requirements. Match thread weight to needle size.
Thicker threads need sharper points. Make bobbin adjustments as needed. For decorative stitching, choose vibrant colors. Topstitch with thicker threads in contrasting hues. Experiment on scraps first to prevent frustrating mistakes.
Sewing Canvas on a Regular Sewing Machine
You'll need a heavy-duty machine like the Singer 4423 when sewing canvas on a regular sewing machine.
Use the right needle size – go with 16/100 or 18/110 for canvas
Lengthen the stitch length to at least 3mm for durability
Engage the machine's slowest speed to have control
Opt for polyester or upholstery thread to avoid breakage
With some adjustments to tools and settings, you can tackle canvas projects on a standard sewing machine.
Canvas Projects to Sew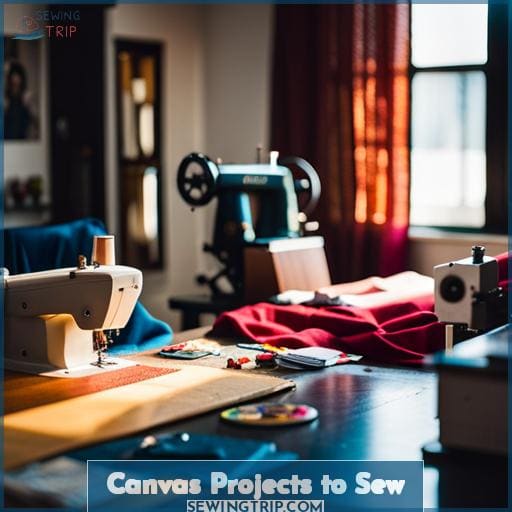 You'll find canvas is a versatile fabric for all kinds of sewing projects. For bag making, home decor, and wearable accessories, canvas provides durability and structure while allowing ample creativity.
Bag Making With Canvas
Canvas makes incredibly durable bags that will stand up to daily wear and tear. Opt for a heavy-duty sewing machine when constructing canvas bags. Reinforce stress points like straps and unfinished seams. Pre-wash canvas to pre-shrink it before cutting out pattern pieces with sharp scissors.
For extra strength, consider interfacing the bag lining. With proper preparation, you can create a sturdy, long-lasting canvas tote perfect for hauling heavy items.
Home Decor Ideas With Canvas
When adorning abodes, attractive additions await: consider cozy cushions or crafty curtains to cheer your chambers. Pillow ideas, wall hangings, quilt toppers—these and more permit playful projects. With hobby banners and canvas drop cloths, easy creations emerge. Simply select a scheme then stitch away.
Cotton fabrics, varied stitches, and your imagination fuel endless elegant home decor possibilities.
Accessories and Wearables With Canvas
So make sure to try your hand at skillful canvas camera straps for snapping those perfect pics! Patchwork jackets, belt bag charms, bucket-shaped hats, side zip wallets, decorated denim coats will look brilliant when made of canvas.
That durable fabric lets your sewing machine tension glide while offering flexibility. With some cotton blend, any regular sewing machine can pump out canvas clothing benefits like breathability and sturdiness.
By playing with the presser foot, you'll have personalized accessories for work or play.
Frequently Asked Questions (FAQs)
What types of needles should I use for sewing canvas?
You should use heavy-duty needles like leather or denim needles when sewing canvas. Like a knight donning armor for battle, arming your sewing machine properly helps it power through thick fabric without breaking.
Opt for thicker sizes like 90/14 or 110/18, and be sure to check the manual for your machine's recommended needle for heavyweight fabrics.
How do I clean and care for finished canvas projects?
Wash your canvas projects by hand with mild soap and water. Air dry flat to maintain their shape. Protect them with fabric protector spray. Store them rolled or folded to avoid permanent creases.
What interfacings work best with canvas fabric?
Choose a medium or heavyweight interfacing to match the canvas weight. Cotton or cotton-blend fusible interfacings provide structure without stiffness. Always test interfacing on a scrap first to ensure it bonds well without puckering.
What are some good canvas sewing patterns for beginners to try?
Look for simple bags, totes, or bucket hats. These projects let you get comfortable with the thicker canvas fabric without much shaping. For more structured items, pencil cases, zippered pouches, and box-shaped bags are good options.
Where can I buy canvas fabric affordably online or in stores?
Shop for canvas fabric at your local craft or fabric store where you'll find a good selection at reasonable prices. Check end-of-season sales for the best deals on canvas yardage. Also, look for online retailers offering discount canvas fabrics in a range of weights and colors.
Conclusion
Sewing with canvas can seem daunting, but don't let the durable fabric deter you. By prepping your machine, selecting the right needles and threads, and applying handy techniques like clips and pressing, you'll find canvas is a versatile and rewarding material to stitch.
Follow these fundamentals for achieving beautiful bags, home decor, accessories, and more—unlocking canvas' potential for sewing canvas projects with your own capable hands.