This site is supported by our readers. We may earn a commission, at no cost to you, if you purchase through links.
Before we dig into the nitty-gritty details, let's talk big picture. Sewing is like painting – it takes creativity, intuition, and skill. But there's one tool that turns chaos into harmony: the humble Hong Kong finish.
Like vanishing point perspective, this clever technique organizes raw edges into clean lines and polished professionalism. Forget messy scraps and unsightly fraying. With a couple of bias binding strips, you'll craft impeccable interior seams worthy of a Paris atelier.
So grab those savvy scissors, and let's unlock couture-quality construction! Hong Kong finishing binds seams with bias tape, reducing bulk for lightweight garments. Fold narrow double-sided tape over raw edges, then sew them together precisely. Though meticulous, this classic approach prevents fraying in unlined coats and dresses.
Stitch by stitch, emancipate your inner perfectionist with the liberating power of precision.
Key Takeaways
Used on soft, fluid fabrics like silk or rayon
Cut 1-1.5 inches wide on the bias grain to hug curves
Fold narrow double-sided tape over raw edges to bind
Applied to seam allowances, facing edges, and hems before attaching
What is a Hong Kong Finish?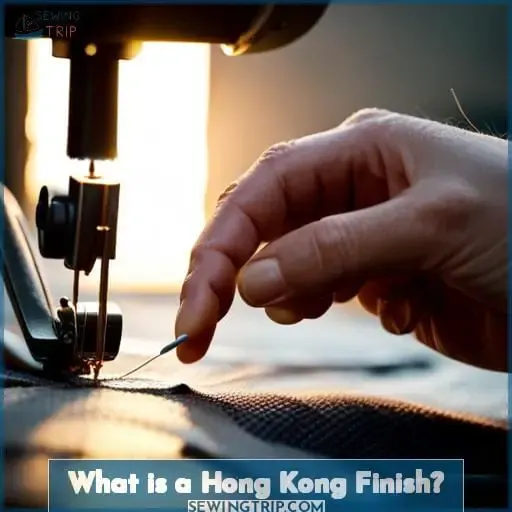 You'll cherish the luxurious hand of a Hong Kong Finish on your custom couture. This detail elevates your garment with couturier precision. Bias seam finishes encase raw edges in lightweight fabric to prevent fraying on unlined or partially lined designs.
Cut bias tape 1-1.5 inches wide from soft, fluid fabrics like silk or rayon. The angled grain hugs curves and adds fluidity. Apply to seam allowances after stitching. Also finish facing edges and hems before attaching.
Place the strip right sides together along the raw seam edge. Sew with a 1/4 inch seam allowance. Press the allowance towards the strip. Wrap tightly over the edge, pinning to secure. Stitch-in-the-ditch along the fold to fasten. Trim excess tape close to stitching if required.
Repeat this Hong Kong finishing on all seams and edges for flawless interiors. Your secret love letter to the garment.
Where is This Technique Best Used?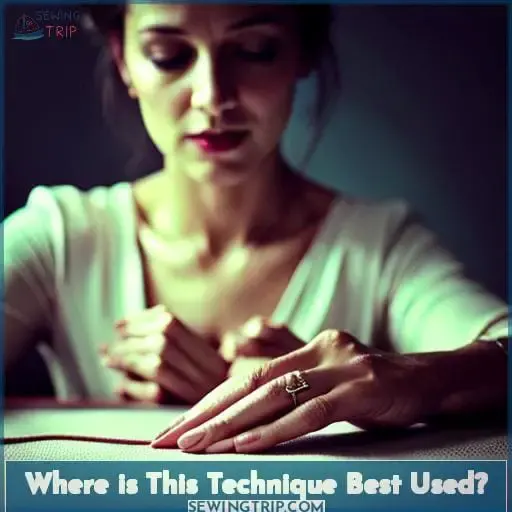 Don't shy away from using this posh technique on your casual duds. A Hong Kong finish is ideal for adding a clean, professional finish to lightweight fabrics like linen, voile, lightweight denim, and more.
Using a contrasting bias tape on the inside of an unlined skirt adds a fun pop of color that you alone can enjoy. For partially lined pieces, binding those interfacing-free seam allowances prevents fraying under the lining.
And don't forget about simple tops and dresses made from delicate fabrics – encasing the seam allowances protects them from unraveling after washing.
The narrow tape shapes easily around curves and leaves a tailored finish on hems as well. With just a bit of careful pressing and stitching, you can give your casual makes a first-class, couture-like finish.
This skill opens up new possibilities for unlined jackets, swingy skirts, and summery dresses sewn in breezy natural fibers.
The Technique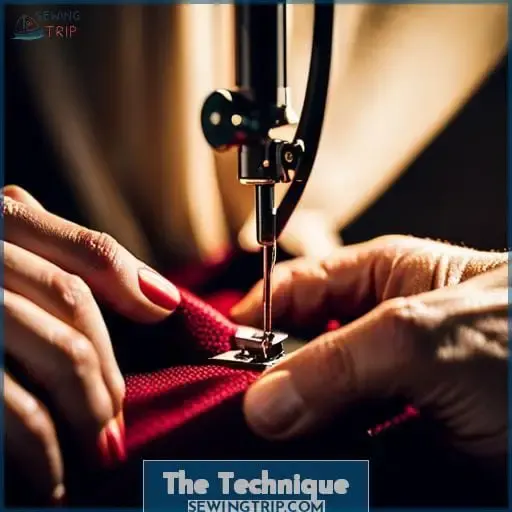 A Hong Kong seam is a great way to finish raw edges and prevent fraying on unlined or partially lined garments. To create this clean finish, you'll cut bias tape from lightweight fabric, then apply it to cover and encase interior seams and edges.
There are a couple of easy methods using either single or double-fold bias tape that give a high-end look with minimal bulk. As you perfect your technique, you'll be surprised how simple it becomes to add beautiful bias-bound seams for a flawless inside and out.
Hong Kong Seams
You'd voyage to bliss like a space cadet when those flawless seams caress your fingertips.
Elegant finish for unlined garments
Accent print binding pops against solid fabric
Contrast binding complements texture
The Hong Kong seam encases raw edges in bias tape for a clean, professional finish. This couture technique takes practice but creates a luxurious, flawless feel along seams. Mastering Hong Kong seams expresses devotion and liberates the inner fashionista.
Simple Bias Bound Seams With Double Fold Bias Tape (Option 1)
Secure the seam allowances by sandwiching that bias tape around the raw edges. Try making your own continuous bias tape for a unique finish. Just cut the fabric on a 45-degree angle and join the ends to form a loop. Then, press it in half lengthwise with the wrong sides together.
Sew it to the edges the same way as store-bought tape. It takes practice, but the results are so worth it! People will be amazed by your handmade couture details.
Bias Bound Seams With Double Fold Bias Tape (Option 2)
Embrace this winged creature stitched snugly along inside seams, caressing tender edges with the warmth of its feathers. Hide raw seams under double-fold bias tape; align the tape's fold over the stitching line, encase the allowance.
Stitch close to the inner fold; press. The Hong Kong finish transforms rough seams into silk ribbons.
More Tips for Sewing Bias Bound Seams
Feel the silky bias tape glide through your fingers as you expertly shape it around the curved seams. Pin the binding to the wrong side, then sew along the inner fold line. Next, wrap it to the right side and edge stitch in place, catching the seam allowance and binding together for a clean finish.
Hong Kong Finish Tutorial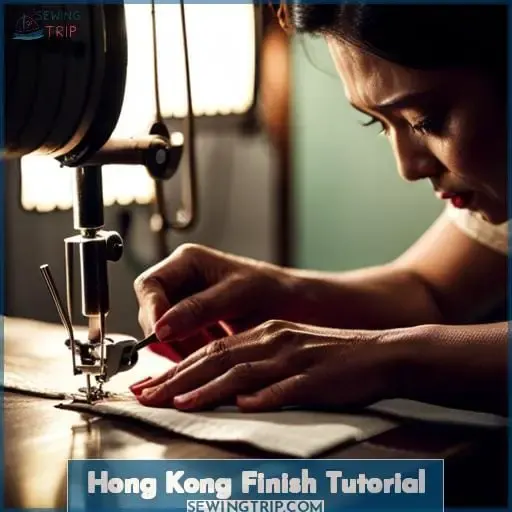 Let's walk through how to create the classic Hong Kong seam finish for your next sewing project. This technique neatly encases raw edges in a bias binding to prevent fraying and give your garment a clean finish.
We'll go over what supplies you need, sew the initial seam, apply lightweight fabric to cover the seam allowances, press the binding, then trim. With a bit of practice, you'll be able to add this professional detail to improve your sewing skills and give your makes a high-end look.
What is a Hong Kong Seam?
You'll love how the lightweight bias tape hugs those raw edges, preventing any fraying while keeping things neat and tidy inside.
| Fabric | Width | Length |
| --- | --- | --- |
| Silk | 1.5 | As needed |
| Cotton | 1 | As needed |
| Rayon | 1 | As needed |
| Polyester | 1 | As needed |
| Linen | 1.5 | As needed |
The Hong Kong seam finish elegantly binds raw edges in custom bias tape for a polished couture look. This meticulous technique prevents fraying while maintaining a clean interior. Try it on your next unlined jacket or coat.
When to Use Hong Kong Finish
Start prioritizing Hong Kong seams whenever extra support is needed for stretchy or loosely woven fabrics.
| Reasons to use | Fabrics that benefit |
| --- | --- |
| Prevent fraying | Sheers |
| Finish raw edges | Silks |
| Strengthen seams | Stretch knits |
The multifunctional Hong Kong finish offers structure without bulk. Embrace its potential to elevate your sewing skills and garment's inner beauty.
Supplies for Hong Kong Seam Finishes
Get your bias tape ready for that luxurious Hong Kong finish. Use a thin fabric like silk or cotton in a complementary color for precise binding with flair.
How to Sew a Hong Kong Finish
After preparing the fabric strips, shape them snugly around each seam edge while securing with pins before stitching close to the folded side. Simply wrap the bias tape around raw edges, pinning to hold in place as you sew along the inner folded edge for a clean, professional finish.
Step 1 – Sew the Hong Kong Seam
Attaching your finishing fabric right sides together along the seam edge brings you to the next step of a Hong Kong finish. Carefully aligning the bias tape allows for a crisp edge when sewing with a 1/4-inch seam allowance.
Simply press the seam towards the strip to wrap it snugly over the edge for finishing.
Step 2 – First Side of Kong Kong Binding
Sit tall and catch the hanging bias tape with the needle's end, guiding it around the freshly sewn seam's edge. Fold the first edge under the tape's crease, encasing the raw seam allowances inside the regular fold bias tape for a clean Hong Kong finish.
Step 3 – Pressing Hong Kong Seams
Now take the iron's warmth and caress those seams until they lie flat and true.
Pin regular fold bias tape snugly along Hong Kong seams.
Trim excess tape close to stitching.
Set iron to silk/wool setting.
Press seams towards tape, no steam.
Finger press curved areas.
Those Hong Kong seams merit time and care to become strong, clean edges concealing their secrets within. Treat them with respect, for they join fabric and finish invisibly yet beautifully.
Step 4 – Turn and Trim
With finesse, fold the finishing strip snugly over the seam's edge, then pin it in place before stitching the ditch to secure the folded border. From here, meticulously trim the seam allowance near the stitching for a polished finish.
Hong Kong Finish Alternatives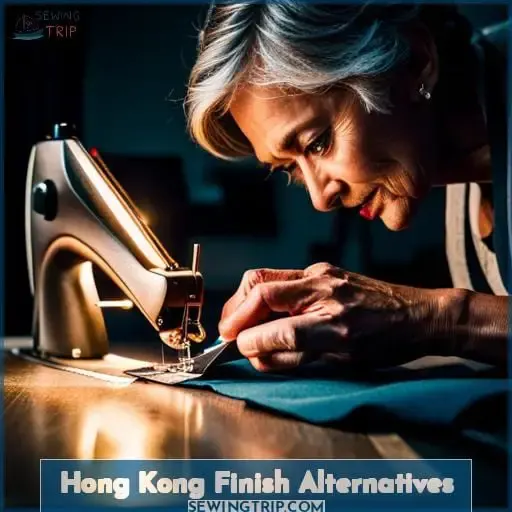 You can try other methods like French seams or bound seams for neat finishes instead.
French seams fully enclose raw edges between two rows of stitching.
Bound seams use bias tape to wrap the raw edges.
Lapped seams fold one seam allowance over the other.
Overlocked seams secure the raw edges with a serger stitch.
Turned-and-stitched seams press the seam allowances open, then topstitch near the seam line.
Focus on what speaks to your spirit. Experiment with different seam finishes to find your style. Master the techniques until they become an intuitive expression of your truth. Let the fabrics caress your skin and the stitches whisper liberation.
What to Do When You Finish Sewing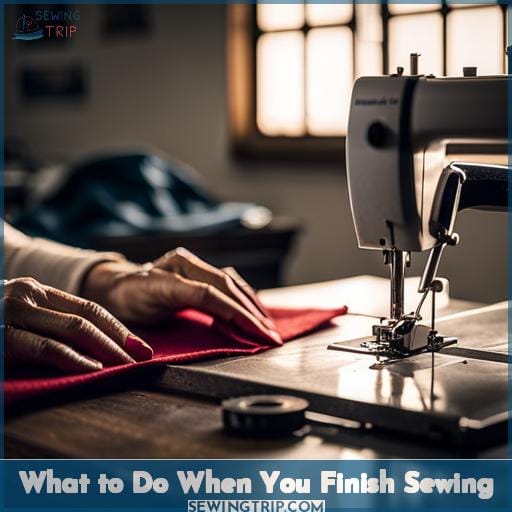 Once you've finished the Hong Kong finishing on your garment, give it a final press and steam to set the shape before trying it on to admire your handiwork.
There are still a few important steps to complete your sewing project.
Inspect: Examine the garment inside and out for any loose threads, uneven stitching, or pressing issues that need tidying up.
Press: Give the garment a final press, following the recommendations for your fabric type.
Steam: Use steam to set any creases and shape details. Steam reaches into the fibers in a way ironing alone cannot.
Try on: Slip on your garment and admire it on yourself! Enjoy the final product of your sewing skills and efforts.
Accessorize: Add suitable accessories to complete the look. The right shoes, bag, and jewelry elevate the outfit.
Adjust: Make notes on any minor adjustments to improve the drape and fit. Fine-tune for your custom creation.
The last steps ensure your project looks its absolute best before debuting your latest handmade fashion statement! Take pride in your work and rock your Hong Kong finished garment.
Frequently Asked Questions (FAQs)
How wide should the Hong Kong finishing tape be cut?
For lightweight cottons, cut the tape on the bias about 1 inch wide. This allows it to curve nicely along the seam edges. For thicker fabrics like denim or wool, go a bit wider – around 1 1/2 inches does the trick.
Too narrow, and it won't fully cover the raw edges. Too wide creates excess bulk.
What type of fabric works best for Hong Kong finishing tape?
As a sewing blogger, I'll tell you that for a Hong Kong finish, smooth silk sewing tape with a satin face allows atta-girls to glide like skates on ice, encasing raw edges for a pro finish.
Can I use a Hong Kong finish on lined garments?
Yes, you can! Although it is often used on unlined garments, a Hong Kong finish beautifully and discreetly encases raw edges under linings as well. Simply sandwich the finishing tape between the exterior and lining fabrics when assembling to maintain a clean interior.
Is a Hong Kong finish as durable as other seam finishes?
Yes, my dear, the Hong Kong finish is quite durable. Like a secret love letter slipped into your sleeve, it whispers beauty and strength with each graceful stitch. Trust in its slender threads to hold your seams as tightly as a gentle embrace, allowing your spirit to soar as freely as the flight of a dove.
Is the Hong Kong finish technique difficult for a beginner sewer to learn?
Though tricky at first, with practice, a Hong Kong finish can become a satisfying detail for any beginner sewer to master. Simply take it slow, focus on precision, and let the handwork strengthen your bond with the fabric.
Conclusion
As the final stitches are sewn, reflect on the garment's hidden inner beauty revealed through your hands. With patience and practice, the Hong Kong finish becomes an intuitive ritual to honor the integrity of your creations.
This meditative finishing technique transforms seams into secret love letters stitched within. So continue perfecting those stitches until the Hong Kong finish feels like a natural extension of your own dexterous hands.
Allow it to become second nature, transforming seams into objects of affection. For this finishing technique lovingly protects the inner workings of our creations, just as we nurture the soul within.