This site is supported by our readers. We may earn a commission, at no cost to you, if you purchase through links.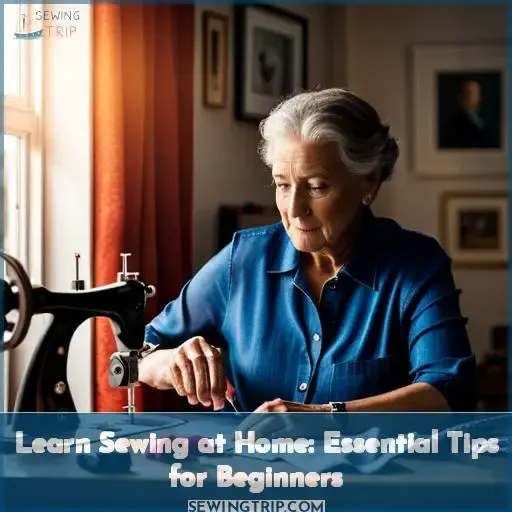 You're determined to finally learn sewing, unleash your creative side, and make your own clothes and projects. We're going to show you exactly how to get started and conquer those pesky sewing machines once and for all.
From choosing a machine and supplies to learning stitches and making easy projects, you'll gain sewing confidence in no time.
Forget spending hours trying to decipher the manual. We'll walk you through essential sewing terms and techniques so you can get stitching ASAP. This is your time to master a rewarding new skill, express yourself through fabrics, and have fun crafting unique homemade creations.
Key Takeaways
Choose user-friendly sewing machines with simple settings and needle position options.
Start with gently used machines and invest in higher-quality ones as skills progress.
Learn and practice basic sewing techniques and terminology before attempting more complex projects.
Gather essential supplies and use quality tools and notions for better results.
Choosing a Sewing Machine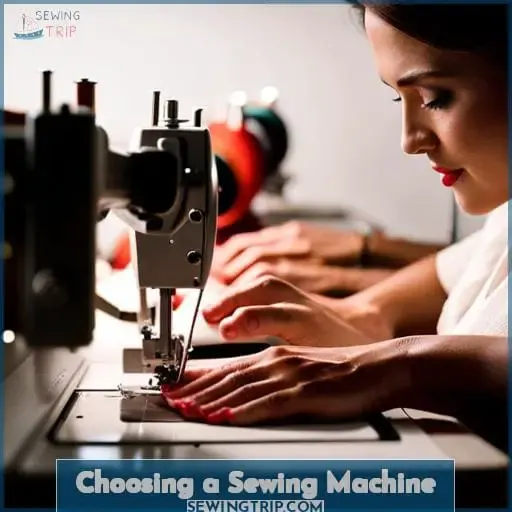 When selecting your first sewing machine, dear heart, favor user-friendliness over bells and whistles. Opt for simple dials and settings, then take time testing tension and stitch length. Read reviews to learn about threading ease, bobbin loading, and tension adjustment before purchasing.
Basic straight and zigzag stitches plus buttonholes meet essential needs initially. Stretch your dollar by buying gently used, then invest later as skills progress. Choose a machine with needle position options so you can edge stitch, sew zippers effortlessly, and perfect topstitching.
While electronic models offer tempting high-tech features, mechanical reliability evades frustration. Seek metal internals and components over plastic, with easy oiling to prevent jams.
Embrace the freedom of creating anything imaginable one stitch at a time! You'll cherish homemade gifts and household items for years.
Getting Started With Your Sewing Machine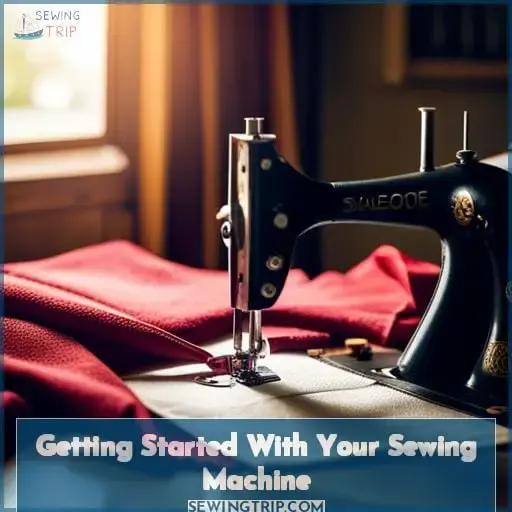 Let's dive into this machine, shall we? Don't forget, those needles always poke the wrong side first, unless you wanna prick those dainty fingers.
Thread the machine properly by following the manual's instructions. Double-check that the tension is set right.
Wind a bobbin smoothly and load it into the bobbin case underneath. Insert the case back into the machine carefully.
With fabric under the presser foot, turn the handwheel to lower the needle into the starting point.
Start slowly, letting the machine feed the fabric as you gently guide it. Allow your hands to learn the natural rhythm.
Practice straight lines first before attempting curves or corners. Use washable fabric to get the hang of stitch length and tension.
With some patience and persistence, you'll get the hang of your machine in no time. Soon, you'll be churning out creations like a sewing sorceress. So get those creative juices flowing and let that machine work its magic under your confident direction.
The possibilities are endless once you and this mechanical sidekick start seamlessly syncing up.
Understanding Sewing Machine Terminology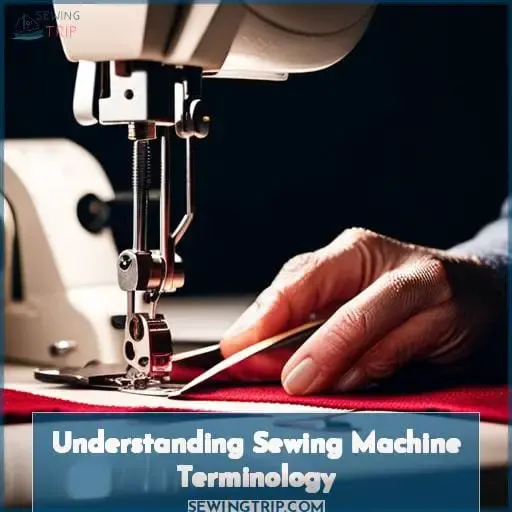 Keep your first projects simple by focusing on basic techniques like straight stitching, so you can get familiar with terminology for seam allowances, tension, and other key concepts before moving on to trickier skills.
As a beginner, you'll want to understand common terms like bias tape, bias binding, raw edge, straight line, and folded edge. Focus on practicing with fabric scraps to get comfortable with your machine. Don't get overwhelmed trying fancy stitches or difficult materials at first.
Mastering basics like stitch length, thread tension, and seam allowances will build your confidence.
With some patience, you'll be ready to make simple items like pillows, tote bags, or aprons. Check out online video tutorials for straightforward beginner projects. Making something usable right away keeps motivation high.
After a few wins, you'll feel empowered to try more advanced techniques. But for now, take it slow and steady.
| Term | Definition | Example |
| --- | --- | --- |
| Bias Tape | Strips of fabric cut diagonally along the grain | Used to finish raw fabric edges |
| Bias Binding | Same as bias tape but wider | Wrapped around quilts or placemats |
| Raw Edge | Unfinished cut fabric edge | Prone to fraying if not hemmed |
| Straight Line | Stitching in one continuous line | Used for seams and hems |
| Folded Edge | Fabric hemmed under itself | Creates clean look along edges |
Essential Supplies for Sewing

After learning some key sewing machine terminology, it's time to gather the essential supplies you'll need to get started sewing at home.
Here are five must-have supplies for beginner sewing:
Sewing needles – You'll want an assortment of universal, ballpoint, and embroidery needles.
Thread – Stock up on all-purpose polyester thread in basic colors like black, white, and grey first.
Fabric scissors – Invest in a good pair of shears specifically for cutting fabric.
Seam ripper – You'll need this to rip out stitching when you make a mistake. It happens to all of us.
Pins – Use straight pins to hold your fabric pieces together when sewing. Curved pins work well for pinning curves and binding.
Gathering these essentials means you'll be ready to start sewing as soon as inspiration strikes. With the right supplies in your sewing basket, it's easy to turn fabric into beautiful, handmade creations.
Learning Basic Hand Sewing Stitches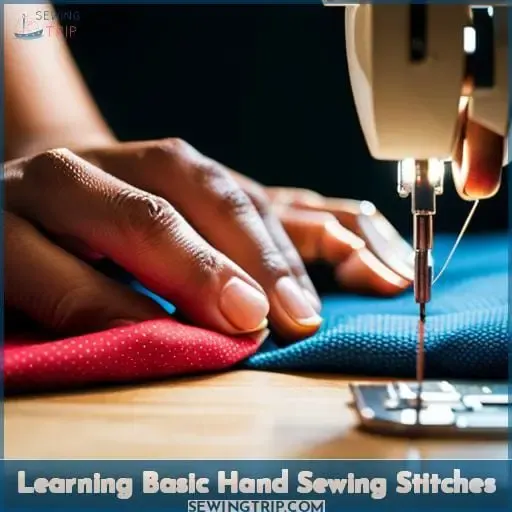 You'll want to start practicing basic hand sewing stitches like the straight stitch, basting, and whipstitch. These foundational stitches are essential building blocks as you embark on your sewing journey.
Begin by threading your needle and tying a knot at the end. For a straight stitch, bring the needle up through the wrong side of your fabric, then push it back down where you want your next stitch to be.
Keep piercing the fabric and pulling the thread through in a straight line. Finish off knots on the wrong side.
Basting temporarily holds layers together with long, loose stitches before final sewing. Practice useful stitches like the zigzag, slip stitch, backstitch, and blanket stitch.
Be patient, use a seam ripper often, and celebrate small wins. The more you practice, the more empowered, confident, and skilled you'll become. Soon you'll graduate from hand sewing to machine sewing and tackle exciting new projects, unleashing your creativity.
Keep at it – you've got this!
Starting With Simple Sewing Projects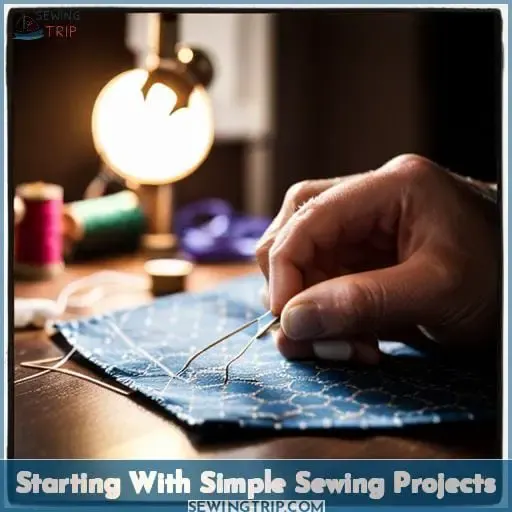 Once mastering some basic hand stitches, try your talents on simple projects like pillows or aprons so you don't get overwhelmed early on. Start with projects doable completely by hand, as sewing machines are empowering later on.
Look online for cute potholder tutorials using supplies you likely already own – basic fabric scraps, thread, a needle, and scissors or a seam ripper for mistakes. Potholders are perfect beginner projects with straightforward lines and useful end products.
After potholders, move on to other easy sewing patterns like aprons, tote bags, or simple blankets. Take baby steps with uncomplicated designs before attempting more elaborate creations.
Progressing to Advanced Techniques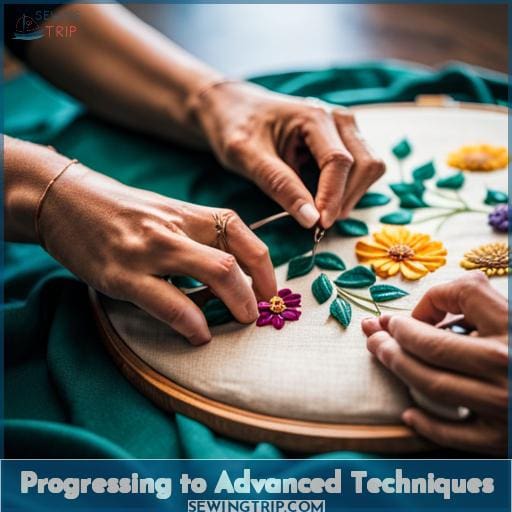 You've boosted your skills, so now's the time to take on quilting, clothing, or embroidery. As your talents have grown, you're ready to graduate from those first easy sewing projects.
In this advanced phase of sewing, take on some harder projects. Refine your technique with intricate quilt squares or try advanced clothing pieces. But don't jump into complex projects too quickly. Start with some intermediate sewing patterns before diving into the deep end.
Build slowly so each new technique becomes second nature. Stay open to revisiting basics when attempting more elaborate designs. Mastering the advanced skills of sewing takes time, but with patience, your abilities will continue to progress.
The satisfaction of completing a complex project after honing your talents is immense.
Keep challenging yourself and relish the rewards. Your potential is limitless if you maintain enthusiasm.
Tips for Successful Sewing at Home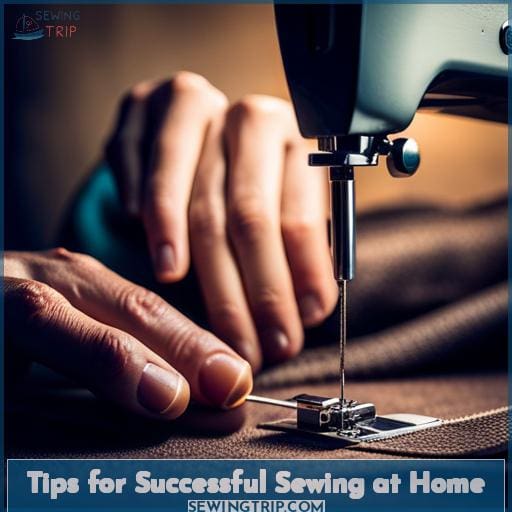 Discover an inner zen as the needle glides through fabric like a paintbrush on canvas, bringing your creative vision to life.
Start with basic supplies – sewing machine, fabric, thread, needles, pins, scissors.
Choose a comfortable learning style – online video tutorials, in-person classes at local fabric shops, or asking a friend/relative to teach you.
Take it slowly, be patient with yourself, and start with simple projects like pillowcases or tote bags.
Invest in good lighting and organize your sewing area for efficiency. Having ample workspace and visibility will make sewing easier.
Don't fear mistakes! Rip out stitches and try again. With practice, your skills will improve.
Sewing opens up a world of creative possibilities right at home. Approach the art of stitching with curiosity and patience. Let inspiration flow as you gain competence through practice. With each completed project, your confidence will grow.
Frequently Asked Questions (FAQs)
How do I choose fabric for my sewing projects?
Focus on natural fibers like cotton and linen when starting out. Stay away from slippery fabrics like satin. Make sure the fabric has enough structure and isn't too lightweight. Pick vibrant solids or small prints so stitches show up.
Touch fabrics and see how they feel – softness, drape, stretch. Get swatches if unsure and always prewash.
What are some tips for layout, cutting, and marking fabric before sewing?
Use a rotary cutter and mat for straight cuts. Pin pattern pieces on fabric, ensuring the proper grainline. Mark darts, pleats, and any other guidelines with a washable fabric marker or tailor's chalk.
Cut precisely on the marked lines. Transfer any additional markings, like notches, from the pattern to the fabric.
How can I troubleshoot common sewing machine problems like skipped stitches or tangled thread?
Check thread tension and rethread the top and bobbin. Clean lint from the bobbin area. Change the needle and ensure the correct size and type. Slow down the stitch speed. Increase the upper tension for skipped stitches. Decrease it for tangled thread.
What sewing tools and notions will I need beyond just fabric, thread, needles, and scissors?
Cotton swabs for pinpoint pressing, a seam ripper for quick stitch fixing, fabric scissors to keep your cuts on point, hand-sewing needles for basting and slipping, stitching chalk for flawless guidelines, a thimble to push that needle pain-free, and a tape measure so your seams are always on fleek.
With quality tools and notions, your DIY projects will be sewn to perfection in no time.
Where can I find sewing patterns for clothes, home decor, bags, and other projects?
Fabric stores, online shops like Etsy, sewing blogs and YouTube channels, books from the library, vintage patterns, copying ready-made clothes, and drafting your own.
Conclusion
Just like expertly stitching the final seam of a project, completing your first sewing projects at home brings immense satisfaction. With patience, practice, and persistence, knowing how to sew at home will become second nature.
Though mistakes happen along the way, keep going – your skills will steadily improve. With an eagerness to learn and help from online resources, before you know it, you'll be sewing and sharing your creations with pride.