This site is supported by our readers. We may earn a commission, at no cost to you, if you purchase through links.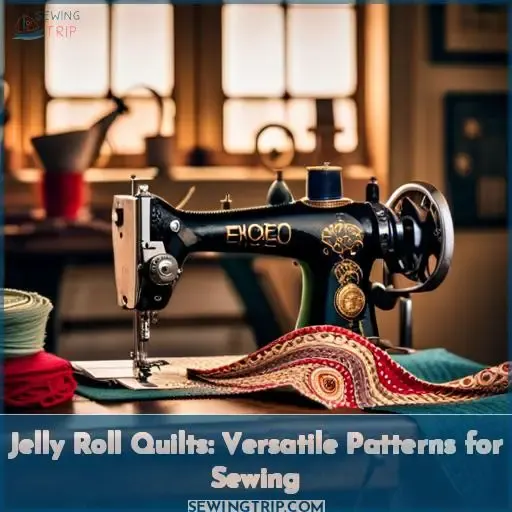 Unlocking the secrets of jelly roll quilts is like opening a treasure chest! From beginner-friendly patterns to intricate bargello designs, you'll find endless inspiration in these versatile strips of fabric.
Whether you're brand new to sewing or an experienced quilter, getting creative with jelly rolls can take your projects up a notch.
So what is a jelly roll? And how can it help make those stunning quilt patterns?
In this article, we'll reveal all the details about what makes them so special – and even provide some simple tutorials for creating memorable projects with precut fabrics.
Key Takeaways
Jelly rolls are pre-cut fabric strips, saving time on cutting fabric.
They offer inspiration through coordinating prints in the bundles.
Popular quilt patterns made with jelly rolls include the Jelly Roll Race, Bargello designs, Scrappy Jelly Roll quilts, and the Rail Fence pattern.
The pre-cut bundles provide quilters endless possibilities for creative quilt designs.
What is a Jelly Roll?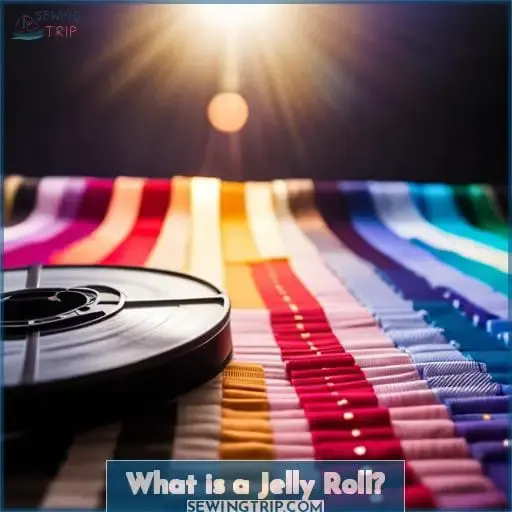 You've fallen head over heels for these bundles of precut fabric strips that'll have you sewing up quick quilts in no time. Jelly rolls refer to packs of colorful pre-cut strips of cotton fabric, bundled up and ready for your next quilting or sewing project.
They contain an assortment of coordinating prints, usually around 40 strips measuring 2.5 inches by 44 inches. With no cutting required, jelly rolls allow you to dive right into piecing and designing.
They're versatile too – use them to make stunning quilts, bags, cushion covers, table runners, and more. Quilters love jelly rolls for their timesaving qualities and how the coordinating fabrics inspire creativity.
Try popular jelly roll quilt patterns like the Jelly Roll Race or Exploding Pinwheels. With this precut fabric bundle, you'll be hooked on convenience and endless possibilities.
Now get rolling with jelly rolls!
How Are Jelly Rolls Used in Sewing?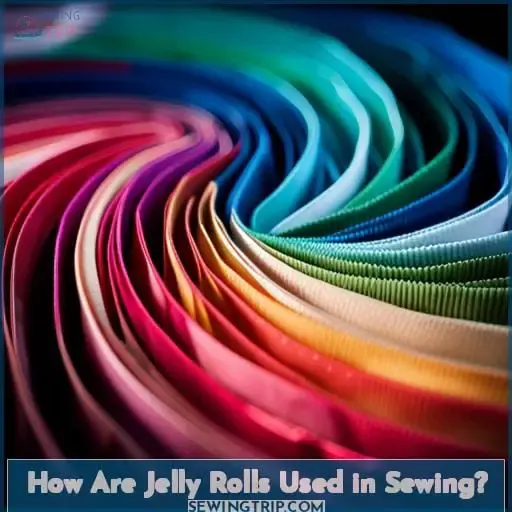 My friend, your patchwork dreams take flight on wings of fabric when you embrace the jelly roll's potential.
Create stunning jelly roll quilts like the Jelly Roll Race or strip quilts in a fraction of the time.
Fashion colorful tote bags, pillows, table runners, and more with the coordinating fabrics.
Mix and match jelly roll strips for improvised quilting and raw-edge appliqué projects.
Explore patterns like bargello that use clever strip placement to achieve dazzling effects.
Sewing with these pre-cut bundles adds ease to your creative process. Let jelly rolls delight you with their versatility – your quilt shop waits to reveal all they make possible!
The Benefits of Using Jelly Rolls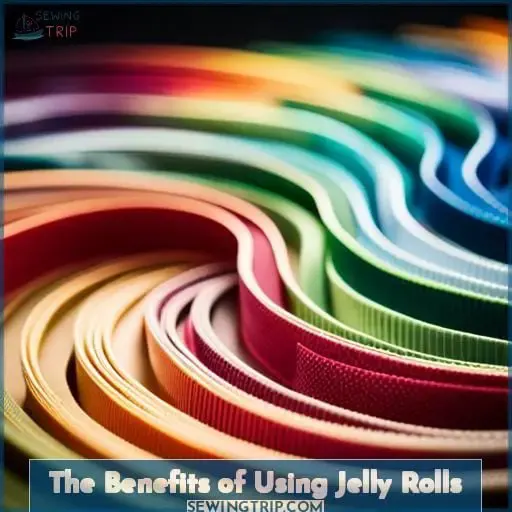 Quilters and sewists rejoice – jelly rolls are here to elevate your projects! These precut fabric strips bring versatility to sewing along with time-saving benefits. Popular patterns like Jelly Roll Race, bargellos, and modern designs showcase the dynamic potential of jelly rolls.
Jelly rolls offer quilters and sewers major time-saving benefits. The precut strips eliminate the need to cut and measure fabrics. This allows makers to skip right to sewing and designing. Jelly rolls also provide versatility.
The coordinating fabrics and colors make it easy to mix, match, and design dynamic patterns. From quick projects like the Jelly Roll Race to intricate bargellos, the options are endless. Modern quilting designs really let the creative colors and prints shine. Overall, jelly rolls simply make quilting and sewing projects quicker, livelier, and more fun.
The coordinated fabrics inspire creativity and save time. For sewists seeking to elevate their quilting projects, jelly rolls are an essential go-to.
Versatility of Jelly Rolls
Jelly rolls offer unlimited possibilities for your next sewing project! With a rainbow of color combinations to inspire quilt designs or scrap quilting creations, jelly rolls open up a world of fabric crafts.
Explore modern jelly roll quilt patterns or put a twist on classic designs. Let the pre-cut strips spark your creativity, whether quilting an intricate pattern or sewing up a simple jelly roll quilt. The versatility of jelly rolls is boundless for both beginning and experienced sewers.
Time-Saving Cutting Technique
You may find that pre-cut fabric strips save time normally spent cutting. Hand-cutting strips can be tedious and time-consuming when piecing quilts together. These jelly rolls offer convenience – grab them in bundles when shopping for supplies.
Sew together colorful fabrics without measuring or cutting each piece. Simply join the pre-cut strips, ready for your latest quilting project. Strips are easy to piece together, thanks to handy jelly rolls. Now you can quilt faster and maximize your creative potential.
Popular Jelly Roll Patterns
Discover excitement in the limitless quilt patterns you can create with these handy bundles.
Jelly Roll Race
Rail Fence
Bargello Illusions
From the classic Jelly Roll Race to the woven Bargello Illusions, pre-cut jelly roll bundles open up a world of quilting potential. Jelly Rings and Madeline patterns give your quilts a modern edge. With just a little piecing, these pre-cut fabric strips make quilting quick, fun, and creative.
Other Names for Jelly Rolls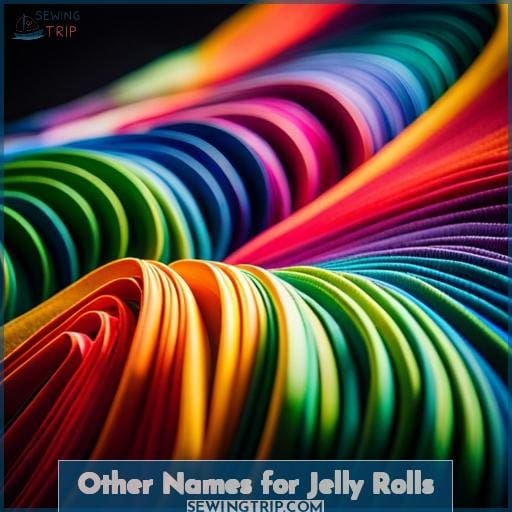 Let's spice things up by calling your precious pre-cut quiltin' bundles Rolie Polies or Forty Karat Gems! Jelly rolls have gone by plenty of alternative names over the years. Like Rolie Polies, referencing how they roll up. Or Forty Karat Gems for their brilliant colors.
Many names nod to the fabric strip construction. The quilting world loves inventing quirky jargon for their tools and techniques. So take your pick on what to call your jelly rolls. Use classic names like Strips-by-the-Roll.
The options are as vibrant and varied as the fabrics themselves.
Creating Your Own Jelly Roll Strips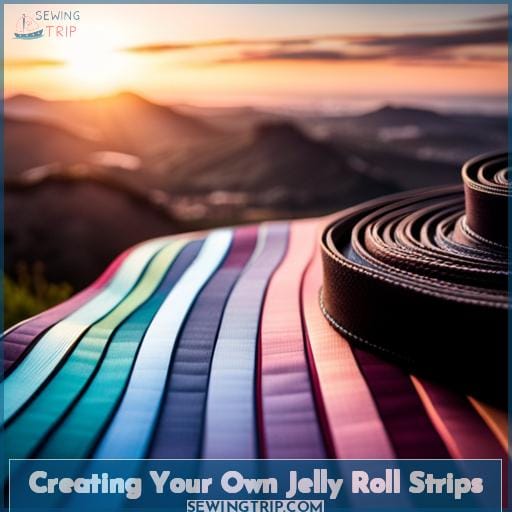 You can easily make your own jelly roll strips and customize them to your project's needs! Carefully select your fabrics based on the quilt's theme and color scheme you want. Solid colors, small prints, large scale prints, batiks – anything goes for jelly rolls! Measure and cut your fabric into 2.
5 x 44 strips using a rotary cutter and ruler for perfect strips every time. Stack your cut strips by color family to coordinate.
Having full control over fabric selection allows you to create perfect coordinating bundles. With a bit of time and some strategic planning, you'll have gorgeous custom jelly rolls ready for your next quilting project in no time.
Take your quilts to the next level with homemade jelly rolls in your favorite fabrics!
Jelly Roll Quilting Patterns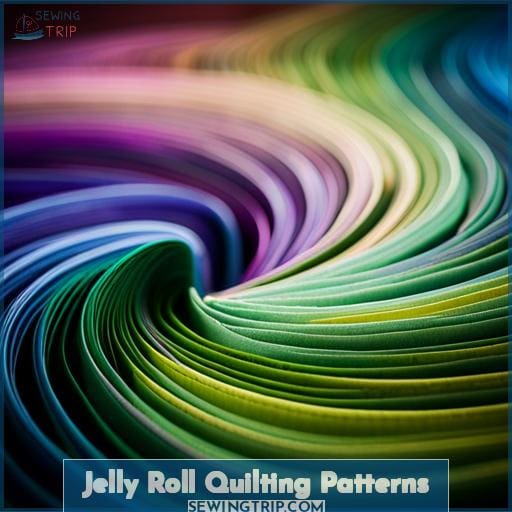 Why hello there, eager quilter! Today, we will dive into some of the most popular jelly roll quilt patterns that use those gorgeous pre-cut strips. Let's take a look at the speedy Jelly Roll Race quilt, the colorful Jelly Roll Scrappy quilt, and the classic Rail Fence design.
Prepare to sew up some stunning quilts in no time! I'm excited to guide you through making these fun and fast quilts. The Jelly Roll Race quilt is a great beginner pattern that uses the entire bundle of strips.
The Scrappy Jelly Roll quilt is more advanced but results in a striking, scrappy look. And the Rail Fence design puts those strips on point for a striking geometric pattern. With just a little bit of planning and prep work, you'll be able to whip up these quilts in just a few hours.
So get your supplies together and let's get sewing! These jelly roll patterns are sure to be a hit.
Jelly Roll Race Quilt
Betty must carefully choose her strips and sew like the wind to finish her Jelly Roll Race quilt before the county fair. Select coordinating colors and fabrics thoughtfully. Arrange strips randomly or in a planned order.
Keep sewing strips together, trimming as you go. Make rows, alternating strip directions. Exciting quilts emerge rapidly with this addictive jelly roll technique. You'll gain confidence piecing improvised patterns.
Jelly Roll Scrappy Quilt
See those vibrant hues burst into an eclectic quilt meant just for you.
Evaluate fabric colors and patterns.
Cut various strip widths.
Arrange strips randomly.
Sew strips together creatively.
Scrappy quilting allows complete freedom in fabric selection and placement. Embrace the chaos in scrappy jelly roll quilts. Surprise yourself by simply sewing strips together randomly. Try different strip widths cut from your stash.
Rail Fence Quilt
For the Rail Fence quilt, seize those pre-cut strips and zigzag them together into a marvelous, undulating landscape. Cut your jelly roll into halves and thirds for angled rows. Use analogous colors, scrappy prints, or rainbow hues.
Try straight lines, diagonal quilting, or echo quilting. Get creative with scalloped borders or pieced binding. Such vistas unfold with each new fabric blend. This vibrant patchwork emerges strip by strip.
Jelly Roll Projects for Beginners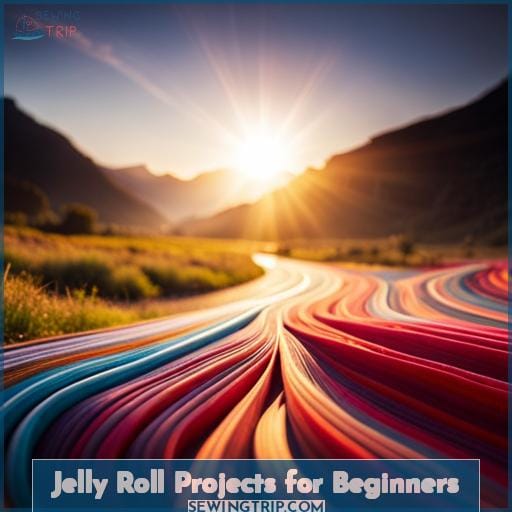 If you are new to jelly rolls and quilting, here are some great project tutorials to get you started. Begin by seeing how easily you can create colorful placemats from just a jelly roll stack. Then try making a cozy scarf with jelly roll strips. Finally, construct some handy oven mitts with these pre-cut fabric strips.
The pre-cut strips make it simple to sew up fun and functional items like placemats, scarves, and oven mitts. With just a bit of time and some basic sewing skills, you'll be able to create these beginner jelly roll projects in no time.
Placemat Tutorial
You can easily sew up some fun placemats with those pre-cut strips.
Pick a simple placemat design like squares or rectangles.
Use coordinating fabrics from your stash or buy a pre-packaged jelly roll.
Practice basic quilting techniques like stitching strips together and trimming.
Creating unique table decor is a breeze with the versatility of jelly rolls!
Scarf Tutorial
Wrap yourself in the warmth of this chic creation crafted from beloved strips, twisting and twirling in the wind as you flaunt your style.
| Season | Fabric Options |
| --- | --- |
| Spring | Light cottons, linen |
| Summer | Crisp cottons, rayon |
| Fall | Wool, flannel, corduroy |
| Winter | Fleece, wool, velvet |
Play with length and fabric patterns for customizable styling. Finish the ends neatly and rock your masterpiece!
Oven Mitt Tutorial
Bundle those strips together and get crafty by whipping up some handy oven mitts.
Select thicker fabrics like cotton or linen for heat resistance.
Cut strips 2.5 x 9 for each oven mitt.
Sew strips right sides together lengthwise.
Press seams to one side.
Fold and topstitch around edges.
Add batting for insulation if desired.
Insert oven mitt forms and hand stitch closed.
Customize with fun fabrics from your stash.
Share your mitt creations with fellow quilters.
The oven mitt tutorial offers beginners a chance to use their jelly rolls in a small, useful project. Selecting the right fabrics and following basic construction will result in trendy, quilted mitts to protect hands in the kitchen.
Jelly Roll Bargello Quilts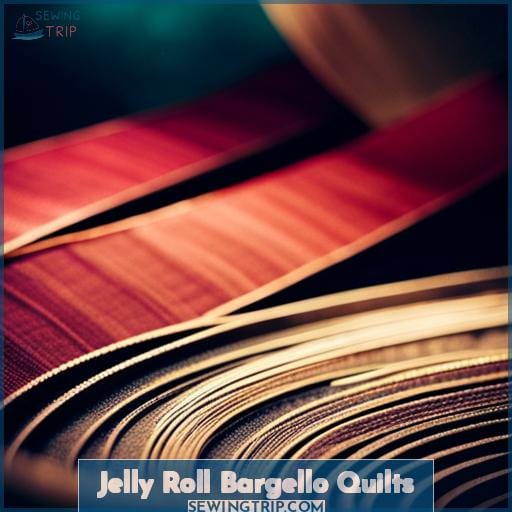 Glisten and glow with bargello quilts of wavy jelly roll magic. Swim in a sea of undulating color and motion with bargello techniques. Carefully choose bold or softly blended shades for your project, considering hue, value, and scale.
Sketch plans for mesmerizing bargello patterns. Gather inspiration from ocean waves, desert sands, or mountain ridges.
Envision table runners, wall hangings, bed quilts, and more. Determine the finished size and shape to suit your space.
Ride the waves of color and texture to tranquil shores of artistic fulfillment.
Modern Jelly Roll Quilt Patterns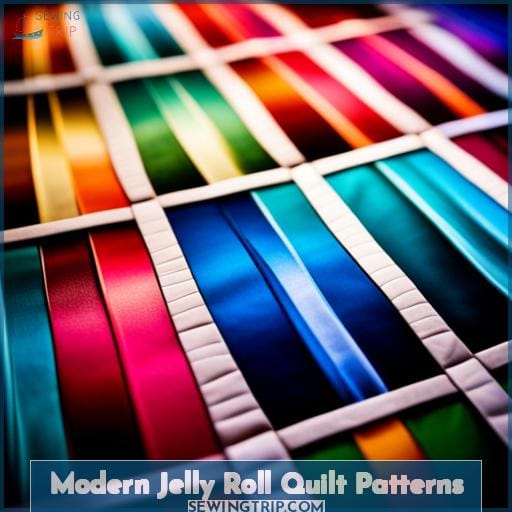 Modern Jelly Roll Quilt Patterns
Stitch together your creative vision with modern jelly roll quilt patterns like Madeline or Jelly Rings. The possibilities are boundless when you piece these precut fabric strips in inventive new ways.
Play with exciting jelly roll colorways as you explore new techniques and find inspiration for your own original creations.
Let the vibrant hues and varied textures spark innovations in your quilting. Whether you're dreaming up a showstopping quilt, a handy oven mitt, a sturdy tote bag, or a cozy cushion cover, jelly roll strips lend themselves beautifully to modern quilting projects.
Stitch up some magic and delight your senses while crafting uniquely you masterpieces. The only limit is your imagination when quilting with the versatility of precut jelly roll strips.
What's Next? Join the Quilting Community!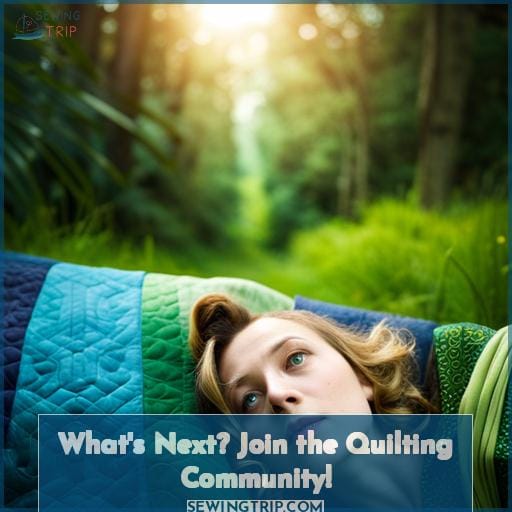 You'll find camaraderie and kinship in joining quilt guilds and online communities. Whether you're a beginner or an expert quilter, connecting with other quilters boosts creativity, motivation, and skills.
Seek out local quilting groups, shops offering classes or sew-ins, and regional or national quilt shows. Check Meetup.com for informal groups in your area. Join Facebook quilting groups to share ideas, get feedback on projects, and make friends.
Find free patterns and tutorials from quilters on YouTube, Instagram, Pinterest, and quilting blogs. Attend workshops on new techniques or fabrics. Volunteer at charity quilting events. Entering quilt contests raises your quilting game too. Becoming part of the quilting community enriches the entire experience.
Conclusion
Welcome to the wonderful world of Jelly Roll quilting! With their colorful strips of fabric, Jelly Rolls are the perfect way to create a variety of quilts quickly and easily. Even a beginner can create beautiful quilts in no time with just a little guidance.
You can make a unique quilt using classic patterns like Jelly Roll Race and Rail Fence or modern designs such as Madeline and Jelly Rings. The possibilities are truly endless! Projects like placemats, scarves, oven mitts, and cushion covers allow you to utilize Jelly Rolls for more than just quilts.