This site is supported by our readers. We may earn a commission, at no cost to you, if you purchase through links.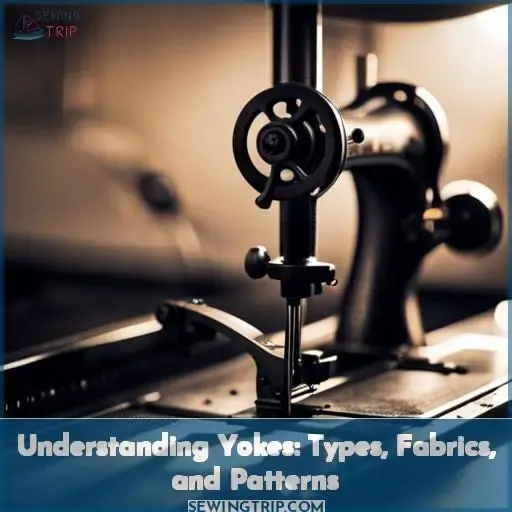 Getting ready for an incredible journey into the world of yokes! Yokes are a complex yet breathtakingly beautiful detail when sewing garments. Whether it's the perfect combination of fabrics, sizes or shapes, well-executed yokes create stunning results.
This article discusses different types of yokes and their various uses in garments like shirts and dresses.
Determining yoke size
Choosing appropriate fabric types
Exploring patterns for custom yoke designs
We'll examine the different kinds of yokes available and how they can transform your sewing projects.
Key Takeaways
Yokes are versatile design elements in fashion.
They come in various shapes and styles.
Yokes help shape garments gracefully without darts.
Yokes can transform ordinary garments into extraordinary ones with the right fabric, pattern, and design. The unique shape of a yoke draws the eye and creates visual interest.
What is a Yoke in Sewing?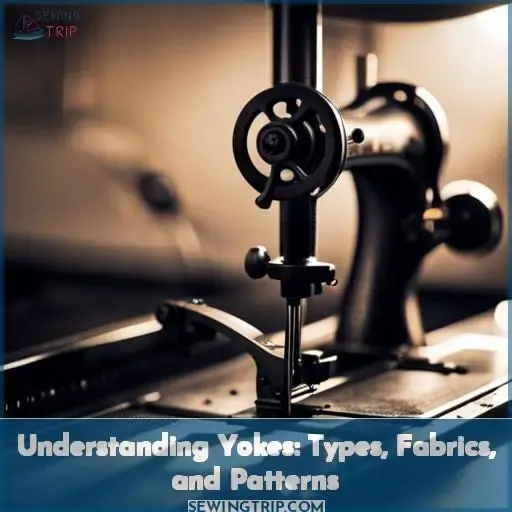 You'll love the creative opportunities a yoke offers your design, from adding elegant embroidery to using contrasting fabrics for a striking look.
A yoke is a shaped panel at the shoulders or waist of a garment used to control shaping and fit. Yokes come in so many enticing styles – simple rounds, full rounds, squares, and more.
Consider straight yokes on tunics or angled side yokes on dresses. Play with yoke dimensions to balance your shoulder width. Select smooth, sturdy fabrics like silk twill for crisp shaping. Trace yoke patterns onto contrasting colors or prints.
Experiment with embellishments like beading, buttons, or lace on your yoke canvas. With the right fabric, fit, and details, your yoke design will elevate any garment.
A well-executed yoke reflects your skill for professional results.
Different Types of Yokes in Clothing

Yokes come in various styles and shapes in garments. Let's discuss oval yokes with darts for shaping, curved yokes for drop shoulders, cut-off yokes that do not extend to the shoulder, one-piece yokes for simple lines, and stitched yokes with a visible seam for contrast.
Oval Yoke
Your stylish swooping oval yoke top radiates effortless elegance. An oval yoke offers unique shaping through the shoulder area.
An oval yoke provides shaping through the shoulder area.
Bias cut oval yokes can add fluid drape.
Embroider an oval yoke for decorative flair.
An oval yoke lets you highlight the beauty of the upper body in a distinctive way.
Curved Yoke
Gotta follow suit with that oval yoke and get yourself a stylishly shaped curved one. Curve those yokes to contour your shoulders in a sensuous yet functional way. Add darts or pleats for extra flair. Mix curved and angled edges for visual interest. Play with asymmetric styles. Finish those creatively cut yokes with a zigzag stitch or piped seam.
Cut-off Yoke
Don't have to keep the yoke dropping straight across when you can cut it off earlier for a cool angled look.
Shorten one side for asymmetry
Make a sharp angle or soft curve
Attach decorative trim to the cutoff edge
Highlight with contrast stitching
Cutting off the yoke before reaching the shoulder lets you get creative with shape and design details for a distinctive garment. Varying the yoke like this by cutting it off opens up opportunities to customize the look and make it your own.
One-Piece Yoke
Be checkin' out the one-piece shoulder shapes that make it look so sharp.
| Method | Impact |
| --- | --- |
| One-seam | Smooth lines |
| Darted | Curvy shaping |
| Gathered | Softer fit |
| Pleated | Dimension |
Explore making it your own with stitches, fabrics, and fancy trims. Yoke freedom, seat-of-your-pants style.
Stitched Yoke
You'll love stitching a yoked dress using contrasting fabric for a unique look, like the embroidered floral yoke seen at a recent fashion show.
Create depth with shadow box stitching.
Hand embroidery brings vintage charm.
Consider smocking or ruching for added texture.
Play with bias binding or piping for contrast.
Mix fabrics like lace and satin for visual interest.
A stitched yoke provides opportunities for creative embellishments and seam finishes on your garment.
Why Are Yokes Needed in Garments?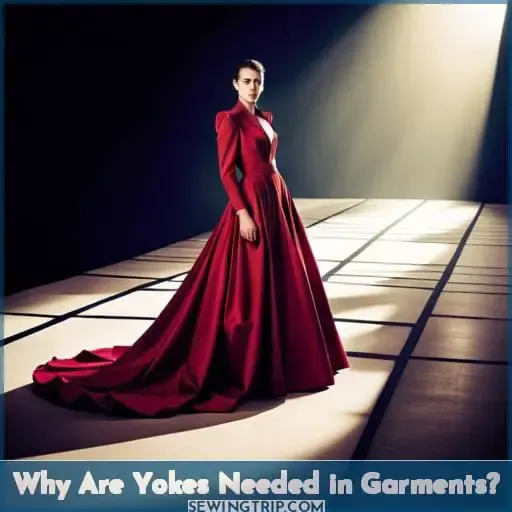 Tuck darts into the shoulder to achieve a graceful curve. Yokes provide shape in garments without using darts, which is a more professional look than visible dart stitching. Yokes absorb the dart fullness, giving clean lines and structure. Consider a set-in yoke when your design needs precise shaping over the bust.
Use extended shoulder yokes for easing and a softer silhouette. Try a cut-on yoke with a blouse pattern to conceal gathers at the waistline. Drop shoulder yokes allow for comfort and movement. Create an elegant update by drafting a rounded yoke for the front and back bodice.
A baseball tee needs a contrast yoke for visual interest and sporty style. Insert a diamond yoke on a dress for unexpected asymmetry. Play with shaped yokes like an arch or a deep U for drama. Mix solid and print fabrics to make the most of an inset yoke.
A well-drafted yoke elevates the garment for a couture finish. Yokes allow designers to shape garments gracefully without darts. Consider different yoke styles to create elegant silhouettes, absorb fullness, and add visual interest.
Yoke Fabrics: What You Need to Know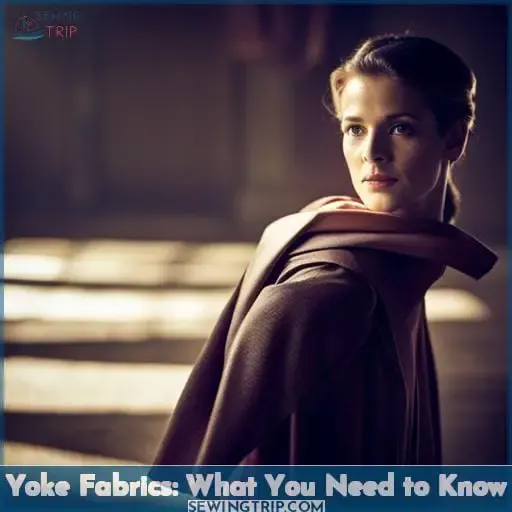 When selecting a material for your yoke, 'tis prudent to consider the drape and weight suitable for the garment's design. Lightweight, drapable fabrics like chiffon or silk crepe are ideal for delicate blouses or dresses.
Medium-weight wovens like cotton shirting or linen are suitable for tailored shirts. Sturdy denim, canvas, or wool work well for outerwear yokes that need to support structure. Match the yoke and garment fabrics for compatibility of care and finish. Contrasting fabrics in texture, pattern, or color draw attention to the yoke design.
Mind the fabric's behavior during construction, ensuring it feeds smoothly through the machine for flat seams. Fussy fabrics may require stabilization to prevent puckering when stitching the curved seams.
Consider any special seam finishes or notions needed for the selected yoke material. For example, use a Hong Kong binding on silk charmeuse to control fraying edges.
When planning creative touches like topstitching or embroidery, select fabrics that will showcase the details nicely. With an understanding of fabric characteristics, you can choose materials to bring your yoke designs to life, whether delicate and soft or tailored and strong.
Determining the Size of a Yoke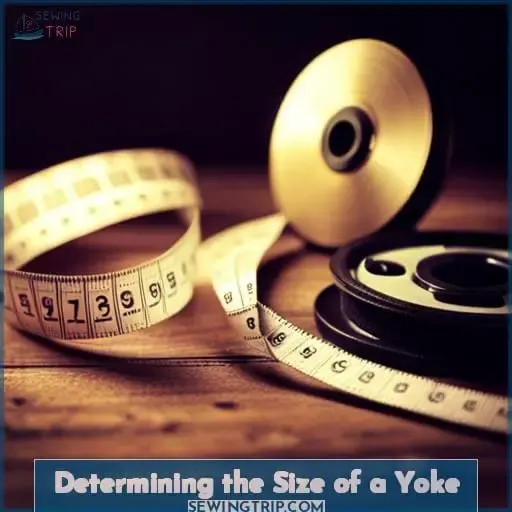 Drop straight or curved darts into your back yoke and front yoke pieces for shaping. Determining the appropriate size for your yoke is key to a well-fitting garment.
Start by measuring across your upper back between armholes to find the width. Compare this to your front bodice pattern width for front yoke sizing. Mark the depth by measuring from the shoulder to your full bust point. Adjust the yoke's armhole curve to match your bodice armhole for a smooth set-in sleeve.
For variation, cut angled side yokes joining to front/back at center. Or try extended shoulder yokes for a casual, dropped shoulder look.
Test muslin fits before cutting fashion fabric. With careful measuring for the intricacies of your figure, you'll produce custom-fitted yokes to elevate your sewing. Express your style through clever yoke shapes, placements and fabrics – inverted box pleat, partial peplum, lace overlay, the options are endless.
Yokes in Shirts: Understanding Their Purpose

Take a peek at the part of your next shirt that sits on your shoulders. That, my friend, is the yoke! Though it may seem simple, the yoke serves vital functions.
First, it shapes the neck opening and shoulder area, providing structure and support. Proper yoke sizing is key here. It allows the shoulder seams to sit nicely while keeping the neckline smooth.
Second, the yoke absorbs the ease needed in the upper back and shoulders for mobility. This means your shoulders can move freely. Yoke design variations like pleats or gathers provide more ease.
Finally, the yoke offers creative touches – contrasting fabrics, trims, embroidered logos or initials. With the right techniques and materials, you can take your shirt from basic to bold.
So next time you don your favorite button-down, appreciate the humble yoke and how it pulls the whole look together!
Sewing a Yoke: Connecting the Strips at an Angle

Take the sum of your skills and combine the strips at the angles with finesse, as a sharpshooter places a bullseye. Pin the yoke strips together at the shoulder seams, right sides facing. Align the angles precisely, easing any fullness.
Use lots of pins to hold the seam allowances in place. Stitch the shoulder seams first, then stitch the side seams of the yoke.
Staystitch around the neckline and armholes to stabilize the curves. Align and pin the yoke to the garment, matching shoulder seams and any markers. Stitch slowly and carefully around the armholes and neckline. Grade the seam allowances, trimming some bulk.
Turn the facing to the inside. Press well. Topstitch close to the seams for a couture look. Your skill in joining the biased yoke strips and handling the angles will result in impeccable finishing.
Tips for Making Yoke Patterns for Your Clothes

Let's explore some key yoke pattern options to get creative with your sewing projects. When drafting your own yoke pattern, consider a simple round yoke with a curved shoulder line, a full round yoke extending lower on the bodice, a straight yoke across the shoulders, or a square yoke with right angles for a modern look.
Try experimenting with different yoke shapes and sizes to add visual interest to your garments.
Simple Round Yoke
See how a simple round yoke softly frames your shoulders. Cut two curved pieces to create this flattering shape. Consider a solid color to accentuate the roundness against your main printed fabric. Roll it up burrito-style to encase the raw edges for a clean finish. Add subtle embellishments like topstitching or embroidery to make it stand out.
Full Round Yoke
Design your garment's shoulders to curve gracefully with a full round yoke. This style hugs the shoulder's rounded shape, lending softness. Cut the yoke extending past the shoulder point for a relaxed, easy fit. Shape the armhole lower for sleeved designs.
Straight Yoke
Reflect on the unique linear simplicity a straight yoke lends to your design. Consider a straight yoke with a zipper placket for a minimalist look. Pair it with side panels for fluid shaping. Play with texture by using lace or mesh for the yoke section.
Experiment with straight yokes on your next blouse, dress, or coat for modern sophistication.
Square Yoke Pattern
Place the square ruler at the shoulder tip to draft the angled edges before connecting the lines below the underarm.
Modern, geometric lines
Interesting contrast fabric opportunities
Absorption of darts and ease
Creative neckline shaping
Opportunity for on-trend exposed zippers
Square yokes allow for on-trend asymmetry and avant-garde style. Consider the square yoke for your next custom garment.
Conclusion
Yokes are an incredibly versatile design element in fashion. With a variety of shapes and fabrics, they can add a unique flair to any garment. From simple round yokes to intricately stitched designs, yokes are a great way to customize your wardrobe.
The right yoke paired with the perfect fabric and pattern can create a stunning focal point. A few tips and tricks will help you design the ideal yoke to suit your style. Understanding how to incorporate yokes into your garments is the key to creating fashion-forward, well-constructed clothing.
So grab your supplies and get ready to add some wow-factor to your wardrobe with custom yokes! Whether you prefer a subtle touch or bold statement, yokes are a fun way to make ordinary clothes extraordinary.