This site is supported by our readers. We may earn a commission, at no cost to you, if you purchase through links.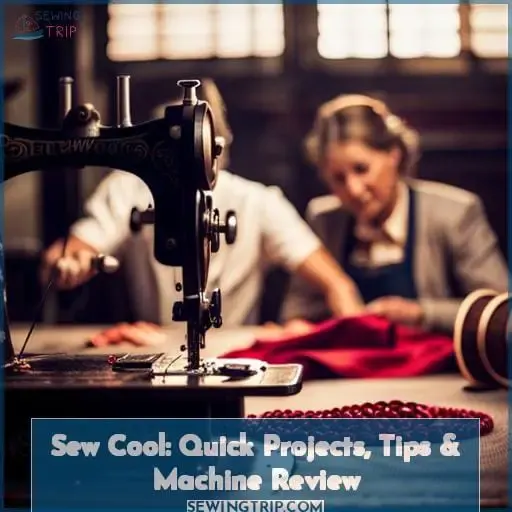 Looking to learn how to sew cool things? This article has you covered! It reveals quick and easy sewing projects, reviews the Sew Cool machine, provides must-know tips for beginners, and offers guidance on threading and using the Sew Cool Machine.
Whether an experienced sewer or just starting your first project, this guide has something for everyone. Get ready to discover some seriously cool ideas that will have you crafting like a pro in no time.
Let's start by looking at some quick and easy projects that even a beginner can tackle. Pillows and tote bags are a great place to start – they come together quickly, allow you to practice basic skills like cutting and sewing straight seams, and result in something fun and usable.
As your skills progress, try making clothing items like skirts, pajama pants, or a simple top. The Sew Cool machine is a great starter model for learning to sew. It's designed for beginners but has features like adjustable stitch length and auto-reverse to make sewing easier.
Reviewers say it sews smoothly and is intuitive to thread and operate. Speaking of threading, here are some tips to help get your machine threaded and ready to go. Start by raising the presser foot and lifting the needle to its highest position.
Place the spool of thread on the holder with the thread coming off the back. Lead the thread through the guides from back to front before threading the eye of the needle from front to back. Take your time and refer to the manual – threading can be tricky at first! Once you've mastered the basics, you can move on to more advanced projects, embellishments, and techniques.
Key Takeaways
Learn sewing basics with quick and easy projects like pillows and tote bags.
Invest in quality needles and thread, practice straight stitching, and choose the right fabric.
Start with a t-shirt upcycle or simple items like headbands or hand warmers.
The Sew Cool Machine is perfect for beginners to create impressive projects.
Quick and Easy Sewing Projects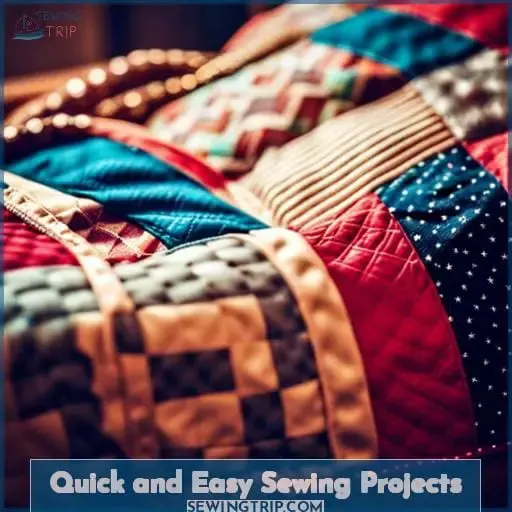 Looking to make something fast and easy? Look no further! You can create awesome things in under 10 minutes that are perfect for beginners. Make cute gifts using free patterns, from face masks to drawstring bags, or tackle slightly bigger one hour projects with forgiving fabrics like cotton and fleece.
Things to Sew in Under 10 Minutes
Whip up a seat belt pillow in under 10 minutes for a quick car ride companion. Rapidly transform old t-shirts into playful superhero masks. Stitch colorful headbands speedily for a breezy hair day. Swiftly sew fabric scrubbies for fun bath time suds.
Instantly construct knotted keychains as unique gifts. Hastily craft easy fabric envelopes to hold little treasures.
Projects for Beginners
Make a t-shirt upcycle to nightgown in about 10 minutes with one of 25 quick and easy projects perfect for beginner sewers or a fast sewing session. Get the right fabric from recycled t-shirts and cotton knits. Use simple stitches like straight and zigzag.
Make sure to prevent mistakes like using too tight a stitch length. Follow basic sewing safety tips like keeping focused eyes on the machine.
Sewing Projects as Gifts
Here are some amazing gift ideas you can sew in no time! Learn sewing techniques to craft handmade gifts. Sew DIY presents like tote bags, pillows, and aprons. Share crafty creations with loved ones.
One-Hour Sewing Projects
Drawstring Backpack
Felt Coin Purse
Travel Eye Mask
Crafting treasured keepsakes in under an hour can make thoughtful gifts. Stitching each careful seam offers time for mindfulness.
Most Forgiving Fabrics
Stretch cotton jersey drapes easily over curves, hugging your form in the most flattering way. Silk flows and shines, perfect for a blouse or slip dress. Sewing velvet takes patience—stick with sturdy cottons and jerseys first.
Free Sewing Patterns
Browse the free sewing patterns available to quickly craft your next project. Choose a pattern suited to your skill level. Collect fabric and notions to make it your own. Embellish with ribbons, buttons or applique.
Sew Cool Machine Review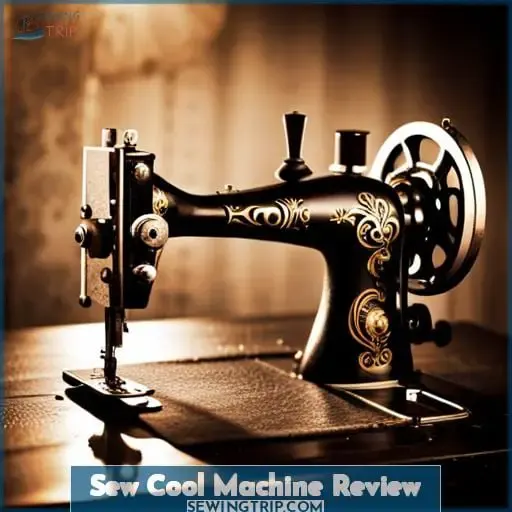 I'm happy to see you again! Today we'll explore other top toys for the creative child. Walmart offers additional creative toys beyond the Sew Cool sewing machine, such as the Beados Design Station, Case Maker, and Crayola's Virtual Design Pro Fashion Collection, which allow kids to express their creativity in fun new ways.
The Beados Design Station provides a screen and stylus to trace images that are then reproduced on pegboards using colorful beads. The Case Maker lets kids customize their own phone cases with stickers, glitter, and gems for a one-of-a-kind look.
Crayola's Virtual Design Pro Fashion Collection allows kids to design complete outfits on a tablet and bring them to life with fabric markers. With so many engaging options, Walmart is a great destination for finding toys that nurture creativity.
Other Top Toys for the Creative Child
You'll enjoy Walmart's other top picks for creative kids' toys that inspire artistic expression and imaginative play. Get creative with the Crayola Virtual Design Pro Fashion Collection to design your own couture creations.
Craft adorable friends and accessories with the colorful Make Your Case bead crafting kit. The Moose Toys Beados Quick Dry Design Station also allows young artisans to get artsy in a budget-friendly way this season.
These sewing machine alternatives provide creative play at lower prices on some of the most popular toys. Kids can enjoy hands-on, crafty fun while tapping into their imagination with any of these top toys for creative children.
Tips for Getting the Best Price on Top Toys
You'd best save big using Walmart's price match guarantee for the hottest toys.
Search online for coupons and promo codes before purchasing.
Sign up for email alerts to get notifications on sales and price drops.
Use price comparison sites to find the best deal across retailers.
Check Walmart frequently for seasonal sales events like Cyber Monday and Black Friday.
Shop smart this holiday season and get the top toys like the Sew Cool Sewing Machine at the lowest prices. Take the time to research and compare prices for maximum savings on must-have toys.
Must-Know Sewing Tips for Beginners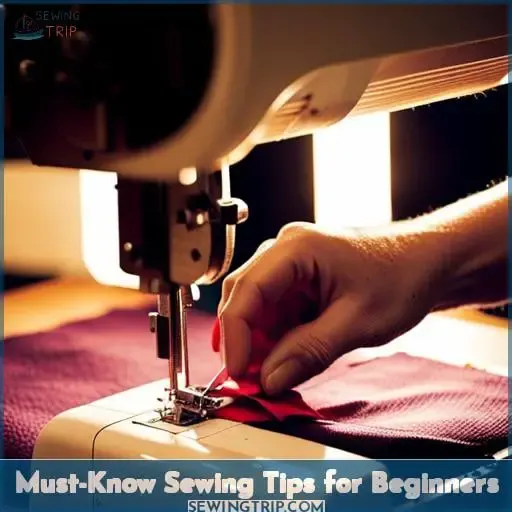 Look, mastering the basics is key to sewing success before tackling any cool projects. For example, learning proper needle and thread selection ensured my daughter's handmade doll dress turned out beautifully on her first try.
Invest in quality sewing needles and thread – don't scrimp on these!
Practice straight stitching on scrap fabric before starting a project.
Use fabric appropriate for the project – knits vs. wovens behave differently.
Avoiding beginner pitfalls like tangled threads or skipped stitches means you can dive into fun projects with confidence. With practice, patience and the right materials, sewing mastery is within reach.
What is the Best Sewing Project for a Beginner?

Grabbing some Rico floral cotton, you can upcycle an old t-shirt into a comfy nightgown in just 10 minutes. For a total beginner, start with an easy sewing project like a reversible headband or hand warmers.
These super quick gifts allow you to practice basic stitches without getting overwhelmed.
Once you've mastered straight lines, move on to slightly more advanced projects like a drawstring bag, sunglasses case, or laptop sleeve. Print free beginner patterns online and watch instructional videos as you go. With the right guidance, sewing is quite intuitive.
And don't forget the essentials – good fabric scissors, pins, needles, and thread. Before you know it, you'll be sewing up unique creations for friends, family, and yourself.
How to Thread a Sew Cool Machine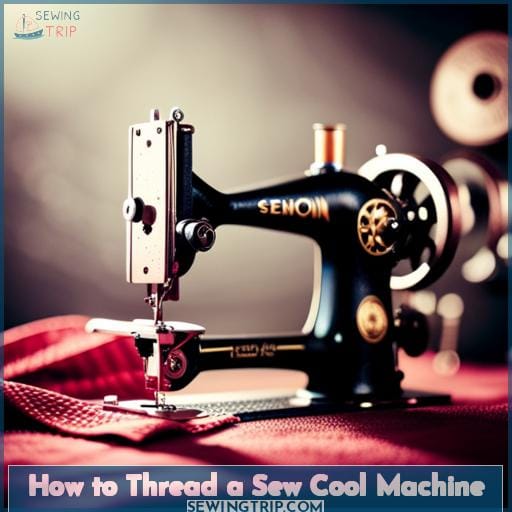 When getting your Sew Cool machine ready to create, threading the needle is like lacing up your sneakers before going for a run.
Examine the machine and the path the thread will travel. Identify key components like the spool pin, tension discs, take-up lever, and needle eye.
Carefully following the threading diagram, guide the thread through each part in the proper sequence.
Set the thread tension to suit your fabric by turning the dial. Synthetic threads need less tension than cotton.
With practice, threading will become second nature. Tricky at first but worth mastering this fundamental skill that activates your creativity.
How to Sew With a Sew Cool Machine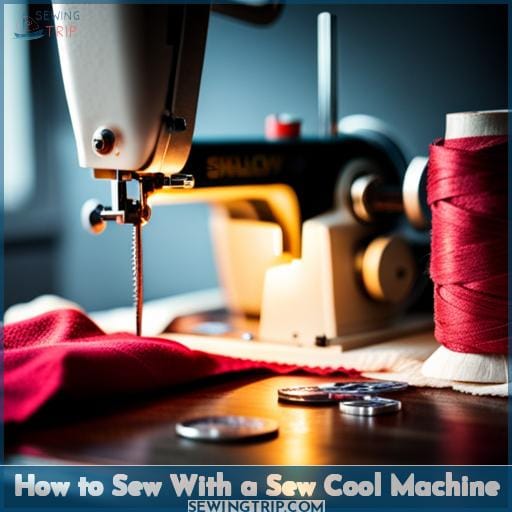 Lean in and tilt the fabric slightly as you gently guide it under the presser foot, feeling the soft yet sturdy material glide smoothly beneath your fingertips. As you begin sewing with your Sew Cool machine, focus on basic sewing techniques like straight stitches, zigzag stitches, and reverse stitches to get comfortable with the controls.
Choose fabrics like cotton, fleece, or felt to start – they're easy to work with. Try simple projects like tote bags, pillows, or soft dolls to build skills. Follow safety tips like keeping fingers away from the needle and unplugging when not in use.
Get creative with embellishments like buttons, ribbons, appliqués or embroidery.
Here's a 5 item list of creative embellishment ideas:
Colorful pom poms
Funky fabric paint designs
Vibrant embroidery floss
Shiny sequins
Whimsical lace trims
How to Use a Sew Cool Machine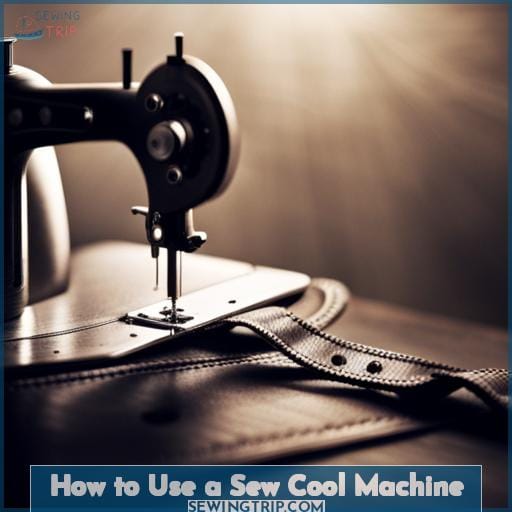 Moving on from learning how to thread and operate the Sew Cool sewing machine, let's dive into maximizing its creative potential.
The Sew Cool machine opens up a world of DIY projects and creative expression. Making your own clothes, bags, decorations and more isn't only fun – it's empowering! Here are some kid-friendly ideas to spark your inspiration:
Face masks to match your outfits or moods
Upcycle old t-shirts into pillows, dolls or napkins
Drawstring bags for school supplies or sleepovers
Turn a pillowcase into a twirly skirt
With the right materials and a dash of creativity, this compact sewing machine can help you design totally unique, handmade items. Approach each project as an opportunity to experiment and learn. Don't worry about perfection – focus on the joy of making.
How to Work a Sew Cool Machine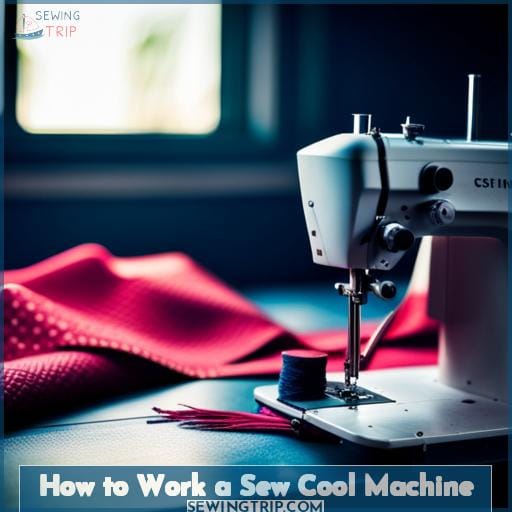 Push fabric under the foot as you guide it along. To work a sew cool machine:
Thread the top and bobbin as shown in the manual
Select your stitch and adjust settings
Place fabric under the presser foot and lower it
Hold threads behind the needle and start sewing
Guide fabric gently as it moves under the needle
Keep practicing to build experience. Try new stitches and techniques as you gain confidence. Look online for project inspiration to motivate your sewing. With patience and creativity, you'll be amazed what you can make with a kid's sewing machine.
Most importantly, have fun and let your imagination run wild. The sew cool's simplicity empowers beginners to discover their inner artist.
Conclusion
The journey to becoming a sewing master is an exciting one. The Sew Cool Machine is the perfect tool to get you started. It's easy to use, comes with loads of fun projects, and is priced right, making it the ideal choice for the creative child in your life.
With the help of this machine and these tips, you'll be able to create cool things that will impress family and friends alike.
If you feel creative, why not give sewing a try? You'll be surprised at how much fun it can be! So go ahead and pick up a Sew Cool machine today and get sewing!