This site is supported by our readers. We may earn a commission, at no cost to you, if you purchase through links.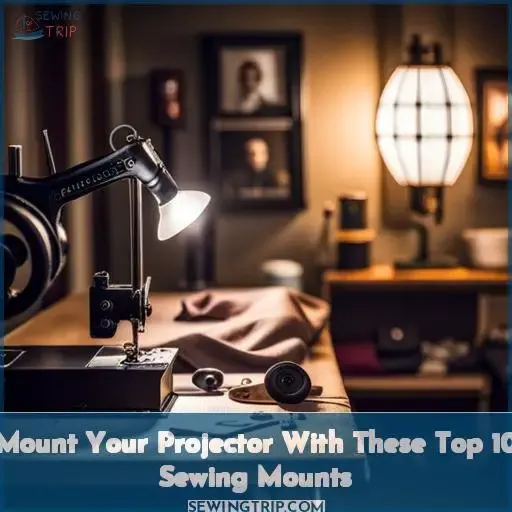 Mounting a projector for sewing can take your projects to the next level. It allows you to precisely transfer patterns or designs onto fabric. With so many mount types available, finding one that fits your needs can be difficult.
To help, we've compiled a list of top 10 mini projector mounts for sewing, perfect for ceiling or wall mounting.
We'll also discuss how mounting ultra short throw projectors works for sewing and alternatives if you don't have or want a projection setup.
Key Takeaways
Top 10 mini projector mounts for sewing
Mini ceiling projector mount for precise pattern projection
Adjustable wall mount for cameras and mini projectors
Experimenting with projector placement for a clear projection of patterns
Top 10 Mini Projector Mounts for Sewing
Welcome fellow sewists! Let's review the top 10 mini projector mounts for unleashing your creativity through projected sewing. Durable tripods, adjustable clamps, wall mounts, and ceiling mounts offer flexible positioning so you can find the perfect projection angle in any room.
Wire baskets or furniture feet creatively support mini projectors when traditional mounts won't work.
1. Mini Ceiling Projector Mount Stand Compatible Small Projectors
View On Amazon
With the easy installation and adjustable angles of the mini ceiling stand, you can position small projectors to project patterns right where you need them for your sewing projects. Compatible with various lightweight projectors, the metal stand securely mounts to ceilings and offers -90 to 360 degree rotation for directing projections precisely.
Once installed, use the angles to get the perfect view of your projected sewing patterns. Having the pattern shine down from above simplifies tracing and cutting for quilting, embroidery, and clothing construction projects.
Universal compatibility
Easy DIY installation
Good range of tilt and rotation adjustment
Concerns about screw breakage in some models
May not keep some projectors perfectly level
Only for lightweight projectors under 5kg
2. Universal Projector Ceiling Mount Hanger Rotatable Extendable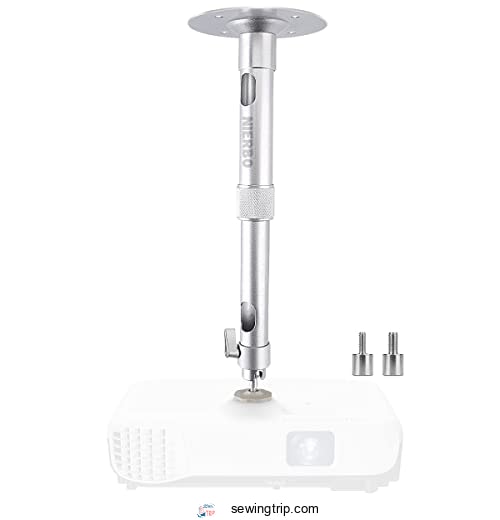 View On Amazon
You'd be impressed with how well this unique rotatable ceiling grabber positions your tiny thrower perfectly for intricate needle tasks. With its extendable silver tube and 360° swivel, you can hang your mini machine at just the right height and angle to project sewing patterns perfectly on your fabric.
The lightweight aluminum alloy mount feels sturdy yet adaptable for getting that overhead view aligned above your cutting table. Installation's simple with included screws. Adjusting the mast up to 19 inches helps center patterns.
What I love is how freely the projector swivels so you can direct the image at any orientation. Customizing placement is a cinch! With ample rotation you can direct projections across the full width of your fabric to maximize using the projected image.
Enjoy enhanced convenience in your sewing room with this flexibly adjustable overhead projector mount.
Lightweight aluminum construction
360 degree rotation
19 inch height adjustment
May not support heavier projectors
Small cable holes
Locking swivel may need reinforcement
3. Arkon Wall Mount for CCTV Camcorders Cameras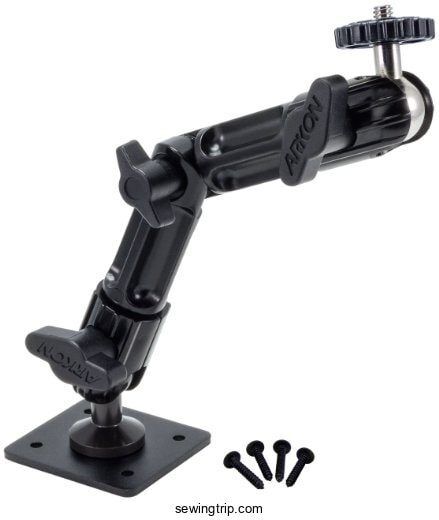 View On Amazon
This adjustable wall mount lets you artfully capture any subject with portrait filming. Sturdy yet flexible, its 8 arm with three adjustable knobs provides 180° rotation for framing the perfect shot. It securely positions cameras or mini projectors up to 7 lbs, allowing precise angles thanks to cast aluminum construction.
With tabletop space at a premium in your sewing room, this mount offers an ideal way to get equipment off the table and onto the wall.
Provides 180 degree flexible positioning
Allows mounting mini projectors up to 7 lbs
Well constructed from cast aluminum alloy
Small base size limits very wide horizontal mounting
Not suitable for heavier cameras or projectors
Installation to wall requires drilling
4. Spectrum Scoop Wire Basket Storage Bin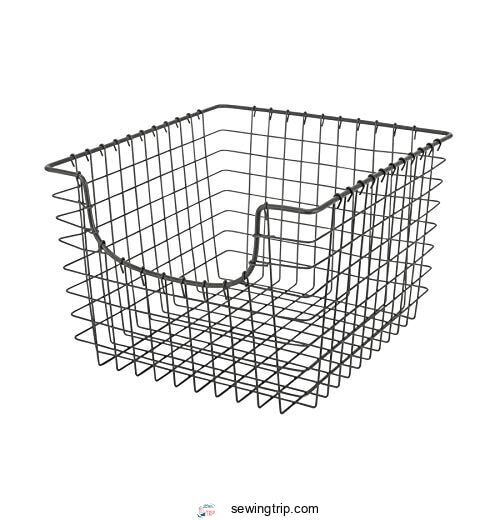 View On Amazon
Spectrum Scoop Wire Basket Storage Bin
Place this amazingly huge industrial chic wire scoop basket anywhere to organize your world in the most stylishly rustic and functional way you've ever seen! Use this sturdy steel storage bin with its wrapped wire ends and tapered scooped front to elegantly organize your sewing room.
Keep all your patterns, fabric scraps, thread spools, and tools neatly corralled yet totally visible in this urban chic wire basket. Let it stylishly function as your go-to home for sewing gear or garage gadgets without taking up too much space.
With its sturdy steel construction, this budget-friendly basket brings efficient organization to your crafty world in the coolest industrial way.
Rustic and industrial chic style
Wrapped wire ends for safety
Sturdy steel construction
Tapered scooped front for easy access
Lightweight and affordable
Versatile for organizing any room
Open wire design allows dust inside
Only available in gray color option
May show signs of wear over time
Not intended for super heavy items
5. Smallrig Camera Clamp Double Ball Head Mount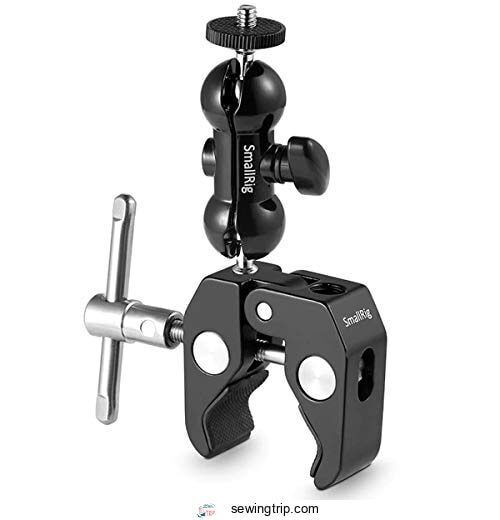 View On Amazon
Keep your tools handy with the Smallrig double ball head mount that securely grips your dream machine. This adjustable clamp and articulating arm lets you position your mini projector, camera, or other essentials right where you need them.
Just secure the industrial-strength clamp to a pole or railing, then adjust the ball head to find that perfect angle. With its compact size and 360° swivel, you'll have the flexibility to capture any creative moment.
Although rated for lightweight gear, the sturdy aluminum and stainless steel construction provides a stable grip to prevent vibrations while you sew. While some users report rusting over time, keep your mount protected and know Smallrig customer service can quickly provide replacements.
Compact, lightweight size for portability
Adjustable clamp and ball head for positioning flexibility
Durable aluminum/steel construction
Supports cameras, lights, projectors up to 1.5kg
Potential for rusting over time
Not suitable for very heavy equipment
May need additional securing for extra stability
6. Extender Rod for Ceiling Mounts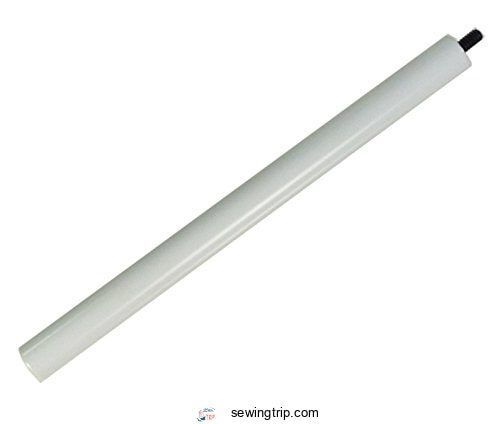 View On Amazon
Lower your projector's position with the extender rod's easy screw-in adjustment, bringing your projected sewing patterns into clearer focus. This 8.5-inch aluminum rod threads right in between your ceiling mount and projector, dropping it down an extra 8 inches for a better projection angle.
Though lightweight, it holds up to 40kg so you can position your projector perfectly.
Adds 8 more inches of drop from ceiling
Easy to install by screwing in
Sturdy aluminum construction
Holds 40kg load
Feels a bit cheap/flimsy
Only extends down, doesn't allow raising projector
Very basic, no-frills design
7. Adjustable Articulating Arm Clamp for Dslr Camera Monitor Light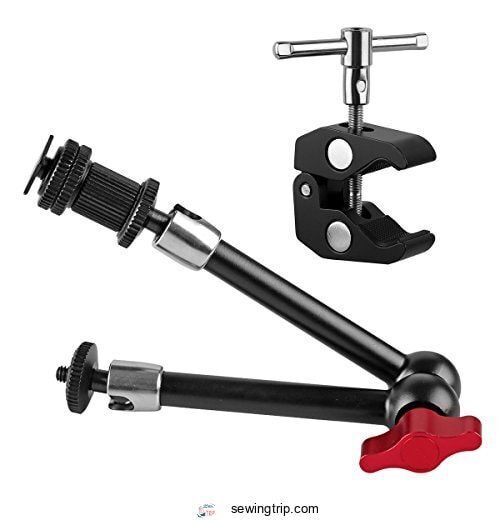 View On Amazon
Attach the versatile adjustable arm to position your projector precisely. This sturdy stainless steel and aluminum articulating arm secures to poles, beams, and rails to provide flexible positioning of your mini projector.
With 360-degree adjustment capability and single-point locking knobs, you can rotate and tilt your projector to achieve the perfect angle for projecting sewing patterns.
The super clamp attaches firmly up to 2 inches thick, while the standard screw mount fits your projector or accessories.
360-degree adjustable positioning
Versatile super clamp attachment
Sturdy arm for holding lightweight devices
Standard mounts fit most equipment
Not recommended for heavy projectors
Can break if over-tightened
Only supports up to 5 kg/11 lbs
8. Tension Curtain Rod Rust Resistant Black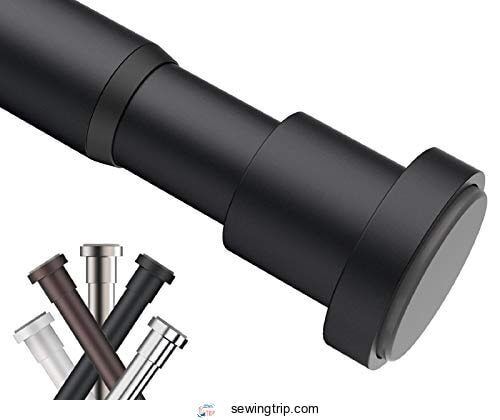 View On Amazon
Hang that sleek black tension rod for projecting patterns without drilling. This easy-to-install curtain rod provides a stylish solution for displaying projected sewing patterns. Simply mount the adjustable rod to any indoor or outdoor surface up to 105 inches wide, then aim your mini projector downwards.
The tension mount means no surface damage or permanent installation. Plus, the corrosion-resistant black finish discreetly blends into any space.
No drilling or permanent damage
Sleek low-profile black finish
Adjustable width up to 105 inches
Tension mounted, doesn't fall down
Not as stable as fixed mounting
Limited weight capacity of 30 lbs
Visible hardware if used as curtain rod
9. GEEKOTO 77 Inch Aluminum Tripod for DSLR Camera With Ball Head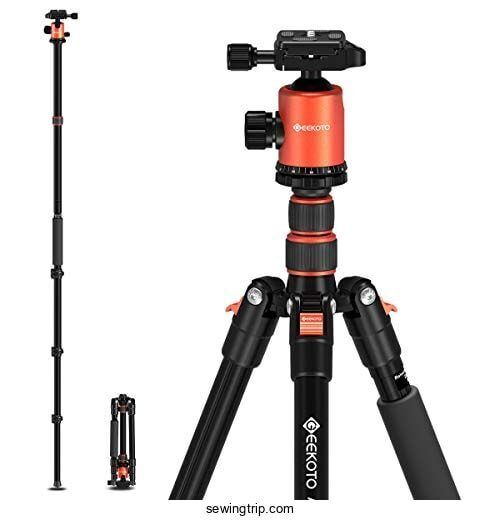 View On Amazon
GEEKOTO 77 Inch Aluminum Tripod for DSLR Camera With Ball Head
Unpack your GEEKOTO 77-inch aluminum tripod for flexible positioning of your DSLR camera during sewing projects. This lightweight yet sturdy tripod extends from a compact 19 inches up to 77 inches, providing versatile height adjustment with quick-release flip locks.
Its 360-degree ball head allows you to pan and tilt your camera to capture creative shots from any angle. Weighing only 3.37 lbs, it easily supports your DSLR camera while remaining portable for travel and outdoor use.
When packed down, it fits nicely into the included carrying bag.
Lightweight and portable
Sturdy aluminum construction
Height adjusts from 19 to 77 inches
360° ball head for versatile angles
Quick flip locks for fast setup
Supports cameras up to 17.6 lbs
Not ideal for heavy pro cameras
Setup can be tricky initially
Lower quality than premium brands
10. Pehciroe Adjustable Furniture Leveling Feet Black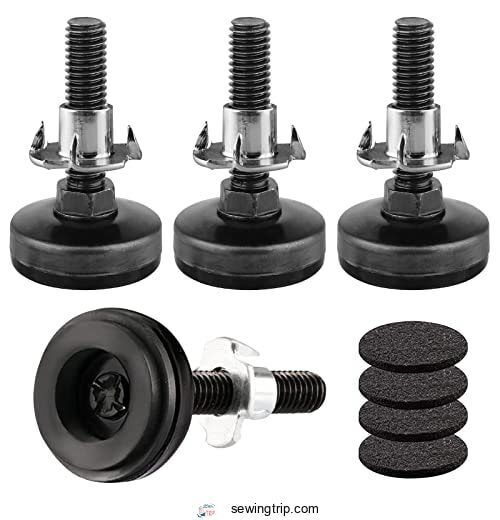 View On Amazon
Set the uneven cabinet right with Pehciroe's sturdy adjustable feet. Tired of that wobbly table or dresser? Save yourself frustration and fumbles with makeshift shims. Pehcroe's heavy-duty, corrosion-resistant adjustable furniture feet effortlessly level furniture on uneven floors, from tables and chairs to cabinets and sofas.
With flexible adjustment from 3/4 to 1 3/4, you can get perfect stability and balance without affecting the appearance of your furniture's legs.
Simply drill a 0.55 hole, pop in a t-nut, and screw in the leg leveler. For legs with existing 3/8-16 threads, just screw and go.
Regain confidence over rickety furniture with sturdy adjustable feet that work like a charm.
Heavy-duty iron construction
Anti-rust matte finish
Load capacity up to 300 lbs
Installation requires drilling holes
Not as easy to adjust as twist legs
Does not accommodate all leg sizes
How to Mount Ultra Short Throws for Sewing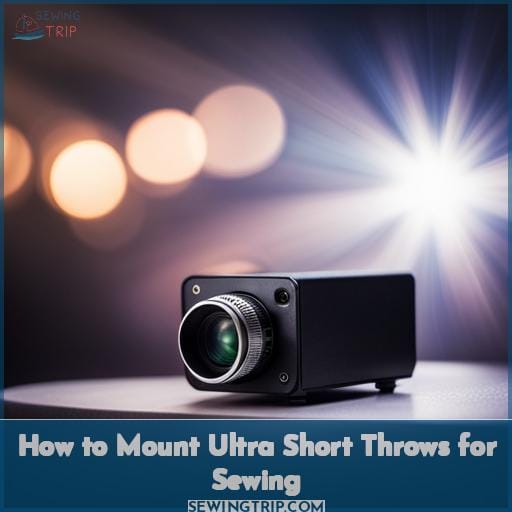 Position the ultra short throw carefully when mounting, as its offset requires placing it very close to the projection surface for proper image alignment. Fasten the projector securely to minimize vibration that could distort your sewing projection.
When calibrating, adjust the focus ring until your projected image is sharp. Tweak the zoom and shift settings for the ideal size and position.
For best resolution, match the native resolution of your projector and computer. Set the projection surface as close as possible to the lens.
Explore DIY options like mounting on a bookshelf, using a wall mount with an articulating arm, or printing your own bracket to get creative.
With some planning and experimentation, you'll have an optimally mounted UST projector illuminating your sewing patterns and unleashing your creativity in no time.
Short Throw Mounts for Sewing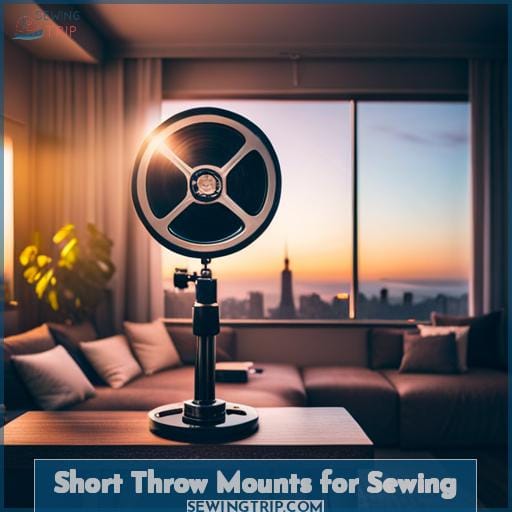 Ultimately, side-mounting carries your image further for shadow-free sewing. Short throw projectors require creative side mounting due to their offset lens design. While ceiling mounting remains an option, side mounting allows you to position the projector closer to the wall for a maximized image.
Consider mounting your short throw on a wall, sturdy shelf, or table to the side of your work area. Utilize adjustable mounts to tweak the angle and placement. For a clean look, install the short throw projector mount directly into wall studs.
Side mounting allows the projected image to reach farther so you can trace patterns with no shadows.
With the right side angle and distance, your sewing projects will beam bright and shadow-free. To choose the best short throw projector for your sewing space, compare offset percentages. Offset refers to how far the lens is positioned from the center of the projector.
| Model | Offset Percentage |
| --- | --- |
| Optoma GT1080 | 15% |
| BenQ TK800M | 13% |
| Epson LS500 | 9% |
Look at vertical lens shift as well. Positive % shift allows more flexibility in side mounting position. The closer you can install to the wall side, the better to maximize your projected sewing workspace.
Consider your room layout to determine the ideal side angle. Measure the sewing machine distance from wall to ensure your chosen projector can cast an image large enough. With the right short throw model mounted creatively on the side, you'll enjoy brightly lit, shadow-free sewing.
What's Included in a Projector Mount Kit for Sewing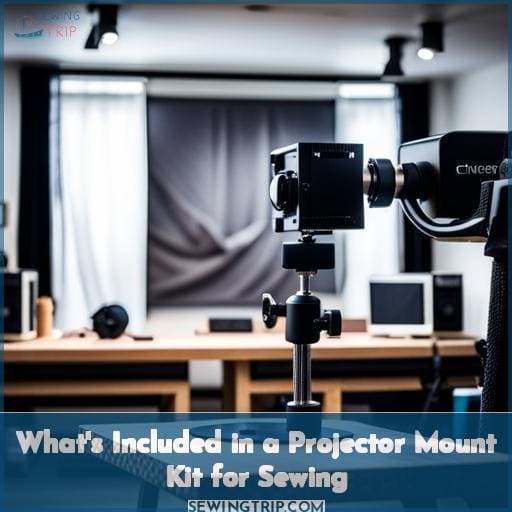 See the DIY adjustable stands elevate Epson UST projectors while backdrops and tension rods raise mini models, so you can creatively sew any space. When preparing your sewing room projector setup, inspect what's included in the projector mount kit.
Expect mounting hardware like ceiling plates or clamps, screws, bolts, washers, downrod, adjustable arms, safety cables, wrenches, and instructions. For DIY projector mounts, gather materials like wood, PVC pipe, wire baskets, and camera gear then follow online tutorials.
Whether ceiling mounting or setting up a stable surface, you'll want to ensure your projector location aligns pattern projection over cutting tables. For mobile mounts, articulating arms like a magic arm clamp keep mini projectors adjustable.
Carefully installing quality mounts prevents shaking and wobble while projecting intricate sewing patterns.
Let's Talk Projectors and How to Get Them Set Up in Your Sewing Space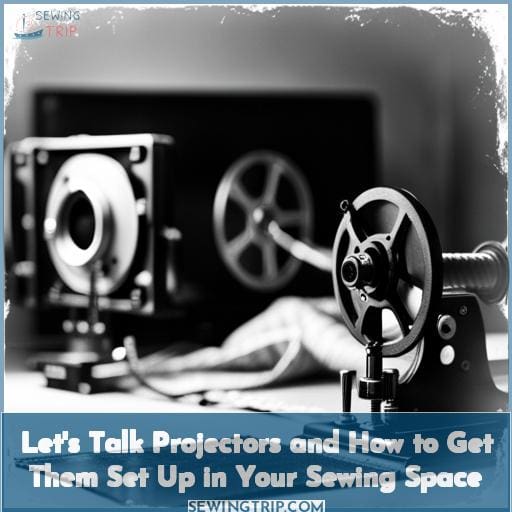 To set up a projector in your sewing space, get creative. Consider your space and needs. Mini projectors offer portability while short throw models allow placement near your workspace. 1) Research projector types to select one compatible with your sewing software and fabric surface.
2) Decide on the best semi-permanent or temporary mounting option. Ceiling mounts, shelves, or tripods work well. 3) Calibrate for a clear projected image. Adjust keystone and focus for clarity on your cutting table.
4) Test projecting patterns and positioning during initial use. Move the projector or stand until alignment suits your needs. With some thoughtful preparation, you'll have your projector capturing and displaying sewing patterns in no time.
Easiest Solution for Projector-Averse Sewists: the Ultra Short Throw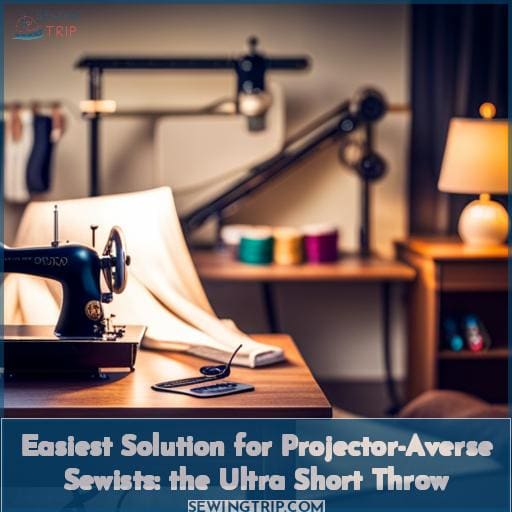 Break up with the drudgery of pattern printing. Tap into projection's visual clarity instead. The easiest solution for projector-averse sewists is an ultra short throw projector. Simply place this compact projector on a table or shelf near your cutting mat. Its ultra-wide angle lens eliminates shadows and distortion.
USTs let you project a huge sewing pattern in tight quarters. Their simple setup preserves flexibility to sew anywhere. Ditch the tape measure when resizing patterns – just zoom to scale. Ambient light shouldn't affect UST projection, though blackout shades optimize contrast.
Achieve precision sewing with optimized workspace and visuals. An ultra short throw projector provides a clear projection in tight spaces. It's easy to set up and move, so you can sew anywhere. Zoom to resize patterns instead of using a tape measure.
Blackout shades optimize contrast, but ambient light shouldn't be an issue. Try an UST for versatile, hassle-free projection to improve your sewing.
Alternative Options for Mounting a Projector for Sewing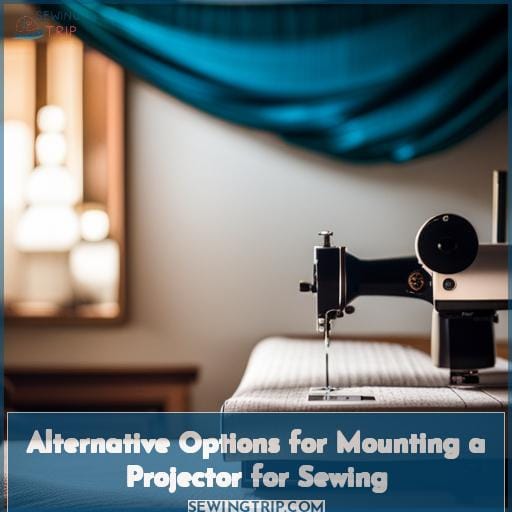 Let's explore some alternative options for mounting your projector in the sewing space. Whether you prefer a tripod or wall mount, portable or permanent setup, careful projector positioning is key. Consider things like your cutting table location, available space, and cable management when deciding on your mounting solution.
Utilize adjustable tripods. These offer flexibility to position the projector at the perfect height and angle above your work surface.
Create DIY mounts. Custom brackets, plates, or supports made with wood, PVC, or metal allow tailoring your mount exactly to your space.
Mount with clamps. Secure c-clamps, adjustable arms, or spring clamps provide no-holes mounting options.
Fashion overhead rigging. Suspend the projector from beams, rafters or the ceiling with pulleys, chains, or creative cabling for an out-of-the-way option.
With some innovative thinking, you can find a mounting solution to suit any space and sewing setup. Experiment with placements until your projected patterns are crisp, clear and exactly where you need them.
Conclusion
Now you have all the tools needed to mount your projector for sewing like a pro! With 10 top options for mini, ultra short throw, and short throw projectors, you can easily find the perfect fit for your sewing space.
Whether you're looking for a ball joint mount, tension rod, or tripod, you'll be able to get your projector set up like a breeze.
And if you're feeling overwhelmed, an ultra short throw projector may be the way to go. So don't be afraid to give projector sewing a try – the possibilities are endless.
With a bit of creativity and clever mounting, you can create beautiful garments with ease.