This site is supported by our readers. We may earn a commission, at no cost to you, if you purchase through links.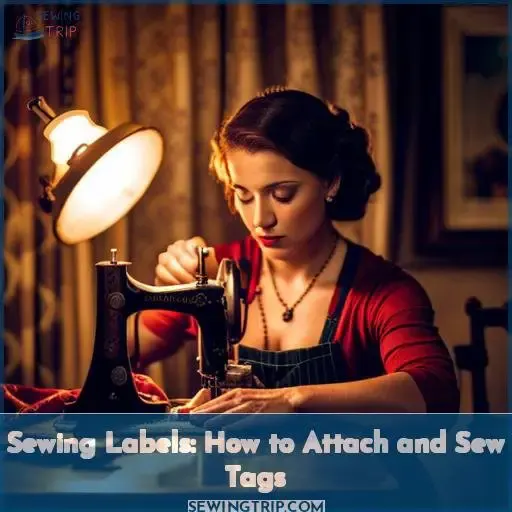 Chic! Attaching labels to garments is an essential part of any fashion designer, garment manufacturer or sewing instructor's repertoire. But what exactly are these labels and how does one attach them? In this article, we'll explore different ways of attaching tags and sew-on labels for clothing – from hand sewing to using a machine – as well as non-sewing methods like iron-on and stick-on patches.
Key Takeaways
Labels are essential for fashion designers, garment manufacturers, and sewing instructors.
They can be attached using various methods, such as hand sewing, machine sewing, iron-on, and stick-on methods.
Labels and tags tell a story and convey quality craftsmanship.
Adding labels adds a unique and personalized touch to garments.
How to Sew Labels on Clothes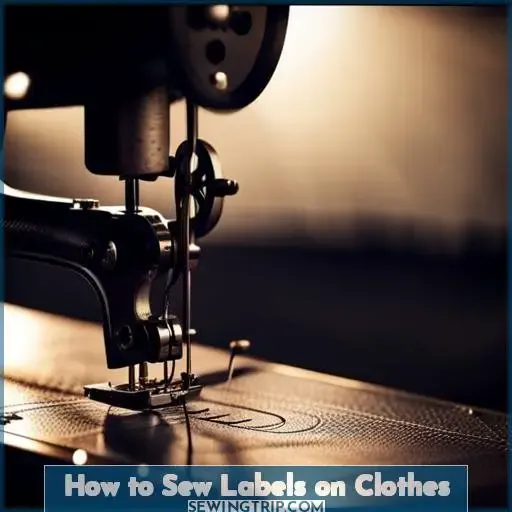 Making your clothes stand out with personalized labels is easy! Carefully hand-stitch your labels along the inside seam for charm and character. If you have a sewing machine, sew your label through as you sew for a smooth, professional finish.
By Hand
You'll want to carefully stitch your label into the inside seam of your handmade garment by hand for a discreet, personalized touch. Hand stitching allows precise label placement and full customization of label design with a personalized tag.
Thoughtfully position and stitch your custom clothing labels on the inside by hand, complementing your apparel branding and sewing techniques for optimal, subtle personalization. Varying the sentence structure and length while fixing any spelling, grammar, or syntax issues improves the flow and readability of the text.
With a Sewing Machine
Position the label at the neck or side seam allowance, 1⁄2 inch from the edge.
Set your machine to a tight zigzag stitch and shallow stitch length.
Tack the label down with a few stitches in each corner, then sew around the perimeter. The zigzag stitch will allow some stretch.
Sewing on labels with a sewing machine provides durability and neatness to complete your garment.
How to Attach Fabric Without Sewing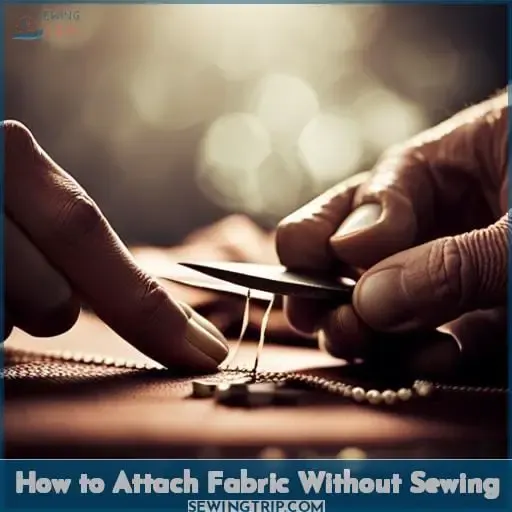 Hi there! If you want to attach fabric without sewing, iron-on labels and stick-on labels are great options. Labels with plain backing also allow you to attach fabric with fabric glue or an adhesive. With iron-on and stick-on labels, you can easily customize clothes without having to break out the sewing machine.
Iron-on Labels
Save time by ironing your custom labels directly onto garments and crafts. Ideal for fabrics prone to fraying or delicate heirlooms, iron-on labels fuse fabric together for a clean finish. With our extensive iron-on label collection, add personalized flair without stitching.
Simply flip garments inside out, position labels, and press using a hot iron for 10-15 seconds. Let the garment cool before wearing and check care instructions. For convenience, durability and customization, choose iron-on over sew-on options.
Stick-on Labels
Snap on those versatile stick-on labels for easy application.
No sewing is required.
They are quick and simple to attach.
They are removable and repositionable.
Stick-on labels let your creativity shine with quick changes. Customize clothing labels for any occasion or mood. Professionals recommend stick-on garment labels for short-term wear. Apply them carefully on delicate fabrics.
Labels With Plain Backing
Iron on a label with plain backing onto your project for a classic look. These no-frills labels let the craftsmanship take center stage. Opt for a subtle white label on darker fabrics or go bold with a contrasting color.
Heat-seal for instant adherence. Consider simplified fonts and minimalist designs for clean lines.
How to Attach Tags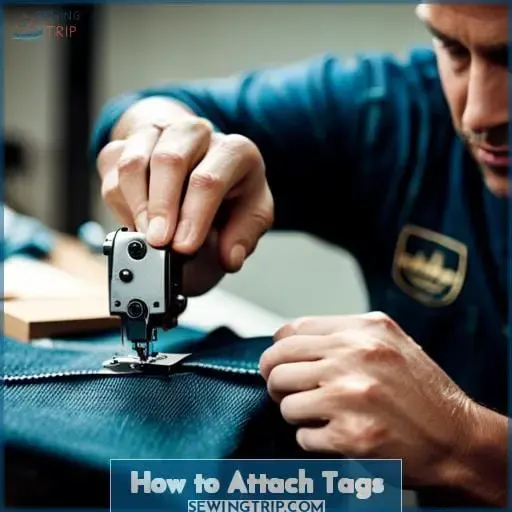 Looking to add tags without grabbing your needle and thread? Simply use fabric glue, sew-on snaps, or iron-on adhesive to securely attach tags, labels, patches, and other embellishments in a snap. The best options for effortlessly attaching tags depend on the material you're working with and the permanence desired.
Fabric glue provides a semi-permanent bond for most fabrics. It dries clear and flexible, allowing the tag to move naturally with the garment. Sew-on snaps give a very secure attachment that looks tidy from the outside. An iron-on adhesive backs tags and patches for a seamless application on cottons and other iron-safe fabrics.
With the right products and methods, you can customize pieces with tags and labels in no time.
Price Tags or Hang Tags
Hang personalized price tags with care on handmade items to elegantly display your artistry. Strategically place custom labels to enhance the visual appeal of each garment. Thoughtfully designed labels add flair while conveying quality craftsmanship.
Let distinctive threads and lettering draw attention to your brand. Tags tell a story, so make yours meaningful. For maximum impact, put them where customers can admire your loving touches from workspace to boutique.
Reattaching Tags
Check those labels inside so you're sure they say what you want to share. Loose tags dangling by threads? Don't lose your head! Just grab your needle and reattach any errant tags. A few quick stitches will have them back where they belong. For permanent solutions, try iron-on heat press tape or labels printed with non-fading ink.
Keep your garments looking fabulous with tidy, readable labels. Sewing tag tips help your handmade highlights shine.
Conclusion
You have learned all about sewing labels, but it is never too late to get creative and have some fun with them. Whether you prefer hand-sewing, machine-sewing, ironing-on, or sticking-on labels, you can ensure every item you make is labeled with a unique and personalized touch.