This site is supported by our readers. We may earn a commission, at no cost to you, if you purchase through links.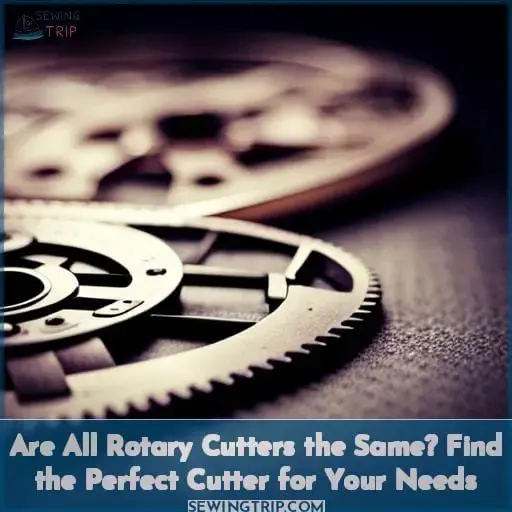 Are rotary cutters all the same? It may seem like a simple question, but there is actually quite a bit of variation in these seemingly straightforward tools.
From handles to blades and specialty accessories, each model comes with its own features and benefits – making it important to pick the right one for your needs.
But how do you choose?
In this article, we'll discuss the different types of rotary cutters available on today's market, their features and benefits as well as customer reviews that can help you make an informed decision when selecting the perfect cutter for your quilting projects.
So let's get started!
Types of Rotary Cutters
There are a few main types of rotary cutters to consider:
Standard Cutters: These have a simple ergonomic handle and a round blade that easily cuts through multiple layers of fabric.
Specialty Cutters: These include unique blades in various shapes like waves, circles or scalloped edges to cut specialty fabrics and shapes.
Self-Healing Cutters: The cutting mat surface heals after each cut to prevent damage.
Key Features To Look For
Here are some key features to evaluate when choosing a rotary cutter:
Blade Size: Standard sizes are 18mm, 28mm, 45mm and 60mm. Bigger blades cut more fabric layers at once.
Blade Safety: Look for cutters with a blade guard, lock or retractable mechanism for safety when not in use.
Ergonomic Handle: Pick a comfortable, non-slip grip that prevents hand strain even after prolonged use.
Smooth Cutting: The blade should glide smoothly without catching or tearing fabric.
Customer Reviews
Checking customer reviews on retail sites can provide helpful insight into real-world performance. Look for cutters with consistently positive ratings and feedback on their durability, safety, smooth cutting ability and comfort.
With the right cutter choice based on your project needs, cutting accuracy and convenience is sure to improve. Take time to evaluate the options and your rotary cutter can serve you well for many quilting projects to come.
Key Takeaways
Rotary cutters come in different types, including standard, specialty, and self-healing options. Each type serves a unique purpose for various cutting tasks and materials.
When choosing a rotary cutter, blade size, safety features, and quality are key considerations. The ideal blade will match the cutting task and provide the control and precision needed. Safety features like retractable blades and rounded tips reduce the risk of injuries. High-quality blades stay sharp longer.
Handle design affects comfort and control when using a rotary cutter. Ergonomic handles crafted to fit the hand, along with textured grips and non-slip surfaces allow for a secure, comfortable hold during prolonged cutting. This enhances accuracy and reduces hand fatigue.
Factors like durability, ease of maintenance, and included accessories should be weighed when comparing rotary cutter brands and models. Durable materials and sturdy construction will withstand extended use. Easy blade changes and cleaning preserves performance. Convenient storage cases and extra blades add value.
Types of Rotary Cutters
Go through your rotary cutter blades often to keep your fabric cutting efficient and safe. Replace dull blades with options like Fiskars or Olfa tungsten steel, or use a Quilted Bear sharpener to extend their lifespan.
Rotating and sharpening your blades helps maintain clean cuts and prevents tearing or snagging.
Fiskars 45mm Rotary Cutter Replacement Blades 5 Pack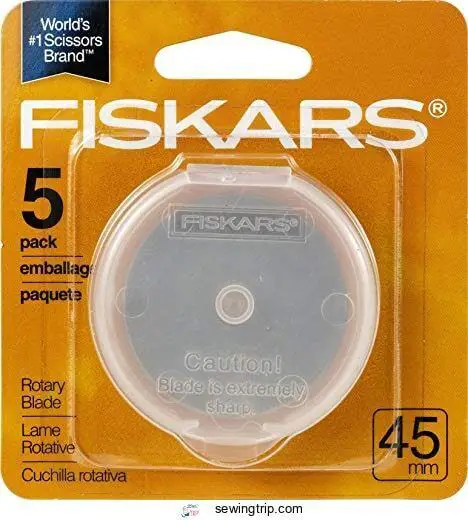 View On Amazon
With these Fiskars replacement blades, you'll get through your cutting projects faster than a tractor plows a field. Stay on top of your fabric cutting and swap in fresh blades before they become a dull headache.
Five bonus blades mean you're set for marathon quilting sessions or whipping up crafty gifts without interruption. Forget about compatibility issues too – the precision-ground steel slides right into most rotary cutters.
Just be sure to stash the old blades safely since the edges stay dangerously sharp.
When it's time to cut, these blades let you slice through fabric like butter.
Compatible with most rotary cutters
Precision-ground sharp stainless steel
5 replacement blades for extended cutting
Can dull faster than expected
Blades stay very sharp when dull
No bulk pack options
Quilted Bear Rotary Blade Sharpener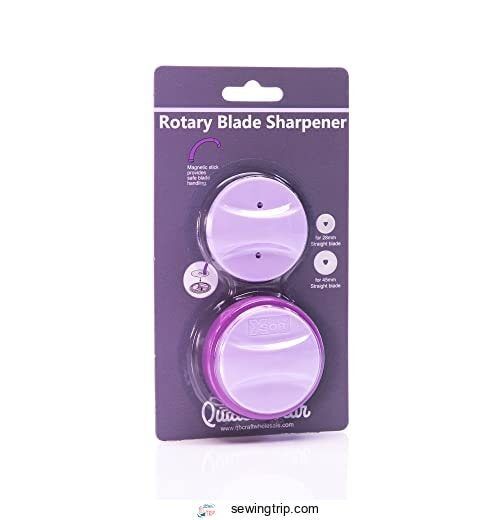 View On Amazon
As you tumble down the rabbit hole of fabric cutting, the Mad Hatter's tea party of dull blades turns to celebration with the magical elixir of the Quilted Bear sharpener, reviving the vorpal blades to slice anew.
Slip the tired blade into the sharpener's slot, roll back and forth a few times, remove and marvel at its renewed edge. This compact tool lets you sharpen 45mm and 28mm rotary cutter blades, extending their lifespan.
The magnetic handle keeps fingers safe while sharpening. Regular maintenance saves money on replacement blades.
Sharpens 45mm and 28mm blades
Extends blade life
Compact and portable
Safer than manual sharpening
Not for circular hole blades
Can be tricky to open initially
Doesn't work as well on heavily dulled blades
Olfa Rotary Cutter Replacement Blade Tungsten Steel Fabric Cutter
View On Amazon
You'll slice through fabric with ease using the razor-sharp OLFA tungsten steel replacement blade. This heavy-duty 45mm rotary blade stays incredibly sharp during even your toughest cutting projects, letting you breeze through up to 8 layers of cotton fabric in one smooth pass.
OLFA's exclusive metal hardening process gives the blade superior edge retention and at least twice the useful life of their standard blades.
Simply pop this circular blade into compatible 45mm rotary cutters for effortless cutting of fabric, paper, vinyl, and more.
Keep extra blades on hand so you're never without the precision of an ultra-sharp OLFA.
Stays razor sharp for superior cutting
Lasts over twice as long as standard OLFA blades
Cuts cleanly through multiple layers
Fits most 45mm rotary cutters
Great for fabric, paper, vinyl, and more
Single blade, not multi-pack
More costly than basic blades
Not compatible with all rotary cutters
Features and Benefits of Each Rotary Cutter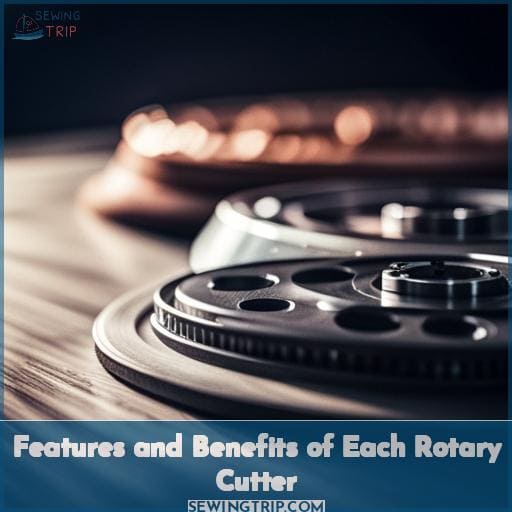 When selecting a rotary cutter, consider the different blade options and how they increase the tool's versatility. You'll want to choose a model with features that suit your specific crafting needs, whether that's detail work requiring an 18mm blade or larger projects calling for a 60mm size.
The blade material affects durability and longevity as well—choose high carbon steel for strength or long-lasting titanium for occasional use. Ultimately, the right rotary cutter has the ideal blade size, material, and type to empower your creative potential.
Blade options and versatility.
Discover the versatility of interchangeable blades that breathe new life into your projects. Sharp, high-quality replacement blades offer compatibility across rotary cutter brands when matched by size.
Revitalize dull ones with specialty sharpeners for extended use. Consider multi-purpose blades like pinking shears for finishin' edges.
Select the right blade for your materials and project needs for optimum performance. Prioritize safety with cut resistant gloves. Compare brands to find the right fit for your creative space and budget.
With the right blade, your trusted rotary cutter becomes a cuttin' machine limited only by your imagination.
Considerations for different projects.
The right rotary cutter makes fast work of your quilt layers. Different projects require assessing your blade options and handle style needs. Heavy woven cottons, thick batting, or machine quilting demand sturdy 45mm cutters with straight handles for control.
Smaller blades and ergonomic grips suit detailed piecing, lightweight fabrics, and handwork. For paper or templates, precision 18mm cutters give clean edges and maneuverability. Customer feedback on specialty accessories like pinking blades or extension bases can guide purchasing.
With the variety available, choose rotary cutters tailored to each quilting task. You'll want rotary cutters that fit the specifics of each project. Assess your needs – do you require heavy-duty cutters for thick fabrics and batting or more delicate tools for detailed piecing? Handle styles should match too, with straight handles offering control for machine quilting and ergonomic grips easing handwork.
Look to customer reviews and specialty accessories like pinking blades when deciding.
Importance of handle style
Don't underestimate how much an ergonomic handle improves your productivity. Over 40% of rotary cutter users report reduced hand fatigue and increased efficiency when upgrading to an angled handle design.
Soft rubber grip reduces hand strain.
Contoured shape fits palm comfortably.
Allows natural wrist positioning.
Less pressure needed for control.
Choosing a handle shape that fits your hand size and cutting habits can make prolonged rotary cutting much easier.
Specialty Rotary Cutter Accessories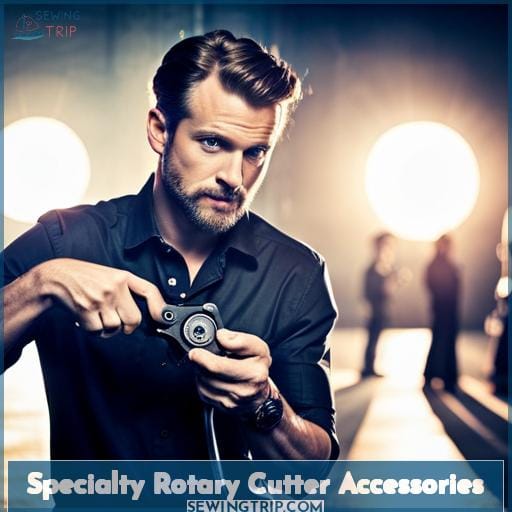 Whether quilting, sewing, or crafting, protecting your hands while rotary cutting is essential. The Dritz Fons & Porter Klutz Glove adds an extra layer of safety for your non-dominant hand, with its cut-resistant stainless steel fibers woven into the fabric to prevent painful and dangerous blade injuries as you cut multiple layers.
Dritz Fons & Porter Klutz Glove Medium
You love quilting but got careless. That rotary cutter slip scared you into ordering this glove. Your hands have become almost an extra ruler from years of practice, swiftly slicing fabric into neat piles.
Yet complacency crept in until that near miss jolted you awake. No more ignoring safety – you started researching cut-resistant gloves. This Dritz Fons & Porter model intrigued you with its stainless steel mesh and tacky rubber grips.
Slipping it on calmed your nerves and boosted confidence to resume rotary cutting. The grip feels natural but far safer, with no pinching or reduced dexterity. Your projects churn out faster knowing a small slip won't lead to real injury.
While not cheap, this glove protects far more than just fingers. Your passion is intact and hands kept nimble for years to come.
Pros: cut-resistant material, good grip, comfortable fit, made in USA, protects hand
Cons: price, some sizing issues with longer fingers, takes adjustment
Robert Kaufman Multi Color Cotton Solids Fabric Card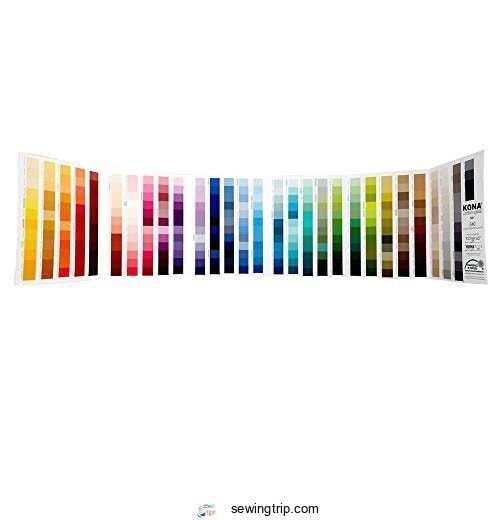 View On Amazon
Your creative spirit will soar with this color-filled fabric card. Flip through 340 cotton swatches and watch your next project take shape before your eyes. See how shades complement and ignite new ideas, sparking inspiration from this handy hued guide.
Select the perfect pairing of colors to bring your quilted vision to life. Match, compare and label as you prepare the pieces for your rotary cutter. Become immersed in a world of color, making each cut with confidence. Let this full spectrum expand your palette and elevate your craft.
Wide range of colors
Sturdy folder for longevity
Useful for selecting shades
Helps color match fabrics
Small swatches
Doesn't include prints/patterns
No search function for specific hues
Customer Reviews and Feedback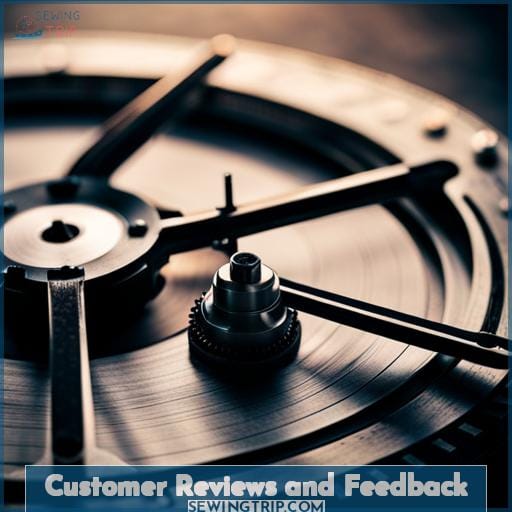 As you shop for rotary cutters, don't just rely on manufacturer claims and specs. Take some time to read customer reviews and feedback. These real experiences provide invaluable insight into how different rotary cutters perform over time.
Pay attention to comments on blade sharpness right out of the box and how well the edges hold up through repeated cutting. Look for reviews on replacement blades too, checking for universal compatibility across cutter brands.
Quilters and sewers emphasizing safety may recommend cut resistant gloves like the Dritz Fons & Porter Klutz Glove. Others praise handy fabric cards for conveniently comparing the hundreds of cotton solid colors like Robert Kaufman's swatches.
Beyond the cutters themselves, feedback on accessories reveals clever solutions for achieving your crafting goals. While specs provide the basics, fellow crafters tell you how the tools work in everyday practice.
Let their experiences guide you in finding the right rotary cutter, blades and accessories to master fabric cutting on your projects.
Choosing the Right Rotary Cutter for Your Needs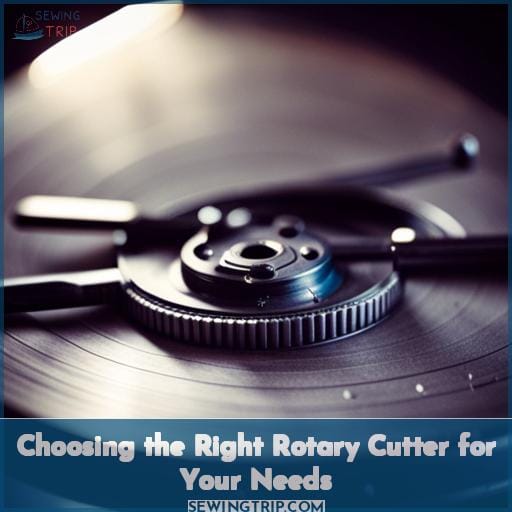 As you evaluate rotary cutters, consider the best size and handle style for your specific crafting needs. The blade type you choose, whether standard or pinking, will determine the materials it can cut through and the cuts it will produce.
When selecting a rotary cutter, think about the size and handle style that will work best for your particular projects. The type of blade, ranging from standard to decorative edges like pinking, will affect what fabrics it can slice through and the kind of cuts it will make.
Size and handle options
Pick the rotary cutter that best fits your hand for optimal comfort and control. Try different sizes and handles before deciding. Standard 45mm blades suit most fabric cutting tasks. Opt for a smaller size for tight corners or go larger for efficient squaring of quilt layers.
Ergonomic handles reduce wrist strain during prolonged use. High-quality blades stay sharp longer, smoothly cutting through multiple layers. Test various brands to find the perfect match of size, grip, and cutting performance for you.
Blade types and uses
With a variety of blades, your projects can be cut precisely. Match the blade to your needs: tungsten for long-lasting sharpness through heavy fabrics; premium stainless, good for most uses; and pinking shears to add decorative edges.
Swapping the blades periodically maintains an ultra-sharp edge for flawless cuts.
Compare blade materials for the lifespan you require. Some have coatings for rust-resistance. Check manufacturer guidelines for using the right blades with your rotary cutter's specifications.
Follow basic safety principles: cut away from yourself and store blades safely. With the right blade, you'll achieve perfect cuts for all your projects.
Comparing different brands
The next thing ya gotta do is compare the different brand options to find the one that really works for your crafting needs.
Research reviews and user forums online to compare how brands like Fiskars, Olfa and TrueCut perform with different materials and projects.
Check the durability and compatibility of replacement blades too, since ya want something that will last through heavy duty use.
And weigh the price differences against the features – a pricier model may be worth it if the quality and longevity stand up.
Bottom line, taking the time to research will help ya find your perfect match.
Conclusion
The old adage "measure twice, cut once" is an important reminder when using rotary cutters. With the right tools, you can ensure you make the perfect cut every time. But with so many different rotary cutters, blades, and accessories available, it's tough to know which one's right for you.
By researching and comparing options, you can find the ideal rotary cutter for your needs. Whether it's for fabric, paper, or vinyl, there are options to help accurately and safely cut what you need.