This site is supported by our readers. We may earn a commission, at no cost to you, if you purchase through links.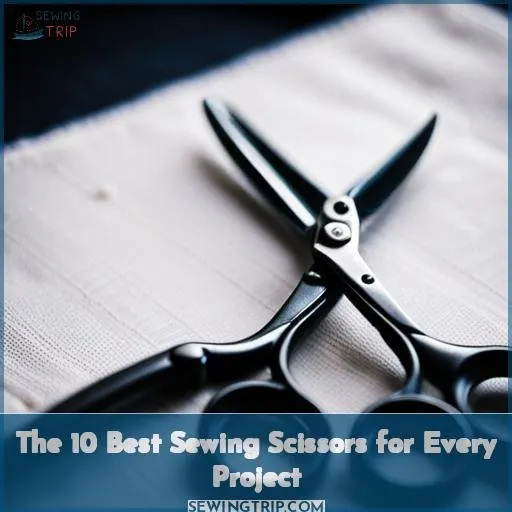 Choosing the right sewing scissors for your projects is an essential step on your sewing journey. We get it – with so many options, picking the perfect pair can feel overwhelming. But take a breath. We've done the homework and trials, and we're here to walk you through everything you need to know.
First things first: let quality lead the way. High-carbon steel blades stay sharp longer. Comfort-grip handles reduce hand strain. Sharp points maneuver smoothly. Getting the right features upfront prevents frustration down the line.
Curved blades slice gentle curves, while straight blades cut crisp edges. Embroidery snips free tricky corners.
We want your sewing scissors to be more than tools – they're partners on your creative path. Treat them with care and they'll support you perfectly. Together, we'll refresh dull edges and keep rust at bay.
Our scissors will last for years to come – creating, mending, and crafting beauty in this world, one stitch at a time.
Key Takeaways
Opt for scissors designed for detailed work, with short, pointed blades sized to fit your hand comfortably for precision cutting.
Keep the blades sharp and lubricated, cleaning them gently after each use to prevent residue buildup.
Store scissors properly in protective cases to maintain blade alignment and prevent the tips from becoming damaged.
Invest in durable, high-quality brands known for blade integrity and longevity. Replace any scissors that become dull or damaged for best performance.
Choosing the Best Sewing Scissors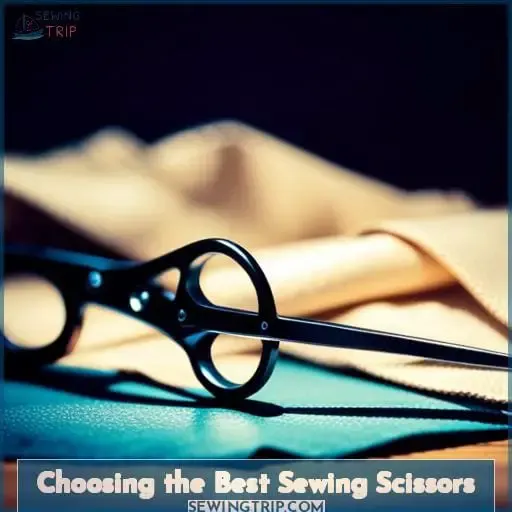 When choosing the best sewing scissors, there are a few key things to consider. The types of fabrics you'll cut and the projects you'll work on should help determine which scissors best suit your needs.
From pinking shears to embroidery snips, specialized scissors are tailored for particular sewing tasks.
What to Look For
You'll want to look for precision and craftsmanship in the blade's edge, seeking the extension of your own hand's skill.
Sharpness – Blades should glide smoothly without pulling or tearing fabric. Look for high-quality steel.
Handle comfort – For extended use, comfort is key. Seek contoured grips and cushioned finger rests.
Durability – Opt for solid construction in daily-use scissors. Forged metal resists wear and rust.
Size – Match blade length and handle to hand size, project needs. Longer ones are good for cutting yards of fabric.
Extras – For embroidery and specialized work, retractable cords and spring action reduce strain.
Sewing scissors are tools, precision instruments, an extension of the hand. Make an informed choice to match your skills, fabrics, projects and find joy creating.
Types of Scissors
There are shears for snipping threads, curved blades to follow contours, and duckbills that only cut one side. Seeking scissors suited for stretching leather, left-handed options, and specialty fabrics opens creative possibilities.
Match scissors' purpose to projects like quilted patterns, thick batting, or embroidery. Fabric scissors glide through cloth while embroidery scissors' short blades and cords trim in-hoop. Explore the variety of sewing scissors, choosing the right-handed or left-handed ones that become natural extensions of your hands.
Top 10 Best Sewing Scissors
Rather than rely on any old scissors, equip your sewing space with the highest quality tools to achieve the best results. The Guggenheim tailor shears, with hand-polished blades, deliver smooth precision.
For intricate embroidery, the slim Havel snips allow you to trim in the hoop. When tackling thick batting, the quilting shears easily slice through layers. Options like Kai's ergonomic pinkers or the curved Fiskars snips let you select the right scissors tailored for each project.
1. Guggenhein 9-Inch Tailor Shears
You could pick the Guggenheim 9-inch tailor shears, which glide through fabric like a hot knife through butter with their hand-polished and honed German stainless steel blades. Crafted from high carbon steel and hand-sharpened for precision, these shears are ideal for effortlessly slicing through all types of fabric.
Their ergonomic handles with patented soft grip allow comfortable cutting, while the adjustable tightness via a precision screw joint lets you customize the shears to your needs. Made in Germany, these sturdy, durable shears should serve you well for years to come, allowing smooth, accurate cuts on everything from delicate silks to heavy canvas.
With razor-sharp blades and a lifetime warranty, the Guggenheims are an excellent choice if you want shears that feel like an extension of your hand.
Extremely sharp hand-honed blades
Sturdy German construction
Ergonomic handles with soft grip
Adjustable tightness via screw joint
Lifetime warranty against defects
Expensive
Not ideal for paper, ribbon, etc.
Larger size may not suit small hands
Must hand wash and dry to maintain
2. Elegant Purple Hair Cutting Scissors
Why not go for these elegant purple hair cutting scissors? Their hand-sharpened Japanese stainless steel blades will give you clean, precise cuts every time. These professionally-designed hair shears are the perfect tool whether you're a stylist or trim hair at home.
The ergonomic handle with finger rest ensures comfort and control as you work. An adjustable screw lets you customize the tension. The bold purple color makes a stylish statement. And the included sheath keeps the blades protected between cuts.
With their superior quality and craftsmanship, these scissors help you achieve beautiful, precise results on every head of hair.
Sharp Japanese stainless steel blades
Ergonomic handle with finger rest
Adjustable screw for custom tension
Protective sheath included
Relatively expensive
Purple color may not suit everyone's taste
Require care to maintain sharpness
3. Curved Easy Cut Scissors
Don't let hand pain stop you from crafting – embrace these ergonomic cutters. Designed to handle tough fabrics, these curved stainless steel scissors glide through material with ease. Their 8-inch blades are sharpened specifically for fabric, so you can expect a smooth, precise cut every time.
Rubberized handles contour to your grip, absorbing pressure and strain. Ideal for sewers, quilters, crafters or anyone seeking comfort while working on projects. Though the sharp tips warrant caution if kids are helping. And be sure to check reviews before buying.
For fabric scissors that won't cramp your hand, look no further than these ergonomic curved cutters.
Curved blades for easy cutting
Soft rubberized handles
Sharp points for detailed trimming
Requires care around children
Check reviews before buying
Blades may dull over time
4. Havel's Embroidery Snips
These ultra-precise Havel's embroidery snips are your new secret weapon for flawless stitchwork! Crafted with premium stainless steel, their slender blades allow you to nip errant threads and trim fabric edges with surgical accuracy.
Just a gentle squeeze of the ergonomic handles gives you complete control over each cut. At only 4.5 inches long, these compact shears tuck neatly into your sewing kit for on-the-go convenience.
Sharp, precision tips
Stainless steel construction
Ergonomic handles
Compact and portable
Small size may not suit larger hands
Plastic handles less durable than metal
Not suitable for heavy duty cutting
5. KAI Ergonomic Pinkers Sewing Scissors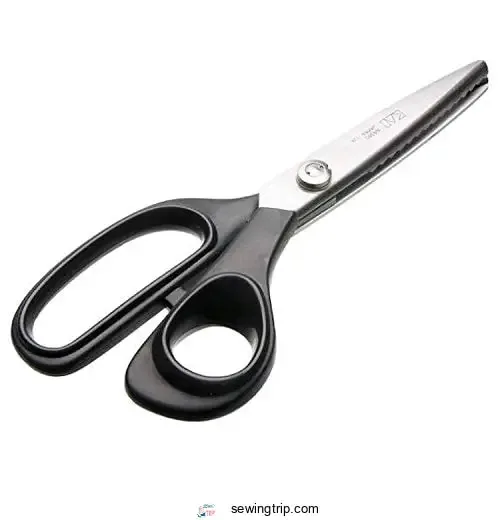 View On Amazon
If we really dig into those KAI pinkers, you'll feel invincible slicing any fat stack of cotton like melted butter. These 8-inch offset shears effortlessly chomp through thick, dense materials with professional aplomb.
Their durable stainless steel blades stay startlingly sharp, cutting cleanly across all teeth on even the toughest fabrics. While the gentle squeeze needed to fully open them may irk some, the bonus in hand comfort and control makes any niggling inconvenience negligible.
For avid sewers tired of subpar pinking shears that get jammed or dulled too quickly, these ergonomic KAI pinkers deliver on that buttery promise in spades.
Cuts smoothly across all teeth
Stays sharp even with heavy use
Ergonomic comfort
Clean cuts on thick fabrics
Can be hard to open fully
Expensive
Very tight squeeze
6. Fiskars Double-Curved Embroidery Scissors
View On Amazon
You'll treasure these curved Fiskars when clipping threads in embroidery hoops. Their tight hinge cuts closely, while the durable finish ensures longevity even with heavy use. Though pricey, crafters widely praise the sharp, pointed tips that nimbly reach into tight spaces other shears can't.
The Fiskars double-curved embroidery scissors live up to their reputation with sharp, precise cutting ability. Their curved shape grants access inside hoops, and the durable chrome finish promises resilience.
Though not the cheapest option, their performance and comfort justify the cost for avid embroiderers.
Sharp, precise cutting
Curved shape fits in hoops
Durable chrome finish
Comfortable for extended use
Expensive
May loosen over time
Less pointed than cheap embroidery scissors
7. Gingher Stainless Steel Dressmaker's Shears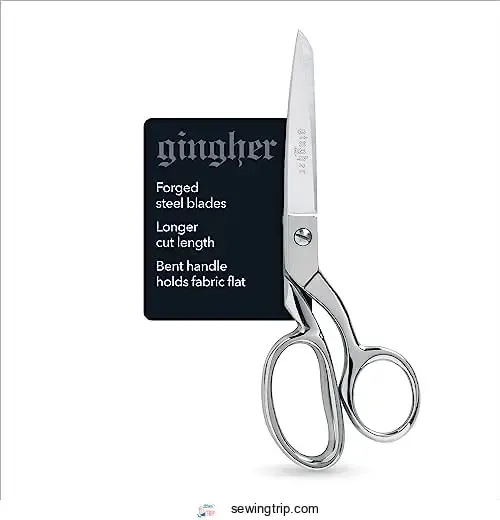 View On Amazon
Cut swiftly and accurately through fabrics with Gingher's stainless steel dressmaker's shears. These high-end shears are ideal for precisely cutting all types of fabric. The durable, one-piece forged stainless steel construction resists rust while providing clean, sharp cuts.
The serrated lower blade prevents fabrics from sticking. Lightweight yet sturdy, the ergonomic plastic handles reduce hand fatigue during extended sewing sessions.
Though expensive, the superior sharpness and comfort make these shears a worthwhile investment for avid sewers. Store properly when not in use to maintain optimal performance. Get them sharpened periodically by a professional for best results.
Extremely sharp blades
Clean, accurate cuts
Durable stainless steel
Lightweight and comfortable
Reduces hand strain
Expensive price point
Requires proper care
Not dishwasher safe
Needs periodic sharpening
8. Kai Pink Handle Sewing Scissors 165mm
Perfectly grip the lethally sharp steel blades to transform any linen into a masterpiece. These Japanese sewing scissors are a seamstress' dream with their precision 165mm blades that slice through fabric effortlessly.
The lightweight pink plastic handles provide hours of fatigue-free sewing and are specially contoured for comfort. Ideal for detailed work, the ultra-sharp tips and smooth cutting action produce flawless results.
Enjoy precise cutting control and beautiful creations with these highly rated professional shears.
Extremely sharp pointed tips
Lightweight and comfortable
Smooth, effortless cutting
Ideal for detailed work
Highly rated by sewers
Expensive
Requires proper care
Not dishwasher safe
Needs periodic sharpening
9. Quilting Batting Scissors
Slice through piles of batting and fabric with ease using the ergonomic quilting scissors designed to fit your hand like a glove. These specialized shears glide smoothly to precisely cut multiple thick layers of fabric and batting up to 1/2 thick.
The 8 contoured stainless steel blades stay lethally sharp for clean slices every time. The handles cushion your grip with a soft, non-slip cover that prevents hand strain even during marathon quilting sessions.
Trim and clip with surgeon-like accuracy using the micro-serrated edge and pointed tips. The spring action reduces effort so you can quilt for hours without tiring. Keep a seam ripper handy in the hollow handle so every tool you need is at your fingertips.
At just 5 oz, these lightweight yet durable scissors provide professional quality cuts in a compact, portable size.
Clean cuts through thick batting
Ergonomic handles prevent hand fatigue
Lightweight and portable
Seam ripper included
Pointed tips for detailed trimming
Not suitable for paper or cardboard
Sharp tips require caution
Periodic sharpening needed
Plastic handles less durable than metal
10. Electric Fabric Cutting Scissors
View On Amazon
You'll cherish the powerful, precise cuts these electric fabric shears deliver as their ambidextrous handle nests comfortably in your hand. Cut through fabric, leather, carpet, plastic, and more with the flip of a switch using these lithium-ion powered shears.
Weighing under a pound, their compact size packs easily in your sewing kit without weighing it down.
Enjoy cordless cutting for up to two straight hours between charges. Swap specialty blades in a snap to tackle any project. Multiple positive reviews praise the professional cutting ability and portability that lets you trim, shape and create anywhere your inspiration strikes.
Cuts variety of materials
Long battery life
Lightweight and portable
Ambidextrous ergonomic handle
Includes specialty blades
Noisy
Replacing blades can be tricky
Non-US plugs may require adapter
Investing in Quality Scissors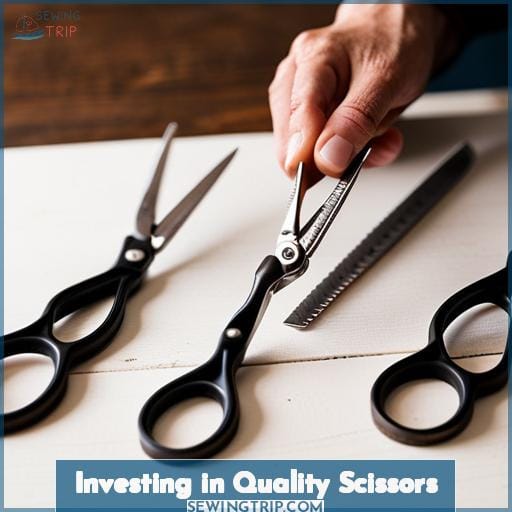 When upgrading your kit, quality sewing scissors are a smart investment that pays dividends with each project. Though the initial outlay may seem high, correctly caring for quality shears allows them to outlast flimsier alternatives and provide years of flawless cutting.
Opt for forged stainless steel over plastic handles for durability and strength.
Manual shears offer more control than electric models for detailed cutting.
Sharpen regularly with a whetstone to maintain a precise edge.
Use fabric shears only for cloth to preserve blades – dedicated paper or kitchen scissors prevent wear.
Select design features like offset blades or micro-serration to suit your specialty, be it embroidery, knits, or wovens.
While entry-level scissors may tempt with friendly price tags, imperfect cuts lead to frustration. Treat yourself to quality tools crafted to withstand heavy use. Brands like Gingher or Kai guarantee decades of flawless snipping with lifetime warranties, making their scissors a justifiable splurge for sewists.
Caring for Your Scissors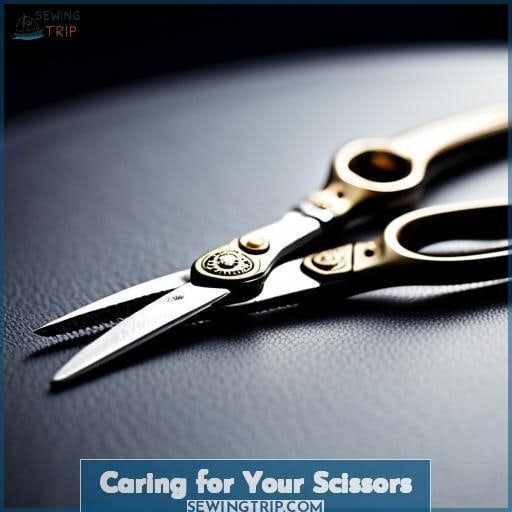 Keeping your sewing scissors in proper working order enhances their lifespan while preserving quality. Honing the blades regularly with a whetstone enables their continued sharpness. Storing them in a purpose-made sheath or closed case protects meticulously aligned edges.
Sharpening
Keep 'em sharp as a tack by honing your shears with a whetstone regularly, so their blades stay keen for precise snipping. Follow the beveled angle; don't grind the edges down or you risk dulling them. Test frequently on fabric scraps to ensure slices are clean.
Store in a sheath or case between projects so the blades don't ding. Consider giving someone special quality pairs like embroidery snips or duckbill rag cutters; proper tools are gifts that will sew for years.
Cleaning
Don't risk ruinin' your investment – properly clean your shears after every project.
Wipe blades down with a soft cloth to remove fabric lint.
Use a mild soap and water dampened cloth to clean residue.
Dry thoroughly so moisture doesn't lead to rust.
Lubricate the joint periodically with sewing machine oil.
Consider professional sharpening annually.
Regular gentle cleaning preserves your quality shears, keeping the blades sliding smoothly for precise cutting on your next sewing adventure. With proper care, those precision instruments will snip superbly for decades to come.
Storage
You'll cherish your sewing scissors by protecting them in a cushioned case so the blades stay pristine. Store hand sewing snips and embroidery scissors in individual slots or sleeves. Organize by size in a roll-up toolkit to prevent dulling.
Small-handled scissors slip in tiny pouches. Nestle shears in fitted foam to keep those precision tips intact. With a designated spot for each pair, you'll find the right cutters when inspiration strikes.
When to Replace Your Scissors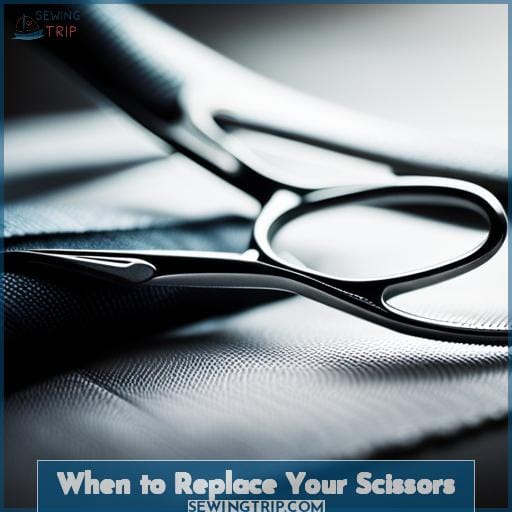 You'd replace those scissors if the blades get misaligned or dull despite regular sharpening. Frayed edges and imprecise cuts are red flags. The handles may feel uncomfortable in your hand, with the grip wearing down to expose rough edges.
Joints and hinges can work loose over time. Visible nicks on the blades make clean shearing difficult. For detail work, embroidery scissors with micro-serrated edges lose their touch when trimming seams raggedly, despite efforts to sharpen.
The tough choice is between replacement or persistent frustration with second-rate cutting. Honor well-loved scissors with retirement when their best work is done. Invest in a fresh pair for flawless snipping once more.
Frequently Asked Questions (FAQs)
What are the best scissors for left-handed sewers?
Unfortunately, most quality scissors are designed for right-hand use. However, lefties can try gooseneck bent scissors or spring action scissors to alleviate hand strain. Ambidextrous handles with soft rubber grips also help. Finally, electric fabric shears work well for either hand.
How can I get my sewing scissors sharpened professionally?
Keep those sewing scissors sharp! Check with local fabric shops or hardware stores for professional sharpening services. They can expertly hone the blades and revive your tool's cutting ability. Alternatively, mail the scissors to manufacturers like Gingher or Kai – some offer factory sharpening.
Sharp shears glide through fabric and make projects easier. Treat your scissors well for optimal sewing.
What sewing projects don't require high-quality scissors?
For basic mending and hemming, your everyday scissors will do just fine. Simple costumes or crafts for kids can be cut from felt or fleece with basic scissors too. If you're practicing new techniques or testing patterns, cheap scissors are ideal since you may be cutting inaccurately.
Paper patterns can be cut out with disposable school scissors. And for thick fabrics like denim, rotary cutters work better than shears anyway. Invest in good shears for fine dressmaking and tailoring where precision counts.
Should I buy sewing scissors just for cutting paper patterns?
Yes, you should buy dedicated paper scissors. Sharp fabric shears quickly dull on paper. Using separate scissors preserves your good shears' sharpness for smooth, precise fabric cuts.
Are spring-loaded scissors better for arthritis?
Yes! Spring-loaded scissors can take much of the work out of cutting for people with arthritis in their hands. They gently open on their own after each cut as if by magic, so you don't have to strain to reopen them yourself.
Investing in quality spring-loaded scissors engineered specifically for fabric cutting allows your hand to relax between snips while still making smooth, precise cuts.
Conclusion
Whether making a pillow, altering a dress, or tackling a quilting project, having the right sewing scissors is key. With so many options though, choosing the perfect pair may seem daunting. Rest assured – armed with knowledge of the different types and features available, and keeping in mind your particular needs, you can easily find scissors suited to your sewing style.
Invest in quality now and with proper care, like wise whetting and rust deterring, your scissors'll snip smoothly through fabrics for years to come.